chambres d hôtes dans une belle maison de style provençale, avec une superbe vue sur la montagne d Alaric a proximité des principales activités, dont a 1/4h de la célèbre cité de Carcassonne, a 5mn du canal du midi, 1/2h des plages, des châteaux cath
chambres d hotes a 18 km de a cité de Carcassonne, dans une maison style provencale,dans un petit village des corbieres au pied de la montagne d Alaric,, la chambre suite a une salle de bain avec une grande douche hydrojet ,meuble vasque et seche serviette et d un petit refrigerateur. chaque chambre dispose d une terrasse privée avec table et chaises donnant sur le jardin et sur la piscine et offrant une vue imprenable sur la montagne d alaric. les chambres sont toutes climatisées et pourvues d une télé ecran plat. nous mettons a la disposition de nos hotes une salle a manger avec un petit refrigerateur, des livres et BD,des jeux de société. Nous pretons des velos L entrée des chambres sont independantes de la maison des proprietaires , se qui permet d etre libre et de rentrer comme on veux sans avoir peur de deranger! Quand le temps le permet, les petits dejeuners sont servis sur notre grande terrasse avec petits dejeuners francais avec de nombreuses confitures originales et maison. pour les longues durées (+ de 3 jours) une cuisine d'été toute équipée et un barbecue sont a la disposition de nos hotes, nous avons aussi plusieurs restaurants aux alentours. a proximité,il y a le canal du midi, la celebre cité de carcassonne, l abbaye et le village de lagrasse ainsi que les chateaux cathares ,le gouffre de cabrespine, les grottes de limousis, reserve africaine de sigean etc, les plages sont a 35 mn. il n y a pas de transports en commun qui dessert notre village, vous devez imperativement venir en voiture, nous avons d ailleurs a disposition de nos hotes un parking clos. nous garantissons a nos hotes un accueil chaleureux, des conselis pour les visites etc..
Excellente adresse. Chambre, cadre et hôtes de qualité.
bruno
2013-07-23T00:00:00Z
Тип размещения
Отдельная комната
---
Тип жилья
Квартира
---
Вмещает гостей
1
---
Спален
Comigne, Лангедок-Руссильон, Франция
Spacious newly refurbished 2 bedroom apartment set in the grounds of an 12th century knights templar chateau, comes complete with equiped modern kitchen, large bedrooms with double and 2 single beds, TV, DVD player, free internet. Separate courtyard, private entrance, secure parking (extra charge).
The village is lively with many events throughout the summer, with a bakers and general store. 45 min to the sea, 20 minutes to Carcassonne and its international airport.
Тип размещения
Дом/квартира целиком
---
Тип жилья
Квартира
---
Вмещает гостей
4
---
Спален
Douzens, Лангедок-Руссильон, Франция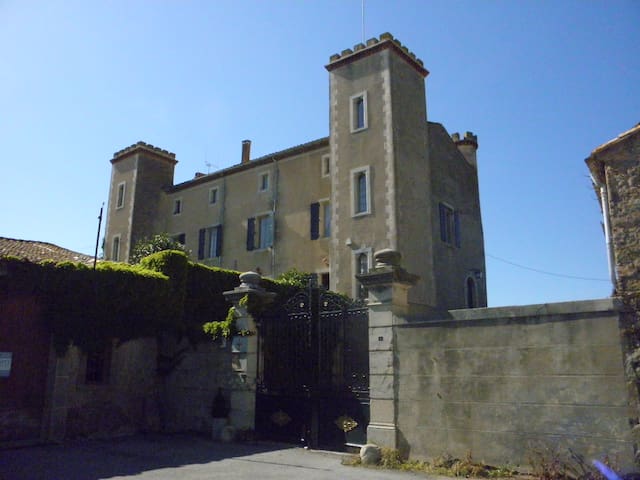 A Comigne, village tranquille à 20 minutes de Carcassonne, Olivier et Cécile vous reçoivent dans un appartement de 2 pièces tout confort au rez de chaussée de leur maison donnant sur une terrasse.
Comigne est un village idéalement situé sur la route de nombreuses ballades et visites au coeur des Corbières. L'appartement d'une surface de 50 m2, vous permettra si vous le souhaitez de vous préparer des repas sur place, il dispose d'un frigo, d'une plaque de cuisson, et des ustensiles nécessaires. Vous pourrez séjourner à 1, 2 ,3 ou 4 personnes, et vous répartir entre le salon spacieux et la chambre spacieuse également. Nous pouvons vous fournir un vrai lit de bébé en bois et son matelas Si vous voyagez à plusieurs, en famille ou entre amis, un autre appartement légèrement plus petit " les Feïjoas " jouxte celui-ci, pouvant accueillir un nombre de personnes identique.
Séjour très agréable, petit appartement très sympa décoré avec bcp de goût. Le parquet de la chambre est magnifique et les pièces sont spacieuses! Le petit déjeuner est à tomber par terre, nous avons bcp apprécié notre séjour!
Leslie
2016-09-05T00:00:00Z
Nous avons séjourné une seule nuit chez Cécile et avons été reçus comme des princes ! Cécile et Olivier nous ont réservé à nous et nos trois enfants un accueil des plus chaleureux avec visite du potager et de la piscine ! La maison est très spacieuse et confortable, joliment décorée, à disposition des enfants une bibliothèque de très bon goût et des jeux. Les petits déjeuner sont particulièrement soignés. Un grand merci à Cécile et Olivier. Je recommande sans hésiter cette maison qui, de plus, se situe dans un très joli village.
Emilienne
2016-07-13T00:00:00Z
Nuestra estancia en casa de Cecile y Olivier ha sido fabulosa. El trato ha sido muy amable, educado y simpático. Son personas muy cercanas y siempre tienen una sonrisa en la cara. Olivier nos aconsejó bodegas de la zona para comprar vino y pueblos medievales con encanto :) El apartamento es perfecto para unos días: salón espacioso con sofá convertible en cama doble (muy cómodo!) y cocina pequeña pero funcional. Habitación enorme con cama muy cómoda y con mobiliario adecuado. El baño con ducha excelente! La terraza y jardín preciosos. El desayuno que nos traían cada mañana era muy abundante y riquísimo, típico francés. Recomendamos este apartamento y esta gran familia 100%. Volveremos y GRACIAS POR TODO!!
Jess
2015-10-13T00:00:00Z
Excellent accueil, personnes desireuses d'offrir un séjour de qualité à leurs hôtes. Simplicité et convivialité.
Noémie
2016-07-10T00:00:00Z
Nous avons été bien accueillis, l'endroit était calme Le petit déjeuner était trés bien Nous recommandons cet charmante étape
Jean jacques
2016-07-17T00:00:00Z
El día de entrada al apartamento de Cecile nosotras salíamos de Narbona, como teníamos que abandonar la anterior casa pronto hablamos con ella para ver si podíamos entrar antes (teníamos comida de nevera). Nos ayudó y pudimos entrar antes de la hora prevista. Desde el primer momento ella fue amable y nos aconsejó sobre las actividades que podíamos hacer por allí. Además tiene muchos trípticos informativos en la casa con los diferentes planes que puedes hacer. La casa era como se mostraba en el anuncio, situada en un pueblo tranquilo donde si buscas paz la vas a encontrar. La terraza ideal para desayunar, comer y cenar. Incluso para estar tranquilamente fuera leyendo un libro o jugando a las cartas. A la hora de movernos a ver sitios con el coche, Comigne no está mal situado. A pocos kms queda Carcasone, el canal de Midi, Lagrasse, Marseillette... El desayuno está riquísimo y es espectacular (zumo, mermeladas, croissant, pan recién hecho, mantequilla, huevos de sus gallinas escalfados, fruta... Además de ofrecernos más cosas y variando el zumo o mermeladas). En resumen, una estancia muy agradable, tranquila y cómoda.
Elena
2016-08-27T00:00:00Z
Très beau, propre, au calme, bonne literie et petit déjeuner au top. On est restés que pour une nuit mais on aurait aimé rester plus longtemps.
Amandine
2016-06-25T00:00:00Z
superbe sejour à Comigne chez Cécile, son mari et leurs enfants, hôtes très accueillants et très arrangeants, logement très agréable, au pied de la superbe montagne d'Alaric avec une très chouette ballade à faire jusqu'au signal, rencontre formidable dans le village avec Denis, producteur de fromages de chèvres excellents. Merci beaucoup pour ce super week-end!!!!
Fanny
2016-05-17T00:00:00Z
Тип размещения
Дом/квартира целиком
---
Тип жилья
Квартира
---
Вмещает гостей
4
---
Спален
Comigne, Лангедок-Руссильон, Франция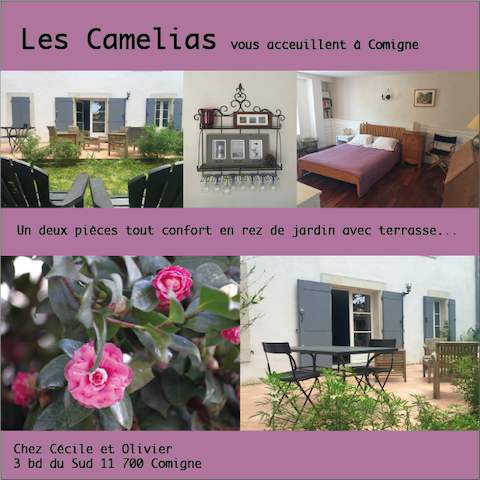 Тип размещения
Дом/квартира целиком
---
Тип жилья
Квартира
---
Вмещает гостей
4
---
Спален
Marseillette, Лангедок-Руссильон, Франция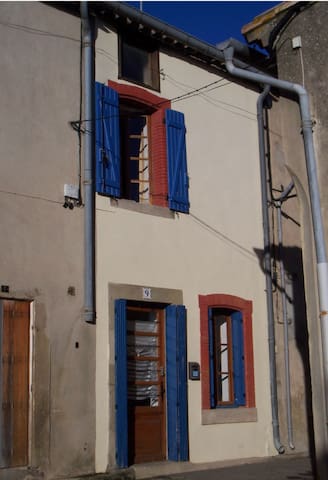 A Comigne, village tranquille à 20 minutes de Carcassonne, Olivier et Cécile vous reçoivent dans un appartement de 2 pièces tout confort au rez de chaussée de leur maison donnant sur une terrasse.
Comigne est un village idéalement situé sur la route de nombreuses ballades et visites au coeur des Corbières. L'appartement d'une surface de 40 m2, vous permettra si vous le souhaitez de vous préparer des repas sur place, il dispose d'un frigo, d'une plaque de cuisson, et des ustensiles nécessaires. Vous pourrez séjourner à 1, 2 , 3 ou 4 personnes, et vous répartir entre le salon et la chambre. Nous pouvons vous fournir un vrai lit de bébé en bois et son matelas Si vous voyagez à plusieurs, en famille ou entre amis, un autre appartement légèrement plus grand " les Camélias" jouxte celui-ci, pouvant accueillir un nombre de personnes identique.
Segunda estancia en la casa de Cecile, (esta vez en el otro apartamento) y de nuevo fenomenal!. Trato agradable y familiar, alojamiento en perfecto estado, paisaje de ensueño entre viñedos, tranquilidad absoluta ... que maravilla de lugar y que trato tan agradable por tu parte Cecile !!! El desayuno en la terraza es ...digno de un hotel de lujo, para disfrutar!!! Excelente, se lo recomiendo a todo el mundo!! Gracias Cecile por tu hospitalidad y tu trato. Saludos.
Santiago Oscar
2016-08-30T00:00:00Z
Nous avons passé un excellent séjour avec nos deux enfants chez Cécile et Olivier. L'accueil fut vraiment excellent, on s'est vite sentis à la maison. L'appartement est très fonctionnel et adapté à des enfants en bas âge (nos enfants ont 1 an et 3 ans). Il est également idéalement situé pour les différentes visites à faire dans la région (châteaux cathares, cité de Carcassonne...). Bref, logement que je recommande vivement !!
Katell
2014-10-25T00:00:00Z
Nous avons été très bien accueilli par cécile et son mari. Leur maison et les gites sont très joliment restaurés, et conformes à la description. Le logement était très spacieux, et bien équipé. Nous avons même pu repartir en début d'après midi. Merci a vous pour cette charmante étape.
Sébastien
2015-08-27T00:00:00Z
Es la primera vez que utilizo el sistema de alojarme en casas y la experiencia me ha gustado mucho. Cecile es una anfitriona estupenda, agradable y dispuesta a ayudarnos en todo y hacer que nos sintiéramos como en nuestra casa. Los desayunos que nos traía todas las mañanas han sido exquisitos. Y las camas eran muy cómodas. El apartamento era muy agradable, limpio y completo. El lugar muy tranquilo y en pleno campo. Gracias Cecile por tu hospitalidad.
Marisa
2015-07-23T00:00:00Z
Cecile and her husband are a very friendly couple and flexible. The independent flat has lots of charactere, and nicely decorated in the middle of the vineyards, while Carcassonne can be reached in 10-15minutes. The breakfast they offered us was absolutely fantastic - don't forget to ask for their garden figues :-)
Anne
2014-07-16T00:00:00Z
Très bonne adresse pour un séjour en famille. Appartement spacieux et clair. Super accueil pour les enfants: lit bébé, livres et jeux à disposition... Enfin, petits déjeuners au top! Bref, à conseiller sans hésitation!
Yvan
2015-10-30T00:00:00Z
Logement impeccable, fonctionnel..... la maison est magnifique. Nous avons été très très bien reçu par Sophie et son mari. Le plus du sejour: petit déjeuner de rêve servi à domicile....... nous gardons précieusement cette adresse..... et la recommandons vivement !!!
lydie
2015-08-25T00:00:00Z
Accueil sympathique de la part de Celine et son mari. Nous ont conseillé les choses à faire aux alentours ainsi qu'un bon restaurant. L'appartement est comme sur les photos, propre, avec ce qu'il faut pour passer quelques jours. Cadre nature, calme et reposant. Petit dejeuner très bien! Nous avons passé un séjour très sympa!
Frédéric
2016-07-18T00:00:00Z
Тип размещения
Дом/квартира целиком
---
Тип жилья
Квартира
---
Вмещает гостей
4
---
Спален
Comigne, Лангедок-Руссильон, Франция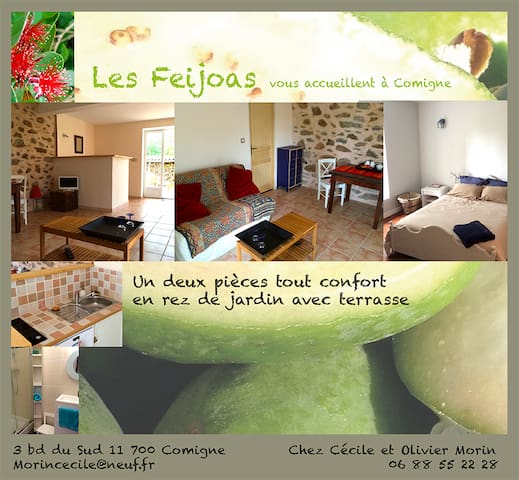 Lovely apartment in beautifully restored XVIII Century winery in the South of France. In the village of La Redorte, near Carcassonne. Shared Swimming pool and sauna.
This beautiful and charming apartment is situated in the heart of the village of La Redorte and overlooks the stunning garden courtyard. The canal du midi is a five minute walk and lakeside beaches are a short drive away. There is a restaurant in the village and many more in the surrounding area. There are 2 bedrooms (one being situated on the large mezzanine floor) and 2 bathrooms - one with bath and twin basins, the other a shower room. A large historic stone staircase entrance leads to this first and second floor duplex apartment within a secure complex with private off street parking and shared use of swimming pool and sauna. Large airy rooms with tiled and wooden floors throughout and exposed beams. Comfortable white furnishings with glass, period furniture and quirky original art work combine to create a very relaxing accommodation. There are beach parasols and deck chairs for your use, washing machine, dishwasher, two televisions and DVD players with a DVD library for your use. Everything you need to make if feel like home from home. Trip Advisor 5 Star rating.
Situated in the heart of the village of La Redorte which has a supermarket, patisserie, butchers and post office. A short walk to the Canal du Midi. Bicycle hire is available nearby. The Medieval Cities of Carcassonne and Minerve are a 30 minute drive.
Тип размещения
Дом/квартира целиком
---
Тип жилья
Квартира
---
Вмещает гостей
4
---
Спален
La Redorte, Occitanie, Франция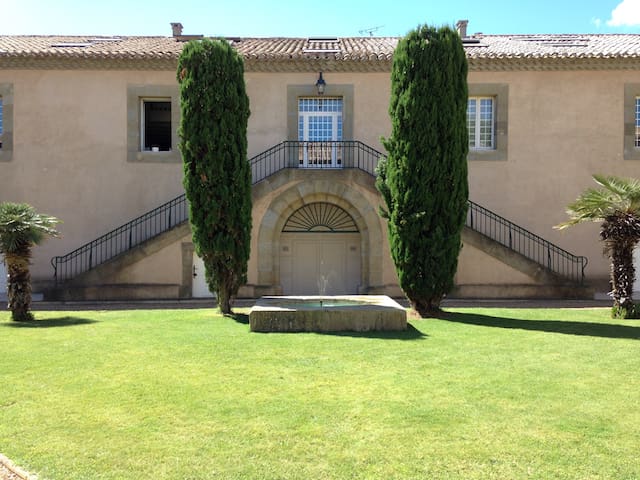 Modern interior, the apartment caters for all guests needs, downstairs there is a separate toilet, the fully equiped kitchen with dishwasher/washing machine leads to an open plan living room. The upstairs provides 2 bedrooms, a separate WC, bathroom with bath and shower and twin basins. The sunny terrace leading from the living room, makes for great al fresco dining. Free wifi and communal heated pool (May to Oct)and Sauna (all year). Onsite and local restaurants to enjoy, & great wine tasting.
La Redorte Holiday apartment near Carcassonne with walking, beach/lake nearby. Shared swimming pool, sauna and Terrace. Walking, beach/lake nearby. A relaxing get away in the South of France with, DVD library, TV and Internet. This beautiful and charming apartment is set in a restored Batisse which was once the XVIII Century winery of the nearby Chateau. Apartment Limoux is well equipped with everything you need to sit back, relax and enjoy your stay. It is situated in the Centre of the village, with a nearby (2 minutes walk) supermarket, pharmacy, butchers, boulangerie & post office, even a beauty/hair salon. Walking distance from the apartment you will find the Canal du Midi, with great restaurants set on the banks. There is a grassed courtyard for relaxing and coupled with the shared heated swimming pool, (open mid May to mid October) with all year open sauna, it is the centre of outdoor living in the summer months and is fully fenced for safety. La Redorte is around 35 minutes from Carcassone, with regular UK flights also arriving into Toulouse or Beziers. Nearby there is a swimming lake, with a restaurant, and water sports/kayaking. If you want a day at the beach, it is around 35 minutes to the sandy beaches of the Med or if you want to visit Spain it is around one hour and a quarters drive. This is the land of the Cathars, of vinyards soaked in the sun, the breath-taking medieval cite of Carcassonne and the beautiful Canal du Midi, a UNESCO World Heritage site which has featured in many of Rick Stein's cookery programmes. Steeped in charm and history it weaves its way through La Redorte to reach the Mediterranean Sea. The scenic cycle path which runs along its banks leads to many lovely restaurants. 10 mins away is the beautiful lake at Jouarres, where you can have a quiet day sunbathing with supervised swimming or hire a kayak or pedalo. The fine beaches of the Mediterranean can be reached in 35 mins and there are golf facilities only 30 mins away. The area is a wine lover's dream, with free wine tasting in the surrounding vinyards. That, coupled with the rich culture, joie de vivre of the summer fetes held every week throughout August, cycling along the tree lined canal, extensive coastline and fine dining make this holiday ideal for couples, families and friends alike. Large historic stone staircase entrance leads to first and second floor duplex apartment within a secure complex with private off street parking and shared use of swimming pool and sauna.
Тип размещения
Дом/квартира целиком
---
Тип жилья
Квартира
---
Вмещает гостей
4
---
Спален
La Redorte, Occitanie, Франция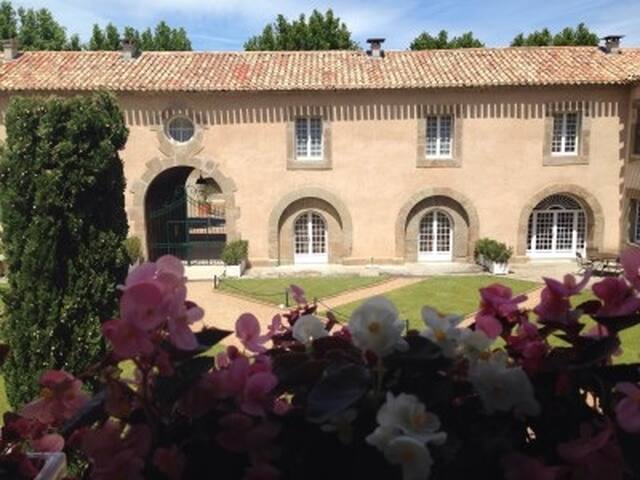 Located 30km away from Carcassonne on the edge of Canal du Midi, Château de la Redorte welcome you in its 25 luxury Suites for night or week (all have a fully equipped kitchen). Other amenities ; Exterior swimming pool, Spa, restaurant, Wine tasting.
Suite Privilege with 2 bedrrooms : one with a queen bed and one with 2 single beds. Kitchen with appliances, terrace included.
Beautiful chateau that has been recently refurbished. We stayed in a 2 bedroom villa which was immaculate. We ended up staying an extra 4 days we enjoyed it so much. Staff, setting, everything was perfection. We will be back as often as we possibly can be! Fabulous
Anthony
2016-08-25T00:00:00Z
Cadre très agréable au calme. Les suites donnent une indépendance tout en bénéficiant d'un service hotelier. Adresse à retenir pour notre prochaine visite dans la région
Stephane
2016-08-20T00:00:00Z
Тип размещения
Дом/квартира целиком
---
Тип жилья
Квартира
---
Вмещает гостей
4
---
Спален
La Redorte, Languedoc-Roussillon Midi-Pyrénées, Франция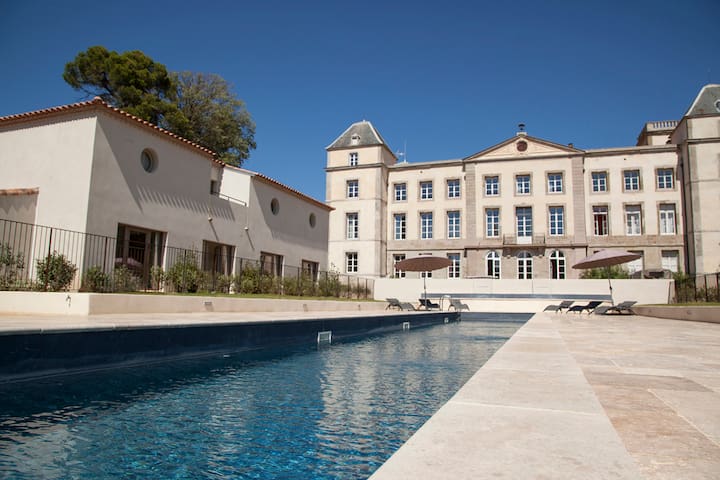 Viognier Chazan is situated within a secure restored 18th century winery with a heated pool and sauna. La Redorte, our village, is in the Languedoc wine region in the south of France close to La Cite, Carcassone; a medieval fortified town, Minerve; a quaint pedestrian-only village, Narbonne; with it's 2500 years of history, and boasts access to the Canal du Midi which flows through it. Our apartment is newly decorated and extremely spacious and comfortable. You'll love all the extras we offer.
Our apartment is on two levels. One staircase leads up to the master bedroom with balcony and en suite bathroom. Another staircase leads to the two additional guest rooms and a full bathroom. One of these guest rooms has a balcony. On the main level there is a huge terrace with lounge and outdoor eating area with bbq. It is sheltered from the sun and wind and has beautiful views over the French rooftops in the village and the vineyards and mountains in the distance. There is a grocery store next door as well as a butcher, baker, bank, tabac and pharmacy just a 5 minute walk down the street.
La Batisse is a very understated building from the outside, which opens into a beautifully preserved interior courtyard. The apartment reflects this also, which is very tastefully furnished, spacious and has everything you could possibly need for your stay. It is also spotlessly clean. The comfortably furnished terrace is a perfect place to relax and eat in the evening, while the bedrooms are luxurious. The hosts were also on hand very promptly for any query we had, even though they live in Canada! I would be tempted to try and keep this place a secret, but it really deserves to be shared!! We hope to be back sometime soon.
Colm
2016-08-26T00:00:00Z
Тип размещения
Дом/квартира целиком
---
Тип жилья
Квартира
---
Вмещает гостей
6
---
Спален
La Redorte, Languedoc-Roussillon Midi-Pyrénées, Франция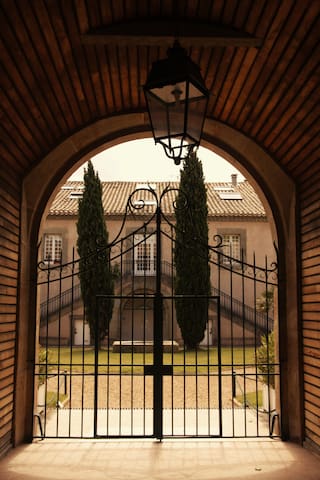 3 bed large modern apartment in a block with seasonal pool and sauna. La batisse is a stone wine cave that used to serve the chateau opposite now refurbished into modern secure luxurious surroundings. 3 bed , ensuite plus second shower room, laundry designer kitchen. Superb reviews on request.
Character and french history once a barracks then an annex to the chateau opposite. Then superbly refurbished into a few modern apartments.
La Redorte is central to Narbonne, Carcassonne,and the Mediterranean as well as the black mountains and Cathar History. Cycling, boating on the canal du midi are most popular pastimes as well as wine tasting as we are in the middle of the french wine fields.
Тип размещения
Дом/квартира целиком
---
Тип жилья
Квартира
---
Вмещает гостей
6
---
Спален
La Redorte, Лангедок-Руссильон, Франция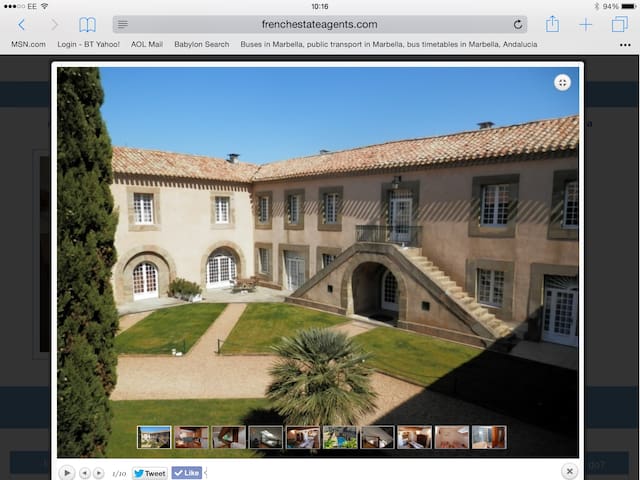 Bienvenue au Château de la Redorte, Resort vigneron de 25 Suites & Villas entièrement équipées. Nos Villas piscines pour 6 personnes sont composées d'un salon, de 3 chambre, de 2 salles de bains, d'un jardin avec piscine privative.
Тип размещения
Дом/квартира целиком
---
Тип жилья
Квартира
---
Вмещает гостей
6
---
Спален
La Redorte, Languedoc-Roussillon Midi-Pyrénées, Франция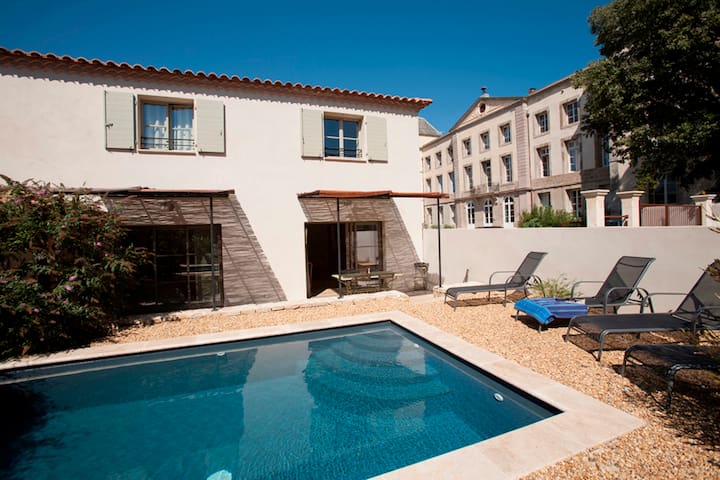 appartement moderne et convivial pour 4 personnes entre les chateaux cathares et de la route des vins , entre carcassonne et narbonne . Juillet / Aout 500€/semaine Jour d' arrivée en juillet / aout le jeudi ou vendredi midi July / august 500€/week Day of Arrival Thursday or Friday on july / august
appartement de 60m2 , au 1ere étage d'une résidence de 3 appartements. 2 chambres . - d'une cuisine américaine , -grand séjour 25m2 - 2 chambres : un lit 140 x 200 cm 21 cm d'épaisseur , pour 2 personne - une salle d'eau avec douche hydro. Toutes les pièces sont lumineuses et disposent de fenêtres ,et place de parking gratuit ,cette maison sera idéale pour vos vacances en famille dans le sud . Idéalement placé entre Mer et Montagne - Narbonnes 15 min - Carcassonne15min - Magasins et shopping 2Min (lezignan corbieres ) - acces autouroute 2 min - Plages gruissan 30min , - Perpignan à 60min, - Toulouse 75min - Zone marchande importante 2km - Barcelone 260 km, Équipements : -micro onde , - plaque induction, - grand frigo congelateur , - douche, - TV 80cm - option : linge de maison Le département de l'Aude est bordé par la Méditerranée et les Pyrénées, et composé de cinq « pays » qui sont le Carcassonnais, le Corbière-Minervois, la Haute-Vallée de l'Aude, le Lauragais, et le Narbonnais. L'Aude vous invite en Pays Cathare pour vivre un agréable séjour, grâce à son patrimoine culturel et religieux, sa diversité de paysages, ses terroirs et sa convivialité. L'Aude Pays Cathare vous fait vivre l'Histoire avec un grand H, celle du catharisme… Découvrez de nombreux châteaux du Pays Cathare : château d'Aguilar, château d'Arques, château de Lastours, château de Peyrepertuse, château de Puilaurens, château de Puivert, château de Quéribus, château de Saissac , château de Termes, château de Villerouge-Termenès.
Тип размещения
Дом/квартира целиком
---
Тип жилья
Квартира
---
Вмещает гостей
4
---
Спален
Fontcouverte, Лангедок-Руссильон, Франция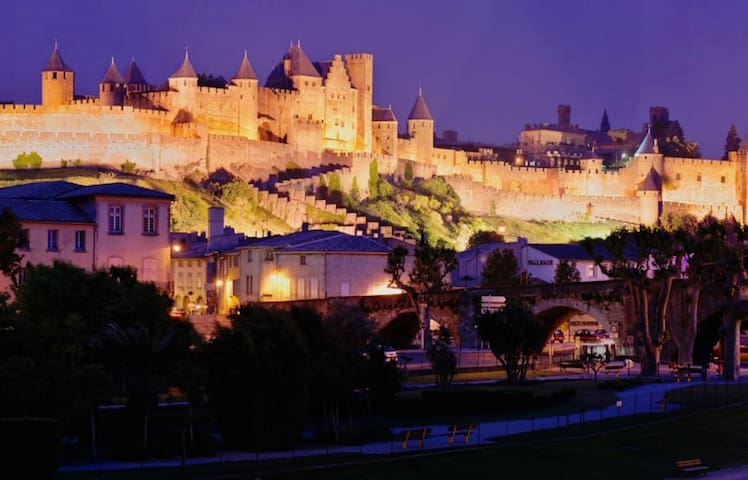 Die Wohnung befindet sich in einem Teil des Haupthauses eines alten Weingutes. Umgeben von 10000m2 Garten. Ruhige Lage. Nicht abgelegen, Geschäfte, Bars und Restaurants innerhalb von 5min erreichbar. Gute Verkehrsverbindung
Die vollständig eingerichtete Wohnung mit eigenem Eingang befindet sich in einem Teil des frühreren Haupthauses eines Weingutes. Unseren Gästen stehen 100m2 zur Verfügung. Im Erdgeschoss befinden sich die Küche inkl. Essecke, das Wohnzimmer und die Toilette mit grossem Waschbecken. Im ersten Geschoss zwei grosse Schlafzimmer und das Badezimmer mit doppeltem Waschbecken, WC und Dusche.
Fontcouverte befindet sich zwischen dem Mittelmeer und den Bergen. Carcassonne und Narbonne erreichen Sie innerhalb kurzer Zeit. Die Umgebung bietet die Burgen der Katharen, sowie verschiedene Weinschlösser. Am 'canal du midi' sind Sie innerhalb weniger Minuten. Gastronomie, Natur, Kultur, Sport, Faulenzen, Sonne...hier findet ein jeder was ihm gefällt.
The place is absolutely fantastic! The house is thoughtfully renovated and beatifuly styled and very clean. The kitchen is superbly stocked and enough of everything supplied. Tons of games and a lot of information on nearby attractions. While we visited on a rainy day the potential of the place for outdoor activities is evident. The hosts were fantastic - extremely helpful and eager to see to our every need. Overall a fantastic place to stay and highly recommended.
Yasmin
2015-12-21T00:00:00Z
Très agréable accueil du jeune couple de propriétaire, logement agréable et particulièrement bien agencé. Prestations en accord avec le descriptif. Nous avons passé un excellent réveillon de Noël amélioré par diverses attentions de nos hôtes . Une adresse à retenir et diffuser sans hésitation. Merci à vous, Tahina et Fabrice
Fabrice
2015-12-26T00:00:00Z
Un lugar genial, fantastico. Ideal para ir con niños (juegos, wii.. ) Muy atentos, no nos faltó de nada. Muy detallistas los anfitriones. Perfecto!!!! Repetiremosssss. La mejor casa en la que hemos estado. Hemos pasado un fin de año irrepetible. Un lugar al que no le falta de nada. Gracias por todo Un abrazo desde España Cristina,Ivan, Eric, ADrià y Janna
Crisblami
2016-01-02T00:00:00Z
May 2016. Full credit to Marijn & Chantal on their conversion in an original farmhouse to bright, new, modern guest accommodation. The apartment has all new appliances and all amenities. Marijn & Chantal are lovely hosts who live on the property and are available to assist in any way if required and ensured our stay was an enjoyable one. The location is quiet & central for day trips in the region or just relaxing at home. Our only disappointment was we could not stay longer. A great stay and would recommend for couples and families. Rod & Elaine, Sydney, Australia.
Rodney
2016-05-15T00:00:00Z
We found Le Piboul, very warm and comfortable. We enjoyed the wood stove and spacious living room for 5 adults. They have done a nice job remodeling the old Vineyard. He showed us some history of the barn, and the ongoing of his reconstructing of the property. They are making a dream come true. Thumbs up. All modern appliances bath and kitchen. Thank you for a safe and clean place to rest our heads. Beautiful grounds. Mark
mark
2016-03-11T00:00:00Z
Merci encore pour votre accueil et votre gentillesse, le gite était très bien ( conforme aux photos, neuf, propre, tout simplement super). Nous vous souhaitons une bonne continuation dans vos projets et peut- être à une prochaine fois. Les enfants ont adoré l'aire de jeux dans le jardin et la wii. :-)
steph
2016-02-16T00:00:00Z
Super accueil, appartement très sympa, nous reviendrons sûrement pour un séjour plus long, car les alentours sont très chouettes(Carcassonne est à 25min...) A recommander
laure
2016-04-19T00:00:00Z
Nice house and very peaceful. Its very nice for family host, kids enyoy a lot. Super.
Jordi
2017-04-03T00:00:00Z
Тип размещения
Дом/квартира целиком
---
Тип жилья
Квартира
---
Вмещает гостей
5
---
Спален
Fontcouverte , Aude, Languedoc-Roussilon, Франция
Situado en el borde de un pueblo de la elaboración del vino, a pocos minutos a pie de una variedad de comercio, incluyendo el mercado, supermercados, bancos, restaurantes y bodega de vinos. El apartamento es amplio y luminoso, con techos altos, una moderna cocina y baño. Tiene una gran terraza para disfrutar del sol de comedor Aude y al aire libre. Perfecta pied-a-terre para explorar los viñedos de Minervois, mercados locales, Canal du Midi, Carcassonne y la costa mediterránea.
Aunque parte de nuestra casa, apartamento Camille es un apartamento completamente autónomo primera planta con su propia puerta de la calle y la escalera. Está cómodamente equipado dentro y hacia fuera, con una cama de tamaño extra (que se puede configurar como dos camas individuales), un sofá cama en el salón, TV, reproductor de DVD por separado. La cocina está equipada con una cocina de gas, horno eléctrico, lavavajillas, nevera-congelador. Hay una mesa de comedor para 4 personas. El baño tiene una cabina de ducha, lavabo y bidé. Hay un aseo. En la gran terraza, que cuenta con zonas de sol y sombra, hay una gran mesa y 4 sillas, dos sillones y tumbonas están también disponibles. Hay una pequeña tienda derramada en la terraza que se encuentra la lavadora para su propio uso.
El apartamento está situado en una zona tranquila en general en el borde de un pueblo con tiendas típicas. Cambiar la pastelería de la panadería y llevarlo a la cafetería para un buen desayuno. Haga compras para los productos locales de temporada en el mercado. Hacer una visita a uno de los muchos viñedos para una degustación, o una toma paseo por el río, bajo la sombra de la trees.Join con la fiesta local. Durante julio y agosto, hay un "pop-up" bar al vino en el viñedo castillo local en los fines de semana.
Тип размещения
Дом/квартира целиком
---
Тип жилья
Квартира
---
Вмещает гостей
3
---
Спален
Rieux-Minervois, Occitanie, Франция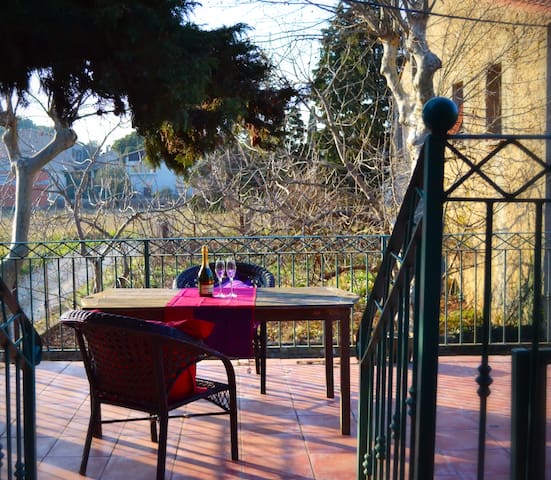 Small studio in my stone house of the seventeenth century, the vineyards of the Minervois and Rieux-Minervois, a village of 2000 inhabitants with all shops and market 3 times a week. It gives an impasse and a large square with no traffic, quiet. Visit our unique hexagonal Church in Europe, the city of Carcassonne, Minerve, curiosity Lauriole, the Cathar castles, the Canal du Midi, the chasm of Cabrespine, the Limousis cave, GRUISSAN and beach cottages ...
This small studio of 12M2 is independent, fully equipped and very functional. It is equipped with a comfortable bed 120. It is located on the ground floor, in my stone house of the seventeenth century, in the heart of the old village of Rieux-Minervois.
You have all the nearby shops, bakeries, butcher shop, banks, tobacco / newspapers, supermarket, market 3 times / wk
Pascale made arrangements to meet me and had made everything clear about when and where, so finding the place was very easy. She was very welcoming and showed me lots of places to visit in the area. This apartment is located in the very heart of the village and is in an enchanting area. It was neat and clean and had everything I needed. Pascale was very friendly and even cooked dinner for me one night. I would absolutely stay there again.
Glenda Sue
2016-12-06T00:00:00Z
I had a little problem with my plans since I wansn't very aware on the schedules of public buses that come and go to and from Carcassonne. Pascal was very gentil on helping me with this, and my trip ended being as I planned. The studio is just as it looks like in the photos. Little details make it even more beautiful. If you are traveling with out a car be aware of the bus schedule if you are planning to stay most of your time out of this town. Great place, absolutely recommend it. Ps: no free wifi around the town except when you are at Pascal's so take that in mind
Manuela
2016-07-17T00:00:00Z
nous avons été accueillis dès notre arrivée sur la place du village et guidés jusqu'au studio , bien frais malgré la canicule ce jour là. Pascale nous a bien documentés sur les buts de visite et découverte de sa région, et mis à disposition plans , brochures et cartes. Studio petit mais bien équipé et agencé. Les deux seuls "bémols" étant la difficulté pour accéder jusqu'au logement en voiture du fait de l'étroitesse des rues (elle le signale d'avance) et la réception tardive , 18h/18h30 , du fait de son travail, mais compensée par chaleur de l'accueil et fraicheur du studio et des boissons fournies au frigo ! Nous avons donc passé un séjour agréable et reposant.
jean-pierre
2016-07-16T00:00:00Z
Nous n'avons malheureusement passé qu'une nuit dans la studette de Pascale, malheureusement car tout est très propre et cosi, petit mais très bien équipé. Il n'y a pas de bruit. Le village de Rieux est charmant, et pratique si l'on veut visiter les alentours de Carcassonne. Un grand merci à Pascale pour ses précieux conseils touristiques, elle s'est montrée très disponible même pour le peu de temps que nous avons passé là-bas, en particulier n'hésitez pas à aller voir "la curiosité" de Lauriole (alias "la route qui monte et qui descend"vers Siran), le beau village de Minerve à flanc de falaise,... Superbe week-end !
Anne-Sophie
2014-07-15T00:00:00Z
Nous avons passé un très bon séjour à Rieux Minervois. La maison se situe dans le centre du village qui est très joli. Le studio est très bien agencé et bien équipé, petit mais juste ce qu'il faut ! Pascale est d'une extrême gentillesse et nous a donné de très bons conseils pour les visites aux alentours, les bonnes tables etc. C'était notre premier Airbnb et nous le conseillons les yeux fermés !
Aude
2016-08-12T00:00:00Z
Lugar limpio, tranquilo y acogedor. Pascale fue muy maja y nos facilitó la visita a los alrededores. Experiencia buena.
Cris
2015-04-06T00:00:00Z
Pascale is a very welcoming host. She met us in the main square of the village to help us get to the studio and she has a dossier with lots of useful information for tourists in the area. The studio is very well equipped, fridge, small kitchen, a good bathroom. She also leaves some bags of tea and instant coffee for the morning. If you have a car is a perfect choice for people going around in a budget.
Lavinia
2015-01-04T00:00:00Z
Une parfaite petite chambre dans un village adorable, nous avons passé une nuit reposante dans cette studette très bien équipée ! Merci à Pascale qui est très sympathique...
Aude
2014-08-25T00:00:00Z
Тип размещения
Дом/квартира целиком
---
Тип жилья
Квартира
---
Вмещает гостей
2
---
Спален
Rieux-Minervois, Лангедок-Руссильон, Франция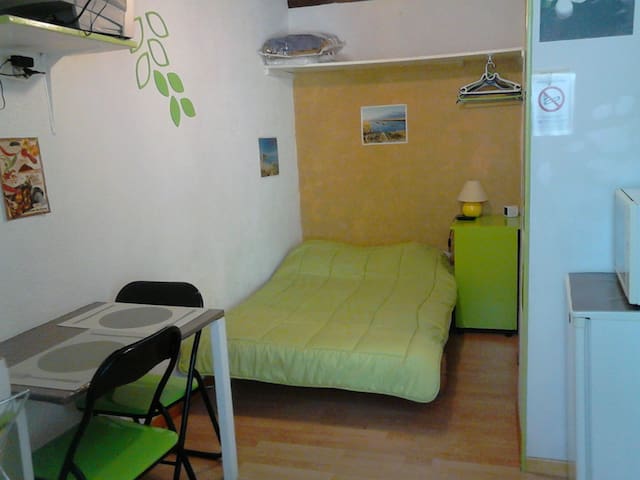 Тип размещения
Дом/квартира целиком
---
Тип жилья
Квартира
---
Вмещает гостей
2
---
Спален
Montlaur, Occitanie, Франция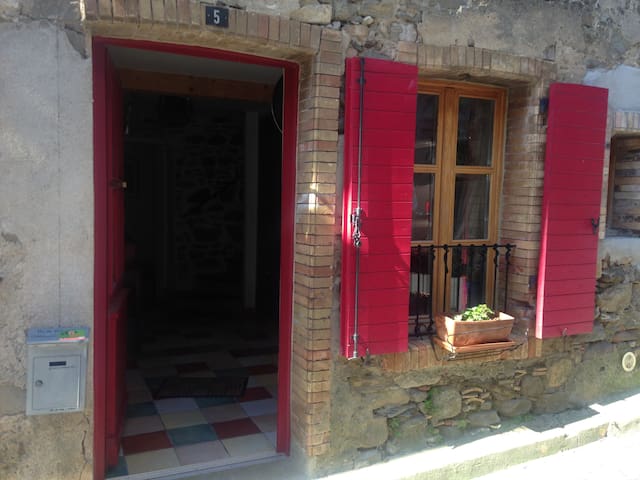 Тип размещения
Дом/квартира целиком
---
Тип жилья
Квартира
---
Вмещает гостей
3
---
Спален
Montlaur, Occitanie, Франция
My accommodation is close to Carcassonne airport. My accommodation is perfect for couples, solo travelers, business travelers and families (with children).
Small village house where life is good ... calm and zen interior atmosphere ... minimalist decoration but relaxing and rejuvenating ... worth a visit, you will not be disappointed ...
quiet village ... excellent to rest and not far off places for fun.
La maison de José, installée dans un village tranquille, est pratique, confortable et reposante. Un bon point de départ pour découvrir les Corbières... Myriam et José ont été disponibles et accueillants.
Julien
2016-10-31T00:00:00Z
Séjour très agréable chez José. Nous avons été bien accueillis par sa belle fille. L'appartement est très bien, bien situe dans le village, ou l'on trouve également quelques commerces. Montlaur est bien place pour visiter la région et faire de belles balades.
Julie
2016-12-31T00:00:00Z
Accueil sympathique des propriétaires. Serviable, disponible. L appartement est original dans un petit village atypique.
Sandrine
2016-10-11T00:00:00Z
Тип размещения
Дом/квартира целиком
---
Тип жилья
Квартира
---
Вмещает гостей
4
---
Спален
Montlaur, Languedoc-Roussillon Midi-Pyrénées, Франция