quiet room, with nice view, 3 min form Old (URL HIDDEN)
Дагмара супер отзывчивая и открытая, она очень помогла нам в планировании нашего путешествия, а также оказала помощь в покупке билетов! Отлично говорит по-английски. Комната большая и светлая с прекрасным видом, лучше, чем выглядит на фото. Также обратите внимание, что комната изолирована, но для того, чтобы попасть в нее вам надо пройти комнату , где живет семья Дагмары с ребенком. Не думаю, что это очень удобно в случае ваших поздних возвращений. Расположение очень хорошее, Бильбао показался нам достаточно интересным, но специфичным.
Mariia
2015-11-09T00:00:00Z
Staying at Dagmara's was amazing. She is so nice and makes you feel at home. Excellent location and very near and clean. Amazing view from the room and very spacious. Thank you!
Florencia
2016-08-01T00:00:00Z
Dagmara is a kind person and helpful. She gave us useful advices to visit the north of Spain. The room and the accommodation are very clean, confortable and well decorated! We stay just one night. Just perfect, we fully recommend!!
Clémentine & Fabien
2016-07-09T00:00:00Z
Dagmara was an excellent host! Her flat is located in a great part of the city & any question that I had, she was able to answer. She gave me plenty of information about Bilbao and laid out a great route for seeing as much of the city as possible. The room was clean and very comfortable with a pretty view.
Montessa
2016-06-10T00:00:00Z
Merci Dagmara pour ta gentillesse et pour tes conseils: une vrai mama. Le logementpropre est assez central juste à côté casco viejo avec plein de resto et bar à pintchos excellents.
annie
2016-02-25T00:00:00Z
Dagmara is a very nice and friendly host. She answered my spontaneous request very quickly and made me feel welcome despite my relatively late arrival. The room is as described in the pictures. Parking is a little difficult in that area due to a lack of space or timewise restrictions. I can recommend Dagmara and her family - you will feel as a part of it ;)
Felix
2016-01-29T00:00:00Z
Perfect host, very warmhearted and welcoming. The room is nice and clean and you have a stunning view. From the very nice bathroom too. Lovely family. I would go back!
Astrid
2015-07-26T00:00:00Z
Dagmara is a helpful and very generous host! The place was clean and comfortable. Location is perfect. Highly recommended if you want a nice, easy visit to the city!
Javier
2014-08-13T00:00:00Z
Тип размещения
Отдельная комната
---
Тип жилья
Квартира
---
Вмещает гостей
2
---
Спален
Бильбао, Страна Басков, Испания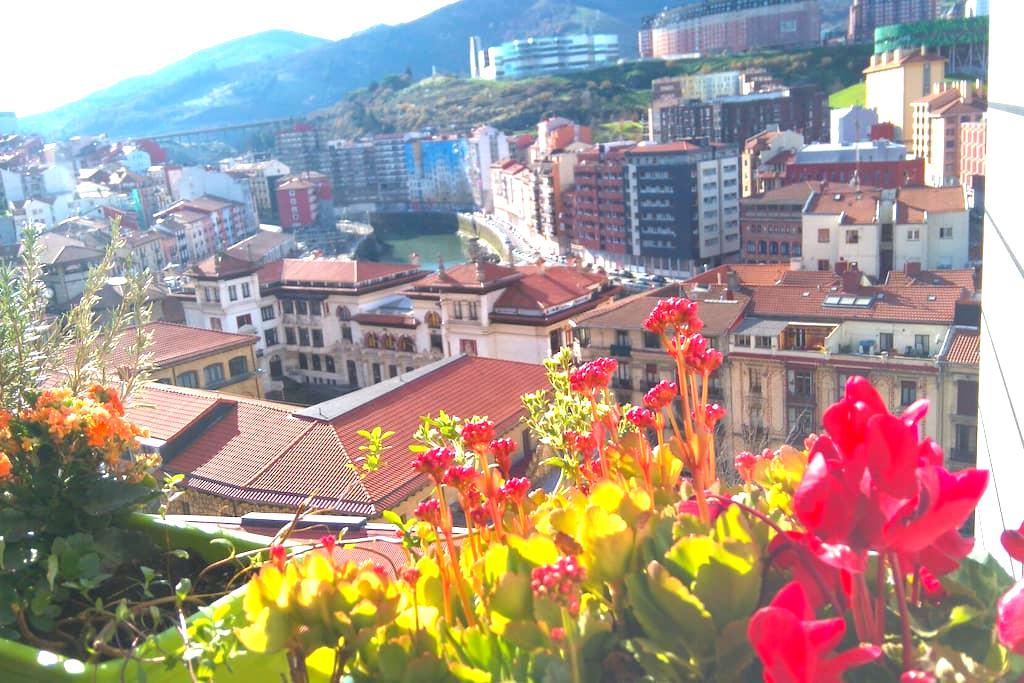 APARTAMENTO EN PLENO CASCO VIEJO A 1 MINUTO DEL PUERTO Y 5 DE LA PLAYA AL LADO DEL AUTOBÚS Y TREN IDEAL PAREJAS O FAMILIAS CON NIÑO PEQUEÑO COCINA CON OLLA,MICROONDAS , BATIDORA Y TODOS LOS ÚTILES DE COCINA LAVADORA (CON JABON) ,NEVERA Y HORNO PEQUEÑO BAÑO COMPLETO ,SECADOR,GEL,CHAMPÚ,TOALLAS... CAMA DE 1,50 Y SOFA CAMA 1,2O CUNA,TRONA Y BAÑERA PEQUEÑA. ROPA DE CAMA,SABANAS,EDREDONES,ALMOHADAS... PARKING OPCIONAL SI ESTA DISPONIBLE.
* Estamos inscritos en el Registro oficial de viviendas turísticas del Gobierno Vasco. Nuestro número de registro es E-BI-0082 Confortable estudio privado exterior, dotado de un espacio único con cocina,salón- comedor y dormitorio,el baño esta en otra habitación. Es un primer piso sin ascensor. Entrada a partir de las 15:00h-Salida a las 12:00h (si el apartamento está disponible, los horarios de entrada y salida pueden ser flexibles) """La semana del 23 DE JUNIO A EL 2 DE JULIO ,se celebran las fiestas de Mundaka,el apartamento está en el casco antiguo y muy cerca de donde se organizan conciertos y demás actividades, con lo que tiene muchas ventajas, pero también el inconveniente del ruido por la noche. A la hora de hacer la reserva de estos días,me gustaría que lo tuvieran en cuenta.
El pequeño y pintoresco pueblo de Mundaka se encuentra ubicado en la costa vasca, dentro de la Reserva de la Biosfera del Urdaibai. Mundaka presume de ser hogar de una de las olas de izquierda más largas del mundo, lo que convierte la localidad en un famoso destino de surf. Debido a su ubicación, es el lugar perfecto para dar un paseo durante un día en la playa o explorando la reserva.
This was possibly one of the most special AirBnb experiences I have ever had. Eva & Ceasar are wonderful people. They took me on a walk around town. They got me a few extra things for the flat and best of all, they took me on a boat ride. The flat was as pictured: small and beautiful. All brand new, clean and pretty. Great TV, great kitchen, great bathroom, great bed, great great great. They are lovely people and I can't wait to go back already. Be well and happy C & E. See you soon. Love Jon! :) x
Jon
2016-06-14T00:00:00Z
Everything was exactly what I needed and centrally located near the food (when it was open). Eva was very accommodating and made sure I had no trouble. Would recommend.
Adam
2017-02-07T00:00:00Z
Todo esta preparado con gran detalle. Tanto Eva como su marido son super agradables y cercanos. Sin duda recomiendo visitarlos, tanto por el piso como por el lugar idílico. Mundaka es precioso
Borja
2016-04-11T00:00:00Z
Appartement très bien situé au centre de Mundaka, confortable et abordable, je le recommande
Pierre
2016-10-16T00:00:00Z
Inmejorable atención de los dueños y genial la vivienda. Un 10 en todos los sentidos.
Ignacio
2016-08-30T00:00:00Z
We had a great stay in Mundaka. The apartment is beautifully decorated, clean and has everything you need for a short or longer stay. Eva and her sister met us upon arrival and were really friendly - we are only sorry we can't speak more Spanish! We came to Mundaka for its surf, but ended up really enjoying exploring and relaxing in this cute and quiet town. It is close enough to San Sebastien and Bilbao if you want more choice of restaurants, bars etc.
Stephanie
2016-09-24T00:00:00Z
Fantastic studio apartment and great hosts. On arrival Eva and her partner were holding a parking space for us (difficult to find in Mundaka in August). They were always available if we needed them and even left clean sheets when we had a friend staying one night. Hope to go back. Thanks
Gavin
2016-08-16T00:00:00Z
Un apartamento precioso. Hasta el más mínimo detalle está cuidado para que te sientas a gusto. Eva y su marido son personas estupendas, estuvimos encantadas de pasar un rato con ellos navegando en su bote. Pueblo, apartamento y anfitriones de 10.
Alba
2016-05-04T00:00:00Z
Тип размещения
Дом/квартира целиком
---
Тип жилья
Квартира
---
Вмещает гостей
2
---
Спален
Mundaka, Euskadi, Испания
The apartment is located in the old town of Lekeitio, 30 meters from the port and 200 meters from the town's main square. Isuntza beach is 300 meters away from apartment. You'll like it because it is collected and comfortable. It is very central, no cars allowed in the old town. Lekeitio is one of the few places recognized as "Slow city". The site is perfect for couples and families (with few children). There is a double bed and two bunk beds
It is centrally located and in a very quiet place with no car traffic. In Summer it is cool and in winter it heats fast because of the little volume of the apartment and because it has very good insulation.
Very close to everything and especially the port, the beach and several supermarkets.
Ricardo es un anfitrión excepcional. Desde el primer momento, la comunicación con él fue perfecta e incluso nos facilitó una guía turística: gastronomía, sitios de interés... e incluso las zonas de fácil aparcamiento. La casa no podía ser mejor: tal cual se muestra en las fotos. Un espacio acogedor en el que hemos podido disfrutar de nuestro fin de semana. Todo ha estado perfecto y sin duda, lo recomendáremos y volveremos.
Elena
2017-01-22T00:00:00Z
Tuvimos una estancia estupenda, el piso tiene una ubicación inmejorable, es muy acogedor, muy limpio, muy bien equipado y el anfitrión un encanto! Recomendable al 100%.
Dayanna
2017-03-05T00:00:00Z
Estuvimos 3 noches en este partamento céntrico de Lekeitio, el edificio es antiguo pero el piso está perfectamente reformado y decorado con muy buen gusto. Ricardo nos atendió de maravilla y nos ayudo en todo lo posible. Nos dio muy buenas recomendaciones para movernos y visitar la zona, imprescindible pasar por allí si dispones de unos días para disfrutar de la costa de Euskadi.
Josep
2016-11-17T00:00:00Z
Todo correcto y muy buena comunicación con el anfitrión
Aide
2017-04-04T00:00:00Z
Ricardo ha estado muy pendiente de todo, nos ayudó a subir el equipaje y nos dio indicaciones de qué hacer por Lekeitio. La casa está genial, muy acogedora y silenciosa. Ideal para pasar un fin de semana tranquilo.
María
2017-02-12T00:00:00Z
My partner and I spent 2 nights in Lekeitio. It is a beautiful little village with so much charm! Ricardo welcomed us very kindly and told us all we wanted to know about the region. The apartment was perfect, clean and right in the heart of the village. Thank you again for those 2 days
Lea
2017-01-04T00:00:00Z
Un appartement très cosy avec 4 vrais couchages. Très central (à 20 m du port), petit mais extrêmement bien conçu et pourvu de tout ce qu'il faut pour un séjour agréable.
Estelle
2016-12-23T00:00:00Z
Todo perfecto gracias
Carlos
2016-12-11T00:00:00Z
Тип размещения
Дом/квартира целиком
---
Тип жилья
Квартира
---
Вмещает гостей
4
---
Спален
Lekeitio, PV, Испания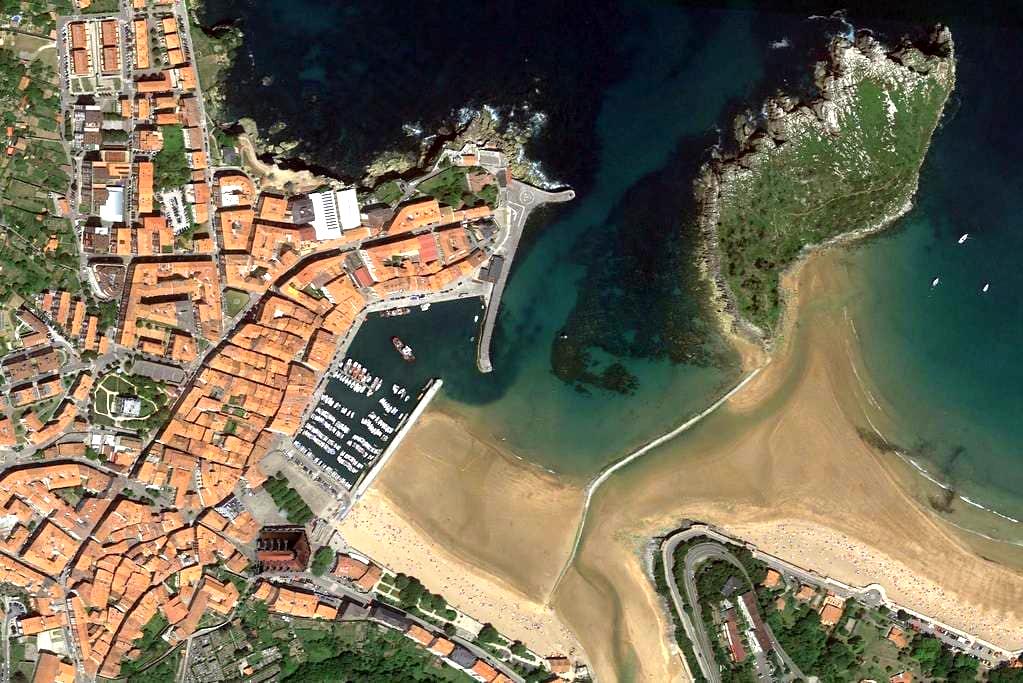 Loft luminoso con terraza y vistas al mar en el puerto de Bermeo. Totalmente equipado: cama matrimonio abatible, sofá cama, cocina-comedor y baño Importante: altura máxima 1,98 m. No recomendable para gente de más de 1,80
Тип размещения
Дом/квартира целиком
---
Тип жилья
Квартира
---
Вмещает гостей
3
---
Спален
Bermeo, Euskadi, Испания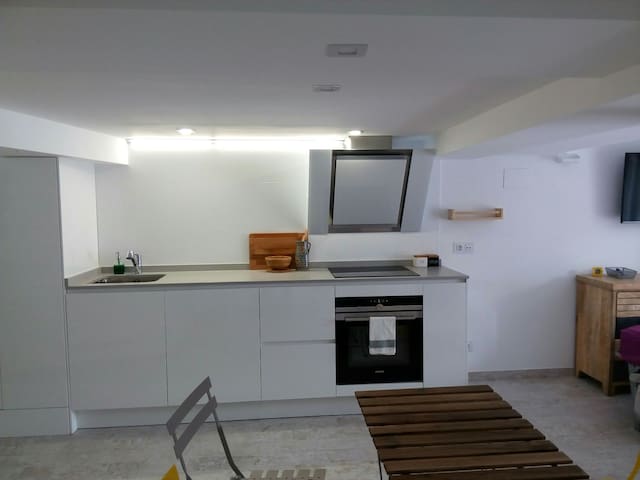 Derecho cocina y baño y salon
The host canceled this reservation 14 days before arrival. This is an automated posting.
Aida
2017-04-01T00:00:00Z
Тип размещения
Отдельная комната
---
Тип жилья
Квартира
---
Вмещает гостей
2
---
Спален
Barakaldo, País Vasco, Испания
Квартира, расположенная над обрывом, открывается потрясающий вид на океан и пляж, 3мин ходьбы от деревни и в 30 км от Bilbao.Reformado, 3hab, 2 ванные комнаты, кухня и большая терраса / solarium.Disponibilidad частности, гараж.
Ситуация и спокойной недалеко от города
L'appartement est super, très propre, la vue tout simplement magnifique... Cian a été très disponible et super sympa Super séjour, rien à redire :)
Laetitia
2016-08-23T00:00:00Z
Vista espectacular en este apartamento muy agradable. Cian siempre a nuestra disposición, muy simpático. Lo recomendamos :)
Boris
2016-08-04T00:00:00Z
Estuvimos muy a gusto en casa de Cian, nos hizo sentir muy cómodos y la ubicación es ideal.
Bene
2016-07-26T00:00:00Z
Incredibile!! solo la vista dall'appartamento giustificherebbe un soggiorno da Cian, quello che vedi non lo dimentichi più !! Se poi aggiungiamo che Cian è un host preciso , puntuale ed è una persona simpaticissima ed accogliente bisogna andarci assolutamente !!
Francesco
2016-08-13T00:00:00Z
appartement avec une vue incroyable sur la bais de bakio .le top
baptiste
2016-10-23T00:00:00Z
Sitio ideal para desconectar, vistas impresionantes, las mascotas son muy cariñosas y no dan guerra. El anfitrion respetuoso y amable y siempre dispuesto. En general buena experiencia.
Alvaro
2017-02-06T00:00:00Z
Un chico muy agradable, un sitio precioso.
Jessica
2017-01-22T00:00:00Z
Las vistas son únicas
enrique
2016-12-06T00:00:00Z
Тип размещения
Отдельная комната
---
Тип жилья
Квартира
---
Вмещает гостей
2
---
Спален
Bakio, Euskadi, Испания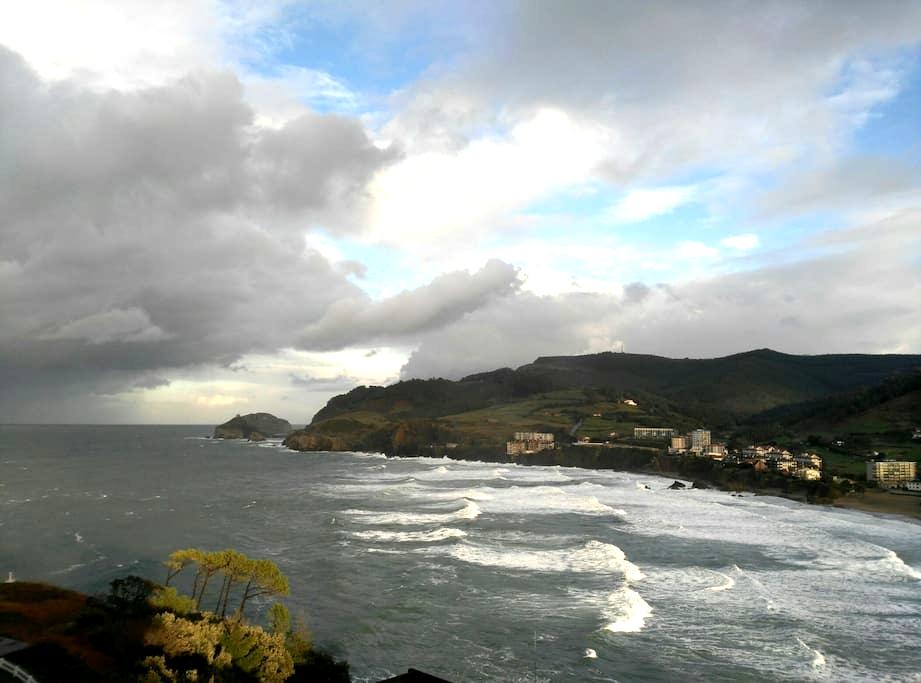 Lovely sunny place with private garden surrounded by mountains, 1 km to the SEA and 40km BILBAO city in the Urdaibai región, declared a Biosphere Reserve by UNESCO in 1984. With a secure private parking just beside the entrance. Garden furniture & lovely barbacue. Big comfortable 180 cm bed.
We are in a small town situated in the Nature Biosfere Reserve . Our coast line and beaches are lovely. It is ideal for nature and sport lovers. We are only 2 km away from beaches and 1km from a pintoresque port (Elantxobe) where we have a sea salt swimming pool. Walking 500 m from the house you have the clifts and the coast. The apartment is new and very comfortable with everything needed (internet , satelite tv, home cinema). It has a lovely garden with view to the mountains. Towels, beach towels, bed linen and final cleaning included in the price We speak english & french. It is 30 min by car to Bilbao (also airport) and 1 hour to San sebastian. The most interesting places to see are: Lekeitio, Ea, San Juan de Gaztelugatxe, Mundaka, Gernika & the nature around the place (cliffs, mountain view points, coast line walks, valleys) Check our town on (SENSITIVE CONTENTS HIDDEN) earth: Ibarrangelu 48311. If you like nature, beaches, a calm place to return after visiting towns and cities , this is the place for you. The best points of our place are: 1) the lovely GARDEN (Jardín), 2) the sunny TERRACE (terraza) , 3) the BARBACUE 4) SECURE parking. 5) TRANQUILITY
It´s a quiet and secure neighborhood of 7 houses 2 minutes walk from the center of the village. There is also all the necesary stores in town: Farmacy, bank, a shop which opens daily, 3 village restaurants.
This was a nice quiet, private place in a small quiet town. Alice and Igor were very nice and really left us on our own, but had provided plenty of information prior to our stay and in the apartment. They were helpful when my partner was sick by providing something to help her. There were many items on hand so it was really a matter of us showing up with our personal stuff and food and enjoying the area. There is a small store in town, but only open limited hours so groceries must be purchased in Gernika, about 20 minutes away. Enjoy the solitude and the beautiful nature around Ibarranguela, but you can also get to Bilbao to enjoy a large city and museums if you'd like. There are lots of places to hike and ride bikes in the area and the beach is a short drive from the apartment. San Sebastian seemed a bit tougher get to and longer drive. We all have different expectations and saying this is "by the sea" is probably correct for most people since it's only a couple of kilometers, but I actually live on the sea so for me this seemed to be a little bit further than I thought it would be. If you need to stay connected to the internet this may not be the best place for you since internet access was spotty. We had a nice time in this beautifully appointed, quiet private apartment with great hosts.
Wayne
2016-04-08T00:00:00Z
I stayed at this wonderful flat for a week with my boyfriend in May and it proved an ideal base to explore the beautiful Basque region. The flat itself is modern, super clean and cosy and benefits from an amazing private garden, complete with a little river running through it, a gorgeous sitting area, barbecue etc. It has all the necessary amenities, incl great internet connection. Location was perfect for us - in a quiet and typically Basque village, close to Bilbao, San Sebastian, some beautiful beaches only 5 min drive away, plus several cute villages and towns to explore. I can only recommend this place and would definitely consider staying there again!
Jen
2016-05-09T00:00:00Z
This is a treasure! We felt very welcome in the apartment of Alicia & Icor. The apartment itself is of excellent quality and foresees in every need, as if you were in you're own home. Very cosy and very well maintained. Excellent terrace with a calming view on the mountains. Alicia is a perfect guide, vibrant personality, you feel she's proud of her house and region and that translates in to every detail of them both. She prepared like an Encyclopaedia with all the possibilities in the region, there's info & tips for every need. The apartment is located in a quiet town but in short drive of Bilbao - San Sebastian - Guernika - ... I can't explain how much we enjoyed our stay here. We'll be back!
Niko
2013-10-27T00:00:00Z
Igor e sua moglie sono stati accoglienti, precisissimi e di grande aiuto. La casa è davvero bella e ben cirata, al di sopra delle aspettative. C'è tutto quello che serve e il tutto è arricchito dalla vista su uno splendido giardino. Quando siamo arrivati la moglie di Igor ci ha preparato una buonissima torta e dei biscotti fatti dalla figlia. Davvero un'ottima esperienza.
claudia
2016-08-23T00:00:00Z
Fantastische tijd in een prachtig appartement. Igor en Alicia waren supervriendelijk.
daphne
2016-07-31T00:00:00Z
Nice place. Alicia is very informative and friendly. She gave us a lot of information on mail and was very helpful. We can only recommend renting Alicias apartment.
Anders
2015-04-04T00:00:00Z
Igor y Alicia son unos anfitriones fantásticos. Nos han facilitado rutas, nos han dado consejos para conocer la zona y hasta nos prestaron unos paraguas!! Ha sido una de las mejores experiencias de Airbnb. La casa es incluso más bonita que en las fotografías. Está nueva, la limpieza es impecable y no le falta ni un sólo detalle. La recomiendo 100%. Además la zona es preciosa. Ha sido un fin de semana de 10.
PEPA
2016-10-02T00:00:00Z
Trés beau logement conforme aux photos. Igor et Alicia habitent au dessus et sont très disponibles et de bons conseils. Ils nous ont prêté tout le nécessaire pour les enfants/bébé. Le jardin très bien entretenu est appréciable pour profiter du soleil. Nous recommandons fortement cet endroit pour visiter le pays basque.
Maïwenn
2017-02-19T00:00:00Z
Тип размещения
Дом/квартира целиком
---
Тип жилья
Дом
---
Вмещает гостей
3
---
Спален
Ibarranguelua, Страна Басков, Испания
En la tercera planta de una hermosa casa señorial perteneciente a la parroquia de San Nicolás tenemos una habitación privada con baño propio. La habitación y el baño son independientes y con acceso directo desde la escalera de vecinos. La habitación de 23 m2 puede acoger a seis personas en dos camas individuales y dos literas. Espacios comunes del edificio: cocina-comedor con salida al jardín, salas de reuniones, oratorio y aparcamiento privado. Centro de Algorta. Playas y metro a 5 minutos.
La habitación puede acoger de una a seis personas. Es entera y exclusivamente para quien la reserva. Al ser una habitación con acceso propio gozas de más independencia e intimidad. La habitación tiene dos ventanas NUEVAS, es luminosa y dispone de televisión y wifi. Los colchones han sido renovados y tienen dos metros de largo. El baño es nuevo y cuenta con una ventana que aporta luz natural. En las zonas comunes hay más servicios-wc disponibles.
Goza de una ubicación privilegiada en pleno corazón de Algorta, entre las playas de Arrigunaga y Ereaga. Está próxima al Puerto Viejo, uno de los lugares con más encanto de todo el municipio. Situada junto al Getxo Antzoki (teatro municipal), esta zona destaca por concentrar gran parte de la amplia programación cultural de Getxo. También gozarás con la mejor ruta de bares de Algorta, donde no te faltará el buen ambiente y los pintxos. Podrás ver jugar a pala en los pórticos del antiguo ayuntamiento o disfrutar de las encantadoras casas marineras que miran al puerto. El pueblo cuenta con largos y hermosos paseos entre el mar y la verde costa vasca. El municipio tiene numerosos lugares de interés: Puente Bizkaia (puente colgante que une Portugalete y Las Arenas/Getxo), casas señoriales, puerto deportivo con zona de ocio nocturno donde recalan los cruceros y ferrys, molino de Aizerrota (del siglo XVIII)... También dispones de muchas tiendas, supermercados, un centro comercial a 5 minutos en coche o autobús público y todos los servicios que puedas necesitar: bancos, correos, alquiler de bicicletas, oficina de turismo...
Le quartier est très agréable, des cafés ensoleillés, de la vie. La maison est très calme, bien isolée du bruit de la rue. Javier est très sympathique et donne de bons renseignements sur ce qu'il faut visiter dans les environs
Alex
2016-12-28T00:00:00Z
Fue una estancia genial. Justo lo que necesitaba. Javier me dio indicaciones muy precisas para llegar al lugar donde me esperaban para dar la llave. Una estancia cómoda y agradable.
Ander
2016-07-09T00:00:00Z
Javier fue muy amable y nos facilito mucho la estadía con consejos y guías turísticas que están disponible en la entrada de la habitación. El sitio es muy acogedor y la localización es perfecta. Muy limpio y hay todo lo necesario para disfrutar de unos días de relax. Realmente vale la pena! El nos ofreció también el servicio de desayuno el cual es muy rico y te dan muchas cosas. Muchisimas gracias por todo Javier!! Seguro volveremos.
Marita
2016-07-07T00:00:00Z
Everything was as described in the ad. It is a lovely house. Hussein was waiting for us to welcome us and give us the keys. The room is big and spotlessly clean and it has its own bathroom. The location is very central and close to shops and transport. It is excellent value for money.
Maite
2016-12-21T00:00:00Z
Me pareció muy bien, muy atentos, en mi caso la verdad que un lugar para descansar a gusto que solo fui a dormir una noche, sin duda lo recomiendo y más adelante pasaré con mis amigos por ahí, un saludo y gracias!
Rodrigo
2017-02-27T00:00:00Z
although we only stayed one night before our flight out of bilbao airport, we were satisfied with our stay at Javier's. the room was spacious, wifi and shower strong, adequate parking space. extremely good Japanese restaurant nearby as well.
Jolyn
2016-12-22T00:00:00Z
Me aloje 4 noches y estuve muy a gusto. Habitación muy amplia y limpia. Buena ubicación, muy cercano al metro. Javier muy atento.
Irati
2016-12-06T00:00:00Z
Toujours parfait!
Catherine
2016-12-13T00:00:00Z
Тип размещения
Отдельная комната
---
Тип жилья
Дом
---
Вмещает гостей
6
---
Спален
Гечо, País Vasco, Испания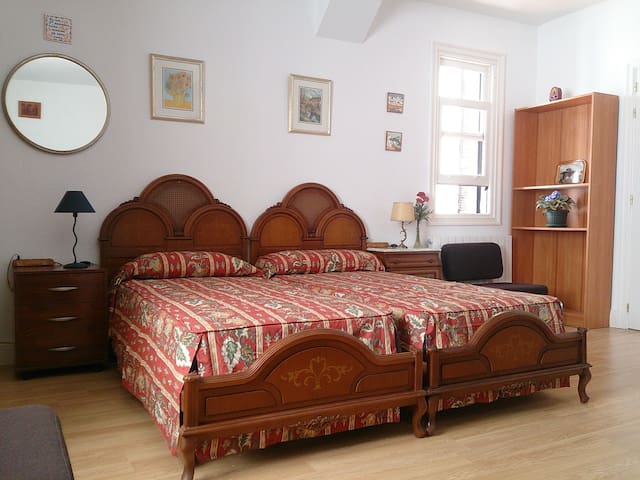 Attractions: Near the Museum of Fine Arts and the Guggenheim, also near San Mames and the Old Town. In full shopping area, close to several areas of pintxos ..
Very close to the subway, bus, taxi .... very good area to get anywhere Bilbao.
The apartment is located very close to several areas of pintxos, Garcia Rivero, Ledesma ....
Piso limpio y céntrico ! Los mejores pintxos de bilbao al lado !
Manuel
2017-02-19T00:00:00Z
Great location if you wish to get to know the city, it is very spacious and Arantza was very helpful!
Nicole
2017-01-15T00:00:00Z
Bikain
Ramun
2017-01-01T00:00:00Z
Ubicación inmejorable. El alojamiento cumple con la descripción. Arantza fue flexible, amable, servicial y nos dio todas las facilidades a su alcance.
pablo
2017-02-12T00:00:00Z
Excelente anfitriona, muy bien ubicado, muy seguro, muy cómodo, bien limpio. Muy recomendable
GILBERTO
2016-12-29T00:00:00Z
Тип размещения
Дом/квартира целиком
---
Тип жилья
Квартира
---
Вмещает гостей
7
---
Спален
Bilbo, Euskadi, Испания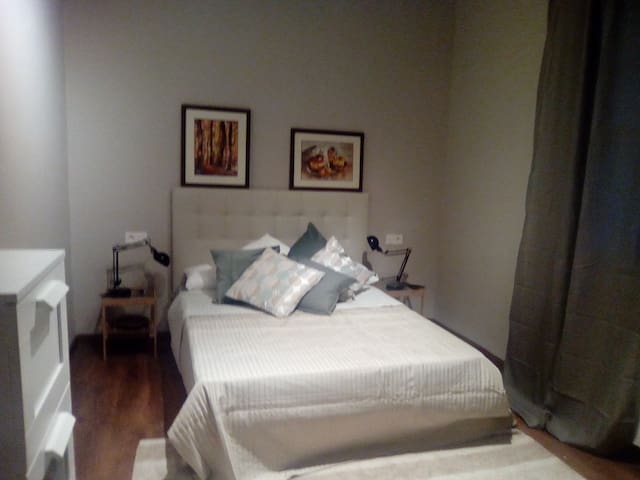 Cozy flat in Elantxobe, in the center of Basque Country. If you are looking for relaxing holidays, this is your place. Here you will enjoy our food, people, activities, traditions, nature,... Nº of registration: E-BI-130
Cozy flat in Elantxobe. Magic place in the centre of Urdaibai, the Nature Biosfere Reserve declared by UNESCO in 1984. The flat is located in the centre of the village in an historical mansion, built in 1851 and completely refurbished in 2013. If you answer YES to these questions this is your place! ¿Do you like relaxing and peaceful places? ¿Do you like having a walk in the shore of the sea during the sunset? ¿Do you like to be in contact with the nature? The apartment is 4km from beautiful beaches and the town has a pintoresque port with a natural swimming pool. In the surrounding you can enjoy these activities: -Surf (Laga, Laida and Mundaka) -Paddel Surf (Urdaibai) -Canoeing (Urdaibai) -Scuba Diving (Elantxobe(URL HIDDEN)Birdwatching (Urdaibai Bird Center) -Fishing (Elantxobe) -Hiking (Elantxobe) -Climbing (Elantxobe) -Horse riding (Ibarrangelu) -Museums (Gernika) Close to Elantxobe you can visit Lekeitio, Mundaka, Bermeo and Gernika. Elantxobe is 40 minutes from Bilbao and 1 hour and 30 minutes to San Sebastian. We will be delight to give you all the information you need to enjoy your time in our home.
Very quiet and peaceful neighborhood.
Everything was fine, thanks! A lot of space, well equipped, interesting flat, a lot of information available what to visit. We enjoyed our stay!
Markus
2016-06-01T00:00:00Z
It was a nice stay in a beautiful place.
Ellen
2016-08-11T00:00:00Z
Great flat, lovely setting, and helpful, attentive hosts. We had a problem with the boiler on the evening we arrived, but it was totally unforeseeable, and Ander sorted it out at the earliest opportunity, the next day. We were only able to stay for two nights but the place is set up perfectly for longer stays too, and I would love to go back again to see more of the area.
Will
2016-01-24T00:00:00Z
Estancia perfecta en lugar maravilloso. Apartamento tal y como se ve en las fotos, June y Ander tuvieron muchos detalles , incluso antes de llegar mandándonos mucha información. Hemos podido recorrer gran parte de la costa vasca y ver pueblos y lugares preciosos. Hemos estado como en nuestra casa. Muchas gracias por todo.
Geni
2014-08-02T00:00:00Z
Excelente ,a atención, el barrio , comodidades del departamento. esta renovado a nuevo con todos los servicios, muy cómodas las habitaciones buena vista, completa la cocina baño.
Gabriel Mariano
2014-06-14T00:00:00Z
Appartement spacieux et agréablement relooké dans le haut du village de Elantxobe. Vue mer des balcons des 3 chambres. Localisation sympathique cette côte du pays basque qui permet de profiter du secteur de Berméo à Leiketio. La ballade du tour d'Ogoño se fait à partir de l'appartement et permet de descendre à pied à la très belle plage de Laga. Merci à June & Ander
Olivier
2014-10-23T00:00:00Z
June and Ander have specially designed their apartment with an artistic taste. We were particularly impressed with their handmade guest book and the beanbag couch. Quiet and a serene getaway with a great view!
John
2014-02-03T00:00:00Z
We found our host June to be very friendly and helpful, and spoke good English. The apartment was just as shown in the pictures and is very homely. It is well equipped and ideal for a family. The small town of Elanxtobe is very beautiful and the apartment is located at the top of the town, there is a little grocers shop across the road from the apartment which has all the basics. Not much English is spoken in the town but everyone is very friendly.
Elaine
2015-07-10T00:00:00Z
Тип размещения
Дом/квартира целиком
---
Тип жилья
Квартира
---
Вмещает гостей
6
---
Спален
Elantxobe, Страна Басков, Испания
El apartamento está el centro del pueblo a pocos minutos del puerto, la playa y la montaña y a 25km de Bilbao. Es un acojedor bajo con jardin, ideal para parejas o cualquier persona que quiera descubrir las maravillas de la costa vizcaina.
Très bon séjour ; appartement très bien situé et fonctionnel ! Je recommande +++
Doria
2016-10-23T00:00:00Z
El departamento de Mayte esta impecable, muy bien localizado en un lugar precioso, con estacionamiento cubierto, una terraza muy linda y ella es una anfitriona excelente. Recomendamos ampliamente el departamento de Mayte. Mayte's place is very nice, clean, and fully equiped. Located in a beautiful town very close to the beach. She is a wonderful host, great comunication and very friendly and helpful. She was great with our last minute request and late arrival. We highly recommend Mayte's place.
Carla
2016-10-13T00:00:00Z
La casa muy cómoda, limpia y con todo lo necesario. Además Maite y su hermana nos ayudaron en todo y fueron muy amables. ¡Muy recomendable!
samantha
2017-01-30T00:00:00Z
Apartamento muy cómodo y agradable. Muy (URL HIDDEN) terraza está muy bien.Muy recomendable.
SUSANA
2016-12-04T00:00:00Z
El piso está ideal para una pareja! Tal como reflejan las fotografías, es funcional, limpio y hogareño! Todo perfecto! Lo mejor, la terracita!
Patricia
2016-12-15T00:00:00Z
Super!!!excellent...buena..everything perfect..beautiful.i highly suggest her and her place... clean...spacious... great location.....
Andrea
2016-10-09T00:00:00Z
L'appartement de Maïté est clair , spacieux et très bien (URL HIDDEN) plus il était propre et des serviettes de bain était à (URL HIDDEN) est à 30 minutes de Bilbao , et à quelques minutes d'une plage et d'un port , ainsi que d'un (URL HIDDEN) le recommande pour un voyage en amoureux , avec repas sur la terrasse !
Vanille
2016-10-26T00:00:00Z
Un piso fantástico para visitar Plentzia. Maite muy amable. 100% recomendable
Ignacio
2016-11-27T00:00:00Z
Тип размещения
Дом/квартира целиком
---
Тип жилья
Квартира
---
Вмещает гостей
2
---
Спален
Plentzia, Euskadi, Испания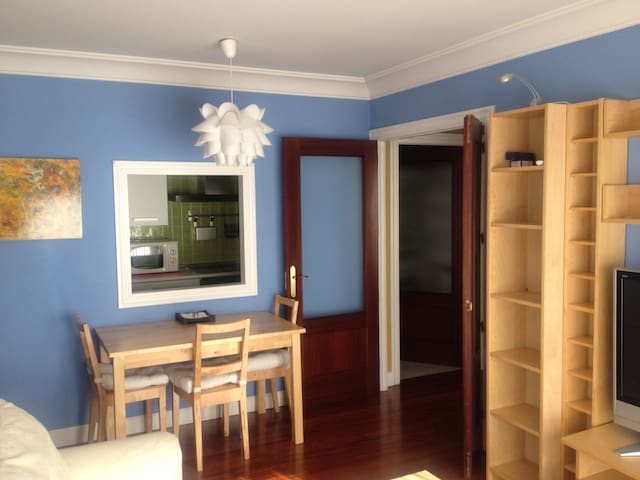 Apartamento impecable en planta baja en casa unifamiliar, ideal para parejas viajeras , situado en un entorno rural, a 15¨ a Bilbao y las playas de Sopelana, Plentzia y Bakio. Linea de autobus al centro con parada frente al alojamiento.El apartamento, es completamente privado, en la planta baja de una casa unifamiliar, por lo que la ley nos exige anunciarlo como habitación privada y no como toda la propiedad.
Lugar tranquilo con zona ajardinada, a 5" de Mungia con bares de pintxos y con todos los servicios. Por su inmejorable ubicación es ideal para visitar el Guggenheim, la reserva de la biosfera de Urdaibai, y los pueblos costeros más bonitos. Sin problemas para aparcar el coche.
Para visitar el centro de Bilbao y otros puntos de interés, como las playas más bonitas de la costa, situado estratégicamente cercano y tranquilo.
Very nice home near a small town outside of Bilbao. We enjoyed sitting in the sun by the big green lawn. The beds were very comfortable. The hosts were very accommodating. Gracias!
David
2017-04-03T00:00:00Z
This is a fantastic place if you are by car: a lot of space, everything you might need is here, beautiful nature around and main tourist attractions of the area within 20-30 minutes by car. Mertxe and Miguel are great hosts, very pleasant persons who are ready to help you any moment. Highly recommend.
Igor
2016-06-20T00:00:00Z
La situació de la casa és ideal per anar a Bilbao, les platges, la zona d'Urdaibai i els poblets de la costa. Està molt ben comunicada i l'accés a l'autopista és molt a prop. La casa té un jardí molt gran, és confortable i té tot el que es pot necessitar. Els anfitrions molt amables i agradables.
JORDI
2015-08-10T00:00:00Z
Tout était parfait: Mertze, Miguel, l'appartement, l'endroit à la campagne mais proche des grandes routes. Votre hospitalité est chaleureuse et compense pour les hôtes qui ne pensent qu'à l'argent. Merci beaucoup !
Lucie
2016-10-13T00:00:00Z
Un apartamento muy acogedor y muy completo. Los anfitriones muy amables.
Judy
2017-02-26T00:00:00Z
Es un apartamento acogedor, muy limpió y tranquilo. Está muy bien equipado no necesitas llevar nada. Los anfitriones nos recibieron muy bien y son súper amables. Sinceramente no tengo nada malo que decir. Muy recomendable.
Elisabeth
2017-01-04T00:00:00Z
Estancia muy agradable, apartamento acogedor, limpio, buena atencion y colaboracion de los anfitriones.
Siilvia
2016-03-24T00:00:00Z
La casa es muy acogedora, estuvimos muy a gusto en ella. Está junto a una carretera, pero pasan poquísimos coches y hay mucho silencio, es muy tranquila. Hay dos aparatos de aire acondicionado de los que también dan calor, uno en la habitación y otro en el salón. Los usamos en modo calor y calientan muy rápido. La cama de matrimonio es muy cómoda, las camas de la litera no las utilizamos ya que éramos solo dos. La cocina es muy completa y bien equipada, lo único que no tiene es olla express. El baño es enorme y la presión de la ducha es buena. El WiFi no es muy rápido, vimos una película en streaming y daba tirones, pero para navegar va muy bien. En el salón hay un mueble lleno de folletos con información turística de la zona y en la pared hay un mapa en tres dimensiones de Vizcaya que es muy útil para hacerse una idea de cómo es la zona. La ubicación es muy buena si se tiene coche, muy cerca de Bilbao y cerca de los pueblos costeros de Vizcaya. En coche no se tarda nada en llegar a Mungía, un pueblo tranquilo pero que tiene muchos restaurantes y tiendas y un supermercado enorme que tiene de todo. Si no se tiene coche hay una parada de autobús al lado para ir a Bilbao, pero la frecuencia es mala. El transporte público es mucho mejor desde Mungía, pero andando desde la casa debe de ser como media hora. Los dueños muy amables y atentos. Viven en la planta de arriba, pero la planta de abajo es totalmente independiente. Fue una estancia muy agradable, sin duda volveremos.
xther
2016-11-14T00:00:00Z
Тип размещения
Дом/квартира целиком
---
Тип жилья
Дом
---
Вмещает гостей
4
---
Спален
Gatika, Euskadi, Испания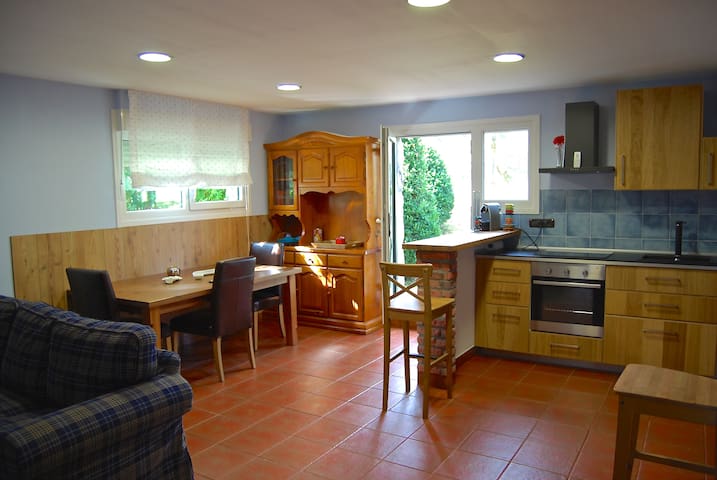 Rural apartment very central close and familiar atmosphere, very well connected. excellent location surrounded by mountains, 30 minutes from beaches, 5 min of Durango, 15 minutes Urkiola Natural Park and 30 minutes from Bilbao, 45 minutes from Sebastian S .. In full naturaIeza, ideal for couples, families, children, adventurers, hikers, business travelers. You'll meet our animals. Points of Interest Bilbao, S Sebastian, Hondarribia, Urkiola Park, Gernika, Mundaka, Zarautz, Bakio ...
El apartamento rural tiene acceso y zona totalmente privada para los huéspedes lo que les garantiza plena privacidad Consta de un amplio salón comedor, con una cocina abierta con barra americana totalmente equipada con menaje de cocina,cafetera, tostador, calentador de agua para infusiones, lavadora , plancha,tendedero, microondas, frigorífico... Tiene dos habitaciones,una con cama doble y la otra con literas de 2 metros Posee un baño con ducha, secador de pelo,servicio de toallas... En la zona de salón hay un sofá amplio y otro sofá nido que tiene dos camas individuales . También posee una mesa abatible de comedor con 6 sillas. Posee conexión gratuita de WIFI
The neighborhood is rural atmosphere of tranquility .... The Gerediaga neighborhood is a 10 min walk from the village of Matiena and 5 minutes drive from the town of Durango so that all services are close by. 5 min from two malls: Hiper Eroski, Simply, Decathlon, AKI ... Burger King, Mc.Donals .... A 5 minutes also sports centers, equestrian centers, municipal swimming pools .... It is a rural area, surrounded by mountains and the central time because of its proximity to these locations Possess picturesque roads.
Todo igual que figuraba en el anuncio, todo perfecto. Muy recomendable
ENDIKA
2017-02-05T00:00:00Z
Hemos disfrutado mucho estos días, la casa es preciosa y el entorno también, da gusto verlo todo tan verde...y los animalitos han sido la gran atracción de los pekeños! Joseba y Raquel nos dijeron lugares para ir con los niños. Los huevos de sus gallinas deliciosos!! Genial! Para repetir
Barbara
2016-10-15T00:00:00Z
Ha sido una corta estancia , pero en un sitio incomparable tal y como se detalla . Joseba es un anfitrión excepcional y sin duda en cuanto podamos volveremos .
Sergio
2016-11-01T00:00:00Z
El apartamento es muy acogedor, espacioso y muy bien equipado. Rodeado de verde en un ambiente muy tranquilo con aire fresco, compartimos con gallos, ovejas y un pony. Joseba nos atendió excelentemente, muy amigable y hasta nos ayudó como guía turístico para aprovechar al máximo el tiempo. Recomendado 100%.
José Pablo
2016-10-25T00:00:00Z
Very nice area and environment. Our kids liked a lot the animals. Our dog also especially one of the chicken. Jose a was very nice and helpful. Great week-end for the family. Thanks again.
Michel
2016-11-13T00:00:00Z
La casa de Joseba es perfecta. La ubicación es maravillosa y muy accesible gracias a sus indicaciones. La casa es muy acogedoras y estaba muy limpia. Los niños lo pasaron fenomenal. Fue una pena no poder prolongar la estancia. Repetiremos seguro. Eskerrik asko Joseba!
Guillermo
2016-08-22T00:00:00Z
Joseba es un anfitrión espectacular, siempre comunicativo y servicial. Mi hijo se puso malo en el último momento y yo no pude viajar, pero sí mis acompañantes y, lejos de ser un problema, se han adaptado a nosotros y a nuestros horarios ya que tuvimos que llegar un poco antes. Sin duda tendremos que ir para quitarnos la espinita. Según me dicen mis familiares el sitio es muy bonito y la casa cómoda y perfecta para viajar con niños.
Sandra
2017-02-27T00:00:00Z
This was a fabulous location for us. Not too far from Bilbao so we did a trip to the museums and the San. Sabastian beaches the next day. It's located close to the highway but you really would know it once you get there. The setting is beautiful! Kids had lots of fun following the Shetland pony around. We went for longs walks down the road along the river. It's really stunning. There is a local restaurant close by and shops etc all within a 5-10 min radius depending on what you are looking for. For a family of four its all you need after a long day of exploring . Somewhere clean warm beds and a warm shower ! We will go back.
Mandy
2017-02-25T00:00:00Z
Тип размещения
Дом/квартира целиком
---
Тип жилья
Квартира
---
Вмещает гостей
6
---
Спален
Abadiño, Bizkaia, Испания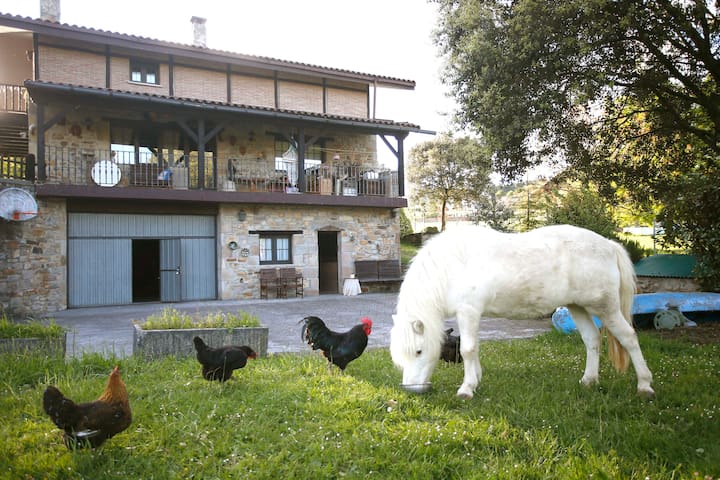 This small apartment for 2 people has 1 bedroom, fully equipped kitchen and wc. Located in the heart of Urdaibai and 100m from the beach. A 10m public transport and 7 km from Gernika and Bermeo.
This small apartment is located in the heart of Urdaibai Busturia, just 100 meters from the beach. It has a bedroom, fully equipped kitchen (washing machine, oven / microwave, refrigerator, stove, kitchen utensils ...) and bathroom with shower. This completely renovated
quiet neighborhood with beaches and bars around. Bus stops and train stations are nearby and it is amazing to walk around and admire the scenery.
Тип размещения
Дом/квартира целиком
---
Тип жилья
Квартира
---
Вмещает гостей
2
---
Спален
Biscay, Страна Басков, Испания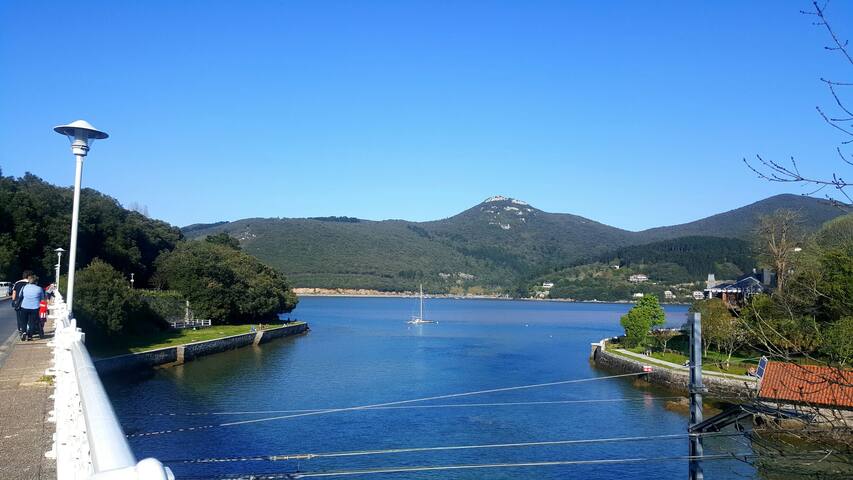 En el barrio residencial de Cotolino a 300 metros de la playa de Brazomar de Castro Urdiales. Estudio tipo Loft de 31 m2. Amueblado con un Sofá-cama de 120 cm. y otras 2 Camas de 80x200 cm. que se pueden juntar. Dispone de ropa de cama (sabanas, edredones, etc.) y toallas. La cocina equipada con electrodomésticos nuevos y todos los accesorios. Es una entreplanta muy soleada. Parcela de GARAJE incluida en precio. Es muy práctico y funcional. Todos los servicios están cerca.
Está en la mejor zona para veranear. Cerca de terrazas, restaurantes, tiendas, etc. La playa de Brazomar a 300 metros pero también el centro de la ciudad de Castro Urdiales a de 20 minutos andando por el paseo marítimo.
Barrio residencial en zona moderna con todos los servicios cerca. Buen acceso desde la autopista.
Estudio muy bien cuidado a un paso de la playa y cerca del centro, nos sentimos como en casa. El único pero es que no tiene ascensor para acceder a la vivienda y nosotros ibamos con una niña de un año con el consiguiente carrito, por lo demás un diez.
javier
2016-08-21T00:00:00Z
Muchas gracias , Alejandro, por tu hospitalidad! Han sido unos días geniales. La casa está al lado de la playa y cerca de comercios y un gran parque, así que era justo lo que necesitábamos para nuestras pequeñajas.
Elio
2016-08-30T00:00:00Z
Es un tipo estudio muy cómodo y bien ubicado, tiene accesible supermercado, panadería, farmacia,un parque para los peques y esta muy cerca de la (URL HIDDEN) ideal para tres personas.Proporciona todo lo que es ropa de cama, productos de limpieza y menaje de cocina.Esta para llegar e irse inmediatamente a la playa . Alejandro es muy amable y nos ayudo su flexibilidad en los horarios de llegada y salida. El parking no esta en la misma finca pero la verdad es que esta muy cerca y se agradece poder disponer de el. Puedes aparcar en todo el frente de la finca pero es zona azul.
Angelica
2016-07-16T00:00:00Z
Un appartement très charmant et très bien placé. Super accueil.
Nathalie
2016-08-03T00:00:00Z
Appartement agréable très bien situé à côté de la plage dans une petite ville très mignonne et touristique. L'emplacement est idéale pour des vacances tranquille. L'appart est bien équipé et correspond vraiment à ce qui le décrit.
Lise
2016-08-14T00:00:00Z
Alejandro es un grandísimo anfitrión. Te da todas las facilidades y te ayuda en todo lo que puedas imaginar. La verdad es que nos hizo sentir en nuestra propia casa. El estudio es una pasada, limpio, acogedor, no echas en falta nada. En la misma calle tienes panaderias, fruterías, bares... y a menos de 100 metros un super. La ubicación es muy buena, a muy pocos minutos de la playa de Brazomar, donde puedes dar un lindo paseo hasta el casco histórico. Sinceramente, recomendable 100%.
Pedro
2016-08-06T00:00:00Z
Estancia muy agradable en este estudio, tiene de todo lo necesario. Anfitriones muy atentos y dispuestos. Localización inmejorable dentro de Castro Urdiales, cerca de la playa pero un poco apartada del centro y del ruido, perfecta para descansar y a un paso del centro andando. Muy recomendable en todos los aspectos
Carmen
2016-07-30T00:00:00Z
muy buena ubicación y muy simpáticos y agradables los anfitriones.
victor
2016-08-28T00:00:00Z
Тип размещения
Дом/квартира целиком
---
Тип жилья
Лофт
---
Вмещает гостей
3
---
Спален
Castro Urdiales, Кантабрия, Испания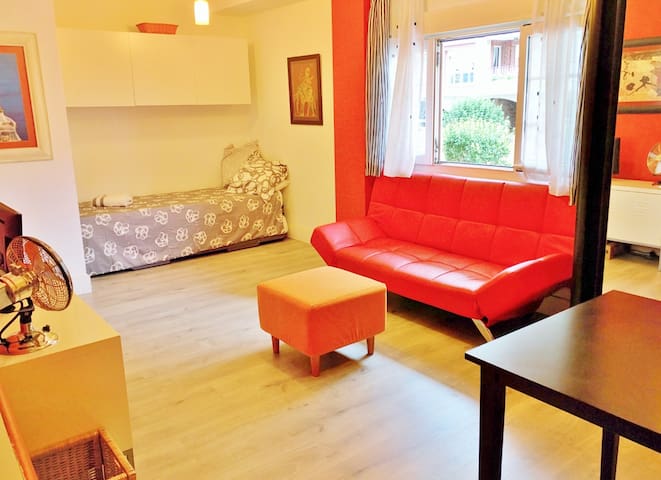 Pretty double room in old stone house in a rural area of Durango, 30 mins from Bilbao. En suite bathroom, breakfast included
Our stone-built house in a country area of Biscay is a great base for visiting the cities of Bilbao (30 mins away), San Sebastián & Vitoria, with great walking in the beautiful Urkiola National Park on our doorstep, and the chance to experience life in a small Basque village. 10 mins walk from the picturesque old town of Abadiño, and 3 kms. from Durango with its good public transport and motorway links to Bilbao and San Sebastián. Attractive double room with en suite bathroom on top floor of house, comfortable sitting room and outside terrace area may be used for having a drink or breakfast outside. The house is on a bus route from Bilbao, and near motorway and train line Bilbao-San Sebastián. The price includes breakfast, and kitchen and laundry rooms may be used by arrangement. There is wifi in the whole house, and we have lots of ideas and info on things to do in the area, whether you fancy days out in the city, exploring the lovely Biscay coast and beaches, or doing some of the wonderful walking routes in the mountains nearer home. The lovely historic town of Elorrio is a 10 minute bus journey away, and there are plenty of things to do locally from bird-watching to rock-climbing, horse-riding, caving etc. apart from getting to know the local towns and villages and sampling the marvellous Basque food. 4 kms from 'Asador Etxebarri' (on '50 best restaurants in world' list), and 8 kms from also Michelin-starred 'Boroa', together with many other small local places we can tell you about. We love having people to stay and look forward to making you feel at home.
My parents stayed at Sally and Robert's home and they definitely loved the experience ! They particularly appreciated the warm welcome of their host and their useful advices about places to go and things to do. The breakfast was above their expectations and their room was clean and confortable. If I might go once around Bilbao, I guess I would myself stay at their lovely house !
Charlotte
2014-07-23T00:00:00Z
Sally and Rober were sweet, very knowledgeable and all around great hosts. Their home was warm, welcoming and exactly as described. Sally's directions were impeccable and we had no problems finding the place. We were given refreshments upon arrival and a great little breakfast before leaving in the morning. Sally even forwarded to San Sebastian a shirt we had left behind. Great experience, highly recommended!
Emily
2015-02-16T00:00:00Z
Sally and Rober were very helpful. We arrived around 1 o'clock a.m after finishing dinner at restaurant but we were very welcomed by them. Also, they helped about for taxi from the restaurant and they took us to the station of Durango the next morning. We stayed st their place for the restaurant we went but I should have stayed more in Durango to see and feel the beautiful view!Thank you very much for your all kindness, Sally and Rober!
Shiho
2017-01-22T00:00:00Z
Nous avons beaucoup apprécié l'accueil sympathique franco-basque de Sally et Rober. Ils ont été très attentionnés et Sally nous a fourni informations et documentation sur la région. Leur maison est très agréable et confortable et le petit déjeuner complet et bon.
Marie-Jeanne
2016-07-08T00:00:00Z
Una ubicación excelente, son unos anfitriones muy majos . T encariñas con ellos . Wifi muy bueno . Cerca del pueblo y al mismo tiempo separados , tranquilo y muy típico de la zona el caserio .
Maria
2017-03-26T00:00:00Z
Sally y Rober han sido unos anfitriones exquisitos. Son personas muy acogedoras y cercanas. Sólo pudimos estar de visita un día pero fue un auténtico lujo. Una casa preciosa, un desayuno riquísimo y unos alrededores magníficos. La casa está situada muy cerca de lugares mágicos como Urkiola o Abadiño. Nosotros nos quedamos con muchas ganas de volver para visitar todo con más tranquilidad. Y hay de todo, naturaleza, turismo rural, turismo gastronómico… ¡No os lo penséis, fue una experiencia inolvidable!
Bárbara
2015-05-17T00:00:00Z
Our stay with Sally and Rober was fantastic. They were great hosts who went out of their way to ensure that we had a great experience in Durango and even took us out one night to experience the local food. We felt at home during our 4 night stay and would recommend staying with them to anyone wanting to explore the Basque country. Thanks so much Matt & Popi
Matt and Popi
2013-05-11T00:00:00Z
Sally & Rober are so kind. They explained for beautiful sight seeing place. Homemade bakery and wine are so delisious. We will be back soon.
HIDEAKI
2016-07-20T00:00:00Z
Тип размещения
Отдельная комната
---
Тип жилья
Дом
---
Вмещает гостей
2
---
Спален
Durango, Страна Басков, Испания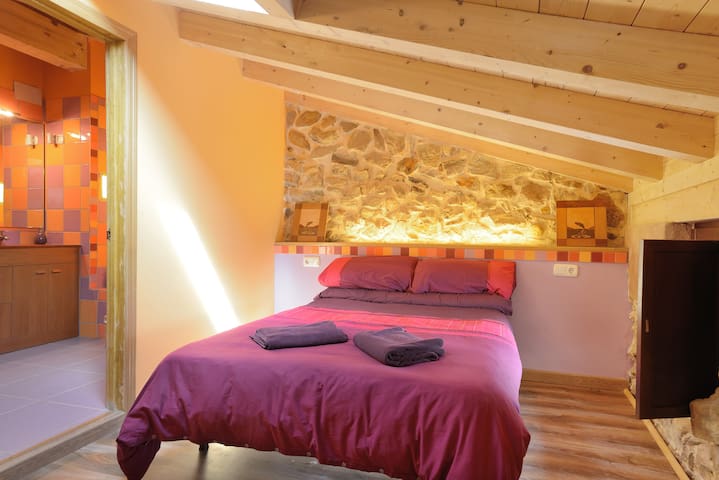 Tenemos un agradable y confortable caserío totalmente reformado. Eloy se ocupó de su diseño y trabajamos durante varios años intensamente en levantar este maravilloso sueño. Para nosotros es un hogar lleno de detalles, magia y sobre todo mucho amor.
THE PRICE IS MARKED BY ROOM. We have two rooms in a house in the countryside with highway access to 1.5 km and located 15 minutes from Vitoria, 45 minutes from San Sebastian and Bilbao 50 minutes. Housing is a village of more than 100 years of stone and wood, completely renovated, located in the countryside with a number of hiking trails in the environment and beautiful landscapes. Rightly call our neighborhood "Little Switzerland". The views are incredible from anywhere in the house and the location is unbeatable. If you just want to escape from the stressful life of the city you will find your space, and if you visit any urban center, you will find that any of the three Basque capitals will offer different deals. You can enjoy both the sea, which is very close, and the mountains that surround us. Our house is very cozy and has all the amenities of a modern home. We have two beautiful fireplaces, one downstairs and one on the top, creating a very warm and serene. The room has a bed of 1.50 m. with a shared bathroom and is in an area close to the house. We can offer a great breakfast and all the dedication that we always offer our guests.
El barrio es muy tranquilo y, aunque no están las casas muy distantes las unas de las otras, tenemos una gran intimidad. Todos los vecinos nos conocemos y la seguridad es muy alta.
Eloy and Nuria are a lovely couple, they gave us really useful tips to go around the area and they even invited us to the PintxoPote's night that was amazing!!! Their house is beautiful, the room is pretty big and they serve the best breakfast you could imagine, everything is homemade and so tasty :-) We used a lot the wifi at the house and it works perfect both upstairs in the room and downstairs at the living room. We've enjoyed our staying at Eloy and Nuria's house and we also loved the Basque countries, so we'll definitely come back(URL HIDDEN)
Elena and Luciano
2014-12-12T00:00:00Z
Though it was a short stay of only one night, my partner and I had a lovely stay with Eloy and Nuria. Their personally-designed home is really gorgeous and situated in an idyllic setting---they truly live in a little Switzerland! Definitely the place to go if you want tranquility and nature. The hosts themselves are more than welcoming and were so kind as to take us into the local village to enjoy pintxos! Nothing was lacking in any respect and I recommend their home to anyone wanting a comfortable stay and an amazing breakfast!
Diane
2014-06-28T00:00:00Z
Nuria and Eloy are excellent hosts. They have put a lot of efforts and attention to secure our stay in their house was pleasant and comfortable. All the house is very nice, very well designed and decorated, giving us good feeling. Breakfasts prepared by Nuria were fantastic - very wide choice of local, Basque meal. Nuria and Eloy are very friendly and creating good atmosphere. Moreover, their recommendations concerning interesting points of Basque Country were very helpful.
Piotr
2016-08-17T00:00:00Z
Très belle maison dans une magnifique région, accueil très chaleureux de la part de Nuria et Elroy et pour finir un petit déjeuner de roi. En bref une très bonne adresse.
ANNA
2015-08-02T00:00:00Z
Our stay was absolutely PERFECT! Eloy and Nuria are some of the most kind and hospitable people you will ever meet. They are very proud of the Basque country and love to share their knowledge. It was so interesting to learn about the Basque. Their house is so beautiful and most everything was hand built by them. The countryside it is in is awesome and when you first look out the window it is so pretty you almost think it is a dream. The bedroom you stay in has a very comfortable bed and two windows that open up to the beautiful countryside. Nurias breakfasts are absolutely unbelievable. The food is so delicious and something different everyday. Everything is handmade and the presentation is truly an art in itself. There is not enough space on this page to describe how outstanding the breakfast were. We did not have a car but found it very easy to ride the bus anyplace as their house is very centrally located and makes going anywhere in the Basque country very easy. Eloy is very kind to give a ride if he is working in a town you want to go to and then we rode the bus back in the evening. We had the pleasure of going with Eloy and his great dog hiking in a natural park and it was some of the most beautiful country ever! Another highlight of our trip was Eloy and Nuria let us go with them to Pintxo Pote ( I hope I spelled that right) night in town and we got to meet some of their friends. Some of the best fun ever! We originally booked for five nights but ended up booking another two nights for a total of seven nights. If you are looking for an experience along with a place to stay this is it! This has to be one of the very best Air BandB ever. To sum it all up- The house is very clean, The breakfast are absolutely better than 5 star quality and all homemade, the location is very central to everything and Eloy and Nuria are the best host ever! If you stay here you will be very HAPPY! Thank you very much Eloy and Nuria for allowing us to stay in your beautiful house and for being so kind to us. We loved our entire stay and will never forget the experience at your house. The dinner we had with you was the best ever with the traditional Basque food! The entire Air BandB experience at Eloy and Nurias was PERFECT! 5 STAR on everything!!!!!!!!!!!!!!!!!!!!!!!!!!!!!!!!!!!!!!!!!!!!!!!!!!!!!!!!!!!!!! Thank you!
Fred
2015-11-09T00:00:00Z
This was THE BEST AirBnB place we have stayed at so far (and we've stayed at lots over the last two years!). Eloy and Nuria welcomed us in, with a massive smile, at 23.00 (after no less than a 4 hour delay on our part!). Their house was beautifully decorated and everything smelled fresh and new. The location was perfect for us - while only a short distance from the highway (we were only travelling through) you wouldn't know it as it is set in blissfully peaceful countryside. We had a fantastic night's sleep and the bathroom was very clean. Nuria prepared a wonderful breakfast for us and both Nuria, Eloy and their lovely dog could not have been friendlier. We HIGH RECOMMEND staying at theirs - it's fantastic! We could not flaw it in any way.
Cecilia and Adam
2013-08-24T00:00:00Z
This is our most unforgettable experience throughout our 18 days trip to Spain and Portugal. Everything was great ranging from the wonderful reception of the hosts, beautiful house decorated with love and great detail, tranquility, crisp mountain air, great food using local produce. Eloy and Nuria were such fantastic host. we went trekking together with them in the forest together with their dog and we had such a great time. Not only are they host of their b&b, they were also our guides, explaining everything to us along the way. They also educate us about Basque people and culture. The next morning, Eloy and Nuria woke up early to prepare us breakfast which is more like a feast. everything was made from scratch using the best and freshest ingredients. It was the best home cooked meal we had in our entire trip and it was truly unforgettable. Mind you, we are fussy eaters and we know about food! Our stay was far too short. Nevertheless, we felt very fortunate to have experienced this with Eloy and Nuria. We felt very sad to leave this beautiful place but it will always remain in our memory.
audrey
2014-05-11T00:00:00Z
Eloy and Nuria are all one can ask for in an Airbnb host family. Connections to the Mondragon Cooperative, nights out in neighboring villages, advice and help in traveling the countryside, fantastic--authentic--Basque breakfasts, local histories of the region and good company are all provided by these wonderful hosts!
Simon
2013-12-15T00:00:00Z
Тип размещения
Отдельная комната
---
Тип жилья
Гестхаус
---
Вмещает гостей
4
---
Спален
Gipuzkoa, Страна Басков, Испания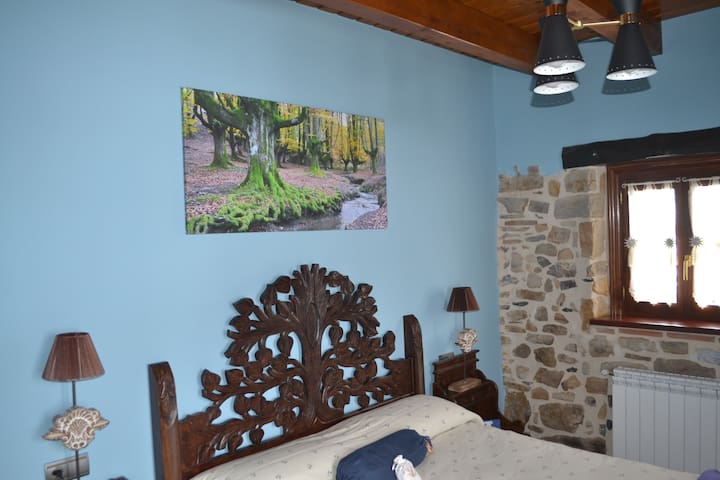 A romantic attic in a mansion renovated with charm. Quiet surroundings just 30 min. the center of Bilbao and Vitoria 35. You can put one extra bed. We live in the house and rent two more rooms, so please ask us if you need place for more people.
If you want to know the Basque Country, have a spacious double room, attic, in our house, Utopia. Utopia is a three-floor mansion, country style, completely renovated and modernized in 2002. It has a nice garden to relax, sunbathe or read in one of our hammocks, and two porches to sit on the afternoon to enjoy the tranquility or have a drink. The room is on the second floor and has a window and a skylight, high brightness. The mansard roof is very high, so that its bottom is over two meters. It is furnished with a double bed of 1.5 m. wide, a writing desk, a chair, a loveseat, a wooden antique wardrobe and a chest of four large drawers. We do not have air conditioning because the thick walls keep the house cool even on the hottest days of summer. For winter we do have heating in all rooms, while the winters are mild in Amurrio. The bathroom, with two sinks, toilet, bidet, shower and bathtub, is shared with other room in the same floor. Also on the same floor there is a spacious living room, and a space with a table, a fridge, microwave, toaster and kettle to prepair a simple breakfast. Guests can hire a continental breakfast apart from the room. The house is very large and we have more rooms, please contact us if you need more space or attic room is busy in the days that interest you. At less than an hour is the Basque coast, with towns such as Mundaka and its estuary, a Biosphere Reserve by Unesco, and one of the best places in the world for surfing. San Sebastian, "the beautiful Easo", is just over an hour, with its famous beaches of La Concha and Gros, its old part, the Kursaal Congress Palace, etc. At approximately the same distance is too Pamplona. Not forgetting the charms of our own region, the Valle de Ayala, where we can find small medieval towns as Orduña or Artziniega, and natural wonders as the birth of Nervión canyon, a waterfall in the river falls to few meters of his birth by a gap of almost two thousand feet. If you enjoy hiking, there are several excursions you can make out from the home, or in the nearby areas or Sierra Garobel Gorbea, both spectacular.
Amurrio is a quiet town of 10,000 inhabitants, with all necessary services, shops, sports facilities (a magnificent public swimming pool in summer) and several great restaurants. Our street is on the outskirts, 7 min. walk from the center, in a quiet semi-rural area. It is a magnificent setting for trekking lovers, with several routes that can be started from the house or within less than 30 minutes drive. It's a great headquarters to visit the Basque Country making day trips to Bilbao (30 min.), Vitoria (30 min.), San Sebastian (70 min.), Pamplona (70 min.), Santander (70 min.) , La Rioja (70 min.) or Burgos (70 min.).
Мы провели в доме у Пабло и Лурдес три прекрасных дня. Потрясающий дом с живой атмосферой и чистые уютные тихие комнаты. Очень приятные и гостепреимные хозяева. Каждый день подсказывали нам новые маршруты для незабываемых прогулок и рестораны с отличной кухней. Завтрак у Пабло на прекрасной террассе также великолепен. Рекомендую всем провести день - другой в стране Басков и остановиться в Утопии! Это было жемчужиной в нашем двухнедельном путешествии. Пс Пабло прекрасно говорит по английски.
Mikhail
2015-07-30T00:00:00Z
Fue estupendo a pesar del corto tiempo. Excelente disposición de los anfitriones :)
Pamela
2016-08-03T00:00:00Z
We are so happy we decided to stop at Utopia during our trip in the Basque Country! Besides being a wonderful house (the second floor the 8 of us! used is exactly as described and even more...absolutely comfortable, squeaky clean, very spacious) the owners Pablo and Lourdes made us feel totally at home. They are extremely kind, welcoming and discreet at the same time. They helped us organizing our tours in the area. Breakfast in the patio was perfect and abundant (8 people on vacation can get very hungry ;). We even had a good dinner there, and we appreciated so much they were respectful of our eating restrictions!! Amurrio is also very well connected to all the area we wanted to visit. We would definitely go back!
sara
2013-08-16T00:00:00Z
Utopía es un lugar muy muy especial, recomendable para cualquiera a quien le guste viajar y conocer sitios singulares, únicos. Cierra los ojos, relájate, piensa en una isla mágica y... estarás en Utopía. Claro, hablas con Pablo y con Lurdes, y lo comprendes todo. Desde el inicio. Es un lugar especial, soñado y hecho por personas excepcionales. Cualquiera que tenga la oportunidad de viajar a Utopía lo entenderá. Tuvimos la suerte de conocer también a Brita, encantadora como sus padres, y a Itzi, una perra muy mona! Compartimos las buenas calificaciones que otros usuarios han hecho en cuanto al amplísimo espacio, magnífico diseño, limpieza y orden impecables, ideal para ir en familia. No hay puntuación posible para Utopía, cualquier calificación se queda corta. Si nos obligan a utilizar números, seguro que sería un número primo, con quien Utopía comparte magia y misterio. ¡Muchas gracias Pablo, Lurdes y Brita por habernos acogido tan bien en Utopía!
Albert
2014-04-20T00:00:00Z
Pablo es muy cercano. La casa es espectacular por tamaño y lo tiene todo muy organizado. Repetiriamos!
Jaime
2016-08-16T00:00:00Z
Pablo y Lourdes son encantadores y la casa es preciosa y muy grande. Es un buen sitio para pasar unos dios tranquilos ya que tienes suficiente intimidad y ellos hacen que la casa sea aun más acojedora.
lorena
2014-12-07T00:00:00Z
Our experience in Pablo's house was wonderful. Very nice room and a breakfast that makes your waking up a pleasant one. The house is amazing and Pablo is a perfect host. He can make you feel very welcome and is always wiling to help you with good suggestions. It contributed to a perfect weekend...
rui
2013-11-11T00:00:00Z
Great. The house is lovely and the rooms fabulous. Pablo is a welcoming friendly host.
David
2015-07-04T00:00:00Z
Тип размещения
Отдельная комната
---
Тип жилья
Дом
---
Вмещает гостей
3
---
Спален
Amurrio, Страна Басков, Испания
1

–

18

из

300+ вариантов аренды
Введите даты, чтобы увидеть полную цену без учета дополнительных сборов и налогов.