7th Heavens cafe is just 5-10 min walk from the main town and the municipal tourism office. A quite and beautiful view of the terraces and the town. This listing is one room good for 4 people. The bathroom is designated for each room located outside.
Endroit idéal pour la découverte des rizières de Banaue. Chambre avec vue sur les terasses de riz, on mange très bien sur place et ils peuvent nous aider pour les excursions. Tout simplement super!
Anne
2017-02-06T00:00:00Z
Die Gastgeber sehr freundlich und hilfsbereit. Die Zimmer sind sauber und wenn man eines der Zimmer hat die zu den Terrassen zeigt, hat man eine tolle Aussicht. Die anderen Zimmer sind nicht zu empfehlen, da sie durch die anliegende Straße kaum zum schlafen geeignet sind, zumindest nicht ohne oropax.
Richard
2017-02-22T00:00:00Z
Very understanding hosts. Will definitely recommended their place to friends.
Niña
2016-07-07T00:00:00Z
After an epic Journey to banaue from manilla, we arrived in banaue with only A reservation at louie's Inn 2 days later. Luckily she had 2 spare rooms for our friends and us. Food and service were great as well as the location, the guide recommended (David) and the smiles of people working there. I hope to come back and that nothing has changed.
Charles
2016-03-27T00:00:00Z
Eine wirklich tolle Unterkunft mit einem traumhaften Ausblick vom Balkon über Banaue.
Kathrin
2016-12-23T00:00:00Z
We had a great stay in 7th Heaven in Banaue and would definitely recommend it. The rooms were clean, the food was good and the tours they organised for us were great!
Maurice
2017-03-12T00:00:00Z
We booked lodging at 7th Heaven's Cafe only a few days in advance of arrival in Banaue, and were very pleased with our 2-night stay. Our room had a fabulous view of the town in the valley and the surrounding terraced hills. It was very nice to watch the sunrise from this vantage point. The bedroom was spacious, clean and comfortable. The bathroom was in a separate area, but was private to us and was also very clean. Perhaps the only thing I felt was missing was a mirror. David was our excellent guide for both days we were in Banaue. He was very informative and helpful during our trip to the Batad rice terraces, as well as on our (rainy) excursions to the Banaue Viewpoint and the Hiwang Village the following day. He was also gracious enough to take us to the laundry shop and to the bus terminal for our trip back to Manila. The food at the restaurant was yummy and fairly priced. We would definitely recommend 7th Heaven's Cafe and Lodging to anyone visiting Banaue.
Jenny
2016-12-11T00:00:00Z
An absolutely outstanding stay! Clean, spacious room, great location - and above all - absolutely outstanding hosts! You'll have it all here, including great food and all you need to plan trips to Hapao (a must!) and Batad. Won't think twice !
Nimi
2016-12-30T00:00:00Z
Тип размещения
Отдельная комната
---
Тип жилья
Дом
---
Вмещает гостей
4
---
Спален
Banaue, CAR, Филиппины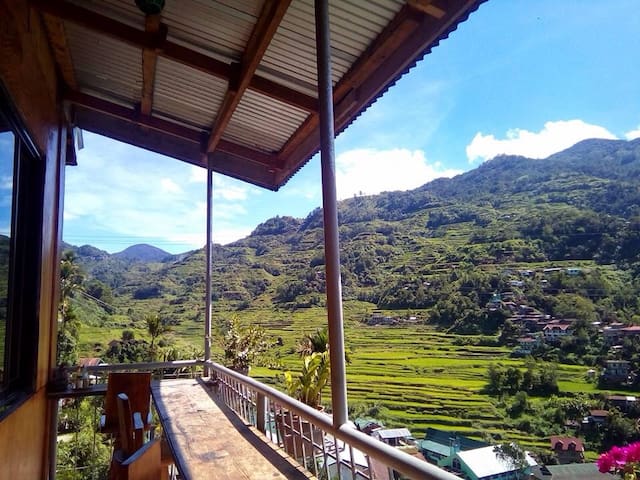 ПРОЖИВАНИЕ В СЕМЬЕ TONY'S предлагает одна остановка магазин, который предложит вам комфорт home.It расположен у главного ПОЗИЦИЙ с видом на знаменитый Банауэ Рисовые террасы. Мы предлагаем завтрак, обед и ужин и организовать экскурсии и экскурсии Сервисы
Проживание в семье Тони находится в самом центре террас,
Гостевой дом Тони расположен в прекрасном месте - посреди рисовых террас под основной смотровой площадкой Банауэ. На автовокзале нас встретил племянник Тони. Он отвез нас в Батад на следующий день, и мы совершили незабываемый поход к водопаду через рисовые террасы, слушая его интересные рассказы. Дом прекрасен, находится в превосходном месте. Можно сидеть на скамейке перед домом и любоваться низкими облаками и маленькими водопадиками. Тони много с нами разговаривал, его дочь вкусно готовила нам еду, а сын во всём помогал. В доме простые хорошие спальни и отличный душ с горячей водой. Тони, спасибо за ваше гостеприимство и доброту. Обязательно вернёмся в это удивительное место и жить будем только у Тони! Tony's guesthouse is located in a great place - in the middle of rice terraces under the main view point of Banaue. At the bus station we were met by Tony's nephew. He took us to Batad the next day, and we made an unforgettable trek to the waterfall through the rice terraces, listening to his interesting stories. The house is beautiful, located in a superb location. You can sit on a bench in front of the house and admire the low clouds and small waterfalls. Tony talked to us a lot, his daughter cooked us good food, and the son helped in everything. The house has simple good bedrooms and an excellent shower with hot water. Tony, thank you for your hospitality and kindness. Be sure to return to this amazing place and we will only live with Tony!
Oxana
2017-02-26T00:00:00Z
Tony and his family made us feel like at home at all times, it is definitely an amazing place to explore the Banue Rice terraces. The place is located only few minutes away from the terraces, the view is great and the food is amazing. For anyone going to Banaue we would recommend Tony's place.
David
2016-03-07T00:00:00Z
Tony's place is a very nice place to stay. He and his sons speak English very well which is good if you have questions and they can help you quickly. They picked us up at the bus terminal and even on our return trip waited until we were on the bus safe. His son who was also our guide showed us some nice places we could visit on our own and helped us on carrying our bags when the trekking was too exhausting! They are all very polite and funny making jokes while hiking, very relaxing! His wife cooked us awesome breakfast and dinner which was much needed after the hikes. The only bad thing that we had no electricity because of a cable burn during our stay but having candle light at night can also be very romantic. I would consider the location very good, although it's a little far from the center, but it's peaceful and quiet and you wake up with a view of the rice terraces, winning! Tony and his family are great, stay with them if they're not already overbooked!!
Fabian
2016-04-11T00:00:00Z
Nous avons adoré notre séjour chez Tony. Nous devions rester qu'une nuit mais l'accueil si chaleureux nous a fait rester trois nuits de plus. Les repas élaborés par sa femme étaient délicieux, variés et locaux. La literie était également parfaite. Mais notre plus beau souvenir était avec le fils aîné Franz. Il a était notre guide pendant deux jours à la découverte des rizières en terrasse. Vous trouverez le lien de son site ci dessous : (URL HIDDEN) Vous ne serez pas déçu du voyage. Franz est très pro, attentif et drôle, il répond à toutes vos questions et plus... Je remercie encore cette famille exceptionnelle qui a enrichie notre expérience aux Philippines.
Rémi
2016-11-16T00:00:00Z
This place is brillIant. I would definitely recommend this place to anyone staying in the Banaue area. The hosts are very friendly, welcoming and can't do enough for you! The view is incredible. The food is excellent, I loved the huge portion sizes! The son in law is a brilliant guide that takes you around the rice terraces. I can't recommend this place enough!
Ryan
2016-04-17T00:00:00Z
Tony, Rita is wife and the rest of is family are very welcoming !! They organised everything for us, pick up and visit to Batad, breakfast and dîner (extra charges). If you want to experiment a true local experience this is the right place to choose ! There is no hot water but they boiled some for us which was very appreciated after a long treck day at Batad Waterfalls. There are 200 steps to reach the house so be prepared ;) but the amazing view to Banaue terraces worth it!!
Stan
2016-04-05T00:00:00Z
Nous avons passés 2 nuits chez Tony,nous avons été accueillis par son fils Bradley qui est un garçon très accueillant et aussi très bon cuisinier. A savoir juste que la maison se situe en bas d'un long escalier (pas accessible à tous) La vue sur les rizières est sympa,la maison est juste un peu loin du centre (restaurants,commerces). Eau chaude,chambre confortable, nous recommandons.
Mélanie
2017-03-17T00:00:00Z
Great place for an authentic experience. Food was plentiful, rooms were private, and the hosts accommodating. The stairs were a bit difficult while carrying luggage and juggling three toddlers, but Tony and his family were very helpful. The only down side is there is only one shared bathroom for the whole house.
Jacob
2016-04-29T00:00:00Z
Тип размещения
Дом/квартира целиком
---
Тип жилья
Дом
---
Вмещает гостей
10
---
Спален
Banaue, Cordillera Administrative Region, Филиппины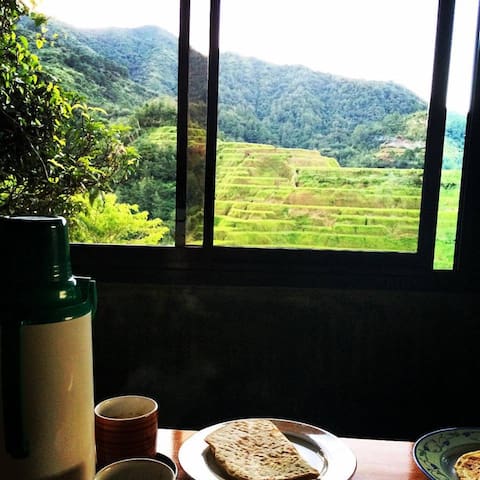 A single bedroom good for two with a view of the town center and the terraces. A specious veranda and bathrooms are located outside rooms but they are designated for each room private for each guest.
The hosts are very helpful and the communication was even before my arrival very good. They cared for me. It is a rather rustic hotel, but good and clean.
Karl
2016-12-11T00:00:00Z
Convenient to bus stops and you can't beat the people! David was a great guide and showed and taught us a lot. Wish we could have stayed longer!
Jenny
2016-12-28T00:00:00Z
Amazing view from the room! Private bathroom that was seperate to the bedroom but was lockable and just across the hall. Bed was comfortable. Everyone was friendly and welcoming right from the start when I was picked up from the morning bus. Their tour organiser David was fantastic and I highly recommend booking tours through him. As a solo female traveller he made sure I felt comfortable and confident with all arrangements and guides. If he is available for a day trip when you're there definitely do this as he is very experienced and informative. Thanks for a great stay!
Narelle
2017-03-13T00:00:00Z
Although the weather was not the best, our stay at Louie's was perfect. The location is just steps away from the bus drop off, and very close to the town center/market. Everyone was so nice and the food was delicious! ;)
Dee
2017-01-26T00:00:00Z
Nice stay in Banaue with Louie and David who was our guide during 4 days !! :) We really advice you this guesthouse: they make a lots for feeling well ! You have also a beautiful view on the Rice terrasses :)
Helene
2016-12-23T00:00:00Z
This place is perfect! Just a few minutes walk up the road from where the bus dropped us, we arrived at 7th Heaven and were given such a warm and friendly welcome. The accommodation was great - clean, comfortable and our room had amazing views of the rice terraces. We ate dinner, breakfast and a late lunch in the cafe below, which serves huge, tasty portions from a large menu, and they were even kind enough to make us sandwiches for our bus trip back to Manila. We were only in Banaue for a short time, but David was so helpful and really wanted us to get the most out of our visit. He arranged for his brother, Michael, to take us to the Batad rice terraces and for for a walk to the nearby waterfall. Michael was such such a nice guy and it felt like spending the day with with a friend, rather than a guide. The whole family/staff are just so lovely - you really are in safe hands staying here. Book in now!
Jon & Holly
2017-03-22T00:00:00Z
excellent accuiel chez Louie dans une agréable maison familiale en bois.c'est simple ,mais chaleureux ,propre,le petit dejeuner sur la terasse est à ne pas (URL HIDDEN) vue est belle.On peut aussi prendre un repas car chez Louie c'est toute la famille qui travaille et son beau frere vous proposera des ballades en tricycle pou raller voir bien sur les rizières en terasses.A faire, en négociant un petit peu le prix surtout si on voyage seul. je recommande cet endroit
helene
2017-02-17T00:00:00Z
The view was amazing and the food really good. We have spend a very nice time in this place with amazing people. The tour organized was perfect.
Marion
2017-03-20T00:00:00Z
Тип размещения
Отдельная комната
---
Тип жилья
Дом
---
Вмещает гостей
2
---
Спален
Banaue, Ifugao, Cordillera Administrative Region, Филиппины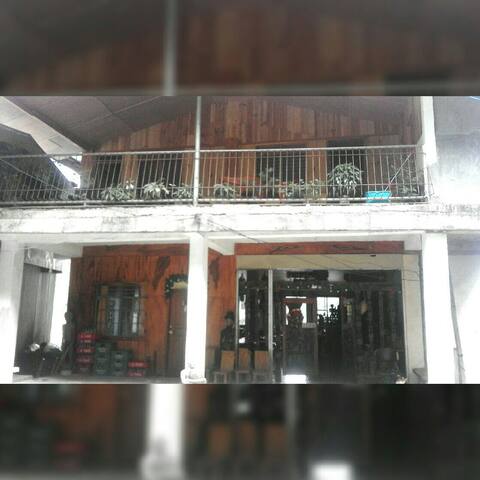 My place is close to great views of the Maligcong Rice Terraces. You'll love my place because of it's authentic simplicity and traditionality. My place is good for couples, solo adventurers, families (with kids), and big groups.
It's quite and peaceful.
Тип размещения
Дом/квартира целиком
---
Тип жилья
Дом
---
Вмещает гостей
10
---
Спален
Bontoc, Cordillera Administrative Region, Филиппины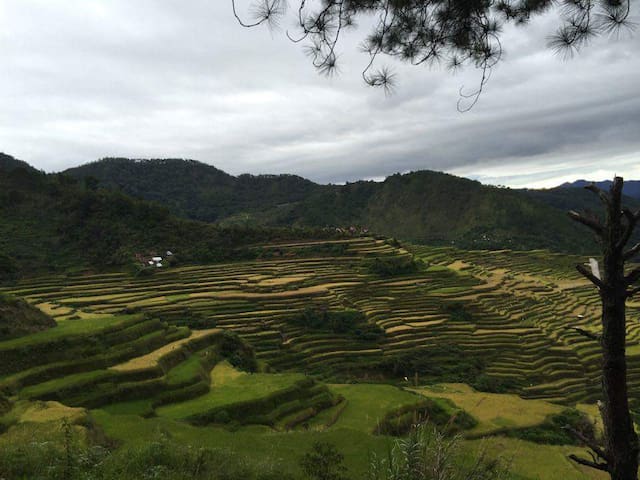 Our property is located within a five minute walk of the central business district of Mayoyao. Our home is gated and has a private balcony view of the rice terraces. We can provide you with private guides and locals to make your visit unique.
Mayoyao is endowed with cultural, historical, natural, and man-made spots and attractions, which can lure any nature-loving tourist from local as well as international origin. The panoramic view of its environs coupled with the unique culture of the people is sufficient to provide respite from the fast-paced city life and tickle the scholarly mind. Cozily snuggled in the bosom of the Central mountain ranges, Mayoyao, with a land area of 23, 556 hectares, is one of the 11 towns in Ifugao Province in the Northern Philippines. It is reachable from Manila through the lowland provinces of Nueva Vizcaya, Santiago City in Isabela and the Ifugao towns of Lagawe and Banaue. Mayoyao lies along the eastern mountain ranges bordering the Province of Ifugao on the southeastern slopes of the Cordillera Ranges that rise up at Apayao in the North and extends south to Benguet Province. It lies within geographic coordinates 16 59' North Latitude and 121 13' East Longitude. It is bounded on the north by Paracelis, Mountain Province; on the west by Banaue, on the south by Lagawe and Isabela Province, and on the east by the Municipality of Aguinaldo(URL HIDDEN)Climat(URL HIDDEN)Generally, the climate is cool with temperature ranging from 16˚C to 20˚C. It is relatively dry from March to May and generally wet for the rest of the year. The coolest months are November, December, and January, while the hottest month is April. High altitude elevation, the Northeast monsoon and the Pacific Tradewinds influence the climate. Heaviest rains occur during the months of July and August. Popular Tourist sites in Mayoyao Mayoyao Rice Terraces. Mayoyao's foremost attraction is its stonewalled rice terraces, the most extensive in the world, dwarfing even the more famous Banaue stairway. Carved on the mountain slopes by Ifugao Engineers more than 2,000 years ago, the Mayoyao Rice Terraces stretch from the mountain-perched Barangay of Chaya to the banks of the legendary Penangak River downstream. The terraces, which straddle the entire Central Mayoyao Valley, look as if they had been built for a higher purpose by the animist Ifugao to reach the heavens via a giant stairway. Each terrace wall is carefully paved with stones, some so big that it could have been impossible for ordinary mortals without modern equipment to carry them from the river below. An irrigation system using lengthy canals extending up the mountainsides to springs kilometers away bring water to the rice terraces. This is supplemented by the bamboo pipes and hallowed tree trunks linked together. Openings are also made on terrace dikes to allow water to flow from one terrace to another. Unlike other man-made wonders across the world, the rice terraces were built not because of fear of the slave driver's whiplash but out of the race's desire to tame the land for survival. But unknown to the Ifugaos, they built with their bare hands and crude wooden tools an enduring marvel that baffles even modern day engineers. Native House. Another must-see attraction is the Mayoyao Native House, a tetrahedronal structure perched on four wooden posts, which the famous anthropologist Otley Beyer compared to the igloo of the Eskimos in terms of uniqueness. The house is erected by fitting carefully shaped parts together prompting Beyer to describe it as the first prefabricated house in the world. Even without a single nail used, the house can withstand the strongest typhoon. It is also made in such a way that the rats cannot enter, since granary occupies the top portion of the structure. Apfo'or Burial Tombs - Large stone mausoleums containing the bones of the town's ancient warriors and elite. The construction of these Igloos represents the resourceful use of Ifugao stoning technique. Makaliwagha & Lebhong Burial Caves - Filled with wood coffins and the remains of the first people of Mayoyao. A legend tells of an attentive lizard leading people to these three chambers designating each one for men, women, and children. Lumogig Stone - A huge enchanted black rock held by only three smaller stones in the middle of the Balangbang river. It is believed to mean that Mayoyao people will stay strong and happy as long as the stone stands. Chuyong Viewpoint - Located near the town proper, it affords a panoramic vista of the Mayoyao World Heritage site cluster. The glory of the site is unrivaled. Tenogtog Waterfalls - located five kilometers from the Poblacion. It has three natural pools rising about 11 to 12 meters from each other. Water falls from the top pool to the next in beautiful succession. The water is so pure that one can actually drink from the river. O'Phaw Mahencha Waterfalls - located about six kilometers from the town proper. Like Tenogtog, its water is also very clear and can be used for drinking. Local folklore says that a beautiful woman named Mahencha had to jump from 13 to 15 meters into the water to retrieve her necklace which fell while she was taking a bath. Akakoy Viewpoint and Park - Located 600 meters above the town hall, the site offers a vantage point from where to view Central Mayoyao and part of Isabela Province. MOUNTAINEERING 1. MT. AMUYAO n The 8th highest peak in the Philippines, with an elevation of 2,702 meters above sea level, located between the boundary line of Banaue and Mayoyao and between Ifugao and Mountain Province. Its summit provides the climber with a breath-taking panorama of Mountain Province, Isabela, Nueva Viscaya, and Ifugao. Mayoyao legend says that the first Ifugao couple, Bugan and Wigan, took refuge in this mountain during the 40-day deluge that inundated the province. Being the only survivors, they became the first ancestors of the Ifugaos. Mount Nagchayan. A mountain overlooking the town where Japanese troops under General Tomoyuki Yamashita fought fierce battles during the World War II with combined US and Filipino soldiers. The mountain has several caves where the Japanese hid as well as stonewalled trenches and foxholes. One could also find rusty shells of machine guns on the site. Aside from its historical value, one can also find a huge rock naturally shaped like the body of a sleeping woman. Town residents have dubbed this mountain as the "Sleeping Beauty".
Mayoyao is truely a one of kind find in all of the Philippines. Not overdeveloped and crowded like nearby Bananue or Bagio City. Here you will find natural waterfalls, view sites and historical World War ll battlefields not yet discovered by most tourists. Because of the past difficulty in reaching Mayoyao with its very remote and rough roads, our city is beginning to understand the value of expanding its potential of sharing its unique culture, language, and heritage. We welcome all visitors to take time and enjoy our special place with all its natural amenities.
An awe inspiring corner of the world. Breathtaking!
Michael
2017-02-17T00:00:00Z
What a wonderful time! I felt incredibly welcomed, not just by the host, but by the entire town. All of my needs were met and I was able to focus on enjoying the beautiful scenery and wonderful locals rather than worrying about where I was staying. Top-notch, highly recommended!
Colin
2015-10-01T00:00:00Z
Тип размещения
Дом/квартира целиком
---
Тип жилья
Дом
---
Вмещает гостей
9
---
Спален
Mayoyao, Cordillera Administrative Region, Филиппины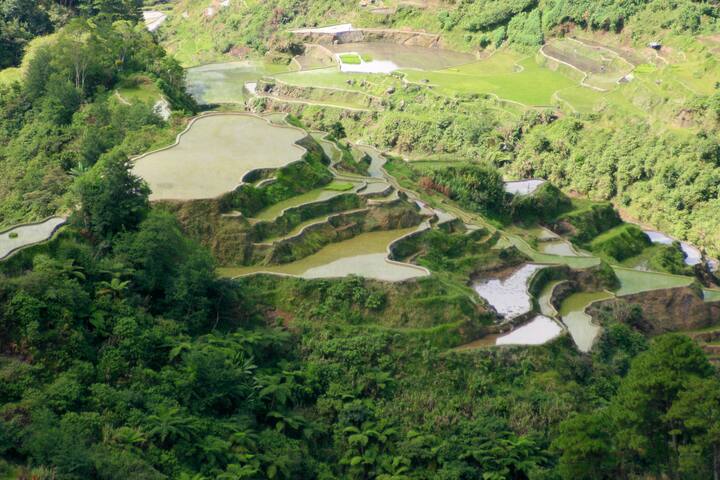 Guesthouse in Kiangan, Ifugao, Philippines overlooks a mini rice terraces. Kiangan is 8 hours bus trip from Manila, you can also travel to famous Banaue rice terraces from Kiangan in one hour and half. local contact can guide you to some of the heritage sites and observe cultural activities in Kiangan. They can also help with transport to various sites and act as local tour guide upon request and at your own cos This town houses various historical and heritage sites like the Rice Terraces that is among the list of World Heritage Site Places to see in Kiangan: The Nagacadan rice terraces is one of the four terrace systems in Ifugao declared by UNESCO as a World Heritage Site. With an expanse of approximately 10 hectares, it displays the Ifugaos' ingenuity harmony between man and nature. Experience this unique hike through the rice fields of Nagacadan in Kiangan and learn more about the ingenuous culture of the Ifugaos. The Open Air Museum of Nagacadan you immerse into the world of the Ifugao farmers nowadays and their history. A comfortable pathway leads you through the rice fields,the villages and over the rivers of Nagacadan. One of the main attractions other than the rice terraces is the presence of Kiangan Shrine. This place has its historic importance as this is the place where the Commander of the Japanese Imperial Army surrendered in 1945. This is also a major factor that contributes to the appeal of this town. How to Get to Kiangan, Ifugao: From the NAIA airport to Manila - Catch a taxi to Manila bus station depending on what time of arrival From Manila to Kiangan , you can catch the Oyahami bus or the Coda line OHAYAMI BUS is located at J.Fajardo St at Espanya Manila. 3 buses depart everynight. 9 pm and 10 pm for Banaue and 9:30 pm for Kiangan. the bus ticket is Php 400 one way. You better reserve in advance for this since the buses reach maximum passenger.
This is an open plan house with 1 private bedroom and 2 dorm type of accommodation with veranda overlooking mini rice terraces. Downstairs: Kitchen, living room, private double bedroom, separate toilet and shower and veranda Upstairs: Dorm shared accommodation , 1 room for female and the other room is for male depending on the numbers. Room 1 = 3 double beds to share for 6 people Room 2 = 2 double bed to share for 4 people There is outdoor basic facilities for washing and toilet
Everyone knows each other in town. There is a local karaoke bar within 4 minutes reach but our house is not affected due to its location.
The mother and brother were very welcoming and helpful, kind and happy to assist and very trusting. Place was clean and homey. even if I paid an extra 1800 it was worth it and I think Airbnb billed the stay so cheap so I don't mind paying extra to her . Place was quiet and accessible to market. Even if there was no shower heater its ok we were allowed to use a large kettle to heat water. Hope to meet Adeline in the future . This was a nice experience.
cynthia
2016-03-28T00:00:00Z
Тип размещения
Дом/квартира целиком
---
Тип жилья
Дом
---
Вмещает гостей
10
---
Спален
Kiangan, Cordillera Administrative Region, Филиппины
Entire house near city
wide entire house complete amenities
the place is 5mins drive from city.
Тип размещения
Дом/квартира целиком
---
Тип жилья
Дом
---
Вмещает гостей
10
---
Спален
Багио, Cordillera Administrative Region, Филиппины
Качество и комфорт по очень доступной цене размещения. Опыт просторный современный дизайн спальни с 2 двуспальные кровати подходят для путешественников / туристов, и т.д. Это удобно расположен в центре Solano, Nueva Vizcaya, вдоль главной магистрали. Район является безопасным, в котором вы можете просто ходить в течение 5 минут. для достижения общей автобусной остановки, местные банки и супермаркеты Макдональдс. Экономка также доступен для ежедневной генеральной уборки по запросу.
Тип размещения
Отдельная комната
---
Тип жилья
Дом
---
Вмещает гостей
2
---
Спален
Solano, Cagayan Valley, Филиппины
Entire house city proper
wide place.
Wide place for big family
Тип размещения
Дом/квартира целиком
---
Тип жилья
Дом
---
Вмещает гостей
16
---
Спален
Багио, Cordillera Administrative Region, Филиппины
Enjoy swimming with your family!
Тип размещения
Дом/квартира целиком
---
Тип жилья
Дом
---
Вмещает гостей
15
---
Спален
Roxas, Cagayan Valley, Филиппины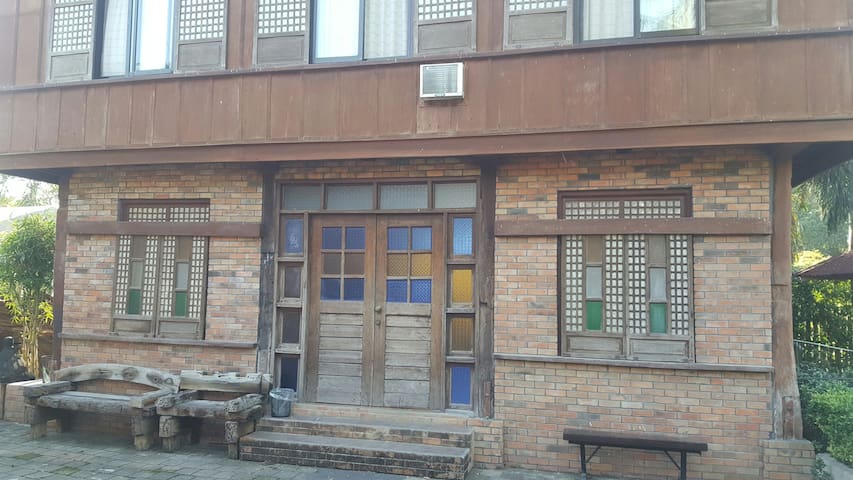 A resthouse perfect for friends and families. Our main house is strictly for 16pax only, if guests exceeds 16 , we have available rooms at the lower ground for a certain fee, - with hot and cold shower - free use of kitchenwares and stoves
Тип размещения
Дом/квартира целиком
---
Тип жилья
Дом
---
Вмещает гостей
16
---
Спален
Багио, Cordillera Administrative Region, Филиппины
Our location is inside the resort. You can use all the amenities like swimming pool and jacuzzi.
Тип размещения
Отдельная комната
---
Тип жилья
Дом
---
Вмещает гостей
2
---
Спален
Roxas, Cagayan Valley, Филиппины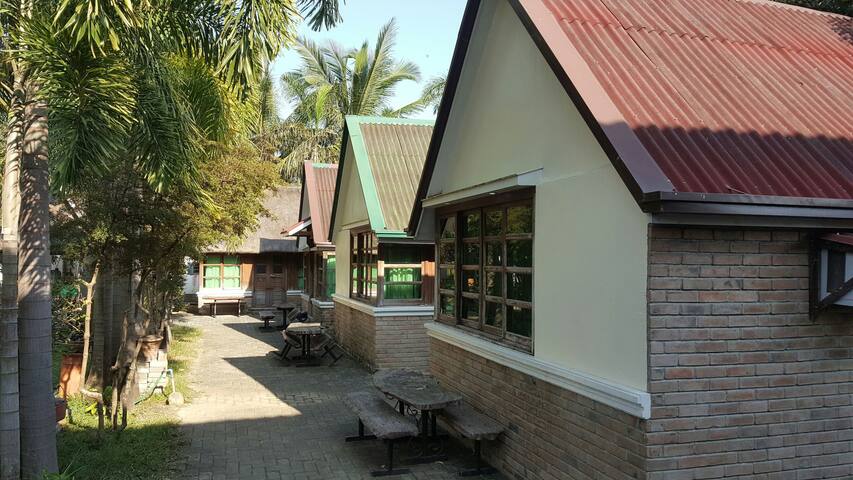 My place is close to Philippine Normal University, Isabela Campus. You'll love it because it's a charming place located 5 minutes away from the center of the town (along San Mateo Road) but away from the noise and hustle and bustle of the town proper. Its perfect for parents of PNU students who want to visit their children for a few days and also for people who would like to visit or do business in Alicia or neighboring towns. It's gated with a wide backyard planted with different vegetables.
Тип размещения
Дом/квартира целиком
---
Тип жилья
Дом
---
Вмещает гостей
4
---
Спален
Alicia, Cagayan Valley, Филиппины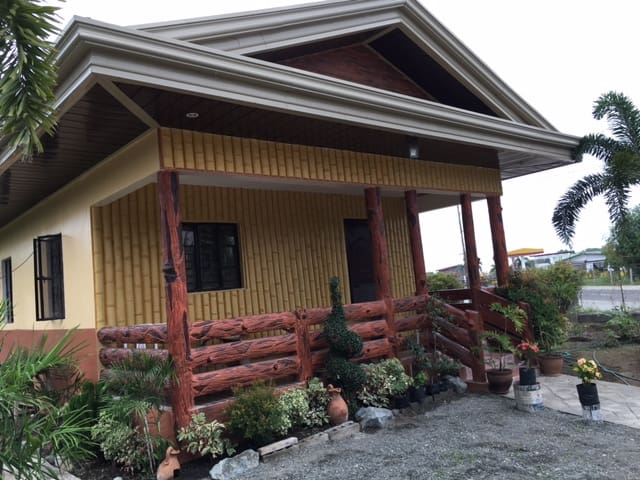 We get so caught up in a world so busy and so fast paced, we forget the mind needs to catch up. Once a month, take time out and dedicate a day to get closer nature to refresh the mind.
The host canceled this reservation 10 days before arrival. This is an automated posting.
John Ruby
2017-04-04T00:00:00Z
Тип размещения
Дом/квартира целиком
---
Тип жилья
Дом
---
Вмещает гостей
16
---
Спален
Santa Cruz, Ilocos Region, Филиппины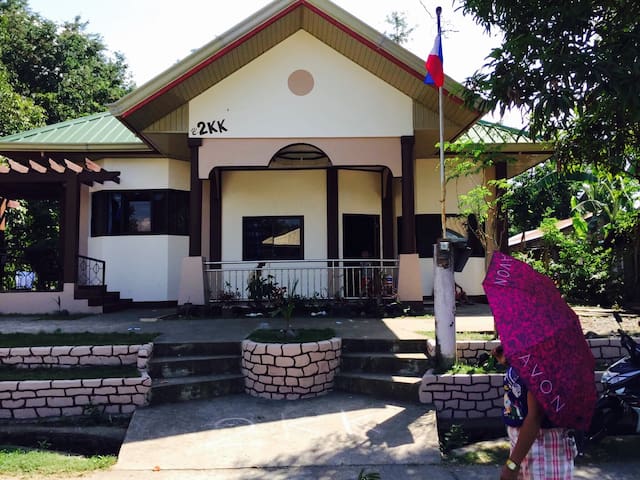 My place is located at Alicia,Isabela Province part of Northern Luzon Region and is good venue for big groups such as family reunions,out of towns with friends, birthday venue, etc. If you want staycation,my house have rooftop where you can have bonfire and star-gazing with friends and families or if you want a cheap venue for Birthdays and other celebrations my house is also matched with your budget.
Worst! I gave them enough time to resolve my concern/issues before i give a review but its been a week! If only i can send photos!
Maria Stella
2016-12-25T00:00:00Z
Тип размещения
Дом/квартира целиком
---
Тип жилья
Дом
---
Вмещает гостей
8
---
Спален
PH, Филиппины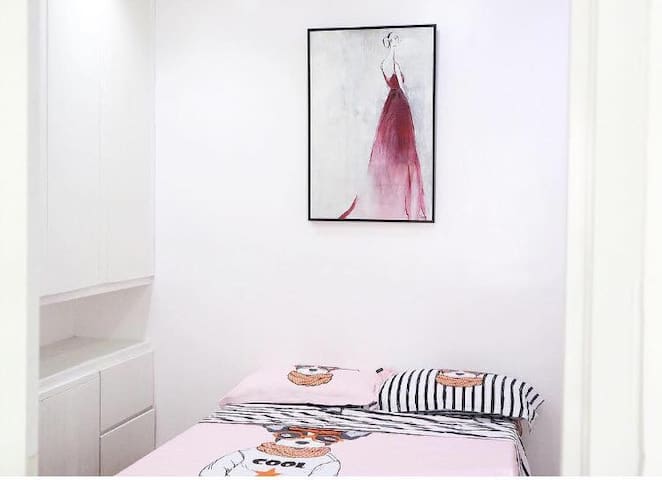 We get so caught up in a world so busy and so fast paced, we forget the mind needs to catch up. Once a month, take time out and dedicate a day to get closer nature to refresh. Wake up to the fresh air. Feel the quiet rural setting, let your hair down, unwind, have some me time, reflect, finish that book, connect with locals or learn about the humble lives of the Ilocanos. If you love being outdoors or simply enjoy a good trek, experience unexplored and virgin waterfalls and Ilocos beaches.
This has been happy family home for many years as my family started to have their own families and start to migrate overseas. As the youngest grandchild in the family, I wanted to keep the spirit alive and continue to share the blessings our home has given us over the years. The house is at the heart of a very humble village - San Jose, Sta Cruz. The village is tucked away on a hill surrounded by lots of greens and acres of farmland. If you love nature and being outdoors. You may choose to go trekking to discover a number of virgin waterfalls (Baluarte Falls and Boguibog Falls), passing through chilled and fast flowing streams. Spend the afternoon with a boodle fight lunch while being refreshed by the cool breeze from the fall of the hitting the bottom. If you love romantic evenings, you may choose to catch the serenity of the sunset along the beach (30 minutes drive away). If you love the taste of locally brewed wine, visit a local sugarcane winery after a trip from the falls for wine tasting. Even better purchase to drink at home privately or to share with a few locals. We have a friendly neighbourhood who love to entertain and willing to help with anything, I mean absolutely anything. Probably the reason I continue to go back and continue to give back.
We had a wonderful time at Randy's place. Exacly what we wanted, a rural setting and off the beaten track. We stayed in their air conditioned room which could accommodate 4 people. The water supply needs some fixing but overall it was very good. We hiked to see the Baluarte Falls passing through ricefields, lots of greenery, cool and fresh air whch is very relaxing. Then coming back we crossed the hangng bridge and took pictures of the horizon. We also went to the beach and the lcals are very hosptable sharing their cottage and evn serving us with green mangoes fo free. If you' re looking for some advnture in a rural scenery, you should try going to this place. Mits worth the long trip from Manila.
Paul
2016-06-02T00:00:00Z
The experience was great! If you want to experience unexplored and virgin falls, beaches, and treks, I recommend visiting this place. Though we stayed for just a very short time, the company of people around, especially those who accompany us in nature tripping enriched our experience. Also, Randy's warm accommodation and response to our inquiries are some of the key factors that made this trip a good one. The community and the rawness of the places around the community made our stay a great part of our meaningful backpacking trip.
John Michael
2016-05-09T00:00:00Z
We had a wonderful experience at Randy's place! Well-decorated room, fully-equipped kitchen, spacious bathroom, comfortable double bed, cosy inspirational artworks posted around the house – a beautiful family home indeed. There are a total of 4 available rooms in the house (some with bunk beds for group travels) but we only rented one room (double bed) with the alfresco. The location is a good place to relax and be close to nature. Lots of trees for shade and some free range chooks and friendly doggies walking about in their backyard. Just a few minutes walk; you will see the beautiful farmlands where farmers harvest tobacco, peanuts and corn – astounding view! A motorcycle is available for visitor use (just put $3 AUD for a full tank) and a few minutes drive and a short hike will bring you to the waterfalls, a river or the beach. The market is also a short 10 min drive and so we always had access to fresh veggies! You also have access to your nagtitinda (house to house sellers) selling newly harvested veggies and fresh bread at your doorstep! We also got to try Basi (sugarcane wine), uniquely Ilocos, for the first time! We ended up buying some for pasalubong (gifts) for our family. The host was helpful, informative, friendly and welcoming. Truly a wonderful host and will definitely recommend without hesitation!
Loreli
2016-03-01T00:00:00Z
Тип размещения
Дом/квартира целиком
---
Тип жилья
Дом
---
Вмещает гостей
12
---
Спален
Santa Cruz, Ilocos Sur, Филиппины
It is inside the resort. You can use all the amenities like swimming and jacuzzi.
Тип размещения
Дом/квартира целиком
---
Тип жилья
Дом
---
Вмещает гостей
4
---
Спален
Roxas, Cagayan Valley, Филиппины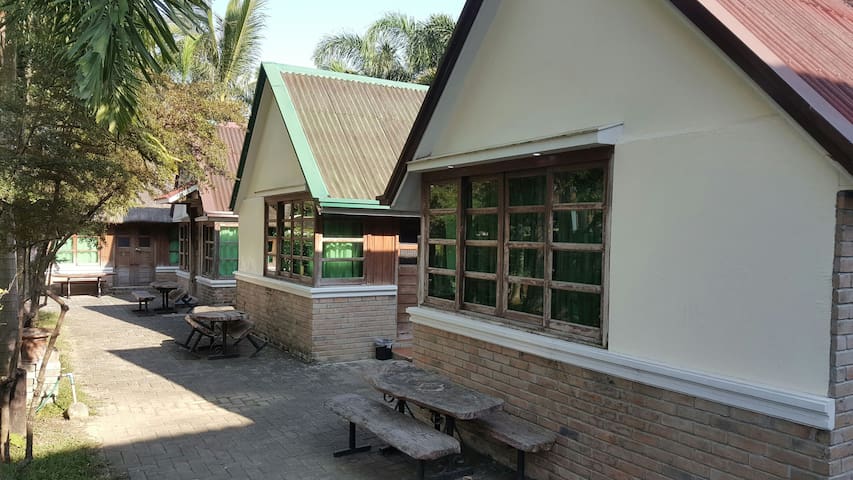 A 5 BEDROOM FULLY AIR CONDITIONED AFFORDABLE PENSIONNE HOUSE FOR YOUR SAFE AND SECURE VACATION IN REGION 2 SPECIFICALLY IN ISABELA PROVINCE. THE HOUSE PROVDES A COMFORTABLE ATMOSPHERE FOR THAT "HOME AWAY FROM HOME FEEL" EQUIPPED WITH A SMALL GARDEN AND ADEQUATE PARKING SPACE FOR 6-8 CARS..
Тип размещения
Дом/квартира целиком
---
Тип жилья
Дом
---
Вмещает гостей
10
---
Спален
Alicia, Cagayan Valley, Филиппины
Banaue - Airbnb
:
В среднем,

4.84

из

5

звезд на основании

137

отзывов гостей
1

–

18

из

19 дома в аренду
Введите даты, чтобы увидеть полную цену без учета дополнительных сборов и налогов.