Modern first floor apartment in a two floor house with independent entrance, 3 minutes from sea. Beautiful garden full of trees, flowers and herbs, spacious bedroom and living-room, fully equipped kitchen, bathroom, sea-view, big balcony and terrace, free parking, additional outdoor shower, sleep up to 6.
Spacious terrace with a view of the sea and the village.
5 minute walk from the center of Asprovalta, easy access to super-markets, banks, shops, beach bars, tavernas.
Уютная квартира с продуманной планировкой со всеми необходимыми бытовыми приборами, чистая, обставленная со вкусом. Есть все необходимое для хорошего отдыха семьи. Близкое расположение к морю позволяет отправиться на пляж в любое время. Небольшая отдаленность от кафе и центра набережной предоставляют возможность тихого отдыха (без шума по ночам от посетителей ресторанов). Хозяйка квартиры очень гостеприимна, доброжелательна, всегда рада помочь гостям.
Павел
2016-07-17T00:00:00Z
Dimitra made us feel like we were visiting relatives. When we arrived we were welcomed with drinks and food that you'd not expect to find in a rented apartment. Dimitra was very responsive all the time and helped us to get everything we needed. The apartment itself was arranged very cosy. The space was more than enough for 3 adults and 2 children. And of course the hit was the big terrace with a great sea view. The location was more than perfect for us. The house is located on the sea road, no more than 100 meters from the beach. The town center is within 5 minutes walk.
Stanimir
2016-09-14T00:00:00Z
Great location, cosy and elegant environment, welcoming host! We abandoned all planes for dining out as soon as we saw the great terrasse facing the sea! Could not wish for something better, we would definitely visit again. Thank you, Dimitra!
Maria
2016-06-25T00:00:00Z
At Dimitra`s flat we spent a lovely and wonderful holiday and we confirm the hospitality of our hosts. The description of the apartment is exactly how it looked like and Dimitra was beyong our expectation! The flat is very clean, modern, very well equipped and located near the centre of Asprovalta and with a beautiful view to the sea. Thank you for your attention and for your help! Irina and Dragos Stefan
stefan
2016-08-29T00:00:00Z
Lovely apartment with great sea view. Perfect accommodation. Very helpful host. Highly recommended.
Blagovest
2015-09-07T00:00:00Z
We are young family traveling with 4 months old baby. We have been very pleased to find Dimitra's property having a cosy home like feeling and easy acess to the beach. The appartment is at first level with separate access, having 3 terrace with amazing view. The space has a smart design with separate kitchen, eating area, patio and living room with terrace access. All rooms were very clean with full set of toilet and kitchen amneties. As a personal touch Dimitra leaves local products for you to enjoy at breakfest and her personal collection of music and movies. We strongly recommend the property as being better than we have imagined with no "-" to mention! You will feel like in your own holiday home from Greece!
Ana Maria
2015-09-06T00:00:00Z
Hosts were wonderful- there to welcome us upon arrival, showed us the place, made recommendations for local eateries, and even had some local food in the apartment! They live in the downstairs area of the place and were available whenever we needed them! The listing is better than advertised- nearly beach-front, and right on the edge of a nice little beachside shopping/eating area. The area felt very safe and welcoming! Excellent place- wished we could have stayed longer. Recommended without reservations!
Josh
2015-07-26T00:00:00Z
Wanderfull contact, perfect vacation! We loved it! Thank you Dimitra and Damianos! We hope we can come again :)
Ana
2016-07-30T00:00:00Z
Тип размещения
Дом/квартира целиком
---
Тип жилья
Квартира
---
Вмещает гостей
6
---
Спален
Aspróvalta, Asprovalta, Греция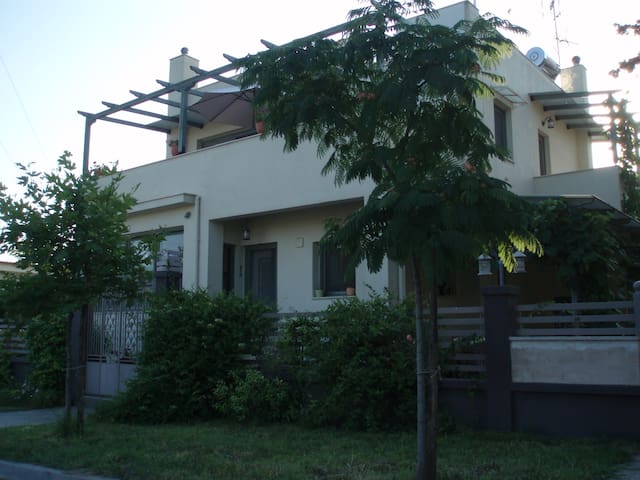 ASPROVALTA: Holiday apartment for 4 persons located in the center of Asprovalta, +/- 150 meters from the beaches. Asprovalta is located 97 km (59 min. Drive) from Thessaloniki International Airport and 30 km from the Royal Tomb of Amphipolis ...
The apartment is on the 1st floor of a quiet building (1970's) and including a bedroom, living room, a kitchen, a shower room, a corridor and two terraces. With air conditioning. The apartment is clean and well maintained but the facilities date from the 1970s! Ideally located in a quiet side street, you are 5 minutes walk from the center. Beach, shops, pubs and restaurants all nearby. Everything can be done by foot! Sleeps: - Bedroom : 1 double bed for 2 people - Lounge : 2 sofa beds for 2 people Bed linen and towels are provided with housing.
My experience with the vacation was amazing. Apartment was clean and nice, better then we expected. We have met with the host at the beach and got useful advises from her, which helped us to our stay become smooth and pleasant. Definitely we are planning to visit the same place next year and we'll give the recommendation to our friends.
Dragana
2015-08-23T00:00:00Z
The Host was friendly , apartment matches the photos, it is not high above ground so its easy to pack yourself in a car , close to the beach (apx. 3, 4 mins by foot) and comfy beds.
Sladjana
2016-07-31T00:00:00Z
In her house There are all higienic things that we need‼️
Mirjana
2016-09-14T00:00:00Z
Тип размещения
Дом/квартира целиком
---
Тип жилья
Квартира
---
Вмещает гостей
4
---
Спален
Aspróvalta, Греция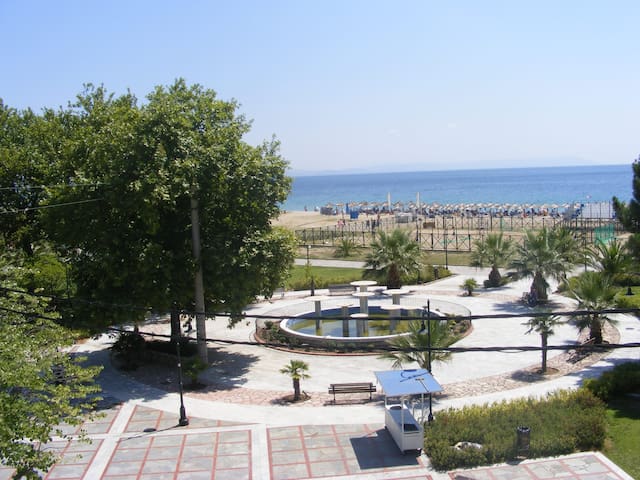 Квартира имеет террасу и находится на третьем этаже здания, расположенного напротив моря \ 50м. от пляжа \, верхней центральной части города. Множество ресторанов, баров и магазинов поблизости. Можно арендовать отдельно или вместе с маленькой "Фонтаны Asptorvalta небольшой". Десять человек в двух из них. Апартаменты расположены рядом друг с другом и имеет соединимым террасу.
Две отдельные квартиры с кухней и ванной / туалетом каждый. Чем больше из них имеет дерево спальни - две с двуспальной кроватью и одна с двумя односпальными кроватями. Квартиры имеет jointable террасу и расположены на третьем этаже здания, расположенного напротив моря \ 50м. от пляжа \, верхней центральной части города. Множество ресторанов, баров и магазинов поблизости. Арендованные по отдельности или вместе.
It was everithing like on description, Peter and his vife are very friendli people. I recomand this apartmants.
Istvan
2016-08-26T00:00:00Z
The host canceled this reservation 14 days before arrival. This is an automated posting.
AS Tkd
2016-05-06T00:00:00Z
Asprovalta is a nice place with a very beautiful coast. The apartment is located right in the center which is very convenient. The building is on the first line of the sea, windows overlook the courtyard with a view to the beautiful church and the mountains, the balcony is a bit tight. During our stay wi-fi was connected only with laptop, can't used it with mobile device. There were no problems with parking. Peter was really friendly, even helped with a special request ( iron). Better to ask about things you might need in advance, when we arrived there were no bathroom towels, but the problem was quickly solved. Thank you Peter!
Elena
2017-03-18T00:00:00Z
Тип размещения
Дом/квартира целиком
---
Тип жилья
Квартира
---
Вмещает гостей
6
---
Спален
Asprovalta, Восточная Македония и Фракия, Греция
Мое место рядом в 250 метрах от Голубой флаг награжденных песчаные пляжи протяженностью 15 км!. Мое пространство подходит для пар, семей (с детьми), больших групп и домашних животных.
Большой сад и балкон, комфортабельные номера, полностью оборудованные, красивый декор и 250 м до Голубого флага награжденных песчаных пляжей на общую сумму в 15 км в длину, так что никогда не бывает слишком людно.
Короткая прогулка до 15 км песчаных пляжей, лучше завышенным курорты Халкидики ...
Тип размещения
Дом/квартира целиком
---
Тип жилья
Квартира
---
Вмещает гостей
6
---
Спален
Asprovalta, Восточная Македония и Фракия, Греция
Дом Артемиды имеет 5 студий со спальней, гостиной, кухни и ванной комнаты индивидуального для 2-3 человек в каждой. В 10 минутах ходьбы от центра и синий FLAGGED пляж с видом на горы. Также имеется барбекю, сад, парковка. Идеально подходит для семей и пар.
Дом Артемиды представляет собой комплекс из 5 отдельных квартир, расположенных рядом с центром Аспровальте в Греции. Asprovalta это красивое место с многочисленными возможностями как для морских и горных деятельности. В апартаментах есть спальня, гостиная, кухня и отдельная ванная комната.
Хороший вид на горы Бесплатная парковка Мирное neighborhoud
Host must be describe location well. Coz we couldnt find it easily. But host and house was soo sweety especially garden. This sweety house is a little bit far from beach and center. More recommandation is to host from me, they should give more towels and freshing air in house. There is a little bit smell of humidity.
Talha
2016-07-11T00:00:00Z
Kiriaki's house is a good place to have your holiday by the seaside. As a host, she was very friendly and kind. She has prepared us the big appartment on the ground floor, which turned to be very spacy, equipped with everything you need. The garden outside is a nice place to have a drink with your friends after a long day on the beach, even if it rains there is a cosy shelter, so- no worries :) A quite beach, appropriate for families, is located 900 m away from the house /10 min by walk/. In the village there is everything you need like good restaurants, bars, coffee shops, gelateria places, and lots of shops. I would definitely recommend the place, if you're looking for a nice family house close to the seaside, and looking for good money-value rating!
Dimitar
2016-07-04T00:00:00Z
Тип размещения
Дом/квартира целиком
---
Тип жилья
Квартира
---
Вмещает гостей
6
---
Спален
Asprovalta, Греция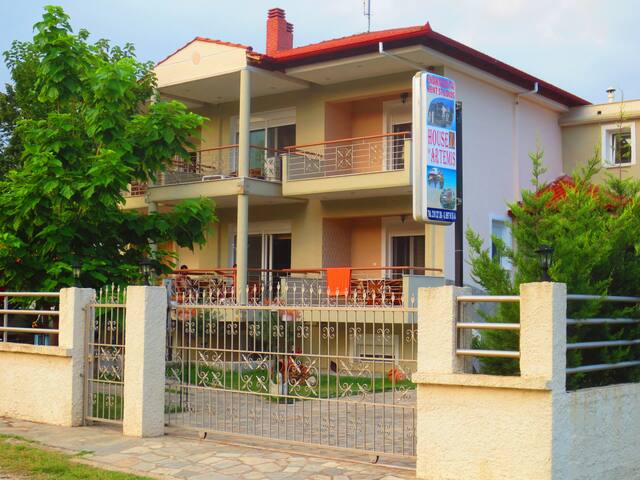 Моя комната находится рядом с парками, прекрасным видом, в центре города и искусства и культуры. Причины, по которым моя комната будет, как: окружающая среда, внешний вид, район, удобная кровать и свет. Мое пространство подходит для пар, деятельности для человека, деловых путешественников и семей (с детьми).
amazing place...with even more welcoming owner and host...felt like at home...peacfull and quiet area around the house provides proper rest...definetelly my suggestion to ones thinking about visiting Asprovalta...
Milos
2016-08-27T00:00:00Z
Kalliopi is an amazing host! She is very friendly, easy to communicate with, and a great example of Greek hospitality. We got lost trying to find the place, but she came to pick us up and show us the way. The apartment is very spacious and clean, and equipped with everything you might need. It's a pity we only stayed 3 nights so we didn't have time to make better use of the garden that looks like a great chill out zone. Location of the house is very good, it is just 5 minutes away form the beach. It's in a very calm and quiet neighborhood which makes it perfect place to rest, but it's also very close to bars and restaurants area, 10-15 minutes of walk. If you are planning to visit Asprovalta, Kalliopi's place is the one you should rent!
Ana
2016-08-21T00:00:00Z
Wonderful appartment owned by lovely hosts! Kalliopi and her mother are great guests! They answered very quickly to our booking request and the communication channel was always open. The appartment is cozy, clean and has a nice garden outside. It is located in a very quiet district of the village about 500 m from the beach and the main attractions. I highly recommand it ! Kalliopi speaks Greek, English and German and she is just too kind and too lovely! Many thanks for having welcome us in your house in Asprovalta! Na eiste kala!
Perron
2016-09-04T00:00:00Z
Kalliopi is amazing person. She made us feel like we were at home...she even help us find another place to stay for few more nights because she didnt have more free nights. It hard to find person like Kalliopi this days. I recommend her apartments to everyone. They are really nice and big. I hope i will come here again next year.
Dejan
2016-08-02T00:00:00Z
Тип размещения
Дом/квартира целиком
---
Тип жилья
Квартира
---
Вмещает гостей
4
---
Спален
Asprovalta, Восточная Македония и Фракия, Греция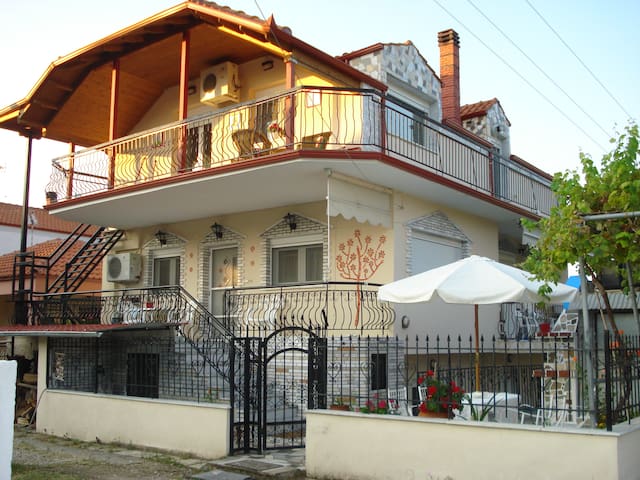 Мое пространство подходит для пар, для деятельности человека и семьи (с детьми).
Apartamentul, situat la etajul superior, are o terasă uriasă. În bucătărie există strictul necesar pentru gătit și un frigider mare cu congelator ce este foarte util. Apartamentul este curat. În interior este un spatiu comun utilat cu facilități de bucătărie, o baie și două dormitoare. Separat, cu acces de pe terasă mai există o cameră cu pat pentru o persoană. Rudele proprietarului, ce locuiesc la parter sunt foarte prietenoase și liniștite. Apartamentul este total independent de cel de jos, impărțind doar o mică curte de acces. La sosire am fost intâmpinați de mama lui Aleksandros, ce este o persoană agreabilă, făcându-ne să ne simțim ca acasă. Noi am fost primii lor oaspeți. Si pentru noi a fost prima dată când am calatorit rezervând cazarea pe Airbnb. Ne-am bucurat că ne-am petrecut 10 nopți acolo, la un pret foarte mic. Apartamentul dar și plaja sunt ideale pentru familii sau familii cu copii. Noi am fost cu părinții soției ce au fost mulțumiți de vacanța de lângă Asprovalta. Plaja este la 5 minute de mers pe jos, dar se poate folosi și autoturismul, existând suficiente locuri de parcare gratuite, oricând, atât lângă plajă dar și la apartament. La plaja cea mai apropiată se pot folosi umbrelele și șezlongurile gratuit, consumând. Dacă doriți să stați mai retras, în liniște, plaja este foarte lungă, putând să folosiți umbrelele voastre. La 2 minute distanță găsiți un magazin alimentar, dar dacă aveți autoturism, vă puteți aproviziona și de la magazine mare ca Lidl și Super Discount. Ele sunt situate intre Asprovalta și Paralia Vresna. Dacă doriți internet puteți cumpăra o cartelă sim de la Vodafone (în centrul Asoprovaltei). Asprovalta este la 3,5 km distanță. Acolo găsiți multe taverne și magazine. Coordonatele gps ale apartamentului sunt: (PHONE NUMBER HIDDEN) Mulțumim Aleksandros!
Cristi
2016-07-27T00:00:00Z
The listing description is accurate, Aleksandros is very kind and hospitable. The location is perfect - quite and near by the sea.
Антония
2016-09-06T00:00:00Z
Wonderful place and very kind people. The house is awesome, very clean and really close to the beach. There are all you need inside and beautiful balcony.
Marina
2016-08-17T00:00:00Z
The apartment was quite great and spacious. Even the host were nice and friendly people. They were in contact to ask us if we need anything. There's a wonderful balcony and sea is also close by. You can easily walk and enjoy the beautiful sea. Apart from that, rooms were cozy and wonderful. In conclusion, you can spend your vacation at this apartment.
Ankit
2016-09-14T00:00:00Z
Wonderful vacation! Nice home, helpful hosts, sorry that I have no more time, and I could not stay longer there.
Доротея
2016-09-25T00:00:00Z
Тип размещения
Дом/квартира целиком
---
Тип жилья
Квартира
---
Вмещает гостей
5
---
Спален
Asprovalta, Греция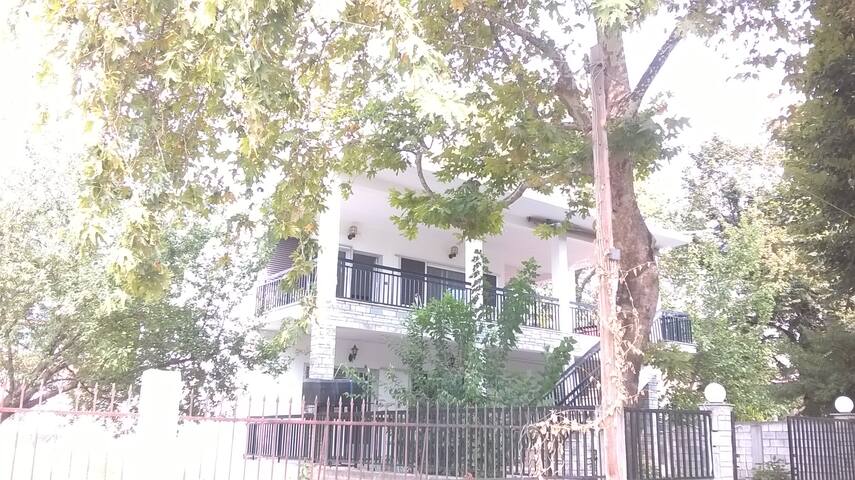 This property is 1 minute walk from the beach. Just 30 m from the sea and 500 m from the centre of Asprovalta, Amaryllis Studios offers self-catering accommodation with free WiFi access and views over Strymonikos Bay. The air-conditioned studios and apartments at Amaryllis are decorated in light colours and open out to private balconies. They come with a kitchenette, TV, and they all have an en suite bathroom with shower.
Тип размещения
Дом/квартира целиком
---
Тип жилья
Квартира
---
Вмещает гостей
2
---
Спален
Asprovalta, Восточная Македония и Фракия, Греция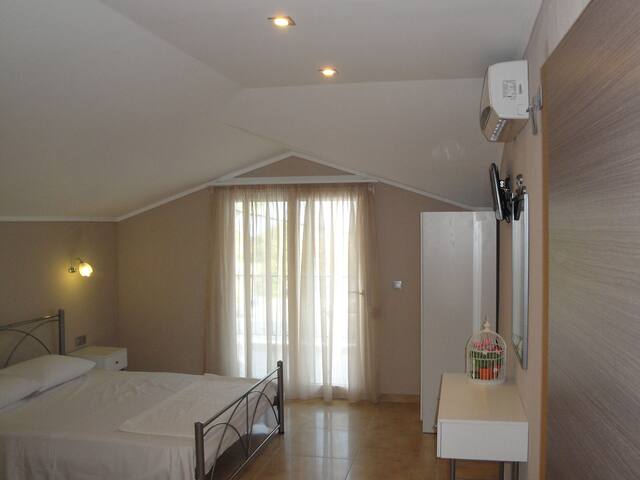 Мое место находится недалеко от пляжа, ресторанов и ресторанов, искусства и культуры, а также семейные мероприятия. Вы будете любить свое место из-за соседства и удобные кровати. Мое место хорошо подходит для пар и семей (с детьми). В квартире можно арендовать отдельно или вместе с большей один, как двое из них находятся рядом друг с другом. Они подходят для десяти человек.
Мое место находится недалеко от пляжа, ресторанов и ресторанов, искусства и культуры, а также семейные мероприятия. Вы будете любить свое место из-за соседства и удобные кровати. Мое место хорошо подходит для пар и семей (с детьми). В квартире можно арендовать отдельно или вместе с большой. Апартаменты находятся рядом друг с другом. Они подходят для десяти человек.
Здание расположено в самом центре деревни, в первую очередь на море - пляж находится в 50 метрах от отеля. Есть много ресторанов, таверн и пекарен.
Тип размещения
Дом/квартира целиком
---
Тип жилья
Квартира
---
Вмещает гостей
4
---
Спален
Asprovalta, Восточная Македония и Фракия, Греция
House of Artemis has 5 studios with bedroom, living room, kitchen and individual bathroom for 2-3 people each. 10 minutes walk from center and blue flagged beach with mountain view. Also has a BBQ, garden, parking. Ideal for families and couples.
House of Artemis is a complex of 5 individual apartments located nearby the center of Asprovalta in Greece. Asprovalta is a beautiful place with numerous opportunities for both sea and mountain activities. The apartments have a bedroom, living room, kitchen and individual bathroom and they can host at least 2 persons while there could be an extension for third person with an addition of extra bed, if needed.
Nice mountain view Free parking Peaceful neighborhoud
A recommendable beautiful, clean apartment, it felt homey and not neutral and sterile. The garden is just gorgeous, simple and very practical thought (BBQ inkusive). The location is perfect, very quiet and very close to the sea (15 min. Walk), ideally situated in a wonderful beach for children. There are many shops in de near and every Monday is bazaar popular with fresh products from different village. Our hosts, Ms Kiki (clear artist ') is a love worth person, very attentive and very informative, it has many attractions recommended to us. We thank you very much Ms Kiki for their hospitality and hope to see you again ... thank you Kiki !!!
Anastasios
2015-08-24T00:00:00Z
I kindlly recomand this place.
Ga
2015-07-19T00:00:00Z
We have staid at House of Artemis for 11 days and we enjoyed this stay. Kiki welcomed us with a true smile and was attentive until the end. She recommended us also some supermarkets were we could do sopping. The Studious are a little bit far from the sea, but it wasn't a problem for us since we like walking. On the site is written that bicycles are available for free, but when I asked her, she said that she doesn't have any. The house has a very nice barbeque and garden. I recommend this place if you like walking or if you are by car. One minus and I hope Kiki will solve it till next time, no WiFi available.
Andriana
2015-07-31T00:00:00Z
perfect
Niko
2016-08-04T00:00:00Z
The apartment was nice and clean, with modern interior. Kiriaki was always kind and ready to help if we needed something. We enjoyed our stay.
Gabor
2016-08-11T00:00:00Z
Kikiaki is a very nice lady. Very welcoming and warm. On arrival Kiki did all of our washing ... what ever she used it smelled wonderful after. The studio was great for our one night stay and Asprovalta is a pretty little town.
susan
2016-09-18T00:00:00Z
Our host was there on arrival and exit she was friendly and seemed accommodating.
Malcolm
2016-08-20T00:00:00Z
Тип размещения
Дом/квартира целиком
---
Тип жилья
Квартира
---
Вмещает гостей
3
---
Спален
Aspróvalta, Греция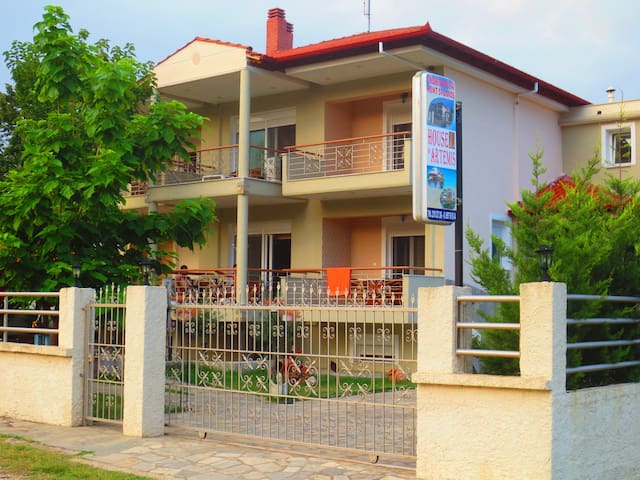 Одна квартира на первом этаже на левой стороне около 50 м2. Она состоит из одной спальни и гостиной с кухней, где могут разместиться до 5 человек и открыт круглый год, предлагает Вам следующие услуги: 1) Полностью оборудованная кухня 2) Телевизор 3) Бесплатный Wi-Fi 4) Горячая вода 24 часа 5) WC- номер ванны 6) Отопление 7) сад 8) Принадлежности для барбекю и дровяной печи
The host canceled this reservation 25 days before arrival. This is an automated posting.
Noga
2016-07-17T00:00:00Z
Our stay at Kalliopi's apartments was great. We stayed there for only 2 nights and we enjoyed our stay. Kalliopi was very nice. She gave us fresh vegetables and some home made pastries as a welcome and goodbye gifts. The rooms were clean and we had everything we needed. I would recomend Kalliopi's appartments.
Evica
2016-08-05T00:00:00Z
They are very kind and hospitable persons. It was great experience staying in their house. I'm sad because we had only one free day to spend there.
Milan
2016-08-21T00:00:00Z
It's an axcellent place to spend time in Asprovalta. Kalliopi and her mother has created pretty warm and hospitable house so that you can feel like visiting your family☺ Kalliopi is a very helpful, caring and custodial person and it's easy to keep in touch with her. Appartment is very spacious and comfortable. The cosy yard is a fantastic place to spend time eating breakfasts or relaxing. House is situated in a very quiet and restful locality, about 5 minutes walk to the beach and 10 minutes to bars and shops. We recommend Kalliopi's house expansively to stay in Asprovalta!
Małgosia
2016-09-01T00:00:00Z
Everything was perfect. We came a bit later in the day and Kalliopi made us a lunch with homegrown tomatoes from her garden. The apartment was big, with 2 rooms, a bath and a kitchen, so it can easily accommodate more than 2 people. The beach is about 5-7 mins walk and the center of Apsrovalta is again about 5-10min walking distance. On the other hand the house is in a quiet place, so you can rest without the noise of cars, music and bars. I would recommend this place if you are looking for an affordable place and don't want to be near load music.
Rositsa
2016-09-07T00:00:00Z
Ich hatte eine tolle Zeit in Asprovalta. Das Appartment ist ruhig gelegen, aber man ist trotzdem nur wenige Gehminuten vom Strand entfernt. Die Kommunikation mit Kalliopi (spricht perfekt Deutsch) hat hervorragend geklappt. Kurzum: Ich kann die Unterkunft sehr empfehlen.
Quentin
2016-09-26T00:00:00Z
Тип размещения
Дом/квартира целиком
---
Тип жилья
Квартира
---
Вмещает гостей
4
---
Спален
Asprovalta, Восточная Македония и Фракия, Греция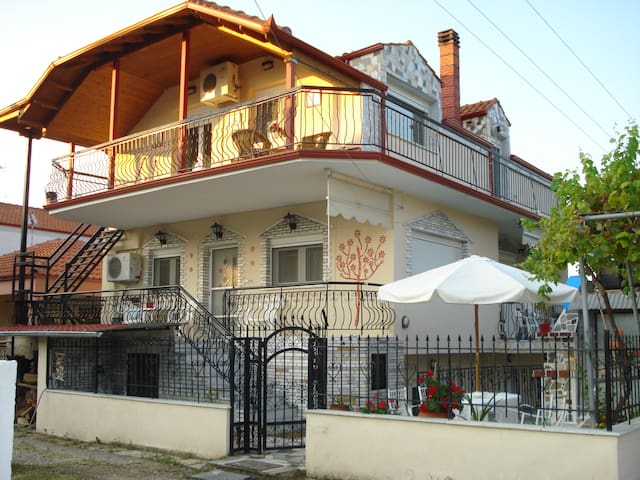 House of Artemis has 5 studios with bedroom, living room, kitchen and individual bathroom for 2-3 people each. 10 minutes walk from center and blue flagged beach with mountain view. Also has a BBQ, garden, parking. Ideal for families and couples.
House of Artemis is a complex of 5 individual apartments located nearby the center of Asprovalta in Greece. Asprovalta is a beautiful place with numerous opportunities for both sea and mountain activities. The apartments have a bedroom, living room, kitchen and individual bathroom and they can host at least 2 persons while there could be an extension for third person with an addition of extra bed, if needed.
Nice mountain view Free parking Peaceful neighborhoud
We indeed had a pleasant stay in House of Artemis. Hosts welcomed us with care and attention. This apartment is good for people with car to be able to reach the seaside, restaurants, shops etc as they are not within walking distance.we had a car so it was comfortable for us. Quiet and neat place. Maybe kitchen supply was a bit short (pens, knife, mugs etc.) ,but you can ask for kitchen supply from host and they are sure to be helpful.
Monika
2015-09-17T00:00:00Z
Тип размещения
Дом/квартира целиком
---
Тип жилья
Квартира
---
Вмещает гостей
3
---
Спален
Aspróvalta, Греция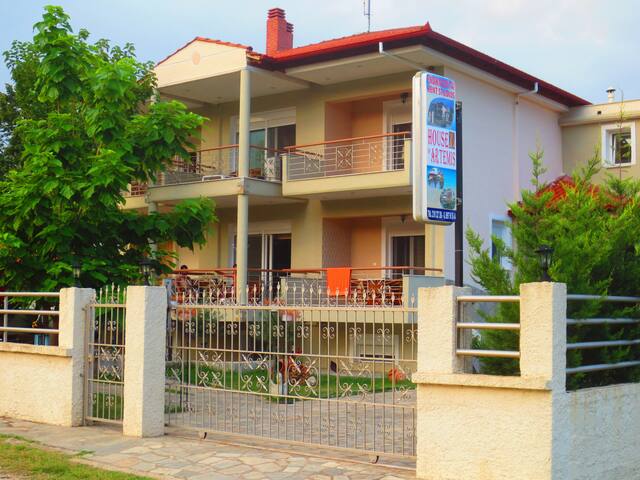 Сдается в аренду квартира 50 кв.м. Состоит из одного этажа. Он имеет в общей сложности одной спальни. Квартира расположена на 2 этаже. Отель полностью меблирован. Недвижимость с видом на море, вид на горы, так как он построен на привилегированном месте. Одна гостиная-столовая, одна столовая, одна ванная комната. На 1 этаже есть 1 спальня. Спальня 1: двуспальная кровать, балкон.
Тип размещения
Дом/квартира целиком
---
Тип жилья
Квартира
---
Вмещает гостей
4
---
Спален
Asprovalta, Греция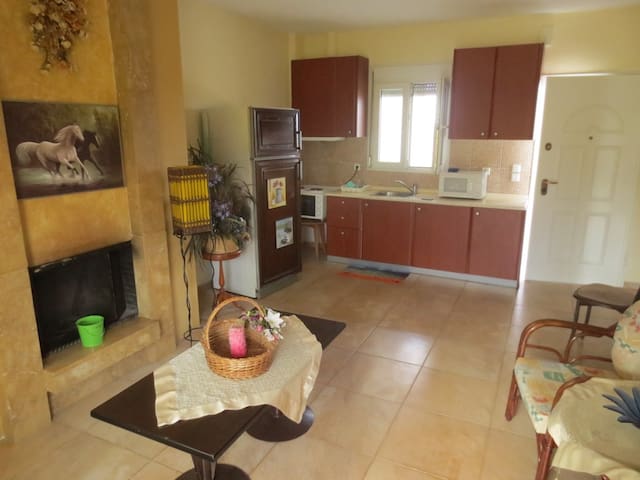 Квартиры 'PANTAZIS' просторные и полностью equipped.Super рынки, пекарни, рестораны, аптеки, банки, все в 50м radius.The пляж тоже очень close.The расположение таково, что гарантирует как легкий доступ везде вам нужно, и quietness.The квартиры только что были renovated.Each из них имеет 2Спальни, 1kitchen и (URL HIDDEN) в каждой спальне есть 2beds (1 двойная, 1 одноместный) .each номер имеет свой собственный воздух conditioner.The кухня полностью оборудована печь и большой холодильник.
Апартаменты только что были отремонтированы. Каждый из них имеет 2 спальни, 1 кухня, 1 ванная комната. В каждой спальне есть 2 кровати (1 двуспальная и 1 односпальная в размере). В каждом номере есть свой собственный кондиционированию блок. Кухня полностью eqquiped с духовкой и большим холодильником. Кроме того, здание изолируется для поддержания температуры на низком уровне, несмотря на внешнего тепла. Наши балконы довольно большие, и вы можете отдохнуть и остыть в течение всего дня.
Во время Вашего пребывания, нет никакой необходимости вводить свой автомобиль, так как все очень близко. Супер рынки, пекарни, рестораны, аптеки, банки, все в 50 метрах. радиус. Пляж находится в 150 метрах. (3-4 минут пешком) от отеля. Расположение таково, что гарантирует как легкий доступ везде вам нужно, и бесшумность.
Приятен апартамент за отсядане. Елефтериа беше отличен домакин, много любезна и помагаща с добри съвети.
Georgi
2016-07-26T00:00:00Z
First of all Eleftheria is an amazing host, very nice person and always ready to help. She is very easy to communicate and always available. The apartment was spacious, very clean, well equipped and on a good location. We loved that the balcony was up to late in the shadows, so we had our meals and the spent our chill time there ... :) It was in the center of Asprovalta, close to all the shops and the beach was only 3 minutes away. All in all..Highly recommended place with a great host..Thanks Eleftheria
Ana
2016-08-29T00:00:00Z
Тип размещения
Дом/квартира целиком
---
Тип жилья
Квартира
---
Вмещает гостей
6
---
Спален
Asprovalta, Восточная Македония и Фракия, Греция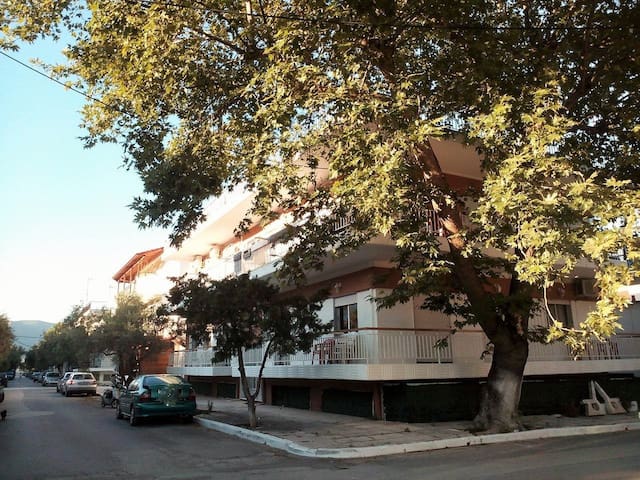 Очень удобная квартира в самом центре деревни и всего в 200 метрах от моря. Идеальное место для ванных комнат и вечерних прогулок. Он имеет 3 спальни, большая гостиная и окружающие балконы вокруг. Это очень светлый и просторный
Everythings was very well
esat
2016-08-25T00:00:00Z
Great place. Eleni and Sofia was very kind.
Tsvetko
2016-07-17T00:00:00Z
The host canceled this reservation the day before arrival. This is an automated posting.
Kaloyan
2016-09-15T00:00:00Z
Eleni and Sofia were great hosts, very friendly, helpful. Apartment was exactly as described, clean, spacious, near beach and perfect location.
Lusi
2016-07-28T00:00:00Z
Der Gastgeber hat alles getan damit wir uns gut fühlen,allerdings ist die Wohnung alt und mit wenig Luxus,für genügsame Menschen sehr gut weil sehr viel Platz und auch zentral ,das alles für wenig Geld(URL HIDDEN)Für temperaturen über 35Grad Celsius nicht geeignet.
Thomas
2016-08-24T00:00:00Z
Large comfortable apartment in centar with a lot of noise, crowds and bikers. Very friendly hosts. The well-equipped kitchen. Beach nearby.
Ljubica
2016-08-17T00:00:00Z
I am glad I found this apartment. Wonderful and spacious apartment near the beach and main street with many shops. Me and my family had all the amenities needed for a relaxing holiday. Eleni is an incredible polite and accurate, immediately answer. A mother and Sofia is a truly wonderful host. We even went home with a gift and will definitely be back. Thanks Eleni and Sofia!
Румяна
2016-09-07T00:00:00Z
My family (6) needed a place to stay for only one night, so it was great to have Eleni accept guests for such a short period. Eleni's mother Sophia was there to greet us and was very helpful during our short stay. The apartment is located in a rather central region of the city, with a great bakery and shops all-around. It was easy to park our car. The only challenge we had was the very warm night. The apartment has an airco in the living room but not in the bedrooms.
Marko
2016-08-04T00:00:00Z
Тип размещения
Дом/квартира целиком
---
Тип жилья
Квартира
---
Вмещает гостей
6
---
Спален
Салоники, Греция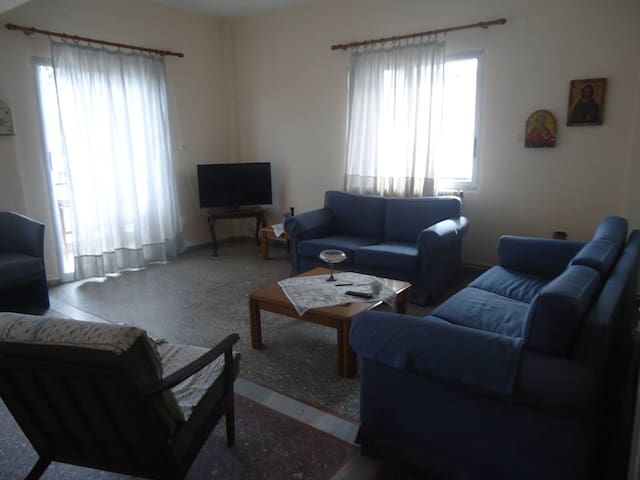 Ο χώρος μου είναι κοντά σε πάρκα, υπέροχη θέα, τέχνη και πολιτισμός,θάλασσα. Λόγοι που θα σας αρέσει ο χώρος μου: η θέα, η τοποθεσία, οι άνθρωποι, το περιβάλλον και ο εξωτερικός χώρος. Ο χώρος μου είναι κατάλληλος για ζευγάρια, δραστηριότητες για ένα άτομο, επαγγελματίες ταξιδιώτες, οικογένειες (με παιδιά) και μεγάλες ομάδες.
We had a little problem to find the house but after a call to the host, everything was OK and we have a nice stay there. The place was clean and calm very close to the beach (~5 min walk) as the host inform us. We have a nice holiday there even the weather wasn't the best possible.
Лъчезар
2016-09-10T00:00:00Z
Smeštaj je sasvim ok,čisto je ,dvorište je svo u zelenilu,ima puno mesta okolo za parking i igru dece,njegovi roditelji su ljubazni.Preporučujem
Bojan
2016-08-30T00:00:00Z
Тип размещения
Отдельная комната
---
Тип жилья
Квартира
---
Вмещает гостей
4
---
Спален
Stavros, Thessaloniki, Греция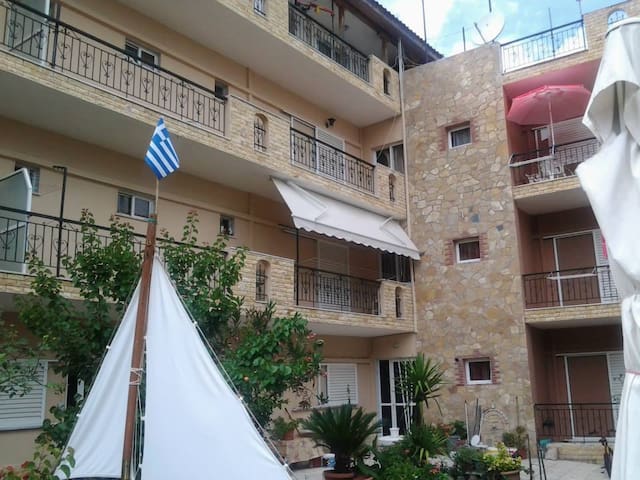 Nice big apartmennt with 2 bedrooms nice big Kitchen and a bathroom. Just 200 meters distance from the center of stavros Thessalonikis. With aircondition. Close to the beach. Free parking and Internet acces.
Тип размещения
Дом/квартира целиком
---
Тип жилья
Квартира
---
Вмещает гостей
5
---
Спален
Σταυρός, Θεσσαλονίκη, Греция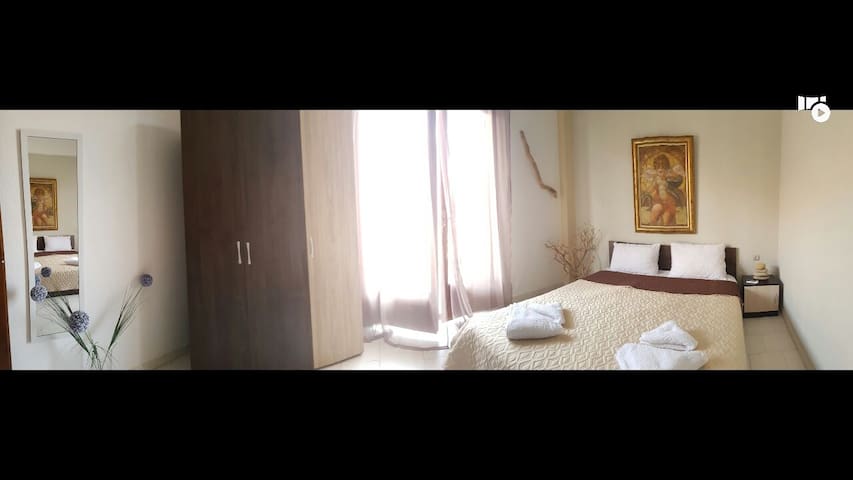 Apartment for rent in Asprovalta 50 meters from the sea, located in the heart of the city.
The apartment has four beds (also there is an extra bed).The apartment is equipped kitchen where you can cook. It offers air conditioning, television, refrigerator, electric stove.
Nearby are plenty of shops, cafes and restaurants.
Хорошая квартира, полностью соответствующая описанию и фотографиям. Пешком до пляжа около 1-2 минут. Единственный небольшой минус - может быть немного шумно вечером, так как вокруг много кафе. В остальном моей семье все понравилось.
Alexey
2016-07-29T00:00:00Z
He apartment was nice but simple. It was really near to the beach. From the balkon you can see the see. We had a bit of struggle to get in to the flat and in stead of 4 pm we first got the key at 8 pm. But this was because of Kostas had a car accident. In the end it all worked and everything was fine. We did not see Kostas. His friend helped us and they were very nice and polite. The street was very loud At the nighttime . So we had to close the windows but there was aircon so it was okay.
Teresa
2015-08-05T00:00:00Z
The apartment is close to the beach (2 min. walk), but also close to a loud restaurant and a meeting point for young people, on a very busy street. The kitchen is well equipped, there were lots of clean towels, we even found a parasol and a beach mat, but the apartment is not for 4 adult people since the bedroom is not separated from the living room/kitchen (where the other bed is) with a door- it`s practically one big area. The biggest problem is the toilet/bathroom- there is no ventilation, it`s always wet and airless inside, you have to leave the door open (directly towards the kitchen) to ventilate. All in all, it`s OK for a young couple, for a few days, and the price is fair (not too cheap, but fair).
Elvira
2015-08-10T00:00:00Z
Good studio /two rooms/ in the center of village. The studio was clean. Highly recommended
Ivan
2015-08-03T00:00:00Z
The host canceled this reservation 70 days before arrival. This is an automated posting.
Vaidas
2016-05-27T00:00:00Z
Тип размещения
Дом/квартира целиком
---
Тип жилья
Квартира
---
Вмещает гостей
4
---
Спален
Ασπροβάλτα , Θεσσαλονίκης, Греция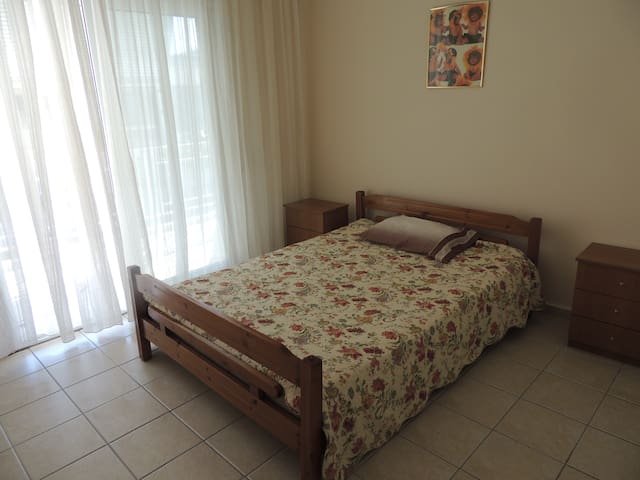 Asprovalta - Airbnb
:
В среднем,

4.14

из

5

звезд на основании

65

отзывов гостей
1

–

18

из

30 квартиры в аренду
Введите даты, чтобы увидеть полную цену без учета дополнительных сборов и налогов.