Введите даты, чтобы увидеть полную цену без учета дополнительных сборов и налогов.
Three bedroom home part of a former 1960 dairy barn. A multi activity site: Art gallery, Art studios, Part of an organic farm, Pond to swim in, Horses to visit, Great kitchen, Outdoor patios, Near rail bike trail, Hiking, Oh The beautiful views.
Incredible space that was just what we were looking for in a long weekend away from the city. Great for relaxing, chatting, separating, doing activities... and the gallery is a real bonus! The living space is beautiful and comfortable. Sleeping accommodations are comfortable and as-advertised. Great kitchen - not enormous, but extremely functional and has copious space for 4 people to cook together. We made a fine dining weekend out of the whole thing, visiting the local farmer's market for fresh vegetables (tomatoes are in season and insanely delicious) plus a trip to the local grass-fed meat-ery and we had ourselves an incredible steak dinner with fresh salad (with lettuce from the on-site organic lettuce farm) and followed it up the next morning with (leftover) steak and eggs! Fresh air, INCREDIBLE views from both porches and all in all, this AirBnB provided an incredibly relaxing atmosphere shared by an extremely accommodating (and responsive) host. I'd return to this air bnb in a heartbeat!
Alan
August 2016
Henry's place is an absolute gem, and we had such a relaxing and warm time. Fantastic views, and unique living abode. He baked us fresh bread upon our arrival, and was communicative and helpful throughout. Can't recommend enough!
Ian
October 2016
It was an awesome place to stay and beautifully furnished. We had a great time.
Sebastián
January 2017
The host canceled this reservation 30 days before arrival. This is an automated posting.
James
July 2016
It's a truly gorgeous place—the pictures don't quite do it justice. Henry's art is all around and it's very cool—definitely check out the gallery. The kitchen is very well equipped and the area looks like it's straight out of a postcard. Henry was a great host—very accommodating.
Michael
February 2017
Henry is an amazing host - welcomed us in the house and gave some fresh bread! The house is amazing, too - very spacious and very well designed. Vegetables in the green house are delicious! We had a fantastic stay there.
Maria
August 2016
Fantastic farm, fantastic host!
Idra
July 2016
Henry was there to meet us and gave us a very thorough tour, including the art gallery. Five us us stayed in this bucolic setting with views over the valley to the Taconic Range. Cooking in the kitchen was great--well stocked with homemade bread, jam, coffee to go with the french coffee press. We loved breakfasts and a home cooked dinner on the outdoor picnic table with the breeze and views. The tank on the terrace was great to cool off in the afternoons! The accommodations were very cleverly made out of a portion of the dairy barn.
Joan
August 2016
Тип размещения
Дом/квартира целиком
---
Тип жилья
Дом
---
Вмещает гостей
5
---
Спален
3
Millerton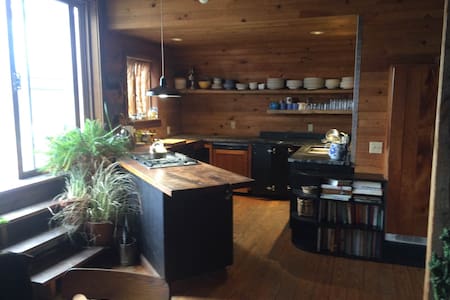 We have a picturesque log home situated on three acres in Millerton, NY. Millerton is ideally situated close to skiing, hiking, biking, and just about any outdoor activity. It is close to shopping in Great Barrington, and Litchfield County, CT.
A log cabin. 2400 square feet including an unfinished basement with ping pong table. Three bedrooms, one king, one queen futon, one twin, and a queen sized pull out couch. air mattresses can be made available. Kid safe design. Three decks, two with overhangs and one enclosed with screens. Working fireplace. Check out: 3:00 day of departure The entire home. Rarely to some. Sometimes I will meet you at the beginning, other times I will store a key.
A quiet residential neighborhood. Private residences only on a dead end road. 3 acre plots of land, ideal for kids to play and explore. There is a hiking trail right across the street up Brace Mountain and all around the Taconic Hills. There is biking in town at the Harlem Valley Rail Trail. Walk to the Brace Mountain trail. Drive to Millerton for supplies and wandering. Great Barrington is also close as is Litchfield County, CT.
The house was very spacious and accommodating for myself and a group of friends. The fireplace really brought the place together and made relaxing at night especially enjoyable while it was snowing outside. There was plenty of activities to do around the house from board games to ping pong and kept everyone entertained for the evening. Jeffrey was very proactive in maintaining a dialog and being very informative as to the expectations and procedures for staying the weekend. I would highly recommend this house to anyone who enjoys the outdoors or is looking a for a quiet getaway for a weekend!
Garrett
March 2015
Spacious and upscale log cabin. We arrived during a snowstorm and the 3 heating zones kicked on beautifully. The private neighborhood has other log homes across the street and also to the sides within a few hundred feet. The light for the ping-pong table is directly above and uses a pull switch accessible from the step ladder.
Mike
February 2015
We had a very nice stay for 3 days in February. Being that is was so very cold out, it was nice to relax and play board games and keep warm by the fire. (Just be sure to bring wood!) The pictures really do not do the cabin justice. The rooms are huge and the cabin is absolutely beautiful with sunfilled rooms. The kitchen has everything you could possibly need. The beds are SO comfortable! I really hope to be able to come back in the spring. The area is gorgeous and I'd love to experience the cabin in the spring where my family and I could go for a bike ride or a hike in the woods. Have the State Park so close is very convenient too!
Elizabeth
February 2015
Тип размещения
Дом/квартира целиком
---
Тип жилья
Дом
---
Вмещает гостей
6
---
Спален
3
Millerton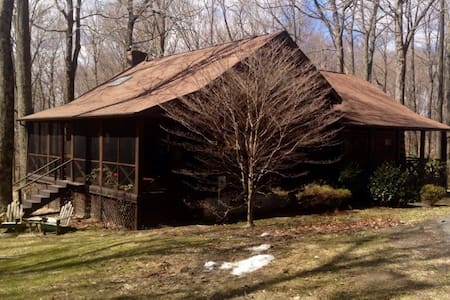 Comfortable house with great views – for wiling away the time sitting on the porch or on the lawn staring out at the views or exploring the area which includes a lot of nature and quaint towns, cultural offerings, and more. (Inside photos to come.)
The house is located on the side of a mountain (Brace Mountain) about 5 minutes north of Millerton, NY. One can hike or bike out the door and find a trail within a few minutes. About 5 minutes away is Rudd Pond rec area, which is a small lake with an artificial beach that is nice for kids. About 15 minutes away is Bash Bish Falls (in Massachusetts)--about a 30 minute hike to the falls on a good trail. The Harlem Valley River Trail offers great paved trails free of traffic for biking, running and walking. There are various sports opportunities in the area (such as paragliding just 5 minutes away...or you can just watch the paragliders from the house). In addition, there are a lot of wonderful towns nearby--Millerton, Hillsdale, Great Barrington (and other Berkshires towns in Massachusetts), Hudson, Rhinebeck, Red Hook, Salisbury and Lakeville, etc. Great restaurants in most towns (many farm-to-table). Lot of farm stores, horse farms, etc. Cultural opportunities in the area include Tanglewood, Clark Museum, Wassaic Project, museum and performances at Bard College, etc. For kids, in addition to the possibilities above, there is the Trevor Zoo (at the Millbrook School), farms to visit, and much more. Guests will be able to access the entire house except our baby's nursery and one closet. Feel free to reach out to get ideas for things to do in the area.
Millerton is a nice village, but there are a lot of other quaint towns and villages nearby as noted below (with their range of restaurants). Plus there is plenty of nature too. * Hiking/Walking/Nature – Bash Bish Falls (http://www.mass.gov/dcr/parks/western/bash.htm), Harlem Valley Trail (http://hvrt.org/), Rudd Pond (http://www.nysparks.com/parks/141/details.aspx), Taconic State Park (part of which is literally in our backyard - http://nysparks.com/parks/83/details.aspx) – all within about 15 minutes from the house * Towns – Rhinebeck, Red Hook, Hudson, Great Barrington (in MA Berkshires), Lakeville and Salisbury, CT…with lots of nice restaurants in those towns and others * Culture – Tanglewood, Clark Museum, Wassaic Project, nearby colleges with museums and performances * Wineries – Millbrook Winery (www.millbrookwine.com/); Cascade Mountain Winery (including tastings, music on Sunday -- http://www.cascademt.com/); Tousey Winery (http://www.touseywinery.com/)
This place was great! The host answered any emails promptly, and the check in process was very easy. The house is amazing! Would definitely stay here again (maybe with more time to utilize some of the fun outdoor games they have!). The host has a very informative check list which includes an assortment of nearby attractions/activities. That's super helpful not knowing the area.
Lea
July 2016
We had a great experience at David's house. The house is equipped for small children, which was perfect for our Thanksgiving vacation with the whole family. Kitchen is great too, fully equipped for those who want to cook!
Jeremy
November 2016
Тип размещения
Дом/квартира целиком
---
Тип жилья
Дом
---
Вмещает гостей
8
---
Спален
4
Millerton