Welcome to the K Lounge! This is an Architecturally unique property, located close to the Santa Barbara Mission, just a few minutes from town. Guests will enjoy the privacy of the entire main floor, with the exception of the owner's bedroom which will be closed off. The house has gone through major remodeling over the last years. Simply too good not to share! Let the photos speak for themselves!
Access is granted via keyless entry at the door on the upper terrace.
Mission Canyon is considered to be one of Santa Barbara's premium neighborhoods. It is quiet, safe, and romantic. Please be mindful of all our neighbors.
Тип размещения
Дом/квартира целиком
---
Тип жилья
Дом
---
Вмещает гостей
2
---
Спален
Санта-Барбара, Калифорния, США
Небольшой деревенский студия имеет спокойные, умиротворяющие Вибе. Супер удобная кровать для хорошего ночного сна. Открытый кирпич патио с видом, зоной отдыха, ванной душевая кабина. В приведенных выше СО миссии, в 10 минутах от центра города и пляжа предгорий. Безопасный, тихий район.
Это находится в красивой, спокойной обстановке. Сама студия довольно небольшой, но есть большое окно, глядя на очаровательный, частный, крытый патио. Обычные предметы первой необходимости; ванная, душ, удобные кровати, чистое постельное белье, место для отдыха. Все по очень привлекательной цене! Я много работаю поваром и мои часы меняться, но я всегда рад быть полезным, когда я могу. И люблю знакомиться с новыми людьми. Это так мирно выше шума и суеты города с прекрасным видом для загрузки. Но все-таки очень близко к все удовольствие от центра города и пляжа В городе есть автобусная остановка в музей естественной истории, около 3/4 мили вниз по склону. Служба такси является простым и надежным. Студия находится рядом с главным домом на имущество. Мы разделяем большую дорогу. У меня есть Золотистый ретривер в моем доме, который очень удобно. Путь диск немного скрыт от главной дороги, но имеет большой адрес знак и свет в ночное время. Обычные предметы первой необходимости; ванная, душ, удобные кровати, чистое постельное белье, место для отдыха. Все по очень привлекательной цене! Я много работаю поваром и мои часы меняться, но я всегда рад быть полезным, когда я могу. И люблю знакомиться с новыми людьми. Это так мирно выше шума и суеты города с прекрасным видом для загрузки. Но все-таки очень близко к все удовольствие от центра города и пляжа В городе есть автобусная остановка в музей естественной истории, около 3/4 мили вниз по склону. Служба такси является простым и надежным. Студия находится рядом с главным домом на имущество. Мы разделяем большую дорогу. У меня есть Золотистый ретривер в моем доме, который очень удобно. Путь диск немного скрыт от главной дороги, но имеет большой адрес знак и свет в ночное время. Обычные предметы первой необходимости; ванная, душ, удобные кровати, чистое постельное белье, место для отдыха. Все по очень привлекательной цене! Я много работаю поваром и мои часы меняться, но я всегда рад быть полезным, когда я могу. И люблю знакомиться с новыми людьми. Это так мирно выше шума и суеты города с прекрасным видом для загрузки. Но все-таки очень близко к все удовольствие от центра города и пляжа В городе есть автобусная остановка в музей естественной истории, около 3/4 мили вниз по склону. Служба такси является простым и надежным. Студия находится рядом с главным домом на имущество. Мы разделяем большую дорогу. У меня есть Золотистый ретривер в моем доме, который очень удобно. Путь диск немного скрыт от главной дороги, но имеет большой адрес знак и свет в ночное время.
Это так мирно выше шума и суеты города с прекрасным видом для загрузки. Но все-таки очень близко к все удовольствие от центра города и пляжа
We had a wonderful stay at Julia's studio! Even though it was just for the night it was more than perfect for my Fiance and I. You can tell she puts a lot of effort into making you feel welcome with all the little touches she adds. Such as having a ton fresh towels and shampoo all set for you. Plenty of Santa Barbara pamphlets with plenty of information and coupons. Right when you walk in, the rooms smells so clean and welcoming. I adored the this little space and the feel to the place! The location is great and you have a great views as well. ( Perfect for 1 to 2 guests) Unfortunately we did not get to meet Julia but she was lovely to talk to over messaging. We'll be back for sure! :)
Onyx
2016-02-17T00:00:00Z
We had a great stay at Julia's little studio! She was there to greet us warmly and made sure we had everything we needed. After that, she gave us our privacy for the rest of our vacation. The space is small, just the bed and nightstand, but it was perfect for a little getaway. We will definitely come back next time we are in town. Thanks again, Julia!
Kate
2015-05-02T00:00:00Z
Julia was super friendly, although we only briefly interacted with her during our stay. The scenery is nice, but the location is a bit distant from town, necessitating car transportation. The furnishings were nice, but the studio is quite small and not great for privacy (have to walk outside to the shower, and everything outside the small studio is open), but the rest was very nice!
Matthew
2016-11-23T00:00:00Z
Julia was amazing! Her place is the perfect little get away for a nights stay. Love it!
Jen
2015-11-12T00:00:00Z
Julia's place was absolutely wonderful. The space was comfy and had everything we needed.
Chris
2016-11-20T00:00:00Z
Julia was there to meet me when I arrived and showed me the studio. It's artfully decorated, cozy and comfortable inside, and yet is open to a private, rustic outdoors. What a delightful combination! I slept for 12 hours straight in that oh-so-comfortable bed and woke to an al fresco cappuccino and fruit tray from Julia! On a practical note, though the inside is small, everything you need is there. A full-length mirror, outlets for chargers and hair equipment, and the lower shelf worked perfectly for my makeup mirror. The outdoor shower was great! Julia made sure my stay was enjoyable--from suggestions and directions for places to see and visit to a big pitcher of icy, cold purified water to great conversations on the patio. I loved being there!
Cris
2015-10-15T00:00:00Z
For the price, this was functionally perfect.
Shira
2016-07-25T00:00:00Z
Great place to stay for our quick weekend visit to Santa Barbara. The cozy studio was clean and the bed was super comfortable for the 2 of us. It is close to the Santa Barbara Botanic Garden and a short drive into downtown SB. It was pretty easy to find the address even after dark and parking was no problem. Julia was friendly and very responsive to texts so it was a smooth coordination for check in and check out.
D
2015-01-26T00:00:00Z
Тип размещения
Дом/квартира целиком
---
Тип жилья
Дом
---
Вмещает гостей
2
---
Спален
Санта-Барбара, Калифорния, США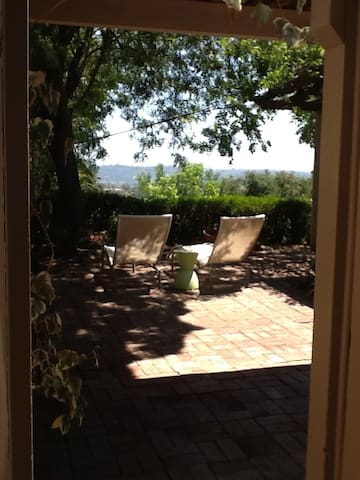 My place is close to the beach, restaurants and dining, parks, and art and culture. You'll love my place because of the views and the location. My place is good for couples, solo adventurers, business travelers, and big groups.
Perfect location for walking on the beach. Dramatic architecture. Hot tub and full kitchen
Sheryl
2017-03-31T00:00:00Z
Very nice experience
Tutku
2017-01-14T00:00:00Z
Perfect location for beach and city access. Beautiful, comfortable contemporary home with all the creature comforts of a luxury hotel. Thank you for a wonderful stay.
Constance
2017-01-28T00:00:00Z
Тип размещения
Дом/квартира целиком
---
Тип жилья
Дом
---
Вмещает гостей
6
---
Спален
Санта-Барбара, Калифорния, США
Это одна спальня имеет большую комнату, и небольшая кухня / жилое пространство. Небольшое расстояние от коттеджной больницы, в нескольких минутах езды от центра города. Паркетные полы, Королев пена памяти кровать. Колода, от улицы для стоянки. Прикрепленный к главному дому, отдельный вход. Пожалуйста, обратите внимание: Есть дети, и собаки на имущество!
Пешком в Cottage Hospital, в нескольких минутах езды от центра города. (Вы можете ходить, но это немного похода.)
Great one bedroom and location! would recommend
daniel
2016-10-19T00:00:00Z
Very comfortable stay with a good location. The apartment was as described. It was clean and well appointed. Bonus was to park right in front of our door. Erika was very helpful in giving us great recommendations for food and sightseeing.
Renee
2016-07-10T00:00:00Z
We arrived after dark and Erika came outside to make sure we came in the right driveway. Very convenient parking spot off the road, right next to the entrance to the apartment. We enjoyed relaxing in the living area with the breeze! A/c wasn't needed, bed was super comfortable, and Erika and her children were very welcoming! Would recommend!
Sarah
2016-02-18T00:00:00Z
A clean and modern cottage, perfect for a 2-night stay. Best of all it was fragrance -free! Very convenient to most of Santa Barbara.
Virginia
2016-11-01T00:00:00Z
We had a great time at Erika's place. It has everything you need and it's very clean and inviting. The location is great too! Erika and her family were very kind and welcoming. I would stay here again in a heartbeat and absolutely recommend staying here.
Katherine
2016-09-01T00:00:00Z
This was an excellent stay in every way. The home is private, quiet and it has all amenities you need. The location perfect as it is extremely accessible to all parts of the city. And Erika was a great host as her communication was clear and she was very warm and welcoming. I would highly recommend anyone to stay in her beautiful place.
Brendan
2016-06-02T00:00:00Z
Our stay was great! Upon arrival, found the key and settled in. Cute patio was lovely for cocktails at night and fresh ground coffee was waiting for us in the morning! Nice fresh linens, comfy bed and very cozy and home like ! Never met Erika but had a much needed and wonderful getaway! Would definitely recommend and stay again. Thank you Erika!!!
Dina
2016-08-10T00:00:00Z
Place was clean and nice. A little pricey. Communication from Erika was really poor though, pretty MIA with texting and didn't answer calls.
Rhyan
2016-05-14T00:00:00Z
Тип размещения
Дом/квартира целиком
---
Тип жилья
Гостевой дом
---
Вмещает гостей
2
---
Спален
Санта-Барбара, Калифорния, США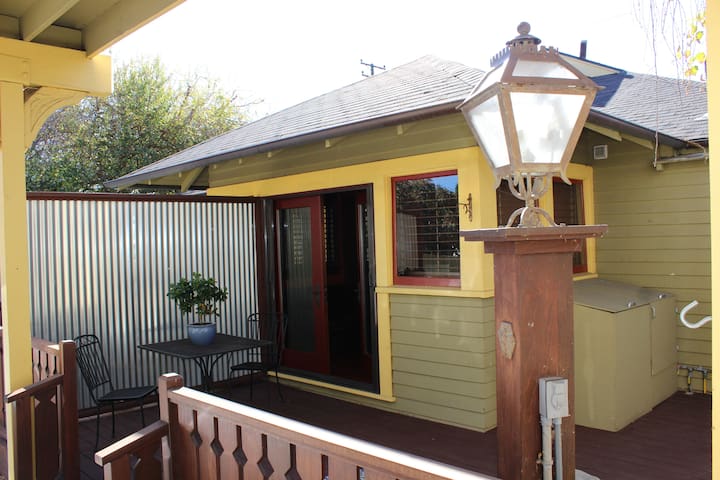 Идеальное место, чтобы насладиться американским Riveria! Это отступление 1/2 квартала от государственного, ул 4-х блоков до центра города и менее чем в двух милях от пляжа и 1/2 мили к исторической миссии и Саи Роуз Гарден. Полностью реконструируют коттедж!
Это ваш дом вдали от дома. Приходите насладиться полностью реконструирована с одной спальней коттедж с мансардой, что есть двуспальная кровать в нем и большой частной палубе. Коттедж имеет новые из твердых пород дерева и плиточные полы, полностью оборудованная кухня, включая посуда, кастрюли / сковородки и все вещи, необходимые, чтобы сделать вкусные блюда для вас и ваших близких. В том числе кофе, чай, сахар и другие приправы.
Мы находимся в отличном месте для тех, кто хочет насладиться Санта-Барбара. Ваш люкс находится всего в 4 кварталах от центра города, но не в районе Гетто, а не в середине шума и суеты города.
This was the perfect place to stay for a weekend away with my friends. The location is great (close to State St). The space itself feels very welcoming, gets lots of natural sunlight, has a great deck, and the bed was very comfortable! Naomi and John were also accommodating enough to let me check-in early. I would definitely stay here again and recommend it to friends!
brynn
2016-05-23T00:00:00Z
Beautiful and cozy cottage in a great location.Hosts were very thoughtful and responsive to our questions . We highly recommend this place!
Danny
2016-12-14T00:00:00Z
My girlfriend and I spent a couple nights at John and Naomi's cottage and loved it! It's a studio apt above their detached garage. The space was well laid out and comfortable. The location is great - very close to the beach, downtown SB and to hiking trails. I didn't meet John but ran into Naomi a few times and she was very nice and helpful. I would stay again and would recommend to my friends.
Joseph
2017-01-06T00:00:00Z
If you want to remodel your own house, you need to check out this place as an inspiration. The cottage efficiently uses every bit of the space to build a loft, a bedroom, a bathroom, a kitchen, and a living room. The prime location is within walking distance to downtown, wharf, and Mission Santa Barbara.
Bowen
2017-04-04T00:00:00Z
Great place to stay. Friendly people and very well located. Good value for money!
Ted
2016-12-09T00:00:00Z
Great, quiet location, close to downtown. Adorable cottage with everything you need, clean and comfortable. The hosts are super helpful and sweet. Couldn't ask for better!
Piero
2017-02-17T00:00:00Z
This cottage was perfect for me and my boyfriend to have a fun getaway. It was cute and cozy, the location was convenient for walking and getting around, and the hosts were extremely friendly and helpful. It was nice being able to prepare our own meals in the kitchen, but also have quick access to restaurants, bars, shops, and the beach. I couldn't have hoped for a better place and would definitely stay again. Thank you!
Amanda
2017-03-30T00:00:00Z
Ideal location and great property of you are traveling with kids. Would not recommend for 2 couples as there is not privacy between sleeping quarters.
Tracy
2017-03-28T00:00:00Z
Тип размещения
Дом/квартира целиком
---
Тип жилья
Дом
---
Вмещает гостей
4
---
Спален
Санта-Барбара, Калифорния, США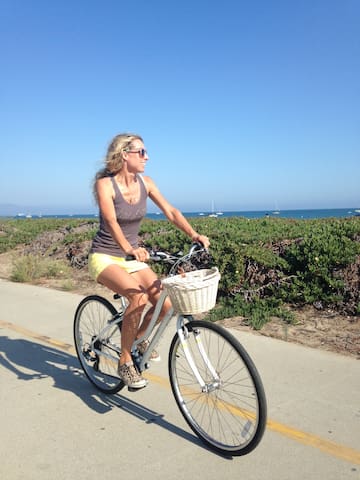 ЧУДА являются нетрадиционным, жил, и несколько причудливых бытовая, с отдельными спальнями, что гости найти «Уютные» и окрестностями расслабляющих.
Прекрасные безопасные окрестности на Санта-Барбара Верхней Ривьере. В великолепном природном окружении, довольно деревенский дом на склоне холма распределилось и гости имеют доступ ко всему ..... высокоскоростной доступ в Интернет, джакузи (временно не работающего из-за засухи) палуб с видом на горы и т.д. собственности имеет около 2 гектаров высоких деревьев, пышной растительностью и удивительной дикой природы. Несмотря на то, что есть чувство изоляции, это займет минут, чтобы добраться до города, и это безмятежное убежище от толпы и трафика. [Это лучше, если у вас есть автомобиль. Ближайший автобус находится примерно в миле на холме] Однако, довольно много, как прогулка по городу, который составляет около 1/2 часа, и обычно принимает Uber обратно домой. Вы найдете спокойное, уединение и мирную жизнь в этой прекрасной доле вида на горы. Расположенный на деревьях, с большим количеством сад и открытого пространства. Хороший скромный номер с очень основной мебелью и удобства дома, но имейте в виду, что это старый дом и есть imperfections.The ванная, вероятно, будут общими, как у меня есть два номера (см Natural Wonders / Конфиденциальность и мир) Это не действительно можно заказать одну комнату или другой. И, вероятно, есть свои плюсы и минусы! В долгосрочной перспективе, как правило, интересно большая деревянная кровать, потому что это труднее сделать, и комната имеет больше места для хранения. Номера для некурящих пожилых гостей. Нет наркотиков, умеренный алкоголь, ни посетителей. Один единственный. Дополнительные лица за 15 $ каждый. Как правило, детей нет, но ребенок более 10 возможных ... пожалуйста узнать Низкий уровень для нашего дорогого места и для людей, которые хотят эту специальная, случайный, домашнюю атмосферу и не ожидают первозданную роскоши, но комфорт значения. Через месяц или больше будет предложено разделить коммунальные услуги. Должен нравится очаровательны, хорошо вели себя собаки, которые не вторгаются в ваше пространство! Совместимый собака может быть желанным, если нет других гостей, а также с дополнительной депозит. Off доступны парковка на улице. Я предлагаю фрукты и лакомства первое утро. В долгосрочной перспективе, вы по своему усмотрению с моими злаками. хлеб, молоко и кофе, или любой из ваших собственных.
Я жил в этом месте огромное большинство моей жизни. До сих пор я не считал бы в другом месте. Я предполагаю, что это природные чудеса все это :) Добрососедство прогулки и / или возможность для широких походов в горах. Общественный транспорт находится примерно в миле, и мы на крутом холме. Лучше всего иметь автомобиль, если ходьба не является предпочтительным, и вы хорошо с направлениях!
Arlene is such a lovely host! She was very welcoming and kind and her place is calm and beautiful. She serves amazing breakfast! :) Thanks again for having me :)
Amanda
2016-08-25T00:00:00Z
Arlene was a really adorable host. We really enjoyed her beautiful house as well as the amazing breakfast she prepared for us !
Constance
2016-07-20T00:00:00Z
Arlene's place is wonderful, as is Arlene! If you want to feel like you're visiting a friend, have the use of a kitchen and a hot tub in addition to your room, and feel welcome, this is for you. The house is really funky and definitely not for those who are looking for a five star resort. If you enjoy a casual space, aren't a stickler for daily maid service, and want to experience an absolutely beautiful, quiet neighborhood close to downtown Santa Barbara, this is a wonderful and affordable choice. Arlene has been in Santa Barbara for quite a while, so she can certainly make good recommendations to visitors.
Deb
2015-01-17T00:00:00Z
If you're looking for a piece of paradise, this is the place to go. Up the hills in Santa Barbara surrounded by natures wonders lives the sweetest woman you'll ever meet. You'll feel at home instantly. The whole vibe is just right and for me this place embodies the Airbnb principal: staying in a real home, surrounded by locals, getting to know amazing new people. Wish I could stay there longer. Hope to come back one day!
Sandra
2012-08-28T00:00:00Z
It was wonderful to spend a month at Arlene's. Her place is peaceful and conversations with her were abundant. I loved being up in the tree tops looking at the mountains. You cannot go wrong staying at Arlene's. She is very welcoming and provides lots of information about Santa Barbara and Santa Barbara has much to offer. Will stay there again, if she has a room available, without a doubt. Best to book ahead; her place is popular. I might add that it was a delght to meet other guests and share stories and enjoyable to spend time with her two pups, Judy and Cocoa
Sue
2014-03-07T00:00:00Z
Staying with Arlene was a dream! She is so sweet and wonderful, and her home is magical. My girlfriend and I stayed a night with Arlene and wish we could have stayed longer. It is only a 5 minute drive to the busy parts of town, but allows you to retreat from it as if you were far away. Her home is in a beautiful neighborhood in the hills just above the Santa Barbara Mission, close to the Botanic Garden, and looks out at the mountains to the east. We slept very comfortably in her guest room, and loved getting to talk with Arlene. She also made us a killer breakfast with homemade yogurt!
Zachary
2016-06-10T00:00:00Z
Arlene is a bright and warm human being who was more than hospitable and made our stay incredible comfortable. Her home is unique and somewhat enchanting, located on a mountain overlooking Santa Barbara. I would definitely recommend staying there and would love to return someday!
Zachary
2015-04-29T00:00:00Z
Arlene is the most amazing host that I have ever had in a airbnb place, she put so much love in her home. She prepared the room kind of like in a sweet hotel, she provides water and I had 2 granola bars on the table. in the morning she had prepared an amazing breakfast, with fruits yogurt and bagels. She is a lovely lady and I really enjoyed talking to her. I would come back to stay in her home any time. thank you
Jani
2016-07-30T00:00:00Z
Тип размещения
Отдельная комната
---
Тип жилья
Дом
---
Вмещает гостей
2
---
Спален
Санта-Барбара, Калифорния, США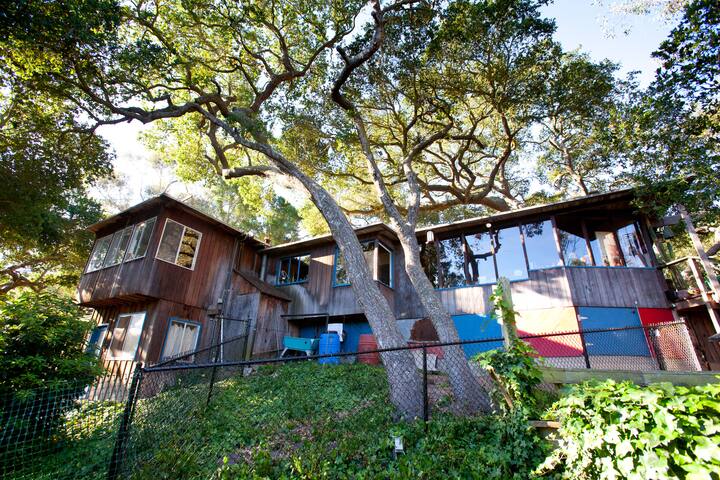 Enjoy our unique, renovated 1964 Airstream trailer (with private separate full bathroom) with all the comforts of home. Our cozy Airstream offers private access to the best hiking and mountain biking trails Santa Barbara has to offer, and is just half a mile to upper State Street restaurants and shops. And, if you love golf, several of the most beautiful courses in the world are a short drive away, not to mention the breathtaking beaches that are just a 5 minute drive away.
Perfect for all couples, Airstream lovers, beach goers, surfers, paddlers, hikers, mountain bikers, golfers, outdoor enthusiasts.
Highly sought after San Roque neighborhood in Santa Barbara is beautiful and safe, and close to all the city has to offer, including the historic Mission and botanical gardens.
Тип размещения
Дом/квартира целиком
---
Тип жилья
Дом на колесах
---
Вмещает гостей
2
---
Спален
Санта-Барбара, Калифорния, США
Private house two blocks to beach and nature preserve. Open concept living space with soaring skylight ceilings, 2 bedrooms, 1 bath, terra cotta tile floors, fireplace in LR, kitchen and dining area with granite counters. 5 minutes to downtown.
This beautiful retreat space is located on a quiet residential street a few steps to miles of beach and nature preserve overlooking the Pacific. Stroll to gourmet food stores and restaurants or drive five minutes to downtown Santa Barbara. The house itself is sparkling clean with soaring glass windows, ceramic tile floors, granite counters, solid beds, spotless bath and closets and drawers empty and ready for your use. It is everything you want in a home away from home as its sole purpose is for guests (totally empty closets and dressers for your use, no extra clutter). This is a pristine airy space solely for your relaxation. Additional features include HIGH SPEED INTERNET, APPLE TV, DOUBLE OVEN and All the comforts of home, but none of the drawbacks! Your place, your space to enjoy. As an aside, please don't confuse the descriptive reviews of "Peaceful Beach Retreat" with those of another house-I have a similar listing for another (smaller) house on the property (Airbnb does not separate the reviews for one owner with different properties- so look for "Peaceful Beach Retreat" to get the full scoop)
This beautiful retreat space is located on a quiet residential street a few steps to miles of beach and nature preserve overlooking the Pacific. Stroll to gourmet food stores and restaurants or drive five minutes to downtown Santa Barbara.
Elizabeth была гостеприимна и очень отзывчива. Она очень трепетно подошла к обстановке и оформлению дома для гостей - в доме было все необходимое для комфортного проживания. Дом удобно расположен для знакомства с городом и прогулок на пляже. Нам сложно оценить насколько удобно добираться пешком до мест развлечений, так как мы пользовались автомобилем. Добраться до всех основных мест в городе на автомобиле - около 10 минут.
EDUARD
2014-11-01T00:00:00Z
The home is a nice quiet spot near the beach with all the basics you need. The nice quiet yard/outdoor space is a plus - especially with kids.
Jacquie
2014-06-17T00:00:00Z
We enjoyed our stay in this beautiful home so much! The proximity to the beach and the nature preserve was just amazing. The neighborhood was quiet and peaceful; we could even hear the waves late at night. The home was very comfortable for our little family of 3. The beds were comfortable and my son loved having his own room. Elizabeth was very friendly and helpful and made us feel comfortable, but we also appreciated the privacy of having our own space. I am so thrilled to have found this wonderful place to stay in Santa Barbara and I hope we'll be able to stay again someday.
Cecilia
2015-03-25T00:00:00Z
While our Mississippi family was pleasantly distracted by our younger son's wedding in idyllic Santa Barbara, being Elizabeth's guests was a calming force. Her home was perfect, just yards from the beach as she said, and well furnished and ideal for us. She greeted us and was close by if we needed her, but she allowed us our privacy and space to concentrate on the wedding festivities while feeling "taken care of" in her home. Our fond memories of our son's stunningly beautiful wedding will always include the peace and calm we felt at Elizabeth's "peaceful beach retreat" ...
Nancy
2016-06-27T00:00:00Z
Lovely, quiet neighborhood next to the nature preserve with breathtaking views of the coast.
Jennifer
2015-07-04T00:00:00Z
Elizabeth was great, made the entire experience from booking up through the day we checked out extremely easy. The listing is quite accurate, the house is great and I couldn't recommend staying with her any more! Thanks Elizabeth.
Greg
2015-05-05T00:00:00Z
Elizabeth was a wonderful host. She greeted us on our first day and made sure we had everything we needed. The home was exactly what we were looking for and the neighborhood was beautiful and quiet. Easy beach access and a wonderful park nearby! I would certainly stay at Elizabeth's peaceful beach retreat again.
Shea
2016-07-18T00:00:00Z
My son and I stayed at Elizabeth's lovely home for a 3 nites and thoroughly enjoyed our stay. We appeciated the touches, and it is clear that Elizabeth goes out of her way to make guests feel comfortable and welcome.
annie
2016-07-15T00:00:00Z
Тип размещения
Дом/квартира целиком
---
Тип жилья
Дом
---
Вмещает гостей
4
---
Спален
Санта-Барбара, Калифорния, США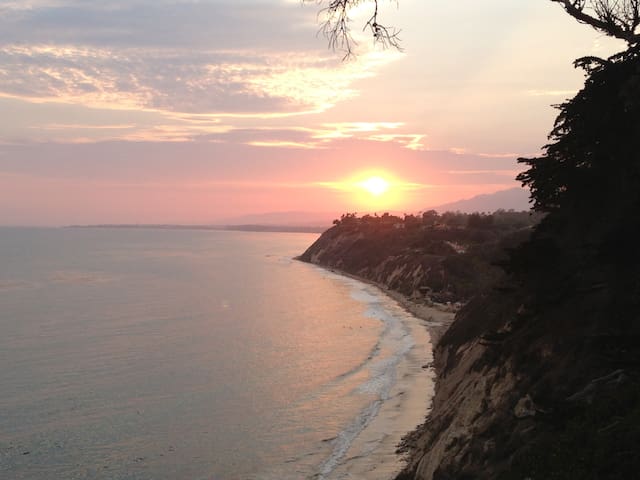 My place is close to parks cross street from Mesa shopping center, walking distant from the cliff down to the beautiful Santa Barbara sandy beach. You'll love my place because of the location, shared kitchen and bathroom. If you are looking for an inexpensive place to stay, this is for you, great value and nice comfortable place for you to stay while you spend your valuable time touring. thank you and ENJOY the Santa Barbara beach area!!
非常舒适,离海岸线很近,吃完饭散步非常美
Garry
2017-04-03T00:00:00Z
Great place to stay! As described
Matthew
2017-02-17T00:00:00Z
Jian's place is located in an awesome cross section of town close to lots of good local eats and parks. I came with two little boys in January for some warm weather playgrounds, the zoo, and the beach from the land of snow and ice. It is a good value and the little extras like the fresh towels, toothbrushes and toothpaste, et cetera were nice. Jian is a pleasant and sweet lady who was very communicative, which was so great because we had a last minute booking. While some of the niceties could be upgraded, it was fine for us and we are grateful.
Misheel
2017-01-29T00:00:00Z
Good parking, clean, easy to find, comfortable bed and a nice lady to deal with.
Garrett
2017-02-12T00:00:00Z
My host was a sweetie pie and it made my stay there very comfortable and peaceful.
Roxanne
2017-01-26T00:00:00Z
Jian was very welcoming and had all you would need to a stay in Santa Barbara. Overall great stay
Alex
2017-02-10T00:00:00Z
Great place
Audrey
2017-01-28T00:00:00Z
Very nice. Great location. Walking distance to amenities. Good value.
(EMAIL HIDDEN)
2017-01-31T00:00:00Z
Тип размещения
Отдельная комната
---
Тип жилья
Дом
---
Вмещает гостей
3
---
Спален
Санта-Барбара, Калифорния, США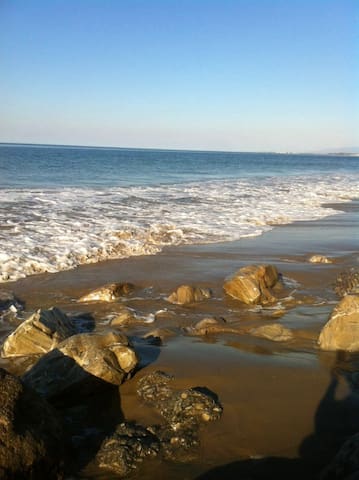 This beach house is in the best neighborhood on the Mesa. Steps to Mesa Lane Beach and the Douglas Family Preserve. The Best Grocery Store and Local Produce Mart in town are 3 minutes away. Downtown is a 5 min drive. It is an older, no-frills house that is less than optimum condition. In other words, you shouldn't expect all the conditions to meet Hilton hotel standards. That said, it is comfortable, clean and conveniently located. Relax and enjoy your time in paradise.
(*This is a shared common area environment - meaning that you may be sharing the kitchen, dining, living and laundry room areas. ) The Retreat Room has a private, small patio that is often sun lit. The patio has a sitting area and table and is entered through a sliding glass door from with in the room. The room has a Full Size Englander Orthopedic Mattress. The full sized bathroom is clean and shared with one other. The living room boasts tall ceilings, a river rock fireplace, large windows and glass doors. There is a large sectional couch with deep, firm cushions and comfortable recliners. One large flat screen TV with satellite is in the living room. The large full kitchen is tiled and fully equipped with stainless steel pans, toaster, blender, water dispenser, oven, stove top, and all that you might need to prepare lovely meals. The large back yard with grass has a BBQ and dining table and is totally private, surrounded by trees.
The Beach House is steps away from one of the most beautiful beaches in Santa Barbara, Mesa Lane. Also steps away is the Douglas Family Preserve with large Eucalyptus and Cypress Trees and sweeping views of the ocean from atop the cliff. The Boat House Restaurant is at nearby Hendry's Beach and serves great breakfast, lunch, happy hour and dinner is a 20 min walk through The Preserve. 1 bike is also available with the house. The neighborhood is quiet and peaceful. The best health food store and produce market is a few minutes drive and downtown Santa Barbara 5 min.
Richard was a great host. This was a last minute same day booking and he was very quick with a response. Richard and his friendly dog greeted us and showed us the room we would be staying in and it was nice and comfy. i loved the fact that we had our own entrance to the room, restroom and shower. He has a nice backyard/ patio were we enjoyed a nice bottle of wine watching some tv, after a nice walk to the beach and a lovely dinner by the ocean. over all it was a nice experience and would definitely consider staying here again. thanks Richard.
Hector
2014-11-09T00:00:00Z
Beautiful place near the seashore. Richard is a great host, he provided us everything we needed. He has a nice dog too:) and the coffee was amazing!
Karolina
2016-09-11T00:00:00Z
Only stayed here for one night but it was as communicated and pictured and in a great location.
Katherine
2016-12-14T00:00:00Z
Richard is a wonderful host. My boyfriend and I stayed a few nights with our two labradors and we all felt so welcome. Richard was super kind and his house is incredibly clean. We had a great stay and would definitely go again!
Sam
2017-01-04T00:00:00Z
Richard was very welcoming and accommodating! His house is in a great location with beaches and a park nearby!
Kathryn
2017-03-28T00:00:00Z
Richard was very accommodating and we enjoyed our stay. The room was very welcoming as was the rest of his home. We highly recommend Richard and will think of him for our next stay in Santa Barbara!
Christine
2017-03-25T00:00:00Z
Richard's place is great! We really love the quiet and comfortable house! This is the first time for me to visit Santa Barbara. But I fell in love with the lovely city with the first sight. We will definitely come again in the summer, especially for surfing in the beautiful sea here. We will still stay in Richard's place next time!
Baiyang
2016-12-25T00:00:00Z
We didn't get to speak with Richard much but we felt right at home. The room was set up nicely and towels were laid out. The location is right by the beach so that was a major plus for us!
Seth
2017-04-02T00:00:00Z
Тип размещения
Отдельная комната
---
Тип жилья
Дом
---
Вмещает гостей
2
---
Спален
Санта-Барбара, Калифорния, США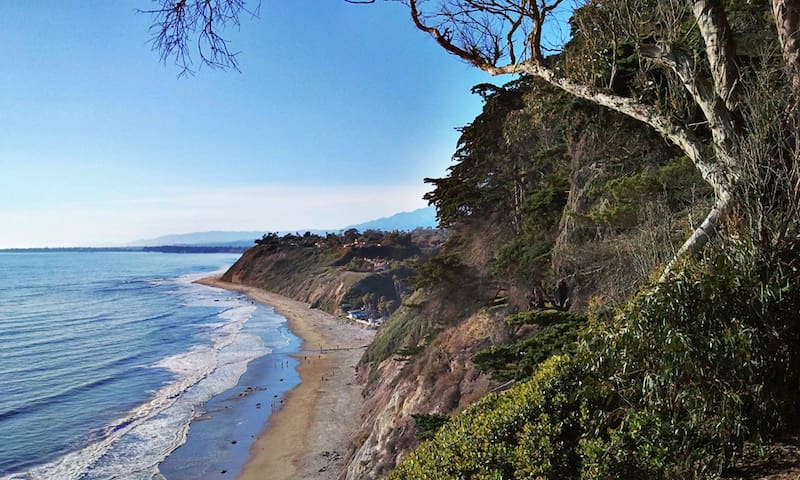 Spacious private room in a spacious house near beach and convenience stores! This is a PRIVATE room with a PRIVATE bathroom. Near beach, restaurants & 5 minutes away from downtown. Sleeps comfortably 4, shared kitchen. This is a great place for group travelers or a couple! Only 1.0 mile away from Double Tree Fees Parker Hotel
This is a very spacious room! Accommodates up to 4 people in (1) Queen size bed and (2) Twin XL Beds. Plenty of space for your clothes, near Butterfly beach, Santa Barbara bowl and Down Town. Close to Trader Joes, Carls Junior, CVS, Local bagel/breakfast store, etc..
Quiet neighborhood, please keep noise to a minimum past 10:00 pm
Alex's place was very clean, quiet, and easy to access. Great location near downtown Santa Barbara!
Cody
2016-11-27T00:00:00Z
The place was very spacious and clean. Alex's house manual for the place was very clear and concise. I would definitely recommend staying here.
Derek
2016-12-18T00:00:00Z
Very spacious and clean room with private bathroom and balcony facing the garden. As Alex described the kitchen has to be shared with the students. This was ok for us although it implied some limitations as there was always "traffic" and things in use so we basically just used the refrigerator. Grocery Shops, good place for coffee and beach are all in walking distance as well as bus stop to downtown. Nice place to stay.
Sabina
2016-08-12T00:00:00Z
The room was very spacious and comfortable. The bath room was huge with two basins. The neighbourhood was also very nice. The college students living in the house are also very easy to communicate with. Only thing I would change was I wish we had access to the wash machine and dryer.
Cici
2016-05-26T00:00:00Z
Nice room.
Brett
2017-03-20T00:00:00Z
The communication with Alex was very clear and smooth and the room was just gigantic! it was a nice stay!
Charlotte
2016-09-20T00:00:00Z
I was on a road trip down the California coast over Memorial Day weekend. We found ourselves scrambling to find a place to stay in Santa Barbara overnight. We stumbled upon Alex's Airbnb listing and messaged him. He responded within minutes. Upon arrival, the other guests at the house were extremely nice and courteous. They let us in and showed us our room. They even suggested some restaurants and bars to explore. Overall, I think the experience was fantastic. Alex is an excellent host and I'd definitely recommend him in the future.
Jordan
2016-06-01T00:00:00Z
The listing was as described, however I wasn't aware it was in a hostel like environment and there were other people staying there as well. I had issues parking in the driveway due to instructions with the host and there was miscommunication about the listing address which was difficult after a long drive, also at night. My company felt uncomfortable after such confusion and it dampened the rest of our stay.
Shyna
2016-09-05T00:00:00Z
Тип размещения
Отдельная комната
---
Тип жилья
Дом
---
Вмещает гостей
4
---
Спален
Санта-Барбара, Калифорния, США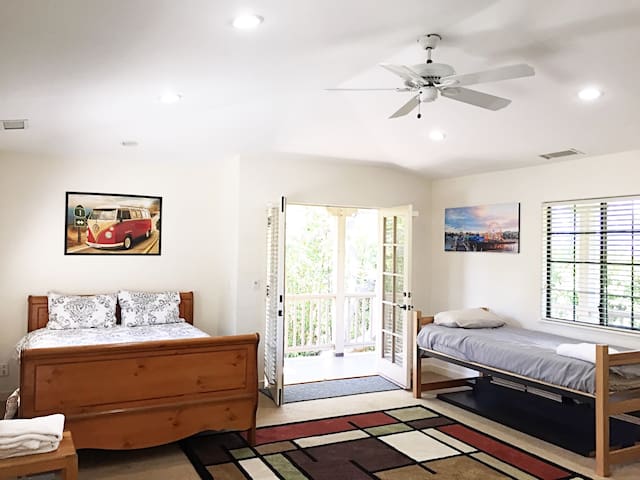 This home is close to the Santa Barbara Mission and in the heart of mid-town. Fairly close to nightlife, the beach, family-friendly activities, and many well reviewed Restaurants. This private space is good for couples, solo adventurers, and business travelers. Note, that this is a brand new listing.
It is a private studio within a duplex , so you're not sharing a space with anyone else (even host). Private bathroom , kitchen and studio/bedroom.
The appeal of this property is its setting amongst other bungalows and close proximity to State Street. It's a charming and safe neighborhood. And of course, you can walk to McConnell's Ice Cream shop
Alex was awesome and very responsive! The house is comfortable and clean and close to night life. Took a quick uber ride to the bars/restaurants. Great stay!
Jessica
2017-03-12T00:00:00Z
Really comfortable studio bungalow for a nice 2-3 day trip. Excellent location, close to all the downtown restaurants and shops, as well as a quick drive to most beaches. Neighborhood felt very safe and absolutely loved our stay.
Justin
2017-03-31T00:00:00Z
Great location! Very convenient neighborhood. Small, but quiet and cozy. Exactly what you need if you're looking for a place to stay and plan on being out and about a majority of the time. Essentials were provided for guests expect for television entertainment. Overall it was a pleasant visit.
Ariel
2016-09-03T00:00:00Z
Great location and fantastic house all to ourselves. Recommend for all!
Tom
2017-02-06T00:00:00Z
Alex's place was awesome overall. Walking distance to state street and really cozy with everything you need for couples! There's no TV but we were out an about so it didn't matter. The only thing wrong was the lack of hot water. Other than that Alex was a great host and we'd love to stay at his place again!!
Ava
2017-01-12T00:00:00Z
We had a great stay with Alex. Although we did not get to meet him, he was very responsive to our questions and the check in process was a breeze. The room clean and the basic necessities he provided were a plus. We would definitely recommend this host to others, thanks Alex!
Brenda
2016-11-09T00:00:00Z
Great Experience, very nice place and the host was very responsive.
Atanas
2016-09-13T00:00:00Z
Great and comfy apartment. Nothing was missing. Would recommend it to my friends!
Martin
2016-09-30T00:00:00Z
Тип размещения
Дом/квартира целиком
---
Тип жилья
Бунгало
---
Вмещает гостей
2
---
Спален
Санта-Барбара, Калифорния, США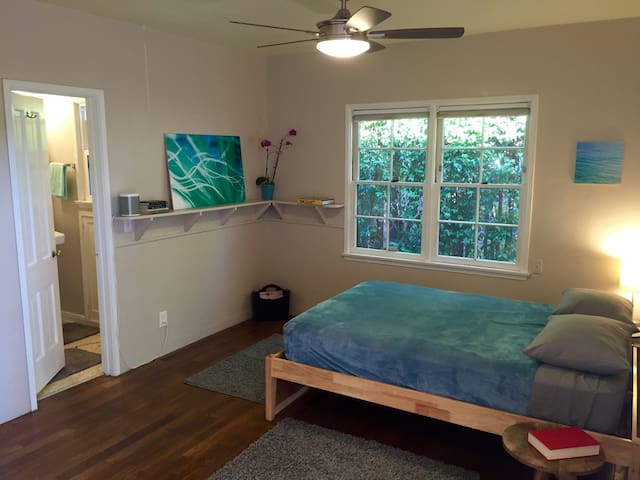 Commissioned by nationally know artist, Jaroslav Brozik in 1946. designed by international architect Ken Webber. This historical rustic adobe home set near the mountains offers visitors a popular hiking trail with majestic view of Santa Barbara. Sleep in the master bedroom and view islands looking pink and beautiful first thing. Sit outside and enjoy the peaceful property with hummingbirds and robins. Windows exposing the grand mountains while watching tv Pullout couch & sleep next to fireplace.
Wake up in the master bedroom and watch the sky change colors of pink showing stunning Island views of Santa Cruz Island. Sit outside in other side of house and see majestic mountains with nature and peace. Enjoy the hiking trail within steps of your front door. Pull out the couch at night in the living room In front of the fireplace.kids can enjoy the bunk beds in second room. Watch the mountain views and some cable tv. Free high speed wifi. Contact for more info its amazing. Also has wifi , tv , queen temper pedic bed, deck, electric fire place . 1 cal king bed, 1 queen pull out bed from a couch, a daybed in the loft, two twin beds in a bunk, 1 soft couch. Please let us know how many cars you will have. We need to arrange parking spots. Thanks.
The neighborhood is quiet and peaceful. It's surrounded by nature and landscapes. Get away from stress and relax in a Beautiful setting. Once again this is a very quiet neighborhood and tight community . The adobe is on a private road which is great for kids and animals to Play.
Carla has good communication: quick to respond, clear instructions. Location is mountain home: quiet and peaceful neighborhood. Yet only few minutes drive to museum, mission, downtown. Enjoyed our stay here with young children and a dog!
Lawrence
2017-03-30T00:00:00Z
This place was so spacious and the location was amazing! We arrived on a rainy night, the fireplace was the perfect setting. Lots of space and lush gardens around you! Close to hiking trails. Carla is great at communicating and quick to answer any questions. Thanks for a great trip - will we be back
Natalie
2017-02-19T00:00:00Z
Carla is very friendly but the home wasn't exactly what we were expecting it is VERY RUSTIC no heat or air in the house it is very old. There were very few dishes we are a family of six and there were only 3 spoons 1 coffee cup and there is only 1 bathroom. The view is nice and there are some great hikes close by. There is also a big issue with ants.
Shelly
2017-03-23T00:00:00Z
We loved the peace and quiet of Carla's place. The views of the mountains above Santa Barbara and the filtered view of the valley were magnificent. It was wonderful to be near the Tunnel Trail, a beautiful hike just a short walk from the house. Carla was very responsive and check in was easy. We will definitely return.
Michael
2017-03-12T00:00:00Z
Carla's place was awesome. Beautiful, large space in the hills that very comfortably sleeps 6 people. Incredibly close to some awesome hiking trails with great views. And a quick drive to downtown. Couple of things to watch out for: If you are a big group of people, you will need to be quiet later at night (this is explained in the description) and the shower's a little cold.
Sebastian
2017-03-06T00:00:00Z
Carla's place was great! It was a nice departure from the city nestled up in the hills. She was very welcoming and we had a nice time.
Hugh
2017-03-17T00:00:00Z
This is a great space and very quiet. The bunk room is off the master, which worked perfectly while traveling with my kids. It's very spacious and the views from the property are beautiful.
Scott
2017-03-05T00:00:00Z
I liked staying here! The property is really nice. However, it's a duplex situation in which they actually live in the attached duplex. She'll text you and tell you your being noisy or talking too loud. She also asked us to turn town the music multiply times even though it was during the day.
Nancy
2017-02-12T00:00:00Z
Тип размещения
Дом/квартира целиком
---
Тип жилья
Дом
---
Вмещает гостей
6
---
Спален
Санта-Барбара, Калифорния, США
This recently updated cozy guest studio with private bath offers a nice lush patio. Located in downtown Santa Barbara only a few blocks from main street and the beach you will be able to walk to most of what this city has to offer. My Casita has 1 queen size bed and is close to main street, restaurants and dining, the beach, art and culture, shopping, train, wine tasting and the ocean.
Great place to stay. Central location, private, and walkable. Great host as well.
Kevin
2017-04-05T00:00:00Z
The guest house in downtown Santa Barbara was a great place to stay. Easy & nice to come to after a long drive, and Thomas was very flexible about our arrival time (late). Very comfy bed & cozy space with everything you need for 2. Would definitely stay here again!
Madeline
2017-03-31T00:00:00Z
This place was a good deal, lots of privacy, and had a comfy bed. Overall we were satisfied with our stay.
Krista
2017-03-17T00:00:00Z
Nice room, friendly welcoming host and good location!
Maren
2017-03-15T00:00:00Z
We enjoyed our stay- The location was great - Thomas is very accommodating. The room was a good size and the bed was very comfortable. The private patio area really adds a lot to this secluded get away in the heart of Santa Barbara.
Deb
2017-03-28T00:00:00Z
Great, quiet and welcoming.
Donna
2017-03-30T00:00:00Z
Тип размещения
Отдельная комната
---
Тип жилья
Квартира
---
Вмещает гостей
2
---
Спален
Санта-Барбара, Калифорния, США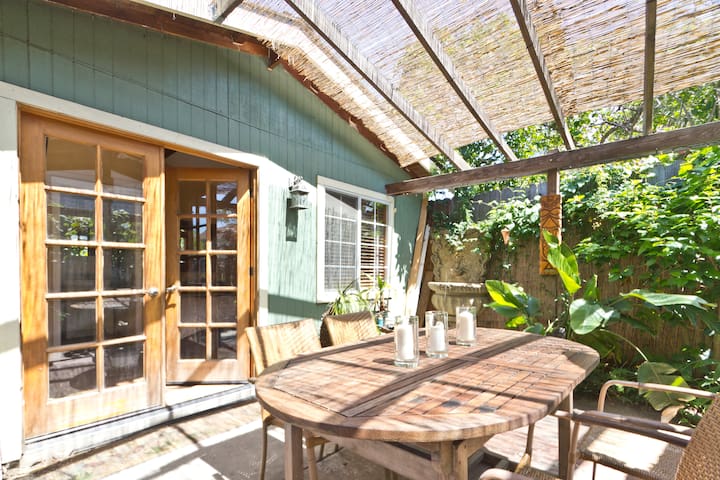 This is an air conditioned upstairs studio apartment with queen size bed and full kitchen and private bath. A balcony overlooks a bamboo grove with mountain views. Entrance is totally private. Coffee, tea and pastries provided.
This is an upstairs studio apartment with a balcony overlooking a bamboo grove and mountain view. My residence is adjoining on a lushly landscaped one acre property. Your entrance is completely private along a garden path. The studio and kitchen are fully and elegantly furnished with everything you need for a comfortable stay.
We are located on the north side of Santa Barbara in a very quiet and peaceful setting. There are two large shopping complexes a few minutes drive away. There are 3 grocery stores including a Whole Foods very nearby and we are about a 10 minute drive to downtown and half an hour from the Santa Ynez Valley wine country.
Hi Janet, thank you for your warm hospitality and beautiful accommodations! I loved the healthy snacks you left for me in the kitchen and having a washer and dryer available to use was a huge plus for me. The listing description was not only accurate but the reality of the hacienda and property was beyond beautiful, peaceful and super private. The neighborhood was quiet and safe. I'm coming back and bringing my boyfriend with me next time! Thanks again for making my stay so lovely.
Elizabeth
2015-09-01T00:00:00Z
Janet was great. The upstairs amenities were exactly as advertised. Clean, quiet, and comfortable. Her property is very peaceful and we'll manicured. Highly recommended.
Andrew
2015-08-23T00:00:00Z
Janet made us feel like this was our home away from home .The hospitality was grade A+,we are planning to return in July.
VanAvern
2016-02-29T00:00:00Z
Hacienda Margarita is the perfect place to stay for a comfortable and quiet weekend in Santa Barbara! The space looks exactly like it does online, and Janet is equally attentive and inconspicuous. We had a great stay and I highly recommend Hacienda Margarita to anyone.
Ashley
2015-10-04T00:00:00Z
Janet is a terrific host. She responds quickly to email and was quite flexible with arrival time. Janet greeted us as we drove up and showed us the studio's amenities. There was a nice basket of treats and the kitchen is well stocked. The studio is precisely as pictured.
amy
2015-07-10T00:00:00Z
Great apartment and very welcoming host. Would stay again.
Lee
2016-09-28T00:00:00Z
Janet was an excellent communicator and stayed in touch throughout. She was very responsive and helpful. The studio apartment was very maintained, cozy and warm. The beautiful basket of fruit and snacks was a welcomed surprise and greatly appreciated. The location was close to idea for a quick ride to downtown Santa Barbara or a wonderful view of a magnificent sunset. We were also close to the mountain pass, highway 154, Solvang and the Santa Ynez valley for magnificent wine and food.
Adam
2015-12-14T00:00:00Z
Janet's place was great! Before our trip she was quick to respond to our questions. She met us when we arrived and gave us a quick tour. Her home and grounds are beautiful! The studio was well kept, clean and quiet. She also provided snacks and juice, which was great. Janet's place is a short ride from the downtown area, which was perfect. We drove each day but it would be an easy uber ride. We would definitely stay again!
Jamie
2016-08-08T00:00:00Z
Тип размещения
Дом/квартира целиком
---
Тип жилья
Квартира
---
Вмещает гостей
2
---
Спален
Санта-Барбара, Калифорния, США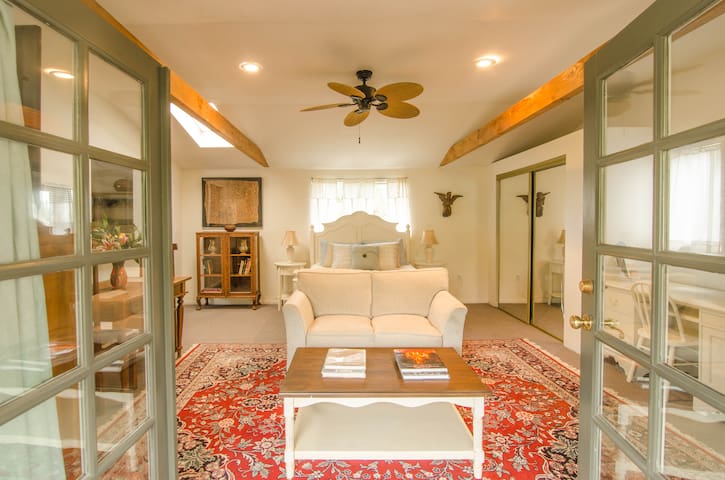 Our beautiful comfy and modern home is ideally located close to downtown, the beach, the funk zone and the county bowl. The house is perfect for couples, families or friends who are looking to explore Santa Barbara. Our outdoor area is equipped with a BBQ, patio furniture and a fire pit which make it idea to enjoy the weather. Come and stay in this safe and enchanting neighborhood!
Group of friends, two couples
The neighborhood is very safe and family oriented. The best part is that is is centrally located to most places of interest in Santa Barbara.
Communicated well and check-in was a breeze!! Area is super quiet and parking was never an issue. Host and family are polite, helpful and quiet. Grounds and interior were clean and stocked with the basics. Walking distance to trader Joe's is a big plus, great bagel shop next to it if that's your thing. Nice private area outside with seating was a big bonus. Great value, would absolutely stay here again.
Bill
2017-04-02T00:00:00Z
Lili was such a gracious and accommodating host. Her place was very nice and cozy, and was just perfect for a few days' stay in Santa Barbara!
Richard
2017-03-16T00:00:00Z
Great value! Sleeps 5 easily, another one or 2 if you bring an air mattress as the couch is a futon. Good location -close to everything. Nice little private guest house. Homey, cute, comfy beds and linens. Decent TV, nice table to sit and play card games at. Lovely side and backyards- if we stayed longer I could see myself just sitting out there for a few hours. Lilly was a thoughtful host, checked in on us and left nice breakfast foods. Very nice shower supplies as well. It's just so much easier to get up and go when you know you don't have to pack every little thing! That's one of the perks of Airbnb.
Jacquie
2017-03-31T00:00:00Z
The backyard house is located in a peaceful and quite street. It is close to Main Street. Lili prepared some fresh fruit which was very nice. There wasn't a pot in the kitchen for cooking, but after texting her, she immediately brought us one that we could make some pasta. I appreciate Lili as an easy and uncomplicated host. She is very nice and friendly. We liked our stay although the apartment wasn't that clean.
Nicole
2017-03-23T00:00:00Z
Lili was awesome! She made sure we had breakfast goodies in the fridge and provided extra blankets and towels. The location is very close to the beach and the funk zone. Just a quick Uber away. Nice quiet neighborhood. Both bedrooms were very comfortable and a good size. Overall a wonderful stay!
Carmen
2017-03-12T00:00:00Z
Lovely place, central and very clean - Lili was very helpful and accomodating. Would highly recommend.
Carla
2017-04-06T00:00:00Z
This place was great. The host, Lili, was very friendly and available throughout our stay, but she didn't hover. The location was a bit away from downtown, but I liked being in a neighborhood that was more of a local feel. It was close to the beach and short distance from grocery stores etc. The home was clean and very safe-feeling. Lili even left us eggs for breakfast. Overall, a great stay!
Molly
2017-04-08T00:00:00Z
Lili's place was absolutely perfect for our trip! It was close to restaurants and everything that we wanted to get to. Super clean and cute and the snacks she provided was a huge bonus. Altogether an awesome stay!!!
Jessica
2017-03-05T00:00:00Z
Тип размещения
Дом/квартира целиком
---
Тип жилья
Дом
---
Вмещает гостей
4
---
Спален
Санта-Барбара, Калифорния, США
BRAND NEW OFFERING!! With great intention, creativity & love, an exclusive 3 acre realm invented for those seeking a sensual nature connection experience, in LUXURY! A unique retreat experience that is playful, soulful & beyond belief EPIC. Consists of a private stunning cottage, outside lounge kitchen, redwood out shower/ bath house, pool, hot tub, hammocks & fresh eggs from the chickens. Off the grid yet minutes to beach, trails, wine tasting & downtown Santa Barbara. Renew, be happy!
* BRAND new construction & listing, more pics next week!) The BIRCH GLASS HOUSE is a gorgeous modern design with two walls of thick solid glass which gives the illusion of being outside, but the feeling of cozy protection. A strange and wonderful juxtapostion of moods! The space is creekside under giant sycamores, native oaks. Outside mirrored walls give the illusion of being invisible as it reflects the surrounding woods and grove The birch house has a very luxerious, organic feeling.. brilliantly bringing the inside and outside worlds together in beautiful harmony. Birds chirping and the sweet sounds of wind through the trees, hang in the hammock with air feel divine, sun supreme. Off the cottage is a beautiful red wood deck perfect for yoga or hanging out. This 3 acre grove area, is a very private gated realm which includes two incredible cottages situated about 100 feet apart and facing opposite directions for the most privacy possible while maintaining their own unique views. I designed this so visitors could have both privacy, but also enjoy common spaces like the pool/ hot tub area (on the other side of the property) and the grove outside kitchen/ lounge area and gorgeous redwood outside shower bath house. PERFECT for those wishing for privacy but also some common community space.. keeps the price nice while having wonderful sharing spaces. There's another page devoted to the "chicken house" which is a wonderful, airy, soulful cottage looking out to the epic Santa Barbara mountain range through a soulful collage of vintage windows and an awesome partially enclosed deck. A truly amazing space.. very different than the birch house but equally wonderful in it's own unique way. Besides the private cottages, the grove consists of a colorful covered outside kitchen/ hang out zone and an extra spacious redwood outside shower and bath house. All spaced about 100-200 feet apart. And of course the house of the hens who lay fresh organic eggs for your breakfast! Not to mention the grand trampaline! and pool/ hot tub access accessible on the other side of the land. Now, those are the man made things. The "hallway" is the land itself.. which is something I really can't capture visually here. There's a quality of this place that profoundly nurtures the senses.. smell, site, sound... reorganizing your central nervous system in all the ways we so desperately need in this modern world! One of the incredible things about this property is that it's a mere 2 miles to shopping malls, Whole Foods and restaurants (5 minutes) and 10 minutes to downtown Santa Barbara, wine tasting rooms, hip funk zone, shopping... 5 minutes to trailhead that lead out to the ocean, 10 minutes right to the beach. We're also just 30 minutes from Santa Ynez, Los Olivos, Solvang (wine country). The land is unique because it feels like you're very remote and off the grid out in nature (which you are) but then it's just minutes to get anywhere in Santa Barbara. Very find rare to find such a spot with so much surrounding private serene land! The setting is ideal for 2-4 adults (4 if you're taking both cottages and 2 if you're occupying just one) or one solo soul looking to retreat. I also consider pets and families. This has been such a passion of mine, sharing my land ... letting nature be of benefit to people who are making their beautiful memories here. It's an honor to have visitors part of the unfolding story of my home. I've marveled at the care and respect people bring.. so a place like this can exist for the enjoyment of all.. including the trees, the critters, the intact ecosystem I get to be a hostess to. Makes my heart glad!!! I live on the property in my "own neck of the woods" (so I'm around by text or in person if needed). I love to greet visitors briefly with a hug and all the info so the experience goes smooth and safe. We are not too likely to cross paths as this is a very large property, but I have "your back" for anything you might need! The photographs... I have to say, DO NOT GIVE JUSTICE.. You'll know what I mean when you get here...the stillness... the open, natural setting, nurturing and safe feeling. It's a very special zone in which to unravel the revise and renew. To get a deeper sense of peoples experiences, reading peoples reviews is great for that. Hope to share in it with you!
My private property is a very large land, 11 acres, which is surrounded by other large private properties and national forest. We are outside neighborhood zones, a half mile off a private road, so it feels very much off the grid. Amazingly we are a mere 5 minutes from uptown shops in Santa Barbara, 10 minutes to dog friendly leashless beaches, airport and train station, 30 minutes to Santa Ynez wine country and 10-12 minutes anywhere in the heart of Santa Barbara shops, restaurants and entertainment. Truly best of ALL worlds!
Jennifer was an excellent host. She made sure we got everything we needed during our stay, she even provided us with a list of local beaches, restaurants and cafes. Staying at the glass house was a wonderful unique experience my husband and i will never forget. Thanks again Jennifer, wel definitely be back. :)
Anna
2016-11-20T00:00:00Z
Jennifer made us feel incredibly welcome. Her place was beautiful; complete with scenic views, a gorgeous little cottage, a hot tub AND trampoline. It's everything you could ever hope for in a weekend getaway. Everything about the retreat was relaxing, I only wish I got to meet Jennifer! But the guide she sent beforehand was super detailed and gave us a ton of tips on where to go. An amazing host with an amazing place. We were lucky to have stayed there :)
Grace
2016-12-11T00:00:00Z
This cottage is amazing. It is in such a beautiful place, and just an awesome place to stay. Jennifer is super nice and helpful!
Kenlyn
2017-03-18T00:00:00Z
The glass cottage was amazing, we spend a wonderful two days at this lovely place. Jennifer made us feel very welcome, the detailed information she send us not only helped us find the place easily but also provide great information for things to do, and the best beach to go with dog( we had our corgi with us, he loved the woods very much). The stars a just stunning at night. We were able to enjoy the hot tub under the Milky Way. We were also able enjoy some fresh eggs directly from the chicken coop. Incredible experience!
Lynn
2016-12-26T00:00:00Z
Jennifer's place provides a unique experience. She was very friendly, and responded to our questions timely.
Liu
2016-12-29T00:00:00Z
We had an absolutely perfect stay at Jennifer's glass house -- one of the highlights of our trip up the coast and something we'll remember forever. The cabin was super clean, and even though it was in the 40s at night, the comforter and space heater kept us toasty. Jennifer's land was even prettier than the pictures -- trees from all sides, mountain views, but only 5-10 min from town -- and she was a very warm and inviting host. A totally awesome place to stay -- highly recommended!!!!
Josh
2017-02-26T00:00:00Z
Awesome stay! This place is wonderful - feels so secluded but is 10 minutes from downtown Santa Barbara and convenient. Jennifer was an amazing host and reached out to me before I arrived to describe the property / give tips to ensure that we would have a pleasant stay.
Stephanie
2017-02-20T00:00:00Z
Such an amazing space! Everything you could ever need to relax and decompress. Best way to wake up in the morning, was hard to leave.
Brian
2017-03-04T00:00:00Z
Тип размещения
Дом/квартира целиком
---
Тип жилья
Дом
---
Вмещает гостей
2
---
Спален
Санта-Барбара, Калифорния, США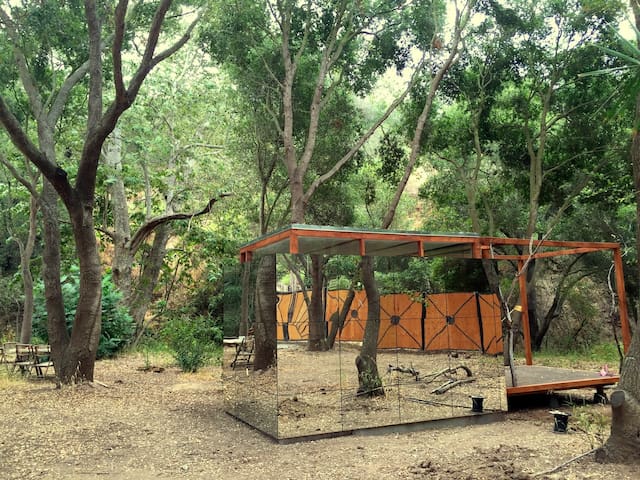 Casa Castillo is the perfect spot for friends, couples or a business meeting setting. It's close enough to downtown to park on the property (up to three cars) and walk to the Urban Wine Trail, Funk Zone, shopping, dining, beach and more. The home is spacious and beautifully appointed. The outdoor area includes living furniture and charcoal BBQ. Casa Castillo's gated yard and fully enclosed upstairs patio are great for pets. Its fully stocked kitchen and Italian stove make cooking a joy.
The home is ample in every way. All three bedrooms are downstairs along with two chatting nooks, dining room and two bathrooms, one of which is en-suite to the master. The third full bath is upstairs by the living room and outdoor sitting area and balcony.
Walk three blocks to downtown Santa Barbara, State Street, The Urban Wine Trail, shopping, excellent dining, theater, movies and day spas and six blocks to the beach. Take the .50 water front shuttle along State Street and the Waterfront to the Wharf, Zoo, Chase Palm Park, Harbor, Marina, Ty Warner's Sea Center, The Children's Museum and more.
It was a lovely home with plenty of space for us 5 and two under 2. Lots of parking which is a huge deal in SB.
Cathleen
2017-03-31T00:00:00Z
Тип размещения
Дом/квартира целиком
---
Тип жилья
Дом
---
Вмещает гостей
10
---
Спален
Санта-Барбара, Калифорния, США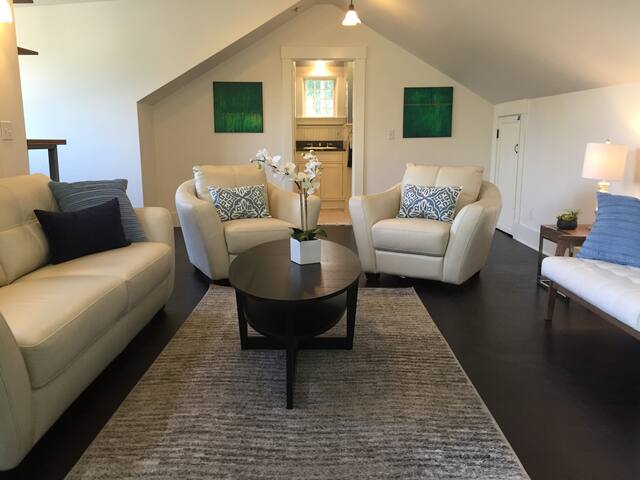 1

–

18

из

300+ вариантов аренды
Введите даты, чтобы увидеть полную цену без учета дополнительных сборов и налогов.