Welcome to the K Lounge! This is an Architecturally unique property, located close to the Santa Barbara Mission, just a few minutes from town. Guests will enjoy the privacy of the entire main floor, with the exception of the owner's bedroom which will be closed off. The house has gone through major remodeling over the last years. Simply too good not to share! Let the photos speak for themselves!
Access is granted via keyless entry at the door on the upper terrace.
Mission Canyon is considered to be one of Santa Barbara's premium neighborhoods. It is quiet, safe, and romantic. Please be mindful of all our neighbors.
Тип размещения
Дом/квартира целиком
---
Тип жилья
Дом
---
Вмещает гостей
2
---
Спален
Санта-Барбара, Калифорния, США
Небольшой деревенский студия имеет спокойные, умиротворяющие Вибе. Супер удобная кровать для хорошего ночного сна. Открытый кирпич патио с видом, зоной отдыха, ванной душевая кабина. В приведенных выше СО миссии, в 10 минутах от центра города и пляжа предгорий. Безопасный, тихий район.
Это находится в красивой, спокойной обстановке. Сама студия довольно небольшой, но есть большое окно, глядя на очаровательный, частный, крытый патио. Обычные предметы первой необходимости; ванная, душ, удобные кровати, чистое постельное белье, место для отдыха. Все по очень привлекательной цене! Я много работаю поваром и мои часы меняться, но я всегда рад быть полезным, когда я могу. И люблю знакомиться с новыми людьми. Это так мирно выше шума и суеты города с прекрасным видом для загрузки. Но все-таки очень близко к все удовольствие от центра города и пляжа В городе есть автобусная остановка в музей естественной истории, около 3/4 мили вниз по склону. Служба такси является простым и надежным. Студия находится рядом с главным домом на имущество. Мы разделяем большую дорогу. У меня есть Золотистый ретривер в моем доме, который очень удобно. Путь диск немного скрыт от главной дороги, но имеет большой адрес знак и свет в ночное время. Обычные предметы первой необходимости; ванная, душ, удобные кровати, чистое постельное белье, место для отдыха. Все по очень привлекательной цене! Я много работаю поваром и мои часы меняться, но я всегда рад быть полезным, когда я могу. И люблю знакомиться с новыми людьми. Это так мирно выше шума и суеты города с прекрасным видом для загрузки. Но все-таки очень близко к все удовольствие от центра города и пляжа В городе есть автобусная остановка в музей естественной истории, около 3/4 мили вниз по склону. Служба такси является простым и надежным. Студия находится рядом с главным домом на имущество. Мы разделяем большую дорогу. У меня есть Золотистый ретривер в моем доме, который очень удобно. Путь диск немного скрыт от главной дороги, но имеет большой адрес знак и свет в ночное время. Обычные предметы первой необходимости; ванная, душ, удобные кровати, чистое постельное белье, место для отдыха. Все по очень привлекательной цене! Я много работаю поваром и мои часы меняться, но я всегда рад быть полезным, когда я могу. И люблю знакомиться с новыми людьми. Это так мирно выше шума и суеты города с прекрасным видом для загрузки. Но все-таки очень близко к все удовольствие от центра города и пляжа В городе есть автобусная остановка в музей естественной истории, около 3/4 мили вниз по склону. Служба такси является простым и надежным. Студия находится рядом с главным домом на имущество. Мы разделяем большую дорогу. У меня есть Золотистый ретривер в моем доме, который очень удобно. Путь диск немного скрыт от главной дороги, но имеет большой адрес знак и свет в ночное время.
Это так мирно выше шума и суеты города с прекрасным видом для загрузки. Но все-таки очень близко к все удовольствие от центра города и пляжа
This is a wonderful place. Julia is a lovely host who makes you feel like it's your place. It's a studio apt separate from the house with complete privacy. The bed was very comfortable and the room is decorated with taste. It's clean and welcoming. I can't wait to go back.
Ellen
2016-11-18T00:00:00Z
The experience at Julia´s home was really comfortable. Is a quiet neighborhood, warm and perfect to rest. The room is clean and cute. It has everything you need to not worry about anything. Julia was an excelent hostess, friendly and always willing to help us. 100% recommendable
Seba
2016-07-21T00:00:00Z
We've spent one night (while heading down the west coast) at Julias place. The room is small but with a bed, an armchair and a little table - for one night it was totally ok. The toilette and shower are separat (shower is outside - it's like showering under the blue sky). Julia was a really nice and gentle host, who also offered us a cute little breakfast with fruits and a small snack. Great start in a new day in Santa Barbara. We totally can recommend Julia to anybody. The room is fine for two, if you just need a place to sleep. For one it's absolutely fine to stay longer. Thanks again Julia for the great day and the tipps you gave us regarding the restaurants. The ones at the harbor are the best - incl. amazing view.
Doreen
2014-09-02T00:00:00Z
This was a perfect place to stay during our highway 1 drive. The room is very clean and the outdoor shower was perfect.
Anna
2015-08-27T00:00:00Z
Julia and her property are a super choice for anyone staying in the area - place is adorable and she is a nice nice lady.
Randi
2016-02-02T00:00:00Z
Small but lovely studio in a nice neighborhood. Totally sufficient for some nights and with a great view over St Barbara.
Henning
2016-03-27T00:00:00Z
I only stayed one night, but Julia was a very accommodating host. Her studio was exactly as described. Very charming, comfortable and quiet. It was my favorite Airbnb experience. I only wish it was available for more nights. I definitely would stay here again when back in Santa Barbara. Thanks Julia, for going out of your way to make my stay memorable.
bob
2015-10-20T00:00:00Z
Julia's studio was perfect for our visit. The space is adorable, well put together and comfortable. We would definitely stay there again when traveling through Sant Barbara.
Colin and Megan
2016-07-19T00:00:00Z
Тип размещения
Дом/квартира целиком
---
Тип жилья
Дом
---
Вмещает гостей
2
---
Спален
Санта-Барбара, Калифорния, США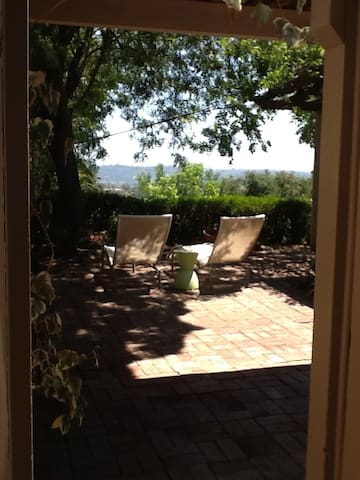 My place is close to the beach, restaurants and dining, parks, and art and culture. You'll love my place because of the views and the location. My place is good for couples, solo adventurers, business travelers, and big groups.
Perfect location for beach and city access. Beautiful, comfortable contemporary home with all the creature comforts of a luxury hotel. Thank you for a wonderful stay.
Constance
2017-01-28T00:00:00Z
Perfect location for walking on the beach. Dramatic architecture. Hot tub and full kitchen
Sheryl
2017-03-31T00:00:00Z
Very nice experience
Tutku
2017-01-14T00:00:00Z
Тип размещения
Дом/квартира целиком
---
Тип жилья
Дом
---
Вмещает гостей
6
---
Спален
Санта-Барбара, Калифорния, США
Это одна спальня имеет большую комнату, и небольшая кухня / жилое пространство. Небольшое расстояние от коттеджной больницы, в нескольких минутах езды от центра города. Паркетные полы, Королев пена памяти кровать. Колода, от улицы для стоянки. Прикрепленный к главному дому, отдельный вход. Пожалуйста, обратите внимание: Есть дети, и собаки на имущество!
Пешком в Cottage Hospital, в нескольких минутах езды от центра города. (Вы можете ходить, но это немного похода.)
Very comfortable stay with a good location. The apartment was as described. It was clean and well appointed. Bonus was to park right in front of our door. Erika was very helpful in giving us great recommendations for food and sightseeing.
Renee
2016-07-10T00:00:00Z
A clean and modern cottage, perfect for a 2-night stay. Best of all it was fragrance -free! Very convenient to most of Santa Barbara.
Virginia
2016-11-01T00:00:00Z
We arrived after dark and Erika came outside to make sure we came in the right driveway. Very convenient parking spot off the road, right next to the entrance to the apartment. We enjoyed relaxing in the living area with the breeze! A/c wasn't needed, bed was super comfortable, and Erika and her children were very welcoming! Would recommend!
Sarah
2016-02-18T00:00:00Z
First ABB experience. It was great staying here. All of our needs were met and hosts were very easy going. Parking right next to place was easy. Location was perfect being next to downtown and near the beach. Stayed two nights and would stay here again. All in all an easy going and enjoyable experience.
Dr. Staci
2016-07-21T00:00:00Z
Clean little place. Sofa, fan, parking, basic condiments, stove, fridge. Only minor tweak was that the wind made the shutters 'thwack' and were noisy.
Abhimanyu
2016-05-04T00:00:00Z
We had a great time at Erika's place. It has everything you need and it's very clean and inviting. The location is great too! Erika and her family were very kind and welcoming. I would stay here again in a heartbeat and absolutely recommend staying here.
Katherine
2016-09-01T00:00:00Z
Our stay at Erika's place was great. The apt is located on a perfect location for visiting the city major attractions. Erika even gave us great tips on great/good local restaurants. Her tips were on point! The apt was exactly as described. It could get hot inside on warm days, but they kindly offered to put the AC on for us. Thank you Erika.
Guillaume
2016-06-24T00:00:00Z
Great host. Very easy to get in touch. Great jumping off point to explore Santa Barbara
Lee
2016-11-18T00:00:00Z
Тип размещения
Дом/квартира целиком
---
Тип жилья
Гостевой дом
---
Вмещает гостей
2
---
Спален
Санта-Барбара, Калифорния, США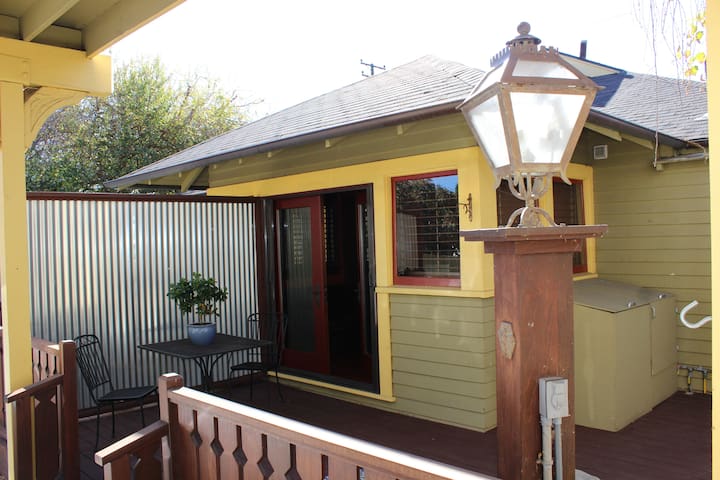 Private house two blocks to beach and nature preserve. Open concept living space with soaring skylight ceilings, 2 bedrooms, 1 bath, terra cotta tile floors, fireplace in LR, kitchen and dining area with granite counters. 5 minutes to downtown.
This beautiful retreat space is located on a quiet residential street a few steps to miles of beach and nature preserve overlooking the Pacific. Stroll to gourmet food stores and restaurants or drive five minutes to downtown Santa Barbara. The house itself is sparkling clean with soaring glass windows, ceramic tile floors, granite counters, solid beds, spotless bath and closets and drawers empty and ready for your use. It is everything you want in a home away from home as its sole purpose is for guests (totally empty closets and dressers for your use, no extra clutter). This is a pristine airy space solely for your relaxation. Additional features include HIGH SPEED INTERNET, APPLE TV, DOUBLE OVEN and All the comforts of home, but none of the drawbacks! Your place, your space to enjoy. As an aside, please don't confuse the descriptive reviews of "Peaceful Beach Retreat" with those of another house-I have a similar listing for another (smaller) house on the property (Airbnb does not separate the reviews for one owner with different properties- so look for "Peaceful Beach Retreat" to get the full scoop)
This beautiful retreat space is located on a quiet residential street a few steps to miles of beach and nature preserve overlooking the Pacific. Stroll to gourmet food stores and restaurants or drive five minutes to downtown Santa Barbara.
Elizabeth была гостеприимна и очень отзывчива. Она очень трепетно подошла к обстановке и оформлению дома для гостей - в доме было все необходимое для комфортного проживания. Дом удобно расположен для знакомства с городом и прогулок на пляже. Нам сложно оценить насколько удобно добираться пешком до мест развлечений, так как мы пользовались автомобилем. Добраться до всех основных мест в городе на автомобиле - около 10 минут.
EDUARD
2014-11-01T00:00:00Z
We loved staying at this home. The home is located in a quiet neighborhood walking distance to the beach and a short drive to downtown. It was exactly what we needed for our vacation. Elizabeth was accessible and responsive to our needs throughout our stay.A few days after our arrival there were some issues with the refrigerator. I called Elizabeth and she promptly brought down a smaller refrigerator (dorm type) to keep our groceries from spoiling. So we appreciated the prompt help and response. She also brought someone to try to fix the refrigerator but was unable to fix it until we were gone. We did not have a lot of groceries so we did not mind using the much smaller refrigerator. The place is small, I expected something bigger from the pictures but then remembered it is after all California. The 2 bedrooms have full beds, I believe could use pillow-tops as they are a little hard. Other then that the home is comfortable and in a great quiet area.
Paty
2016-07-24T00:00:00Z
Elizabeth was a wonderful host. She greeted us on our first day and made sure we had everything we needed. The home was exactly what we were looking for and the neighborhood was beautiful and quiet. Easy beach access and a wonderful park nearby! I would certainly stay at Elizabeth's peaceful beach retreat again.
Shea
2016-07-18T00:00:00Z
We (family of four) had a relaxing and quiet stay at Elizabeth's place. Short walk to the beach, nearby a very good supermarket (4 minutes by car), the main beach (which we prefered) and the center (10 minutes by car). Everything was fine. Very quiet neighbourhood. We can recommend this place.
Jens
2016-07-27T00:00:00Z
The place was great - after 4 nights we came to feel like it was our own home. The neighbourhood was quite. Close to nature reserve, beach, highway. Only 10 minutes to downtown. Elizabeth was not there to personally greet us, but, kept in contact with us regularly to ensure are stay was enjoyable. The area and parts of SB had a power outage the neighbour across the street even came over to check on us to ensure we were okay and had candles etc.... Highly recommend! Beds comfy and it was great having a washer and dryer too. Had everything to cook a good home made meal.
Tonya
2014-10-04T00:00:00Z
We had s great stay at Elizabeth's. The place was spacious and great for us. And there is a beautiful view from cliffs overlooking the ocean just a few minutes walk from the house. We would stay again.
Elissa
2015-12-19T00:00:00Z
We had a very good stay at peaceful Beach resort. Elizabeth was very helpful. We got nice suggestions From her for hikes and yoga. The house was clean and nice. We loved the decoration and the beautiful. For sure a place to come back.
Koos
2014-08-18T00:00:00Z
Elizabeth gave us the keys and we were in our own house. A little slice of paradise in SB.
Wendy
2015-06-09T00:00:00Z
Тип размещения
Дом/квартира целиком
---
Тип жилья
Дом
---
Вмещает гостей
4
---
Спален
Санта-Барбара, Калифорния, США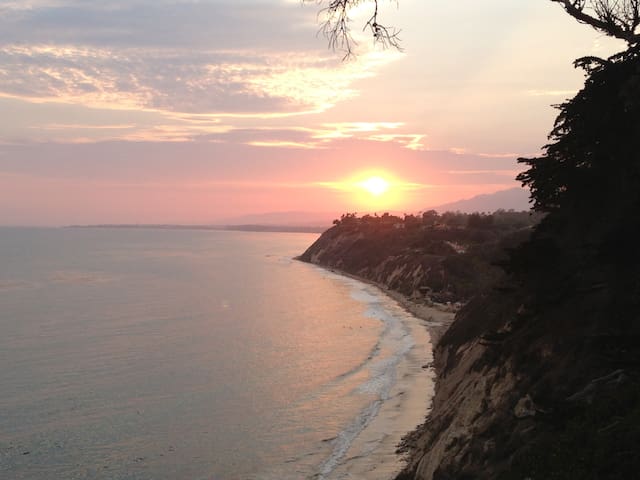 Natural Wonders is an unconventional, lived in, and somewhat quirky household, with private bedrooms that guests find "cozy", and the surroundings relaxing.
Lovely safe surroundings on Santa Barbara's Upper Riviera. In a gorgeous natural setting, the rather rustic hillside house is spread out and guests have access to everything.....high speed internet, hot tub (temporarily not operating because of drought) decks with views of the mountains, etc. The property has about 2 acres of tall trees, lush vegetation, and amazing wildlife. Although there's a feeling of isolation, it only takes minutes to drive to town, and is a serene refuge from crowds and traffic. [It's best if you have a car. The nearest bus is about a mile away on a hill] However, quite a few like the walk to town which is about 1/2 hour, and usually take Uber back home. You'll find quiet, privacy, and peaceful living in this beautiful mountain view share. Nestled in trees, with lots of garden and open space. Good modest room with very basic furnishings, and amenities of house, but bear in mind this is an old house and there are imperfections.The bathroom will probably be shared as I have two available rooms (see Natural Wonders/Privacy and Peace) It's not really possible to reserve one room or the other. Both probably have pluses and minuses! Longer term is usually interesting big wooden bed because it's harder to make and room has more storage space. Non-smoking mature guests. No drugs, moderate alcohol, no visitors. One single. Additional persons for $15 each. Generally no children, but child over 10 possible...please inquire Low rate for our expensive location and for people who want this special, casual, home atmosphere and don't expect pristine luxury, but value comfort. A month or more will be asked to share in utilities. Must like adorable, well, behaved dogs who do not invade your space! A compatible dog might be welcome if there are no other guests, and with extra deposit. Off street parking available. I offer fruit and goodies first morning. Longer term, you're on your own with my cereals. bread, milk and coffee, or any of your own.
I've lived in this spot the great majority of my life. So far, I wouldn't consider anywhere else. I guess it's the Natural Wonders of it all :) Good neighborhood walks and/or possibility for extensive hikes in the hills. Public transit is about a mile away and we are on a steep hill. It is best to have a car unless walking is preferable and you are good with directions!
Arlene was an amazing host. She is such a lovely lady with tons of beautiful energy. She has a kind spirit, loves what she does and it shows. From her homemade yogurt which is delicious to her fresh squeezed orange juice and her wonderful stories - you will feel right at home. Her home is enchanting filled with wonderful memories which she calls" eclectic" and is tucked in the hills above Santa Barbara, you can expect to relax in this great place.
William
2016-02-07T00:00:00Z
Arlene is such a welcoming, friendly and warmhearted person. She did everything to make my stay comfortable and perfect, she is really good company aswell, I loved listening to her stories, they are very exciting! The place is very beautiful, it is really a place of nature wonder and peace, I loved it very much!
Kirsten
2012-07-12T00:00:00Z
We stayed at Arlene's house for one night and enjoyed it so much! Arlene is a really warm-hearted and caring host - we felt comfortable the minute we walked into her house. Also we enjoyed her breakfast and her company meanwhile very much! We would always choose to stay at her place again when we are in Santa Barbara! Thanks for having us Arlene!
Sarah
2012-09-29T00:00:00Z
Arlene was so welcoming and her house is SO interesting. The house is surrounded by giant eucalyptus and every little path has amazing little sculptures and figures- like a fairy land. Not only did we love talking with Arlene, the other house guests were really interesting- just hung out around the house Sunday morning chatting away. Not a place for privacy but a wonderful getaway and an opportunity to meet an amazing woman!
barbara
2012-10-22T00:00:00Z
Arlene is a very friendly and welcoming woman. Her house was beautiful and quiet. Good value for the region. Breakfast was provided and we had great views of the surrounding area. Highly recommended.
Sander
2016-06-14T00:00:00Z
Arlene was very friendly and accessible. She gave us precise directions on how to reach her house from all directions, necessary because of its location. The beautiful photos used were accurate. My favorite thing about her house was the natural setting in the hills with trees all around. The sunsets were beautiful. We enjoyed them outside, having a glass of wine. There were lots of birds and animals around. Overall, it was very quiet. Arlene's breakfast was great with homemade yogurt and fruit. Our stay was definitely good value.
Marcia
2016-07-19T00:00:00Z
Arlene is a delightful and warm host, sharing her home and conversation freely. The dwelling is filled with artifacts of her very full life (some people might find it cluttered) but generally clean. Somewhat rustic but comfortable, with lots of thoughtful amenities. The setting overlooks a ravine and mountains beyond, sheltered by large eucalyptus trees, and a porch for out door sitting. We would love to stay here again, not just for the lodging, but to get another dose of Arlene's dynamic and open personality.
Gordon
2012-10-16T00:00:00Z
I would so love to return and to see Arlene again. She is a beautiful person and I am still very happy that I had the chance to meet her.
Frauke
2014-03-10T00:00:00Z
Тип размещения
Отдельная комната
---
Тип жилья
Дом
---
Вмещает гостей
2
---
Спален
Санта-Барбара, Калифорния, США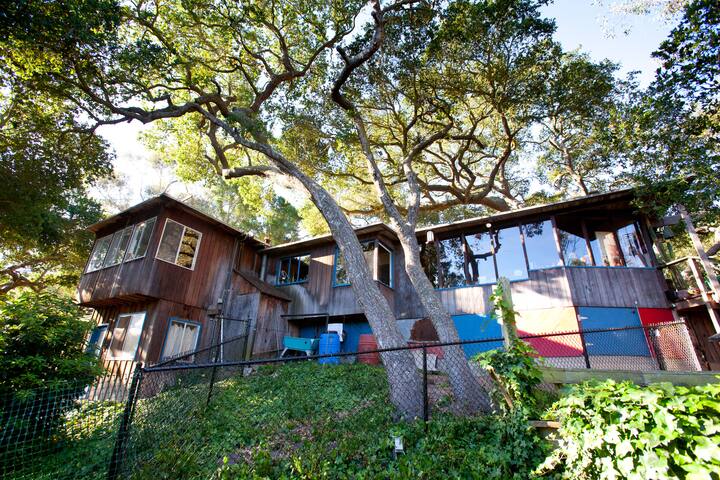 Located 2 houses off of Shoreline park and steps from the beach. This fully furnished beach rental captures everything Santa Barbara beach life has to offer. Home features 3 bedrooms and a separate enclosed game room. Stocked with 2 50" Samsung flat panel televisions in the living room and game room, and a 42" in the Master you'll never miss the comforts of home. Of course, who wants to stay inside when you are just a stone's throw from one of the best Southern California beaches.
Walk to the harbor, wharf or downtown!
The mesa is beachfront residential neighborhood close to downtown, harbor and the wharf.
Tony is an amazing host! He is very responsive and will help you out with anything you need. His suggestions for places to visit and eat were all so great. Definitely recommend this place for anyone looking to have a beautiful, comfortable stay right by the water!
Becca
2017-02-06T00:00:00Z
Great place.
Jonathan
2017-03-26T00:00:00Z
We had a great girls weekend here. House was beautiful, comfortable, and comfy beds! The location was amazing as well. Tony, our host, was amazing and available with all of our questions. We will be back!!
Amy
2017-03-05T00:00:00Z
Great views!! Just a short walk to the beach below. Our favorite part was the front porch patio; it made it great to wake up and enjoy coffee or sit and enjoy the afternoon with some snacks and drinks while watching the sailboats and the people visiting the park. Lovely neighborhood and great beachy atmosphere!
Lauren
2017-04-06T00:00:00Z
Had a great time and the location was perfect! Tony was very responsive to all of our questions!
Anna
2017-02-12T00:00:00Z
We took a few days to get away to Santa Barbara. The location of this house was PERFECT! Literally steps away from the beach and the park. We have two young children who were with us and the house came complete with games and toys that kept them occupied! The hottub was the icing on the cake as we were able to soak during the day and night (it was a bit chilly when we were there) and you can see the ocean from the tub. LOVED IT! The location is perfect with extremely close proximity to everything in Santa Barbara. We can't recommend this house enough!
Matthew
2017-03-08T00:00:00Z
Tony was very punctual with communication and tried his best to accommodate us. The house was just as described; we just had some minor issues turning on the lights in the bedrooms. The amenities were great! I would definitely recommend this house and would definitely stay there again
Parham
2017-03-21T00:00:00Z
I absolutely recommend Tony's place to anyone looking for an incredible location in Santa Barbara. The house had the feel of an old time beach house but all of the modern amenities to make it comfortable. The ocean is right across the street, which led to excellent views on the front patio for morning coffee, and the star gazing from the hot tub at night was great as well. The neighborhood itself is removed enough from the action of State Street to enjoy the peace and quiet of Santa Barbara, but still close enough that an easy walk on the coast puts you right in the heart of downtown. Tony was a very nice guy and incredibly helpful and willing to offer any advice he could during the stay. Amazing experience and hope to return again soon!
William
2017-03-12T00:00:00Z
Тип размещения
Дом/квартира целиком
---
Тип жилья
Дом
---
Вмещает гостей
5
---
Спален
Санта-Барбара, Калифорния, США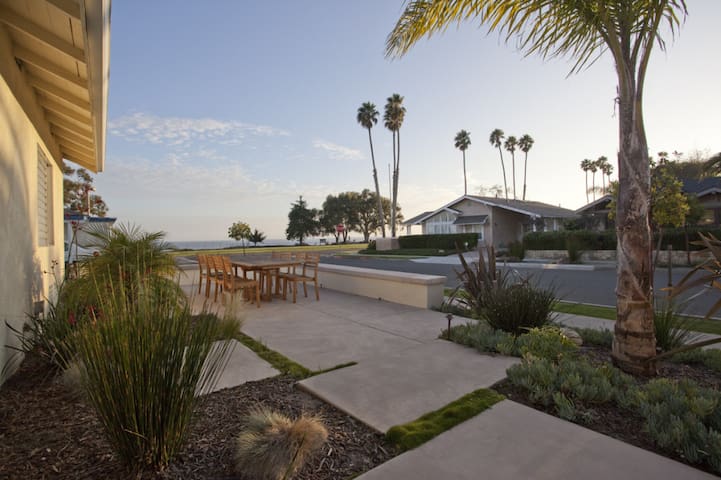 My place is close to parks cross street from Mesa shopping center, walking distant from the cliff down to the beautiful Santa Barbara sandy beach. You'll love my place because of the location, shared kitchen and bathroom. If you are looking for an inexpensive place to stay, this is for you, great value and nice comfortable place for you to stay while you spend your valuable time touring. thank you and ENJOY the Santa Barbara beach area!!
Great place to stay! As described
Matthew
2017-02-17T00:00:00Z
非常舒适,离海岸线很近,吃完饭散步非常美
Garry
2017-04-03T00:00:00Z
Jian's place is located in an awesome cross section of town close to lots of good local eats and parks. I came with two little boys in January for some warm weather playgrounds, the zoo, and the beach from the land of snow and ice. It is a good value and the little extras like the fresh towels, toothbrushes and toothpaste, et cetera were nice. Jian is a pleasant and sweet lady who was very communicative, which was so great because we had a last minute booking. While some of the niceties could be upgraded, it was fine for us and we are grateful.
Misheel
2017-01-29T00:00:00Z
Great place
Audrey
2017-01-28T00:00:00Z
Very nice. Great location. Walking distance to amenities. Good value.
(EMAIL HIDDEN)
2017-01-31T00:00:00Z
Jian's place is very comfortable and close to many locations, including the beach, restaurants, and plazas. The room was partially separated from Jian's home, so it allowed for privacy. Jian also let us check in one hour earlier than the check in time, to allow us to prepare for a wedding. Jian let us in, gave us a run through, and gave us privacy thereafter. It was a very good experience!
John Paul
2017-03-26T00:00:00Z
Jian was very sweet, the walls are a little thin and some other guests were talking late in the night but nothing some headphones or earplugs couldn't solve. Jian was very helpful and even had toothbrushes in case you forgot yours.
Isabelle
2017-03-19T00:00:00Z
Good for the price. Clean and comfy beds. Bathroom was a little dirty, but shared by 4 people, toilet clogged once. 8min drive from downtown. 3-5min drive from the beach. .
Danielle
2017-04-06T00:00:00Z
Тип размещения
Отдельная комната
---
Тип жилья
Дом
---
Вмещает гостей
3
---
Спален
Санта-Барбара, Калифорния, США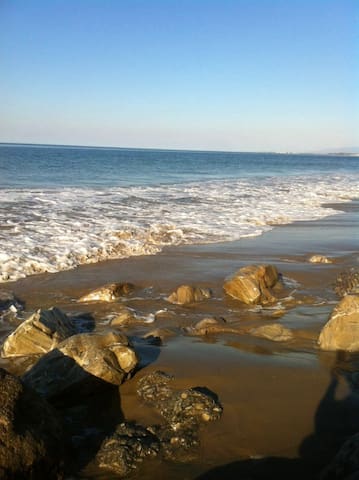 Enjoy our unique, renovated 1964 Airstream trailer (with private separate full bathroom) with all the comforts of home. Our cozy Airstream offers private access to the best hiking and mountain biking trails Santa Barbara has to offer, and is just half a mile to upper State Street restaurants and shops. And, if you love golf, several of the most beautiful courses in the world are a short drive away, not to mention the breathtaking beaches that are just a 5 minute drive away.
Perfect for all couples, Airstream lovers, beach goers, surfers, paddlers, hikers, mountain bikers, golfers, outdoor enthusiasts.
Highly sought after San Roque neighborhood in Santa Barbara is beautiful and safe, and close to all the city has to offer, including the historic Mission and botanical gardens.
Тип размещения
Дом/квартира целиком
---
Тип жилья
Дом на колесах
---
Вмещает гостей
2
---
Спален
Санта-Барбара, Калифорния, США
This beach house is in the best neighborhood on the Mesa. Steps to Mesa Lane Beach and the Douglas Family Preserve. The Best Grocery Store and Local Produce Mart in town are 3 minutes away. Downtown is a 5 min drive. It is an older, no-frills house that is less than optimum condition. In other words, you shouldn't expect all the conditions to meet Hilton hotel standards. That said, it is comfortable, clean and conveniently located. Relax and enjoy your time in paradise.
(*This is a shared common area environment - meaning that you may be sharing the kitchen, dining, living and laundry room areas. ) The Retreat Room has a private, small patio that is often sun lit. The patio has a sitting area and table and is entered through a sliding glass door from with in the room. The room has a Full Size Englander Orthopedic Mattress. The full sized bathroom is clean and shared with one other. The living room boasts tall ceilings, a river rock fireplace, large windows and glass doors. There is a large sectional couch with deep, firm cushions and comfortable recliners. One large flat screen TV with satellite is in the living room. The large full kitchen is tiled and fully equipped with stainless steel pans, toaster, blender, water dispenser, oven, stove top, and all that you might need to prepare lovely meals. The large back yard with grass has a BBQ and dining table and is totally private, surrounded by trees.
The Beach House is steps away from one of the most beautiful beaches in Santa Barbara, Mesa Lane. Also steps away is the Douglas Family Preserve with large Eucalyptus and Cypress Trees and sweeping views of the ocean from atop the cliff. The Boat House Restaurant is at nearby Hendry's Beach and serves great breakfast, lunch, happy hour and dinner is a 20 min walk through The Preserve. 1 bike is also available with the house. The neighborhood is quiet and peaceful. The best health food store and produce market is a few minutes drive and downtown Santa Barbara 5 min.
Richard was a great host. This was a last minute same day booking and he was very quick with a response. Richard and his friendly dog greeted us and showed us the room we would be staying in and it was nice and comfy. i loved the fact that we had our own entrance to the room, restroom and shower. He has a nice backyard/ patio were we enjoyed a nice bottle of wine watching some tv, after a nice walk to the beach and a lovely dinner by the ocean. over all it was a nice experience and would definitely consider staying here again. thanks Richard.
Hector
2014-11-09T00:00:00Z
We had a wonderful time at Richard's Santa Barbara Retreat! The location was wonderful. We took several walks down the stairs at the end of the block to the beach and also hiked through the Douglas County Preserve. His home is very close to our favorite beach, Hendry Beach, and favorite restaurant, The Boathouse. We enjoyed sitting out on the little patio off our bedroom. Our room was clean and the bed very comfortable. The bathroom was very clean as well. The kitchen was very nice with everything we would have needed. Richard gave us a delicious bottle of red wine and some delicious chocolate covered coffee beans, too. We met Richard and had a great conversation! We would definitely stay again!
Betsy
2015-07-13T00:00:00Z
Richard is a delight! My daughter and I felt extremely welcomed as Richard was very thoughtful to our needs and provided an inviting home away from home. His devoted dog stole our hearts and we look forward to visiting Santa Barbara again! Thanks again Richard :)
Atlas
2016-10-19T00:00:00Z
Such a relaxing vibe in Richard's home! Richard is a wonderful host! He made my husband and I feel very welcome...and our dog, Trinka, too! This was our first Airbnb experience and it was five-star! We appreciated Richard responding to our text messages to make arrangements for the key, etc. The bed is so comfy, nice to have a TV, desk, chair, relaxing chair/ottoman, towels, shampoo, a welcoming bottle of Pelligrino and special candy treats. We met Richard briefly and he is so kind...his dog Bindy is such a cutie pie too. The 240+ stairs to the nearby Hendry's Beach is absolutely worth it. Gorgeous beach and only saw a handful of people. This is a hidden gem, definitely. The Douglas Family Preserve just steps away from Richard's abode is breathtaking with expansive views of the beach from the clifftops. Nice photo op. Richard recommended Mesa Cafe just a short distance from his home and the food was delicious. We will definitely return to Richard's home on our next visit to Santa Barbara. Thanks, Richard for making us feel so welcome in your home.
Eileen
2016-06-09T00:00:00Z
We really enjoyed staying at Richard's place. He's a wonderful host and we had great conversations as well as plenty of privacy. The room is compact but nice, and we loved the outdoor eating area (w flowers and resident hummingbird). The kitchen is well equipped, and bathrooms and laundry good. Lovely quiet location - peaceful neighbourhood and close to beach and reserve and shops. Beach access down the 200 stairs was really fun, a nice quiet little beach.
Matt
2015-08-29T00:00:00Z
Richard definitely made us feel welcome; he was great at responding to our messages, kept the place in a good condition, and gave us everything we needed (i.e. towels). The walk to the beach with its stunning views was only 2 minutes long. We really wish we could've stayed in Santa Barbara longer, and we'll recommend Richard to all our traveling friends.
Ryan
2016-05-13T00:00:00Z
Richard was very friendly host and the checking process is easy to get. The location was quite good since its close to the Santa Barbara beach and the room ,bathroom, kitchen room, living room are all clean and protected well although the house was more than many years. Would come next time definitely!
ming
2016-09-25T00:00:00Z
Richard was great and his location was really close to a great beach - 300 steps down and a nice sunset view in the reserve.
Coleen
2016-04-29T00:00:00Z
Тип размещения
Отдельная комната
---
Тип жилья
Дом
---
Вмещает гостей
2
---
Спален
Санта-Барбара, Калифорния, США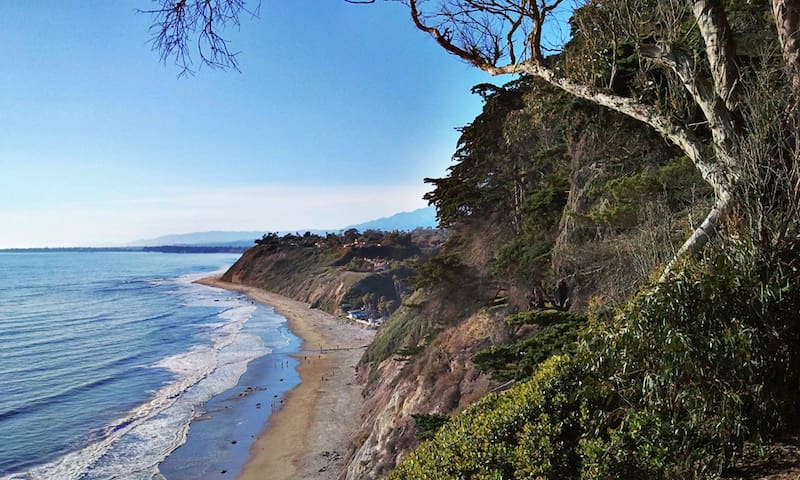 Fun small studio in the heart of Santa Barbara. Located 1-2 miles from the beach, zoo, downtown, Mission, and Montecito. Only a few blocks to local shops, restaurants, Trader Joes, Rite Aid, etc. Enjoy our beautiful outdoor deck with BBQ for meals and views of the mountains. Use the hot tub, bicycles, body boards, and surfboards . Memory foam mattresses for comfortable sleep. Monastery silence not available (we have four kids but put sound board in). Santa Barbara is the star of this fun studio!
The studio is located on the corner of our house so please respect our privacy as we respect yours. My family is kind and friendly so say hi but keep your language and activities on our property appropriate.
10 pm noise curfew
Тип размещения
Отдельная комната
---
Тип жилья
Родственное
---
Вмещает гостей
3
---
Спален
Санта-Барбара, Калифорния, США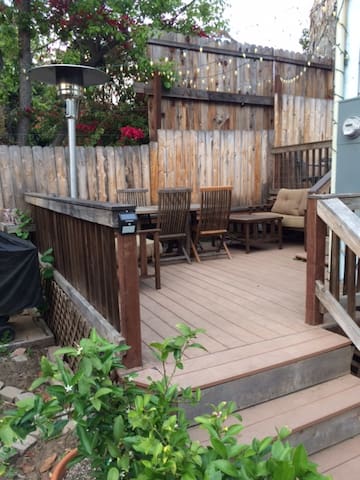 Close to downtown (one block from State St), restaurants, and 10 minutes driving to the beach. This 2 room studio is perfect for couples, solo adventurers, and business travelers. I have a full (small) kitchen, and a comfortable queen size bed. Please note: this studio does not have wifi
This neighborhood is super safe and quiet! Walking at night shouldn't be a problem in this part of town.
Anna's place is quite the pad. It's perfect if you're solo or if it's the two of you. It has a nice little kitchen, living space, and clean great bathroom! Everything was super tidy and clean. The bed was super comfy as well. Anna made the check in very easy and gave me great directions to the place. I felt very safe and 'at home'. I would definitely recommend Anna's place to all. Can't beat the location either! Thank you Anna!
Bridgette
2017-03-30T00:00:00Z
A great little place, spotlessly clean in a great town. Anna is a lovely host and did everything to make this a home from home. Only wish we had stayed a few days more.
David
2017-03-06T00:00:00Z
Тип размещения
Дом/квартира целиком
---
Тип жилья
Квартира
---
Вмещает гостей
2
---
Спален
Санта-Барбара, Калифорния, США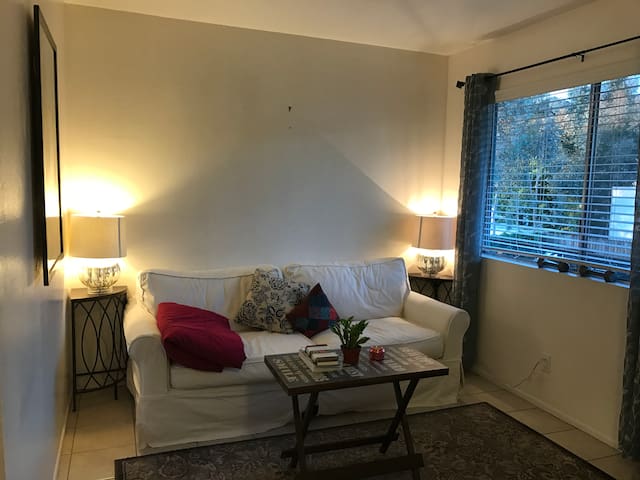 This home is close to the Santa Barbara Mission and in the heart of mid-town. Fairly close to nightlife, the beach, family-friendly activities, and many well reviewed Restaurants. This private space is good for couples, solo adventurers, and business travelers. Note, that this is a brand new listing.
It is a private studio within a duplex , so you're not sharing a space with anyone else (even host). Private bathroom , kitchen and studio/bedroom.
The appeal of this property is its setting amongst other bungalows and close proximity to State Street. It's a charming and safe neighborhood. And of course, you can walk to McConnell's Ice Cream shop
This place is such a great place to stay. Perfect distance from the downtown area and beach and soo cute. There were vegan friendly shower products and a vitamix in the kitchen which was really cool. Loved it
victoria
2017-01-13T00:00:00Z
Alex has created a cozy little spot, perfect for a weekend getaway. It's very close to downtown, easy parking, clean and comfortable bed:-))) I'd definitely stay here again on another SB trip.
Wil
2017-03-27T00:00:00Z
Alex's apartment is really nice and cozy. Exactly as described and in the pictures. Alex provided access through a combination lock as I was arriving late. The area is quiet/residential yet only a block off of State Street and a few blocks from the downtown area. I would recommend staying here to anyone visiting S.B.
Peter
2016-12-14T00:00:00Z
Great little place within walking distance of State street. Host was quickly and easily accessible. We loved it.
Conner
2017-01-29T00:00:00Z
Convenient place to stay, close to restaurants and main part of town
Patrick
2017-03-09T00:00:00Z
Alex's place is a fantastic, simple getaway. His place is a huge step up from the hotel you would stay at in SB. Such a quaint spot, close to all our local favorites!
Angelica
2017-04-06T00:00:00Z
Great place to stay, highly recommended!
Daniel
2017-01-06T00:00:00Z
A cute place within walking distance of downtown!
Caitlin
2016-12-11T00:00:00Z
Тип размещения
Дом/квартира целиком
---
Тип жилья
Бунгало
---
Вмещает гостей
2
---
Спален
Санта-Барбара, Калифорния, США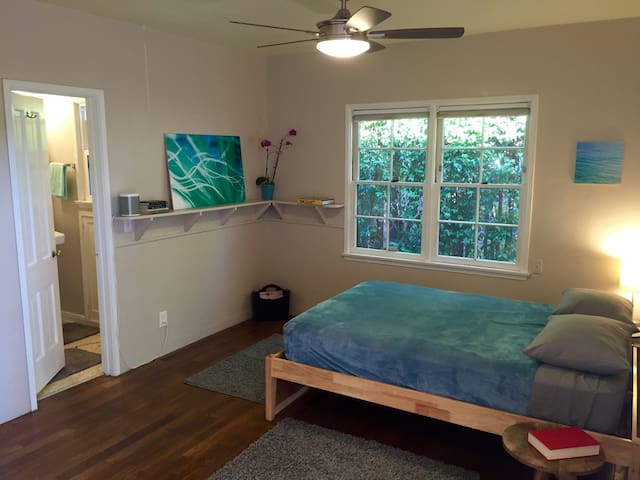 Commissioned by nationally know artist, Jaroslav Brozik in 1946. designed by international architect Ken Webber. This historical rustic adobe home set near the mountains offers visitors a popular hiking trail with majestic view of Santa Barbara. Sleep in the master bedroom and view islands looking pink and beautiful first thing. Sit outside and enjoy the peaceful property with hummingbirds and robins. Windows exposing the grand mountains while watching tv Pullout couch & sleep next to fireplace.
Wake up in the master bedroom and watch the sky change colors of pink showing stunning Island views of Santa Cruz Island. Sit outside in other side of house and see majestic mountains with nature and peace. Enjoy the hiking trail within steps of your front door. Pull out the couch at night in the living room In front of the fireplace.kids can enjoy the bunk beds in second room. Watch the mountain views and some cable tv. Free high speed wifi. Contact for more info its amazing. Also has wifi , tv , queen temper pedic bed, deck, electric fire place . 1 cal king bed, 1 queen pull out bed from a couch, a daybed in the loft, two twin beds in a bunk, 1 soft couch. Please let us know how many cars you will have. We need to arrange parking spots. Thanks.
The neighborhood is quiet and peaceful. It's surrounded by nature and landscapes. Get away from stress and relax in a Beautiful setting. Once again this is a very quiet neighborhood and tight community . The adobe is on a private road which is great for kids and animals to Play.
Carla has good communication: quick to respond, clear instructions. Location is mountain home: quiet and peaceful neighborhood. Yet only few minutes drive to museum, mission, downtown. Enjoyed our stay here with young children and a dog!
Lawrence
2017-03-30T00:00:00Z
This is a great space and very quiet. The bunk room is off the master, which worked perfectly while traveling with my kids. It's very spacious and the views from the property are beautiful.
Scott
2017-03-05T00:00:00Z
Beautiful home in a beautiful location. Everything needed was provided and Carla was very welcoming from the very beginning. Clean home with ample room in a quiet neighborhood. Definitely hope to return some day!
Damian
2017-03-24T00:00:00Z
Carla's place was great! It was a nice departure from the city nestled up in the hills. She was very welcoming and we had a nice time.
Hugh
2017-03-17T00:00:00Z
We loved the peace and quiet of Carla's place. The views of the mountains above Santa Barbara and the filtered view of the valley were magnificent. It was wonderful to be near the Tunnel Trail, a beautiful hike just a short walk from the house. Carla was very responsive and check in was easy. We will definitely return.
Michael
2017-03-12T00:00:00Z
Carla's place was awesome. Beautiful, large space in the hills that very comfortably sleeps 6 people. Incredibly close to some awesome hiking trails with great views. And a quick drive to downtown. Couple of things to watch out for: If you are a big group of people, you will need to be quiet later at night (this is explained in the description) and the shower's a little cold.
Sebastian
2017-03-06T00:00:00Z
It's in an amazing spot with mountain walks just out the door, and just a few miles from the sea and all the amenities of Santa Barbara. The sitting room is huge and comfortable with big TV and beautiful furniture and the main bedroom is also very lovely. The small room with bunk beds would suit younger children, but isn't really a teenager's place. Our teenager slept in the mezzanine above the sitting room which worked just fine. We had a lovely stay, well appointed home in stunning setting.
Carla
2017-04-06T00:00:00Z
I liked staying here! The property is really nice. However, it's a duplex situation in which they actually live in the attached duplex. She'll text you and tell you your being noisy or talking too loud. She also asked us to turn town the music multiply times even though it was during the day.
Nancy
2017-02-12T00:00:00Z
Тип размещения
Дом/квартира целиком
---
Тип жилья
Дом
---
Вмещает гостей
6
---
Спален
Санта-Барбара, Калифорния, США
Spacious private room in a spacious house near beach and convenience stores! This is a PRIVATE room with a PRIVATE bathroom. Near beach, restaurants & 5 minutes away from downtown. Sleeps comfortably 4, shared kitchen. This is a great place for group travelers or a couple! Only 1.0 mile away from Double Tree Fees Parker Hotel
This is a very spacious room! Accommodates up to 4 people in (1) Queen size bed and (2) Twin XL Beds. Plenty of space for your clothes, near Butterfly beach, Santa Barbara bowl and Down Town. Close to Trader Joes, Carls Junior, CVS, Local bagel/breakfast store, etc..
Quiet neighborhood, please keep noise to a minimum past 10:00 pm
Accomadatioms were great besides the construction workers that wake you up at 6am.
Michael
2016-09-14T00:00:00Z
Alex's Place was awesome. Plenty of Space for your stuff, huge bath. The Students living there, Young Girls ;) all very kind and quite. There is a trader joes and coffee Place in walking distance, but for downtown and beach you will need a car. Thanks for your place Alex!
ber
2016-07-20T00:00:00Z
The room is exactly as shown in pictures. It is very spacious and has a nice balcony. Check in was super convenient. Alex's place is very close to the beach too. We enjoyed our stay there
Daya
2016-11-21T00:00:00Z
Alex's studio was exactly as described: a private room with 2 bunk beds, clean sheets, and clean towels. The location is a short drive from downtown / the beach. If you and a couple of friends are just looking for a place to crash in Santa Barbara Alex's place is great.
Jason
2016-03-25T00:00:00Z
Great place to stay! Highly recommend.
John
2016-09-01T00:00:00Z
Very spacious and clean, perfect for our group of four, better than pictures/description. Would recommend a stay at Alex's.
Ella
2016-11-20T00:00:00Z
Alex was great and the space was just what we were looking for.
TIMOTHY
2016-10-12T00:00:00Z
We had a good time at Alex's place. Its big, got everything you need and is well located. Recommend this place :)
Gerrit
2016-09-27T00:00:00Z
Тип размещения
Отдельная комната
---
Тип жилья
Дом
---
Вмещает гостей
4
---
Спален
Санта-Барбара, Калифорния, США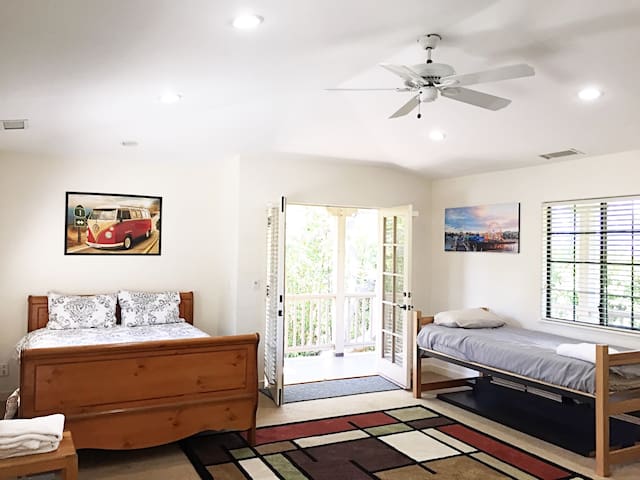 Our beautiful comfy and modern home is ideally located close to downtown, the beach, the funk zone and the county bowl. The house is perfect for couples, families or friends who are looking to explore Santa Barbara. Our outdoor area is equipped with a BBQ, patio furniture and a fire pit which make it idea to enjoy the weather. Come and stay in this safe and enchanting neighborhood!
Group of friends, two couples
The neighborhood is very safe and family oriented. The best part is that is is centrally located to most places of interest in Santa Barbara.
Lili's little casita was very cute and comfortable. It did get a bit cold inside the house but Lili had extra blankets. I would just double check the signs for street parking. Overall, it was a nice stay! I would definitely stay again!
Eunice
2017-03-27T00:00:00Z
Lovely place, central and very clean - Lili was very helpful and accomodating. Would highly recommend.
Carla
2017-04-06T00:00:00Z
Lili's place was absolutely perfect for our trip! It was close to restaurants and everything that we wanted to get to. Super clean and cute and the snacks she provided was a huge bonus. Altogether an awesome stay!!!
Jessica
2017-03-05T00:00:00Z
The backyard house is located in a peaceful and quite street. It is close to Main Street. Lili prepared some fresh fruit which was very nice. There wasn't a pot in the kitchen for cooking, but after texting her, she immediately brought us one that we could make some pasta. I appreciate Lili as an easy and uncomplicated host. She is very nice and friendly. We liked our stay although the apartment wasn't that clean.
Nicole
2017-03-23T00:00:00Z
Lili was such a gracious and accommodating host. Her place was very nice and cozy, and was just perfect for a few days' stay in Santa Barbara!
Richard
2017-03-16T00:00:00Z
Great value! Sleeps 5 easily, another one or 2 if you bring an air mattress as the couch is a futon. Good location -close to everything. Nice little private guest house. Homey, cute, comfy beds and linens. Decent TV, nice table to sit and play card games at. Lovely side and backyards- if we stayed longer I could see myself just sitting out there for a few hours. Lilly was a thoughtful host, checked in on us and left nice breakfast foods. Very nice shower supplies as well. It's just so much easier to get up and go when you know you don't have to pack every little thing! That's one of the perks of Airbnb.
Jacquie
2017-03-31T00:00:00Z
Communicated well and check-in was a breeze!! Area is super quiet and parking was never an issue. Host and family are polite, helpful and quiet. Grounds and interior were clean and stocked with the basics. Walking distance to trader Joe's is a big plus, great bagel shop next to it if that's your thing. Nice private area outside with seating was a big bonus. Great value, would absolutely stay here again.
Bill
2017-04-02T00:00:00Z
Simply, we feel it wasn't worth the $200. a night. Cheaply furnished and no working TV, that was advertised.
George
2017-03-19T00:00:00Z
Тип размещения
Дом/квартира целиком
---
Тип жилья
Дом
---
Вмещает гостей
4
---
Спален
Санта-Барбара, Калифорния, США
Available Nov 1 - Nov 30, 16
A warm charming 1,700+ sq ft townhouse offers 2 bedrooms, 2.5 baths, and a two-car garage. A beautiful bamboo floor, marvelous kitchen plenty of natural light with numbers of windows. The split-level layout creates privacy, with the two bedrooms and a spacious mountain view master suite on the second floor. A comfortable movie/tv room with a 65' modern TV. The private backyard patio offers a cozy place to play and relaxing with the brand new jacuzzi, Laundry room, Wi-Fi hi speed internet, Walking distance to the beach and downtown.
Тип размещения
Дом/квартира целиком
---
Тип жилья
Таунхаус
---
Вмещает гостей
4
---
Спален
Санта-Барбара, Калифорния, США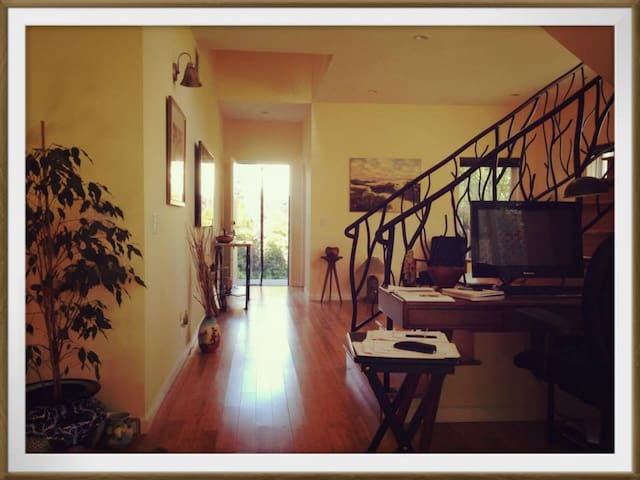 BRAND NEW OFFERING!! With great intention, creativity & love, an exclusive 3 acre realm invented for those seeking a sensual nature connection experience, in LUXURY! A unique retreat experience that is playful, soulful & beyond belief EPIC. Consists of a private stunning cottage, outside lounge kitchen, redwood out shower/ bath house, pool, hot tub, hammocks & fresh eggs from the chickens. Off the grid yet minutes to beach, trails, wine tasting & downtown Santa Barbara. Renew, be happy!
* BRAND new construction & listing, more pics next week!) The BIRCH GLASS HOUSE is a gorgeous modern design with two walls of thick solid glass which gives the illusion of being outside, but the feeling of cozy protection. A strange and wonderful juxtapostion of moods! The space is creekside under giant sycamores, native oaks. Outside mirrored walls give the illusion of being invisible as it reflects the surrounding woods and grove The birch house has a very luxerious, organic feeling.. brilliantly bringing the inside and outside worlds together in beautiful harmony. Birds chirping and the sweet sounds of wind through the trees, hang in the hammock with air feel divine, sun supreme. Off the cottage is a beautiful red wood deck perfect for yoga or hanging out. This 3 acre grove area, is a very private gated realm which includes two incredible cottages situated about 100 feet apart and facing opposite directions for the most privacy possible while maintaining their own unique views. I designed this so visitors could have both privacy, but also enjoy common spaces like the pool/ hot tub area (on the other side of the property) and the grove outside kitchen/ lounge area and gorgeous redwood outside shower bath house. PERFECT for those wishing for privacy but also some common community space.. keeps the price nice while having wonderful sharing spaces. There's another page devoted to the "chicken house" which is a wonderful, airy, soulful cottage looking out to the epic Santa Barbara mountain range through a soulful collage of vintage windows and an awesome partially enclosed deck. A truly amazing space.. very different than the birch house but equally wonderful in it's own unique way. Besides the private cottages, the grove consists of a colorful covered outside kitchen/ hang out zone and an extra spacious redwood outside shower and bath house. All spaced about 100-200 feet apart. And of course the house of the hens who lay fresh organic eggs for your breakfast! Not to mention the grand trampaline! and pool/ hot tub access accessible on the other side of the land. Now, those are the man made things. The "hallway" is the land itself.. which is something I really can't capture visually here. There's a quality of this place that profoundly nurtures the senses.. smell, site, sound... reorganizing your central nervous system in all the ways we so desperately need in this modern world! One of the incredible things about this property is that it's a mere 2 miles to shopping malls, Whole Foods and restaurants (5 minutes) and 10 minutes to downtown Santa Barbara, wine tasting rooms, hip funk zone, shopping... 5 minutes to trailhead that lead out to the ocean, 10 minutes right to the beach. We're also just 30 minutes from Santa Ynez, Los Olivos, Solvang (wine country). The land is unique because it feels like you're very remote and off the grid out in nature (which you are) but then it's just minutes to get anywhere in Santa Barbara. Very find rare to find such a spot with so much surrounding private serene land! The setting is ideal for 2-4 adults (4 if you're taking both cottages and 2 if you're occupying just one) or one solo soul looking to retreat. I also consider pets and families. This has been such a passion of mine, sharing my land ... letting nature be of benefit to people who are making their beautiful memories here. It's an honor to have visitors part of the unfolding story of my home. I've marveled at the care and respect people bring.. so a place like this can exist for the enjoyment of all.. including the trees, the critters, the intact ecosystem I get to be a hostess to. Makes my heart glad!!! I live on the property in my "own neck of the woods" (so I'm around by text or in person if needed). I love to greet visitors briefly with a hug and all the info so the experience goes smooth and safe. We are not too likely to cross paths as this is a very large property, but I have "your back" for anything you might need! The photographs... I have to say, DO NOT GIVE JUSTICE.. You'll know what I mean when you get here...the stillness... the open, natural setting, nurturing and safe feeling. It's a very special zone in which to unravel the revise and renew. To get a deeper sense of peoples experiences, reading peoples reviews is great for that. Hope to share in it with you!
My private property is a very large land, 11 acres, which is surrounded by other large private properties and national forest. We are outside neighborhood zones, a half mile off a private road, so it feels very much off the grid. Amazingly we are a mere 5 minutes from uptown shops in Santa Barbara, 10 minutes to dog friendly leashless beaches, airport and train station, 30 minutes to Santa Ynez wine country and 10-12 minutes anywhere in the heart of Santa Barbara shops, restaurants and entertainment. Truly best of ALL worlds!
This was such a magical experience! Jennifer's property and cottages are straight out of a dream. She's really created a perfect retreat with everything you need to relax and feel comfortable. The location is very central while still being tucked away in the valley, so it feels like you are far away from everything. In reality, the drive into town is less than 15 minutes though. We were able to meet our neighbors in the outdoor kitchen, too. Jennifer makes sure to be selective when approving guests in order to protect this incredible experience. I highly recommend this retreat for anyone looking for a relaxing getaway near Santa Barbara!
Traci
2016-11-13T00:00:00Z
Jennifer has put a lot of creative energy into manifesting a truly unique, beautiful getaway. We absolutely will be back!
John
2016-10-09T00:00:00Z
Jennifer and her beautiful oasis were both more than magical... we will 100% be back.... such a wonderful beautiful place!
Hope
2017-02-15T00:00:00Z
This place is great.
Jon
2017-01-15T00:00:00Z
This place is gorgeous and remarkable, always agian!
yingning
2017-01-06T00:00:00Z
Jennifer's property was perfect for our weekend away -- a beautiful and unique setting, private and secluded (yet just minutes from town), rustic but very comfortable. We loved the cozy bed, jacuzzi, and peaceful vibe. A perfect place to unwind, but also a great location to enjoy all Santa Barbara has to offer. Clearly, Jennifer has put a lot of thought and effort into making this a special place.
Jeffrey
2016-10-30T00:00:00Z
Photos and words hardly do this place justice. Jennifer has created a village of magic on her beautiful sprawling property in the mountains of Santa Barbara. The Birch House is a work of art that combines modern architecture with a love and respect for nature. The mirrored walls on two sides camouflage the building, and when you are lying in bed, you see only the forest and creek through your floor-to-ceiling windows. It is an amazing and rejuvenating place that has to be experienced to believed. Taking a shower outside is an exhilarating way to start the day, followed by eggs fresh from the chicken coop, cooked in the open-air kitchen. Jennifer is a warm and loving host, and you can feel that character in the village she has created and shared. It was honestly difficult to leave such a lovely place, and we definitely hope to be back again!
James
2016-10-16T00:00:00Z
Jennifer's land and accommodations are so incredible, it's hard to really describe in words. My girlfriend and I were able to stay for one night on our way from LA to Northern California. The ranch is a welcomed sanctuary from the craziness of the outside world. The glass cottage is comfortable, clean, well insulated, etc. What is truly amazing, however, is sleeping with a clear view of the oak grove (lit up with spotlights). It was truly magical. Can't wait to come back!
Eric
2016-11-21T00:00:00Z
Тип размещения
Дом/квартира целиком
---
Тип жилья
Дом
---
Вмещает гостей
2
---
Спален
Санта-Барбара, Калифорния, США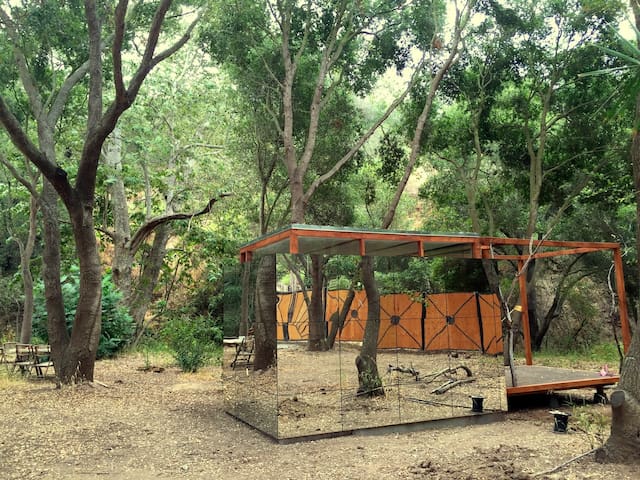 1

–

18

из

300+ вариантов аренды
Введите даты, чтобы увидеть полную цену без учета дополнительных сборов и налогов.