Введите дату прибытия в формате дд.мм.гггг
Введите дату отъезда в формате дд.мм.гггг
Объявления, которые вы можете забронировать, не дожидаясь одобрения от хозяина.
4 объявления
· Монтгомери
4 объявления
· Монтгомери
Введите даты, чтобы увидеть полную цену без учета дополнительных сборов и налогов.
В июле и августе этого года вы сможете открыть для себя один из сотни самых лучших домов, с самыми разными ценами, и увидеть долину Сонома, какой ее видят местные жители. Круглосуточное прибытие, мгновенное бронирование, местное вино и закуски помогут вам расслабиться и насладиться поездкой.
Guest room has queen size bed and full private bath. Has a television and free wifi. This is in a quiet neighborhood out in East Montgomery with both ends of the street ending in a cul-de-sac. Protection with ADT home security. "Empty Nester" lives here!!!
This is a one owner home (me) with four bedrooms, now is the time to make use of the extra space. Quiet neighborhood, I'm a quite person, retired military and currently working as a healthcare professional (Doctor of Physical Therapy). This location is near the Eastchase/Chantilly area. Sorry no pets allowed. Your access is to the bedroom, kitchen area, washer/dryer, front/back yards. Living room upon request. I am always available by cell phone or txt.
Neighborhood is very quite with both ends of the street ending in a cul.de.sac with minimal traffic. Mainly "mature" adults on this street! Uber is available (I'm actually an Uber driver). Course there are rental car agencies and Taxi service as well.
I look forward to returning to Johnny's in the New Year!
Dr. Yvette
November 2016
Every stay with Johnny is a 5 Star Experience!
Dr. Yvette
October 2016
What can I say? Johnny's home was everything stated on his page. He lives in a nice, quiet, & safe area. He was most accommodating to all of my requests. Should I return to this area, I will definitely be in touch!
Mary Ann
October 2016
Johnny's place was beautiful, clean and he was the perfect host. He has water in the fridge if you need one, toiletries if you forget yours, and we couldn't be more pleased with our stay. Will definitely look to stay again when we're back in the area!
Tricia
October 2016
This is my favorite place to stay in Montgomery. It truly feels like my home away from home!
Dr. Yvette
September 2016
I would highly recommend staying at Johnny's. Johnny's home is lovely, the bed comfortable, the neighborhood tranquil - about a 10 to 15 minute drive to the center of Montgomery. And it was great to have the opportunity to talk to Johnny upon arrival. Johnny is running an excellent Airbnb!
Joseph
August 2016
Dr Walker couldn't have been a more thoughtful and courteous host. While new to hosting, his genuine concern for his guests comfort was keen and his welcome warm to his home translated into a wonderful experience. Look forward to next opportunity to stay with this marvelous host.
M
July 2016
Overall great experience!
Gabe
August 2016
Тип размещения
Отдельная комната
---
Тип жилья
---
Вмещает гостей
2
---
Спален
1
Монтгомери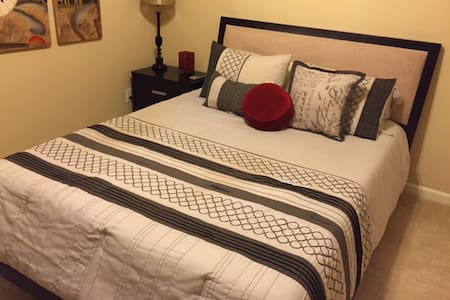 This lovely pink cottage sleeps four in luxurious comfort. Enjoy the amenities of THE WATERS & step back in time to rejuvenate & relax with friends in a home with style, whimsy & all the comforts of home. Your every need is met. Welcome & Think Pink!
The Pink House is truly from a romantic fairytale. The décor in and out is beautiful with a sense of whimsy and humor. We have attempted to provide for your every need regarding comfort, convenience and luxury. The neighborhood surrounding the cottage is from a an old-time postcard of southern architecture and serene outdoor views. Enjoy the golf cart that comes with the property during your stay. Swim, fish, play tennis or just walk the beautiful grounds. Two porches provide covered outdoor comfort as well as a patio on the large fenced lawn. Indoor fun consists of HD TV, cable and Blu-ray. We have a decent library of books and DVDs as well as a fun selection of games. You won't be bored. :) Golf cart, swimming, tennis, fishing, basketball & canoeing. Restaurant within walking distance, as well as a fitness center. We can interact as much (or as little) as you wish. Our back yard connects to the cottage and we spend many evenings outdoors with our pets. If you're feeling friendly come over for a glass of wine. If not, we can be invisible. Have it either way. :)
The neighborhood of THE WATERS evokes old timey southern charm and character. The homes and grounds depict traditional neighborhood design not seen many places today. Tin roofs, deep porches, friendly people and beautiful outdoor vistas make this neighborhood a perfect place to relax and recharge. You'll think you've gone back in time as you walk the streets waving to Andy, Aunt Bea and Barney. Yes, it is a bit like Mayberry. You'll want to walk everywhere or drive your own personal golf cart, but if you need to get anywhere out of the neighborhood you will need a car. We are located about 2.5 miles from a major highway and other than one restaurant in the 'hood (which also sells a few groceries), there are no places to eat within walking distance. Continental breakfast for two nights is provided for guests. After the second night guest should provide their own breakfast items. There are a few condiments and essentials in the kitchen which should last the entirety of your stay. Coffee/Tea service and all the trappings are included as well. Enjoy a complimentary bottle of wine during your stay and we offer a second bottle for $15.
Debbie kept in contact before and during the stay, without being intrusive. Everything was immaculate and she has attended to every detail. We give it 5 stars all the way. The pool and Lake Cameron were lovely, and there were lots of walking trails. We regretted we were working during our stay and did not have time to take a boat out on the lake.
Pat
June 2016
The Pink House in The Waters development blew us away. Like stepping into the pages of Southern Living is how I described this to our family and friends. The decor and lighting deliver up an ambiance of peace, love and tranquility. For any purpose, these accommodations are suitable. Sportsmen, Photographers, Birders, even Architectural Digest crowd will find balance here. I'll be booking early for my return because of the demand for the value this offering represents.
Jimmy
January 2016
The Pink House is situated in The Waters, a tranquil community in Pike Road. Communication with Debbie was always pleasant and quick. On arrival Debbie had provided breakfast which was really thoughtful. She also had Dutch cookies for us which was very considerate and welcoming. The house was spotless. The house is very comfortable and provides everything you need for a comfortable stay. The bed are very comfortable and it is very quiet at night. Both Debbie and her husband are very welcoming. debbie was always on hand to answer any questions we had. I would highly recommend the Pink House for a relaxing stay and hope to visit with Debbie and her husband again some day.
Charlotte
April 2016
Thank you Debbie! We loved the time we spent in your Pink House. It was full of charm and provided the perfect spot for a quick get-away from our busy Atlanta schedules. The cottage was better than the pictures! The golf cart was a nice way to explore the whole neighborhood and to travel back & forth to the docks at the lake. We canoed the lake the first day and used the community kayaks to go back around the lake the next day . Lake Cameron was quiet and so peaceful and the beautiful southern porched homes that line the lake and the white chapel on the hill seemed like a movie set, just magical! Thank you for sharing the Pink House with us, I'm looking forward to booking again for a girls weekend with my friends.
Laure
June 2016
As a manly man, I wasn't too sure about a pink house! But, it really was well done and full of fun and whimsy. And for manly men, there is a moose head upstairs. It worked well for us and the Waters is a fabulous location. Debbie had it nicely stocked and everything was quality from the shower gel to the breakfast cheese. So, man up, put on your bonnet, get on the pink golf cart and smile when you say "I'm staying at the Pink House"! That's what I did.
Charles
December 2016
The Pink House is brilliant! We thoroughly enjoyed our stay here. Debbie was really helpful and welcoming - she'd made delicious biscuits for us! We had a great time at The Waters. We used the golf buggy to explore the local area and went to the cafe that Debbie recommended (the food was delicious!). We would definitely stay here again if we were in the area. Thanks Debbie!
Lucy
August 2015
Interesting house that is well decorated. The neighborhood is excellent for walks or jogging. We enjoyed it very much.
Judith
August 2016
Тип размещения
Дом/квартира целиком
---
Тип жилья
---
Вмещает гостей
4
---
Спален
2
Pike Road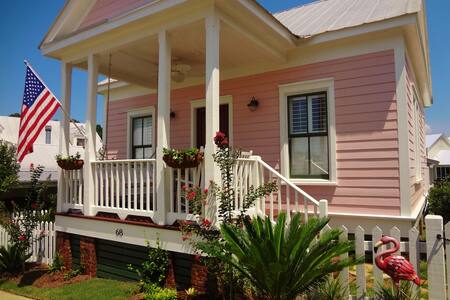 We welcome you to enjoy the Carriage House at The Waters. The Carriage House has a private entrance and is part of a grand Southern Style home on Lake Cameron. You can comfortably sleep four in a private and luxurious setting. The Carriage House has a fully equipped kitchen, a loft, a cozy bunk room, central heat and air, washer/dryer, three flat screen TV's, wood floors, ship-lap siding and ceiling fans are in every room, making it a wonderful place to spend a weekend, week or month.
The first level includes the living room with flat screen TV, dining room, bunk room with flat screen TV, bathroom, and Kitchen. The vaulted ceiling in the living room looks up to the cozy sleeping loft furnished with a queen bed, a flat screen TV. You will find a full size washer/dryer on the second floor behind a hand crafted sliding barn door. While you are here, enjoy kayaking on Lake Cameron, swimming, tennis, basketball, run around the lake, or a stroll through a Southern Style and picturesque neighborhood. Visit our neighborhood restaurant & market. The Carriage house is built to comfortably accommodate 4 adults but a small 5th person can sleep on the couch Private Entrance into the Carriage House with electronic lock for easy access. We are close by if you need anything.
See the neigborhood - https://www.youtube.com/watch?v=A3V1y9EgP2U&feature=youtu.be
Тип размещения
Дом/квартира целиком
---
Тип жилья
---
Вмещает гостей
4
---
Спален
2
Pike Road
This beautiful modern executive home is brand new and located in up and coming Pike Road area, in East Montgomery. This home is well decorated and comfy and offers a fenced in backyard, outdoor fireplace/w/ screened in patio, washer/dryer, stocked kitchen with dishes/cookware and wifi access!
This property sleeps up to 6 comfortably. Leasees will have use of all areas of the home, with the exception of the owner's closet. This is my part-time residence, so please respect my privacy and avoid the closet which is labeled. Wifi/cable I am available by phone, text or email anytime. I travel frequently for work, so phone or text message is the best way to teach me.
Quiet neighborhood located within 6-10 mins of East Chase shopping, restaurants, Vaughn and Taylor Roads. It's a quick 20 min drive to and from Maxwell AFB, Day Street Gate. Home also offers super easy access to interstate and alternate service road route. This home will honor government per diem daily rates; however, please note weekly and monthly rates have already been discounted and will not be discounted further. Owner may require proof of service to validate daily per diem rates. Absolutely no smoking and no pets. Checkin-in - 3pm Check-out - noon Please review the house rules and HOA covenants.
This home was a disappointment. When we got there the lock didn't work and the house was dirty. We contacted the home owner and she gave us one nights stay free. We left a day early when a bunch of ants were on a crumb of cheese that had fallen on the floor. The home owner blamed us for the ants because of crumb on floor. It's a beautiful home but run by poor management.
Lena
October 2016
The house was very clean, comfortable; and convenient to our family in Montgomery. I would definitely stay there again. The neighborhood was great and we felt very secure and safe there.
Pam
November 2016
Everything was as advertised, great home and host.
Edward
December 2016
Тип размещения
Дом/квартира целиком
---
Тип жилья
---
Вмещает гостей
6
---
Спален
3
Pike Road