My cozy, secluded and very private guesthouse is where people feel replenished. A very special, quiet & beautiful energy fills the space. Best for couples, but you can make room for a child. A true getaway.
We are totally secluded and private. Most people have no idea the guesthouse space even exists!
Newtown and the surrounding area is just beautiful countryside. Lots of walking/hiking and parks. Great drives.
This was the perfect get-away for us. It was private, serene and cozy. The setting was picturesque with a view into the woods. The suite was appointed with charm and had everything we needed. Yolie was very accommodating and made us feel very welcomed. We will definitely be back!
Laurie
2014-12-18T00:00:00Z
We had quite the pleasant stay in Newtown and Yolie was an exceptional host. The barn is very secluded from the rest of the property and is very quaint and cozy. Before we arrived, Yolie provided us with delicious scones and croissants for breakfast as well as top notch libations for the evenings. Yolie left no stone unturned in making sure that we had a comfortable stay. Though the property was absolutely beautiful with all of the snow on the ground, we are very tempted to make a return trip in the summer and use the fire pit!
Mitch
2015-01-12T00:00:00Z
This property is fantastic, the barn is perfect, and hey Yolie is a total babe. She recommended a great restaurant (The Foundry. Go to there, right now) where we ordered everything on the menu. Our pups came, they had an even better time than we did. A+ !
Dave
2015-01-26T00:00:00Z
Yolie was a fantastic host, and her home is absolutely beautiful- we had a great time! The space was rustic, peaceful, and well maintained, and we loved walking around the property as well. Great experience all around.
Celine
2015-01-03T00:00:00Z
Lots of beautiful green spaces surround this private and wonderfully warm get away. Yolie was a perfect host and made our stay better than to be expected with no complaints! Will definitely be returning :)
Pete
2017-03-26T00:00:00Z
Yolie was an exceptionally nice and interesting person who took care to be sure that we had a good stay. The bed was comfortable and the view fantastic. Restaurants abound in the area. I am eager to go back when all of the beautiful trees are fully out and the plantings are in full bloom.
Ted
2017-04-02T00:00:00Z
Really loved my stay at the guest suite. It was rustic, cozy, unique, very comfortable and tastefully done with everything could need. It felt very secluded with really beautiful surroundings, great neighborhood and places to explore. Yolie really went above and beyond to make sure I had everything I needed. Very welcoming and great communication throughout my stay. I hope to return very soon!
Rhonda
2016-12-08T00:00:00Z
great, peaceful place to stay for a brief or extended trip!
Kevin
2017-01-24T00:00:00Z
Тип размещения
Дом/квартира целиком
---
Тип жилья
Дом
---
Вмещает гостей
2
---
Спален
Ньютаун, Коннектикут, США
You will be in a two room suite, with private entrance, on a magnificent property with 40 acres of open space and a trout stream. Hike or just relax around the seasonal pool. Close to I84, about 75 minutes from NYC.
Room with private entrance and full bath. The mill, surrounded by 30 acres of open space is only 1.25 hours from NYC. It's a great place for a relaxing getaway. Enjoy the seasonal swimming pool, patio, cable, WiFi internet and close proximity to Fairfield/Litchfield County attractions. As we are in the country, you will need a car. Some guests from NYC take Metro North to Danbury on the New Haven Line or Southeast on the Harlem Line and have Enterprise Car Rental meet them. The mill is well situated for day trips to state parks, museums in Hartford and New Haven and several wineries on the CT Wine Trail. Sorry, no smoking or pets.
A wonderfull two day stay at Dons lovely place. He is a kind and generous man, sincerely interested in making the stay perfect. Great area, beautiful nature. Nice pool og great rooms. Highly recommended!
Janne
2016-07-11T00:00:00Z
My husband and I had a blissful stay at Don's home. The entire place was beautiful, inside and out, with touches of artistry everywhere. Our room was perfect, the bed truly comfortable, the breakfast coffee & cake delicious, and the views gorgeous. Why would anyone stay at a hotel when you can be here? Don is a warm and gracious host, and his cat Chyna will melt your heart. Nature enthusiasts will love the rambling stream, amazing landscape, rock walls and little patios around Don's property, as well as "Shakespeare's Garden" up the road just a bit. A bit of heaven...!
Patrice
2013-10-28T00:00:00Z
This place is SO magical and Don is so welcoming. He has put in so much work to the place, it was amazing to hear his story and the story behind the mill. So much to explore, my girlfriend and I's only downfall was that we didn't stay longer! Don is a great guy, very down to earth and professional yet friendly. I highly recommend staying here, I also recommend making the trip JUST to stay here (which we might do again!).
Chris
2012-07-29T00:00:00Z
Beautiful property and a beautiful room! Wish we had more time to explore all the property. Our only complaint is that we came too late in the year to be able to sleep with the windows open to enjoy the fresh air.
Michael
2012-11-24T00:00:00Z
We absolutely loved our long weekend at The Mill. Don is a gracious host. Beautiful home and grounds that felt remote yet are close to the interstate. The trail behind The Mill is wonderful, a treat to explore. The area is full of great restaurants and shops too. We would love to return for another relaxing visit.
Laura
2014-07-29T00:00:00Z
Don was a perfect host and set the bar pretty high on our first experience with airbnb. The grounds were absolutely beautiful! In the mornings we would sit and enjoy coffee, scones and banana nut bread, provided by Don, while enjoying the view of the grounds, pool, and could listen to the sounds of the trout stream. Lovely time, would love to go back!
Christal
2015-09-03T00:00:00Z
We stayed for 2 nights in the 200 year old mill. Don was a great host and we enjoyed a relaxing time with very restful nights. Don had thought of everything. From a corkscrew to muffins and fruit were all there. The beautiful surroundings are relaxing completely.
Laura
2013-09-11T00:00:00Z
Perfect spot! Really gorgeous grounds and lovely, private rooms. Dan was a wonderful and welcoming host. It was a terrific week. Thank you so much!
Daisy
2016-07-31T00:00:00Z
Тип размещения
Отдельная комната
---
Тип жилья
Дом
---
Вмещает гостей
2
---
Спален
Ньютаун, Коннектикут, США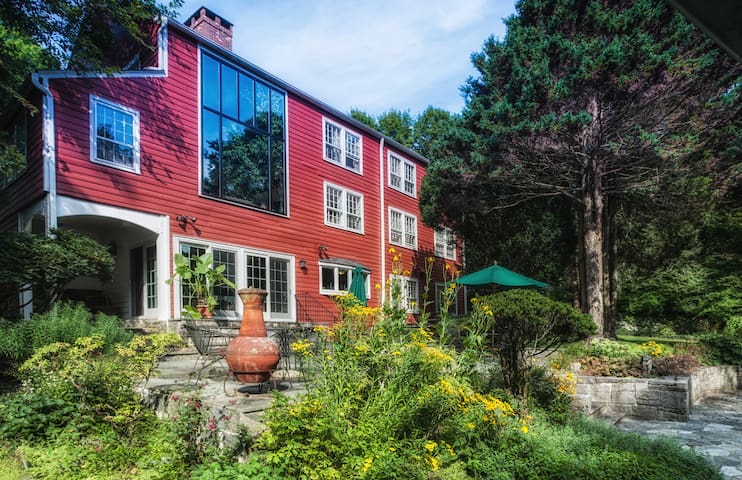 A truly unique house, located just 1.5 hours from NYC, features fireplaces, a ping pong table, and indoor lounge areas. The house sits on a 50 acre property with a brook, wooded trails, and plenty of nearby activities. Perfect for a relaxing trip!
The house features 5 bedrooms, 4 full and 3 half baths. The large kitchen is fully equipped with plates, pots, and utensils and has a large island with stools, great for cooking with a group. There are three separate terraces for hanging out in small groups, an entertainment room with a large TV, and a full-size ping pong table for indoor entertainment. Guests need to provide their own towels (indoor and outdoor if needed), sheets, and pillow cases. Pillows and comforters w/ covers or blankets for each bed are provided. In addition, the following amenities are included: *Kitchen with the essentials, a stove, refrigerator, and microwave *Wifi & Smart TV *Indoor fireplaces *Large charcoal grill and ample outdoor seating *Outdoor games, croquet set, and board games *A/C, heating, doorbell and dimmable lights *Washer / dryer *Hangers and closet space
The house is surrounded by a beautifully wooded area, a brook, historic dirt road, as well as lake Lillinonah. There are nearby walking trails and always a sense of serenity. If you'd like to take a break from relaxing, there are some great places to eat, a winery, mini-golf, theater, and plenty of shopping and entertainment within a 10-20 minute drive. Check out the Guidebook / Map for a few of my favorite places.
Isabelle was very accommodating throughout the entire experience. The house was exactly as described and very spacious - accommodating large groups. Beyond the house, the property was amazing! We took runs, visits to the creek - amazing. The neighbors were also pleasant and friendly.
Alexis
2016-02-21T00:00:00Z
Our stay at Isabelle's house was wonderful! The house could comfortably accommodate our group of nine (with more room to spare), and was a beautiful location for a weekend away. So happy to have been able to stay in the home, and it was a pleasure working with Isabelle to secure it!
Kate
2015-07-26T00:00:00Z
If I could give this listing & my experience at this house more than 5 stars, I absolutely would! Isabelle was a pleasure to work with - a great communicator and very flexible with our needs. The house itself was spacious, clean, comfortable and had everything we needed (outdoor grill, firepit, great kitchen, huge outdoor space, access to short hikes, ping pong table, outdoor sports equipment, board games, smartTV, and a lot more)! Supermarket was easily accessible, kitchen was well stocked, and there was plenty of space for everyone to sleep comfortably. Overall, the other reviewers are right, the pictures do not do this place justice! It's a beautiful home and I would happily come back anytime.
James
2016-05-31T00:00:00Z
The Unique Woodland Retreat was absolutely fabulous! We were looking for a location that was central to Boston, NYC, Philly and DC to accommodate a group of high school friends and their families. 1. The rooms were spacious and comfortable with plenty of bathrooms for our group. 2. The backyard was a perfect space for the kids to run around and explore the brook at the bottom of the hill as a nature walk. 3. The downstairs kitchen/living room and upstairs living are were great spaces to engage with the entire group while cooking and upstairs after the kids went to bed. Isabelle was extremely hospitable, accommodating, and gracious in advance of the stay to ensure that we had everything that we needed for our stay. The directions were clear and the property was even more impressive than the listing. I would highly recommend the property and her as a host! Thank you for a great visit to Newtown! Best, Max
Max
2015-08-30T00:00:00Z
Fantastic house! Everything was very clean, the wifi worked very well, and there were plenty of dishes to use. Lots of space! A great place to spend a weekend away.
Meg
2016-08-21T00:00:00Z
We had a fantastic time at Isabelle's house. The place is exactly as described if not any better. Extremely spacious with a unique architecture. The house is privately located in the woods, so that we could enjoy our groups company without disturbing anyone, or being disturbed. Isabelle was super responsive and attentive before and throughout our stay. She even took the extra mile with a sweet surprise for our group. Which was highly appreciated. All in all we had a great 4th of July, and grateful to Isabelle for sharing such a beautiful place with us and airbnb community in general. Superb place, excellent host, what else can you possibly ask for?
Aykut
2015-07-05T00:00:00Z
There were 9 of us staying in the house for the weekend. The house is a wonderful size and layout for a large group of people. Every couple had its own room and bathroom with plenty of areas to lounge. The kitchen was stocked with nice pots, pans, utensils, and dishware. We ate every meal outside (also comfortably fitting 9 people) overlooking the greenery and trees, which is particularly lovely in fall. The house was extremely clean. Isabelle had good communication with us before our stay.
Zachary
2015-09-27T00:00:00Z
Stayed here for two nights with a group of friends to relax and get away. The place was perfect for us. Lots of outdoor space for games, large grill and plenty of comfortable rooms to sleep in. The house was even better than the photos. Would definitely recommend this house.
Matthew
2016-04-25T00:00:00Z
Тип размещения
Дом/квартира целиком
---
Тип жилья
Дом
---
Вмещает гостей
12
---
Спален
Ньютаун, Коннектикут, США
Country setting with an immediate feeling of peace when you arrive. Tranquil environment, nature, southern exposure. Nearby lakes, hiking +++ Explore Fairfield county... Transportation close by train & bus 20 minutes, I-84 5 minutes.
Charming 1930's cape nestled deep in the woods. Writers, artists, health and wellness oriented people gravitate here and enjoy the feeling of being tucked away surrounded by nature. If you enjoy privacy, organic gardening, and are looking to kick back than this is the place for you. Listen to the owls, walk to the lakes, dozens of hiking trails, or curl up and read your favorite book. There is a large vaulted studio bedroom that is light and bright. Your own full private bath with a shower. There is a dorm size refrigerator, microwave & table in your room. A memorable stay, as you enjoy the views looking out the window or sitting on your private upper deck. Great spot for a workshop inside or out. Amenities: -Coffee maker, dishes, flatware, utensils. -Mini-fridge -Towels and soap --WiFi -Lots of interesting books Other things to know: There is no kitchen Quiet contemplative - not a party environment 2 people maximum (one double bed) As to children --- there is only the one bed No smoking No pets Plenty of space for parking Area includes hiking, horseback riding, shopping, summer theater. The center of town offers coffee shops, grocery stores, a $2 movie theater,summer theater, library and restaurants... Newtown is located about 75 minutes from Manhattan, one hour from Bradley International Airport near Hartford and about 2.5 hours from Boston. Train stations Metro North in nearby towns, 1 Hour drive to New York. Gardens, pathways We are active outside in the garden, when it is warm. We honor people's privacy. Deer, turkey, rabbit, hawks, lakes, hiking trails, close proximity to center of town, quick access to I-84..... Nearby: There is a train station in Bethel, Danbury, Fairfield, Westport, CT & Brewster, NY. Bonanza Bus is in Southbury and Danbury, CT.
Deer, turkey, rabbit, hawks, lakes, hiking trails, close proximity to center of town, quick access to I-84.....
I stayed at The Vineyard for a month while completing an internship. John and Cindy made me feel right at home and were two of the nicest people I've ever met. I loved the fact that the house is set back into the woods and had a lot of privacy. They are located only a few minutes from town and it is a perfect place to stay if you're in the area. I would definitely stay here again!
Alyssa
2014-11-12T00:00:00Z
Cindy and John were welcoming, pleasant, and hospitable during my entire 3 month stay at their home. They were tremendously accommodating and made me feel 100% comfortable during my stay. They did a great job of respecting my privacy and making me feel welcome. The room was a good size and I had plenty of drawer space, as well as a large closet. The bed was very comfortable and the porch was a great place to sit and relax. Cindy and John provided me veggies from their garden and washed my sheets once a week. I would highly recommend spending time at the Vineyard.
Andrew
2015-08-14T00:00:00Z
Cindy was a wonderful host! She made me feel completely welcome in her home from the moment I arrived. She provided me with plenty of information about the area including restaurants, hiking trails, lakes, and how to get on the commuter rail to NYC. The space is also great. Just what I was looking for while I travel for work. Cindy's home is secluded yet conveniently close to many stores restaurants and the interstate. It was very peaceful there, the only sounds were from the birds in the woods around her house. Cindy also shared some of the delicious vegetables from her garden with me!
Michael
2015-10-05T00:00:00Z
Cindy was very thoughtful and considerate. Room and bath were very clean and very quiet. Could not have been a nicer stay.
dave
2016-02-29T00:00:00Z
Cindy was a gracious host with a lovely home.
Debi
2016-04-24T00:00:00Z
Our hosts were very friendly and welcoming. Their home is pleasant and this was our very first time to stay in a B&B. We liked having a private entrance and bath and it was very quiet where they live. We weren't quite sure what to expect but were surprised that no cleaning was done in the 16 days we stayed. The sheets were never changed and towels were only changed once. Garbage was removed twice but only the larger bag that we had brought in due to filling up the small receptacle. We used the mugs that were provided the first few nights we were there and left them out hoping they would be taken and washed. We usually brought in disposable cups, hence the extra garbage, but finally ended up washing the mugs in the bathroom sink with shampoo. Again, lovely people but we are accustomed to much cleaner standards. We were sad because we thought we had found a permanent place to stay while up in the area 3 times a year.
Sylvia
2014-11-28T00:00:00Z
Staying with Cindy and John was one of the highlights of my two month stay in Connecticut. They are incredibly welcoming and thoughtful, and I am so glad to have met them. The space is really comfortable and the private back entrance is incredibly convenient. The area is pretty with lots of wooded areas, hiking trails, and lots of lakes to picnic by. Cindy and John also have a wonderful organic garden around their home, and roaming/snacking on the garden's produce was really fun. I would highly recommend staying at "The Vineyard" -- I couldn't have asked for anything better for my stay!
Soumya
2016-08-06T00:00:00Z
Cindy was outside in her garden as we arrived, welcoming us even though we were early. After we brought our suitcases to our room, she very graciously showed us around her several gardens. We had a very nice experience trading organic garden tips and viewing the bird she has nesting in her rhododendron bush. This location was convenient for the wedding we went to at Candlewood Lake.
Kathy
2016-05-24T00:00:00Z
Тип размещения
Отдельная комната
---
Тип жилья
Дом
---
Вмещает гостей
2
---
Спален
Ньютаун, Коннектикут, США
The cottage is private, quiet w/ its own driveway. Very light and bright facing south with huge windows looking out over the terrace, pool, and CT hills. There's a large bedroom with king bed, and the rest is open and cozy. Wildlife always in view!
Pool- The pool is open from Memorial day weekend through the end of August, and there is a heater for cooler mornings or evenings.
The cottage is every bit as good as described by the other reviews. The surrounding was scenic and quiet, with plenty of sunshine and wildlife. Yet the cottage is also within a reasonable distance from a major highway, which means we were able to get to restaurants, shopping malls, and pretty much anything we needed within a 10 minute drive. The inside of the cottage was spacious, thoughtfully arranged, and well-stocked with goodies left by the host. In short, the cottage was just perfect.
Oscar
2016-03-07T00:00:00Z
Ginny is the sweetest lady you'll meet! Her house is the perfect little getaway from the city and she went above and beyond to make us feel right at home. The property is amazing and not only would I recommend it, but I would definitely go back! Thanks again Ginny!
Rick
2015-10-26T00:00:00Z
Ginny has a beautiful property! The pool was great and the house was perfect for a weekend getaway. We were only a 10 minute drive away from anything we needed. I look forward to booking with Ginny again.
Michael
2015-07-05T00:00:00Z
Where can i start? The host was sooo sweet and kind. She was very welcoming and had the entire cottage set up for us for when we arrived. Everything was perfect just as described. Me and my fiance were hoping on having a quiet/peaceful getaway and we did. We got to enjoy the heated pool, cooked some burgers on the grill and even enjoyed a nice bottle of wine that was left for us by the host wich made it all more special. Truly a place we will be gladly to come back to and have many more getaways. So that we can enjoy more of the area around this beautiful cottage that felt like home.
Alan
2015-05-25T00:00:00Z
This was an excellent place to stay. I give it my highest recommendation. It had everything I need and want in a place. It was very clean and beautiful. Ginny was a very gracious host and made sure that I had everything that I needed.
Eric
2015-06-18T00:00:00Z
Overall just wow. Ginny is a warm and lovely host who communicated throughout including specifics on how to arrive, find the correct drive way (its a bit tucked away) etc. Upon arrival we were blown away by the lush greenery. Soon after we were met by Ginny who walked us through how to work the water heater for the pool and the house ac's and then she just left us to enjoy on our own. The house itself is immaculate & beautifully decorated with an attention to detail that is beyond thoughtful. The kitchen has every possible tool for cooking, the bathroom had toiletries etc. - there was nothing we could think of that we could need. We were blessed with 80+ degree weather and spent most of the time in the pool which is simply divine, floating on our backs and listening to the birds was a huge highlight. Ginny, thank you for the wonderful experience and we hope to be back soon!
Katherine
2016-05-31T00:00:00Z
Тип размещения
Дом/квартира целиком
---
Тип жилья
Дом
---
Вмещает гостей
2
---
Спален
Ньютаун, Коннектикут, США
My place is close to great views. You'll love my place because of the outdoors space and the ambiance. My place is good for couples, solo adventurers, families (with kids), and big groups.
The house is lively and the property is amazing. For groceries pass by carluzzi's in downtown sandy hook.
Liz
2017-01-01T00:00:00Z
Really comfortable house on an amazing property! Beds were really comfortable, slept well. Morgen made sure we had everything we needed. Would definitely come back!
Alan
2016-10-16T00:00:00Z
Charming and relaxing. We enjoyed the peace and quiet and walking the extensive trails.
Nancy
2016-11-26T00:00:00Z
The Farm is an outstanding location. Landscape and trail are remarkable and the house is very charming. This time of the year is the perfect time to enjoy the colours and sents of autumn....
Christian
2016-10-24T00:00:00Z
Тип размещения
Дом/квартира целиком
---
Тип жилья
Дом
---
Вмещает гостей
6
---
Спален
Ньютаун, Коннектикут, США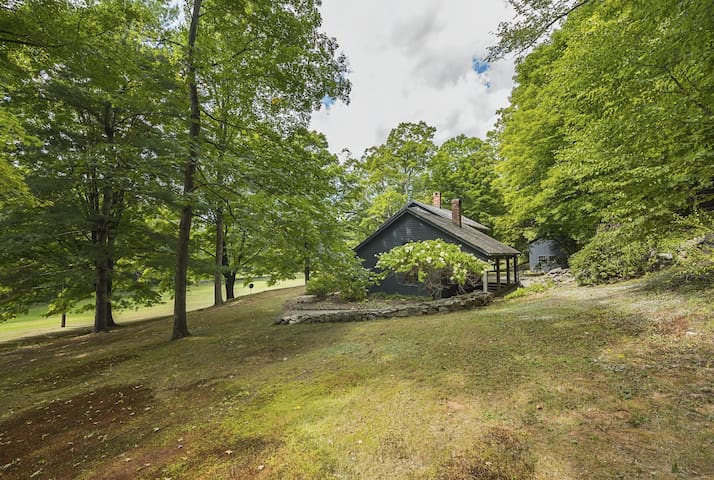 Введите даты, чтобы увидеть полную цену без учета дополнительных сборов и налогов.