Введите даты, чтобы увидеть полную цену без учета дополнительных сборов и налогов.
Αυτή ήταν η αρχική θέση του Homestead Murdock Ranch. Έχουμε κάνει πρόσφατα μια πλήρη αναδιαμορφώνει της καμπίνας μας! Είναι άνετο, διαθέτει τζάκι, και μια υπέροχη θέα στην κοιλάδα και το κόκκινο αχυρώνα μας! Έχουμε όλα τα νέα στρώματα.
Αυτό είναι ένα αγροτικό χώρο get-a-τρόπο σε 3 γενιάς εργασίας Μοντάνα ράντσο. Καταπληκτικές ευκαιρίες βλέπουν την άγρια ζωή και το ηλιοβασίλεμα που κόβει την ανάσα! Ελέγξτε μας σε απευθείας σύνδεση για περισσότερες πληροφορίες. Πλήρης πρόσβαση, 2 υπνοδωμάτια με κουκέτες, καινούργια στρώματα, ολοκαίνουργιο μπάνιο, μεγάλο ενιαίο χώρο σαλόνι / κουζίνα με τζάκι. Πλήρης ρούχων. Είμαστε απασχολημένοι στο ράντσο, αλλά θα είναι διαθέσιμη για να σας πάρει εγκαταστάθηκαν σε και θα απαντήσει σε ερωτήσεις το συντομότερο δυνατό. Φέρτε δικά σας τρόφιμα και πόσιμο νερό. Το νερό είναι πόσιμο, αλλά σας συνιστούμε να χρησιμοποιείτε μόνο το ντους / μαγειρέματος όπως είναι αλκαλικό και οι περισσότεροι άνθρωποι δεν χρησιμοποιούνται για τη γεύση.
Διαθέτουμε ένα 20k στρεμμάτων ράντσο. Μπορείτε να μάθετε περισσότερα για μας online! Θερμές πηγές, τα μπαρ, τα εθνικά πάρκα, μουσείο δεινοσαύρων, αρκετά κοντά για μια ημερήσια εκδρομή στο Val Marie, Saskatchewan, Καναδάς. Η Murdock Ranch είναι έξω από την πόλη με πινακίδες. Μόνο pickups να οδηγήσετε γύρω από το ακίνητο. Είμαστε μια πραγματική ρουστίκ τοποθεσία get-a-τρόπο. Δεν υπηρεσία κυττάρων στο σπίτι, αλλά η Verizon 3G σε κεντρικό δρόμο πάνω από το σπίτι. Τηλέφωνο στο σπίτι για να μας χτυπήσει.
The host canceled this reservation 2 days before arrival. This is an automated posting.
Aaron En Trienke
July 2016
The cabin, the ranch, the wonderful vistas, the quiet, the birds and wildlife, Brenda and Clay all combined to make this a very unique and satisfying experience. We absolutely loved it. As advertised, I had no (AT&T) cell service once I got close and onto the ranch, it's a little tricky locating the cabin on such a large property, and they are working the ranch and have similar cell challenges, so it's important to line up a rendezvous time and place well before you arrive. Again, we love this place and hope to get back again!
Bill
July 2016
This cabin was perfect for our stay. We had everything we needed. It was very clean.
Korrin
January 2016
The Murdock ranch cabin is in a remote canyon 15 miles in on a gravel road. My gps led me to the ranch houses but Bill Murdock jumped on his truck and led us to the spacious and well equipped cabin in a tranquil be remote setting for a real experience of life on a working ranch. There is a landline phone but no fell reception or any electronic entertainment to mar the peaceful setting and beautiful. View. We walked around the valley and surrounding bluffs for hours taking photos. The cabin was well stocked with food. Our host even provided some of their beef for a cookout, everything was clean and tidy. The murdocls were so friendly and helpful I had to take a photo with them before I left... Feels like I have new family in Montana!
Star
June 2016
Тип размещения
Дом/квартира целиком
---
Тип жилья
Бунгало
---
Вмещает гостей
6
---
Спален
2
Malta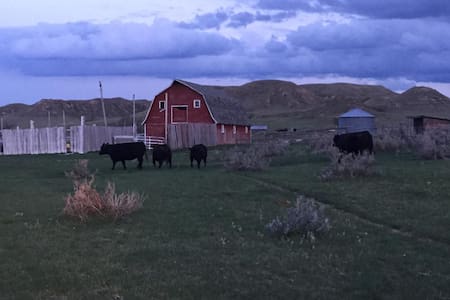 In our comfortable and new Two-story penthouse with 2 bedrooms and terrace and 3 balconies.You will feel the comfort and relaxation.4 min.from the sandy beach and 10 Sliema.
This cozy air conditioned. Panoramnye windows in the living room.Open large terrace with sea views and outdoor furniture to enjoy the view in the (website hidden) is located in an area BALLUTA. Bank,pharmacy,grocery stores,restaurants and cafes are just a short(5 min.walk) In apartments have adapters.Linens is included.Tea and coffee waiting for you.Everything you need for kitchen and cooking food.A new apartment. I really appreciate your feedback and suggestions.I will try to take into account your wishes.Transfers can be arranged, as well as excursions to Malta and Sicily.Any help please tell me.On the waterfront,which stretches from Paceville to Valletta is a great place for a long leisurely walk,with stops along the way for drinks,snacks,restaurants and playgrounds for (website hidden) enjoy the lovely views of the surrounding people and smiles. Online only
Most nicest area of Malta yes
Great as mentioned in last review
Nikki / Sammy
October 2015
Тип размещения
Дом/квартира целиком
---
Тип жилья
Квартира
---
Вмещает гостей
5
---
Спален
2
Saint Julian's