We think that it was our very best air BnB! We had a whole Home and Jonathan was there when we needed him. You have everything you need, and much space! We like to stay in the country side, no worries about where to Park the car and fast to get anywhere. We visited Cape cod from here and it was a good starting point! Jonathans place is great!
Cornelia
2014-10-07T00:00:00Z
Mary and Jonathan's place is cute, cozy and super clean. This place is like brand new, actually it still smells like brand new. You feel like you're far away from everything, but in a 5 minutes drive you can be with all the tourists of Plymouth, shopping, eating and etc. The area is so beautiful, we wish we had more time to spend there.
Antonella
2014-07-21T00:00:00Z
The apartment was very clean and comfortable and had everything we needed. It was easy to get to-right off the expressway yet once we were there it was very quiet and peaceful.
Kelly
2015-07-24T00:00:00Z
We had informed our hosts by email that we would be arriving late and they said that was not a problem and told us where to find the key. When we got there the light was on on the porch. When we entered we found a welcome note and homemade cookies on the counter. The accommodations surpassed our expectations. Complete privacy in a beautifully appointed and well furnished house. The bed was very comfortable, the rooms large, and the kitchen was well equipped with all appliances. The host, Jonathan Wilber, was kind, knowledgeable and available to us whenever we needed him. We will absolutely request a return stay the next time we are in the area.
Geoffrey
2015-05-20T00:00:00Z
This was such a great and secluded location. The hosts were nice and they even left us a delicious blueberry bread treat. The only slight negative was that the mattress was a bit stiffer than I'm used to, but don't let that stop you.
Steve
2014-07-13T00:00:00Z
Jonathan's place was just what we wanted. Lovely place. Clean and nice amount of space, comfortable bed. The apartment is very privately located next to his house. Good location between White Horse Beach and the town. Kitchen was equipped with what we needed but he probably should get some nutcrackers for those of us who want to make a lobster dinner! Some delicious zucchini bread was waiting for us when we arrived. He was available for any questions we had. We would definitely return to this apartment when we're in the area again.
Carla
2014-08-07T00:00:00Z
It was very easy to settle in and feel comfortable. The apartment was fantastic with great appliances and for people on the move the washer and drier were very welcome. The situation is great being close to Cape Cod and Boston and of course Plymouth with all its history. Didn't get a chance to talk to Mary but my conversation with Jonathan made us feel very comfortable. What more can be said, excellent accommodation, location perfect and a place we would highly recommend to anyone planning a trip to the area.
Brian
2015-10-07T00:00:00Z
We found the place just as described - welcoming and clean. The homemade chocolate zucchini bread left by the Wilson's was great. Not only was the location quiet and relaxing, but the apartment was nice and comfortable. We are definitely coming back again.
Ryan W.
2014-09-11T00:00:00Z
Тип размещения
Дом/квартира целиком
---
Тип жилья
Квартира
---
Вмещает гостей
3
---
Спален
Плимут, Массачусетс, США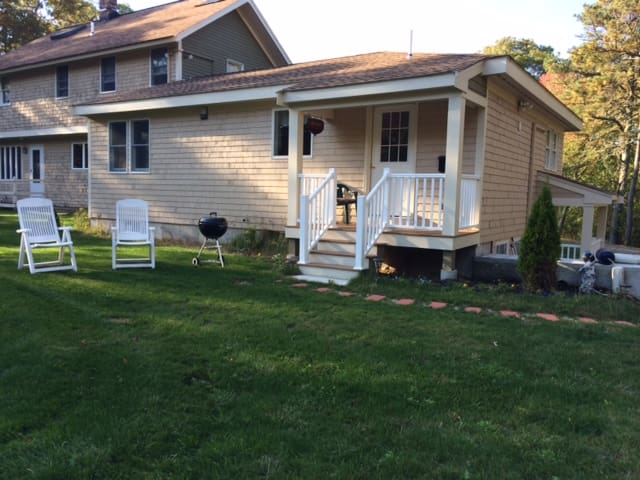 Nuestro lugar está situado en una calle tranquila, a dos minutos a pie de la playa ya 10 minutos en coche del centro de Plymouth, MA. Manomet playa es semi-privada, no un montón de multitudes como otras playas del Cabo, con grandes pisos en almejas, castillos de arena, pesca, etc .... Nuestros padres crecieron veraneo aquí, que creció veraneo aquí, nuestros hijos están creciendo veraneo aquí, es un pequeño lugar perfecto. Si quieres un lugar de vacaciones loca, sigue buscando; si quieres un lugar de reunión de verano frío, comprobar que funciona.
We had a great experience. The house is a nice older cottage. Lots of linens and towels available. Kitchen is fully stocked and gas and charcoal grill are available.
Andrew
2016-09-19T00:00:00Z
The house was as described nearby the beach on a quiet road. It is a hidden gem. We appreciated the home like atmosphere, cleanliness of the house, and all the amenities provided. The comfortable home setting inside and out made for a relaxing long weekend. We could live on the porch. John was very helpful and available if needed. The kids loved the beach and the house as well. We would love to stay again!
Katie
2016-06-20T00:00:00Z
We had an incredible time at John's home. We fell in love with the peaceful and scenic area. He was very detailed with the arrangement and how to enter and leave the house. So grateful that he allowed us to stay for a week and a half. The home has everything you need and I'd highly recommend staying.
Colton
2016-10-11T00:00:00Z
Тип размещения
Дом/квартира целиком
---
Тип жилья
Квартира
---
Вмещает гостей
8
---
Спален
Плимут, Массачусетс, США
Nur 200 Schritte zum White Horse Beach
Hell, sauber, sonnig moderne nautische Einstellung mit offener Küche / Wohnraum mit einer Theke getrennt für 6. Küche hat Edelstahl Geräte und Granit. Wohnfläche hat graues Ledercouch und Sofa. nautischen Königin Schlafzimmer verfügt über ein Badezimmer von ihm weg. Das zweite Bad ist neben der Küche, unten einen Flur. Das zweite Schlafzimmer hat voll / Twin Bett. Holzfußböden. Klimaanlage. Privatterrasse. 200 Stufen White Horse Beach zu sandig.
Historische Innenstadt Plymouth 15 Minuten entfernt. Besuchen Sie die Mayflower, Plymouth Rock und Pilgrim Plantation. Regal Theater 15 Minuten entfernt. Bauern-Markt jeden Donnerstag. Viele Restaurants und Einkaufszentren Minuten entfernt.
We are a family with 3 boys (13, 11, 10) traveling through the us during our summer break, We decided last minute to rent a house instead of the hotel we originally booked. This worked out great. Deborah reacted directly to our request and convinced us to come! We arrived around 6 pm and Deborah was around to great us. The house was exactly what we expected. Minor point is the bathroom can only be reached from the master bedroom for us as a family no big deal. The kitchen was fully equipped and the patio has a good grill. Best of all was the beach in front across the street. We even had a campfire and marshmallows. A trip to the cape or to Plymouth whale watching is also possible from the location. We really enjoyed our 3 days stay and would have loved to stay longer, but NYC is our next stop.
Jaap
2015-07-29T00:00:00Z
Deborah ist eine sehr sympathische, freundliche und hilfsbereite Gastgeberin. Die Wohnung ist gemütlich und perfekt gelegen. Der wunderschöne Strand ist nur über die Straße!! Alles war perfekt!
Claudine
2016-08-05T00:00:00Z
This house was closer to the beach than I even imagined! Right across a small street. It only took us 2 minutes to get from the house to the beach, so we found ourselves coming and going and enjoying one of the hottest days of the year in the breeze and sand. So nice to have a patio and grill to use, as well as some firewood to make a fire on the beach. Deborah and family were very accommodating and generous with their space. Would definitely stay again.
Daniel
2016-07-19T00:00:00Z
The place: This AirBnB was the perfect vacation spot for our family of 5. The flat is spacious, well-lit and beautifully decorated. There was A/C, but we preferred the refreshing breeze from the sea we got through the windows. The mattresses are very comfortable, and it was a pleasure to cook alternatively on the gaz stove or the barbecue on the private outdoor patio. One thing to be aware of: the bathroom is ensuite to the master's bedroom. The surroundings: Across the street is the warm, white sand of White Horse Beach. Access is 1 min walk though a nearby boardwalk. The sunsets while on the beach were amazing! Groceries and other stores are only a few minutes drive away. The host: Deborah was very welcoming and always available if we needed anything. We even got fresh tomatoes from her garden!
Julien
2015-08-09T00:00:00Z
Un endroit très agréable, très proche de la mer ( juste une route à traverser) et un appartement très propre. Déborah et son mari sont des gens charmants et très attentionnés. L'appartement est tout à fait conforme à sa description et offre tout le confort nécessaire ! Nous recommandons vivement cette adresse !
Line
2015-08-19T00:00:00Z
The place is exactly as described and shown. It is in a great location, right across from the beach - the place was very clean and had everything we could possibly need. Deborah was great about the check-in and check-out process and was very friendly if we needed anything or had any questions. We would definitely stay again if we are in the area!
Stephanie
2016-09-05T00:00:00Z
Great house, very clean. Good for a small family. Only suggestion would be to leave recommendations for local restaurants and attractions.
Sarah
2016-07-11T00:00:00Z
Les photographies sur le site de AIRBNB sont représentatives de la maison. La maison est propre et très bien située près de la plage. Deborah a été une hôte très attentionnée, et a répondu à nos besoin au delà de nos attentes. La maison est bien équipée. Je la recommande fortement.
Alain
2016-07-31T00:00:00Z
Тип размещения
Дом/квартира целиком
---
Тип жилья
Квартира
---
Вмещает гостей
5
---
Спален
Плимут, Массачусетс, США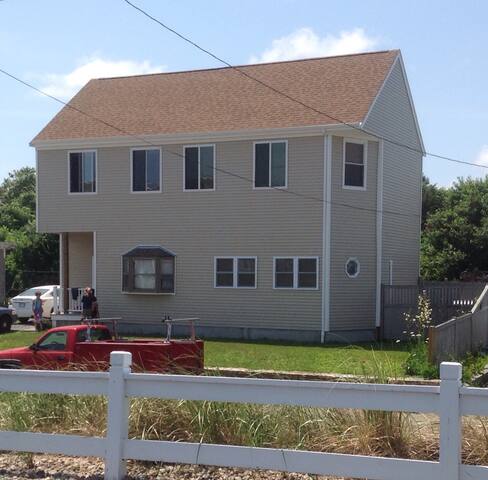 Privatwohnung mit Blick auf Cape Cod. Sie können jede Stadt am Kap aus dem Küchenfenster zu sehen. Glühwürmchen und Sterne leuchten in der Nacht auf und Dichtungen begrüßen Sie am Strand. Das Haus ist eine kurze Fahrt zum White Horse und Plymouth Beach. Ich verbrachte meine Sommer in diesem Haus lobstering als Kind und jetzt meine Kinder kommen zurück von der Hochschule, wenn sie eine Pause vom Leben brauchen. Wenn Sie für eine echte Cape Cod Erlebnis suchen, wollen aber nicht mit dem Verkehr von der Brücke zu tun, ist dies Ihr Platz.
Wenn Sie sich entspannen suchen, ein gutes Buch zu genießen und die Kultur dieser historischen Spaß Stadt umarmen dann dies der richtige Ort ist. Sie haben einen eigenen Eingang und Zugang zum Hof und einen privaten Balkon.
Es ist eine ruhige Gegend mit einem schönen Wanderweg.
The house has an amazing ocean view and the fireplace is great. We really enjoyed our time there. But we must add to that the house is a bit rusty and everything was not super clean and cosy to our taste. In the beginning we did not have everything we needed but Nicole was very fast and helpfull. We had everything we needed that same day. Thanks a lot. Despite our complains we think it is a beautiful spot. With a little work this will be a great airbnb.
Nienke
2016-10-19T00:00:00Z
Nicole's place is absolutely spectacular. Fantastic views over the ocean, and steps away from a private beach. Lovely large veranda, kitchen and living room. Would stay here again in a heartbeat - thanks for having us!
Tom
2016-09-11T00:00:00Z
This has probably been our favorite place to stay so far. The place is quiet and comfortable and had everything we needed. Beautiful bay view. The even left cookie dough, milk, goldfish, orange juice and bottled water which we were insanely thankful since we arrived about 6pm Thanksgiving day totally forgetting that grocery stores and restaurants would be closed. Cookies and milk were perfect until morning. There is a little grocery store only 3 miles up the road. Bed was comfortable sheets were super soft. Pillows were fluffy. Great nights sleep. We would recommend this to our friends and family, and would book it again!
James
2016-11-27T00:00:00Z
un sitio encantador; unas vistan increibles, unos anfitriones entregados que nos han facilitado la estancia y regalado momentos inolvidables! gracias Nicole and family!
Susana
2016-08-29T00:00:00Z
Overall we had a great experience. Nicole was lovely and it had an easy check in. The morning sunrises were magical on the water.
Mayuri J. B.
2016-09-25T00:00:00Z
Nicole's place is great! It was comfortable, easy to find and had an amazing view of Cape Cod Bay! I highly recommend it for anyone looking for a beautiful get away!!
Kevin
2016-10-11T00:00:00Z
Тип размещения
Дом/квартира целиком
---
Тип жилья
Квартира
---
Вмещает гостей
4
---
Спален
Плимут, Массачусетс, США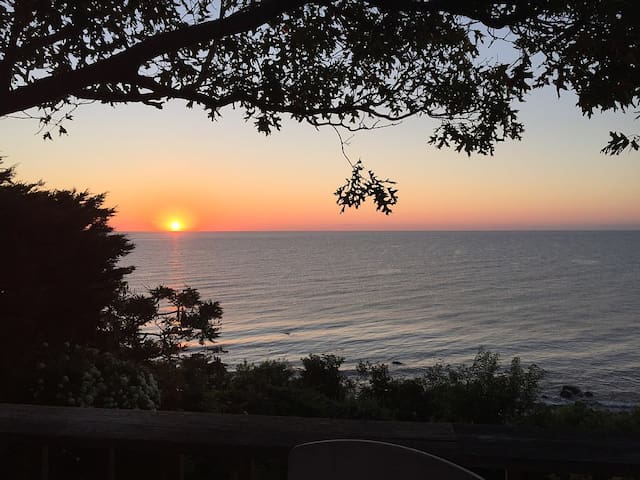 Плимут - Airbnb
:
В среднем,

4.95

из

5

звезд на основании

110

отзывов гостей
1

–

4

из

4 квартиры в аренду
Введите даты, чтобы увидеть полную цену без учета дополнительных сборов и налогов.