Наши места в нескольких кварталах от Эйфелевой башни, рядом с "Рю дю коммерции". Это идеальное место для объединения и посещения и покупок в захватывающий город Париж. Ощущаете себя настоящим парижанин в семье, как 15-м округе.
Квартиры одна спальня, отдельная кухня и ванная комната (24м2). Смотря на Эйфелеву башню, искрящуюся в ночь с вашей кровати является уникальным опытом. Отель идеально расположен для посетителей, которые хотят ощущать себя парижанин. Здание типично парижский стиль с 1930 и был построен моим отцом великого великого. Мы просто любим это место и ходить по магазинам вокруг.
Пятнадцатый округ оживленный район, очень семья, которая сочетает в себе все парижане поколения. В нескольких шагах от Эйфелевой башни и Марсова, он обслуживается тремя линиями метро, сходящихся на станции Ла Мот Пике Гренель, где проходит рынок по средам и воскресеньям с 7 утра до 15 часов. Торговая улица является идеальным местом покупок на любой вкус: большие имена и типичные трейдеры следуют друг за другом. Новый Beaugrenelle торговый центр также находится недалеко от идти к Сене.
This apartment is typically Parisian with a small balcony and the wonderful view of the Eiffel Tower - especially when it sparkles at night. It is exactly as it appears on the website and is immaculate. It is in a great location - there is a nice street and square nearby. It is also very close to a few Metro stations and only a few minutes walk from the Eiffel Tower. We had a wonderful stay.
Louise
2016-01-28T00:00:00Z
This was our first time visiting Paris and this condo was the perfect home base for our vacation. Oanh and Antony were absolutely fantastic hosts who made sure that we had everything we needed, while also providing a clean and safe place to call home. They were also quick to answer any questions that we had. The condo's centrally located to public transportation, which makes it easy to get anywhere in Paris. The neighborhood lets you become a Paris local during your stay. It's safe and there are plenty of excellent shops and restaurants to make your stay comfortable. This condo was just as described (if not better) and the views are even better in-person - the Eiffel Tower sparkling at night is beautiful! We have every intention of staying in this condo the next time we're in Paris.
Jason
2016-02-21T00:00:00Z
J'en ai assez des hôtels pour mes déplacement professionnels et ce studio est vraiment très très chouette. Il est beau, clair, super propre pas trop loin du métro. il y a une vrai vie de quartier avec ce qu'il faut pour se préparer un repas.
Frederic
2016-09-14T00:00:00Z
All was good and convenient facilities in the house. The house is very neat. Same as the picture posted here on Airbnb. Cosy room atmosphere. In our room we can see the Eiffel Tower. Metro is also very easy access to main Paris. Walk to Eiffel Tower Park in 10mins. We are from the Philippines this time we got to experience to be Parisian locally. Above all Oahn the owner of the condo is very kind to us. If we have chance to visit Paris, we would like to stay again. Good memories with my family. Thank you Oahn!
Fermin
2015-10-07T00:00:00Z
I absolutely loved my stay at Oanh's place!! She made me feel so welcome and was flexible with my arrival time. The view of the Eiffel Tower was amazing! The neighborhood is nice and quiet even though we were in the heart of Paris. I cannot wait to come back. Definitely recommend staying here!!!!!!
Brooke
2016-06-13T00:00:00Z
The condo was clean and comfortable. The kitchen had all the bits needed to cook and the shower was hot. A great view to the Eiffel Tower, of course. And a lovely neighbourhood with an organic bakery and organic supermarket on the same road. Very good communication from the hosts. A lovely stay.
Tim
2015-12-13T00:00:00Z
great location and apartmnet. close to all you need!
Caleb
2016-02-04T00:00:00Z
Absolutely perfect. Cozy and warm place. Clean and inviting and picture cannot capture just how romantic and powerful the view is. Close to excellent bakeries and cafes and a super cute quiet neighborhood. Oanh et Antony were very accommodating and supportive hosts. If you want to party this isn't for you. If you want a quiet, romantic trip to Paris, this may be the best deal in the city.
Chad
2015-09-21T00:00:00Z
Тип размещения
Дом/квартира целиком
---
Тип жилья
Квартира
---
Вмещает гостей
2
---
Спален
Париж, Иль-де-Франс, Франция
Студия семинара все ясно комфорт и спокойный, расположенный в самом центре болота на 3-м этаже красивого небольшого здания в XVI веке. Прекрасный маленький студия в самом центре места болотный сайта третий этаж в здании XVI прекрасной века.
Старый ювелирная мастерская небольшой мастерской студии каждый идеальный комфорт для 1 или 2 человек. Диван-кровать элитарный со своей собственной толщиной матраса 13см 140см по 200см, очень легко открываются и закрываются в одной операции. сооружения Холодильник / стекло керамическая плита / микроволновая печь / капот / кофеварка / тостер / кофеварка / фен / гладильная доска / поворотное телевизор с плоским экраном. Интернет волоконно широкополосного доступа WiFi Интернет ТВ на ТВ. компьютер пространство на кухонном столе или на диване с 2 маленькими столиками / много электрических розеток. Идеально подходит для 1 или 2 человек просто очень хороший renoved студии на третьем этаже в волшебном здании XVI века укомплектовать отремонтированной exepted во двор и по лестнице. С мебелью с очень хорошим диваном-кроватью. Оборудование. Холодильник / Микроволновая печь / керамическая плита / Интернет кабель / Кабельное телевидение / телевизор с плоским экраном. Wi-Fi / вы можете работать с ноутбуком на кухонный стол на ИК-тренера с 2 столику. Electric разработала везде и прочное соединение WiFi кабель. Фен / утюг / кофеварка / чайник / тостер / микроволновая печь / керамическая плита / холодильник Диван-кровать с высоким класса 140см по 200cm собственным матрасом 13см толщиной. Действительно легко открыть / закрыть Четкие и спокойствие в историческом квартале большим количеством жизни. Небольшой плоский 12м2 для прекрасного отдыха.
в самом центре Парижа, в историческом районе очень безопасной и очень живой. в окружении музеев кафе и ресторанов расположен между улицей и Бретани маше красные Rambuteau уличных детей и студия пользуется большим спокойствием. В самом центре Парижа удивительный небольшой квартире полный меблированный загружен. 2 минут пешком на рынок красных детей. 5mn Музей Пикассо Бобур центр. Это прекрасная кватер идеально подходит для посещения Парижа Тихий и очень безопасное место :-)
Новая и стильная квартира в самом центре Марэ. Если кого-то смущает маленькая площадь квартиры, то в Париже и номера отелей могут быть размером с купе. Квартира очень чистая после ремонта, кухня прекрасно укомплектована. Жан-замечательный отзывчивый хозяин. New and stylish apartment in a heart of Marais. It's small but very nice, clean for 2 people, kitchen is equipped very good. I'll recommend Jean's apartment to all and hope to stay there next time
Ann
2016-04-15T00:00:00Z
Nous avons passé un très agréable séjour; l'appartement de Jean est très bien situé, petit mais très fonctionnel.
martine
2016-07-31T00:00:00Z
Super séjour ! Merci Jean pour votre accueil ! Appartement très bien situé, proche de tout et tranquille ! Petit mais super fonctionnel ! Merci encore !!! On a beaucoup aimé notre séjour !
Pascale
2016-06-05T00:00:00Z
Jean's Studio is super cozy and Jean is an amazing host. I arrive early and he made the effort to have everything in place. And it was. The Studio is efficient and as everything That you will need on a trip, I even cooked dinner for a friend there. The sofa bed is really comfortable and you will be welcome with chocolate. When a booked the Studio Jean immediatly ask me about my trip, I told him about my plans and he help me in a way that I wasn't expecting. Because of That help I had one of the most amazing trip experiences of my life. I will return to Paris and hope that Jean's Studio would be available when I get there.
Mils
2016-04-30T00:00:00Z
Nuestra estancia en el apartamento fue muy agradable. Jean fue muy amable y atento con nosotros, ya que el primer día llegamos a la 1:00h de la madrugada y se encargó de dejarnos la llave del apartamento en un comercio situado a escasos metros. Además, el vuelo de vuelta era a las 22:30h y aunque el piso lo teníamos que dejar a las 13:00h, nos dejó permanecer y tener el equipaje en el apartamento hasta pocas horas antes del vuelo. El piso se corresponde totalmente con lo que se ve en las fotos, y aunque es pequeñito tuvimos lo necesario para pasar la semana que estuvimos allí. Nos sentimos muy cómodos y estuvimos tranquilos en todo momento. El barrio donde está situado el apartamento es tranquilo y bastante bien situado. Está muy cerca de restaurantes, bares, comercios, así como de sitios tan emblemáticos como el Centro Pompidou o Notre Dame. Fue un gran detalle que nada más entrar en el apartamento nos encontramos con un paquete de galletas y una botella de agua. Gracias por todo Jean! Si volvemos a París no dudaremos en ponernos en contacto contigo! Un abrazo!
Maria del Mar
2016-08-14T00:00:00Z
Jean Xavier est sympa et accueillant. J'ai bien apprécié mon séjour dans ce quartier animé. L'appartement est petit mais très bien aménagé ce qui fait qu'on s'y sent bien. Allez faire un tour au marché des enfants rouges juste à coté. C'est agréable d'y prendre un café loin du trafic, le matin quand il n'y a pas encore trop de monde.
Julien
2015-08-26T00:00:00Z
Everything was absolutely perfect. Jean is a wonderful host. The apartment is realy nice, cozy, comfortable, clean, and is in a convenient location. I liked a lot that we did not have any problems during check-in. Our flight was realy late, but Jean found a way to hand over the keys. Thank you for everything!
Ieva
2016-07-28T00:00:00Z
Had a great stay, it was really nice and clean and in a very good area. Would recommend
Jemma
2016-07-14T00:00:00Z
Тип размещения
Дом/квартира целиком
---
Тип жилья
Квартира
---
Вмещает гостей
2
---
Спален
Париж, Иль-де-Франс, Франция
Очень хорошая квартира в здании 17-го века, в нескольких шагах образуют Лувр и Опера, роскошные магазины (10 млн ходьбы от улицы Фобур Сент-Оноре), Galeries Lafayette, Printemps, множество магазинов, множество музеев, (Лувр, Бобур, Musée d ' Orsay, Quartier дю Марэ). Прекрасный старый дом на Площадь Побед, 3-й этаж, без лифта, 2 комфортабельные спальни, одна наверху небольшой, но вид невероятно на месте. Кухня, ванная комната с итальянским душем, отдельным туалетом. ТВ. Бесплатный Wi-Fi, посудомоечная машина, стиральная машина, кофеварка Nespresso, фен, утюг. В neibourgh, вы будете делать все пешком, питание Maket улице Montorgeuil, магазины De Luxe (Kenzo, Колетт, Zadig и др .... Вольтер), многие рестораны, некоторые открыты всю ночь, театры (Шатле, La Комеди Франсез). Plusieurs станции де métro Toutes .proches (Palais Royal, фондовая биржа, Les Halles). Не курить квартире. Мы будем рады приветствовать Вас, и мы постараемся, чтобы ваше пребывание unbeliavable. Скоро увидимся.....
Я люблю проводить время для чтения в середине Jardins дю Пале-Рояль 5 мин от дома. Jardins Тюильри также в прекрасном парке только возле Лувра, где это хорошо иметь напиток после долгого пребывания в музее.
We spent 4 lovely days in Paris! Marianne was the best of hostesses. She replied promtly right from the beginning and was very helpful in every possible way! She was at the appartment when we came there and made us feel very welcome. The appartment is lovely, clean and at the best location in Paris - close to everything! I can really recommend this appartment and Marianne as a hostess.
Jessica
2015-02-02T00:00:00Z
Marianne's flat was amazing. We had no idea really what to expect. She met us there and helped us get settled in with our baggage. The place was spotless and really nicely upgraded. The little things go a long way, she had fresh pastries ready for us when we arrived and coffee. We were provided all the instructions to the flat, keys, WiFi access and she answered some questions about local markets and restaurants. Not knowing what exactly what to expect, our expectations were met and exceeded. If we return to Paris, we would want to stay here again. Centrally located, we walked everywhere. Quite and safe area, we had our two kids with us.
Todd
2014-10-22T00:00:00Z
We three have been at Marianne apartment in Paris for three days. We appreciated the warmth of the welcome extended to us by Marianne; she was very very kind, available and very discrete. The apartment is central, quiete and very well equipped. We had a great experience we would like to repeat soon! Many thanks to Marianne!
Rizzardo
2014-02-14T00:00:00Z
I LOVED THIS APARTMENT! Marianne has done an excellent job furnishing a small space with very functional, modern decor that looks fantastic. There are books with tours, restaurant recommendations and just general information in the apartment, which was a nice touch. Marianne was delightful and accommodating. All good!
Sharon
2015-06-17T00:00:00Z
Marianne was an amazing host. She met us at the flat and had a bottle of wine and biscuits waiting. She was very willing to help us as needed but gave us space and privacy while there. The place is truly charming and in a fantastic location. We were walking distance close to everything and the various metro lines. The sculpture outside our window, that we affectionately referred to as our protector, served as a great landmark for us when coming "home". There were 4 of us and we made it work very well. The stairs are a killer but was not enough to deter us from feeling right at home. We all absolutely adored our home for the time we were there and would absolutely recommend it to anyone looking for a great place to stay. Thank you Marianne for having such a great place and allowing us to stay there.
Natasha
2014-09-17T00:00:00Z
We stayed here for 3 nights between Christmas and New Year. There were 2 couples and a baby. The flat was plenty big enough for the 5 of us for a short stay. The flat is in an amazing, picturesque location surrounded by shops and plenty of great bars and restaurants. It,s only a 5 min walk from several metro stops, The Louvre and Seine so couldn't be more convenient. The flat was finished to a very high standard and was exceptionally clean on arrival. The cupboards are stocked with everyhing we needed for our stay for cooking, cleaning etc. Marianne made checkin smooth and even booked our taxi for us as we deprted. She responded to all communications super quickly too. Thanks for gret sty!
Catrin
2013-12-31T00:00:00Z
The apartment is amazing!! It is a newly renovated space with beautiful interior design. Absolutely perfect for a vacation in Paris. Centrally located, close to the Louvre and other attractions. Marianne is a wonderful hostess! She was very helpful and accommodating, and above all, very friendly :) I will stay here again on my next vacation.
rita
2013-06-20T00:00:00Z
Un séjour juste parfait, l'appartement est spacieux et impeccable. En plein centre de Paris, mais pourtant très calme, nous reviendrons très certainement si l'occasion se représente.
Emilie
2014-02-17T00:00:00Z
Тип размещения
Дом/квартира целиком
---
Тип жилья
Квартира
---
Вмещает гостей
4
---
Спален
Париж, Иль-де-Франс, Франция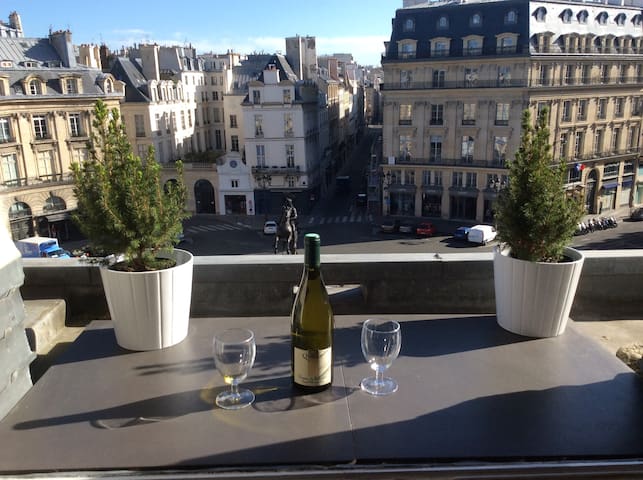 5 мин до Эйфелевой башни. Роскошные здания, крепится с помощью 2-х кодов входа и отправил мяч в сетку. 9-й этаж с лифтом. Главный Метро "Ла Мот Пике". Очень приятный район, много магазинов, ресторанов и 3-х станций метро поблизости. 2-х комнатная квартира: гостиная + спальня или 2 спальни. Оба номера на балкон с взглядом на Эйфелеву башню с постели и очень красивый восход солнца. Встроенная Площадь кухни, небольшая комната душ, туалеты. Квартира смежных владельцев одного.
Квартира находится в 9-м этаже в передней части Эйфелевой башни можно подняться на лифте. Здание обеспечено с 2 входными кодами и отправил мяч в сетку. Спальня 1 оснащен 2 односпальные кровати, которые присоединены, образуют большую двуспальную кровать, как на фото. В комнате 2 может быть использован в качестве гостиной / столовой, как на фото или оборудован 2 односпальные кровати, которые могут быть прикреплены, как для спальни 1. Обе комнаты дают на балкон. У вас есть вид на Эйфелеву башню из ваших мест с обеих комнат. Площадь кухни оснащена индукционной варочной сверху, смешанный микроволн печи и нормальным, чайником и холодильником. Предлагаются: вода, соки, чай, кафе, сухие тосты, макаронные изделия, конфеты для детей ... Небольшой номер душ. туалеты. Квартира отделена от владельцев одного.
3 станции метро рядом. Основные Метрополитены "Ла Мот Пике" и "Dupleix". Очень приятный район, много продовольственных магазинов (3 органические магазины, 3 супермаркета, 1 сыр магазин, бакалея, ...) кафе, бистро, рестораны (Басков, итальянский, корейский, японский, марокканская, ливанская, китайский, тайский, эфиопская, ...) , булочные и секторные магазины, модные магазины ( "Рю-дю-Commerce"), фармацевт и почтовое отделение. Улица ФИОЛЕТ: вы могли бы найти французские пекарни, рынок Carrefour и корейский ресторан и итальянский магазин, кафе, .... Улица Lourmel: вы могли бы найти французские пекарни, французский ресторан, японский, итальянский, libanese и FRANPRIX супермаркет .... За пределами мирного и цветного продовольственного рынка между Ла Мот Пике и станций метро Dupleix, в среду и в воскресенье утром, с большим количеством продовольственных стендов, а также сыр, цветы и т.д ... Эйфелева башня, железная башня, расположенная на Марсовом поле, был назван в честь инженера Александра Гюстава Эйфеля, который разработал его. Прекрасный "Марсово поле", перед Эйфелевой башней, наш любимый парк в Париже для прогулок, бега трусцой, пикник, детский парк, карусель, иногда катание на пони, кукольный театр в воскресенье и играть в баскетбол. Если вы любите ходить, вы должны пойти на прогулку по Сене. Вы достигнете Нотр-Дам в течение 45 минут. Или же вы можете иметь тур на Бато-Mouche (обзорная лодке) и узнать много на Париж. Очень легкий доступ к Лувру, опера, Триумфальную арку ......... а также Версаль.
La proprietaria Magda è una persona fantastica, buona e disponibile. L'appartamento è in ottimo stato, letti comodi, vista sulla Tour Eiffel imponente. Unico neo dell'appartamento è il bagno con una doccia separata dal bagno ed un lavabo in miniatura.. Appartamento però consigliatissimo comunque, anche perché Magda a breve sistemerà questa sola negatività del bagno;)
Paolo
2016-10-02T00:00:00Z
Magda was very helpful. She was also very responsive to inquiries and questions. The apartment is located in a residential area. There are Metro stations near the apartment. There is also a supermarket nearby. The location is very accessible and convenient. The apartment also has a view of the Eiffel Tower. Beautiful!
Len
2016-08-15T00:00:00Z
Magda met us at her place. She was very kind, accomodating and quick to answer emails. We needed extra blankets and sheets and went out of her way to get them for us, which we were thankful for. The views of the Eiffel Tower from the apartment were absolutely gorgeous and was the standout feature. The bathroom, which is actually divided into two separate rooms was very small, but was functional. The apartment is in a residential neighborhood and there are a lot of restaurants and shops you will pass if you're coming from Dupleix Station of the Paris Metro. Make sure you stop by and check them out!
Daniel
2016-03-10T00:00:00Z
It is perfet for those who want to see the eiffel tower. We could see that from the 2 rooms. It is really close. Th house is very quiet and clean. Only problem(axtually not that problem) is the shower space is really smallm. The communication was perfect. Anytime we could easily cantact each other. The bed is big enough for two. It is much better than pictures. Highly recommend!
Hyojung
2017-02-20T00:00:00Z
Everything was great! Great view, great description, nice host. Thanks a lot!
Sabrina
2016-10-20T00:00:00Z
Magda was a phenomenal host. She was there when we arrived and made sure we were completely settled in before leaving. Magda was very responsive and answered all our questions. Now - most importantly: the view. Incredible is an understatement. This was my mom's first stay in an airbnb and she was thoroughly impressed. I would highly recommend staying with Magda if you ever find yourself in Paris.
Candice
2016-12-04T00:00:00Z
Très bel emplacement, appartement conforme aux photos, hôte accessible. J'ai loué cet appart pour mon frère en visite à Paris et il en a été très satisfait. Merci Magda
Tarek
2016-09-26T00:00:00Z
What do they say in Real Estate? Location, location location, well this small apartment was all that. It was perfect for our purposes, 3 days. It was quite warm in Paris & the space was warm too, but as we where out most of the time, that wasn't an issue. The hosts where friendly & responsive too. As reviewed before the shower is quite a tight fit & there isn't a bathroom per say, but as there was just the 2 of us, it was fine too. The access to trains was great & a short walk to the river made it overall a great stay. Thanks again for finding us out at the front gate. Having no phone is a bit problematic when travelling, being dependant on wifi can be challenging.
Dawn
2016-09-02T00:00:00Z
Тип размещения
Дом/квартира целиком
---
Тип жилья
Квартира
---
Вмещает гостей
4
---
Спален
Париж, Иль-де-Франс, Франция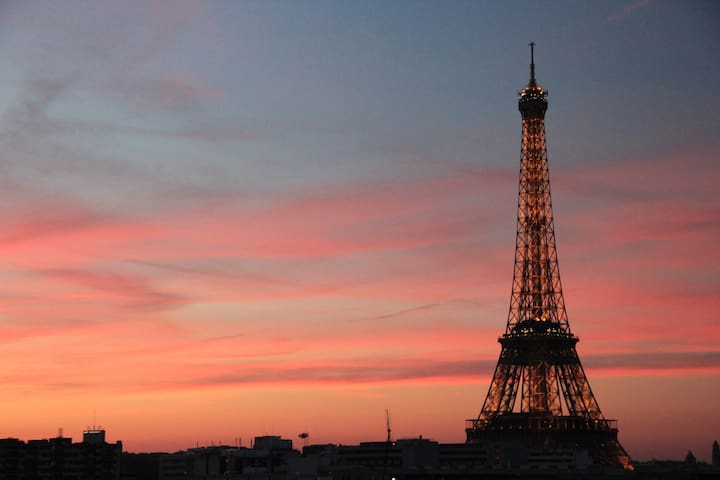 On the bank of Seine river, in front of Seguin Island, nice apartment with two large terraces facing south, in the heart of the biggest Eco-District of France, just located a few blocks from Metro Pont de Sèvres. Welcome to Paris, City of Light!
This modern apartment (70m2 + 2 large terraces), all comfort, is in a new building. It comes with two bedrooms. Each room is equipped with rolling shutter (remote control). Parisian breakfast (8€/pers, need to be order the day before) : coffee/tea/chocolate, orange juice, baguette, croissant, cereals, butter, marmelade, Nutella, fruit. Our fully automatic coffee makers, offer you a variety of delicious barista-style coffee (expresso, americano, cappuccino, macchiato, latte macchiato), which grinds the fresh beans for your morning breakfast coffee. Bon appétit! Laundry service can be provided for 7€. The building is equipped with : security code, videophone, elevators, one deck (private garden).
Ile Seguin - Rives de Seine is a unique area within Paris, the biggest Eco-District of France. The site is emblematic of the changes that have transformed several Renault industrial sites, to a "City Park". Contemporary buildings around Parc de Billancourt, designed by famous architects (Jean Nouvel, Lord Norman Foster, Dominique Perrault, Jean-Paul Viguier...) achieve the new district to a high level of Urban environmental quality and human well-being. A large variety of stylish bars & restaurants, supermakets, bakery (Meilleur Ouvrier de France), swimming pool, ice rink, cash ATM are around. The site is currently undergoing a renaissance. The cultural projects on Seguin Island are under construction, such as "la Cité Musicale" with 2 concert halls, a contemporary art museum "R4", cinema complex, hotel, shop and amenities...
"Это была моя первая поездка в Париж..." С этих слов начинается практически каждый отзыв. Если вы хотите получить невероятное наслаждение от Парижа, то квартирный вопрос играет не малую роль! Квартира Жерома безумно уютная, чистая и современная. Фотографии полностью совпадают с реальностью. Прекрасный вид на Сену завораживает на рассвете и закате. Жером очень дружелюбный, добрый и отзывчивый. Всегда поможет в любой трудной ситуации советом или делом. Рядом с домом, в 5 минутах ходьбы, станция метро и супермаркет, где продаётся абсолютно все. Если хотите прогуляться пешком по набережной до Эйфелевой башни, дорога займёт ровно час. Но при всём великолепии квартиры, не сидите дома, а наслаждайтесь по истине великолепным и романтическим Парижем!
ILYA
2015-10-13T00:00:00Z
Très bel appartement moderne, propre, agréable, qui correspond complètement aux photos. Accueil très chaleureux de Jérôme et Camille. Nous y retournerons volontiers si nous avons besoin de repasser sur Boulogne !
Marie
2016-03-31T00:00:00Z
We were very welcomed by Jerome and Camille! They were very kind and helpful -- and their english was way better than our french! The listing was just as described and pictured - a beautiful room with an amazing view of the Seine from our own deck/patio. The neighborhood had everything - good parks, a convenient grocery store, restaurant options and the best bakery in all of Paris! Also, being very close to the end of a metro stop made it easier for us to navigate the system as a whole. The breakfast add-on was very yummy and well worth the small additional cost. The shower was luxurious with amazing water pressure.
Katie
2016-04-10T00:00:00Z
We have spent a very nice stay at Jerome place. He has been a great host, very attentive to our comfort, not hesitant to help us with local suggestions. Highly recommended!
Michael
2015-07-02T00:00:00Z
Jérôme et Camille se sont montrés des hôtes exceptionnels durant ce bref séjour chez eux. Disponibles tôt dans la journée, nous avons pu faire connaissance et laisser nos affaires avant de nous rendre sur Versailles. L'appartement est fidèle aux photos, superbe (tout comme la vue sur la Seine), tenu avec beaucoup de goût (on croirait un magazine de déco), ce n'est qu'au matin que nous avons vraiment pu en profiter, lors du petit-déjeuner proposé par Camille (avec un petit supplément très abordable) : fruits frais, pain et viennoiseries, tout l'accompagnement souhaitable (pâtes à tartiner, miel, confitures), et une mention spéciale pour l'excellent café fraîchement moulu ;-) C'était l'occasion également de faire plus ample connaissance, et de se découvrir des points d'intérêts communs. TL;DR: Je recommande sans hésiter !
Eloi
2016-07-18T00:00:00Z
Que de commentaires élogieux sur ce lieu et son hôte que je confirme de mon côté après 3 nuits passées dans ce bel appartement lumineux, propre et reposant, on s'y sent comme chez soi. Et bien sûr la gentillesse et le bon accueil de Jérôme sont sincères, hélas je n'ai pas eu la chance de voir Camille qui n'était pas là, une prochaine fois j'espère. ne changez rien. Merci.
Driss
2016-03-02T00:00:00Z
nous sommes véritablement ravis de notre séjour jerome s'est montré d'une discrétion exemplaire tout en étant disponible pour échanger sur nos activités, nous conseiller sur les choses à voir et à faire la ville de boulogne Billancourt est intéressante à visiter (maisons années 30,...) et les transports sont commodes pour se rendre à paris même le logement est très agréable
Bernard
2016-04-02T00:00:00Z
Desde o primeiro contato via mensagens de texto, o anfitrião mostrou-se muito educado, atencioso e responsável. Jerome preocupou-se o tempo inteiro com o horário da nossa chegada parque pudesse deixar tudo da melhor forma possível para nós. Foi extremamente atencioso e procurou deixar-nos o mais a vontade possível no apartamento. As condições do apartamento estavam 5 estrelas! Muito bem organizado, limpo e com uma decoração super moderna. Jerome e Camille nos proporcionaram uma maravilhosa experiência em Paris, foram simpáticos, atenciosos e discretos. Parabéns!
Tito Lívio
2016-12-26T00:00:00Z
Тип размещения
Отдельная комната
---
Тип жилья
Квартира
---
Вмещает гостей
2
---
Спален
Булонь-Бийанкур, Иль-де-Франс, Франция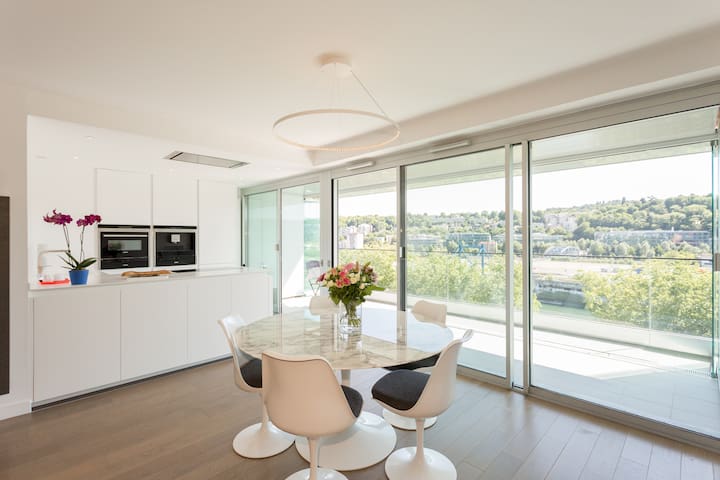 Прекрасный, Charmy, тихий и современная квартира в самом центре Сен-Жермен-де-Пре, Rue Иакова. Типичный французский плоский! Очень закрыты для известных кафе, таких как Кафе де Flore и Les Deux Magots. Легкий доступ: метро, такси и автобусных станций в непосредственной близости.
Существует просторная гостиная с раскладывающимся диваном-кроватью и оборудованной кухней, ванной комнатой с душем, стиральной машиной, большой шкаф. Нет "визави" с neigbors и красивый вид на типичной улице французский. 2-й этаж.
Самый красивый район Парижа. В самом центре столицы, этот район находится множество ресторанов, магазинов и всех, как красивых памятников: Лувр, Люксембургский сад, Монпарнас, Одеон, Сен-Мишель и т.д.
We loved staying at Berangere's apartment in the heart of St. Germain des Pres. It was absolutely beautiful, well-decorated, large enough for our 4 day stay. She was very flexible with our check-in and though our train delayed our original check-in time by 30 minutes, her mother came back to let us into the flat. She welcomed us with a bottle of wine, and was a wonderful communicator throughout the duration of our stay. We would HIGHLY recommend this Airbnb rental!
Gillian
2015-07-14T00:00:00Z
Great host! Great apartment! Would come back anytime! Friendly and great explanation and great advices about Paris! Recommend it to everybody, great choice!
Manuel
2016-02-19T00:00:00Z
Hello Berangere We enjoyed staying in Paris very much, your cousin Ruth was indeed very helpful when my husband left his wallet in the taxi , supporting us to file a police report , this did not deter us from having a wonderful time . The apartment is noisy but if your staying in Paris this is to be expected , unfortunately the fold out bed is very uncomfortable for a 5 day stay and the pillows are very flat , you might also want to supply your own toilet paper as only 1 is provided . Maria (Australia)
Maria
2015-09-12T00:00:00Z
I cannot say enough good things about our time at this apartment. Bérangère and her family were incredibly helpful and welcoming. The apartment was exactly as described and more beautiful in person than in photographs. We loved the location, so close to amazing restaurants and landmarks - vibrant activity outside during the day, but quiet enough at night you can sleep with the windows open and not be disturbed by noise. We will absolutely be staying here again! Love, love, loved it.
Maddy
2015-08-20T00:00:00Z
The apartment was in a great location, right outside the metro station and near a bustling food scene. The apartment itself was quaint, but had a cool Parisian feel to it. The only complaint was the noise - although it's a few stories up, we were woken up by the loud garbage truck each morning at 6:45 am. Although it helped us get an early start :) we were also responsible for additional toiletries (garbage bags, toilet paper, paper towels, etc. ) aside from that, Ruth greeted us and provided great information and advice on what to do and see in Paris - her kind welcome was greatly appreciated!
Jacob
2015-07-23T00:00:00Z
Berangere and Ruth were great: my train was delayed and they were very sweet to wait and help me check in: great studio apartment, comfortable and tastefully furnished. It's located in one of the best part of Paris around the corner from Saint Germain train station. Nice cafe, restaurants all around and 10 minute walk to the river and museum. I would definitely come back again. Thanks for making my stay so comfortable.
Mohammad
2015-06-09T00:00:00Z
The apartment was absolutely perfect and I had a wonderful stay! It was in an excellent location - in a very beautiful building and awesome neighborhood. It was safe to walk around. It's a very expensive area so I was so excited to find such a good deal. The apt was clean, had everything I needed and was small but did not feel like it as it had it all. Berangerie was sweet and cheerful - she gave me a bottle of wine and helped me with directions. She was very responsive to emails and checked on me to make sure it was ok. She and the apt come highly recommended. I will be back!!
Kaeley
2015-06-03T00:00:00Z
This was the perfect little apartment for my husband's and my Paris adventure! It was well equipped with everything we could need, and the location was superb. We easily walked to the louvre, the Eiffel Tower, Notre Dame, and the metro stop was practically across the street. There is a little boulangerie next door and nice restaurants and shopping nearby. Ruth welcomed us very well, and we enjoyed the bottle of wine they gave us! This is a family apartment in the heart of Paris where we will stay again when we return!
Kara & Aaron
2016-03-01T00:00:00Z
Тип размещения
Дом/квартира целиком
---
Тип жилья
Квартира
---
Вмещает гостей
2
---
Спален
Париж, Иль-де-Франс, Франция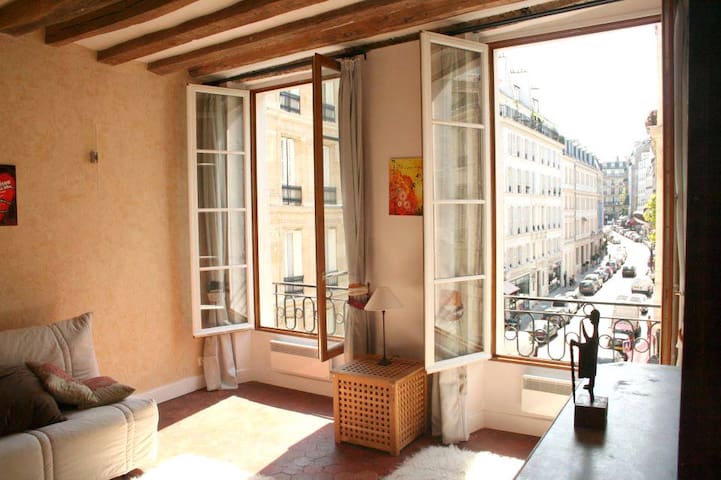 Hello! I propose a studio full of charm in a new and safe residence rehabilitated in 2011. Close to the subway! Quiet, bright, without any noise with a terrace and a private garden.
50 meters away from the metro Mairie d'Issy, quiet and chic district of the first Parisian crown (Monoprix, bakery and butcher shop a stone's throw away).
Comme sur la description, à 1 min 30s du métro, 1min d'un grand supermarché, 30s d'une station autolib. C'est pratique ! Entrée escalier ou ascenseur au choix.
Serge
2016-12-24T00:00:00Z
Logement très bien situé, de grande qualité. Hôte impeccable, je recommande!
Sophie
2017-03-24T00:00:00Z
Superbe Appartement ! Niveau qualité/prix c'est parfait. Comme j'ai dit à Yoann (l'hôte air bnb) je reviendrai !
Fakri
2017-03-19T00:00:00Z
Everything was great! The flat is right next to the metro, clean, new and very cozy. Yoann is a very nice host, he makes everything to make you feel like home. Will def recommend to stay at his place!
Alain
2017-03-12T00:00:00Z
Тип размещения
Дом/квартира целиком
---
Тип жилья
Квартира
---
Вмещает гостей
2
---
Спален
Исси-ле-Мулино, Иль-де-Франс, Франция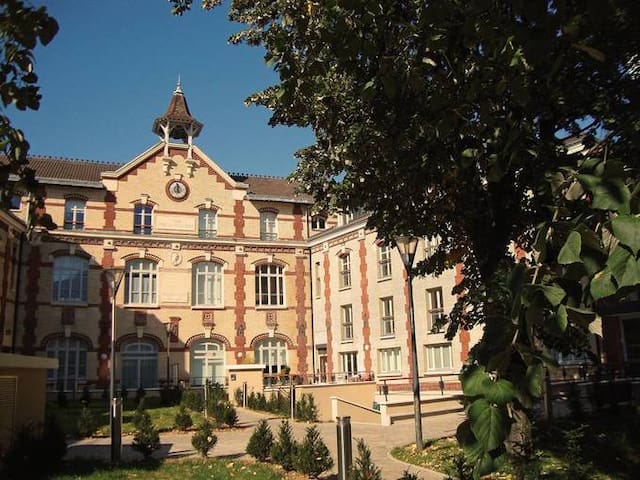 English speaking if needed! Proche métro 12 Mairie d'ISSY (4mn à pied). Parfait pour les couples, les voyageurs en solo et les voyageurs d'affaires. Proche de toutes commodités, c'est la solution idéale pour loger au calme tout en ayant accès très rapidement à Paris (en 2 stations de métro). Un balconnet accessible pour les fumeurs. Cuisine toute équipée. Draps et serviettes fournis.Accès à l'immeuble sécurisé. Places de parking libre dans la rue.TV + fibre.Aux portes du 15ème arrondissement
quartier tranquille , côté rive gauche, très accueillant, à 2 stations de Paris! tous commerces à dispositions (fermes tard)
Тип размещения
Дом/квартира целиком
---
Тип жилья
Квартира
---
Вмещает гостей
4
---
Спален
Исси-ле-Мулино, Иль-де-Франс, Франция
A 1 bedroom flat (60m²), nicely furnished close to the Exhibition Centre - Porte de Versailles, 5 stations away from Gare Montparnasse. Easy access to the main Paris sites. Quiet neighbourhood.
60 m2 appartment through and very bright. Very nice to wake up with the sun in the bedroom; enjoy the sunsets in the living room ! Quiet apartment overlooking the street (double glazed) and leafy & restful courtyard. A 2-minute walk from the Paris Exhibition Center, in a safe and pleasant district. Sunny and quiet on the 5th floor without lift.
Enjoy the "Petite ceinture", an old railway track made entirely pedestrian, a green haven in the middle of the Parisian neighborhoods. An enchantment for nature lovers. If you like running, I would recommend some routes. Some very good restaurants in the neighborhood for dinner. Enjoy a great holiday, all major Paris districts within less than an hour.
Nous avons été bien accueillis par l'un des amis de Marianne, qui était très disponible. L'appartement est très agréable et conforme à la description. Le quartier est calme et à proximité des commerces. Nous avons beaucoup aimé notre séjour.
Jamil
2016-05-06T00:00:00Z
Très bon accueil. L'appartement est agréable, propre et très silencieux. Il est à deux pas du parc des expositions. Je le conseille vivement.
Guillaume
2017-02-27T00:00:00Z
Très bonne emplacement pour une visite de Paris
Michael
2017-03-26T00:00:00Z
Тип размещения
Дом/квартира целиком
---
Тип жилья
Квартира
---
Вмещает гостей
4
---
Спален
Исси-ле-Мулино, Иль-де-Франс, Франция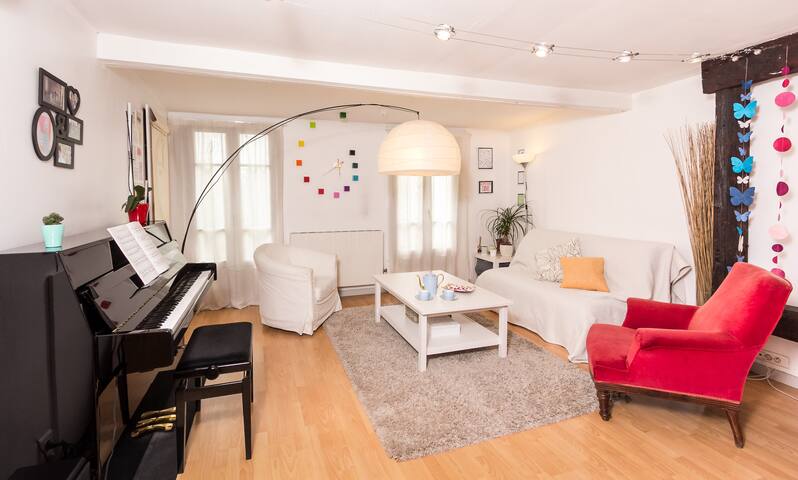 Logement entier de 30m2, rez de chaussée, moderne et equipé, quartier calme et très bien desservi par les transports. Situé à 5min du Tramway et des Bus, et situé à 15min de la Tour Eiffel en RER.
Idéal pour du tourisme en toute tranquillité, Issy les Moulineaux est une ville très agréable situé au bord de Seine avec les quais rénovés avec le projet du Grand Paris. Possibilité d'accueillir dans l'appartement 4 personnes, 1 lit double dans la chambre ainsi qu'un lit simple coulissant, et dans le séjour une grande banquette. Télévision, wifi, frigo, plaques pour cuisiner, micro-onde, four, douche, toilettes, nombreux rangements...
The host canceled this reservation 6 days before arrival. This is an automated posting.
Mitja
2017-04-04T00:00:00Z
Тип размещения
Дом/квартира целиком
---
Тип жилья
Квартира
---
Вмещает гостей
4
---
Спален
Исси-ле-Мулино, Иль-де-Франс, Франция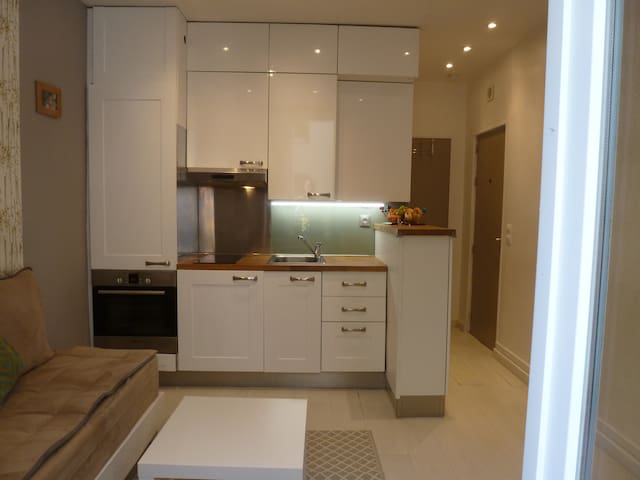 Very nice duplex of 80 m2, quiet, light and zen with its beautiful volume, and its modern and sleek décor only 2 minutes walk from the Gare du Nord, 5 minutes to Montmartre, the Sacre Coeur and the Moulin Rouge.
Very nice duplex of 80 square meters, equipped with an intercom, digital lock and alarm monitoring. The apartment is very quiet, clear and bright with many windows double glazed, in the apartment where there is a quietness due to its beautiful volume, and its modern and minimalist decor, leather sofas and slim Samsung TVs, all white still has 5 minutes from Gare du Nord, Gare Montparnasse and direct Châtelet Les halles and line 2 Charles de Gaulle Etoile. In a popular area and in front of the Luxor Theatre, a few minutes walk from the Montmartre district, legendary district with its painters, the Moulin Rouge, Sacre Coeur and its many shops, typical bistros. Without forgetting its Marché Saint-Pierre, colorful. I would be there to greet you and show you all the different bidders different lighting moods and musical and other facilities offered by the apartment because it was completely renovated and designed in every detail with modern technology and adapted the comfort of the traveler, as well as candles, candy and other surprises. Flat very warm and very romantic
Duplex apartment on the rare capital of modernity and comfort only places there are not two like that!
Alexandra est disponible et très à l'écoute. Appartement propre et bien équipé, doté de tous les équipements nécessaires à un séjour plaisant et agréable. Olivier
Olivier
2017-01-21T00:00:00Z
Very clean, spacious, and I would definitely stay there again.
Jeff
2016-09-15T00:00:00Z
Un super accueil par des propriétaires attentionnés. L'appartement est comme sur les photos, c'est à dire magnifique et décoré avec beaucoup de goût, aucune mauvaise surprise à l'arrivée!! Emplacement idéal! Bref, je le recommande sans aucune hésitation.
Violaine
2015-03-15T00:00:00Z
Alexandra est une hôte comme on aime ,prévoyante , disponible ,souriante et qui aime son bien.L'appartement est superbe , la copie conforme des photos présentées .Spacieux , lumineux et très agréable pour y séjourner ou pour recevoir .Le quartier de Barbes riche et animé , la proximité des commerces et de Montmartre.Le calme de la cour intérieur est un vrai plus le soir venu. Un excellent séjour et une adresse à ne pas manquer pour vos séjours Parisien.
francis
2015-09-13T00:00:00Z
Alexandras sister Julie was prompt and welcoming in showing us the flat. The unit is close to Gare Du Nord and convenient to get to most attractions. The apartment is spacious with a very large living room and two double beds upstairs and a separate kitchen. We adored Paris and will hold our memories dear.
Katie
2016-09-09T00:00:00Z
Alexandra and Jean- Pierre were so happy to greet us and made us feel very comfortable in their neighbourhood. It seemed to be their pleasure to show us their favourite cafe and bakery. Their home is two stories which proved to be perfect for our family of four. The apartment was perfectly clean and appointed. The availability to all the sites was easily walkable. I highly recommend to stay here.
Valerie
2015-11-09T00:00:00Z
Alexandra and her husband were terrific hosts. I would definitely stay there again
Avis
2016-06-18T00:00:00Z
Absolutely incredible stay! We ended up booking twice because we loved the place so much. If you're visiting Paris, this is definitely the place to book. It feels like home, great location close to good food, quick transportation, great shopping. Overall an incredible experience! Great hosts too!
Arif
2016-05-23T00:00:00Z
Тип размещения
Дом/квартира целиком
---
Тип жилья
Квартира
---
Вмещает гостей
6
---
Спален
Париж, Иль-де-Франс, Франция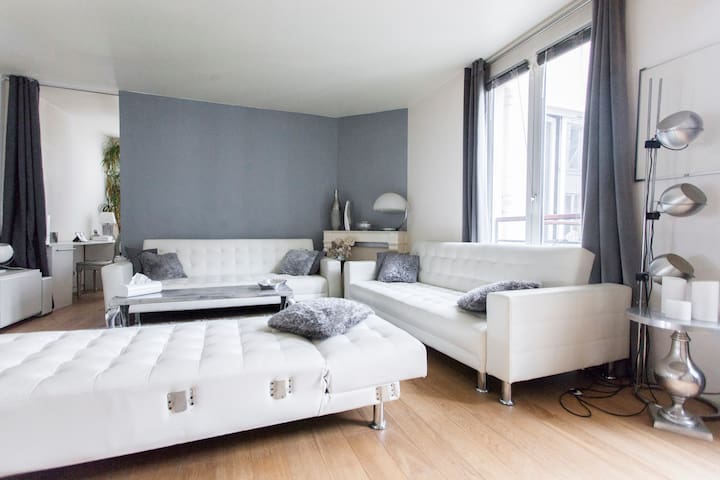 My place is close to metro mairie d'issy. You'll love my place because of the parkgarden in front. My place is good for couples, solo adventurers, and business travellers.
Тип размещения
Дом/квартира целиком
---
Тип жилья
Дом
---
Вмещает гостей
2
---
Спален
Исси-ле-Мулино, Иль-де-Франс, Франция
Studio situé à issy les moulineaux station métro Henri farman,bien équipé. 3 nuits minimum
Studio situé à issy les moulineaux station métro Henri farman,bien équipé. 3 nuits minimum Le logement est loué entier , équipé de four ,micro onde ,tv, lave linge ,table à repasser . A 3 minute du tram 2 station Henri Farman , et à 7 mn RER C 3 nuit minimum
Logement calme et bien situé, je recommande. Superbe rencontre avec Sarah... à très bientôt ! Bisous
Elena
2016-10-17T00:00:00Z
logement pratique et fonctionnel proche du T2 et T3 mais aucun commerce de proximité
STEPHANE
2017-01-27T00:00:00Z
The room was very small and was not clean. The sheets and the blanket were dirty. Sara was however helpful and accommodating.
Debasis
2017-02-05T00:00:00Z
Merci pour l'accueil. Le logement correspond parfaitement à l'annonce. Je le recommande sans aucune hésitation !
Christian
2017-02-10T00:00:00Z
The host canceled this reservation 3 days before arrival. This is an automated posting.
Yohan
2016-09-15T00:00:00Z
The host canceled this reservation 8 days before arrival. This is an automated posting.
Fouad
2017-02-12T00:00:00Z
Bon rapport qualité prix.
yanfeng
2017-02-12T00:00:00Z
Très bon accueil Appartement très proche de la salle de congrès ou je devais me rendre Commerces à proximité
Nolwenn
2017-01-31T00:00:00Z
Тип размещения
Дом/квартира целиком
---
Тип жилья
Квартира
---
Вмещает гостей
2
---
Спален
Исси-ле-Мулино, Иль-де-Франс, Франция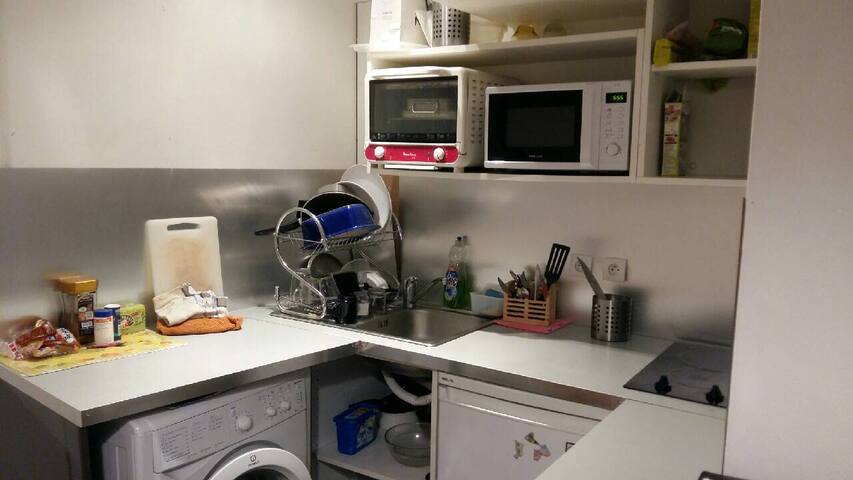 Appartement très agréable, lumineux, 2 chambres + 1 salon, 5ème étage sans ascenseur. Balcon ensoleillé et vue sur la tour Eiffel. Quartier agréable, métro Mairie d'Issy (ligne 12) à 2 min, proche tous commerces
Logement propre et cosy. Elise est très sympathique. Logement à 1 min a pied du metro. Je recommande.
Céline
2017-04-02T00:00:00Z
The host canceled this reservation 4 days before arrival. This is an automated posting.
Julia
2017-03-29T00:00:00Z
Тип размещения
Отдельная комната
---
Тип жилья
Квартира
---
Вмещает гостей
2
---
Спален
Исси-ле-Мулино, Иль-де-Франс, Франция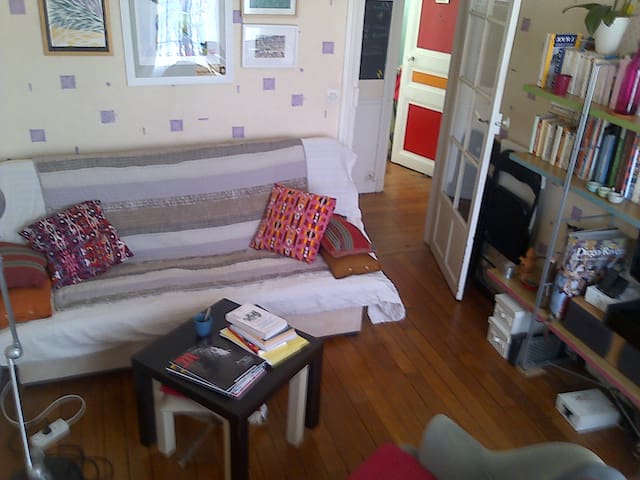 Il s'agit d'un studio super bien placé à côté du métro Mairie d'Issy, avec un canapé lit double et un mezzanine double (200x140 chaqu'un) idéal pour quatre voyageurs. Super bien placé, accès très facile au transports. Cafes, marchés, cinéma très proche.
the apartment locates in a convenient neighbourhood with shops, restaurant and several buses. It's at the terminal of line 12.
Michelle
2016-07-15T00:00:00Z
Тип размещения
Дом/квартира целиком
---
Тип жилья
Квартира
---
Вмещает гостей
4
---
Спален
Исси-ле-Мулино, Иль-де-Франс, Франция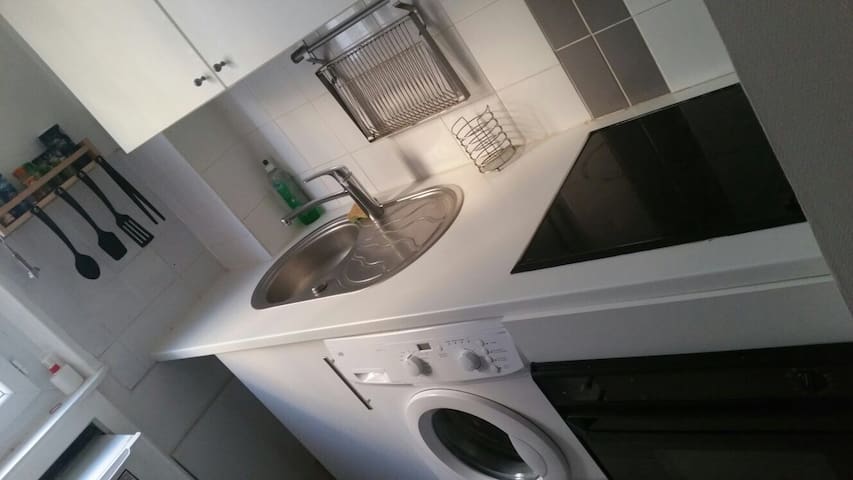 Duplex au 5 et 6ème étage sans ascenseur. Des travaux de rénovation viennent de se terminer. 3 chambres au 5 ème avec 2 lits pour chaque chambre pour 6 couchages: 1 chambre avec 1 lit double, 2 chambres avec lits cigogne. Salle de douche avec WC. A l'étage vaste séjour avec canapé lit pour 2 couchages et cuisine ouverte donnant sur une petite terrasse de 5m². Lit double sous pente avec 2 couchages, sdb wc mezzanine. Rue de commerces mi-pietonne. 4 lignes de métro à moins de 5mn à pieds
La caractéristique de notre appartement est celle de nous faire sentir comme dans une maison. On monte 5 étages sans ascenseur mais la lumière, la vue et la sensation d'intimité sont très précieuses pour nous.
L'appartement se situe dans une rue mi-piétonne, avec toute sorte de commerces.
I had a lovely stay with 7 friends in the apartment of Silvia and Alberto. It is a beautiful house that is very practical furnished. It is no problem to stay here with a total of 8 people, since there are two bathrooms, a large dining table etc. Also the neighbourhood is great due to all the nice restaurants, wine bars etc. Furthermore the metro station is around the corner, which makes it very easy to explore all of Paris. In short: I would absolutely recommend this apartment!
Anneke
2016-01-05T00:00:00Z
We had an excellent stay in "Above Paris Skies". It is a very attractive and architectonic surprising apartment. It is located on the fifth floor, so you will only hear the sound of the city silent on the background. You do have to climb five floors of stairs because there is no elevator. You can see the Sacre Coeur from the window in the living room, and there is a little balcony. The Rue Cadet and the neighborhood are very nice and typical for Paris. The subway is close by and it is centrally located. A Perfect place to discover Paris with our three kids! Sylvia was very nice and helpful. We could park our car in the courtyard (a challenge to enter driving in backwards, but with a little help well to do) to unload our luggage. We would highly recommend the apartment, though we could probably better keep it silent as it is an perfect secret place to stay in Paris!
Gertjan
2015-07-24T00:00:00Z
很棒 很舒服 很乾淨的房子!離市中心近,附近商店餐廳都有,很方便!房東人很好!
Wei Chen
2015-08-02T00:00:00Z
L' appartamento "sui tetti di Parigi" ha rispettato appieno le nostre aspettative, suggestivo e curato come appare nelle foto. La location è ottimale per spostarsi in tutta parigi, molto vicine le fermate metro e bus, rue de cadet è piena di negozi e bistrot, i market sono a pochi metri e ben forniti, l'appartamento è in un punto strategico e comodo per gli spostamenti, oltre che molto carino. Unico neo, ma solo per chi è abituato alle comodità, i cinque piani a piedi, riscattati dalla vista del Sacre Coeur da una delle finestre dell appartamento! Silvia, la padrona di casa è stata sempre molto attenta e cordiale. Da consigliare
Maria Teresa
2014-08-11T00:00:00Z
非常好
刘
2016-12-28T00:00:00Z
Prior to our visit Silvia let us know exactly how to get to the apartment from both the train station and airport with various options. The apartment was as described and was well equipped. We were 7 guests and all had enough space. The apartment is top floor and there is no lift (a fellow traveller counted 101 steps), so pack light! The apartment is situated close to several metro stops and different lines. We used the local shops, bakery and butchers to get our breakfasts - we found everything we needed within a few minutes walk. I would use this apartment again if I was visiting Paris with a group of friends. Thank you very much
Jenny
2016-08-30T00:00:00Z
The place is great, near the metro and restaurantes,the only problem were the stairs but everything else was perfect.
maria
2017-01-02T00:00:00Z
Die Wohnung von Silvia und ihrer Familie ist großartig. Alles hochwertig, neu und sauber. Es finden locker 8 Personen Platz. Man kann sogar auf die Sacre Coeur gucken. Die Lage ist perfekt. In der Nähe gibt es mehrere U Bahn Stationen, Restaurants, Bäcker, Supermärkte... Eben alles was man braucht. Die Nachbarn (haben eine Fleischerei im Haus) sprechen zwar nur Französisch, sind aber super lieb. Die Kommunikation mit Silvia über die ganze Zeit war unkompliziert und schnell.
Tina
2016-08-10T00:00:00Z
Тип размещения
Дом/квартира целиком
---
Тип жилья
Квартира
---
Вмещает гостей
10
---
Спален
Париж, Иль-де-Франс, Франция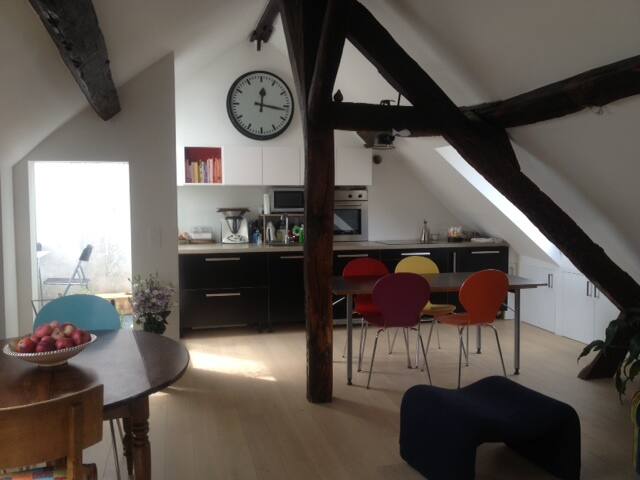 English speeking. C'est un studio de 27m2, 5eme étage avec ascenseur, une déco personnalisée, un bon lit, WIFI, TV, baignoire, WC séparés, kitchenette et surtout: balcon (pour les fumeurs) orienté Sud! Du soleil toute la journée... et une place de PARKING dans la cours de l'immeuble accessible par badge. 3 min du métro ligne 12 Corentin Celton. proche Porte de Versailles et ses nombreux salons. Nice flat, elevator, good bed, Wifi, TV, bath, balcony and private parking, 3 min from metro 12.
Vous êtes chez moi, donc si je ne suis pas là, vous me découvrirez sur les photo! Tout le monde s'y sent bien, car il est très lumineux, et confortable (lit neuf- canapé qui s'allonge- baignoire...) Proche métro Corentin Celton (dorect pour Montmarte), commerces de proximité, RER pour Versailles, Aquaboulevard, salons du Parc des expositions de la Porte de Versailles quartier calme et sur. Welcome in my home! If we don't have the chance to meet, you'll discover me on the pictures. Everybody tells me that he feels home in my flat, it's very confortable and luminous thanks to the bay windows (South), confortable bed, bath, and balconny. There is also a private parking place, if needed. The quarter is calm and secure. My flat is very closed to metro Corentin Cleton, line 12 - direct to Montmarte.
C'est à 2 pas de la Porte de Versailles, où il y a donc de nombreux salons, L'Aquaboulevrad et le Parc Suzanne Lenglen pour faire du sport. De quoi faire des courses, ou se restaurer. Un marché le mardi - jeudi - dimanche sur la place Corentin Celton. Toutes commodités et le métro à 3 min!
Stayed here for 5 days and had to extend by another 3 days and it was absolutely fantastic! I needed parking for a car and motorcycle and it was ideal. Car parking was very secure and spacious. I had to extend my stay and Karine was exceptionally accommodating. The flat itself was compact with a balcony and was very homely and comfortable. The bath was a welcome at the end of a busy day and a shower was also present. The kitchen was a galley but was more than adequate. TV and free WiFi were easy to operate and the bed was a comfortable foam mattress type and was quite firm. Ideal! The balcony was great for having breakfast in the sun! The surrounding location was very quiet, clean, and well situated for the metro and bus connection into Paris centre. Metro was 2 mins away by foot and the journey into the centre of Paris took around 15 mins. Local shops and supermarkets were also a couple of mins away and were numerous and well stocked. A 24 hour store was next to metro which sold a great variety of goods and wine up until 2am. Karine was a great host and a pleasure to deal with and a genuine lovely person. I would not hesitate to stay there again and would happily recommend the apartment to friends. Thanks Karine we had a blast!!
Marc Alex
2015-07-28T00:00:00Z
We had a short stay of two nights and a had a good time. The location of the apartment was great for us, subway close to the center. No long distances. Also the train to Versailles leaves closeby. We didnt met the host but received the keys from a friend. It was a warm welcome and she was really helpfull. Also before arrival or during the stay we could ask for advices where to go. They responded fast and got a long email with places to go, too bad we didnt had the time to see them all. Next time!
Steven
2015-08-03T00:00:00Z
Logement très agréable bien décrit et avec toutes les commodités à proximité. Très satisfait de notre séjour.
Florence
2015-11-25T00:00:00Z
Тип размещения
Дом/квартира целиком
---
Тип жилья
Квартира
---
Вмещает гостей
2
---
Спален
Исси-ле-Мулино, Иль-де-Франс, Франция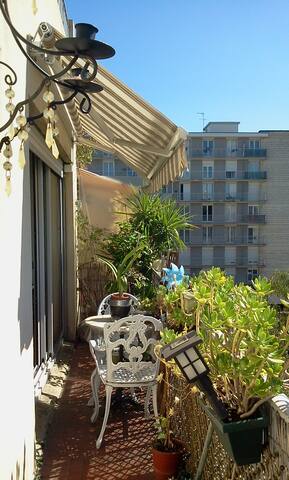 Un Penthouse sur le toit en duplex. Esprit loft au niveau de la terrasse avec une grande cuisine dinatoire, un immense sallon/salle à manger avec cheminée. A l'étage, 3 grandes chambres (2 proposées à location) dont une suite parentale avec dressing, bureau et salle de bains. Le Penthouse est au pied du métro mairie d'Issy, à 12 mn de Montparnasse et 30 mn de saint Germain des Prés, sans vis à vis et au calme.
Accès par ascenseur sur palier privé, l'appartement est baigné de lumière et possède une triple exposition est, sud et ouest. Tous commerces à moins de 5 mn.
C'est la place de la Mairie d'Issy, très agréable, avec un joli jardin et tous les commerces dont un très grand Monoprix. Au pied du métro, à 10 mn du Tram et du RER.
Тип размещения
Дом/квартира целиком
---
Тип жилья
Лофт
---
Вмещает гостей
5
---
Спален
Исси-ле-Мулино, Иль-де-Франс, Франция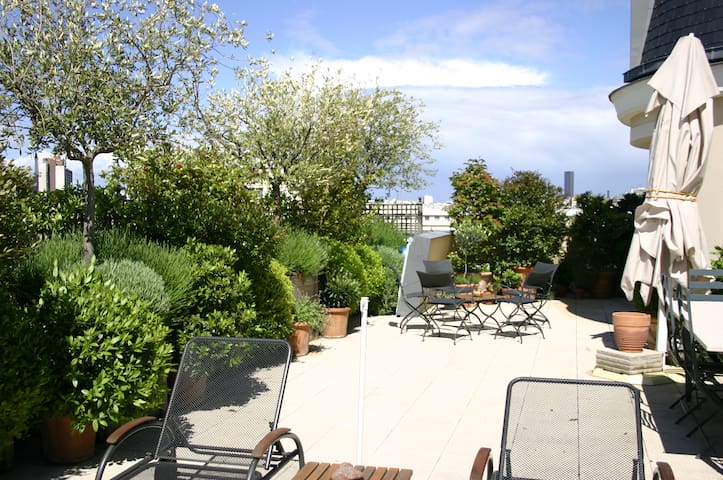 1

–

18

из

300+ вариантов аренды
Введите даты, чтобы увидеть полную цену без учета дополнительных сборов и налогов.