Twist Ranch is a large, two-story home built for a crowd. On a working cattle ranch, Twist Ranch is the perfect combination of down home comfort and living space for a family gathering, within minutes of many terrific Paso Robles wineries.
Twist Ranch is a large, two-story home built for a crowd. On a working cattle ranch, Twist Ranch is the perfect combination of down home comfort and living space for a family gathering, within minutes of many terrific Paso Robles wineries. The downstairs master bedroom hosts two double beds and private bath with tub, and shower. A second guest bathroom on the main floor is a full bathroom with shower. Upstairs you will find the additional four bedrooms, with a variety of wonderful views of old growth trees and acreage. Three rooms have king beds and one has a set of twins. You might want to claim the king bedroom with its own private, outdoor porch! The second king bedroom is extra spacious with its own sitting area. Upstairs bathroom also has a shower and is accessible to all four bedrooms. Lots of living space on the main floor--living room with game table, large TV, and woodburning fireplace opens onto formal dining area. Fully equipped kitchen with updated appliances also has a small breakfast table. Your crowd can expand out onto the enclosed sun porch for additional space, as well as the wrap around yard. Laundry room with washer and dryer. Pet-friendly, but dogs must be on leash outdoors. You will find this comfy farmhouse so inviting for your family gathering, or to share with a group of friends. Beds for 12, floor space for more. Just 15 minutes from Paso Robles and near the Backroads Wineries, including Pomar Junction, Cass, Stillwater and O'Neill. 10 minutes to Tobin James. You don't want to miss out on this country casual gem with all that Paso Robles Wine Country has to offer!
It was rustic and the cows added a nice feel. We got there after the sun went down and since it is out in the country it was dark and difficult to find. That was our fault. I would stay there again if they fix the hot water issue.
Rodney
2016-10-16T00:00:00Z
My group loved the ranch house outside of Paso! It is a ways from town which provided us peace, quiet, and some gorgeous sunset views. The kitchen was more than enough to feed everyone and the beds were all comfortable.
Nathaniel
2014-07-22T00:00:00Z
We had a pleasant stay at the Ranch House. We received very thorough instructions from Becky & Kathy to prepare us for the stay, and check-in and check-out could not be any easier. The house itself was immaculately clean, though a little dated with shag carpeting and popcorn ceilings. We had everything we needed in terms of toiletries -- clean and luxurious towels, and shampoo and conditioner and soap in all the bathrooms. Even in the incredibly hot Paso Robles summer weather (well into three-digit temperatures!), the house stayed cool and comfortable.
Horace
2014-07-28T00:00:00Z
What a lovely home. We enjoyed every minute. Great sized bedrooms. Huge kitchen which was excellent for our group dinner. Lots of room for separate conversations and alone time. The grounds were fantastic. We enjoyed learning about the home's history. Can't wait to return.
Shikha
2016-01-19T00:00:00Z
The biggest asset this house has is space. It's very spacious with plenty of room for everyone. Unfortunately though, it's very dated. All of the appliances except for the cooktop are outdated and the water heater doesn't produce enough hot water to last for one shower. After we laid our toddler down for the night, we also discovered the door to the bedroom our toddler was sleeping in gets stuck in the door jam and has to be forced open. It's just old. It certainly could have been cleaner as well. There was trash from a previous guest in a bedroom closet and spiderwebs found in closets and on window sills. It's not a bad place to stay and with some attention and updating, it could be great. However, we're definitely unhappy with how much our stay cost, considering the condition of the place.
Daniel
2016-07-25T00:00:00Z
Kathy and Becky were very accommodating with our last minute request to rent a place. It was great that they have a few properties, because when we found out the first one was unavailable, they suggested some of their others, and it worked out great. They were quick to respond and provided everything we needed. I loved that they have an app with all the info, which I used all weekend long! Great hosts!
Joe
2014-06-23T00:00:00Z
This place was awesome! The house was perfect for a group of 12. It was clean and comfortable. The beds and pillows where the best. The patio area was so beautiful and perfect for socializing and relaxing. Only compliant was the cold water. Maybe 2 out of 12 people got warm showers.
Marleen
2016-07-18T00:00:00Z
Тип размещения
Дом/квартира целиком
---
Тип жилья
Дом
---
Вмещает гостей
14
---
Спален
Пасо-Роблес, Калифорния, США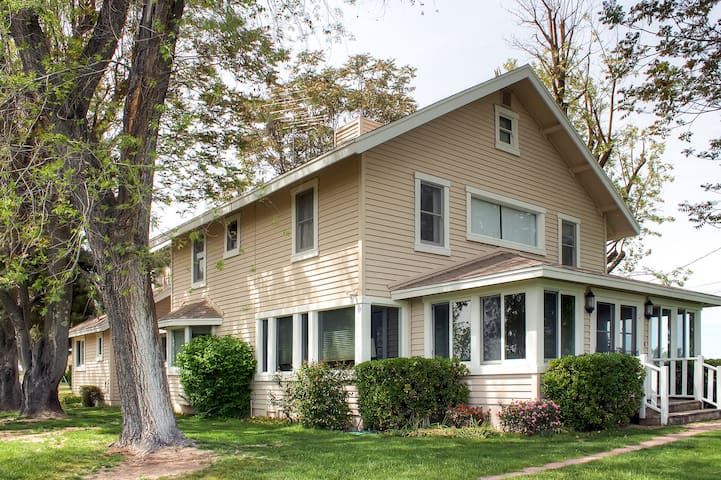 When David & Stephanie first drove on to the property, they fell in love with the structure of the vineyard and the wonderful views. The amazing oak trees on the property make music when the afternoon breezes arrive from Cambria, By The Sea. The spectacular sunsets give you one last chance to enjoy yet another amazing view as another perfect day closes.
This newly remolded 2 bedroom and 2 bath modern Casa is overlooking 7 acres of Rhone variety grapes and gold painted rolling hills. The owners frequently stay there so they have spared no expense! Both king beds have luxury linens to add to your restful slumber. Our duvets are washed and pressed after each rental. Guest bedroom 1 with attached bath Guest bedroom 2 with attached bath: The kitchen is a foodies dream. You have available a 5 burner gas range with convection oven and microwave. There are plenty of cooking utensils, pots and pans, and even a sharp chopping knife! Casual dining area / family room is open to the kitchen with plenty of vineyard views. Leather couches and chairs make this area comfortable and inviting. Outdoor dining and patios: we've saved the best for last! Enjoy outdoor on the front patio with a gas grill, comfortable seating and beautiful vineyard views.
Casa Del Mar is in a peaceful area with views of gold painted rolling hills. Vineyards and Olive orchards surround us with a smattering on estate homes nearby.
Тип размещения
Дом/квартира целиком
---
Тип жилья
Дом
---
Вмещает гостей
4
---
Спален
Пасо-Роблес, Калифорния, США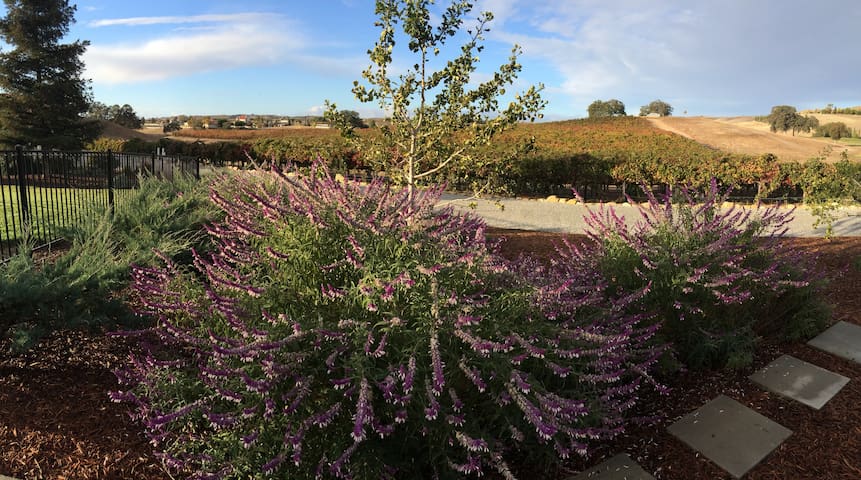 Fantastic Paso Countryside Estate This amazing Paso Robles retreat is the ideal location to get away from the crowds and enjoy some peaceful tranquility.
The 4 bedroom, 4 bath estate on a very large 2.5 acre lot is the perfect spot for your visit to Paso wine country with friends and family. This home has great amenities including a pool, game room, fire pit and amazing outdoor spaces to enjoy. The location is ideal to travel to the many award winning vineyards in the area. The spacious master bedroom has a king bed and adjoining bathroom with soaking tub, step in shower and dual vanity. The second and third bedrooms both have king beds, are tastefully decorated and share a jack and jill bathroom with a shower/tub combo and dual vanity. The fourth bedroom is off the living area and has a queen bed and adjoining bathroom with step in shower. The comfortable living area is open to the kitchen, which has been very nicely equipped to prepare gourmet meals. The game room has a billiards table to enjoy a little fun with your friends. A formal dining room is available. The outside spaces in this home are amazing, the back yard includes several seating areas to dine outside or just enjoy the open space. The back yard also includes a pool, a fire-pit, and a BBQ. There is a bath with shower outside near the pool. This home has been very well equipped to host great vacations; you will love spending time here. Plenty of parking is available; 2-3 cars in the garage and a large driveway. Full size washer and dryer in the garage. Call us today to secure your vacation at this special home.
Halfway between the two main California metropolises of Los Angeles and San Francisco is Paso Robles Wine Country. Located along California`s famed Central Coast, the Paso Robles winegrape growing region`s climate is perfect for the production of award-winning premium wines. A long growing season of warm days and cool evenings give rise to vibrantly ripened fruit with dynamic flavor profiles that translate beautifully in your glass of Paso Robles wine. Traversing the landscape, you will find 32,000 vineyard acres, producing more than 40 winegrape varieties - from Spanish to Italian, Bordeaux to Rhône, including the area`s heritage variety Zinfandel. The styles of wine are diverse in this very distinct region. Along your journey through Paso Robles Wine Country, take time to stroll the historic downtown to shop and dine. Boutique stores, wine country cuisine, and tasting rooms fill the blocks surrounding Paso Robles` Downtown City Park. A scene right out of a Norman Rockwell painting, Paso Robles` downtown completes the picture of Paso Robles Wine Country. Neighboring Paso Robles along the coast are the towns of San Simeon, home to Hearst Castle on the north, and the fishing village of Morro Bay to the south. In between you will find Cambria, Harmony, and Cayucos. All are within a short drive and worthy of your exploration. Much like the marine air influence to the winegrapes, the coast is a perfect complement to your Paso Robles Wine Country experience.
This house was a perfect place for us. The house is very clean and organized. The beds were all extremely comfortable. The area was really quiet and we so enjoyed the beautiful pool and outside area. We would highly recommend this beautiful house to anyone visiting the Paso Robles area.
Susan
2016-08-29T00:00:00Z
Тип размещения
Дом/квартира целиком
---
Тип жилья
Дом
---
Вмещает гостей
8
---
Спален
Пасо-Роблес, Калифорния, США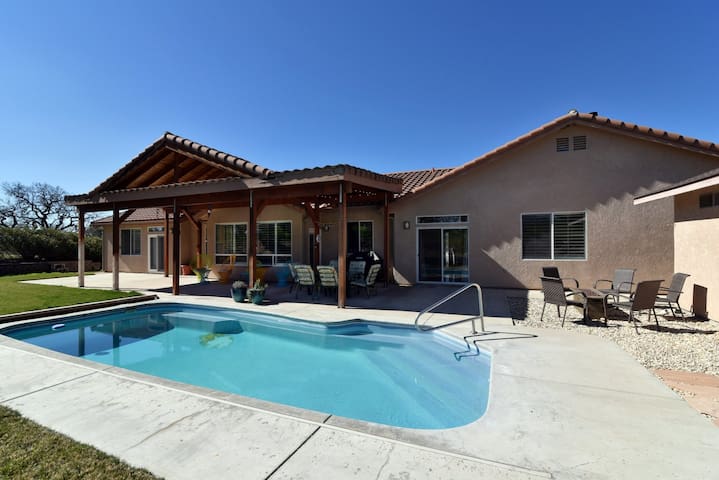 Peaceful country setting on the Olivas de Oro olive orchard with neighboring vineyards and wine tasting. Rancho Olivas de Oro is a working olive and sheep ranch.
Thank you so much for providing such a wonderful home. We had such a great time and the house and grounds were beautiful. We got to spend quality time with friends and family. You olive oil was the best we had in the area!!! Thank you for the wine and goodies.
Adrienne
2016-05-23T00:00:00Z
We had a great stay. Marti was very prompt and informative in all the communication with us. He recommended some great restaurants and wineries close by that we really enjoyed. Olive tasting in Marti's tasting room was awesome. We all enjoyed this beautiful house and a nice yard with fireplace, surrounded by olive trees and sheep farm.
Kamy
2016-09-05T00:00:00Z
Our stay at Olivas de Oro was outstanding. The property is surrounded by farms and vineyards and when we arrived to the orchard we felt as though we had genuinely retreated from everyday life into total tranquility. We skipped our afternoon plans to explore the area and stayed in for oil tasting and reclining in the shade. The house is very functional and spacious. The beds, bathrooms, and kitchen were nice and easy to move into. Everything was very clean. There are patios with gorgeous views on both sides of the house and there is a sunken courtyard with a fire pit, grill, table, and charming outdoor lighting (which we ultimately turned off to promote stargazing which was a real treat to a family that comes from city life). Ultimately, my six-year-old was asking us to buy the house and the adults all have visions of returning each year for a new family tradition. Great job Marti and Frank. You have created something very special. Thank you!
Ivan
2016-07-11T00:00:00Z
Beautiful guest house in the middle of an olive orchard! Very spacious and comfortably accommodated all of us. Kitchen was very well stocked :)
Yen Theng
2017-01-16T00:00:00Z
Off the beaten track and close to Creston. We found it handy for the Wildflower Ride! Nice wine & olive oils!
Mel
2017-04-09T00:00:00Z
It was a great stay in a beautiful place! We had a blast! The olive oil was delicious!
Riin
2016-08-21T00:00:00Z
The home is perfect for a relaxing stay out in wine country. Beautifully appointed and attended to. Close to some amazing wineries. And not to mention, thier olive oil and balsamics on thier farm are AMAZING. Would stay here again in a heartbeat for a vacation under the stars.
PATRICK
2016-05-10T00:00:00Z
Тип размещения
Дом/квартира целиком
---
Тип жилья
Дом
---
Вмещает гостей
8
---
Спален
Крестон, Калифорния, США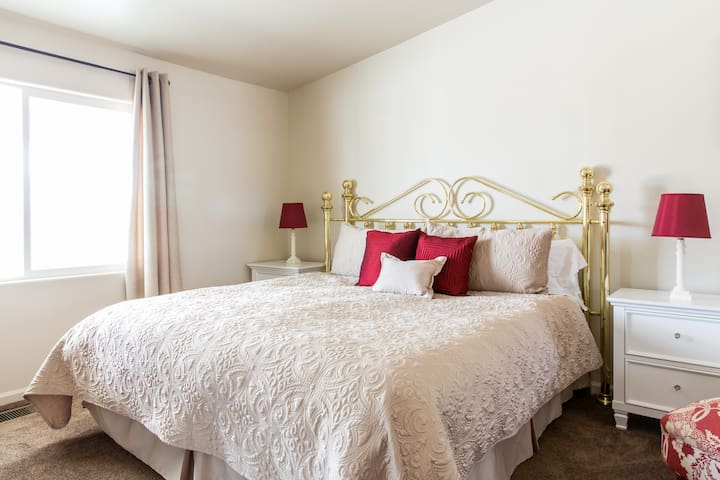 The Rustic Ranch House is a secluded getaway with views of rolling hills and vineyards. Breathtaking sunrise and sunset views with starlit skies. New queen hide-a-bed in living room. Adjacent to Chateau Margene Estate Vineyard & Winery tasting room, open Fri-Mon 11-5pm. Book a 'barrel room experience with the winemaker. A large deck area to relax, dine and enjoy the views, a BBQ area and fully equipped kitchen. Enjoy a complimentary bottle of wine, coffee, tea and pastry. *21 years or older.*
Very private location with great views. A two minute walk from luxury wine producer Chateau Margene's winery and tasting room (open Friday thru Monday 11:00 am to 5:00 pm). Make an appointment with the winemaker during your visit.
A member of the Creston Wine Trail. Five wineries and an olive oil producer all within 5 minutes. The Loading Chute restaurant is also only 5 minutes away in the town of Creston, as is the Creston Country Store for basic foods, beer and snacks.
1) Extremely good wines. Unlike any other winery I've been to, every single wine they serve is excellent. 2) Friendly staff make you feel at home. 3) If you enjoy a farm-like experience without the cow, this is the place for you!
Mike
2016-09-05T00:00:00Z
Our group of six had a wonderful stay here. It was roomier and even more beautiful in person than in pictures. Definitely recommend if you're looking for a little getaway from the hustle and bustle of everyday life. Unique experience and relaxing.
Christine
2017-01-01T00:00:00Z
The ranch house was excellent, it actually looked better than the photos in fact. The property is lovely, very quiet and we were really able to relax. It's close to everything you need in Paso and lot's of wineries. Perfect for 2 couples for a weekend away!
Grace
2016-01-03T00:00:00Z
Nice warm atmosphere
brian
2016-06-14T00:00:00Z
We could not have asked for a better place to stay. The house was just as described, just what we wanted, the hosts made us feel at home. While all of our needs were attended to, we were left alone to enjoy a private experience. The location was ideal, it was secluded, but just 20 minutes from anything you might want to do. Our favorite spot was the front porch, we sat and talked, played games and reconnected. It was nice to just get caught up on our daily lives. We were with my daughter's family from the Bay area, we are from southern California, so we met in the middle. If you are from a city, your breath will be taken away with the stars at night. Away from city lights, they are magnificent, something I was looking forward to seeing. During the day, we went to Morro Bay and Pasa Robles, and spent time wine tasting at few vineyards. If you are planning a wine tasting trip, this is the ideal place to stay, you have so many to choose from that are local, not to mention the great wines served right where you will stay. If just you want to escape and unwind this is a perfect spot, and if you grew up in the country, this will remind you of those days. For any occasion, I would recommend staying here. You couldn't ask for better hosts or house to stay in. It's a perfect place to explore from, and return to and relax.
Daniel
2015-07-06T00:00:00Z
Hosts were very gracious, extremely friendly and helpful. John saw us tinkering with the grill and he asked if it needed propane, etc. We told him everything was fine - we were just making sure everything was working as we planned to grill later - when we came home at the end of the day, the grill had been cleaned, propane was topped off, etc. Had a wine tasting as well - the tasting room is a 5 minute walk from the ranch house - staff was very friendly, knowledgeable, and chatted with us for an hour or so. Views from both the front and back yard are spectacular. Also got to meet the horses, dogs, and cat (all very friendly). The house itself was very comfortable and better than the pictures. Nice breeze comes through as well - no need to worry about any heat.
Brian
2016-06-20T00:00:00Z
We stayed at the ranch house. It's a beautiful place and well decorated with a rustic feel to it. We all had an amazing time there. Make sure you do the barrel room tour.
Yasin
2015-09-08T00:00:00Z
Тип размещения
Дом/квартира целиком
---
Тип жилья
Дом
---
Вмещает гостей
6
---
Спален
Крестон, Калифорния, США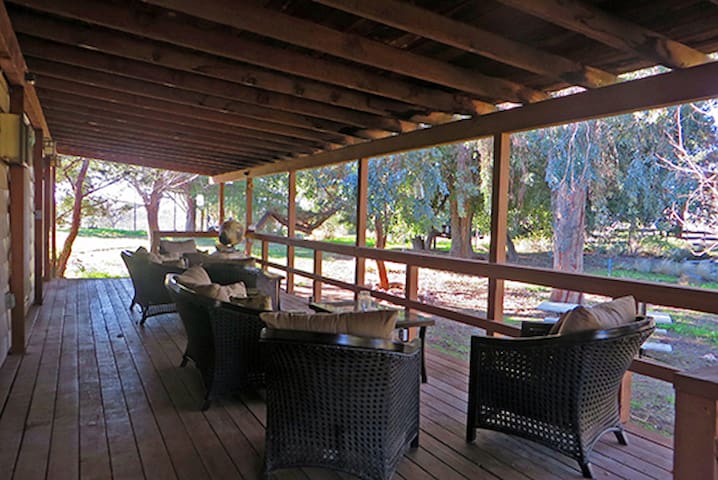 Пасо-Роблес - Airbnb
:
В среднем,

4.45

из

5

звезд на основании

22

отзывов гостей
Введите даты, чтобы увидеть полную цену без учета дополнительных сборов и налогов.