Введите дату прибытия в формате дд.мм.гггг
Введите дату отъезда в формате дд.мм.гггг
Объявления, которые вы можете забронировать, не дожидаясь одобрения от хозяина.
12 объявления
· Франкфорд
12 объявления
· Франкфорд
Введите даты, чтобы увидеть полную цену без учета дополнительных сборов и налогов.
В июле и августе этого года вы сможете открыть для себя один из сотни самых лучших домов, с самыми разными ценами, и увидеть долину Сонома, какой ее видят местные жители. Круглосуточное прибытие, мгновенное бронирование, местное вино и закуски помогут вам расслабиться и насладиться поездкой.
Gateway for the weekend and relax in the serine beauty of Northern NJ. Beautiful picturesque Highland Estate. 9 miles from Mt Creek resort and 6 miles from Crystal Springs Resort. Gorgeous back yard with huge patio, fire place and Koi pond. Nearby lakes, Golf, mountain biking, skiing, snow tubing and water park. Guests will enjoy new 1800 count cotton sheets, new comforters, new towels in our 4 year old home. The home is immaculately kept and cozy with 2 king beds and 2 full size beds.
Our room is cozy and very comfortable with a king size bed! This room is on the second floor of the house. It is located in a great community in the Sussex County area. Enjoy a nice kitchen and large patio to relax and enjoy a nice quiet time. Guests will have access to the kitchen, living room and back yard patio to relax and enjoy some quiet time. Yes I am available via text messaging for any questions or concerns.
We live in a quite neighborhood. We are located 9 miles from Mountain Creek which is a ski resort in the winter and water park in spring/summer/fall months. We are also 6 miles from Crystal Springs Resort. There is plenty of restaurants, antique stores, golf courses, lakes for fishing or swimming in the area. I have one TV in the home with AppleTV connection only. We cut the cord over 7 years ago. We have WiFi available so you can airplay or connect your device directly to our 50 inch flat screen.
What a great choice. Amazing home with fantastic outdoor are to relax, grill and unwind. Amazing Coy Pond. Fantastic communicative host. Close to Golf , skiing and all activities. Highly recommended!
James
September 2016
David was a wonderful host. We had a great time and found our stay easy and relaxing. Highly recommended!
Ben
October 2016
While the house itself is big and comfortable - it was NOT ready for guests. The beds had blood stains, the sheets were not clean/changed, there was perishable food in the refrigerator, and the upstairs bathroom had not been cleaned. The driveway and walkway had about 2 inches of snow which had not been removed, creating an icy and dangerous condition; not only for us as guests, but for the host. That's a simple thing to fix to prevent a major lawsuit. We did enjoy the fire pit in the yard but overall, I don't think we will be returning to this home. This house was NOT prepared for guests to be staying in it.
Cara
January 2017
Тип размещения
Дом/квартира целиком
---
Тип жилья
---
Вмещает гостей
8
---
Спален
4
Франкфорд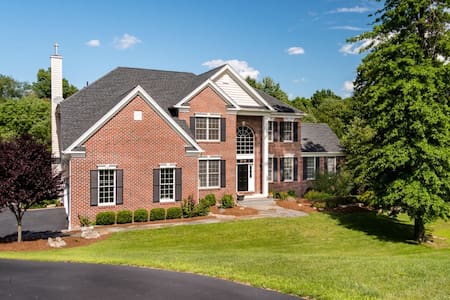 Cosy Country retreat only an hour and 30 minutes from Manhattan, right on Kemah Lake, perfect for long weekends with friends and family. Cabin is newly refurbished with all mod cons whilst maintaining genuine charm and character. Short drive to antique towns of Lafayette and Milford, as well as traditional country pubs such as the Buck Hill Brewery and The Walpack Inn. Absolute must see.
Access to whole Cabin as well as 3.5 Acres of private land and woodland including Kemah Lake.
**Access to the Second Queen sized Bed is in the Sleeping Loft off the living room space displayed in Picture #3 - We have made it as easy as possible to access this room however some precaution should be taken when going up and down this ladder. Additionally we have a pull out couch downstairs in the room adjoining the master bedroom. For any further information do not hesitate to ask.
Wonderful cabin and wonderful people! This place was so perfect we didn't want to leave! Ben made sure we had everything we needed and was a wonderful host, quick to respond if we had any questions. The neighbors are friendly and the suggestions Ben had made for exploring the area gave us several options for a quality vacation. We can't wait to go back! Highly recommend!!
Heather
December 2016
Ben's cabin in Newton, NJ is amazing. He is a stellar host, warm, welcoming, informative and very responsive. The space is a beautiful cozy log cabin with lots of sophisticated touches and impressive modern amenities. You can tell that a lot of care went into every detail. It's a great natural setting on the lake that invites you to rest and relax. We also enjoyed the local restaurants that Ben recommended, we enjoyed his big theater-style screen for movies and we even visited an Alpaca farm in town. It was a great winter getaway! FYI: Watch your head if you're tall, as the ceiling beams are quite low. :-)
Karen
December 2016
This was the perfect cabin in the woods. It was such a pleasure meeting Ben and staying in his cozy cabin. Ben made sure we had everything we needed and mentioned places to eat and visit. Everything was more than I imagined! Thanks for the hospitality!! We would definitely recommend this cabin and of course we'll plan to come back again! Have a happy new year!!
Tana
January 2017
Perfect city escape in a beautiful area. And the best of an authentic log cabin experience -- with the best of magical modern life. Great hosts, too. Feel restored!
Andrew
December 2016
Тип размещения
Дом/квартира целиком
---
Тип жилья
---
Вмещает гостей
4
---
Спален
2
Ньютон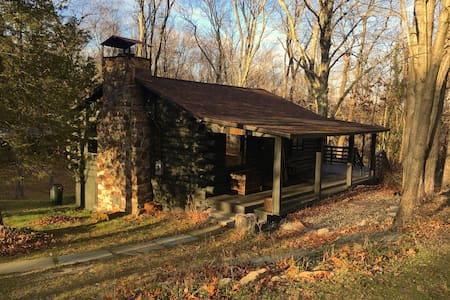 Consists of bedroom, full bath and private den w/tv. Located on a small lake inside a State Park on a dirt road. Park offers boating, swimming, hiking. Skiing nearby at Mountain Creek . A few miles from NJ State Fair (August). Fishing avail. off dock. Local attractions include: Delaware Water Gap; Sands Casino (Bethlehem, PA); Crystal Springs Resort; Space Farms Zoo; Sterling Mining Museum. Lakota Wolf Preserve; Water Park; Visit local historic sites.
Private suite includes bedroom; private full bath and large tv lounge area with 2nd story views of the lake. Queen size bed. Guests can fish off the dock; use our rods but bring your own worms. Patio and yard available for leisure uses. We're be there to greet you upon arrival and available to answer any questions.
This is a rural area with many farms in the area. We are located within a state park SWARTSWOOD STATE PARK. The park offers swimming, hiking, boating etc. The lake freezes in the winter and skating is available or sking at ski slopes about 20 miles away. Newton is located in the Northwest corner of the state where NJ, PA and NY meet. Convenient to Milford, PA; Warwick, NY and Morristown, NJ House is located within a NJ State Park, on a dirt road. Lake is in the back and park land is across from home. Main gate of park is 1 mile. Swimming; boating; fishing; hiking. Easy access to Sussex County Golf Courses LOTS OF INFO ABOUT THE AREA Sussex County, New Jersey Sussex County is the northernmost county in the State of New Jersey. Its county seat is Newton. It is part of the New York City Metropolitan Area. Wikipedia Area: 536 mi² Founded: June 8, 1753 Population: 145,992 (2013) County seat: Newton Colleges and Universities: Sussex County Community College, Points of interest Sterling Hill Mining Museum Space Farms Zoo and Museum Kittatinny Valley State Park Swartswood State Park Delaware Water Gap 15 mi to Milford, PA Local Golf Clubs: Ballyowen Golf Club Bear Brook Golf Club Black Bear Golf Club Crystal Springs Golf Club Culver Lake Golf Club Farmstead Golf Country Club Great Gorge Country Club Hidden Acres High Point Golf Club Lake Lackawanna Lake Mohawk Golf Club Newton Country Club Rock View Rolling Greens Golf Club Skyview Spa Golf Club Walkill Country Club Wild Turkey
Bob & Kathie are great hosts! I really enjoyed meeting them and they made me feel right at home! Listing is as pictured, beautiful place, great location & comfy bed. Everything you need for a great stay in the area is here!
patricia
July 2016
Robert and Kathie made us feel very welcome. The house is lovely and surroundings beautiful. There hospitality made us feel very welcome. We will be back!
Lorelei
March 2016
Can't say enough good things about this place. It was Beautiful, charming, very clean. Bob and Kathy are excellent hosts who are accommodating, friendly, and respectful. I look forward to going back in the summer when the kids and I can utilize the lake and backyard. I would stay again any time of year!
johnny
December 2016
I can't say enough nice things about this stay. The hosts were accommodating to my later arrival and early departure. They were most gracious, friendly and made me feel safe. The space upstairs was exceptionally clean. It all looked brand new. The house is located on a beautiful lake that I could have taken in all day had I not had other plans. If I find myself back in this area, I would most certainly try to stay here again.
Cara
October 2016
We had a great time at Robert and Kathie's house. The place itself is clearly in the top 1% of the Airbnb houses in the US. So beautiful and quiet, with astounding surroundings (a LAKE and a forest!). Robert and Kathie made us feel at home instantly. We had a lovely time.
Géraldine
September 2016
We had a wonderful stay with Kathy and Bob. Very warm welcome along with a nice (and clean) space to stay. the view was amazing and we loved the surrounding park. also enojyed breakfast in the morning. thank you so much.
Jenny
July 2016
Bob and Kathy were fabulous hosts!! I felt welcome the second I arrived until I left very early in the morning on my departure day. The bed was very comfy and the room was quiet and private. The upstairs living area was large and clean and the bathroom was very nice. The entire experience was great and I will come back and refer my family.
Lisa
September 2016
Robert and Kathy's home is absolutely beautiful. Steps from the lake with gorgeous sunset views! They were great hosts, we had an entire floor to our self, and they made us breakfast before we left n the morning. I would definitely stay there again.
Eleonora
June 2016
Тип размещения
Отдельная комната
---
Тип жилья
---
Вмещает гостей
2
---
Спален
1
Ньютон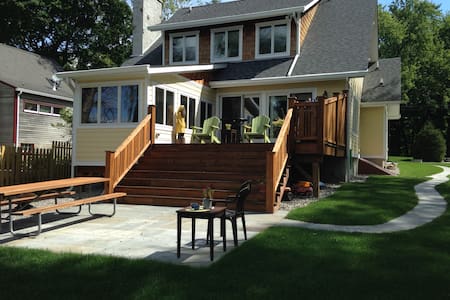 Beautiful farmhouse with spectacular views. 2 bedrooms, 1 queen bed and master bedroom with King bed. Soak in the claw foot tub and decompress. Walk the 40 acre property or just relax in the house. Visit the chickens and collect eggs for breakfast.
Will not be present
Тип размещения
Дом/квартира целиком
---
Тип жилья
---
Вмещает гостей
4
---
Спален
2
Ньютон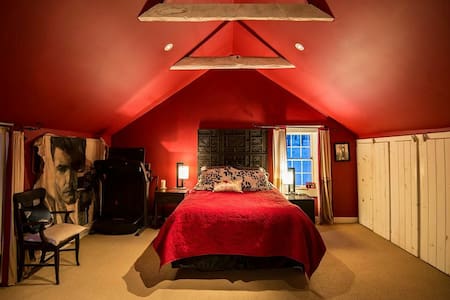 Luxury home with a Private room and full Bath. Home is in the countryside surrounded by wildlife. Close to Mountain Creek Ski Resort. Close to lakeside dining, movie theatre, bowling alley, spas, hiking and biking trails, golf, kayaking, Wildlife, various lakes/rivers. Outdoor Waterparks are close by. Beautiful room and bath in luxury home with nature and wildlife views. Enjoy TV with Cable. Enjoy a cup of coffee in the Great Room as you look out the floor to ceiling Windows.
Two adults. Families will be considered on individual basis. Beautiful room and bath in luxury home with nature and wildlife views. Enjoy TV with Cable. Enjoy a cup of coffee in the Great Room as you look out the floor to ceiling Windows. Enjoy complimentary Bath sundries such as Toothpaste, Shampoo and Conditioners, Body Wash, Hair Dryer. Beautiful room and bath in luxury home with nature and wildlife views. Enjoy TV with Cable. Enjoy a cup of coffee in the Great Room as you look out the floor to ceiling Windows. Complimentary coffee and Toast. Enjoy complimentary bath sundries. Laundry room available for use for longer than 5 day stays. Quiet area with professionals and doctors as residents. Near lakeside and upscale dining, Trails, Golf, Spas, Ski Resort. Weekend nightlife with local bands in upscale restaurants. In the countryside but close enough to NYC a little over an hours drive. Weekend guests will enjoy a private Bed and Breakfast experience. Eggs, complimentary, bacon or ham. Jam, juice, and coffee will be served according to availability. Gluten Free can be accommodated with prior notice and small additional fee. Cleaning fees according to number of nights reserved. please inquire prior to reservation. Special reduced pricing with two or more weeks stay. Laundry Room (limited) for 5 or more days stay. Kitchen (limited), Dining Room (limited), Use of Great Room Complimentary Coffee and Toast And Farm Fresh Preserves, Seasonal when available. Weekend guests will experience a private Bed and Breakfast Atmosphere. Eggs, Bisquits, Toast, juice, coffee, ham or bacon or sausage as available. If you are Gluten Free please specify ahead of time. Prices may be slightly higher to accommodate special diets.
Quiet with Doctors and Professionals as neighbors. Car or Uber Home is clean and neat. Please be verified in order to book. Cleaning fee will be charged according to the number of nights stay and number of adults. Minimum charge is $20 for one night.
Тип размещения
Отдельная комната
---
Тип жилья
---
Вмещает гостей
2
---
Спален
1
Lafayette Township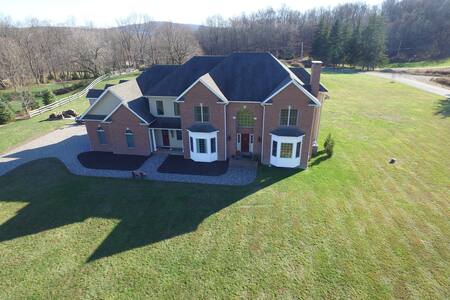 This beautifully redesigned apartment was once part of the historical society and is now the unique Inn at Bonnabrew. All of the furniture and art was hand picked or made by members of the Leenheer family, come visit our antique home away from home.
This apartment is one of three buildings that were once part of the Branchville historical society. The other two buildings will house the Bonnabrew coffee shop and a working theater. The apartment has a very cozy, antique feeling making you feel right at home for your stay. Guests will have access to WiFi and DirecTV as well as full heating and cooling throughout the building. The apartment comes with a full sized refrigerator and unique stove top, also included is a microwave convection oven and large sink. The property will be yours alone for the entirety of your stay. We will be on call if there are any issues or if anything needs to be done, and live only a short drive away.
Branchville is a beautiful and friendly town nestled in the hills around Culver's Lake. If you're visiting New Jersey for the scenery, just a quick drive away and you will end up in Stokes State Forest, High Point Monument, or Sunrise Mountain. If you are looking to go to the city, New York City is within driving distance as well as Milford, PA and Port Jervis, NY. Shopping is also easy with the antique Lafayette Mill and Newton just minutes away. Branchville has many little shops and restaurants around, all within walking distance. There are also bars and pubs that are easily within walking distance of the apartment. Within walking distance is access to food and other important amenities; pizza, diner, Chinese food, and a small grocery store. Across the street one can find the town's post office and bank as well as a friendly community.
The apartment was spotless and well-appointed. The bed, the bath, the furniture in the living area were absolutely comfortable. Steve and Connie met us at the door, then left us alone.
Rick
December 2016
The only way the listing wasn't accurate is that it failed to drive home just how amazing this space is! We have not done many airbnb's yet but out of all the airbnb's and bed and breakfasts we have stayed at it is by far the nicest with the best value.
Cassandra
October 2016
I was so happy to have booked this lovely apartment for a last-minute business trip: as an interior designer I'm really fussy about where I stay and Connie and Steve did an amazing job renovating this space (themselves!) and were so welcoming and interesting to meet. They thought of every convenience, were super helpful and even dealt with an internet glitch during the booking. The space was IMMACULATE, even prettier than in the photos––it's really spacious and would be easy to share using the murphy bed. Unlike a lot of these BNBs, it's well thought out: there are comfy chairs with a side table in the right place; a reading lamp next to the bed, small thoughtful touches like a magnifying mirror and toiletries in the bath––even beers in the fridge! Also such a sweet little town––quiet and nice views onto trees and historic buildings. It's got everything you want for a short or long stay: comfy bed, excellent shower, handy mini-kitchen, cable tv, AC, etc. If you're headed to the Delaware Water Gap or lower Catskills this is really convenient: 20 minutes to river launch at Dingmans Ferry, good flea and farm markets down the road, decent restaurants or take out. Highly recommend, can't wait for them to open their antique store / theater / coffee shop next door (would visit just for that)!
Clare
August 2016
From the minute we pulled up to this historic home we were pleased. Once we entered the apartment I got teary eyed because it was so perfect. Immaculate. Decorated with taste and comfort. The bathroom perfectly stocked and luscious towels and linens. Coffee maker, supplies and a welcome greeting on the kitchen chalkboard! Made our sons wedding weekend perfect. I highly recommend this property.
Trish
October 2016
Our stay at Connie and Steve's apartment was short, but they did everything possible to make us feel welcome. They went above and beyond as hosts and even gave us a ride to the wedding we were attending when we had no other options for transportation! The apartment was clean, cozy and in the heart of the town of Branchville. Communication with Connie was easy & we had no problems getting in touch even though we arrived late due to traffic.
Erin
September 2016
A quaint apartment with modern amenities. Wide plank heated flooring & respect for historical details add even more charm to apartment. Small town with daily walk-about businesses & historical aspects such as: breakfast/luncheonette, post office, churches, barbershop, pharmacy, small pub, auction house, bookstore, yoga studio, etc...& a few more businesses to come. Recent renovations to the building provide good water pressure in shower, lights with dimming & timer features, & some fabulous rare decorative antiques. Apartment is quiet & one can relax & write, or cook a yummy meal. Hosts are extremely kind and cool people; who have foresight & vision. They respect Branchville's abundant history & look to bring authentic vitality into the area; yet always have a respect for the past and history. They are wonderful people who've created a charming place to stay. It was a great way to escape for a week. My thanks!
A J
November 2016
Connie and Steve were super accommodating to our last-minute and late-night arrival. They met us with the keys and gave a thorough tour of their immaculate and ultra comfortable apartment. In the heart of historic Branchville, there is really nothing else like this in the area. Mattress was amazing, two large flat screen tvs to watch the basketball game, and a modern and clean kitchenette and bathroom. Five stars! Thank you so much :)
Katie
June 2016
My boyfriend and I were very happy with our stay in this beautiful apartment, which was amazingly clean when we arrived. It was so nice of Connie and Steve to include the coffee and beer, and the Smart TV was a nice perk! Connie's communication was great leading up to and throughout our stay. Branchville is a very cute, yet very quiet town, but perfect for our needs! The bookstore and pizza shop were highlights!
Ellie
September 2016
Тип размещения
Дом/квартира целиком
---
Тип жилья
---
Вмещает гостей
4
---
Спален
1
Branchville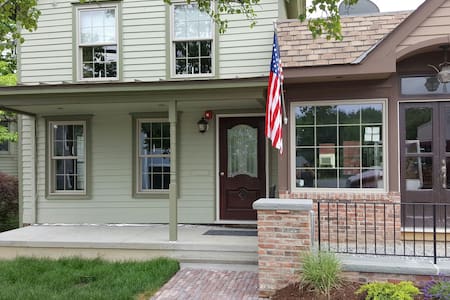 Hickory Corner, known as the Pumpkin House at Stokes State Forest, is a unique example of storybook architecture, magically built from stone, forest and fairy tales, complete with pumpkin-shaped stone sculpture. Full of surprises: bell tower, book nooks, loft, pub-style bar & family diversions. Enjoy swimming beach & paddling on Culver's Lake w/canoe & 2 kayaks. Adjoins the Appalachian Trail, near state fishing streams, art colony, hunting grounds, restaurants and 9-hole golf course. Enjoy it!
Everything about this house is unique. Whole trunks of trees are the major structural support, Two fireplaces, one in the master bedroom, a loft, two beautiful barbecues built for the house. A huge deck and screen porch make the house sprawling, surrounded by trees, sitting at the foot of a mountain above Culver Lake. The house sits on the very edge of Stokes State forest, and so is surrounded by hiking trails, several of which are within walking distance of the house. Guests will have access to all of the house except the basement. Guests will have lake access for swimming at the beach, and use of owner's paddle boats. During the autumn rental season (Oct. to November), the house will be reduced because the screen porch and the outdoor areas may be too cold. The house will be closed 1 December to 1 April. The caretakers of the house will be available throughout your stay. They live next door, down the hill aways. If you need anything, Mike will be able to help.
Generations of families live on Culver Lake, and the community surrounding the lake is thriving. The beach and clubhouse are complete Norman Rockwell, but with good food and interesting people. Lots of kids. Playground. On the other hand, if you want to avoid people, the forest behind the house connects to the Appalachian Trail. You can walk to Sunrise Mountain. We are only accessible by car or by way of the Appalachian Trail, which runs right by the property. We are sixty miles outside of NYC. There is a loft on the sleeping porch with two twin mattresses in it, so the house can hold up to . Unless you're really not affected by cold, the loft is not recommended for autumn rental.
This house is fantastic! So quirky and charming and lovely! Our weekend had an unfortunate bit of rain and cold, but we still made it to the lake a few times and just watched movies by the wood burning fireplace! Rain or shine, this is a perfect getaway from the city! Mike was so great and helpful and gave us a few recommendations for local restaurants that were awesome! Go stay at the Pumpkin House, you won't regret it!
Shellby
July 2016
A great place to spend a fall weekend! Just a short drive from NYC and surrounded by so much beauty - Culver Lake, Stokes State Forest, High Point State Park and the Delaware Water Gap. The Pumpkin house is a gem - we loved it's unique and charming architecture and decor. We were a group of six adults and slept comfortably in the space. We enjoyed the neighborhood - there are many storybook houses to see, the lake and a great Mexican food restaurant. We also explored Stokes State Forest which was very close by. The best time was spent by the fireplace, roasting marshmallows ;) The listing is accurate and the host was great - quickly responding to our questions and available to let us in and give us a tour of the place.
Jessica
October 2016
The Pumpkin House is a magic place to stay. Full of personality, it exudes a charm and hominess that is difficult to find. The furnishings are simple but comfortable. The kitchen is well stocked and although the house has only one full bath it is large and accommodates a group with no problems. My only criticism would be the lack of heat in the bedrooms. I'm sure this is not a problem in the spring and summer but as winter approaches it was bitterly cold and somewhat uncomfortable to sleep in such cold quarters. Two space heaters would easily solve the problem and that would be my strong recommendation.
Cynthia
December 2016
The Pumpkin House is an absolutely incredible home. It's clear how much the owners love and cherish the house, and by the end of your stay you will too! I booked the house for Labor Day weekend with a group of friends and two dogs - we travel together every year and were looking for a relaxing getaway from the big city. Mike met us when we arrived and gave us a tour. We spent the next few days relaxing by the fire and cooking family meals. Most of us were content to stay around the house or walk to the nearby lake access (~3 blocks downhill) to boat, sun and swim. Others went to a nearby winery (~20min), hiked/drove the Sunrise Mountain, or drove to the beach on the other side of the lake. We had an amazing time and would absolutely recommend. Hope to come back one day!
Bridget
September 2016
Monika and Mike were fantastic hosts! And their magical pumpkin house a beautiful place to stay, especially the big screened in porch were we spent most of our time. We also loved swimming in the warm clear lake that was only a 5 minute drive from their home. Would love to come back some day!
Natalie
July 2016
What a wonderful experience while staying in the pumpkin house. The house was amazing, we are like go back to the 70's which everything inside is like telling us a story. Yet, everything is still function perfectly, the bathroom is newly furnished. The house is located next to forest and near to a lake. Also, Mike is very friendly, he welcome us at the house even we arrive late at night, and gave us many helpful information. I would truly recommend everyone to try this experience in this amazing house.
Nicole
October 2015
The house was as advertised. Monica was very responsive and coordinated our arrival with Mike who was timely in letting us into the house. On the day we left further improvements were being made to the house so it will only be getting better. would definitely recommend to anyone traveling to Branchville.
Jarrad
June 2016
What a wonderful escape from the city! The house is clearly well-loved and so charming: full of books, art, and little quirks to discover and explore. The wifi worked great, and the supply of towels and cozy linens was much appreciated. The proximity to great trails and farmstands cannot be beat. We will definitely be back.
Stef
October 2016
Тип размещения
Дом/квартира целиком
---
Тип жилья
---
Вмещает гостей
8
---
Спален
2
Branchville
A private lake community with stocked fish and no motorboats allowed. Within Stokes State Forest, near Space Farms Zoo, Delaware River, Appalachian Trial, Buttermilk Falls, Tillman's Ravine, Fine Dining,State Fair,High Point, Biking, Hiking, Zip Lining, Hot Air Balloon,Mine Tour, Water Parks,Sky Diving,Skiing, Theatre, Hunting. Good for considerate couples, solo adventurers, business travelers, families (with kids), get togethers not parties . Gyps Bar is a brief row from the backyard:)
Woodburning Stove/Fireplace
This is a quiet neighborhood with no motorboats. This is not the place for a rambunctious house party, rather this is a place to relax, swim, row, talk, laugh, and rejuvenate. Please be honest with me if you plan on having a noisy party, due to past instances our neighbors are on high alert to report to us if things get out of hand. I'm sorry I have to mention this, but a bad guest experience has forced me to pay close attention. Only the allowed number of guests are permitted. Cursing loudly, being outside and noisy past 10pm, more than 4 cars in the driveway, and loud music will be cause for action. If this is unacceptable I will gladly cancel your stay with no problems, please be honest with me and yourself as you don't want to loose a security deposit down the line.
We spent a wonderful time at this place. The host offers a lot of great
ABDULMALIK
November 2016
Michael was great and responded to any question we had very fast. the house was clean nice and we just had a great time,
micha
September 2016
Great location....caught lots of fish, and the lake was beautiful.
Joe
September 2016
The house is beautiful. We had a very nice and relaxing time with 9 of us who stayed at the house. There was wetness in the basement, so Michael gave us a free night. I highly recommend this house, though if you have more than 4 or 5 guests, keep in mind there is only one bathroom, so set your expectations properly.
Sri
August 2016
I had a great experience at this house. It was clean and everything in the description was accurate. Stores are just down the road to grab any food or supplies and boats are provided to enjoy the water.
Connor
August 2016
We had a wonderful time at the Lakeside Retreat. The house and the views were beautiful! Michael was very helpful and always answered all of our questions. He also helped us plan our hiking trips to Buttermilk Falls (which I highly recommend!). Overall, the entire process was very smooth and fun. I highly recommend this listing to everyone!
Subhashini
July 2016
The host Michael was wonderful and the communication between us was spot on. Everything we needed was available in the house. The house was clean and well maintained. The views of the lake were absolutely amazing! It was the perfect getaway. The amenities available for the lake (canoes, floats and such) were all great to have right in the backyard. It was peaceful and relaxing. And also lots of fun. The kids had a great time at the community beach. And the adults enjoyed sitting on the deck at night while the kids played in the awesome basement/game room. I can't really say anything negative about this lake rental. It was fantastic!! I would definitely come back!!
Melissa
July 2016
The property is just as Michael described a great place to relax and enjoy. Unfortunately for us it rained most of our time there but the last day was nice for us to enjoy the outdoors more; and Michael was kind enough to allow us to stay a little longer to enjoy it. We were able to play indoors as well as use the water equipment. It was a great experience. I would definetly recommend this property and would love to rent it again in the future.
Rosanny
July 2016
Тип размещения
Дом/квартира целиком
---
Тип жилья
---
Вмещает гостей
8
---
Спален
2
Branchville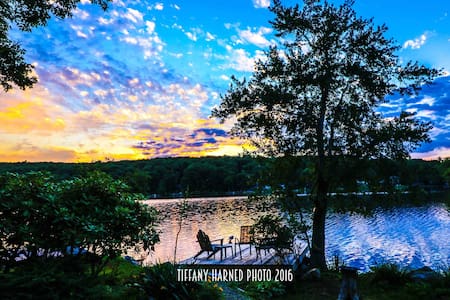 Beautiful, stylish, mid-century home with two guest bedrooms. The house is close to a private beach and family-friendly activities. The house is flooded with light and has a huge, modern kitchen and lots of outdoor space. I can accommodate two couples, solo adventurers, and business travelers.
The house is spacious and inviting. You may rent one or both bedrooms and have access to the living room, kitchen and deck. The kitchen is for vegetarian food preparation only. The price for one bedroom is 100/night. Depending on whether I am there at the time, I am available as needed.
It is a suburban neighborhood and there is parking for a minimum of six cars. There is no television, but I have a wide-screen projector and Netflix.
Paul was an amazing host. He kept in touch and was quick to respond if I had any questions. The house is impeccable and the beds are insanely comfortable. I grew up in NJ and had not been back in 10 years so this trip meant so very much. Paul knew this and made sure I was comfortable and doing well. He checked in often and made sure my daughters and I knew about the local life I may have missed since I had not visited in so long. It was the perfect location for me to head out and go see all that I wanted to see. The sunrises were amazing and if you're lucky, and you will be, you will see plenty of deer eating. I miss NJ for so many reasons and could not have asked for a better place to stay.
Kimberly
December 2016
The kitchen is awesome, beds comfy, and convenient location to family and friends for us!
lynn
December 2016
He met us upon our arrival and walked us through the home to explain how everything worked. He was a gracious host. The home was beautiful and the décor was mid-century modern. One morning the sunrise over the lake was breathtaking. We were very comfortable in the home. We even had access to the new washer and drier.
Wayne
November 2016
Тип размещения
Дом/квартира целиком
---
Тип жилья
---
Вмещает гостей
6
---
Спален
2
Sparta Township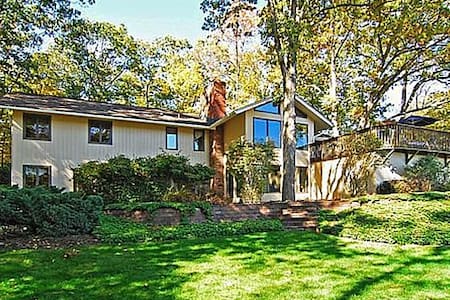 Our family oriented cabin is lake front, with a private dock and float and has Stokes State Park across the street for hiking, biking and exploring. You'll love our place because of the ambiance, the frequent visits of eagles, beavers and deer and overall swimming, hiking and being outdoors. Included is a boat shed with an assortment of kayaks, paddle boards and a canoe. Please note though, you cannot bring your own boat. Our place is meant for families with kids and couples.
Our stay at this property was great! The Lakefront was beautiful- especially nearing peak fall foliage. The property was very clean, Jeff was very responsive to questions and the surrounding area offered tons of outdoor activities. One of our favorite things was plying the marshes on the east side of the lake - very cool and serene. I highly recommend this property.
Todd
October 2016
Idyllic weekend getaway from the city! Jeff's lake house was a perfect place to escape from NYC and relax for a few days. The space is clean and easily fits 5 or 6, and included a kayak and 2 canoes that we took out on the lake. Lake Owassa is absolutely gorgeous, very quiet and close to the Delaware water gap national park and Stoke state forest. Tip: Victoria's Diner down the road is absolutely delicious. Try their slow smoked southern bbq on Saturdays!
Dana
September 2016
Тип размещения
Дом/квартира целиком
---
Тип жилья
---
Вмещает гостей
5
---
Спален
3
Branchville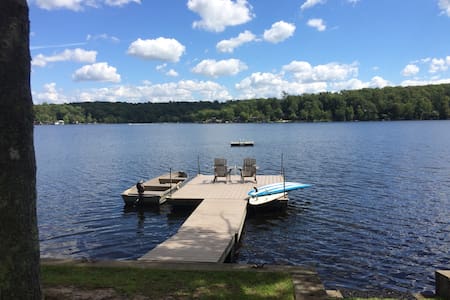 A cozy private room located in Newton Nj! With private bathroom.
Тип размещения
Отдельная комната
---
Тип жилья
---
Вмещает гостей
1
---
Спален
1
Ньютон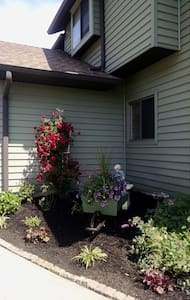 Many people walk the sidewalk to goto the bagel shop, restaurants and the library for free computer access.
Тип размещения
Отдельная комната
---
Тип жилья
---
Вмещает гостей
1
---
Спален
1
Sparta Township