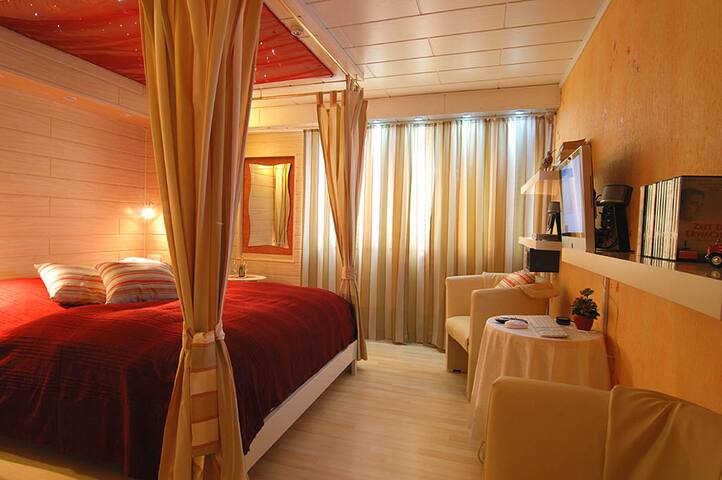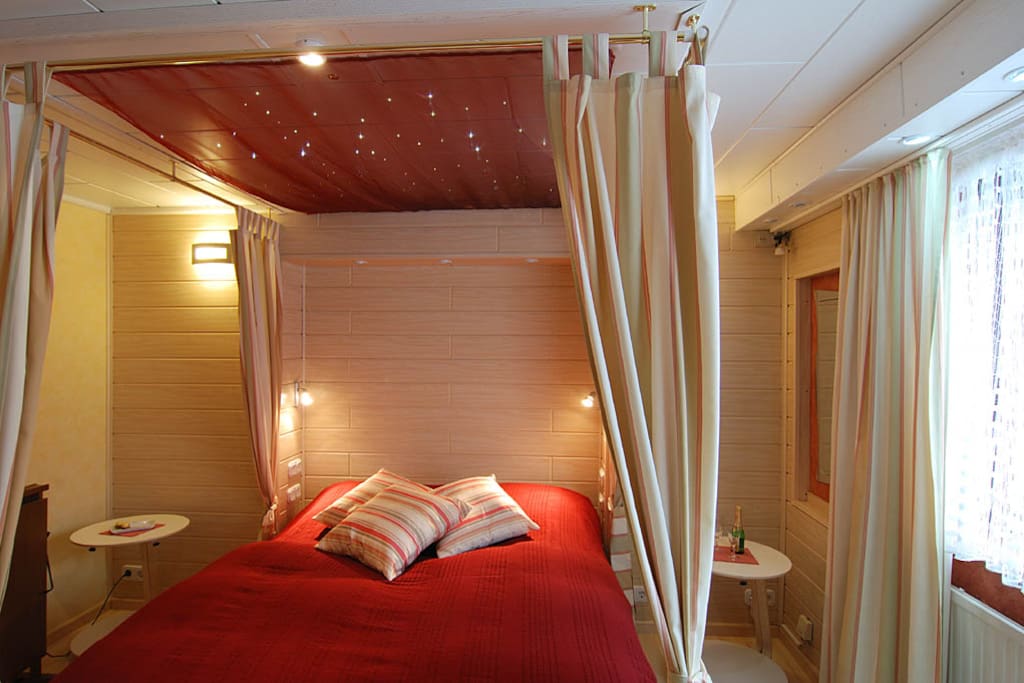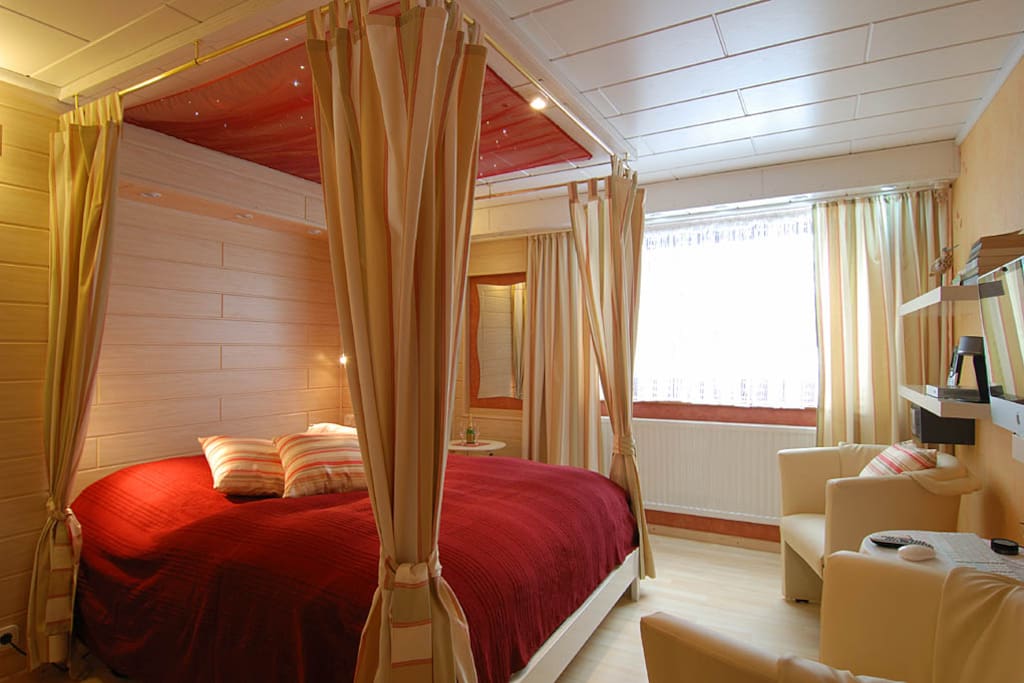 Wirtzfeld Valley **** Guest House
Жилье
This intimate hideaway is a perfect location to experience the Ardennes, as well as catching up on one of the things that keeps bringing couples back again and again – the romance. Breathtaking, lovely, romantic and peaceful are just some of the adjectives you might want to use to describe our apartment.
A lot of time and energy went into the decorating of this apartment and the result is a beautifully luxurious, inviting apartment with just a little something special to make it feel more like home.
Room Facilities: Shower, Safety Deposit Box, TV, Telephone, Balcony, Radio, Bathroom Amenities, Toilet, Bathroom, Infrared Sauna, Heating, Satellite TV, Tea/Coffee Maker, Hairdryer, Wake Up Service/Alarm Clock, Iron, Trouser Press, Bathrobe, Refrigerator, Work Desk, Ironing Facilities, Seating Area, DVD Player, CD Player, Microwave, Video, Video Games, Dressing Room, Kitchen.
Facilities: Online Newspapers, Garden, Terrace, Non-Smoking Rooms, Express Check-In/Check-Out, Safety Deposit Box, Soundproofed Rooms, Heating, Luggage Storage, Gay Friendly, Ski Storage, All Public and Private Spaces Non-Smoking. Wireless internet is available in the entire hotel and is free of charge. Free Public parking is possible on site.
Activities: Fishing, Skiing, Windsurfing, Library, Biking, Canoeing, Walking, Cycling, Bowling, Horse Riding, Mini Golf.
Services: Room Service, Airport Shuttle, Bicycle Rental, Car Rental, Tour Desk, Fax/Photocopying.
Room Description:
An entrance hall separates the kitchen, toilet facilities, relax room with sauna and the bedroom.
This apartment offers more than the average studio – no futons or pull out beds here – a double sized bed with large fluffy pillows to help you rest your weary bones after a long days sightseeing. Motorized adjustable mattresses. Romantic Star lights twinkle from the ceiling, separate reading spots enables you to probe this new poet to your beloved. TV and Computer can be controlled from within the bed by remote control. You might just be tempted to stay in and enjoy the comforts of home but of course you have the breathtaking surrounding nature to explore.
The space is bright and quiet with a large window facing the garden. There is plenty of space for you to store your belongings. What a great use of space!
The kitchen is fully equipped and even includes an oven so that you can whip up a tasty meal with all the goodies you'll pick up at the local market. Use our little dining tray to serve someone special a little breakfast in bed.
There is a separate toilet and a bathroom with shower, of course with thermostat tap.
Technology has not been overlooked as we have installed a flat screen computer combined with satellite TV to keep you up to date with world affairs or just to distract yourself.
Keep in touch with friends and family back home with high speed internet access connected to our computer or use WIFI or Ethernet for your own laptop. Even a webcam for chatting or video conference or to make your own video clips is also available.
- Towels, Bathrobe and linen included.
- Private Parking
- Fridge refill package (optional, indicate personal shopping list)
- Pick-up service from Airport, Railroad station (optional)
Location: Forest, Countryside, Lake, Panoramic View.
Wirtzfeld is a small village at an altitude of 2000 feet, has a ancient church, and is situated next to the famous forests of the Battle of the Bulge. The artificial lake of Bütgenbach (half a mile) offers many kinds of water-sports. Nearby, you will find numerous hiking- and mountain-bike routes, an 18-hole golf course, ski- and cross country tracks, a tennis court, horse riding facilities, a Casino and many cosy restaurants.
The Formula-1 racetrack Spa-Francorchamps is only 30 minutes by car, as well as the charming towns of Monschau, Malmedy and Stavelot. Famous city Aachen in Germany is only 30 miles.
How to get there:
either via the Liege motorway through Verviers direction Malmedy, when in Malmedy itself direction Waimes, then Bütgenbach, and Wirtzfeld. If coming into Wirtzfeld from this side, then follow the main road towards Büllingen, our house is on the left against the hill before you leave Wirtzfeld direction Büllingen.
Or you go through Bütgenbach and follow the signs to Büllingen, then Wirtzfeld.
When entering Wirtzfeld, our house is the third on the right.
Or you come from Eupen and follow the direction to Malmedy, through Baraque Michel and Signal de Botrange, in Sourbrodt direction Elsenborn, straight through Elsenborn towards Wirtzfeld, in Wirtzfeld direction Büllingen, our house is on the left against the hill before you leave Wirtzfeld direction Büllingen.
You will find below a few tips ahead of your stay:
We, Brigitte and Hubert Savelberg, welcome you wholeheartedly into our apartment.
We have done our utmost to make your stay something special, and hope that you will feel at home here and will want to come back. Should you have any queries, don't hesitate to ask us, we are in the same building.
Make sure you take the main door key with you for when you want to get back in! However, you can prevent the door from locking automatically by pushing the latch upwards.
The space where your car is now parked will be reserved for your car for the duration of your stay. So, please make sure to park in the same spot whenever you are back from an excursion. Our family will take this into account, and therefore avoid a situation where one car is blocking the other vehicles.
Orientation:
When you are standing in front of our house and looking at the street, going left will take you on the main road to Büllingen and from there you can either head for Losheimergraben (in Germany) or St.Vith and Luxembourg, or alternatively drive through Büllingen towards Bütgenbach.
Going right will take you first to Wirtzfeld, and then on to Elsenborn (which has a cheap filling station), Sourbrodt, Ovifat, Baraque Michel, and from there to Verviers or Eupen. When in Elsenborn, you can also take the road to Monschau in Germany.
If you go up the hill on the right of our house: Just before the next house (where you will find a hairdresser by the way) on the left-hand side (thus after a mere 50 metres) you can turn left into a scenic forest road along Lake Bütgenbach all the way to Bütgenbach, which is 3 km shorter than via Büllingen.
From Bütgenbach the road goes on to Malmedy and Francorchamps.
There is a Fina filling station just outside Bütgenbach on the way to Malmedy.
Bakeries where to get the morning bread:
in Büllingen on the main street, before the intersection to Bütgenbach and St.Vith,
or on the Marketplace in Bütgenbach.
In Büllingen, you will find a Delhaize supermarket and a selection of other shops on the main street.
There is a SuperGB supermarket on the main street in Bütgenbach.
You will find hypermarkets just on the other side of the border with Luxembourg: gasoline, coffee, cigarettes, alcohol and Spa mineral water in particular are really inexpensive here.
You will find a number of banks on the main street in both Büllingen and Bütgenbach: ING, Fortis, Axa and KBC.
The Büllingen post office is located on the main street and is open from 9:00 to 12:30 h and again from 14:00 to 17:00 h, except Wednesdays from 11:30 to 12:30 h and 14:45 to 19:00 h. The post office is closed on Saturday and Sunday.
A local market is held alternatively on Tuesday, i.e. first week of the month in Büllingen, the fourth week in Bütgenbach.
Tourist information leaflets on our region are available in the hall. Please help yourself to whatever you need.
Tourist Information: Marketplace in Bütgenbach – Opening times:
September – June: Tuesday to Saturday incl. from 9:00-16:00 h, Sundays and holidays from 10:00 to 13:00 h.
July and August: Monday to Saturday incl. from 9:00-17:00 h, Sundays and holidays from 9:00 to 15:00 h.
Closed on Christmas Day and New Year's Day.
Sight-seeing flights over Lake Bütgenbach or the High Fens with "Ultra Light Machines" can be reserved for you (weather depending) with friendly pilots at a small airstrip nearby.
Wirtzfeld boasts an excellent restaurant (Drosson near the church), Büllingen even has a snack bar on the main street (Sauer), and there is a selection of great restaurants in Bütgenbach (Chinese, Bütgenbacher Hof, Seepanorama, Pizzeria), as well as an Irish pub with a good atmosphere (Bütgenbach Marketplace direction Wirtzfeld, on the corner).
Lake Bütgenbach is suitable for swimming, and the Worriken (Bütgenbach) Sport Centre offers other types of water sports.
Mountain bikes can be hired.
Lighting triggered by motion sensors has been installed in the garden, hall and walk-in wardrobe. These lights turn on automatically when you move in their immediate vicinity, and turn off again automatically after some time.
When the weather is fine, you can have your breakfast on the terrace outside the door; you will find cushions for the seats and a parasol in the grey container there.
We have deck chairs at your disposal, should you wish to use them.
The kitchen has all the necessary appliances and implements to allow you to prepare breakfast and even cook a whole meal: microwave oven, hot air oven, 4-ring electric hob, extractor hood, refrigerator with ice box, mixer, coffee maker, toaster, electric kettle, pots and pans, wooden spoons, etc. and crockery for 6 persons. There even is a small radio.
You will find two waste bins under the sink: the green one is for organic waste, the other for residual waste. You can empty the residual waste into the red rubbish container (outside) when the bin is full. A second container outside for waste bottles.
Household waste is collected on Tuesdays in special municipal bags which we supply you with.
The computer in the hall features a pull-out keyboard for ease of use.
You will find an ironing board in the walk-in wardrobe, and an iron in the kitchen cabinet.
A fire extinguisher is installed in the hall, next to the walk-in wardrobe, together with the contact numbers and addresses for the emergency services (fire brigade and ambulance).
Next to the fire extinguisher you'll find the room service bell.
Smoking is strictly prohibited in the hall, bathroom and bedroom. The reason for not allowing smoking in the bedroom is quite obvious, and the bathroom features a washbasin made of a special plastic material, which would get damaged too quickly by hot ash. Smoking is allowed in the ktichen on request.
The lights above the washbasin are turned on or off with a switch in the cabinet, where you will also find a socket for the hair dryer or (your) electric razor.
Spare towels and additional toilet paper are stowed in the bathroom cabinet.
The many light fixtures in the bedroom can be activated whether left or right of the bed with the 5 separate light switches. Only the ceiling fixture can also be operated from the switch by the door.
The reading spots should only be used when directed away from the wall, since the halogen lights are too warm to be directed at the wall.
The romantic starry ceiling consisting of LEDs with fibre optics and low voltage can be left on all night if you wish…
An electronic Safety Deposit Box is at your disposal in the bedroom: to OPEN the first time: ENTER, than give the CODE 123, and press ENTER again. The door opens. To close the door, press ENTER, give your private code (up to 6 numbers), press again ENTER, close the door and press CLOSE. To reopen the safe, press ENTER, give your code and press ENTER again.
The two mattresses with Lattoflex frames are individually powered so that you can adopt the most suitable position when watching TV.
In case of a power cut (you are now in the East Cantons where this may happen sometimes…), there is a battery-operated torchlight in the bedroom and you will find tea-lights in the kitchen cabinet.
But please use the latter with caution!
The whole apartment has central heating. Should you feel cold nevertheless, you can increase the temperature on the radiator thermostat. The hot water for the kitchen and bathroom is also produced by the central heating.
The shower in the bathroom is fitted with a thermostatic tap on the left, which you can set to 38°C for a constant temperature while showering. The right-hand tap has two functions: economy shower, or after the stop position, a stronger jet.
When used as a holiday apartment, the sheets and towels are obviously not changed every day (this is how prices are lower for longer stays). So please hang your towels to dry above the radiator in the bathroom.
Check-out: You can contact Hubert via (SENSITIVE CONTENTS HIDDEN) or alternatively ring the room service bell in order to return the key and remote-controls.
You will be given one apartment key and 4 remote-controls to use in the bedroom:
Remote controls:
1. A wireless headset to telephone via the (SENSITIVE CONTENTS HIDDEN) Internet connection on the computer in the bedroom. Please use your own (SENSITIVE CONTENTS HIDDEN) name, or the system's user name. (SENSITIVE CONTENTS HIDDEN)Out to normal telephone numbers is also possible up to a maximum amount of €5.00.
2. A small white SofaControl remote-control which allows you to navigate the various options of the multimedia systems on the computer in the bedroom.
Click on Menu, go to Front Row and click on OK.
Select the PHOTO Section and go to 800_Fotos, click OK and a slide show of some 800 pictures taken in the Wirtzfeld area will be displayed on the screen in a continuous stream against nice background music.
Or select the DVD Section and navigate until you see a DVD title that you would like to watch.
Or alternatively select the Music Section and go to the Party Shuffle in order to enjoy continuous music in the bedroom out of our library of 1,500 or even 13,000 tracks.
3. A (silver) remote-control to operate the television on the computer in the bedroom: The four coloured buttons around the circle in the middle of this remote are the main options: smaller or larger image, the list of channels to choose from or turn off, request for information, or zoom in/out.
4. A wireless mouse for the computer (white) to operate directly all the options on the computer screen itself.
5. There is a small thumb-wheel on the small table to control the volume: Click on it to turn the sound on/off (the light indicates the functions); turn the edge to increase/decrease the volume. The TV volume can also be operated from the comfort of the bed via remote-control.
You will find a number of icons at the bottom of the computer screen, which can launch the installed programs.
The computer screen features various Internet options:
When Safari Browser is started up, you can directly call your mailboxes via Webmail, but you might be more comfortable doing this on the Tower PC in the hall since it is also equipped with a pull-out keyboard.
Tourist information is available on (URL HIDDEN) or on (URL HIDDEN) where several links will take you to other sources of knowledge on our beautiful East Cantons.
Your bedroom computer/TV:
- A number of DVDs have been installed on the hard disk,
- while the iTunes music library holds some 1,500 tracks that you can either sort out according to category and play, or by simply selecting the Party Shuffle option, let the computer do the song mix.
- Satellite TV is available with a choice of approx. 400 active channels via Astra. You can display a TV guide on the computer screen: choose from all the channels or favorites.
- NEW: The TV Flanders Pluspakket regrouping various Flemish broadcasters, and a number of english spoken channels are also available free of charge.
- QuickTime Movie: using the built-in camera, you can make your own video clips and e-mail them to acquaintances or to your own e-mail address.
- It is also possible to activate the camera when using (SENSITIVE CONTENTS HIDDEN) Telephony.
The camera is protected by a small lid, which you must first flip up to activate it.
When the camera is in use, a small blue light is visible in the top part of the computer screen.
Your laptop: Even though the apartment is fitted with 2 computers, it offers WIFI (Wireless Internet connection) everywhere, even in the garden, and there is also a fixed Ethernet connection to the Internet in the bedroom. With regard to data security, please inform us beforehand if you are bringing your own laptop, and if you wish to connect to the Internet (free of charge) via WIFI or Ethernet. In doing so, we can ensure that the WIFI LAN will be set up in good time for your computer.
Should you have further queries concerning the operation of the technical equipment, Hubert will gladly show you how to use a few more specific computer functions.
You can set up a wake-up service on the bedroom computer, or otherwise use the alarm settings on the thermometer (which works on batteries and always shows the right time…).
Furthermore, we can make photocopies and send faxes for you, and print out documents from the computer. Just call us!
WINTER: In the winter, please store your skis in the plastic tray in the walk-in wardrobe, so that ice water dripping from the skis can be collected.
Four cross-country skiing tracks start from the village below. You can also rent skis there if you wish. Alpine skiing in Ovifat.
In the winter season, an update of the snow conditions on the slopes is available on (URL HIDDEN) where you can also see for yourself how much snow there actually is thanks to our Wirtzfeld Valley Webcam.
---
Это жилье оснащено всем необходимым в деловой поездке.
---
Тип кровати: Настоящая кровать
Время прибытия: В любое время после 15:00
---
Предметы первой необходимости
---
Доплата за каждого последующего гостя Бесплатно
Общайтесь только через Airbnb
В целях безопасности никогда не переводите деньги и не общайтесь за пределами сайта или приложения Airbnb.
Подробнее
---
Без вечеринок и мероприятий
Недостаточно безопасно или не подходит для детей (0‒12 лет)
Время прибытия — после 15:00
Huisregel... laat u gaan, ontspan u , onthaast u , relax.

Hier vindt u rust inklusief, geen kinderen in huis, geen huisdieren, geen andere gasten, geen liftgeluiden, geen luidruchtige buren.

En een infraroodcabine kan optioneel gebruikt worden. Die heeft naast 8 stralers ook nog een Philips kortegolf therapeutische straallamp.

In de relaxruimte staan bovendien een crosstrainer en een hometrainer ter beschikking.
---
---
---
2 ночи — минимальная продолжительность бронирования
---
Wow! We loved our stay with Hubert and Brigitte. We had a most unique and profound experience learning about the culture and area from them. The apartment is amazing with everything you can possible need. The sauna, robes and slippers, and fresh morning pastries were a fun additional perk! They are perfect hosts. The finishing touches that have been added to this apartment make it a perfect place to stay for any reason.
---
This was a wonderful place! The apartment is totally private and quiet. The view from the patio is picture-perfect, just like a postcard! The view is from a hill-top meadow overlooking the small village of Wirtzfeld. The church, built in 1601 highlights the picturesque view. The apartment is actually a small home with ALL the amenities, including outstanding internet connectivity for those that are interested. Tastefully decorated, artfully appointed, and plenty of local/regional reading/reference material for your use. The hosts are a wealth of information and generous with their time if you desire a more personalized stay with plenty of insights on what to see, be it nature, history, crafts, architecture, or the local aerial flying tour of this scenic region! My wife and I thoroughly enjoyed our stay, it was beyond anything we imagined when we carefully researched our stay in this region of Belgium. Beautiful, peaceful and relaxing. We will certainly return here every time we venture to this region again!
---
We really enjoyed our stay at Wirtzfeld Valley for 2 nights. Hubert and Brigitte live next to the house but it's very separate so they're not really there unless you need them. Ideal scenario for they both know the area well and will go to great lengths to help you with further information. The garden terrace is very nice and when the small pool is complete, it'll be a great sun spot. The wi-fi on the terrace is the cherry on the cake. Inside, you have everything needed. Hubert is media savvy so the full Apple set-up and other devices work well, whatever room you're in. I especially liked the fact that I can use Netflix on the tv whilst sitting in the sauna. That was a bonus.(to be clear, the tv isn't actually inside!) The bedroom is very tastefully done. The ambiance is great and the electronically controlled beds very cool. There's not much to be improved. At a push,perhaps some better cutting knives for those who are cooking at the house. There are restaurants nearby of course but we cooked in the spacious kitchen quite a bit. Last point, Hubert & Brigitte are both well travelled which is clear when speaking to them. Very open and interesting. Between them, they speak English (near perfect!), Dutch, German, French and un poco Espanol. We will be back!
---
Retired now, born 1950, married to a girl (1953) from Wirtzfeld since 1973, and proud parents of 2 sons. Macintosh user since 1984, internet provider in East Belgium since 1995 and driving a 100% electric car since 2012.
Travelled all over Europe, Alaska, the Caribean islands, Hawaii and the South Pacific islands, South America, North and South Africa,the Philippines, several middle East countries, and Australia and Tasmania.
Языки:
Deutsch, English, Español, Français, Nederlands
Частота ответов:
100%
Время ответа:
в течение часа
Открывайте новые возможности в г. Büllingen и поблизости
Другие варианты жилья в г. Büllingen: