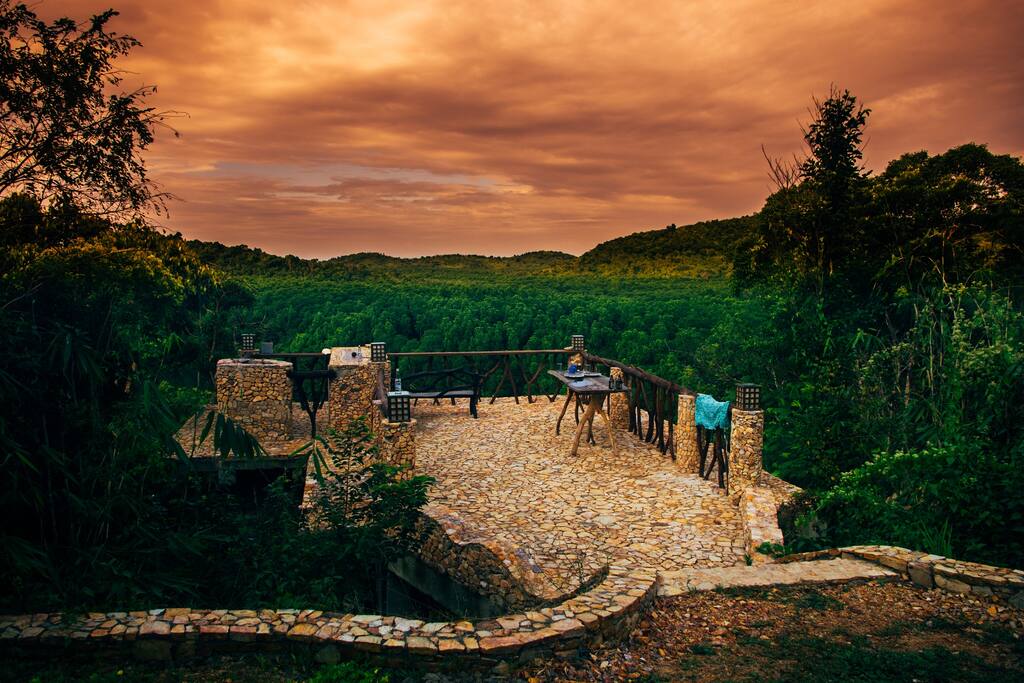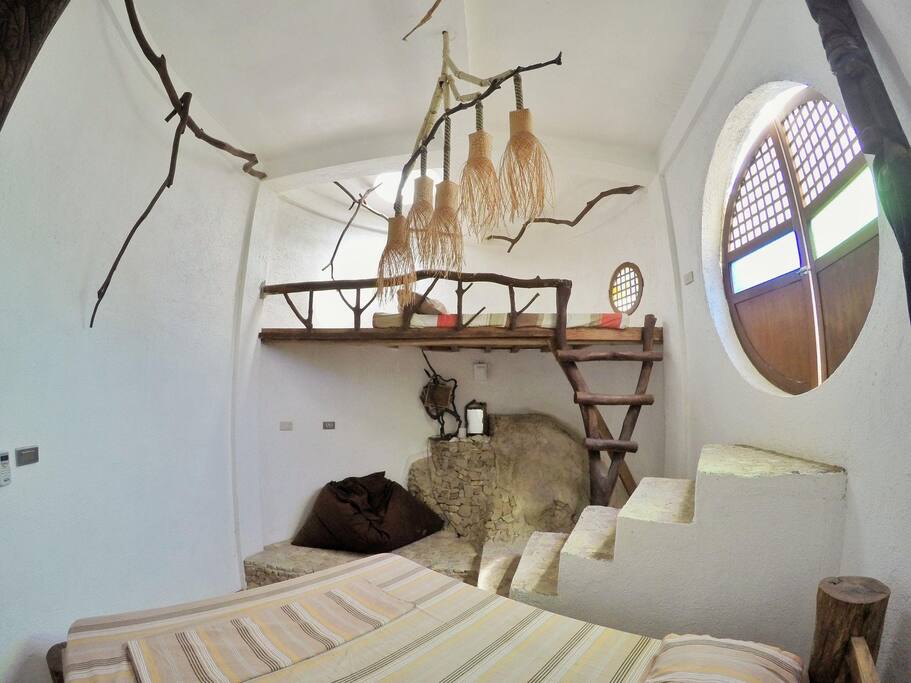 Тропический дом Хоббит! В комплекте с круглыми дверями, ступеньками под землей, световые люки, матрас королевы и лофт с двуспальной кроватью и креслом-мешком для бобов и читальным залом, украшенный деревом из натурального дерева. Максимум 4 человека. С AIRCON !!!! И смотровая площадка заката !!!
Tropical Hobbit House! Complete with round doors, steps underground, skylights, queen mattress and a loft with a double bed and bean bag chair and reading area, and decorated with native hardwood art. Max 4 pax. With AIRCON!!!! And a sunset viewing deck!!!
Жилье
Мы не «курорт». Мы предлагаем более уникальный, местный опыт. Наши гости не ходят по «турам» ... мы получаем лодки, и вы сами выбираете себе дорогу. Мы предлагаем каяки и покажем вам карты. Мы проводим вас до фермы, Водопад (или наша собака, Бухай делает) и познакомит вас с местными жителями. Наши гости в прошлом посещали местные свадьбы, фестивали, дискотеки в джунглях, местные вечеринки по случаю дня рождения и т. Д. У нас есть полный ресторан и бар. Или просто расслабьтесь, поскольку у нас есть места, чтобы просто охладиться и наслаждаться вашим окружением. У нас есть wifi (в джунглях!), Мы можем предложить места, которые не посещают туристы!
We are not a "resort". We offer a more unique, local experience. Our guests don't go on "tours"....we get boats and you choose your own trip. We offer kayaks and show you maps. We walk you to the farm,
Waterfall (or our dog, Buhay does) and introduce you to the locals. Our guests in the past have attended local weddings, fiestas, jungle discos, local birthday parties, etc. we have a full restaurant and bar. Or just relax as we have places to just chill and enjoy your surroundings. We have wifi (in the jungle!) we can offer places no tourists visit!
Доступно гостям
Костер, бар, прокат байдарки, плавание, Resto, терраса на крыше !!!!
Bonfire, bar, kayak rental, swimming,
Resto, rooftop terrace!!!!
---
Предметы первой необходимости
---
Вы должны также принять к сведению
В доме живут собаки
---
Great place! Beautiful views and the "ate's" and "kuya's" (help) were very nice and helpful! We came during rainy season so it wasnt the best time - slippery, muddy and quite a lot of mosquitos (make sure to bring a lot of mosquito repellent) but other than that Sancturia was definitely a unique wondferful experience. Kayaking through the mangroves is a MUST TRY! We even saw monkeys swinging from the trees! Would definitely book again next time!
---
I came to Busuanga to spend much-needed time away from the city, finish some writing backlog, and do a little bit of ocular for a retreat I plan on hosting. Sanctuaria was the perfect place to book my stay. While it is not a luxury resort, it offers convenience you don't find in many lodgings. Nikki has been very assistive. While I didn't get to explore the nearby islands (I almost did - but had something else planned in Coron Town), you can definitely rely on her to help you arrange your trips. I got to check out the nearby farm with Brian and co. There was sadly not much produce that time but I was happy to find the river with a rope swing and a hut nearby. I thought that would be a great place to take retreat-goers if ever, among many other nice places in Sagrada. The menu is a bit limited but the food is always good and, I assume, fresh! When they knew that I love seafood, they put more fish in the menu. :D Buhay the dog was my sole tour guide to Concepcion Falls. I tend to be passive around dogs but this time it was to my advantage because Buhay is said to be easily peeved by touchy humans. I'd like to think my persistent nonchalance merited me the happy licks I got at breakfast on my second day and some furry company while kayaking along the mangroves. <3 I left Sanctuaria feeling nourished. And 70% a dog person. It was one for the books!
---
Sanctuaria was a wonderful little reespite from the hustle of Coron town and a great way to head into the depths of the beauty of Busuanga. They took great care of me and I got lucky enough to be there during a birthday celebration with tons of karaoke, food, and booze into the night. It felt like a family there and they were close to all the really great islands to visit. That said, you have to rent a boat to get to the islands and the boat driver they use was a little expensive. Look around to find other boat operators and see if they will do a truly open-ended trip instead of just to the islands you decided the day before. Otherwise, a really great trip and a wonderful view.
---
Sanctuaria was home for the past weekend, made more special by the fact that we were the only ones in the place. Sanctuaria has it all: hanging signages, rivers covered by mangroves, useless kayakas filled with rainwater, pretty verandas, ice cold beers, wet bonfire Kindles, a Hobbit house and a treehouse, a zoomed in bench, a bar named after a dog, and a big black dog named Buhay that can guide you to the river, the falls, and the farm. To sum it up, we recommend Sanctuaria for your next trip in Coron/Busuanga. :) Note: Bring it insect repellent fo sho.
---
The hobbit house was super cool and the property in general is beautiful! It's about an hour from Coron, but very easy to arrive on public bus as they will drop you right at the entrance. The staff is great and very willing to help with any of your needs, however take care with the dog as he doesn't like to be touched. The food is very tasty, but options are limited. We arrived quite early and they were very accommodating. We took the kayaks out all day and it was wonderful floating through the mangroves and getting our workout in for the day. Overall we truly enjoyed our stay and would recommend to anyone looking for a beautiful little place off of the beaten path.
---
Частота ответов:
87%
Время ответа:
в течение дня