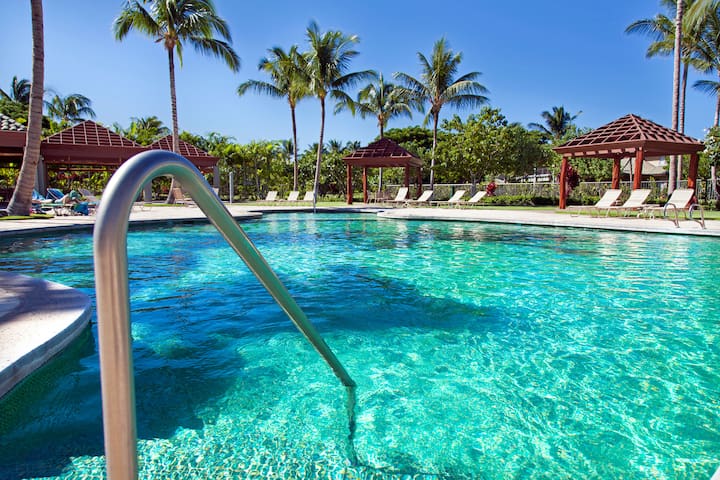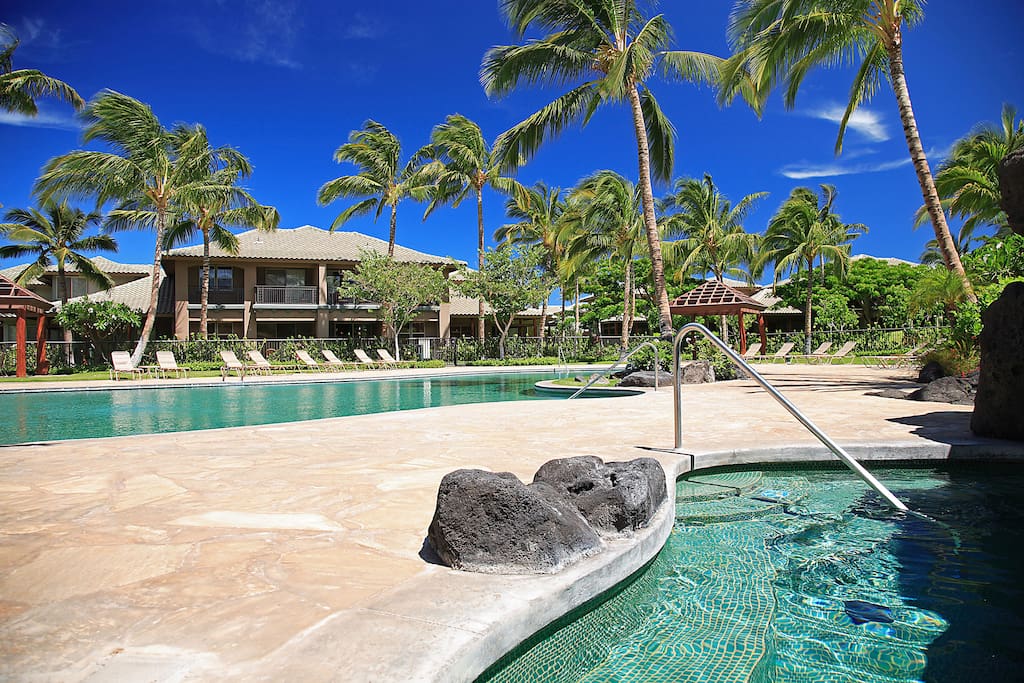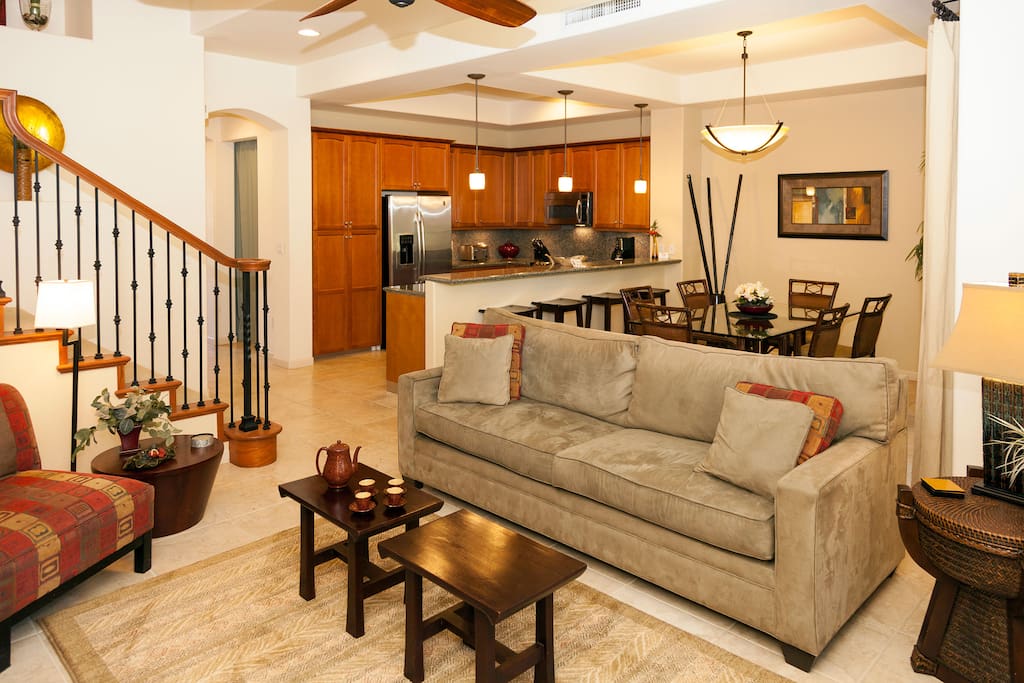 Desirable 2 Bd 2.5 Bath townhouse in the beautiful Fairways at Mauna Lani! Tastefully decorated and well appointed with everything you need in your home away from home. Close proximity to beaches, shopping, restaurants.
Жилье
This is a really comfortable townhouse. The bedrooms are upstairs and EACH bedroom has an en suite bathroom. The master is a wonderful retreat with a king bed, sitting area, private lanai, and five piece bath. The main floor has a nice open concept living and dining space which provides access to the ground floor lanai. Enjoy the outdoor living space on the lanai with a sitting area and Viking grill, sink, and food prep area.
Другие важные подробности
Доплата за каждого последующего гостя Бесплатно
Залог за сохранность имущества 18056 р
Общайтесь только через Airbnb
В целях безопасности никогда не переводите деньги и не общайтесь за пределами сайта или приложения Airbnb.
Спальня 1
1 кровать King Size
Спальня 2
1 кровать Queen Size, 1 надувной матрас, 1 детская кроватка
Зоны общего пользования
1 диван-кровать
Без вечеринок и мероприятий
Время прибытия — после 16:00
Exhibit A
Fairways 1304 Rules
PARKING You may park your vehicle in any of the available marked parking spaces within the association gated area. Please DO NOT park in front of the garage doors – you may use this space only for temporary loading and unloading.
LANAIS Highlighted here because this is a very sensitive issue for the HOA. Please do not hang wet swimsuits, towels, or leave other personal items on the lanai, chairs or railings. If needed, there are citronella candles in the top drawer of the outdoor kitchen for your use when enjoying your time on the lanai.
NO SMOKING This home is completely nonsmoking. Please refrain from smoking inside the unit or outside on the lanais and common areas.
SHOES Please follow the Hawaiian practice of leaving shoes at the door.
KEYS Prior to check-in, you were provided with a lockbox code. Please leave the lockbox key in the lockbox at all times during your stay. Two front door keys for your daily use are provided on the key holder on the wall above the light switches, along with a key to the pool and a Mauna Lani Beach Club access card. Note: we are charged by the HOA and you will be charged $250 for a lost pool key. Lost Beach Club access cards are $75 and lost front door keys are $25.
FURNITURE Please do not move the furniture and do not sit on any of the indoor or outdoor furniture with wet clothing or with sunscreen or suntan oil.
AIR CONDITIONER Many acclimate to this tropical climate by leaving the AC off and prefer to open the windows and sliding doors to enjoy the fresh island breeze. But if you do use the AC, please do not set the temperature below 74 degrees – it won't cool any faster and could cause pipe freeze-up and damage the unit for which you will be responsible.
ELECTRICITY Energy costs in Hawaii are very high. Please help us conserve energy by turning off lights, fans, and the AC when not in the unit.
PEST CONTROL The interior and exterior is regularly treated but insects and other unwelcome guests are a part of living in paradise. Please don't encourage them by leaving food out and uncovered. Keep screen doors closed.
BBQ GRILL Please use care when operating the BBQ and never leave it on unattended. Extra propane for the grill is in the locked cabinet under the sink outside on the lanai -- the key hanging on the key holder on the wall. These tanks are easy to replace and do not require special tools. The black connector is a quick release and able to be loosened and tightened by hand. If you require the maintenance company to do this tank exchange, you may be charged a $35 service fee. Please notify the owner if you exchange the tank so we can have the empty one refilled. Please lock the cabinet back prior to returning the key back to the hook.
COMMON AREAS Please become familiar and comply with the condominium association House Rules. A copy is included later in this notebook.
GARBAGE DISPOSAL Most kitchen plumbing problems can be avoided by using some discretion in the use of the garbage disposal. Sometimes the trashcan is the better alternative. Rule of Thumb: If you can't eat it, don't put it down the disposal. Definite no-no's are grease, bones, mango seeds, rice & pasta, and fibrous fruits or vegetables.
BEACH TOYS AND GEAR Please enjoy the snorkel gear, beach toys, chairs, coolers, etc located in the garage. Please thoroughly rinse and dry any of the items you use prior to placing them back on the shelf.
TRAVELING WITH CHILDREN You will find a pack n play and highchair in the hallway closet upstairs. If used, PLEASE thoroughly clean and place the items back in the closet prior to departure. There are pack n play sheets available in the closet as well. There is also a variety of games, puzzles, toys, and books in the closet you are welcome to use.
LIGHT BULBS Light bulbs sometimes fail during use in-between inspection by our cleaning and maintenance company. There are extra light bulbs in the laundry room cabinet. Please feel free to replace failed bulbs. You may be charged a $35 maintenance fee any time the maintenance company is called for minor maintenance such as this.
FIRST AID A first-aid kit is provided in the laundry room cabinet for emergency use only. If you need to use this kit and or remove items from it, please email (EMAIL HIDDEN) so that we can replace items so that the kit remains stocked.
NO LIABILITY This townhouse is privately owned; the owners are not responsible for any accidents, injuries or illness that occurs while on the premises or its facilities. The owners are not responsible for the loss of personal belongings or valuables of the guest.
Exhibit B
HOUSE RULES FOR OCCUPANTS, GUESTS AND OWNERS
The purpose of these House Rules is to protect all unit Owners and other occupants of apartments at The Fairways at Mauna Lani and their guests from unreasonable annoyance or nuisance caused by improper use of the facilities. All occupants, including owners and guests, shall be bound by these House Rules as well as by standards of reasonable conduct whether or not covered in these House Rules.
For purposes of these House Rules, the term "occupant" refers to unit Owners and to persons occupying a unit for at least one night (paying or non‐paying). The term "Owner" refers to the person or persons whose name appears on title to the unit. The term "guest" refers to persons invited onto the premises of the Fairways who are not occupants and includes service providers as applicable. The term "unit" and "apartment" are used interchangeably. The term "Fairways" refers to the premises commonly known as The Fairways at Mauna Lani, including common, limited common and non‐common elements.
A. COMMON AREAS AND INDIVIDUAL UNITS:
a. No objects or materials of any kind will be allowed in the exterior area of any unit which disrupts the uniform appearance of the Fairways. Items such as potted plants, lanai furniture and barbecue equipment shall be allowed within reason.
b. Hanging of laundry on the lanais is strictly prohibited.
c. No beach towels or the like should be hung from the railings on the second floor of any unit, and no dryer racks of any kind shall be used that are visible from the outside of the unit.
d. No visible storage of items including but not limited to baby carriages or strollers, bicycles, canoes, kayaks, exercise equipment, toys, or golf carts shall be allowed on the lanai or front entrance way.
e. Hanging of sunscreens requires prior Board approval.
B. PARKING AND VEHICULAR RESTRICTIONS:
a. Owners, occupants and guests must register the model, color and license plate number of all motor vehicles that will be on the premises of the Fairways overnight. Such information is to be submitted to the Property Manager. All others may be booted or towed at the expense of the vehicle owner.
b. Parking stalls are for vehicles utilized by Owners, occupants and guests. No other vehicles may be "stored" in parking stalls. An unregistered vehicle is deemed stored if it has not been moved in 24 hours. The Board has the right, at its discretion, to limit the length of time a registered vehicle may remain in guest parking without being moved. Stored vehicles may be removed from the premises of the Fairways at the expense of the owner of the vehicle.
c. All registered vehicles must have a current safety sticker and registration. Vehicles must be in good repair and have no leaking fluids. Owners and occupants will be liable for damage to the asphalt caused by fluid leaks.
d. Parking of vehicles over 2 ton capacity at the Fairways is prohibited. The maximum size of vehicles allowed at the Fairways is 19 feet long including any trailer hitches, and width and height are limited to 7.5 feet.
e. Motorcycles are required to use a kickstand to avoid damage to the asphalt.
f. Occupants and guests (including service providers) shall NOT park motor vehicles in front of their respective garages for more than 15 minutes. Vehicles shall not be left unattended while parked in front of a garage.
g. Any occupant who violates the parking regulations may have their vehicle towed or booted at their risk and expense. The cost to unboot a vehicle is $50 per occurrence.
h. Parking in unmarked paved and unpaved areas is prohibited.
i. Parking stalls located throughout the community are available for use by all occupants and guests on a "first come ‐ first served" basis except as otherwise expressly provided in the Association's governing documents.
j. Washing, cleaning and polishing motor vehicles is permitted even if in excess of 15 minutes, provided the area used is thoroughly cleaned after such use and such use does not unreasonably interfere with other occupants' access to units and common areas.
k. Speed limit throughout the community is 15 miles per hour.
l. Garage doors shall be kept closed when not entering or exiting from the garage.
C. COMMON AREAS:
a. Nothing shall be thrown from the windows of any unit or from any lanai.
b. Barbecuing shall be conducted so as not be offensive to any other occupants or their guests.
c. No items of personal property, including baby carriages, bicycles, canoes, kayaks, toys, bird feeders, surfboards, boxes, packages or crates, shall be left in any of the common areas.
d. No food, objects or material of any kind shall be thrown or placed in the ponds, waterways or other common areas.
e. No persons other than authorized maintenance personnel shall be permitted in the ponds and waterways.
f. All trash must be bagged in plastic trash bags and placed in the garbage bins or placed in the appropriate recycling container. No waste materials may be left outside the bins and containers provided therefor.
D. GOLF CARTS OR VEHICLES OTHER THAN CARS/TRUCKS/VANS:a. Golf carts and similar vehicles must be parked in marked parking areas or other paved areas where
they do not obstruct vehicular or foot traffic.
b. Golf carts and other electrical vehicles may be parked in front of the Owner's garage overnight only for re‐charging purposes. In such an event, the vehicle must be parked so that it does not interfere with the access to other units or garages or common areas by other occupants and it must be removed as soon as possible to an appropriate space.
c. No boats, trailers, campers, RV's or similar vehicles will be allowed in the parking areas or in front of garages.
E. PETS:a. Dogs must be kept on a leash while being walked on the Fairways premises.
b. Occupants must pick up after their pets and must carry an appropriate container or bag for this purpose.
F. NOISE AND NUISANCES:a. No noise or nuisance shall be allowed in the units or common areas which unreasonably interfere with the peaceful enjoyment of the facilities by occupants or their guests.
b. Radios, televisions, sound systems, musical instruments or any other devices or instruments generating noise shall be maintained at a reduced volume between the hours of 10 p.m. and 8 a.m.
c. Noise associated with arrivals and departures between 10 p.m. and 8 a.m. should be kept to a minimum to avoid disturbing other occupants.
G. AMENITIES – POOL AND SPA:
a. Access to the pool, spa and pavilion areas is permitted only with a key. Individuals who enter the pool area in any other manner, such as climbing over the fence, will be subject to removal and/or a fine may be levied for such conduct. The pool, spa and pavilion areas are available for use only by occupants and their guests. Notwithstanding the foregoing, guests may use the pool, spa and pavilion facilities only when accompanied by an occupant.
b. Occupants and guests are required to shower and remove all suntan oil, dirt and other materials before entering the pool and/or the spa.
c. Pool, spa and pavilion use hours are 8 a.m. until 9 p.m. Security personnel are authorized to remove all persons from the pool, spa and pavilion area at other times.
d. Children under twelve years of age must be accompanied and supervised at all times by an adult (over 18) while in the pool, spa or pavilion area.
e. Persons having open sores, wounds or communicable diseases are not allowed in the pool or spa.
f. Appropriate attire in the pool or spa is swimsuits only. No cutoffs or other street clothes are allowed in the pool or spa.
g. Excretion of any body fluids in the pool or spa is prohibited and will result in immediate ejection from the area.
h. Running, jumping off walls or rock formations and other similar activity is not permitted in the pool, spa and pavilion areas.
i. Reasonably sized toys, inflatable mats, tubes, snorkel gear and similar items shall be permitted in the pool. Oversized devices will not be permitted in the pool. No such items of any size will be permitted in the spa.
j. No skateboards, bicycles, roller blades or similar equipment shall be permitted in the pool, spa or pavilion areas.
k. No glass or other breakable material shall be permitted in or near the pool or spa. Notwithstanding the foregoing, glass bottles may be utilized at the designated area at the barbecue location in the covered pavilion area.
l. Children in diapers are not allowed in the pool or the spa.
m. Pets are not allowed in the pool, spa or pavilion areas.
n. Furniture shall not be removed from or brought to the pool, spa or pavilion areas.
o. Violations of any of these rules will result in the offenders being denied access to the pool for an amount of time to be determined by the Board in accordance with the severity of the offense.
p. Any person utilizing the pool, spa, barbeque or pavilion area facilities does so at his own risk and the Association and its agents shall not be liable for any injury or damages that may occur as a consequence of such usage.
H. AMENITIES – EXERCISE ROOM:a. Access to the exercise room is permitted only with a key. Individuals who enter the exercise room in any other manner will be subject to removal and/or a fine for such conduct may be levied.
b. The exercise room is available for use only by Owners, occupants and their guests. Notwithstanding the foregoing, guests may use the exercise room only when accompanied by an occupant.
c. Persons leaving the exercise room must turn off all lights and the television. Failure to do so may result in loss of privileges for use of the exercise room.
d. Unsupervised children under the age of twelve will not be allowed in the fitness room under ANY circumstances.
e. Exercise room use hours are 6 a.m. until 10 p.m. Security personnel are authorized to remove all persons from the exercise room at other times.
f. Any person utilizing the exercise room facilities does so at his own risk and the Association and its agents shall not be liable for any injury or damages that may occur as a consequence of such usage.
I. AMENITIES – POOL PAVILION AND BARBECUE:a. Intoxicated people will not be permitted in the pool, spa or pavilion areas.
b. Smoking is not permitted in the pool, spa or pavilion areas except in the designated area at the barbecue location.
c. If an occupant wishes to reserve the pavilion area for an event, the Owner (for himself or for a tenant as the case may be) must submit a written authorization to the Property Manager at least ten days prior to the date of the proposed use. The form for such authorization can be obtained from the Property Manager.
d. Parameters for reserved use of the pavilion area by occupants are as follows:
i. Reservations are required for use of the pavilion by more than ten people. The number of people shall not in any event exceed forty persons. Reservations are limited to a four hour time duration
ii. Reservations do not include exclusive use of the pool or spa areas.
iii. Occupants wishing to reserve the pavilion area will be required to submit a deposit of $250 to the Property Manager which will be refunded after any damages or clean‐up expenses or fines for rules violations during the event are deducted from the deposit.
iv. Following any use thereof, occupants and their guests are required to clean up the barbecue and the pavilion, spa and pool areas and leave them as they were found. Failure to comply may result in a fine up to the greater of $250 or the amount of expenses incurred by the Association in cleaning the areas following the event in question.
v. Excessive noise or other disruptive behavior while in the pool, spa or pavilion areas will result in fines and/or forfeiture of some or all of the deposit or a suspension of use privileges as determined by the Board of Directors and may result in the immediate termination of the event in question.
vi. Use of the pool, spa or pavilion areas shall indicate that the occupant understands that such use is at the risk of the user and shall imply indemnification of the Association and its officers, employees and agents by the user for any damages or injuries resulting from or relating to such usage. Anyone reserving the pavilion area may be required by the Association to provide evidence of appropriate insurance or of the ability of the user to bear the risks of such usage, as may be determined by the Association in its sole discretion. The occupant reserving use of the pavilion area must be present at the pavilion area at all times during the event in question. The House Rules applicable to the pool, spa and pavilion areas will be strictly enforced during any such usage, including the requirement that the pool, spa and pavilion areas be vacated by 9 p.m.
J. FINES FOR VIOLATIONS OF HOUSE RULES:
a. Any Owner or any Owner having a tenant or guest or tenant's guest who is found to be in violation of the House Rules will first be notified of the alleged violation and asked to comply with the House Rules. Failure to comply will subject the offender to a fine to be determined by the Board of Directors which in determining the amount of the fine will consider the nature and severity of the violation.
K. GENERAL:
a. Parents or legal guardians are responsible for the appropriate supervision of minors at all times.
b. Occupants shall not use any illumination in common areas other than electric lights.
c. The use of flammable oils or fluids such as gasoline, kerosene, naphtha or benzene, explosives, fireworks or other articles deemed to be hazardous is prohibited.
d. Each occupant shall assume full physical and financial responsibility for protecting his apartment, motor vehicles and the contents thereof against theft, vandalism and other loss.
*****The Board of Directors in its sole discretion reserves the right to make exceptions to any of the House Rules set forth herein under special circumstances, such as to accommodate physical disabilities or to comply with applicable laws.
PLEASE REMEMBER TO BE CONSIDERATE OF OTHER OCCUPANTS AND GUESTS. THE FAIRWAYS AT MAUNA LANI IS HOME TO SOME AND A TEMPORARY HOME TO OTHERS. DO NOT ACT IN A MANNER THAT WILL CAUSE PROBLEMS OR DAMAGE AND PLEASE HELP TO CARE FOR OUR COMMUNITY IN EVERY WAY POSSIBLE SO THAT WE ALL MAY ENJOY THE FAIRWAYS AT MAUNA LANI AS FULLY AS POSSIBLE.
2 ночи — минимальная продолжительность бронирования
Thank you so much for our stay. The place was wonderful, and we were finally able to give my mom a great vacation away from all her worries. She loved the compound and neighborhood. My girlfriend and I couldn't be any happier. This place is great for families, and had everything you need to adventure or tour the area. The pool and facilities are top notch as is the hot tub. It would be great if you could stay in the hot tub a little later on the weekends(pool closes at 9) but we understand people turn in early on the islands. Everything was absolutely perfect with our stay. From the boogie boards to the beds. 10 our of 10!
---
Very convenient, comfortable and large apartment, fully equipped, very clean. Located in a gated environment with access to pool (nearby) as well as gorgeous beach club (3 min by car). Ideal for beach vacation (predominantly), we combined a stay in Hilo, which altogether gave us a fuller, richer Big Island experience. Mary is a great host - thanks a lot!
---
Beautiful and well-maintained condo. Really showed little wear and tear for a rental. Tasteful, tropical decor. Lots of games and books. Also, the foliage in the complex lent a feeling of privacy on both the lanai and patio. Well-equipped, large kitchen permitted 2 or 3 of us to prepare coffee/snacks at the same time. I decided to peel away one night from the rest of my group to take my 8-year-old out to a fancy dinner (Ruth's Chris counts as fancy at that age) and found it amazingly easy to find our way back in the dark. The pool is lovely and just a few steps from your back porch. The master bath was huge, clean, and appointed with updated tile, hardware, etc. Someone in my party commented that the hosts had really thought of everything in terms of the beach gear in the garage, and my OCD cousin was impressed that everything was labelled and organized. With a child and older relatives lacking physical fitness (bad knees, asthma, that sort of thing), we drove to most beaches, but it would be walkable for most anyone else.
---
We are full time Colorado residents who live in Woodland Park, CO. We stay busy with our jobs and our kids but we love to get to our vacation homes in Colorado and Hawaii as often as possible! Mary is a real estate agent in Woodland Park and Alan is in the professional cycling industry, currently working mostly with wounded warriors. We have two kids, two dogs, and two cats which means we are BUSY most of the time. We embrace that outlook that life can be short, so enjoy it and don't take it for granted and we feel so blessed to have these properties to share with others. We hope you will enjoy them as much as we do!
Частота ответов:
100%
Время ответа:
в течение часа