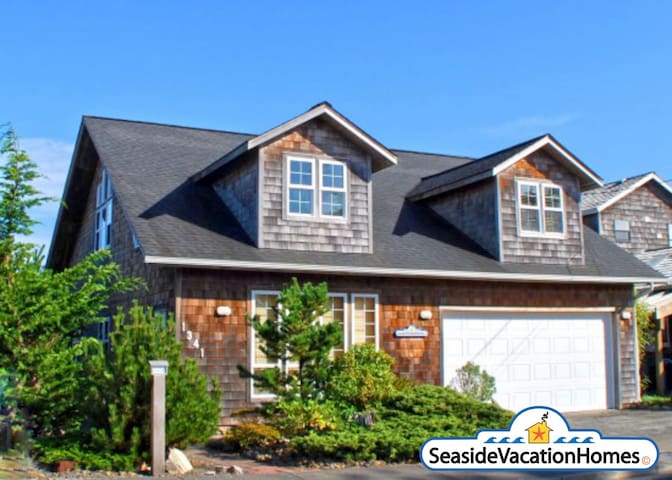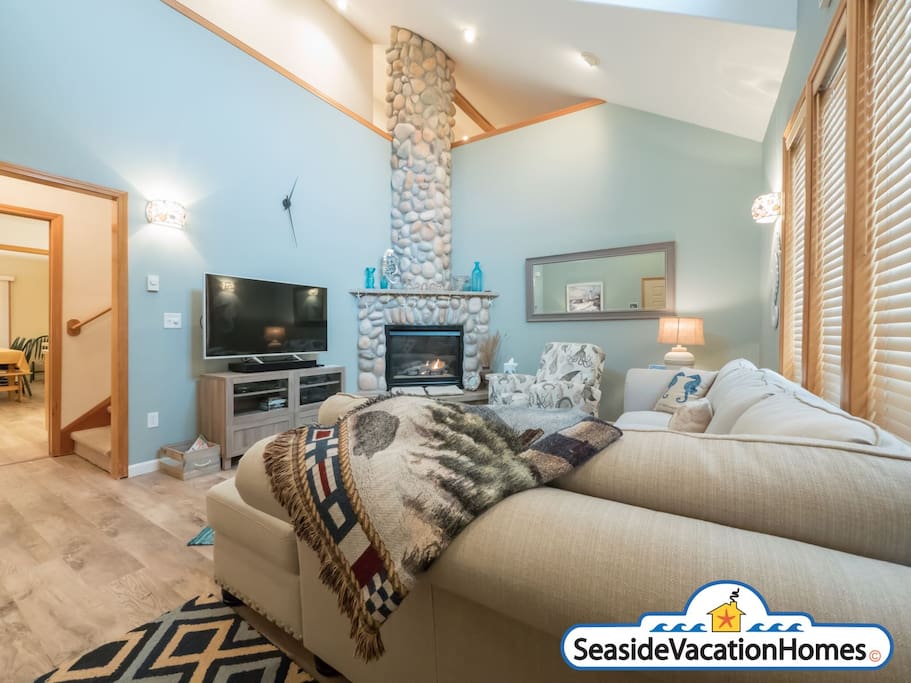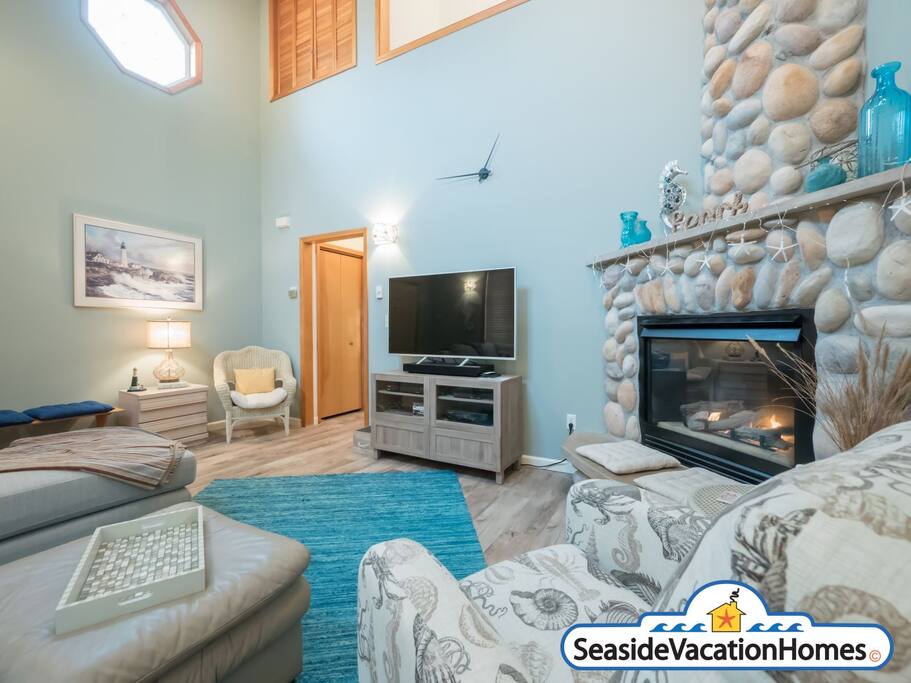 Professional Local Management Co offers: Beautiful home with new updates coming soon! Just one block to the promenade and beach access. Deck outside for outdoor dining and activities. Only a 7 minute walk to downtown Seaside!
Жилье
If you have not researched us to know who we are: We are a small, family owned business operating in Seaside for over 20 years, and the oldest vacation home property management company in our area. Seaside Vacation Homes has fifty of the cleanest and most highly maintained homes within a diversity of price points in our collection. If you have any special needs or requests please let our staff know, as everyone in our offices views the guests we serve as extended family and wants to make sure this trip ends up being all it can be! We appreciate your consideration of using us to plan your stay, however you choose to book.

Pricing Explanation: Airbnb is not our primary website, but does offer industry leading quality assurances. We are pleased to Partner our calendars with AirBnB to list openings not already booked on our in-house site here and alongside other booking portals that resell available nights through their own pricing structure reflected in the total price you see. So = What you get for the AirBnB premium: You get the best quality assurance guarantee directly from Airbnb that we as a management company will deliver the property as advertised. These assurances are more affordable with AirBnB and provide better coverage then with other travel sites and are well worth the premium if you need that assurance. Personally, we love using AirBnB when traveling to remote areas that do not have strong locally-based property managers and have had good luck with it, and are happy have our homes available for you here as well.

4 night minimum over weekends Peak Season
3-4 night minimum over Holiday Off Season
2 night minimum most dates Off Season
Доступно гостям
LAYOUT FIRST FLOOR

Living Room
Kitchen
Dining Room
Bedroom #1 - Suite - King
Bedroom #2- Queen
Half Bath Off Of Hallway
Full Bath Off Of Bedroom #1
Garage - Two Car
Deck Off Of Dining Room & Bedroom#1
LAYOUT SECOND FLOOR

Bedroom #3 - Suite - Queen + Twin Day Bed
Bedroom #4 - 2 Twin Beds
Full Bath Connecting Both Bedrooms
Large Jacuzzi Tub In Upstairs Bath
Loft area with Couches, TV and Card Table
Sofa in Loft
Laundry Area In Full Bath
BEDDING

Bedroom #1 - Suite - King
Bedroom #2 - Queen
Bedroom #3 - Suite - Queen + Twin Day Bed
Bedroom #4 - 2 Twin Beds
2 - Twin Rollaway beds
LIVING AREA

20` Ceilings
Full Size Couch
Love Seat
Arm Chair
TV
DVD
Fireplace
Stereo
KITCHEN

Fully Equipped Eat-In Kitchen
All Major Appliances
Custom Cabinets
Desk area
Household Soaps & Cleaners Provided
LAUNDRY

Washer & Dryer
Iron + Ironing Board
Laundry Soap Provided
GENERAL

No Smoking/No Pets
Ocean Views
Occupancy Including Visitors 9 ppl
Maximum Parking For 3 Cars
AMENITIES

WiFi - Internet
2 TV`s
2 DVD Players
Cable TV
Central Heat
Phone
Linens/Towels Provided
Patio Chairs & Loungers
Gas BBQ Availible May - September
Deck For Dining Outside & Socializing
Общение с гостями
You will be greeted by our Host on arrival and departure to ensure the property and overall experience meets or exceeds your expectations.
Другие важные подробности
Check In Time - Winter: 4pm / Summer: 5pm
Check Out Time - Winter: 11am / Summer: 12pm

4 night minimum stay over weekends Peak Season
3-4 night minimum stay over Holidays Off Season
2 night minimum stay Off Season
---
---
Доплата за каждого последующего гостя Бесплатно
Общайтесь только через Airbnb
В целях безопасности никогда не переводите деньги и не общайтесь за пределами сайта или приложения Airbnb.
Подробнее
---
Время прибытия — после 16:00
** Our arrival and departure times shift seasonally to accommodate what we have found most guests prefer **
Check-In 4 pm(9/10-6/8), 5 pm(6/9-9/9) Check-Out 11 am(9/10-6/8), 12 pm(6/9-9/9)
See Terms and Conditions for full list of house rules.


--- SUMMARY (NOT COMPREHENSIVE OF TERMS LISTED BELOW)---
Minimum booking requirements are generally 2 days on AirBnB.

Remember domestic or commercial animals are not allowed on the premises at any time unless the homes is specifically advertised as Pet Friendly.

The occupancy and parking policies are dictated by city ordinances to control the noise and congestion of our neighborhoods. To maintain our rental permits we cannot allow RVs, campers, trailers or tents at the homes and the occupancy limit of each home may not be exceeded at anytime. This means total occupancy includes non-occupant visitors. If you anticipate having visitors drop by we ask that you rent a larger home. Violation of this rule is grounds for immediate eviction, forfeiture of all rental fees, security deposit and an additional minimum $500 fee.

Terms & Conditions for Lease Serviced By: VROPCO LLC
1. Agreement: The individual who made the booking along with the signing responsible party at check-in will hereforth be referred to as the "guest" entering into this agreement with the servicing entity VROPCO LLC (VRO). Contracts will be sent via email unless requested otherwise. Phone reservations may cancel without fee within 48 hrs. of the booking date if unwilling to agree to the recorded dates and Terms & Conditions of contract. Failure to notify the property manager VRO of cancellation within this time period implies agreement to all policies, terms and conditions.
2. Confirmation: Reservations are not fully confirmed until reviewed by a reservation agent who will contact the guest via phone to verify online bookings meet pricing, availability check and minimum stay guidelines.
3. Responsibility: The guest acknowledges responsibility for and on behalf of all parties on the premises to the terms and conditions of rental. Failure to comply with the rules of the property and the terms and conditions of this contract by any individual on the premises associated with the Guest will be the sole responsibility of the Guest and be considered a material breach of this contract. The guest further agrees to be responsible and liable for the actions and safety of every person in their group.
4. Occupancy: The Maximum Occupancy for this property for both persons and vehicles as listed on the website may not be exceeded at any time. Vehicles must not exceed the amount stated on the rental agreement and must be parked onsite. Vehicles visible from the property operated by persons at the property will be deemed associated with the property and in violation of the occupancy limit. Occupancy of persons will include anyone above the age of four on the premises. Occupancy violation will be cause for immediate eviction, forfeiture of all rental fees, forfeiture of the full security deposit and assessment of an additional $500 fee.
5. Pets: Unless indicated by the website that the home is pet friendly, domestic or commercial animals are not allowed on the premises at any time. Any sign of a pet on the premises and/or associated with the guest`s group will be cause for immediate eviction, forfeiture of all rental fees and assessment of an additional minimum $500 fee. If the property is Pet friendly and the pet is acceptable to VRO, pet fee`s will entail an additional $32 registration/cleaning fee per pet along with a nightly fee per pet of $22 per day payable directly to the booking coordinator of VRO as Airbnb does not handle this type of transaction in their system at this time.
6. Unavailability Provision: This property may become unavailable due to circumstances outside of VRO's control. Examples include but are not limited to: destruction or severe damage due to weather. In such event VRO will make alternative arrangement for guest when possible. If VRO cannot, or if the alternative arrangements are not acceptable to guest, a full refund of all monies paid will be issued. This will be the full extent of Seaside Vacation Homes / VRO and the home owners liability to the guest in such circumstances, and VRO will not be responsible for any other costs connected with any such cancellation, howsoever arising. Additional Travel Insurance to cover airfare and other expenses may be available through third party non-affiliated vendors by googling "trip cancellation insurance."
7. Grill / BBQ: Guest agrees not to leave barbeque grill unsupervised when in use and to have a fire extinguisher on hand in case of a fire. Guest agrees to use barbeque grill away from any object that may be combustible namely property walls.
8. Disclaimer: VRO assumes no liability for damages, expenses or inconveniences due to loss of services out of its control.
9. Indemnify and Hold Harmless: The guest agrees to indemnify and save and hold harmless VRO, Tolan Enterprises Inc. licensing SeasideVacationHomes (its officers, employees, agents and equity holders) and the Owner of the Property from any loss, liability, damage, or cost they may incur due to their presence in or upon the areas with naturally risky conditions or otherwise.
10. Smoking: Guests may only smoke outside the property and are responsible for disposal of waste in proper receptacles. Violators of this policy are subject to an additional minimum $500 fee.
11. Minimum Age: The premises are to be occupied by the guest named on the rental agreement. Only adults (25 years old and older) may reserve and must occupy the property at all times when children are present.
12. Cleaning: Cleaning fees paid by guests do not cover wear, damage or neglect of property during guest use. Guests agree to maintain a clean property but are not expected to perform a deep clean prior to departure. Guest agrees to pay cleaning costs in excess of amount collected.
13. Cancellation Policy: For a 50% refund, cancellation must be made 60 full days prior to listing's local check in time (or 3:00 PM if not specified) on the day of check in. If the guest cancels less than 60 days in advance, the nights not spent are not refunded. If guest arrives and decides to leave early, the nights not spent are not refunded.
14. Transfer: Rental Agreements are not transferable to another party without VRO administrative documentation.
15. Keys: Keys must be returned in person to representative upon departure. If lost, guest agrees to pay for locks to be re-keyed.
16. Legal: In the event VRO must bring action to enforce any provision of this agreement, declaratory or otherwise, the guest agrees VRO shall be entitled to collect any award, judgment or decree of any court, arbitrator or other forum's presiding officer, and VRO will be entitled to recover its full costs and disbursements together with, without limitation, its full attorneys' fees, arbitrators' fees, mediation fees, expert witness' fees, discovery costs, deposition costs, investigation costs, other legal expenses and all other related expenses incurred in connection with such dispute and any proceeding relating to such dispute, regardless of the amount the court, arbitrator or other forum's presiding officer may adjudge reasonable at trial, arbitration, proceeding, on any appeal of such suit, action, arbitration or other proceeding, and in any bankruptcy proceeding.
17. Privacy: All credit card information is kept confidential and encrypted to prevent unauthorized charges.
18. Travel Insurance: This option is available through third party non-affiliated vendors, which you can find by googling "trip cancellation insurance."
19. Choice of Law: The laws of the State of Oregon shall govern the validity of this Agreement, the construction of its terms and the interpretation of the rights and duties hereto. In addition, any controversies arising out of the terms of this Agreement or its interpretation shall be settled in Portland, Oregon, in accordance with the rules of the Arbitration Service of Portland, Inc., and the judgment upon award may be entered in any court having jurisdiction thereof.
20. Pools / Hot Tubs / Jacuzzi Tubs: The guest acknowledges if the property is equipped with a private pool / hot tub / jacuzzi tub and/or has access to a community pool / hot tub / Jacuzzi tub (the"Facilities"), Guest hereby accepts and agrees to the following: a. Guest shall ensure that the Facilities are used in a safe manner at all times and that non-adult use of the Facilities is supervised by a qualified and capable adult. b. Unsafe and/or unsupervised use of the Facilities by Guest or Guest's guests is a material breach of this contract and shall permit VRO to terminate IMMEDIATELY WITHOUT NOTICE Guest's occupancy of the Property. c. Guests are prohibited to tamper with chemicals or equipment. If Guest is found to have tampered with chemicals or equipment, the Guest will be responsible for any expenses incurred. d. Guest shall indemnify and hold Seaside Vacation Homes, Tolan Enterprises Inc, VRO (its officers, employees, agents and equity holders) and the Owner of the Property harmless from and against any and all liabilities, claims and expenses for personal injury or property damage resulting from unsafe and/or unsupervised use of the Facilities by Guest or Guest's guests. Pregnant women, persons taking medication, elderly persons, those with diabetes, high blood pressure, heart disease or other cardiovascular conditions should consult their physician prior to entering a hot tub. Persons under the age of 12 are prohibited from entering hot tubs at any time. Removal of chemical dispensers, misuse and/or overuse of hot tubs may result in health related problems, such as folliculitis. –Warning: Use of any hot tub carries risk that may result in serious injury or death. NO CHILDREN UNDER THE AGE OF 12 ARE PERMITTED TO USE OR INTERACT WITH THE HOT TUB AT ANY TIME. The American College of Obstetricians and Gynecologist (ACOG) state that becoming overheated in a hot tub is not recommended during pregnancy. Elderly persons and anyone subject to heart disease, diabetes, low or high blood pressure, strokes, epilepsy or similar afflictions should not enter the hot tub without consulting their physician. Never use a spa while under the influence of drugs or alcohol or if you are taking medications of any kind, or being treated for any illness. The spa should be kept at a temperature less than 104 degrees for personal safety and all bathers must shower before and after use to decrease the possibility of skin problems. DO NOT SIT OR WALK ON THE SPA COVER, or it will collapse. Supervise children at all times to decrease risk of injury, death or drowning.
21. Fire Logs: Use only commercial long burning logs in the non-gas fireplaces.
22. Doors Locked: Doors should be kept locked when the property is not occupied.
23. RV/Boats: Trailers, Campers, RV`s, Tents or Boats are not allowed on or parked near the premises. Public RV/Trailer/Boat parking is located off Broadway and Hwy. 101 at the Chamber of Commerce.
24. Children: Seaside Vacation Homes / VRO properties are not childproof nor does VRO represent them as such and thus requires children to be supervised by an adult at all times. Amenities such as furniture with sharp edges, fireplaces, games with small pieces, knives, cleaning products and other examples known and unknown pose safety issues for children. Guest claims understanding, acceptance and responsibility for these risks upon booking.
25. Danger Disclosure: There are many risks and dangers inherent to this mountainous/river/ocean terrain that could jeopardize both health and life, specifically including but not limited to perilous rock cliffs, waterfalls, and fast moving currents of water, wild caves and caverns. Walking on nature paths or swimming in the river/ocean is at your own risk. Each person who arrives on the property does so at their own risk and accepts full liability and responsibility for that risk and whatever occurs to them while they are on the property. Each child who arrives on the property must have a guardian and that guardian accepts full liability and responsibility for the care and welfare of that child. The property owners cannot be held liable or responsible for harm to you or other individuals from your carelessness, the carelessness of the individual harmed, or the carelessness of others. The property owner cannot be held liable or responsible for any harm or damage caused by acts of nature or God. Each person accepts full liability and responsibility for their own actions and their own possessions. By accepting this reservation, it is agreed that all guests are expressly assuming the risk of any harm arising from their use of the premises or others whom they invite to use the premises.
26. Additional Fees: The guest agrees to pay any additional fees associated with repair or violation of these policies using the credit card submitted upon booking or with the security deposit with AirBnB. If this method of payment is unavailable the guest agrees to be personally responsible for payment of assessed fees by cash or check within 15 days from the departure date. If the guest is unwilling or unable to pay assessed fees within 15 days from the departure date, the guest furthermore agrees to pay a late payment penalty of 10% of the balance owned calculated and cumulative on a monthly basis. The guest agrees to be financially responsible for all additional costs of collection included but not limited to: legal, attorney and administrative. Administrative fees will be billed at $100/hr. starting at first notice of balance past due.
28. Behavior/Damage/Loss: A good neighbor policy is posted at each property and is to be followed at all times. Do not permit any acts on the premises that violate any state law or rules of the management. Do not destroy, damage, deface, or remove any contents or permit any person to do so. Guests are liable for all theft, damages to furnishings and damages to property during their occupancy. Guests must report any damage found at property so that VRO can track to the correct party. Guest agrees to be responsible for any cost incurred due to behavior, damage, theft and/or loss.
29. Good Neighbor Policy: Seaside Vacation Homes are located in a mixed-use neighborhood that includes both short-term guests and year-round residents. We want you to enjoy your stay, but not at the expense of the neighbors so please be considerate of the neighbors with your noise and activities. Parking is limited at all homes and at most properties there is absolutely no street parking.
30. Noise: No guest shall create or permit to exist any nuisance. Please respect the rights of the neighbors by restricting sound and noise to a reasonable volume.
31. Use: Guests shall use the premises only as a dwelling and not as a meeting place for individuals not staying at property when additional visitors exceed city mandated person occupancy and/or vehicle occupancy.
32. Termination: Guest agrees that any violation of the Terms & Conditions lease will be grounds for immediate eviction, forfeiture of all rental fees, forfeiture of the full security deposit with AirBnB and assessment of additional fees by VRO. Guest furthermore agrees Oregon State Law: ORS 90.11(6), ORS 164.245, ORS 164.243 will apply to this contract.
33. Enforceability: The guest expressly agrees that the foregoing agreed upon terms, release, waiver and indemnity agreement is intended to be as broad and inclusive as is permitted by law and that if any provision is held invalid, it is agreed that the balance shall, notwithstanding, continue in full legal force and effect.

-----------------------------------------------------------------------------------------------------------------------
---
---
---
2 ночи — минимальная продолжительность бронирования
---
We are a family owned business operating in Seaside for over 20 years and are the oldest vacation home property management company in our area. If you are still in the researching phase and wondering why to choose our company we hope you will keep in mind we also have made some tough choices with your stay in mind! At Seaside Vacation Homes we are very selective on allowing properties into our collection and while more homes = more money, we have historically turned away most of the 300+ rental homes in our area because we felt they would not offer you the value in location, amenities, layout and condition needed to keep you coming back to stay with us. Specializing in offering you the cleanest and most highly maintained homes within a diversity of price points has been the foundation to our business model. Not only must the home be desirable but also the homeowners we work with must have a perspective that allow us to do what is needed to ensure your guest stay is perfect. If you have any special needs or requests please let our staff know as everyone in our offices views the guests we serve as extended family and wants to make sure this trip ends up being all it can be! Thanks again for considering us and if you do come know we can't wait to see you at the Beach! Mark and Jillian
Частота ответов:
100%
Время ответа:
в течение часа
Открывайте новые возможности в г. Seaside и поблизости
Другие варианты жилья в г. Seaside: