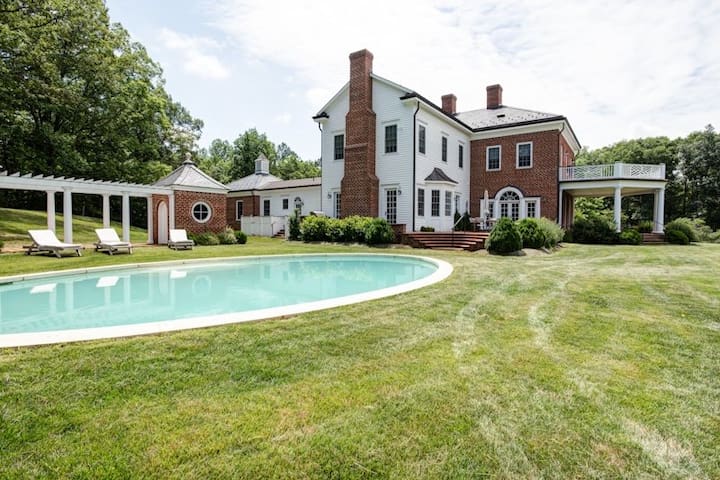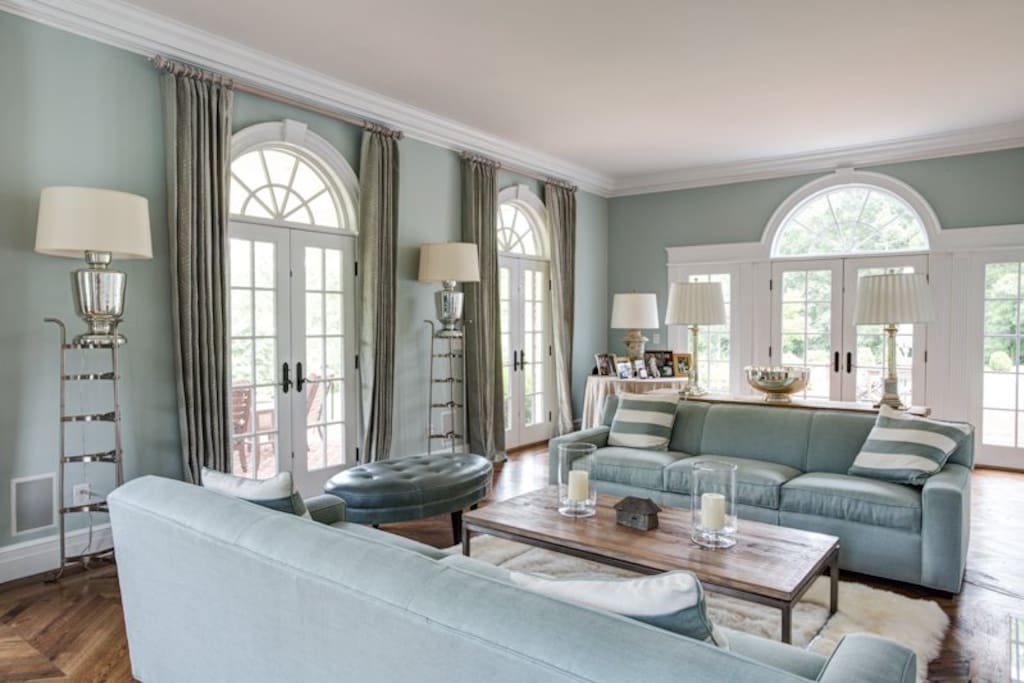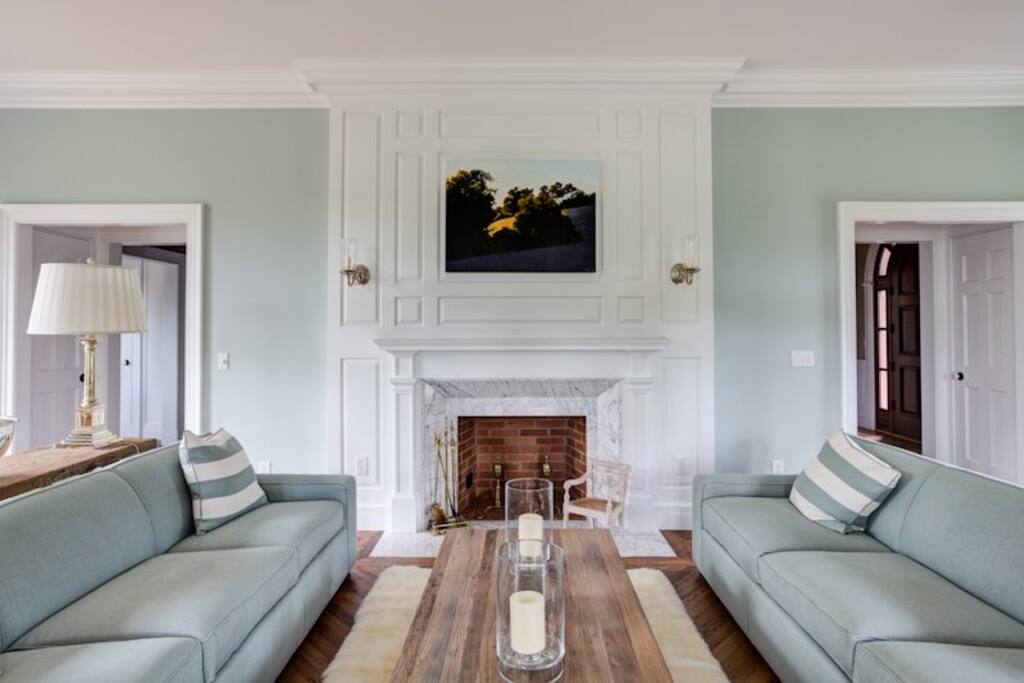 Crossfields | Keswick Estate
55 + Vacation Homes and Estates | Private Wine Tours | Private Chefs | Event Planning | Concierge Services | A STAY Charlottesville Property

Crossfields: Extraordinary Gated Keswick estate with private pool, chef`s kitchen, and much more
Жилье
King Bed
King Bed
Queen Bed
Queen Bed
Twin Beds
5 Full Baths
2 Half Baths
Each bedroom has a private en-suite bathroom.

SubZero Refrigerator
Wolf Gas 6 burner stove and oven
Warming Oven
Gas Grill
Wine Fridge
Washer/Dryer
Wi-Fi
cell service can be spotty however there is wifi and a landline.

Indoor Dining For Ten

Outdoor Swimming Pool
Outdoor Covered Terrace
Grand Piano
---
---
Доплата за каждого последующего гостя Бесплатно
Общайтесь только через Airbnb
В целях безопасности никогда не переводите деньги и не общайтесь за пределами сайта или приложения Airbnb.
Подробнее
---
Время прибытия — после 16:00
Violation of Agreement:
Upon violation of the following terms and conditions, specifically any occupancy limits, substantiated parking, noise and trash complaints in violation of the Good Neighbor Policy (hereinafter defined), the license is subject to immediate revocation, and Guest is subject to immediate removal from the Property, a minimum $500 fine and cleaning fees. Additionally, Guest acknowledges that they may be subject to consequential damages as a result of their violation, including, without limitation, damages associated with Stay's inability to conduct short term rentals of the Property due to any permit revocation or suspension that may result from Guest's use thereof.

Stay Charlottesville Rental Policies

The occupancy and parking policies are dictated by city and county ordinances to control the noise and congestion of our neighborhoods, as well as maintain the quality of our properties. To maintain our rental permits we cannot allow RVs, campers, trailers or tents at the homes and the occupancy limit of each home may not be exceeded at any time.
Below is the formal listing of our policies for all our properties:

Stay Charlottesville, LLC Terms and Conditions for License

1. Pets: Domestic or commercial animals are not allowed on the premises at any time unless approval has been given prior. Any sign of a pet onsite associated with the Guest's group will be cause for immediate eviction and forfeiture of all rental fees. Additional cleaning fees starting at $500 may also be assessed.
2. Smoking: Guests may only smoke outside all buildings on the Property. Violators of this policy are subject to a minimum $500 cleaning fee and any cost associated with removing smoke from property in addition. Additionally, it is paramount that all our properties remain smoke butt free and upon check-in must be found free of any smoke butts. If butts are found, please report to Stay Charlottesville office at (PHONE NUMBER HIDDEN) upon check-in, otherwise, Guest will be charged $75.00 per hour cleaning fee to remove and at a minimum of 1 hour being charged.
3. Occupancy: The Maximum Occupancy of all properties may not be exceeded in the area of persons or vehicles at any time. Stay Charlottesville has a very strict Guest of a Guest policy. Guest is permitted 1 day guest for each guest of a licensed property. All additional guests must be out of the property no later than 11pm.
Vehicles must not exceed the amount stated on the Contract and must be parked onsite. Vehicles visible from the Property operated by persons at the Property will be deemed associated with the Property and in violation of the occupancy limit. Occupancy of persons will include anyone above the age of four on the Property. Only adults (25 years old and older) may reserve the Property and an adult must occupy the Property at all times when children are present. Violators of this policy are subject to an additional minimum $500 fee. Guest agrees to have additional cleaning fees for an occupancy violation to be charged to the credit card submitted upon booking.
4. Good Neighbor Policy: Stay properties are located in mixed-use neighborhoods that include both short-term guests and year-round residents. We want you to enjoy your stay, but not at the expense of the neighbors, so please be considerate of the neighbors with your noise and activities. Guest acknowledges and agrees that it will abide by all state and local laws and ordinances applicable to the Property, including, without limitation, ordinances regarding noise, trash, parking and pets. All outside areas and outdoor porches have a curfew of 10pm.
NOTE: License is subject to immediate revocation upon substantiated complaints from neighbors regarding any violation of this Policy. Additionally, Guest will be assessed a minimum $500 fine due to any valid complaints and Stay's need to address them.
5. Check Out Policy: check out time is 11:00 am, unless agreed upon with Stay, and Guest has paid the associated "Late Check-Out Fee". Failure to check-out at 11:00 am will result in $75 for every additional hour Guest remains on premise of rented property.
Upon check-out time;
· TRASH: All trash on the premise must be bagged and disposed in trash bin located outside of the home.
· DISHES: All dishes, pots, and pans must be put away. Any remaining dirty dishes must be placed in the dishwasher and run prior to departure. Any dirty dishes found outside of the dishwasher will result in a fee.
· GRILL: If the grill was used during your stay please dispose of ashes and clean grill.
· FURNITURE: Moving furniture is discouraged to avoid damages and all furniture should be left in the original designated locations.
Failure to comply with the above "Check-Out" instructions will result in an automatic $75 charge and $75 for every additional hour required to clean. The charge will be applied via Airbnb or taken out of the deposit, whichever is applicable.
6. Refunds: There will be no refunds for early departures, for breakdowns of air conditioner, heater, appliances, etc., if said breakdown is due to weather and/or other conditions over which property owner (the "Owner") and Stay have no control. All signatories to this Agreement as Guests are jointly and severally responsible for the faithful performance of this Agreement. All payments made shall be applied to any outstanding balances of any kind including late charges and /or any other charges due under this Agreement at Stay's discretion. All late charges, interest, NSF, or bank fees, and any monies due under this Agreement are hereby defined as, intended and considered to be additional rent.
7. Cancellation Policy: Cancellation Policy is as set forth via Airbnb for each Stay Charlottesville property.
8. Behavior/Damage: Guests may not permit any acts on the Property that violate any state law, Good Neighbor Policy, or other rules that may be established by Stay from time to time. Guests may not destroy, damage, deface, or remove any contents or permit any person to do so. Guests are liable for all damages to furnishings and the Property. Guests must report any damage found at Property so that Stay can hold the correct party responsible. Guest agrees to have all fees for damage to be charged via Airbnb submitted upon booking. If Guest is unwilling or unable to pay for damage caused by their group within 15 days from the departure date, they will be responsible for the cost of repair in addition to the cost of all legal, attorney and administrative fees incurred by Stay required to collect the balance owed.
9. Disclaimer: Stay assumes no liability for damages, expenses or inconveniences due to loss of services out of its control and Guest waives any such claims.
10. Termination: Guests shall use the premises only as a dwelling. Violation of terms of this Agreement is grounds for immediate revocation of this License and removal from the Property.
11. Loss: Upon departure, inventory of all furnishings, appliances dishes etc. will be taken. Any missing or broken items may be charged via Airbnb.
12. RV/Boats: Trailers, Campers, RV`s, Tents or Boats are not allowed on or parked near the Property.
13. Doors Locked: Doors must be kept locked when the Property is not occupied.
14. Keys: Keys must be left in the lock box prior to departure unless otherwise instructed by Stay or Owner at Property. If lost, Stay will have the locks re-keyed and the cost of such re-keying will be billed to the Guest.
15. Legal: In the event Stay must bring action to enforce any provision of this Agreement, Stay shall be entitled to costs and fines plus attorney's fees.
16. Privacy: All credit card information is kept confidential via Airbnb and encrypted to prevent unauthorized charges.
17. Children: The properties we manage are not child-proof and require children to be supervised by an adult at all times. Amenities such as furniture with sharp edges, games with small pieces, cleaning products and other examples known and unknown pose safety issues for unsupervised children.
18. Lost and Found Policy: Stay and/or Owner are not responsible for personal property left behind, stolen, or damaged during your stay. Every attempt will be made to locate lost items, but there is no guarantee that they will be found. Upon check-out PLEASE make sure and take all of your belongings and check the Property carefully. If you find that you have left something behind, please call our office at (PHONE NUMBER HIDDEN) and we will attempt to locate the items. There is a $25 minimum plus shipping charge on all returned items. Items are held for 30 days and then are donated to charity.
19. Unavailability Provision: This Property may become unavailable due to circumstances outside of our control. Examples include but are not limited to: destruction or severe damage due to weather. In such event we will do our best to make alternative arrangements for you where possible. If we cannot, or if the alternative arrangements are not acceptable to you, then we will refund all the monies paid. This will be the full extent of Stay's liability to you in such circumstances, and we will not be responsible for any other costs connected with any such cancellation, howsoever arising.
20. Travel Insurance: Stay Charlottesville encourages purchasing travel insurance as the cancellation policies are strictly enforced.
21. Choice of Law: The laws of the state of Virginia shall govern the validity of this Agreement, the construction of its terms and the interpretation of the rights and duties hereto.
22. Attorney's Fees: If Owner employs an attorney to enforce the terms and conditions of this Agreement, Guest shall be responsible for all costs and reasonable attorney's fees as incurred by the Owner whether or not suit is filed.


DOG POLICIES

Dogs are allowed at noted properties with PRIOR approval, provided Guest agrees to the following conditions:

P1. General: The pet is housebroken, flea free, not prone to shedding, and not prone to damaging property.
P2. Furniture: Pets are not allowed on the furniture or beds, unless a protective cover is used provided by Guest. There is an extra pet cleaning fee if evidence of excessive pet hair is found in the home.
P3. Damage: The cost to repair any damage done by a Guest's pet, such as chewing furniture, staining carpet (pet urine), etc. will be charged against the Guest's credit card and/or deducted from the damage deposit and the Guest will be charged for carpet cleaning, odor removal, and flea spray if any evidence of a pet(s) is found in the rental home or on the premises.
P4. Waste Removal: Guests must pick up after their pet when the pet does its business, whether on the Property or in other areas, and dispose of such waste in a proper container. GUESTS WILL BE CHARGED A FEE OF $10.00 FOR EACH POOP REMOVAL.
P5. Supervision: All pets must be under the complete control of a responsible Guest, and must be on a hand-held leash at all times when not in a fenced yard. The Guest agrees NOT to leave pet(s) alone TO ROAM FREELY THROUGHOUT THE HOME.
P6. Behavior: We do not limit pet size or breed, however aggressive or unruly dogs are not welcome for the safety of other Guests and children in the area. If we receive one or more complaints regarding barking or aggressive pet behavior, Guest's license may be revoked with forfeiture of all rents and security deposit.
P7. Pet Noise: The Guest agrees to monitor pet's noise so that pets do not disturb neighbors, and certifies that such pet(s) will be under the complete control of a responsible human companion and on a hand-held leash at all times when outdoors.
P8. Indemnify / Hold Harmless:
Guest agrees to indemnify, hold harmless, and defend Owner against all liability, judgments, expenses (including attorney's fees), or claims by third parties for any injury to any person or damage to property of any kind whatsoever arising out of their use of the Property.
---
---
---
2 ночи — минимальная продолжительность бронирования
---
Beautiful home. Convenient location and good value. Read rules closely and ask for updated list beforehand as they seem to change
Thanks for your feedback, Alexander! We are glad that you enjoyed Crossfields. The rules hadn't changed but had not been properly available via Airbnb; our greatest apologies! We wanted to update and confirm with all guests about the rules previously put in place to protect our owners, neighbors, guests, and Stay Charlottesville. We apologize for that inconvenience and hope to have you stay with Stay Charlottesville again! We appreciated your group being valued guests!
---
Really great for a weekend getaway. Stayed here for a bachelorette weekend. It's such a beautiful location that you don't need to leave. The house is rented through Stay Charlottesville. The staff was super helpful, answered all of questions, and provided recommendations.
---
This is one of the most beautiful homes I have visited. The house is the perfect place for a larger group of people, never once did we feel crowded. The pool was great for hot afternoons after the vineyards. The host was very easy to work with and get in touch with. Thanks for a great weekend!
---
Our stay was so great! The beds were super comfortable and the house was immaculate. Kitchen is fully stocked with any equipment you might need. They provided shampoo/soap and towels which was wonderful. All positive except for lack of cell phone service, which we already knew about thanks to other reviews of this house. Grab a blanket and watch the sunset, so gorgeous!
---
My recommendation is to call the Stay management group to see if all the issues with the functionality and livability of this home have been fixed. The overall setting of the home is beautiful. This home has ample room for the advertised 8 people to stay comfortably with en suite bathrooms but, failed us in major ways due to kitchen faucet malfunctioning for 7 days and the showers malfunctioning. The Chef's kitchen functioned well for preparation except the Salamander oven and the cutlery which I assume prior guests did not care for properly. The failure was in the ability to use the kitchen faucet and sink to clean up. Try to clean up daily for dinner guests 8-16. This seemed like an ideal home to host this number of dinner guests but, was an imaginable mess!. A beautiful kitchen marble counter has been marred with stains covering 90% of the counter ( by whom is the question- neglectful prior guests or poor management). The in-ground pool was nice however it is more of a "plunge" pool as the depth is well over 6 feet in all areas. Not a kid-friendly pool. Check the skimmers for mounds of dead frogs that get trapped there. There was poor cellular service but you can use the land line in the home.
Thank you for your feedback, Mari. We do apologize that the sink had issues during your stay. After sending two plumbers to assist and replacing the faucet, we had hoped that the sink would then be fully functional for your visit. Again, we do appreciate your feedback and thank you again for staying with us! All of your notes have been passed along.
---
We stayed here with my family of 10 to be close to keswick vineyard for my son's wedding. Which was only 1 mile away. It's perfect for entertaining. Secluded, private and beautiful. Be careful there is no cell service in many areas of the property, one bar if your lucky. But don't let that deter you it is beautiful. The beds were super comfy. Loved the kitchen, we hosted brunch prior to wedding for the groomsmen and immediate family and had plenty of room in kitchen for all. It's about 13 miles from Charlottesville but takes about 20 minutes. Was hard for our Uber driver to find. Driveway is not well marked and comes up fast on a turn when coming from vineyard which is north of property. Just make sure you look for white fence that was helpful. This property was the icing on the cake for our wonderful weekend.
---
We loved our time here. The pictures don't do it justice. The house is immaculate, stately and beautiful. We used it for a friend getaway with 10 people. We all fit beautifully. But we all agreed this place would be perfect for a wedding party or bachelorette weekend. The kitchen is equipped with everything you would ever need-- like a Kitchenaid, food processor, etc.) and the property is worth exploring. We are looking for an excuse to come back.
---
Vacations Homes | Wine Tours | Event Venues

I'm a Virginia native, moved to Charlottesville in 2000 where I found a perfect marriage for my passion for historic buildings, music, and art. An architect-at-heart without the ability to draw, I found myself drawn to the historic homes in Charlottesville and the Blue Ridge with no way to work with them. The solution: Stay Charlottesville. I (but really we) now manage, over 45 houses in the Charlottesville/Albemarle area. We have everything from small carriage houses to large estates with pools and are able to offer package deals when reserving vehicles in our wine tour fleet (Monticello Wine Tour & Coach Co) or our event venue, Old Metropolitan Hall.
Частота ответов:
100%
Время ответа:
в течение часа
Открывайте новые возможности в г. Keswick и поблизости
Другие варианты жилья в г. Keswick: