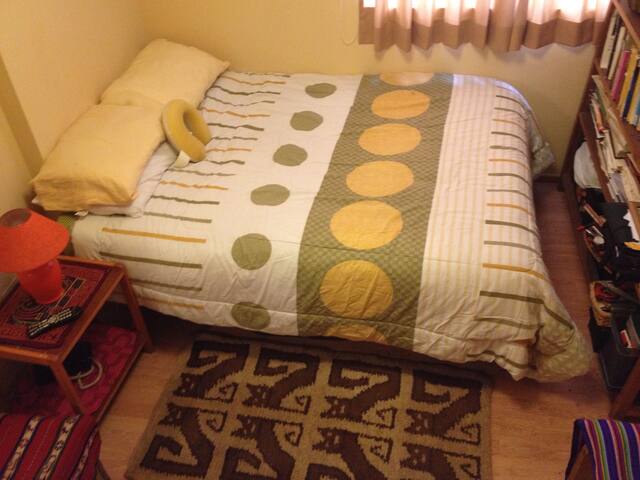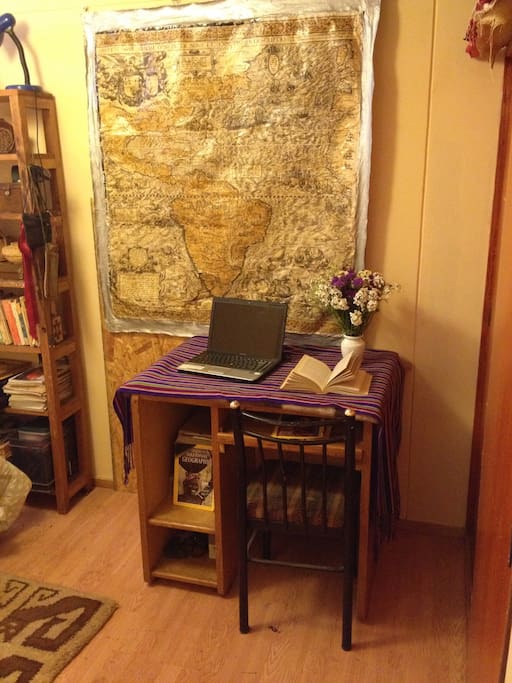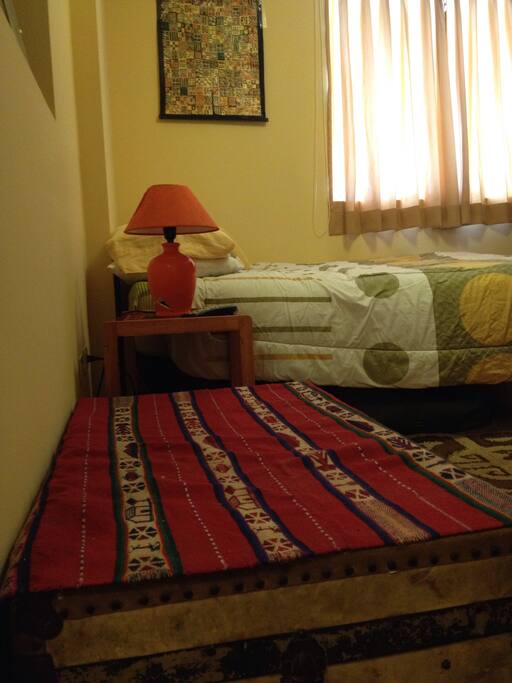 Cozy studio/room with bathroom and all services needed in a nice apartment with a large library.
At walking distance of shopping center, banks, restaurants, pharmacies, etc.
Your host: Mariella, very knowledgeable in ancient Andean history. Luv to share it!.
Жилье
All guests from Airbnb can have access everywhere in my house. All guests can use my refrigerator, stove, washing machine if need be. Guests are more than welcome to my large library, I have books in English as well as in Spanish. My apartment is small but packed with/ filled with "culture" ...mostly related to the ancient Andean cultures...from pre columbian times to the Inca Empire...and beyond.I have been sort to say" lucky" to have become interested in the insights of Peruvian culture. Due to such "luck" it is unavoidable to stay at my home and not grasp what Cusco, and surroundings, Machu Picchu, etc. are all about... My guests get interested by being surrounded by the authenticity of the "things" I keep at home...staying at my home is a true introduction on what is the city of Cusco about and other sites of interest...
I welcome all Airbnb guests that wish to stay at a home which will bring upon them a great place to stay and in the meantime learn about Andean history, geography, customs, traditions, etc. I have done a lot of adventure traveling; such as treks, river rafting throughout the south Andes of Peru. I also happen to be very knowledgeable on textiles. Staying at my small apartment can be an interesting experience while traveling.
Saludos cordiales,
Mariella.
Доступно гостям
All guests from Airbnb can have access everywhere in my house. All guests can use the refrigerator, stove, etc. All guests can use the washing machine if they need to. Guests are more than welcome to my large library, I have books in English as well as in (URL HIDDEN) apartment is small, packed with art, etc. related to the Andean culture and its people...from pre columbian times to the Inca Empire...and beyond. We were sort to say "lucky" to become interested on the insights of Peruvian culture and it is unavoidable to stay at my home and not grasp what Cusco, and surroundings, Machu Picchu, etc. are all about...Almost all of my guests get interested by the authenticity of the "things" I keep at home.
I welcome all Airbnb guests that wish to stay at a home which will bring upon them a great place to stay and while staying at home... learn about history, geography, customs, traditions, etc.
To conclude, my small apartment can be and offer an interesting experience in one's travels through Cusco...Peru.
I work from 8 a.m. to 3:30 p.m. Guests can arrive up to 7 a.m. or at 4 p.m. or later. And depart at the same times mentioned. No guest(s) can depart my house without me being present, unless we have previously coordinated departure time. This is a strict house rule...thank you for your understanding.
Saludos cordiales,
Mariella.
Общение с гостями
Con la frecuencia necesaria. Los oriento, les doy consejos y datos que pueden hacer su visita mas interesante. Les ayudo con sus planes de viaje, especialmente como personalizar su viaje. Converso con ellos sobre toda clase de temas. Si mis huespedes quieren estar solos, respeto su espacio en casa.
Depende del huesped si quiere interactuar.
Yo trabajo de 8 am a 3:30 pm. Pero estoy a disposicion para mis huespedes cuandos los tiempos lo permitenl He tenido que cambiar
las horas de arribo y partida: 7 a.m. y de 4 p.m. en adelante. Yo tengo que estar presente cuando los huespedes se van de mi casa, es un "requerimiento" obligado...Bajo ninguna circumstancia el huesped puede partir de mi casa sin previa coordinacion conmigo.
I interact with my guests frequently, albeit. If my guests show an interest and/or a wish to be oriented, I am more than open to give them advice and information in order for them to have a most interesting and memorable visit. I help them out with their travel plans, especially on how to customize their trips.
We have good conversation on all kinds of topics.
If my guests feel like being left alone, I respect their own space by themselves I work from 8 am to 3:30 pm. The hours of arrival and departure are: 7 a.m. and 4 p.m. on. I have to be present when my guests depart, it is a "must". Under no circumstances a guest can depart from my house without previous coordination with me. And less off take my house keys if a guest(s) leaves on his/her own volition without previous advice.
Saludos cordiales,
Mariella.
Другие важные подробности
Definitely yes! I would like for my guests to be absolutely sincere and open with me. If something is not of my guests liking I would like to be told about it immediately, instead of keeping it in and leave my house without mentioning about "something" that could have been "fixed right there and then" and later at their review mention it!!!
I appreciate people being sincere. If something breaks down; for example: the hot water shower doesn't work, the room is cold, the wifi is slow, etc. I can fix whatever right away.
I Had an only review where a guest mentioned; i.e.: the wifi was slow..."I didn't get any wifi in the room"...THE BEST in this case...would have been to mention to me his or hers "predicament" and I would have e.g.: restarted the modem...or done "something" to resolve the "impasse" such as share my internet from my mobile phones if necessary.
I wish my guests feel confident enough to tell me about their "predicaments" while at their stay in my house. NOT mention it in their "comment" later when "nothing" can be done...
What is the purpose for guests to mention "negative things" at their stay after the fact? What can a host possibly do after the fact?
I believe that Airbnb has been created, thought about, and has been founded on a set of values such as trust, respect, honesty, responsibility...etc. Asides, of course, of being a great option on the hospitality business; Airbnb actually "took off the matt from the traditional lodging options feet" by offering an alternative way of (URL HIDDEN) came up as a "an amazing" alternative...for both...guest and host.
Last but not least, I won't host children as my last experience with a family with a child was a nightmare. They slept 3 in a bed for 2 and they said they got red spots due to bugs in the bed? 3 in a bed of 2 is not right, they were hot, sweaty...etc. and blamed my bed. The child was hyper active and his parents couldn't control him. They broke the key of the entrance gate probably because their kid was out of control when trying to open it. The key issue affected all of my neighbors. The kid went into my son's room and grabbed my son's collectors item figurines...broke 2 beyond repair and replacement. They blamed my dog for their kid's poop on the room floor... No more kids, sorry.
Saludos cordiales,
Mariella.
---
---
Доплата за каждого последующего гостя Бесплатно
Общайтесь только через Airbnb
В целях безопасности никогда не переводите деньги и не общайтесь за пределами сайта или приложения Airbnb.
Подробнее
---
Спальня 1
1 односпальная кровать
---
Без вечеринок и мероприятий
Недостаточно безопасно или не подходит для детей (0‒12 лет)
Время прибытия: с 16:00 до 00:00.
To be respectful. I give all my guests the house keys. I always take time to show my guests how to lock and unlock the main door of the apartment. Thus, when my guests leave the apartment they have to make sure they locked it right; samewise, when they arrive i.e. late at night to make sure they lock it well.
Finally, and MOST important HOUSE RULE: ALL of my guests cannot bring home a stranger(s), be it a foreigner and specially local people they have met in i.e. the streets, a bar, a tour, etc. Any guest(s) cannot accept to be driven home or accept the offer to be accompanied to the gate of the apartment building, less off to the door of our apartment (3rd floor). My guests cannot give any stranger(s) my house keys under NO circumstances or the address where he or she are staying...If my guests need to meet with people, they can do it at a public place, not (even) at my gate/door entrance.
If a guest(s) have forgotten how to get home they can call me, I always give them my phone number, and the best is to add me to (SENSITIVE CONTENTS HIDDEN).
As I work from 8 a.m. to 3:30 p.m. arrival and departure times are: 7 a.m. and 4 p.m. on. Under no circumstances guests can depart at their final date without me being present unless previous coordination with me. If a guest(s) have to leave my house due to an unforeseen circumstance they have to immediately get in touch with me, I am always available.They can text me or call me if they have to leave at a time not previously coordinated with me. And guests that leave due to odd circumstances cannot take my house keys. If a guest cannot get in touch with me, he or she can at least leave a note and my house keys on top of the dining room table and leave by just shutting the door. However, he or she will have to somehow text me or call me at some point. NO guest(s) leaving my house at their own volition can take my house keys. Sorry! for insisting on this but I have had already one bad experience. On weekends arrivals and departures can be handled as I will make sure I will be there. In other words, on weekends there can be flexibility.
Saludos cordiales,
Mariella.
Вы должны также принять к сведению
В доме живут какие-то домашние животные
---
---
1 ночь — минимальная продолжительность бронирования
---
My sister and I have spent almost 9 days at Mariella's house which were wonderful. I want to point that regarding the comment of a guest called Piotr about the fact that the bed at th studio-room has bed bugs it is not true and unfair to say so. My sister and I slept in the same bed for 9 nights and we haven´t been bitten by anything. We haven't woken up with a rash or red dots in our bodies or anything like that. The mattres is new and clean, and so are the sheet, blankets, the room and the whole house. Mariella had our room cleaned by her mid Betty and did not charge us. It was great! gracias Mariella por todo el apoyo, es una parte de Perù en tu casa, gracias por todo lo brindado, es el alojamiento que debes tomar para conocer Perù, en todas sus presentaciones, Sin pensarlo, volveria a la casa de Mariella una y otra vez!!!!!
---
Staying at Mareilla's is like staying in a museum - her words not mine! There is a lot of history, art and creative genius in the apartment. I was only there for a little over 12 hours but enjoyed my stay with Mariella and Negra ( dog). Both made me feel at home and Mariella has a warm, effusive personality and is interested in your story. My only recommendation is to make sure you know how to exit the apartment block - I forgot to ask and probably ended up waking the whole block as I left so early the next day. Sorry Mariella and to your neighbours!
---
Mariella was an excellent host. She was really nice and she provided me with information about my planned trips to Cusco and Machu Picchu. She even borrowed me a very good book about the region. The apartment is located 5 min by taxi from the city centre and is close to the airport as well. The room was very cosy and Mariella has a very nice collection of books and art. Just one thing - please be aware that nights in Cusco can get really cold! Mariella can get you a heater but don't forget to bring warm clothes. Overall it was a great experience - would recommend to everyone!
Dear Peter: Many thanks for your sincere review about your stay at my home and myself. I am glad I was helpful at your trip planning. Thanks also for the souvenir you brought me as a present from your country. I wish you the best in your travels. I also wish you the best in life. Saludos Cordiales, Mariella.
---
The place is situated in a very quiet neighbourhood, far from noise and buzz of the tourist and taxi infested centre. Yes, it is far to walk to, but a 5-sole taxi ride lets you have a closer experience of what it means to be a 'cusqueño'. Mariela is a very helpful person who tries to make your stay as comfortable as possible. However, sheer trying is not enough. The coziness of the room is probably limited to its size. The room is dirty, the bed has either bed bugs or has not been washed in years as we all (my wife, a 5-year-old son and myself) woke up full of tiny, itchy red spots all over our bodies. On top of it, the owner's dog likes to come visit.... the bed. We stayed one night at Mariela's then we went to Aguas Calientes and came back after two days (we made a booking for just those two nights) to find the room and our duffle, which Mariela let us leave, untouched. When it comes to the bag left behind, it was an expected outcome, but when the room is considered, it was unacceptable, especially when one paid a cleaning fee. On top of it, there was a smelly dog's waste right under the bed! There was also an incident when the key to the building gate got stuck and snapped while opening the lock. We offered to cover the cost of the repair when back from Machu Picchu (it happened on the first day in Cusco). On our way back to the place we went to a local locksmith to get an estimate on the repair (15 soles) in case Mariela had no time to do that (she went away for those two days). When we finally got to the room, there was a receipt for the repair.... 50 soles. We tried to tell our host she was overcharged, she seemed not to have taken it well, as we were told we did not need to pay if it was too much. We paid as we promised to cover the cost of repair in full. Nevertheless, we think Mariela should be more willing to listen to her guests. Overall the place was cheap... both in price and the quality. Luckily, it did not spoil our experience,on the contrary, it is the anecdote of the whole trip.
---
Mariella was a very friendly host who made me feel comfortable in her home. Although my stay was brief, I was glad to learn a bit about her life and gain some insights into the history of Peru. I found the stay very comfortable, and Mariella made sure that I was accommodated, allowing me to use her space heater in the evening, because it does get fairly cold in Cusco during June. Additionally, she helped me out on multiple occasions by calling a local taxi company to arrange my transportation. Thanks, Mariella!
Dear Erik: Thank you for your review. Indeed your stay was short we had a good conversation. You mention you were glad to learn a bit about my life, allow me to thank you also sharing a bit of your life with me as well. It was a mutual sharing. I am glad you appreciated insights of the history of Peru. All in all you seemed to have spend a good time while at your stay at my home and my care for you. That is what a host and a guest is about to be. Dear Erik young, respectful people like you keep up my hopes that the future will be in the right hands. And you picked me up from dropping Airbnb due to a previous horrible experience I had with a guest. Thank you as well, Mariella.
---
While Mariella's Airbnb reviews are mostly positive, I had a very unpleasant stay with her. I'm not sure why the exception, but I'll mention a few negatives of my stay here. First of all, Mariella was very hard to communicate with. She invited me to a dinner party with her fellow staff members at her house, which she said would go late into the evening. I showed up for the lunch meeting 15 minutes early, expecting to meet her, drop off my keys, and stay for a while with her colleagues. No one showed up. I called and texted Mariella several times with no answer. Finally, after not wanting to spend my day in Cusco waiting in her house, I decided to leave. Because the door locks from the outside, I locked the door, and texted her that I would be glad to meet her with her keys any time during my stay. She responded very harshly, accusing me of allowing someone to break into her place later that night. It was very odd. Second, if you go during the months of June-August, expect it to be very cold. The windows were open in the house and when I woke up the temperature was 32 degrees F. Also, the dog is not house-trained. I spent a good deal of time cleaning up poop around the house. Lastly, Mariella mentioned she had a gift for me and gave me an Inca trail guide. I took it with me, naturally, but 3 days later in Cusco, she texted me that she would like the book she loaned me back. I tried to cooperate with her, but she would arrange meeting places that were unreasonable and expect me to get there in less than 5 minutes (long story here). Essentially, she was very rude in her text messages, to the point I had to block her from (SENSITIVE CONTENTS HIDDEN). I'm sure Mariella was just having a rough week, or some other factor was involved, but hopefully this information helps on your trip to Cusco. The city is incredible!
I can't believe what you wrote! You are a compulsive liar! You contradict yourself...1st I invited you for dinner! and then you say you arrived 15 minutes early for lunch! That you texted me several times? To gladly meet me during your stay to give me my keys? Huge lie...you took my keys, you never wrote me a message telling me you were leaving my house! You just left! The only message I got from you was at 10:20 pm saying you had met a few people and that you were staying at the hostel! 15 minutes later I arrived home to find my door open...I called you up and you were not willing to come home and bring my keys...your message was pretty bad written I thought you were on something. And over the phone you sounded like you were either drunk or on something! As you blabbed...I wasn't harsh at all...I was worried when I found my door open. Why take it out on my dog? She is very well trained! You spent a good deal of time cleaning her poop! And that I gave you the handbook as a gift? And you contradict yourself, by saying the book she loaned me! I can go on and on...but allowed me to tell you that you have problem...you are a liar, you did not tell me or wrote me you were leaving, you took my keys and wasn't willing to bring them back...the door of my house was open and only at 10:20 pm you texted me about meeting a few people and you spending the night at the hostel! Who else my keys but you! And my door was open...you have turned things around...but the facts are clear you left my house without telling me and I have very clear House rules, you took my keys and you were unwilling to bring them back...the door of my house was open and only at 10:20 pm you texted me about meeting few friends and staying at the hostel. You did very wrong! I do not recommend you as a guest at all.
---
El lugar tiene un precio realmente económico respecto de la oferta de Cuzco y las fotografías son fieles al espacio real, como ventaja destaco el precio, la cercanía con un hospital que atiende turistas (útil por las molestias de la altura o el clima ) y la cama que es amplia y con un colchón muy cómodo ,como punto desfavorable, el lugar es frió en las noches aun con la calefacción disponible, esto lo digo porque tuve la oportunidad de hospedarme en otros sitios del Cuzco al comienzo y al final de mi visita. Mariela, la anfitriona, es una persona disponible y amistosa, estuvo atenta a colaborarnos, compartir conversaciones y solucionar nuestras preguntas. Aunque es un vecindario tranquilo, tuvimos bastante ruido cerca a casa en la noche por un concierto de celebración de fiestas de Cuzco y en la mañana por el ensayo de una banda de musica o danzas en una pequeña cancha deportiva justo abajo del edificio. Buen viaje y que disfruten Cuzco viajeros.
---
Открывайте новые возможности в г. Куско и поблизости
Другие варианты жилья в г. Куско: