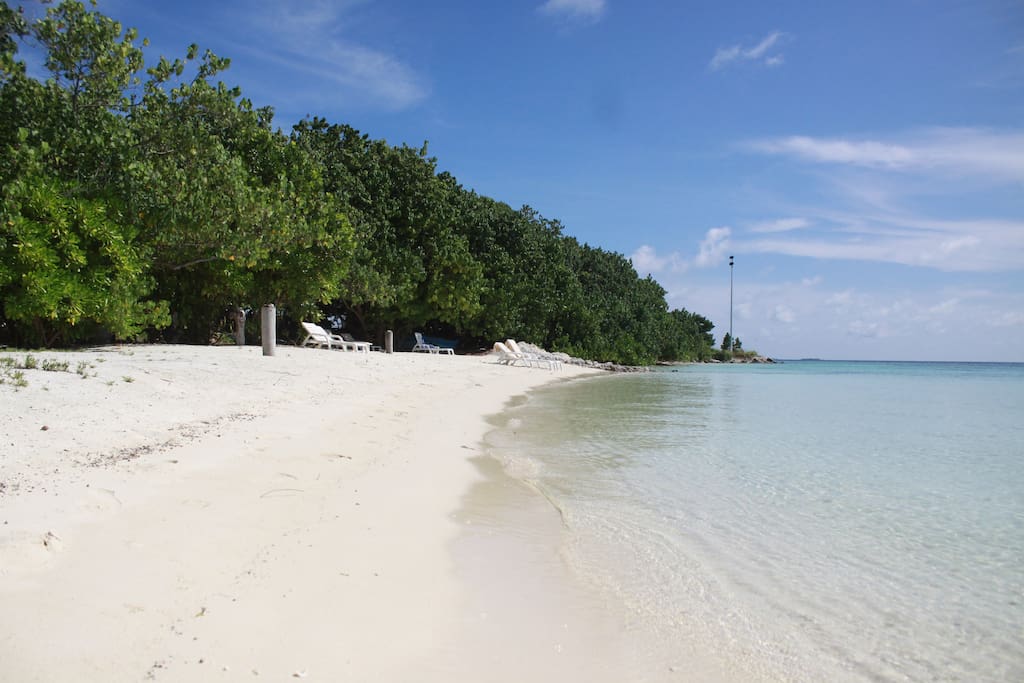 Yonder Retreat - Maldives Deluxe Double Room
Yonder Retreat - Maldives Deluxe Double Room
Этот роскошно оформленный гостевой дом расположен на острове Бодуфолхудху посреди атолла Алифу Алифу, самого популярного места на Мальдивах для дайвинга и подводного плавания. К услугам гостей комфортабельные двухместные номера Делюкс и частный пляж для гостей поблизости.
Located in the island of Bodufolhudhoo in the midst of Alifu Alifu atoll, the most popular destination in Maldives for diving and snorkeling, this luxuriously designed guest house offers you comfortable Deluxe Double Rooms and a private beach for the guests nearby.
Жилье
Мальдивы известны всем как одно из самых роскошных туристических направлений на планете. Но, вы когда-нибудь задумывались, как бы получить доступ к этой роскоши за приемлемую цену и жить как местная или даже наслаждаться максимальной конфиденциальностью, когда вам это нужно? Сама мысль удивительна, и именно это мы и пытаемся предложить нашим гостям. Yonder Retreat спроектирован и структурирован с вниманием к деталям, чтобы предоставить вам местное аутентичное ощущение роскоши с полной конфиденциальностью и комфортом в ваших номерах и на частном пляже для всех гостей. Тем не менее, мы не забыли тех гостей, которые ищут приключений на Мальдивах! С разнообразными мероприятиями, начиная от подводного плавания, дайвинга, рыбалки и водных видов спорта, у нас есть все это для вас! Даже смешение и наслаждение местной жизнью с дружелюбными местными жителями - это нечто уникальное, о котором вы не хотите пропустить! Чем есть частные ужины на свечах для свечей и романтические ужины для молодоженов и пар и веселые групповые мероприятия для семей и друзей!
Maldives is known to everyone as one of the most luxurious tourist destinations through out the globe. But, have you ever wondered how it would be to access this luxury for an affordable price and get to live like a local or even enjoy your maximum privacy whenever you need?
The thought itself is amazing and that is exactly what we are trying to offer our guests. Yonder Retreat is designed and structured with attention to detail to provide you with the local authentic luxury feel with complete privacy and comfort in your rooms and the private beach for all guests. However, we haven't forgotten those guests seeking an adventurous stay in Maldives! With a variety of activities ranging from Snorkeling, Diving, Fishing & Water Sports, we have it all for you! Even mingling and enjoying the local life with the friendly locals is something unique which you do not want to miss! Than there are private beach candle lit dinners and romantic getaways for honeymooners and couples and fun filled group activities for families and friends!
Доступно гостям
Вы сможете бродить по прекрасному острову Bodufolhudhoo и ощутить мирную безмятежную жизнь, которой наслаждаются местные жители. Тесное сообщество дружелюбно и готово к тому, чтобы вы чувствовали себя безопасно и приветливо на острове. С самого начала вы попадаете в помещение гостевого дома, вас встретит прекрасный сад Yonder Retreat с открытой душевой зоной и входом в вестибюль. В просторном лобби есть место для всех гостей, где вы могли бы наслаждаться играми, фильмами или даже читать книги из нашей небольшой библиотеки. Прямо рядом с лобби находится наша обеденная и расслабляющая зона, где вы сможете покурить, почитать книжный кальян или насладиться блюдами и напитками. Частный пляж под названием «Sunset Beach», предназначенный исключительно для туристов, расположен всего в двух минутах ходьбы от дома. Вы всегда можете пойти на пляж и отдохнуть на шезлонгах, любуясь прекрасным видом на закат или искупаться в красивой лагуне. Дом-риф расположен неподалеку от того места, где вы сможете насладиться красивой морской жизнью во время подводного плавания.
You will be able to wander around the beautiful island of Bodufolhudhoo and experience the peaceful serene life that the locals are enjoying. The close knitted community are both friendly and ready to make you feel safe and welcoming on the island.
Right from the point you enter the guest house premises, you will be welcomed by the beautiful garden of Yonder Retreat with an open shower area and the entrance to the Lobby. The expansive Lobby holds space for all the guests where you could enjoy games, movies or even read a book from our small library. Right next to the lobby area is our open dining and relaxing area where you will be able to have a smoke, read a book hookah or enjoy food and beverages.
The private beach called "Sunset Beach" exclusively for tourists is located just two minutes away from the house. You could always go to the beach and relax on the sun loungers enjoying the beautiful view of sunset or take a dip into the beautiful lagoon. The house reef is located nearby from where you will be able to enjoy the beautiful marine life while snorkeling.
Общение с гостями
Либо я, либо Шафи будут доступны вам через ваше пребывание от пункта прибытия до вылета. Мы всегда открыты для бесед и с готовностью примем участие в любой проблеме, с которой вы сталкиваетесь или хотите обсудить. Тогда в Yonder Retreat будут мальчики, которые будут заботиться о вас во время вашего пребывания. Они будут следить за тем, чтобы ваши номера ежедневно убирались, и вам подают вкусные роскошные блюда в течение дня. Они также окажут вам помощь во всех ваших действиях, и каждый из них обладает всеми необходимыми навыками для обеспечения приятного пребывания. Когда закаты, мы будем рады предоставить вам различные варианты вечерних развлечений, которые могут быть либо посещение одного из курортов, расположенных поблизости, в доме ди-джея, местной народной музыки под названием Boduberu, местный смешанный напиток в одном из кафе Или просто игры.
Either myself or Shafi will be available to you through out your stay from the point of arrival until departure. We are always open for conversations and would be readily available to attend any issue that you face or would like to discuss.
Than there are the boys at Yonder Retreat who would be taking care of you through out your stay. They will make sure that your rooms are cleaned daily and you are served with delicious sumptuous meals through out the day. They would also assist you in all your activities and each one of them are skilled in all the activities available ensuring you an enjoyable stay.
When the sunsets, we will be pleased provide you with various options of evening entertainment which could be either a visit to one of the resorts located nearby, an in house DJ, local folk music called Boduberu, a locally blended beverage at one of the cafe's or just games.
Другие важные подробности
Трансфер из / до аэропорта: -------------------------------------------------- У нас есть четыре варианта передачи, которые вы можете выбрать: 1. Запланированный скоростной пароход Время: 1 час и 45 минут Стоимость: 40 долларов США за человека за каждый способ (для детей до 6 лет - БЕСПЛАТНО) График - Мужской 'to Boduolhudhoo - 10:30 AM и 16:00 по местному времени - Bodufolhudhoo to Male '- 6:30 AM и 12:30 по местному времени 2. Запланированный публичный трансфер на пароме Стоимость: 3 доллара США на человека Время: пять часов и 30 минут График: Мужчина 'to Bodufolhudhoo - 9:00 - В воскресенье, вторник, четверг Bodufolhudhoo to Male '- 9 AM - В понедельник, среду, субботу 3. Частная Charterboat Charter Стоимость: 600 долларов США за дорогу Вместимость: 8 человек Время: один час 20 минут Доступно 24 часа 4. Трансфер на гидросамолете: Стоимость: 250 долларов США за человека Время: 25 минут Маршрут: Мале »к любому из курортов поблизости. От курортов мы будем получать вас на небольшом скоростном катере, который займет от 5 до 10 минут, чтобы добраться до острова, и будет стоить от 10 до 20 долларов США. Пожалуйста, обратите внимание, что все перечисленные выше варианты передачи, за исключением Private Charterboat Charter, будут предоставлены сторонним поставщиком услуг, за которые мы не могли нести ответственность. В случае отмены или задержек из-за погодных условий или любых других условий, указанных третьей стороной, мы будем сотрудничать с вами в достижении наилучшего варианта. Халява, которую вы можете наслаждаться ----------------------------------- - Свободное снаряжение для сноркелинга, Аренда жилых жилетов. Удивительный риф дома для снорклинга в нескольких метрах от пляжа. - Доступ к частному пляжу Сансет также известен как «Бикини-Бич», - Бесплатные футбольные и волейбольные игры с местными жителями - Бесплатный тур по острову - Бесплатный чай и кофе в день - Бутылки с бесплатной водой в день - Завтрак "шведский стол", если в нем проживает более 3 гостей. Установите завтрак с различными сортами, если в нем 3 или меньше гостей. - Бесплатная экскурсия по городу Мале, если вам нужно оставаться на долгие часы в Мале, - Бесплатный трансфер из аэропорта - Бесплатные настольные игры и фильмы
Airport Transfer to and from the Island:
--------------------------------------------------
We have four transfer options available of which you could choose any:
1. Scheduled Speedboat Ferry Transfer
Time: 1 Hour and 45 Minutes
Cost: USD 40 per person per way (For Children below 6 years old - FREE OF CHARGE)
Schedule
- Male' to Boduolhudhoo - 10:30 AM & 4:00 PM local time
- Bodufolhudhoo to Male' - 6:30 AM & 12:30 PM local time
2. Scheduled Public Ferry Transfer
Cost: USD 3 Per Person Per Way
Time: Five Hours and 30 Minutes
Schedule:
Male' to Bodufolhudhoo - 9 AM - On Sunday, Tuesday, Thursday
Bodufolhudhoo to Male' - 9 AM - On Monday, Wednesday, Saturday
3. Private Speedboat Charter
Cost: USD 600 Per Way
Capacity: 8 Pax
Time: One Hour 20 Minutes
Available 24 Hours
4. Seaplane Transfer:
Cost: USD 250 Per Person Per Way
Time: 25 Minutes
Route: Male' to any of the resorts nearby. From the resorts, we would be receiving you on a small speedboat which would take 5 to 10 Minutes to reach the island and would cost from a range of USD 10 to 20.
Please do note that all of the above transfer options except Private Speedboat Charter would be provided by a third party service provider for which we could not be held responsible. In case of cancellation or delays due to weather or any other condition stated by the third party, we would cooperate with you in attaining the best available option.
Freebies that you could enjoy
-----------------------------------
- Free Snorkeling Gear, Life Vests Rental. Awesome house reef to snorkel within a few meters from the Beach.
- Access to Private Sunset Beach also known as the "Bikini Beach"
- Free soccer and volleyball games with the locals
- Free Tour Around the island
- Free Tea & Coffee per day
- Free Water Bottles Per day
- Buffet Breakfast if the occupancy is more than 3 guests. Set Breakfast with different varieties if the occupancy is 3 or fewer guests.
- Free tour around Male' City if you have to stay for longer hours in Male'
- Free Airport Pick up
- Free Board Games & Movies
---
---
Доплата за каждого последующего гостя 1599 р / ночь после 2 гостей
Общайтесь только через Airbnb
В целях безопасности никогда не переводите деньги и не общайтесь за пределами сайта или приложения Airbnb.
Подробнее
---
Спальня 1
1 кровать King Size
---
- Smoking is allowed only in the Open Dining & Relaxation Area after meal times.
- As a courtesy to other guests & locals, smart casuals are recommended while dining and other areas and swimwear in the private beach.
- Consumption of Alcohol is prohibited on all local islands in Maldives. If you would like to have a glass of wine or a few drinks we will be more than pleased to arrange a tour to a nearby resort or the floating bar.
- We seek your cooperation in preserving our environment. Corals and marine life are protected by law in the Maldives. Please do not take them out of water, touch them or stand on them.
Вы должны также принять к сведению
Некоторые зоны являются общими - Lobby, Dining Area and Chill Area are shared with other guests
---
---
1 ночь — минимальная продолжительность бронирования
---
I would describe myself as an extrovert, outgoing and friendly with almost anyone. It is one of the main reasons why I chose hospitality as my career. Building relationships, making people and creating memories in each and every guest of mine are all part of my career.

In addition to being outgoing and friendly, I also love beaches, tropics and living with the sun, sand & sea, making maldives and what I do my ideal retreat. Music is something that I keep really close to my heart and chill out, reggae, pop and blues are the beats that i love.

Food is something that I live for but being healthy is also a priority. However, when it comes to Italian, Indian and Maldivian cuisine there would come times when I totally forget the word "healthy".

Being both a Maldivian and a host 24 / 7, cleanliness, hospitality and putting a smile on my guests are my highest priority. I hope to create a great and unforgettable memory in each and every one of you that I host.
Языки:
English
Частота ответов:
100%
Время ответа:
несколько часов
Открывайте новые возможности в г. Bodufolhudhoo и поблизости
Другие варианты жилья в г. Bodufolhudhoo: