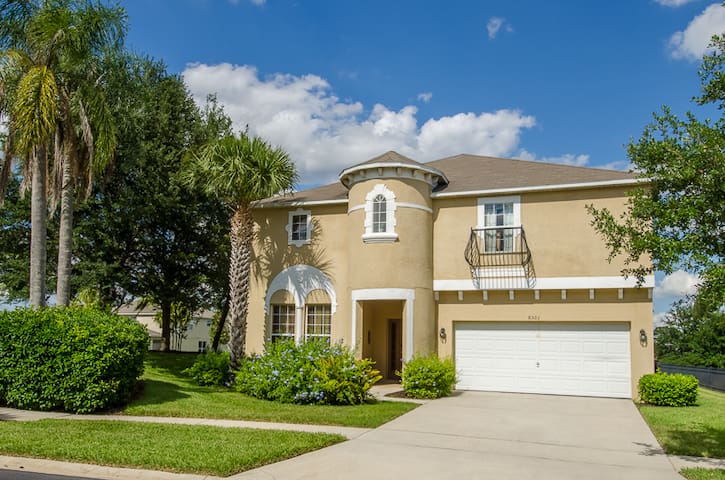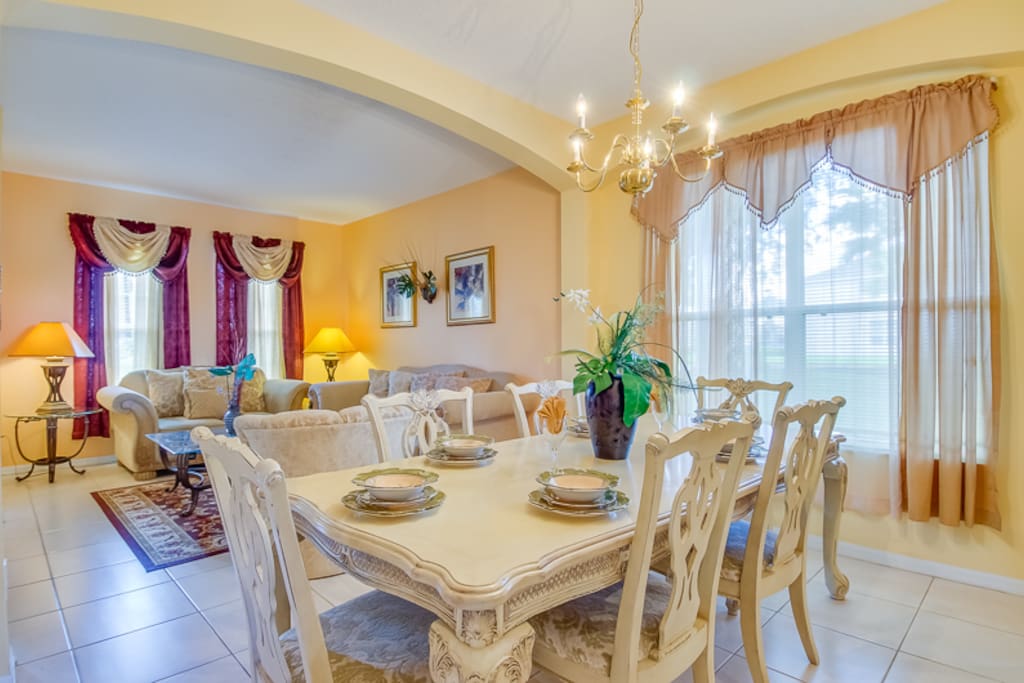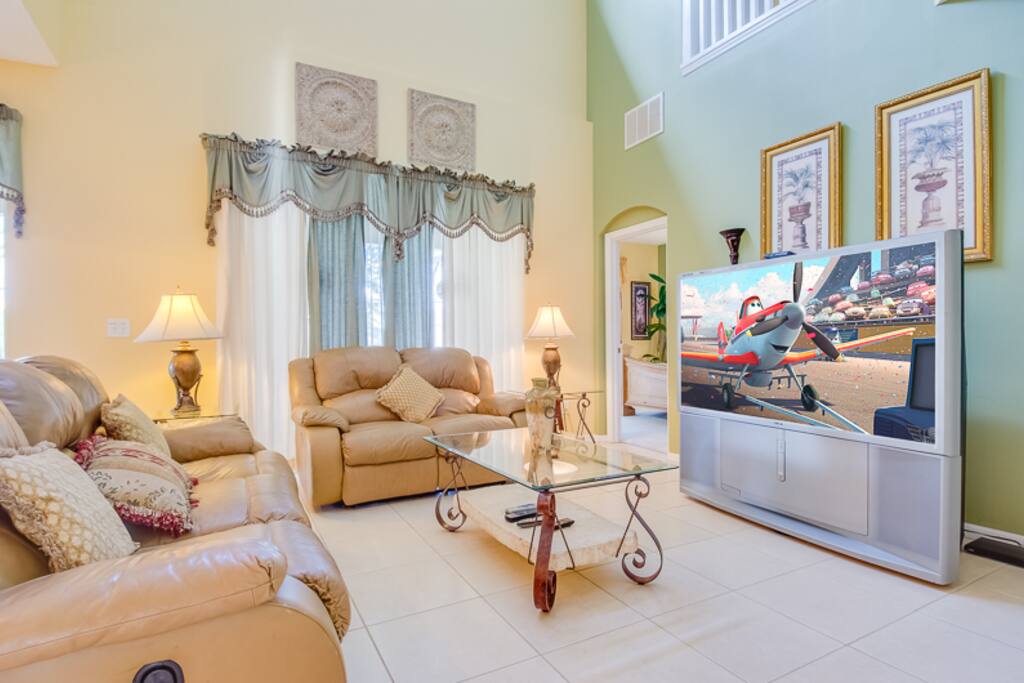 Huge 7 bedroom 5.5 bathroom villa in resort near Disney #8501LI
Wonderful 7 Bedroom Vacation Rental Near Disney
Жилье
Our splendid, colossal villa with luxury furnished 7 bedrooms / 5.5 baths and private pool/spa is situated in the magnificent gated resort of Emerald Island, just minutes from Disney World and close by dozens of other world-class attractions (such as Universal Studios and Sea World), golf courses, shopping centers, supermarkets and restaurants.

Our spacious villa is a perfect place for large family groups, sleeping up to 14 guests in style and comfort. It is the ultimate paradise for a Disney vacation or a getaway retreat. Enjoy our enchanting home for less than the price of hotel rooms for your party!

Inside the villa:

Our lovely villa is fully air-conditioned for your comfort with 7 luxury bedrooms and 5.5 bathrooms in total. The 7 bedrooms consist of 3 King size Master bedroom suites and 2 pairs of Jack & Jill style suites; every bedroom is elegantly furnished and decorated, and each bedroom is equipped with Cable TV. Bed configuration in the bedrooms are:
o 3 King sized beds in 3 Master Bedroom suites
o 1 Queen sized bed
o 3 Twin bedroom suites -- total 6 twin size (single) beds

Our villa has a large and well-equipped kitchen with an island, full-sized refrigerator, range/oven, microwave, dish washer, breakfast table, coffee maker and cooking utensils. This bright and airy kitchen has everything you possibly need to make a family feast or a simple snack. In the family room, you will find a large-screen HDTV with Blue-ray DVD player and VCR for watching movies and shows, and a Playstation 2 with a variety of games to play.

Outside the villa:

A heated private, screened pool with adjoining heated spa (Heating is optional and at additional cost) is an ideal place for you, your family and friends to splash around, or sunbathe under the warm Florida sunshine, or relax under the shade of the covered lanai area.

Features & highlights

• Free Wi-Fi High-speed internet
• Cable TV, Blu-ray DVD, VCR, and Playstaion 2
• Game room with pool table, air hockey table and many other games
• All linens and towels are included and ready for living
• Full size washer and dryer, and dishwasher are available for your convenience.
• Available free to use for babies are one crib, one high-chair, one stroller, and a Kelty Kids Child Carrier.
• Professional house cleaning services are hired to completely clean the villa before every new visitor begins their stay.
• Situated on the "enclave" section of the Emerald Island Resort, an exclusive and secure gated resort community with 24 hour security,
you will expect serenity and peace.
• Full free access to community amenities, which include a free membership access to the Emerald Island clubhouse. The clubhouse has a fitness facility, spa with hot tub, sauna, and steam room, free internet access, tiki bar, snack bar, another large heated pool and Jacuzzi, and a concierge to help with reservations and other assistance.
• 3 miles from Disney World
• Golf courses are within 5 miles of Emerald Island, as well as many supermarkets, banks, shops and restaurants in the area
There are plenty of activities to do:
• Fitness room
• Spa and sauna
• Game/Arcade room
• Basketball court
• Volleyball area
• Tennis courts
• Nature path
• Jungle gym/swing set area

If any problems or concerns arise during your stay, there is a management company on call available 24/7 for any emergencies.
Общение с гостями
Guest will check in directly at the home using a 6 digit code for our electronic locks. There is an emergency contact number available on all directions as well to resolve any issues.
Другие важные подробности
If you would like to add additional amenities such as: Pool Heat, BBQ Rentals, or Crib/Pack and Play Rentals, please contact us directly.

Seasonal Minimum Stays:
Christmas ((PHONE NUMBER HIDDEN) night minimum
East(PHONE NUMBER HIDDEN) night minimum
Thanksgiving ((PHONE NUMBER HIDDEN) night minimum
Summer Time ((PHONE NUMBER HIDDEN) night minimum
---
---
Время прибытия — после 16:00
Terms and Conditions

All accommodations are Non-Smoking.
Pets are subjected to certain properties with owner pre-approval. Our pet fees are $100 non-refundable.

Villa4Less LLC, offer the short term rental of the Property named on the Rental Agreement (a copy is

supplied on booking of your vacation property), to the person of 21 years or over named as the Party Leader

and to the named party members (on the Rental Agreement), hereinafter referred to as the Guest, under the

terms set out below.

Bookings

Villa4Less LLC, will provide a written quote via email. Quotes are valid for 24 hours, unless and until the

Property is either booked by a third party, or Villa4Less LLC receives a deposit for the same dates (or part

thereof) from any party. Where the Guest agrees by email, phone, fax or other written device to book the

Property, Villa4Less LLC will provide a booking confirmation to the Guest by email. The Guest must pay the

requested deposit or payment as defined on the booking confirmation prior to confirmation of the booking.

during that period, Villa4Less LLC reserves the right to accept any booking for the Property from a third

party, where said third party agrees to payment prior to receipt of payment from the Guest.

Confirmed Booking

On receipt of the required payment from the Guest, Villa4Less LLC will issue a Confirmed booking receipt by

email to the Guest. Only on release of the Confirmed booking receipt from Villa4Less LLC is the booking

determined as confirmed. 

Receipt

The Guest agrees that payment of the rental deposit amount to Villa4Less LLC will signify their full

acceptance of these Terms and Conditions of Rental. The Guest further acknowledges that by payment of the

final rental sum, the Guest has read and accepted these Terms of Conditions of Rental on this web site. 

Payments

The Guest agrees and acknowledges that Villa4Less LLC will not release the Property details or any service

prior to receipt by Villa4Less LLC of payment in full. Failure of the Guest to pay rental or for any service will

result in removal or refusal to supply said service, including, but not limited to terms of accommodation in

the Property. Such removal and or refusal will not alter the terms and penalties associated with cancellation.

The Guest agrees to pay the total rental fee as shown on the Rental Agreement within the due dates as set

out on the booking confirmation. Final and full payment is due 60 days prior to arrival. In the event of late

payment, or failure to pay, Villa4Less LLC reserves the rights to levy the cancellation penalty percentage

charges against any money that the Guest has paid in advance and cancel the booking of the Guest. Where

the money paid in advance is insufficient to cover the calculated percentage, Villa4Less LLC reserves the

right to exercise any legal remedies to pursue the amount owed by the Guest.

Where a Guest chooses to amend their booking 60 days or more prior to arrival, resulting in a change in the

property size or location, or a change of dates of stay, a $100 Booking Administration Fee will be levied.

Where the guest alters the booking resulting in a reduction in the number of nights, the Company will charge

the $100 Booking Administration Fee in addition to the cancellation fee warranted against the number of

nights cancelled as described below.

Any changes to existing bookings within 60 days of arrival will not be allowed. 

Rental Period

The Guest agrees, and Villa4Less LLC permits the Rental Period to begin and end on the dates shown as the

Rental Period (as shown on the Rental Agreement).

Check In

Check in to the Property is after 4:00 pm on the date of arrival as shown on the Rental Agreement, Booking

Confirmation or Registration Form. At the sole discretion of Villa4Less LLC, any Guest arriving before that

time may be refused. Guests arriving before 4pm may be charged $25 per hour against their security

deposit. 

Check Out

Check out is on the date of departure as shown on the Rental Agreement and Registration Form, at 10:00 am.

All keys must be returned to the Lockbox. Guests that do not return keys in lockbox will be charged $150 fee

against their security deposit for change of lock. In the event that it is found that the Guest has not departed

the Property on the date of departure, at the due time, then the Guest will pay a penalty charge of one days

rental. 

Basis of Rental

Properties offered for short-term rental through Villa4Less LLC are provided on a self-catering basis.

Villa4Less LLC provides complimentary starter items of toilet paper (one per toilet), small hand soaps and a

trash bag. Once these items are used, it is the guests responsibility to replenish them. The Guest may elect

to order groceries and supplies in advance from Villa4Less LLC at the charges set out.

Guests staying at homes that have a key and lockbox MUST LEAVE THE KEY IN THE LOCKBOX EACH TIME

THEY LEAVE THE PROPERTY. This ensures that management and or maintenance personnel can gain

access in case of any emergencies or maintenance issues. Management do not have spare keys to any of the

homes. 

 Self Catering

Your home is self catering accommodation.

Please note that while we do leave starter supplies of toilet paper,  and soap in each home, 

you will be responsible for purchasing your own supplies of dishwasher detergent and soap powder 

as well as trash bags, all trash must be bagged up in trash bags before being placed in trash cans. 

You will also need your own wash cloths as these are not supplied for sanitary reasons.

Cancellation

The Guest may cancel their booking at any time up to the day that the final payment is due. In the event that

the Guest exercises their right to cancel, Villa4Less LLC will charge the following cancellation penalty. From

initial date of booking up to 60 days prior to the arrival date, Guest will be charged a $150 cancellation

fee from their initial deposit. 50% REFUND OF FULL BALANCE FOR CANCELLATIONS WITHIN 60 AND 31

DAYS OF ARRIVAL DATE. NO REFUND FOR CANCELLATIONS WITHIN 30 DAYS OF ARRIVAL

* Villa4Less LLC regrets that it is unable to waive any of the cancellation charges or rules above, whatever

* Villa4Less LLC recommends that all guests take out adequate cancellation or vacation insurance either

the circumstances.

through their insurance broker or travel agent. 

Service Level

Villa4Less LLC makes all reasonable efforts to maintain each property and its equipment in good working

order. Wherever commercially possible, repairs are performed within 24 hours, but sometimes delays are

inevitable. No refunds are granted for malfunctioning mechanical or electrical equipment including (but not

limited to): inoperable appliances, air-conditioning units, pools and/or spas. No refunds will be given for

unfavorable weather, early departure, utility service interruption, construction, or maintenance issues.

Additionally, there are no refunds for faulty recording or playback equipment, TVs, audio, telecoms, cable

reception, computer equipment or internet access.

Guest(s) shall be solely responsible for any property damage, accident injury to any person or loss

sustained by any person, including loss of money, jewelry, and other items of personal property, arising out

of or in any way related to Guest(s) use of the premises or the items of personal property provided by

VILLA4LESS LLC, the Owner at Guest(s) request. Guest(s) shall inspect and be familiar with proper use and

application of such items prior to using them. Guest(s) hereby agrees to INDEMNIFY and hold VILLA4LESS

LLC and/or Homeowner harmless from any and all claims including those of third parties, arising out of or in

any way related to Guest(s) use of premises or the items of personal property provided therein. Guest(s)

assumes the risk of injury or other losses relating to any recreational activities and will hold owner and its

agents harmless with respect there to. Guest(s) shall leave premises in clean, undamaged condition. If unit is

not left in suitable condition, guest understands that agent reserves the right to charge guest for any repairs

or special cleaning. Refer to departure instructions posted on reservation confirmation. 

Accidental damage insurance

We require guests to purchase at the time of booking Accidental Damage Insurance at a cost of $89. This

policy will cover any accidental damage that occurs during your stay up to $1000. This policy does not cover

acts of willful or neglectful damage, theft, excessive trash removal or additional cleaning charges. In the

event that such willful damage, theft, excessive trash removal or cleaning charges are necessary the Guest

agrees that the named card holder agrees to allow this credit card to be charged to cover the cost. In the

event that damages exceed $300.00, the card holder will be contacted in advance and payment will need to

be made within 30 days.

A condition of the insurance is that guests report any accidental damages to Villa4Less LLC  during office

hours 9am - 5pm. We require all accidental damages be reported to us prior to check out of the Property.

Damages not reported prior to check out will be deemed as willful damage which will not be covered under

the insurance and will be chargeable to the credit card on file.

Over occupancy

Villa4Less LLC reserve the right to evict guests from the property with no compensation or refund if it is

found that guests staying at the home have not been declared on the Guest Registration form.

Limitation of Liability

Villa4Less LLC makes all reasonable efforts to provide advice and safety information. This information can

be found in the Vacation Home Guidelines at the Property. It is the responsibility of the Guest to ensure that

they have read and understood the contents and advice given following arrival at the Property. Villa4Less

LLC is willing to provide any and all further information pertaining to the Property providing the Guest has

first read the Vacation Home Guidelines. In addition, Villa4Less LLC states the following:

Villa4Less LLC and/or the Owner will not release the physical address or lock box code of the Property to the

Guest prior to payment and a signed booking form agreement . This is a security measure.

Villa4Less LLC and/or the Owner do not accept liability for lost or stolen personal property of the Guest from

the Property during the Rental Period.

Villa4Less LLC and/or the owner accept no responsibility for any personal items that are left behind by

guests in the property.

Villa4Less LLC or its representatives may enter the Property at any time, without notice, for the purposes of

protection and/or maintenance of the Property. Wherever possible, Villa4Less LLC will provide notice to the

Guest prior to such entrance.

Villa4Less LLC and/or the Owner accept no liability for personal loss or injury to the Guest during the Rental

Period. The Guest must ensure that they have adequate insurance coverage.

The Guest must ensure that Children are supervised at all times. It is the policy of Villa4Less LLC that all

Children under the age of 18 years are not left in rental accommodation un-supervised during the rental

period.

Villa4Less LLC and/or the Owner do not accept any liability for the acts or omissions of any agent. These

include but are not limited to, airlines, car-hire companies, travel agents, ticket agents, homeowners, or

utility providers. 

Villa4Less LLC and or the owner accept no liability for any issues relating to services or amenities that are

part of any Resort community facilities, community pools, clubhouse facilities etc.

Most vacation home communities do not allow coaches, commercial vehicles, trailers or RV`s. It is the guest

responsibility to arrange off site parking for these types of vehicles.

Villa4Less LLC and/or the Owner do not accept liability for failure of pool heat to provide adequate heating

where pool heat is provided via an electrical heat pump, and where the outside air temperature drops below

55 degrees Fahrenheit. Electric heating pumps do not operate effectively below this temperature, and failure

of such devices to heat the pool is outside of the Company`s control. In most cases your pool will warm to a

daytime temperature of between 70 and 82 degrees. Be advised; homes with spa attached to pool that the

temperature of the spa will be the same as the pool temperature. The spa is NOT a hot tub! The water in the

spa and the water in the pool are within the same flow circuit and use the same heating system and

temperatures for each unit are not able to be set separately.

Villa4Less LLC and/or the Owner do not accept liability for acts of violence, nature, fire, flood, war, civil

disobedience, riot, or other force of nature that may have a injurious effect on the Guest.

Villa4Less LLC does not accept liability for removal of the Property from the marketplace, or transfer of the

Property to another company by the Owner or for any other reason that  results in the Property becoming

unavailable for the Rental Period. Wherever such an event occurs, Villa4Less LLC will offer the Guest a

suitable alternative accommodation of equal or better quality, subject to availability. In the event that the

Guest refuses the offered alternate property, then the Guest may cancel the booking, and the Company will

refund the Total Rental Fee paid  less the applicable cancelation penalty percentage rate (if applicable)

Villa4Less LLC will not be liable for any additional expense that the guest incurrs if the guest has refused the

alternative property offered.

 

Failure to comply with any of the terms herein will, at the sole discretion

of Villa4Less LLC, result in the eviction of the Guest from the Property, 

without compensation or refund.
---
House was great and good location. Def need some upgrades. Very outdated and things are falling apart. I reserved for 3 days but left a day early due to things not being clean. Carpet and couch had stains where I wouldn't sit. Bed sheets and towels were very old which I didn't want to touch.
---
Our Commitment Is: To provide clean, safe luxury homes at an affordable price. We offer fast, friendly and responsive service to ensure that your stay in one of our homes is a pleasant experience. Whether you're a tourist or in town on business, Villa4Less wants to make you fe…
Частота ответов:
100%
Время ответа:
в течение часа
Открывайте новые возможности в г. Киссимми и поблизости
Другие варианты жилья в г. Киссимми: