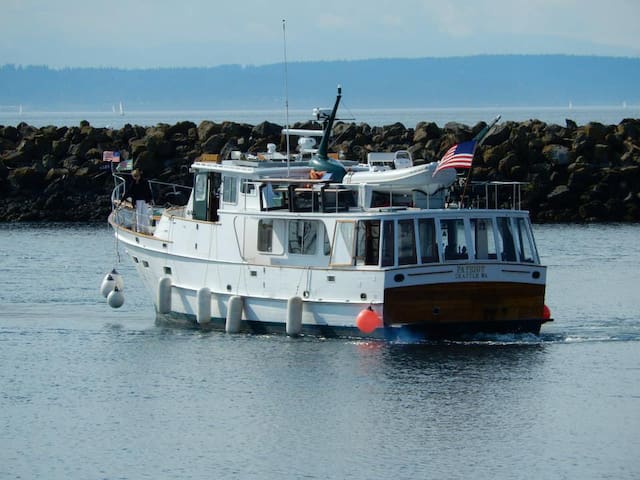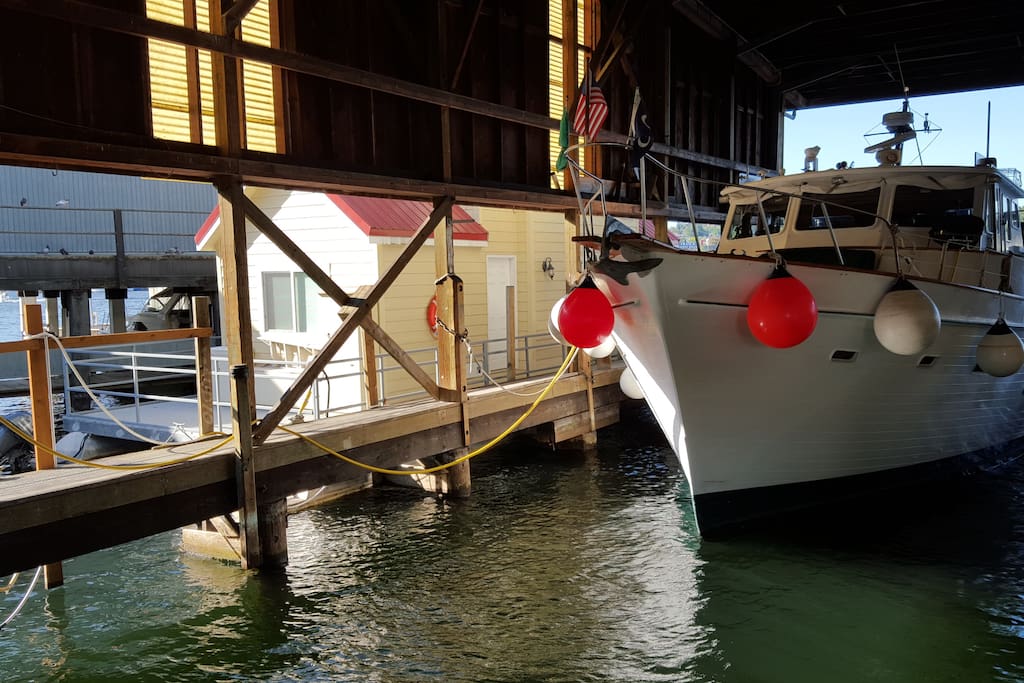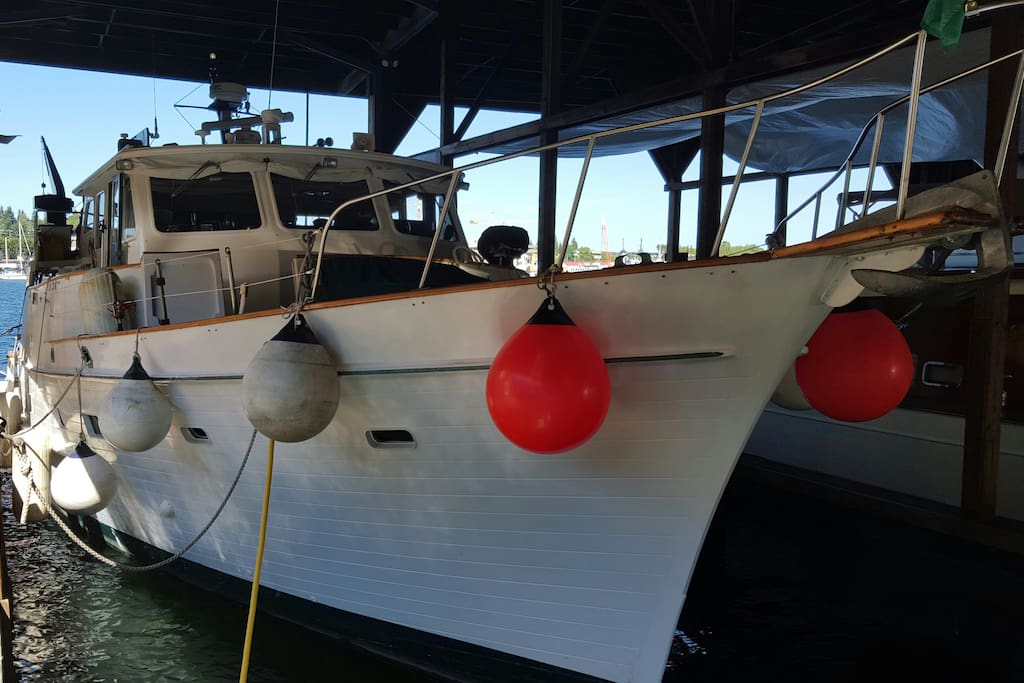 2 отдельные ванные комнаты
2 отдельные ванные комнаты
Classic 55 ft 1972 Woody Grand Banks Alaskan, 12 made 1000's copied.
Month Long Stay possible. Ask for prices.
Plenty of room and privacy.
3 prvt rooms:
Queen bed, with full bath
1 Queen bunk + 1 singl above Queen bunk w/shared bath w/shower.
1 single bunk room
Galley, lrg. fridge, Salon/tv/computer station. Sun viewing room
Жилье
40 positive reviews,
NOTE:
For over night at the slip:
As noted through out the photos one can see that the Patriot is kept under cover for protection from the elements as it is a classic, heavily built ocean going wood vessel only 12 were made in 1972, 11 surviving.
However, I pull it back as far as I can without being inconsiderate to my neighbors, and still have an outstanding view of all the activities that take place on the lake.
OPTIONAL CHOICES BELOW:
OPTION #1. Over Night, Minus tour.
$170 per night in covered slip.
Excellent views out the back.

The options below need to be discussed and arranged before choosing dates.
OPTION #2. Tour and over night, price break down below:
Reg $170 for overnight at slip, this is airbnb chg
(payable through airbnb web site)
For tour, add $100 for 3 hour min
(NOTE: hourly tour usually $125. you receive a $25 savings if you are an overnight guests.)
Where we go:
We tour up to Ballard locks to see if the salmon are jumping, pop into and through Fishermans Terminal to look at all the resting and repairing fishing vessels back down to tour Lake Union and Portage bay, where historic house boats and many retired WW11 vessels that served our country are living their lives out, and so much more to talk about and to see here in lake Union.
We also can chose it so our end of tour coincides with sundown, floating quietly watching the skyline of Seattle come alive with the sparkling lights on the lake.
Tour only $125 per hour, 3 hour min, (No overnight)
6 max
Over night in covered slip
$125 per hour for vessel expenses.
Add over night at $170 for 2 persons, $50 each above the initial 2 (4 person overnight accommodation max)
6 person maximum for tour.
Not over night? Only $50 per person for the tour,.
(Repeating for clarity:
If over night $50. charge does not apply)
Tour times:
TBD, However most of the time I may be able to accommodate your needs depending on previous reservations.
Dinner Sunset floats are possible in the summer beauty of the Pacific Northwest watching Seattle skyline lights turn on. (BYO prepared dinner or visit the store and use the huge refrigerator food to cook on the Patriot, all utensils are supplied.
OPTION #3 Anchored out over night, In Andrews Bay Lake Washington
Prices reflect per night.
Midweek=$625 ($170 credit for slip fee paid thru airbnb)
Total=$460.Cash before departure to over night anchorage.
(mid week slightly cheaper and best time to go for solitude)
OPTION #4. Anchored out over night. Party Week ends for boaters gathered out in Andrews Bay=$650 minus ($170 credit for slip fee paid thru airbnb web site.
(If quiet is what your looking for, go mid-week or wait for cooler day's.
Hot weekends during boating season can be popular with fun loving social people playing and having fun with their water floatation devices/water toys, surrounding music) Either lake kayak or large foam water mat will be provided.

ATTENTION:
For over night at the slip:
As noted through out the photos one can see that the Patriot is kept under cover for protection from the elements as it is a classic heavily built ocean going wood vessel only 12 were made in 1972, 11 surviving.
Undercover, however, I pull it back as far as I can without being inconsiderate to my neighbors, and still have an outstanding view of all the activities that take place on the lake.
Every vessel that comes through passes by my aft.
If you would like a better feel of the open air while on a vessel as this, I give a very reasonably priced 3 hour tour, which at the end of the year is basically you and I going in on the cost of vessel operation.
I do this to help the folks that do not have the means to experience boat life.
This is a typical wooden marina also built long ago however thru the ages has been kept updated and constantly replacing areas that show wear.
It is one of the wonderful examples of how they all looked in the past.
We have some 30 original marinas left from when the Lake was coming onto its own
(please research Lake Union history).
About the dock the Patriot is moored on.
The Finger dock used to board the Patriot is scheduled for replacement as it has a very slight tilt and a few worn boards, it is however still absolutely as safe as any dock can be.
Lake Union is known for the interesting history of past times when it was a working lake, where you will see many original marinas built in the 1920's up to todays modern standards.
Within those old marinas can be found some very old rare vessels all mostly built here on the Lake during the 20's to today.
Get permission from marina management to stroll some of these older marinas and find some treasured rare vessels still afloat and being used.
Please note: I list my accommodations as shared space under the advise of Airbnb.
But what is what is available to my guests is the entire vessel.
Although I am aboard, as it is a safety requirement for which I made with the management of the marina and also agree with as there are many systems that most are not familiar with that run a vessel of this size.
I do try and spend most of my time either away or working on business computer items in the pilot house for which is where I sleep. This gives my guest a large area of privacy and at times after I feel the guests are familiar enough I will spend some of the nights away.
Guests have the use of the entire home,
all areas, rooms, all sleeping spaces including bed on the bow, each bathroom, Pilot house, large refrig, fully galley.
Areas not immediately open for access would only be the engine room, for which I will be more then happy to show and take you through.
ALSO,
The Owner/skipper is required to be on board while hosting guests.
I fully support this outlook as it is a safety net for the guest and vessel.
A vessel of this size and type operates constantly on many complex systems, even just sitting in the slip, and requires a person that understands and knows how/where to monitor, fix if needed (RARE) all and everything aboard the vessel.
It is also my opinion that a person who does not understand marine systems on a vessel of this size and complexity avoid staying aboard alone without someone with direct knowledge of that vessel.
Ask yourself, what would you do if,
This is why I am here,
I am here to help you be at easy and enjoy a taste of life aboard a large classic vessel.
I love this experience and life-style, the environment and want to share it with those that would like to know for themselves, feel and learn what it is like to live aboard a big boat.
CHILDREN:
A vessel is a good environment for children, however first! the child must be safe, for the environment.
Please discuss.
So come enjoy this wonderful environment knowing you have someone aboard that knows and understands the vessel you are staying on.

BELOW IS BEING REVISED, feel free to read but when dong so keep in mind some infor is a repeat and so will be a refit. THANK YOU Tom

The overnight is a 2 hours to get there, two hours back, two nights overnight are the most satisfying however if one night is all you have that will be a memory you would not have if passed up just because its only one. lets go!. and we can even go after dark which is very unique, intresting and fun.
other simple logistics to be discussed at the time.
NOTE:
The Patriot is large providing plenty of privacy space.
My own privet bunk is on the 3rd floor up described in detail through out this Ad.
SLEEPING SPACES
Lower level
#1. Captain's quarters you will find a queen bed with a new mattress, with an adjoining full bath, with a small tub/shower, wash basin, and head (toilet.) It even has a towel warmer.
#2 Forward Large Cabin has a double bed plus a single bunk 1/4 hangover above lower double.
#3 Smaller bunk room/with adjoining bath, with basin, and shower. This is a shared bath. There you can find a small library.
Mid level
here you will find the salon (living room,) with lounge chairs for comfortable TV watching, or if you have work to do, it is pleasant to sit at the computer station, with the lake spread out in front of you.
The sun room, with a panoramic view is a favorite place to have morning coffee and a breakfast start to choose from if desired, watch the parade of pleasure and working boats got past. As dusk grows into darkness, our guests enjoy watching the dancing reflections on the water from the city's lights. Or they are out till all hours enjoying Seattle.
The galley
Food Options:
There is a large refrig. to keep what you need in.
Lunches and dinners not included however, you are welcome to plan and bring your favorite meals, if a situation arises that I do cook a meal a gratuity will be graciously appreciated, but most all guests have enjoyed the local restaurants.
except for breakfast this will be provided if desired and would be at not extra charge. Helping yourself to items I will show you that are available to Choose from, cold or hot cereal (oatmeal) choice of fruits,nuts, granola. I have almond silk milk, please if whole milk is desired or any other items feel free to bring them all.
Coffee (Arabica) of course and teas provided.
I will setup for you to help yourself, if I need to leave early we will cover it night before.
Lots of restaurants but the galley may be used, there is a microwave oven and if the propane stove is used I just need to go over a few safety procedures and how propane stove top works.
#4 When there are guests, my quarters are in the wheel house, where there is a watchman's cot and my space for sleeping doing my computer work, while keeping an eye on all systems.
A total of 4 single bunks are aboard this vessel.
One single "Captain watchman's cot" is up in the top level pilot house which is where I sleep, providing guest privacy below. It is a large vessel.
A general rule for the Docks and any Vessel:
I ask that you be acutely aware, in unfamiliar environments, being watchful,taking care while slowly walking the docks and moving around inside the vessel.
A habit of good Skippers are to ask their guests for everyone to watch each other.
(life jackets always available to those weary of the water and is not anything to feel self conscious about.
While aboard any vessel or dock, we all need to move slowly, watchful and pay diligent attention to our footing keeping an eye out for trip items.
Your safety and enjoyment is most important to me.
These are docks, some covered as my slip is, can back into 1920's and have been rebuilt many times as time moved forward.
Nothing dangerous, just to keep in mind.
These docks have hidden treasures, as old forgotten about or highly restored classics, boats of all types, many originally built on this lake decades ago, keep your eye out on my dock and as you walk the lakes paths.
Often I see from out from the back viewing room of the Patriot, unique vessels slip silently past, some restored, some looking as they just started for the 1st time in 70 years.
I have lived aboard around this lake for 17 years and still see some of these old classic's pass by I have never seen, many of the originals are still tucked away hiding somewhere in a dark hidden corner, an old slip in one of these old manias.
Aboard the Patriot:
Although there is ample head room, 6 foot plus, however for the basketball players please watch for a possible head bump while descending the staircases,
I will explain clearly to you the few systems you will be using, giving a basic but complete explanation of them.
I also would enjoy introducing you to the advanced computer driven Navigational systems
Showing programs used, electronic charts and how the programs that display current, tide information for any day in any year.
The radars, for which this vessel has two, one 25 mile a short range to help me keep track of what is directly behind me and a very long range of 75 miles to see while in open and long waters.
This is a huge roomy very comfortable and interesting classic older well maintained and equipped mini-ship, where a 42 inch TV, just begs to have a good movie watched from the comfortable twin recliners, unless you have work to be done on the internet.
Some guests have come here to do work in the aft "sunroom" found through the beautifully varnished double doors that separates the living space from the glassed in "sunroom", a great place to eat and work from.
In the Galley (Kitchen) you will find a full size S/S double door refrig and twin bottom freezers, enough room for all.
Breakfast you will find a host of morning eats,
At times I will be available to prepare a breakfast, if not I will have you all set up to find provided morning starters.
Coffee, oatmeal to cook adding fruits, nuts, etc. or choices of cold cereal. Fruit, nuts, and cranberries, Almond milk is what I use and will be found in the refr more then welcome to bring your favorite foods or drinks and use the galley (kitchen)
DINNER,
Dinners I can not supply however,
The full gallery microwave minus propane stove unless I am present
If you like, and this includes breakfast, feel free to bring any foods you might like to prepare.
Other options for foods, their are fine restaurants in the area.
Mornings if a full breakfast was not desired you could start with sweet rolls, coffee and chase down a restaurant later if you like.
IT IS ALL UP TO YOUR OWN DESIRES..
STAYING HOME,
If it sounds good staying in for evenings for a movie or to watch the dusk grow into the darkness. Feel to stay and just relax
In the Pilot house there is a hidden sink with hot and cold running water.
Past the galley through the comfortable living space is found a set of beautifully varnished double doors , through the doors is another entire room that can go privet, just by closing the twin doors.
In this room, the far end of the vessel, you are surrounded by windows and if the weather is nice enough then can be opened along with the rear door exposing the water. My pet duck my pay you a visit.
You will also find a glass table to eat from while computing, eating or just watching all the vessel traffic pass by
.
Night brings the sparkling night lights on the lake and if the wind is up the water looks as a running river.
I must ask that red wine never ever leaves that aft viewing room.
There is no smoking in or around the boats or docks prohibited by fire department for obvious reasons, for smoking, one must go out through the gate and smoke in the concrete parking lot,
Thank you.
Thank you for your interest.
Your stay will be an unforgettable time.
Good opportunities for your own personal photography pass the viewing room.
My own special Photography and artwork turned into fine art wall hangings that resemble hand painted pieces are available as well.
Photos of your group and the M.V.Patriot turned into a fine art walling or just a photo are available as well.
Anything unclear confusing or plain questions please take the time to write and ask.
Thank you, your Skipper guide and caregiver, Tom G Whipple
Доступно гостям
ABOUT CHECK IN/OUT TIMES: Negotiable
Check In, 4PM
Check out, 11AM
I strive to be as flexible as I can concerning these times and usually can provide a larger window for you if needed depending on my work load from previous guests :), as I enjoy seeing my guests having a good time watching the interesting Lake activity and enjoying just relaxing to the sights sounds and motion of being on a large vessel.
However please at first, plan on listed times.
As time comes closer I will advise if I can loosen arrival and departure time.
Thank you
Tom

There is free parking outside the gate. When you arrive, call me and I will meet you at the gate.
This is an old marina, so please watch your step on the dock. There are carts to use for transporting your belongings.
The lake rises and falls and it can be a step down to the deck of the boat at times it is a step up.
Общение с гостями
This is my home, and as my guests please as though this too is your home while staying aboard with me.
Be comfortable, explore, (no switch flipping except for lights of course, head and shower pulls) ask and if you are interested in how the pilot house navigational systems work or other equipment, I will be happy and enjoy showing you.
There have been some amazing advancements in navigation programs with built in safety features. I keep my eye on everything making sure all is going great and will be close by and will come to any kind of aid you might need. You may call me 24 hours a day and I should be able to be there within 15 minutes or less. I will make sure the vessel, your temporary home stays comfortable and running perfectly and will explain systems you need to know.
FUN STUFF: Guys? Gals
Let's head down. Under our feet is the engine room and systems, see what and how the Patriot keeps us all comfortable and informed.
Under our feet is a well tuned updated and rebuilt, engine room, fascinating! You see how this vessel is alive, running on both AC and DC, See how when at anchor or underway it creates its own AC at the same time provides 12volts DC.
The Patriot has the capability staying out for a few months, the only item she needs is to come in for water. However she holds a hefty 800 gallons of freshwater and that can be stretched out for a long time.
it is a complete amazing world down there.
The Patriot is alive 24 hours a day.
Другие важные подробности
SIGHTSEEING
There are places to see and things to do, There are walking trails along the lake such as the Historical Fremont district that is down one of these trails and leads across the bridge. You can find many good restaurants nearby, and museums to visit. Watching the boats go through the Ballard Locks and sometimes seeing salmon jumping and swimming, making their way to fresh water. There are many interesting educational items to visit and see all very close to home base,
Доплата за каждого последующего гостя 2443 р / ночь после первого гостя
Общайтесь только через Airbnb
В целях безопасности никогда не переводите деньги и не общайтесь за пределами сайта или приложения Airbnb.
Спальня 1
1 кровать Queen Size
Спальня 2
1 сдвоенная кровать, 1 односпальная кровать
Спальня 3
1 односпальная кровать
Зоны общего пользования
1 односпальная кровать
Без вечеринок и мероприятий
Недостаточно безопасно или не подходит для детей (0‒12 лет)
Время прибытия — после 15:00
Absolutely no smoking in or around boat or docks, must go to parking lot and dispose of in proper location, not on the ground or lake please.
Marijuana must stay off the boat, legal in Washington but not in federal waters they'd love to take this boat away from me to have and enjoy all these amenities for themselves, let's keep it for us.
strict rule please. No pets, but possibly parrots or little birdies, I would be glad to keep my eye on them as well.
2 ночи — минимальная продолжительность бронирования
The Yacht was a "blast" and we would do it again!! We had never been on a Yacht before and didn't know what to expect, but Tom was always available to answer questions or show us how to work something. His attentiveness was greatly appreciated and the scenery of Lake Union could not have been any better. To see all of the boat traffic and sea-plane activity on the lake made us want more of what Seattle has to offer, it is truly a dynamic and vibrant city.
Michael and his group were such a pleasure to have aboard. New friends as I feel I become with some of these folks are very hard to see leave, Michael and family were as such, they always live out of state. Iam so sorry for the hardship you all experienced on this trip, they way you all took it on, is reflection of the kind of good, good souls you all possess. I was happy you allowed my to help share your grief. and thank you for sharing some of mine. You say going out on the boat ride was a highlight for you all,,, It was a hight light for me too, but the high light was seeing everyone enjoying what I love doing for others. I hope some day we will Skipper together again
---
Great unique lodging experience on a boat. Location on Union Lake is superior. Host took us out on a tour of the lake which was fantastic.
I have provided a "listing accurate" B and B experience plus have provided extra amenities which have not been listed such as a welcome loaf of homemade banana bread, hard boiled eggs, and many breakfast selections etc. I am confused about any wifi issues as I use a modem with the internet without issues. I hope in the future if there is a problem it will reported immediately so it can be rectified. I work very hard to not only provide a safe, clean, comfortable place to stay, but work extremely hard to make sure my guests are well taken care of. I am disappointed that I was not made aware of any issues. The guests reported that this was a wonderful place to stay and would be happy to recommend this to others. Those that wanted to try their hand at piloting while we were out on the tour were welcome to take command. I do appreciate any constructive criticism because I am committed to have100% positive customer satisfaction! Thank you again for choosing the M.V. Patriot
---
Tom's 'Patriot' is an amazing and special space on Lake Union. Tom is a very attentive and caring host. We (3 of us) spent two nights aboard Tom's Grand Banks Trawler and were very comfortable. We especially enjoyed sitting in the stern watching the water activity in Lake Union. Nights were quiet so sleeping was good! Thanks Tom!
---
ABOUT THE SKIPPER,
I am Tom G. Whipple, Owner/Skipper and Slave-Master to The M.V. Patriot, :)

"The Dream"
I have lived aboard a boat for 18 years. The M.V. Patriot 4 of them where I have spent many hours examining from bow to stern, parts,pieces and systems,continuing to improve the improved, keeping this lovely vessel more alive happy, healthy and comfortable then as when she came to me.
My first boat 30 years ago, was a whitewater and sea-kayak spending many years paddling the Pacific Northwest, North, through to the West Coast of Vancouver Island, specifically, The Broken Group, remote Ocean exposed Islands of Barkley Sound. Loving, learning all things marine, and Saltwater born.
Spending most of the time in The Great Pacific Northwest. Waters where one pays attention, learns about currents, wind affects, weather and all the sea life.
On one occasion I found myself in Barkley Sound leaning steeply, tipping from my sea kayak in shallow shore water hand bracing on the bottom to prevent tipping over, where I had seen a very small green yellow eel type of fish. As I watched him hide under a rock I wiggled my finger which started a game of chase the finger back and forth lasting about ten minutes until I could not feel my hand any longer, submitting to the stronger species of one inch long, I resumed my upright position and watched my little friend look and look for his new friend the finger.
Paddling off I could not help but to feel a bit of a loss the newly made friendship.
That night as I drifted off to sleep, inside my tent and warm sleeping bag, that little eel-fish was my last thought of the night
These many experiences of "Life of the Salt" and just as many or more of 17 years "Experiences of a live-aboard" will at some time find there way into a Book "living-aboard". During your stay we can share some of these stories with you or as I say give you as much privacy as you would like, by being on errands or working on computer in the upper Pilot house. From Before those times, I spent 25 years at Mt Baker ski area.
The 1st 3 years as a ski patrol (free skiing) then placed a 20 foot trailer in the area, finishing the rest of the 22+- years as a mogul skier, selling skis, Summer filled the needs of the lack of snow by riding 50 mile enduro dirt bike events staged by evil sponsors creating the nastiest of trails they could in the dense woods, then sat and laughed as we just about had to swim through the mud pit.
When time allowed I was found recovering, working as a product development design drafter for the wonderful Boeing Co.
Thank you Boeing, Iam forever grateful for the tolerance you displayed. :) lol
Years have gone past finding myself all settled down not wanting to induce anymore damage, soreness or pain to my body, just wanting to live life in the company of nature's peace and beauty from aboard a boat with others that would like to experience or already have, listening to the music created, water dancing around all objects in its way, enjoying the gentle motion This is life that people dream of experiencing.
I most heartily welcome you into my home to enjoy,
"The Dream"
I trust, I have satisfied airbnbs request to "describe yourself"
So, let's get back to discussing your! stay, aboard and about the Wonderful Classic 1972 ,55 foot, Grand Banks, Alaskan, The well know, M.V.Patriot.
Your Skipper, friend and Host, Tom G. Whipple.
Thank you.

Частота ответов:
100%
Время ответа:
в течение дня