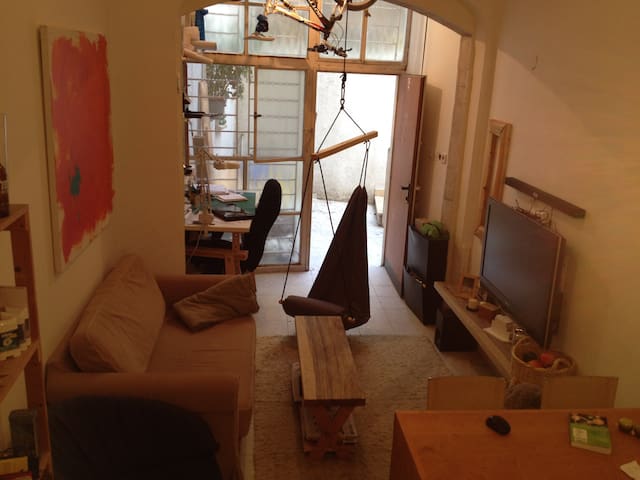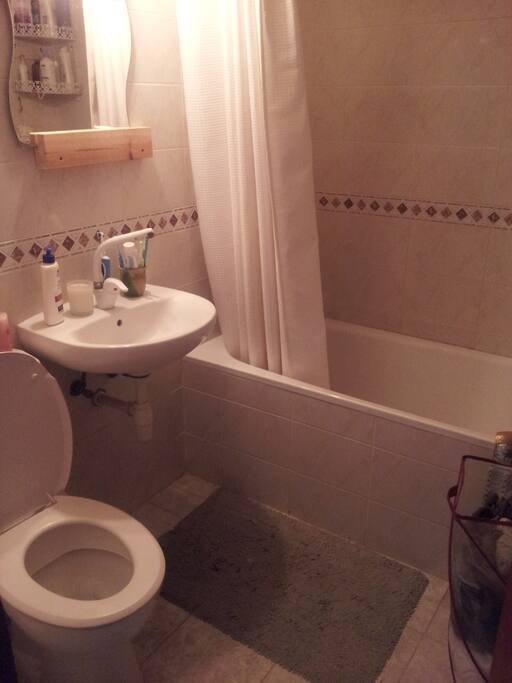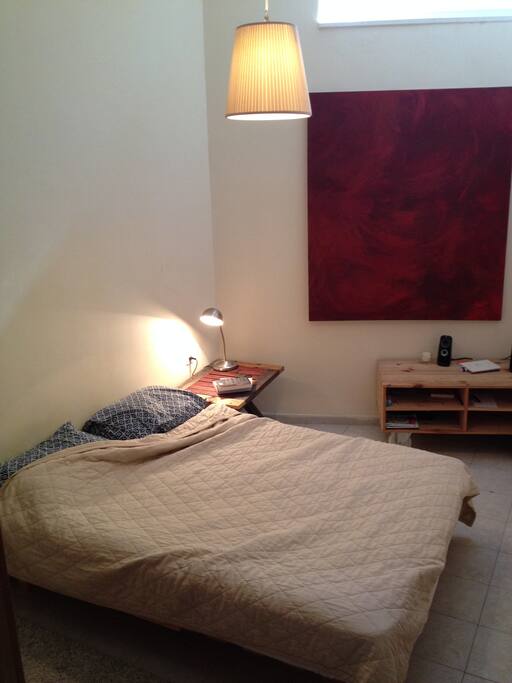 small house 1 minute from "MAHANE YEHUDA" market
there is a kitchen, double bed, sofa that can open and small garden to sit and relax outside
---
Alon's apartment was wonderful for my 5 day stay. With where it is located, it is easy to walk almost anywhere of interest or even take the train or bus to where you need. It is very close to the market to buy whatever you need. Alon was very flexible with my check in and check out times in which both were very crazy hours. Also, he helped me with figuring out the best way to get to the airport exactly when I needed to. He even reserved the taxi bus that picked me up right outside his place just to save me from the trouble. He is wonderful host and very accommodating. He got whatever I needed very quickly right after I called or messaged him. I was even able to cook for a couple of days with stuff I bought from the market. Being able to cook made this place feel even more like a home away from home. In the apartment he also has anything you could possibly need to stay even if you forgot to pack something and don't have time to go find a store when you arrive or you arrive during Shabbat. All in all, I say his place is better than a 5 star hotel and more accommodating and even feels more welcoming. I will definitely stay at his place again the next time I'm go if it is available. He is an awesome host!
---
We had a great time in Alons appartment. His appartment is very individual, clean and cosy. It has a beautiful back-yard and it is close to a beautiful market and next to the train which goes directly to the city center. Alon is very uncomplicated and nice. You feel in his appartment like at home. I can recommend it and hope that many other people will be so lucky to be invited in his amazing flat.
---
We loved our 3 day stay in Alons apartment. The market is vibey around the clock. Every night we visited a different little outdoor pub with music inside the market. Each one unique and festive. Most had live music. I was surprised at how quiet it was inside the apartment considering its close proximity to all the fun. We slept really well. We arrived in the early hours of the morning in a big rental car and struggled to find parking. Eventually we found a large parking lot at 61 Haneviim street (Rehov Haneviim) which is open all night and charges per day. It was 10 minutes walk away. Once we had arrived we didn't use the car much because the location is so central. We either walked or took the tram to the old city and strolled around the area. We felt safe all the time. There were always people around, little take-aways and supermarkets open even in the early hours. Alon was close by and didn't seem to mind answering texts and phone calls, even at odd hours. Dan, Farrel and Yvette.
---
Our stay at Alon's apartment was amazing from the get-go. Alon offered to pick us up, and made us feel comfortable in his apartment. The apartment itself is amazing- located right near the Machane Yehuda shuk. The apartment's accommodations were great- comfy beds, nice little kitchen- and we especially loved the swing :) Alon kept in touch throughout our stay to make sure that we were having the best stay. I definitely recommend staying here! Thank you Alon!
---
Alon was an attentive and friendly host, we only met shortly but he asked if everything was ok and answered our questions. Everything in this really nice apartment was exactly the way it was described / as seen on the pictures. The neighborhood is a perfect starting point to discover Jerusalem, with the Yehuda market just around the corner. As written in other evaluations, it is a bit cold in winter times, even with the small heater provided. But we already knew that and came prepared with warm clothing.
---
Открывайте новые возможности в г. Иерусалим и поблизости
Другие варианты жилья в г. Иерусалим: