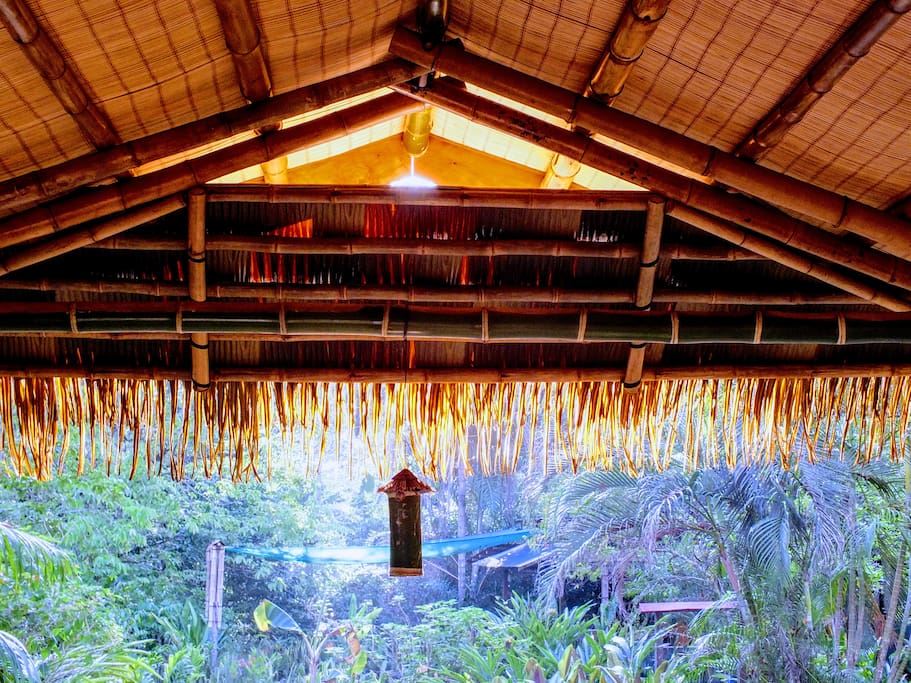 Our bamboo house is available to rent - it's an open air, hand built jungle casa to enjoy a wonderful remote jungle living experience. Enjoy monkeys crossing the property daily, a virtually private beach and truly experience Costa Rica.
CASA HAS JUST BEEN NEWLY REFRESHED and refurbished. Still an amazing jungle casa - just better! Hammocks, comfortable beds, amazing beach steps away, privacy and tropical eco-luxury!
Жилье
Our bamboo house is now available for rent.
It is an open air, hand built construction and a wonderful remote jungle living experience, yet is a minute's walk to the beach and about 8 km from town.
Monkeys visit almost daily to the trees near the house. There are birds and butterflies in abundance.. and we have the largest population of Scarlet Macaws in the world. Collared anteaters and sloths can be seen in the adjacent forest.
Located approximately 150 meters from a deserted tropical beach and surrounded by tropical gardens, the house has two bedrooms and can sleep four to five people. (*See info at end about our additional cabina for larger groups.) The main bedroom is on the first floor and has plenty of shelving storage and a queen bed with mosquito net. The guest bedroom is on the open second floor loft and has a queen bed with mosquito net, built in desk and storage shelving. There is also a single day bed in the open living room area and another in the screened in salon/sitting area. We have extra mattresses if you want to set up a camp bed on the floor of the casa (for example - for kids). Each bedroom has bedside fans, reading and area lights and all linens are included - pillows, sheets, blankets and bath towels. Please note - we are off grid and on solar power - so we are unable to guarantee charging of electronics, laptops etc.
The open kitchen is fully equipped with all dishes, cookware, tons of counter space, refrigeration and a gas stove, kitchen island bar area with stools. The kitchen countertops and sink have led lighting (on solar) for cooking in the evenings. The main floor includes a large bamboo and hardwood dining table that can seat 8-10 people, and lounge chairs.
The mid-level sitting area/sala includes our hand made furniture (a single bed/sofa) and is fully screened in with double doors that can open up wide during the day. The lower front deck lounge includes built in sofa, chairs, hammocks and lovely view of the front gardens. Our caretaker will fill the elevated water tank from the well daily and check to be sure you have plenty of cooking gas - so you need not worry about anything.
The casa has an attached bath with a private outdoor shower with hot water and hand made artisan features throughout.
For groups of 6 or more: We also have a newly refreshed/expanded yoga deck / relaxation palapa / cabina located off the front gardens and situated right next to the pond. It's has a covered open air front deck pond-side perfect for yoga practice, a massage, or just listening to the frogs in the evenings. Sleeps 2. Beyond the front deck is a simple screened in sleeping area with double bed, skylight, sliding doors, lights and fans. There is an additional open kitchenette area included with the cabina too. Also, there's an adjacent bath for the cabina with outdoor shower. Note - Not included with groups under 5. Plenty of frog sounds.
We are renting on a weekly basis, and will consider shorter and longer stays as the schedule permits. Weekly and monthly rentals include weekly house cleaning.
Email to inquire about availability.
Note: Holiday weeks 5 day minimum requested.
Доступно гостям
The main casa grande and all grounds are included for all groups.
For groups of 6 or more, the pond deck casita is included as well.
Общение с гостями
When the owners are in town, we'll stop in and introduce ourselves and help give you any tips or advice as desired.. then you'll have full privacy. Our caretaker will stop by daily to check in on you, fill the water tanks and take care of the grounds. Full privacy given at all times. Enjoy.
Другие важные подробности
Please read the information carefully. This is an open-air jungle casa - birds can and do fly through the living room, no - monkeys do not come in! We wish for you to be comfortable living this close to nature - it's a wonderful house and not for everyone. No a/c, not much power, no internet, no tv. Real beds, mosquito nets, a dipping pool to cool off, hammocks, games and books and a ton of tours available. Also- a ton of animals, an amazing beach, a natural incredible experience.
*Not great for very young children / little ones who are mobile and not talking yet. The casa does have open steps and open sides. Please see the photos. Thanks!
---
---
Спальня 1
1 сдвоенная кровать
Спальня 2
1 сдвоенная кровать
Зоны общего пользования
1 односпальная кровать
---
Время прибытия — после 14:00
Welcome to Casa Guanabana & Cancion del Sol

When we first came to the Osa we felt its magical quality. The time here seemed somehow different and each new discovery made every day an adventure. We want to make your stay here a memorable experience. Here are a few notes to help you get started.

Electricity
We generate our own electricity from the sun and then it is stored in the batteries for use throughout the day and evening. While there is plenty to run the lights and the fans all evening, we ask that you turn everything off when you leave the area. This will insure that you have enough for when you want it and in case there are a couple cloudy days. If you run out, well - there are candles!

** Please note - we are off grid and on solar power - so we are unable to guarantee charging of electronics. We regulate our power use very closely to insure there is enough for everyone. No hairdryers, no charging of laptops at all – one five minute hair dryer will drain our entire system leaving nothing for fans or lights! A good rule is to bring extra batteries for cameras and flashlights (take your old batteries home to dispose of) and leave anything that needs to be plugged in at home. Charge a laptop in town or at the surf bar.

Lighting is kept low not only to save electricity but also to keep the natural ambiance of the land. When there is a clear night you can really appreciate the value of this. The stars are very bright here and on occasion there is luminescence in the surf that would be lessened by any significant lighting. When walking in the dusk and evening, it is important to bring a flashlight with you.
Security – while we have had no issues at all – we cannot take responsibility for anything lost. We provide a lock up and a safe and recommend that any valuables be locked up at any time that you leave the casa, every time. This way no problems!

Weather
The average high temperature ranges between 80-95 degrees Fahrenheit during the day and the low temperature is 65-70 F during the night. While our average rainfall is over 200 inches per year, it generally happens at night and the mornings and afternoons are clear even in the rainy season. We find the rain here to be one of the most beautiful aspects of the area. Because of the open living areas, the rain is often an impressive experience.

The sun is very strong even at 10:00 in the morning. So, to make sure you can enjoy all of your holiday, be cautious. One bad burn can affect you for days. We find the best time to enjoy the beach is before 10:00 AM (particularly at sunrise) and after 3:00 PM (particularly at sunset). This is when the light and the water are at their most beautiful and, while still quite strong, the sun is a little kinder. We are fortunate to have shade on the beach in the afternoon due to trees along the shore. Although you may find it hard to believe, you can get cold during the early hours of the morning especially if you have had the fan on you all night. You may want to leave a light blanket at the foot of the bed in case you want a little more warmth. If you find it a warm when you are going to bed, we find a cool shower to be just the thing to ensure a comfortable sleep.

The sand is a part of normal life here at the beach. Wear flip flops or sandals out on the beach to keep your feet from burning on the hot sand. The paths are kept free from debris so you can go barefoot during the day. Please note, at the entrance to each building there is a foot wash. We maintain 'no-shoe' buildings. Please leave your shoes at the doorstep and rinse off any sandy feet before entering. Helping maintain sand free buildings keeps your room cleaner and the insect population inside much lower. At night, we recommend wearing sandals and staying on the paths using a flashlight to avoid any unwanted encounters with frogs or toads or anything else!

Insects
While there are biting insects here (mosquitoes, no-seeums) you will not find them in the numbers that you might expect. The weather allows for a fairly benevolent environment all year round so there are no mass hatchings as there are in the northern US. However, repellent or light long sleeve shirts and pants are advised during the early evening hours and in the early mornings if going on a tour or hike. It is also advisable to be careful if you are easily irritated by bites and tend to attract them.

Food and Water
The Main House Kitchen: The kitchen is equipped with a gas stove/oven, small refrigerator, pots & pans, dishes and general kitchenware. The refrigerator is run on gas. Our caretaker will check the gas tank and start it for you – so it should be maintenance free. It will fit basic items, milk, butter, vegetables etc. Please keep it closed and keep the opening of it to a minimum. Note, local brown eggs and unopened highly pasteurized milk can be left out on the shelves. The lower shelf of the refrigerator can accumulate moisture, so it is best to put closed sealable containers and drinks there.

Coffee is made the local way: boil a pot of water in the oversize teakettle, take it off the heat, put the coffee grounds right into the pot, stir and wait 2 min., set up the coffee all stand (metal thing with a hoop) with the coffee bag (sock if you will), placing the smaller teakettle (sans top) below the bag, pour the larger pot through the bag, filtering out the grounds and enjoy the coffee in the lower pot. Use a towel – handles get hot! You can also use our thermos pump pot to keep your coffee hot all day.

Clean up in the kitchen is a must after every meal. Ants are 'nature's cleaners' and will tell you when anything is left out. A few hints: put all opened food into Ziplocs or plastic ware and up out of reach. Anything opened (chips etc) gets wrapped up as well – just closing the bag is not enough. Make a 'moat' for sweets/breads/chips that you may leave out on the counter – put them in a big bowl on a plate, and pour water on the plate to make a moat that ants have difficulty crossing. A quick wipe up and/or sweep will usually do the job. If you do get a string of ants, don't worry – just do a wipe up (stove included) and step aside. They'll leave fast enough when they realize there's nothing left to clean. Also, at night – cover anything left out so any flying critters don't get a snack (fruit bats) or put it into the screened cupboard under the counter. The area animals are wild and not habituated to eating indoors or from humans – and we'd love to keep it that way. Thanks – so, please, do not feed the monkeys (or birds, or raccoons, or…)

Water: The tap water is from our sweet well and is fine for cooking, brushing teeth and bathing. Our caretaker will fill both our main water tank and a filtered drinking water tank for the main house daily. Please conserve by turning off running water whenever it is not in use. We do not have hot water. Remember this is the tropics and you will need to drink more water here than you normally would. It is important to remain hydrated and thirst is not an accurate measure for the body's need for water. By the time you feel thirst you are often already dehydrated and there is no substitute for water. Beer, soda and juices can actually contribute to dehydration so drink lots of water even when drinking other beverages.

The bathhouse is open air and a great place to watch monkeys as you shower. We are on a septic system – and have limited water, so if you don't feel like walking to the bathhouse, the plants (beyond the roofline) will not mind the extra water. When using the toilet, the system does require you to hold the handle during the entire flush. Please be sure not let the toilet run. Thanks.

We truly try to keep trash to a minimum. All food waste goes into the compost. Meat waste (bones, etc) has to get buried (or put into a crab hole away from the house and covered). All paper packaging, cartons, napkins etc also go into the compost. We recycle everything else: plastic bottles, aluminum and metal cans, tetra paks & glass. Only clean plastic & metal trash should be put in the trash bucket. Pay attention to packaging, avoid excess plastic and ask for boxes (carton) at the market or use fabric bags instead of taking plastic bags – they'll box it for you and it'll be easier to transport via 4x4 taxi. As there is no municipal dump down here – the more trash we avoid the better. You'll be surprised how little is created once you get into the swing of it. Thank you.

Communications
There are telephones and Internet cafes in town 7 km away. Unlocked GSM phones can be used with purchase of a prepaid SIM card - available for purchase at the "ICE" office at the airport or in town.. top up cards can be bought at the grocery. Signal is best by the beach.

Local taxis are about $25-30 per trip (please check at the office for recent cost as this does change) and our caretaker can call one for you with a couple of hours notice. Once guests get over the shock they generally find it a relief to be out of contact for a couple of days. You can use our in town office phone numbers to be contacted in emergencies. It is open from 8-5 Monday-Friday, 8-2 Saturday. Our travel office number is (PHONE NUMBER HIDDEN).

A word about money:
Traveler's checks can be cashed at the bank in Puerto Jimenez for 1-2% charge. Cash advances on Visa are available at the bank as well. Please note, bank ATM's are readily available in San Jose only – the ones in town are not always connected to USA or European banking systems. US$ are accepted readily at most locations. You will need to hold onto $28 in cash (or use a credit card) for exit airport taxes upon your departure (colones or US$). We can accept only cash for balances due on site, otherwise you will have to pay a credit card charge of about 7%. This is avoided by using our Air BnB site. Thanks.

Laundry drop off services are available in town – overnight drop off with dryers. We do not have a clothes dryer and use the sun to dry everything, so you are welcome to do your own personal laundry, hang it on the lines behind the house and it will take a day or so to dry here.

The Jungle
We live in the most biologically intense place on earth. Though for the most part this is a benevolent jungle, it is always good to use common sense. If you don't know what it is - don't touch it. There are some charts for identifying things at the house.

Plants: Virtually all plants on our property are safe to touch.
If you are on a walk off the property use some caution. The plants in the rain forest use all kinds of mechanisms for protection and where a casual brush against them will usually not cause irritation it is best not to pick things unless you have some knowledge.

Insects: The insects here are many and astounding in shapes and variety. Again, look but don't disturb them. We occasionally have scorpions in the area. The rule is look before you reach into enclosed or darkened places.
Ants abound here in more varieties than you may ever see again. They are most helpful in keeping the land clean and balanced but it is best to check, when stopping on a walk, if you are standing on an anthill or path. They don't like that and neither will you. Also, give clothing, towels and hammocks a gentle flip before getting too close – they're perfect napping places for sleeping critters. A quick flip of a towel and they'll be on their way. It's all part of the adventure.

Animals: You can see monkeys, iguanas and a vast variety of birds at the property. Early morning and late in the day are the best times. Frogs and toads are out in the evening and can sometimes be found dozing in shaded corners during the day. Fish, dolphin, whale and sea life can be seen from shore at times. Don't be unnerved by the sound of the howler monkeys in the morning. They often sleep very near to the house, and while loud, are benevolent and will not descend to bother you.

Tours
There are a wide variety of tours and activities available from the property. There is a book of tours at the main house that you can look through to get some ideas. Most take a day and some can be 2 or 3 days. Tours are run mostly by English speaking local people. You can climb a waterfall and then rappel down the face of it, see monkeys, macaws and coatis, visit one of the finest tropical gardens in Costa Rica, ride horseback through the rainforest, snorkel in the gulf, take a surfing lesson, pan for gold, kayak through the mangroves, visit Corcovado and more. Look at the book and see what you would like to do. Try to tell our caretaker the morning before so that our office can arrange the tour and transportation if needed.

Tipping
We encourage you to tip our staff and/or guides. A little can mean a lot to the people here. The people who work invisibly here to make your stay more enjoyable are an important part of our property.

Enjoy your stay,

Geoff & Mary
---
New York / Costa Rica Theatrical Production Managing Yogins. We hope you have a great visit!
Языки:
English, Español, Italiano
Частота ответов:
100%
Время ответа:
несколько часов
Открывайте новые возможности в г. Puerto Jiménez и поблизости
Другие варианты жилья в г. Puerto Jiménez: