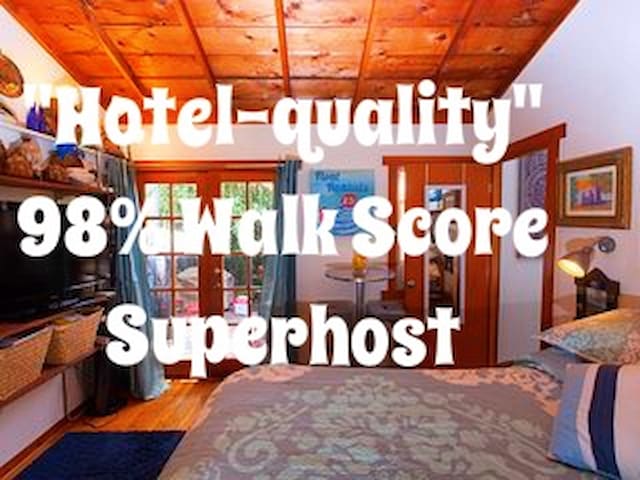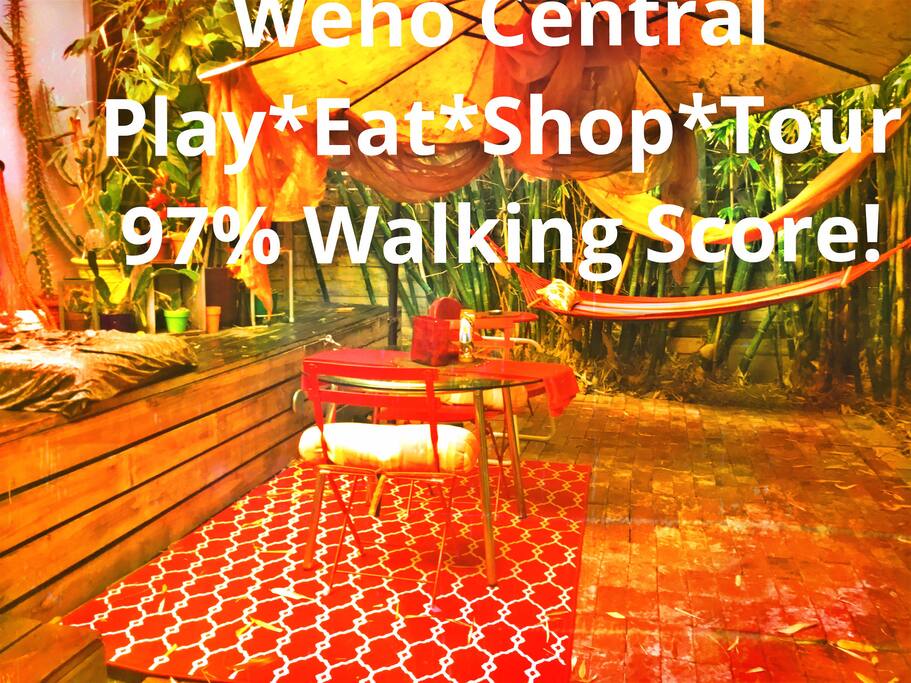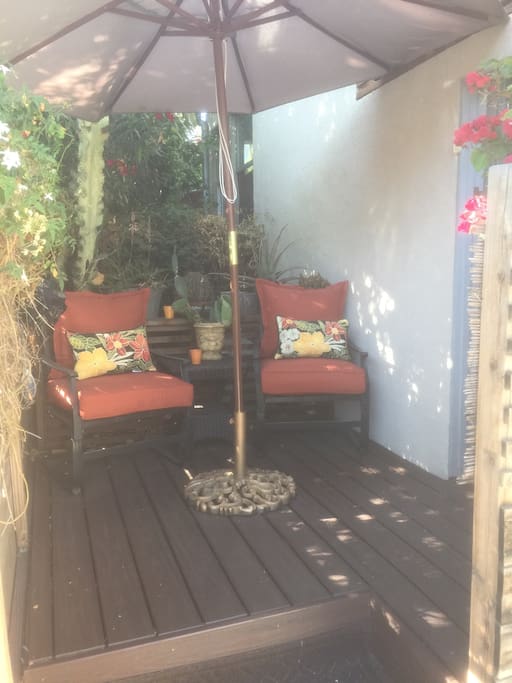 Private Bungalow in Central Weho! 98% Walk Score!!
Другие говорят это, но проверяют карту, ЭТО самое центральное место в Лос-Анджелесе. На расстоянии пешей прогулки от известных рок-баров Sunset Strip, всемирно известных магазинов и галерей Melrose, Pacific Design Center (гигантские голубые, красные и зеленые стеклянные здания), ночных клубов Weho , «Ресторанный ряд» Ла Синеги! Дом находится на тихом тупике в центре города! Когда вы хотите играть, все это рядом. Но когда вы будете готовы к тишине, вы удивитесь, насколько удивительный район.
Others say it but check the map, THIS is the most central location in L.A. Walking distance to infamous Sunset Strip Live Music Bars, world-famous Melrose Shopping & Galleries, Pacific Design Center (giant Blue, Red & Green glass buildings), Weho Nightclubs, La Cienega's "Restaurant Row!"
House is on a quiet cul de sac in the city's center! When you want to play, it's all nearby. But when you're ready for quiet, you'll be surprised how amazing the neighborhood is.
Жилье
Добро пожаловать! Ниже приводится подробное описание района, дуплекс и путеводитель по культурным мероприятиям (все происходят от дома!) Обзор дуплексов в культурном центре города; Слияние развлекательных и развлекательных центров, высококлассные магазины, всемирно известные рок-клубы, всемирно известный «город мальчиков», ресторанный ряд Лос-Анджелеса. Центральное месторасположение предлагается на половину стоимости отелей этого района и меньше, чем в других списках всего мира airbnb «Вам не нужен автомобиль из-за моего« 97 Ходячего счета », который является огромной редкостью, не известной как« прогулочная », но если она у вас есть, есть удобная парковка с моим преимущественным пропуском (который я предоставляю бесплатно). Ближайшие отели Le Parc взимают 40 долларов за ночь в парке и Weho Ramada 25 долларов!) Тем не менее, бунгало на тупике, так тихо, что вам будет лучше спать в вашей жизни. У вас есть отдельное личное пространство, как в отеле. В самом деле, уютный отель Suite w / en suite ванной и огромный, спокойный бамбуковый дворик является лучшим способом представить это пространство. Существует только одна общая стена между передним домом (где я проживаю) и задней (ваш номер). Это очень личное для гостя. Мои отзывы свидетельствуют о конфиденциальности вашего устройства! 97 БУКСИРОВКА! Да, мы получим рейтинг 98% на сайте с ходячим счетом (он оценивает ваш адрес и насколько близко вы находитесь к историческим / туристическим объектам, ресторанам, магазинам). Вы можете пешком дойти до: 1. Sunset Strip (живая музыка, рок-клубы, высококлассные магазины и рестораны Sunset Plaza) 2. Бухта Санта-Моники (большая лос-анджелесская башня Лос-Анджелеса, современная новая городская библиотека / бассейн / парк, крупные автобусные остановки, удивительный рынок Трейдера Джоса, гигантский CVS, супермаркет полноразмерных павильонов и множество закусочных и быстрая FroYo, Shakes, Burgers, 24 Hr Diner, 5 Guys, Pizza, Starbucks - все это здесь, пешком!) 3. La Cienega Blvd (популярный «ресторанный ряд» Лос-Анджелеса со знаменитыми ресторанами «Top Chef», такими как STK Steakhouse, Fig & Olive, Le Petite Bistro. Огромный торговый центр Beverly Centre - модные вещи и Beverly Connection Mall - скидки дорога.) 4. Мелроуз Плейс и Мелроуз-Блвд (Мелроуз-Плейс - реальное место, в нескольких минутах ходьбы от самых модных бутиков в городе, и замечательный рынок фермеров по воскресеньям 10-2!) Melrose Blvd. Находится на юге и является центром искусств и моды Лос-Анджелеса, включая всемирно известный Центр дизайна Тихого океана (гигантское красное стекло, Blue Glass & Green Glass Towers), современная новая библиотека и городской бассейн). Бунгало уникально расположено как расстояние пешком до всего этого. Другие единицы airbnb не могут сравниться. И отели вдвое больше моей цены. Это так просто и неоднократно упоминалось в обзорах. Бунгало в деталях: Сводчатые потолки из натурального дерева, очень удобная кровать Queen (с дорогой, премиум-пенаппер-топкой), чистые беленые простыни и одеяла (оба заменяются несколько раз в год), высокоскоростной Wi-Fi, 40-дюймовый телевизор с плоским экраном с DirecTV и эффективный Центральная система отопления / переменного тока Ваша современная, высококлассная ванная комната имеет лучшее давление воды, которое вы когда-либо почувствуете в душе. Если знак хорошего отеля - сильный душ и потрясающий ночной сон - это верх! В вашем номере есть совершенно новый холодильник / морозильник, электрический чайник, пивовар Keurig K-Cup и большая микроволновая печь, а также чашки, посуда, столовые приборы, всегда бесплатные чаи, часто некоторые K-чашки и всегда тонна разнообразных закусок, чтобы вы начал. В вашем собственном холодильнике есть совершенно новый кувшин Brita с угольным фильтром, который можно пополнять с раковины. Я также запасаю некоторые приправы и лед. В сочетании с очень большой пропан-гриль (не стесняйтесь использовать, попросите меня помочь свету в первый раз) в вашем внутреннем дворике и у вас будет великолепная частная кухня! Но с супермаркетом Trader Joe через дорогу вы можете купить все свежие Фрукты, изумительные сыры, хумус, и здоровые свежие подготовленные блюда и доступные вина, которые вы когда-либо хотели ДЕШЕВО! Булочки с рисом из коричневого риса, приготовленные фрикадельки из индейки и приготовленные куриные бургеры, предварительно приготовленные бутерброды --- пропустите фаст-фуд, если хотите быть здоровым? Нет причин готовить, когда у вас есть торговец Джо, куда вы можете пойти. (LA Note: новый закон о «сумке», вы должны принести свои сумки в продуктовый магазин или купить мешки с них, поэтому я всегда оставляю сумочки для холста, которые вы можете использовать в своей комнате рядом с холодильником.) Также есть куча фаст-фудов В нескольких шагах от отеля, Свежий кукурузный гриль, Метро, 5 парней, Kitchen24, Tender Greens, несколько мест для пиццы, коктейли для гурманов и замороженный йогурт ... и множество меню и путеводителей в плетеных корзинах на полках, чтобы просмотреть.) У главного входа утюг и гладильная доска у стиральной машины. FAQ: Разрешаю ли я курить? ТОЛЬКО на этом внешнем дворике. Там металлическая пепельница. Пожалуйста, держите французские двери закрытыми во время курения, чтобы сохранить в комнате запах свежий и чистый. Не курить, ладан или свечи в номере (а Проблема безопасности, наличие свечей аккумуляторных батарей). Часто задаваемые вопросы: Это тихо? ДА!!!! Вы будете поражены. Я на тихой улице, поэтому сонный это опровергает его близость к Санта-Монике Blvd. Вы проснетесь к щебетанию птиц после ЛУЧШЕГО СНА СВОЕЙ ЖИЗНИ! Часто задаваемые вопросы: Парковка? Есть БЕСПЛАТНАЯ И ЛЕГКАЯ парковка прямо перед домом с использованием моего городского парковочного прохода (который является бесплатным для вас, просто верните его, чтобы избежать платы за замену.) Обратите внимание, что уличная чистка раз в неделю. С одной стороны, затем с другой стороны). Все отели области взимать плату за парковку - $ 25-40 за ночь - так что моя безопасная парковка вполне дело! FAQ: Могу ли я разместить здесь мероприятие? Этот вопрос чаще всего поднимается, так как стало популярным снимать списки airbnb для вечеринок. Это не место для этого. НУЛЯТЫЕ ПАРТИИ! FAQ: Могу ли я иметь посетителей? Нет. Только число людей на вашей квитанции должно когда-либо находиться в этом имуществе. Если у вас есть друг, который хочет провести ночь, вступит второй гонорар. (Вы можете решить это со мной напрямую, но, пожалуйста, заранее сообщите мне. Я могу иногда получить дополнительный парковочный пропуск для вашего друга, если я знаю это раньше Вы приедете. Я сделаю это бесплатно, но, пожалуйста, заплатите дополнительную плату при регистрации.) Часто задаваемые вопросы: Могу ли я взять с собой собаку? Я начал одобрять это на очень короткий срок пребывания только. Часто это больше касается моих собак и ваших (они настолько дружелюбны, что хотят играть в игры.) Существует плата в размере 15 долларов за ночь (выплачивается по прибытии), и вы должны обсудить это во время бронирования, где вы описываете свою собаку И распоряжения. Мне было бы легче отрицать это, но поскольку у меня есть два спасения, я знаю, насколько сложным может оказаться поиск доступных по цене мест для собак. Просто, пожалуйста, не оставляйте их в клетке в течение всего дня. Этот город, особенно Западный Голливуд, удивляет тем, сколько мест вы можете привезти с собой. Это меня шокировало. Мой банк, место для гвоздя, парикмахерская, хозяйственный магазин - и, конечно, любой ресторан с патио. В общем, я очень дружелюбный и спокойный, если у меня есть, вы можете взять его взаймы и, в отличие от некоторых списков, это БЕСПЛАТНО !!! (Велосипед? Дополнительные одеяла? Большой лист и дополнительные полотенца и кулер со льдом пакеты для пляжа?) Просто верните его в хорошем состоянии, пожалуйста. Я никогда не сдерживал свою безопасность после почти 200 гостей. Моя цель состоит в том, чтобы вы совершили удивительное путешествие и использовали все, что у меня есть, чтобы обеспечить это. Просто уважайте мой дом и вещи, и мы - асы. TRANSIT: Я в 20 минутах от (PHONE NUMBER HIDDEN) автострад. Автобусы Лос-Анджелеса останавливаются в нескольких ярдах на бульваре Санта-Моника (Восток-Запад: 2 минуты пешком) или Ла-Сиенега (Север-Юг: 3 минуты пешком). Местный автобусный маршрут Weho на моей улице, который бесплатно проведет вас по всему городу (см. Фото), он идет вверх и вниз по Сансет-Стрип, Санта-Монике и Мерлоу. Я настоятельно рекомендую кататься на нем в первый день, чтобы проверить большинство местных сайтов. Вы сможете ходить к большинству, но это дает отличный, бесплатный обзор «тура»! Вам не нужна машина! САЙТЫ: Уже упоминалось, что на Сансет, Санта-Монике и Мелроузе можно ходить пешком! Ну, до бульвара Голливуд всего несколько минут езды (или легкий автобус): китайский театр Манна, голливудская аллея (тротуар звезд), знак Голливуда, театр Кодак (где проходят Оскары). Мое предложение, поход Runyon Canyon (собака дружелюбный), чтобы получить прекрасный вид на знак, а также всего города. Вы можете увидеть океан в ясный день (и вы также, вероятно, увидите несколько без рубашек или скудно одетых звезд, поддерживающих форму ... чрезвычайно популярное туристическое место. На выставке Entourage каждую неделю показывали, как это было в Urth Cafe, которое На моей улице! Парк на Фуллере от Голливудского бульвара или Франклина, бесплатная парковка, а затем поход вверх.) Я также люблю ездить на закате к пляжу. Удивительный вид на океан! Калифорния мечтал' Universal Studios (тематический парк, тур и универсальный универсальный универсал Cityway находятся всего в нескольких минутах езды на машине. Я привстань в середине езды от MGM, Sony, Disney, Universal, Raleigh, Paramount, The Lot. Минут, NBC и ABC около 20 мин. ПОХОД ПО МАГАЗИНАМ: Беверли-Хиллз граничит с Западным Голливудом. Всего в 5 минутах езды. (Всемирно известный Родео-драйв, Музей телевидения, множество магазинов). Вы можете прогуляться, чтобы полюбоваться Мелроуз-Плейс (действительно высококлассные бутики), а дальше вниз, The Beverly Center (хотя, возможно, придется забрать его обратно, если вы много покупаете. ) Не менее интересный / фантазийный торговый центр Sunset Plaza находится прямо на бульваре Сансет. Иди туда, возвращайся.) Melrose btwn Fairfax & La Brea: Дешевая модная одежда и магазины. (Привод) Мелроуз btwn Doheny & La Cienega: Галереи и дорогие, дизайнерская одежда и магазины. (Прогулка или поездка) Беверли-центр и Беверли-связь (Ла-Сиенега / Беверли). Легкая прогулка, но и легкая кабина или 2 мин езды, если вы планируете покупать много. Каждый магазин, который вы можете себе представить,
Welcome!
Below is an extensive description of the neighborhood, the duplex & a city guide of walkable Cultural Events (all occur steps from the house!)
The Duplex Overview in the city's cultural center; the convergence of arts entertainment, upscale shopping, world-famous rock clubs, world-famous "boys' town, LA's "restaurant row." Central location is offered for half the cost of the area's hotels and less than other airbnb "whole home listings". You don't need a car because of my "97 Walking Score," which is a huge rarity not known for being "walkable" but if you have one, there's easy parking with my preferential resident pass (which I provide gratis. The closest hotels Le Parc charges $40 per night to park & the Weho Ramada $25! ) Yet the Bungalow's on a cul de sac, so it's so quiet you'll have the best sleep of your life.
You have your own separate, private space like you would in a hotel. In fact, a cozy hotel suite w/en suite bath & a huge, tranquil bamboo patio is the BEST way to envision this space. There is just one shared wall between the front house (where I reside) and back house (your suite). This is a very private experience for the guest. My reviews attest to the privacy of your unit!
97 WALKING SCORE!
Yes, we get a 98% rating on the walking score site (it rates your address and how close you are to historic/tourist sites, restaurants, shopping) You can walk to:
1. Sunset Strip (Live Music, rock clubs, upscale Sunset Plaza shops & dining)
2. Santa Monica Blvd (LA's large "Boystown;" state-of-the-art new city library/pool/park; major bus stops; amazing Trader Joes market; giant CVS; full scale Pavilions Supermarket & tons of fast food & fast fresh. FroYo, Shakes, Burgers, 24 Hr Diner, 5 Guys, Pizza, Starbucks—- it's all here walking distance!)
3. La Cienega Blvd(L.A.'s popular "restaurant row" with famous "Top Chef" restaurants like STK Steakhouse, Fig & Olive, Le Petite Bistro. Enormous Beverly Center mall—the fancy stuff— and Beverly Connection Mall—the discount stuff just down the road.)
4. Melrose Place & Melrose Blvd (Melrose Place is real. It's a short street steps away with the fanciest boutiques in the city. And an amazing farmer's market on sundays 10-2!) Melrose Blvd. is just south, and is LA's arts & fashion center including world famous Pacific Design Center (giant Red Glass, Blue Glass & Green Glass Towers), state of the art new Library and the city pool).
The bungalow is uniquely positioned as walking distance to all of this. Other airbnb units cannot compare. And hotels are double my price. It's that simple and a fact mentioned repeatedly in reviews.
Bungalow in detail:
Vaulted ceilings of natural wood, an extremely comfy Queen bed (with an expensive, premium memory-foam topper), clean-bleached linens & comforter (both replaced several times a year), highspeed WIFI, 40" flatscreen tv with DirecTV, and effective central heat/a-c. Your modern, upscale, en suite bathroom has the best water pressure you'll ever feel in a shower. If the sign of a good hotel is a strong shower and amazing night's sleep— this is the top!
Your suite has a brand new fridge/freezer, electric tea kettle, Keurig K-Cup brewer and large microwave, along with cups, dishes, flatware, always complimentary teas, often some K-cups & always a ton of assorted snacks to get you started. There's a brand new Brita jug with charcoal filter in your private fridge you can keep refilling from the sink. I also stock some condiments and ice too. Coupled with the extra large propane grill (feel free to use, ask me to help light first time) on your patio and you have a great, private "kitchen!"But with Trader Joe's supermarket across the street, you can buy all the fresh fruit, amazing cheeses, hummus, and healthy-fresh prepared meals and affordable wines you'd ever want CHEAP! Brown rice Cali rolls, cooked turkey meatballs and cooked chicken burgers, pre-made sandwiches---skip the fast food if you want to be healthy? There's no reason to cook when you have a Trader Joes you can walk to. (LA Note: new "bag" law, you must bring your own bags to the grocery or purchase bags from them. So I always keep canvas bags for you to use in your room next to fridge.) There are also tons of fast food choices steps away, Fresh Corn Grill, Subway, 5 Guys Burgers, Kitchen24, Tender Greens, several pizza places, gourmet shakes & frozen yogurt... and lots of menus and guide books in the wicker baskets on your shelves to look through.) There's an iron and ironing board by the washer-dryer by main entrance.
FAQ: Do I allow smoking? ONLY on this outside patio. There's a metal ashtray. Please keep french doors shut while smoking to keep the room smelling fresh and clean. No smoking, incense or candles in room please (a safety issue, battery candles provided.)
FAQ: Is it quiet? YES!!!! You will be amazed. I'm on a quiet street so sleepy it belies it's proximity to Santa Monica Blvd. You will awaken to chirping birds after the BEST SLEEP OF YOUR LIFE!
FAQ: Parking? There is FREE & EASY parking right in front of the house with the use of my city parking pass (which is free to you. Just return it to avoid the replacement fee. And note there is street sweeping once a week. Thurs 10am-noon one side, then Fri the other). All area hotels charge for parking-- $25-40 per night-- so my safe-free parking is quite the deal!
FAQ: Can I host an event here? This question is coming up more frequently now, as it's become popular to rent airbnb listings for parties. This is not the place for that. ZERO PARTIES!
FAQ: Can I have visitors? No. Only the number of people on your receipt should ever be on this property. If you have a friend who wants to spend the night, the second person fee would kick in. (You can settle this with me directly but please notify me in advance. I can sometimes get an extra parking pass for your friend if I know before you arrive. I will do this for free, but please pay the extra person fee upon checkin.)

FAQ: Can I bring a dog? I've started approving this for very short term stays only. Often it's more about my dogs versus yours (they're so friendly they want to play play play.) There is a $15 per night fee (payable upon arrival), and you must discuss this at the time of booking where you describe your dog and disposition. It'd be easier for me to deny this but as I have two rescues myself, I know how challenging it can be to find affordable places that allow dogs. Just, please, don't leave them caged in the room all day long. This city, especially West Hollywood, is surprising in how many places you can bring your dog. It shocked me. My bank, nail place, barber, hardware store— and of course any restaurant with a patio.
In summary, I'm very friendly and laid-back, if I have it you are welcome to borrow it and, unlike some listings, it's FREE!!! (bike? extra blankets? big sheet and extra towels and cooler with ice packs for the beach?) Just return it in good condition please. I've never held back security after nearly 200 guests. My goal is for you to have an amazing trip and use whatever I have to ensure that. Just respect my home and belongings and we are aces.
TRANSIT:
I am 20 min from the 405, 10 and 101 freeways. And the LA city busses have stops a few yards up on Santa Monica Blvd (East-West: 2 min walk) or La Cienega (North-South: 3 min walk). Local weho bus route on my street which will whisk you around the entire city for FREE (see pic), it goes up and down the Sunset Strip, Santa Monica Blvd & Melrose. I highly recommend riding it the first day to check out the most local sites. You'll be able to walk to most, but it gives a great, free "tour" overview! You don't need a car!
THE SITES:
Already mentioned the walking distance stuff on Sunset, Santa Monica and Melrose! Well, Hollywood Blvd is just a few minutes drive (or easy bus): Mann's Chinese Theatre, Hollywood Walk (the sidewalk of stars), Hollywood sign, Kodak theatre (where the Oscars are held). My suggestion, hike Runyon Canyon (dog friendly) to get a great view of the sign and also of the entire city. You can see the ocean on a clear day (and you'll also probably see several shirtless or scantily clad stars keeping in shape...extremely popular hiking spot. Featured on the show Entourage every other week--as was Urth Cafe, which is on my street! Park on Fuller off of Hollywood Blvd or Franklin. Free parking and then hike up.) I also love the drive down Sunset to the beach. Amazing view overlooking the ocean! California Dreamin'
Universal Studios (theme park, tour and the "Universal Citywalk" outdoor mall are just minutes away by car. I am smack dab in the middle driving wise to MGM, Sony, Disney, Universal, Raleigh, Paramount, The Lot. CBS is 5 minutes, NBC and ABC about 20 min.
SHOPPING:
Beverly Hills borders West Hollywood. Just a 5 minute drive away. (World famous Rodeo Drive, the Museum of TV, tons of shopping.) You can walk to fancy Melrose Place (really upscale boutiques) and, further down, The Beverly Center (though might have to cab it back if you buy a lot.) The equally fun/fancy Sunset Plaza shopping is right up on Sunset Blvd. Walk there, cab it back.)
Melrose btwn Fairfax & La Brea: Cheaper trendy clothes and shops. (Drive)Melrose btwn
Doheny & La Cienega: Galleries & expensive, designer clothes & shops. (Walk or drive)
The Beverly Center & Beverly Connection (La Cienega/Beverly). Easy walk, but also easy cab or 2 min drive if planning on buying a lot. Every store you can imagine, the $$$ and the $. (A giant H&M, biggest Macy's and Macy's men store you've ever seen, etc.) (only drive if you plan on buying tons. It's so close, I'd walk.) Right across in a discount mall: Beverly Connection. Ross, Target, TJ Maxx, etc.
The Grove/Farmers Market: Check out the new outdoor mall they built around the world famous, original farmers market where Lucille Ball used to shop. Everything you can imagine , plus like shows, great movie theatre, outdoor fountain area.) This is about a mile away so def need a cab or car--so drive.
Sunset Plaza: steps away on Sunset Blvd (just head north up the side streets). Amazing shops and restaurants with a view of the whole city. Just a few yards west will be the rock and roll sunset. But the part by La Cienega is the fancy side. Easy 5 min walk. Great cafes, excellent people watching at the base of the hollywood hills. This is where Equinox gym is as well. (easy walk up the hill and with parking on Sunset being so tough, I'd suggest walking or cab.)
FINAL CAVEATS/POLICIES
1. Please understand you are in a residential neighborhood. People work. Sun-thurs quiet after 9pm/10 on weekends. But by all means have a blast-- you're on vacation! Just do it a block away where the rest of the city is partying too.
2. Smoking outside only--on your private bamboo patio. No open flame candles/incense in room.
3. Leave suite as you found it, except for the used bed and bath linens of course. Remove garbage, wash and dry dishes.
4. Turn off lights/tv when you leave the room (except the patio/garage lights that are set on timer which will illuminate your return.)
5. Socializing outside the suite please. There should be no guests on the property who are not in your original reservation. For all of our protection (and a reduced rate on my insurance policy) there is a camera at the front entrance overlooking the driveway. There are no cameras within the property.

WEHO FITNESS
There is a city pool at the park (quick 5 min walk) and also one at the local gym . I clicked gym because there are literally 10 within walking distance, if you count the mass chains (24 hour fitness-across street), Crunch, Equinox) as well as boutique gyms where you buy just a class or two ("Flywheel" Yoga/Spinning, "Train," etc) which can be great for visitors. Weho park, where they hold the annual try pride, also has boot camp, basketball courts, etc. I spin at a studio called Cycle House walking distance at Melrose/La Cienega (soon to be a reality show! Ugh!!)

Below is a list of Annual Special Events Just Steps Away from House. Go to the city website for actual dates. (airbnb won't let me post the link.)
OSCARS / February
While the Academy Awards ceremony may take place in Hollywood (Kodak theatre at Highland and Hollywood--great afternoon trip), all the action really happens in West Hollywood. Winners descend upon West Hollywood for exclusive after-parties like the Elton John party at the Pacific Design Center (the giant Red, Blue and Green glass buildings) and Vanity Fair's annual soiree held at the Sunset Tower Hotel (SOHO house). Several other viewing parties that raise money for a good cause are held all within walking distance from each other (The Abbey throws a great "gay" one).
WESTWEEK / March (you can walk!)
The Pacific Design Center hosts West Week, an internationally-recognized design trade event that welcomes thousands of design professionals each spring. The event includes top industry keynote speakers, showroom programs, book signings, exhibitions, product launches and the annual 'Stars of Design' ceremony. Experts discuss and present such items as trends graphic & interior design, urban landscape, photography, contemporary art and architecture. Highlights of the event include programs hosted by Architectural Record, Elle Décor, House & Garden, and Metropolitan Home. (This is like a cultural fair, all the shops and galleries serve wine, people walk from place to place. Great vibe. Melrose between Dohney and San Vicente--only one traffic light to the west.)
ART & DESIGN WALK / March (you can walk!)
The Art & Design Walk held in The Avenues district showcases the latest in interior design, fine art, fashion and cuisine on the streets of Melrose Avenue, Robertson and Beverly Boulevards in West Hollywood. Visitors will find a sophisticated environment, unique displays and live entertainment taking place in many of the areas 300 businesses including art galleries, interior design showrooms, fashion boutiques and eateries. The Art & Design Walk is the perfect chance to explore and stroll through the galleries and enjoy food or wine as offered by individual stores. For more information about this year's Art & Design Walk visit (this is similar to the event above, same locale.)
RUSSIAN CULTURAL FESTIVAL / May (you can walk) Russian Cultural Month in West Hollywood is a month of unique, family-friendly events celebrating the rich culture and the heritage of the ov(PHONE NUMBER HIDDEN) members of the Los Angeles region's Russian-speaking community. The culmination of Russian Cultural Month is the Russian Cultural Festival. The Festival is free and includes a day of entertainment, music, food sampling, Russian crafts, jewelry and more.
LA GAY PRIDE / June (one block north. seriously)
West Hollywood is proud of its dynamic gay and lesbian population and it shows at the annual Christopher Street West GLBT Pride Parade and Festival! The two-day festival is the largest on the West Coast, celebrating diversity and culture with booths, dance tents, food, exhibits, and performances. The parade on Sunday draws ov(PHONE NUMBER HIDDEN) to Santa Monica Boulevard where Grand Marshals in the past have included Cyndi Lauper and Paris and her mom, Kathy Hilton. Visit the weho wbesite for more information on Gay Pride in West Hollywood.
OUTFEST / July (at the DGA on Sunset at Fairfax, 5 mins) With attendance of nearly 40,000 people, the Los Angeles Gay & Lesbian Film Festival (OUTFEST) is the largest film festival in Southern California and the region's largest gay & lesbian arts event. Since 1982, Outfest has presented more than 4,000 film and video titles for audiences of well over half a million people. Many West Hollywood venues are host to after-parties and celebrations throughout the screenings and activities.
SUNSET STRIP MUSIC FESTIVAL / August (yes, walk up! They block off Sunset Blvd for the day. Like Coachella but on the strip in the middle of the city!)
The Sunset Strip Music Festival was created to commemorate the music history of the Sunset Strip. The weekend-long festival takes place at music clubs up and down the strip – the Viper Room, The Roxy Theatre, Whisky A-Go-Go, House of Blues, Cat Club and Key Club all participate by hosting bands. A street festival takes place on Saturday, closing a portion of The Strip for performances on outdoor stages.
WEST HOLLYWOOD BOOK FAIR / Late September (walk!) The West Hollywood Book Fair was founded by the City of West Hollywood as a means of encouraging reading, writing, and literacy and to heighten the community's awareness of books. Visitors are encouraged to join more than 300 authors, 100 exhibitors, and 25,000 guests as festivities include an eclectic group of authors, poets and entertainers from a variety of genres. Participate in interactive activities hosted by exhibitors, enjoy theatrical performances, slam poetry, book signings and diverse programming for all ages! Authors for the event have included Carol Channing, Bill Maher, Christopher Rice, Heidi Fleiss, and other celebrity guests. Visit (website hidden) for more details.
AIDS WALK LOS ANGELES / October (walk up)
A fundraising event for AIDS Project Los Angeles (APLA) and other AIDS service organizations across LA County, the AIDS Walk begins at the Pacific Design Center in West Hollywood with over 25,000 people walking 6.2 miles to raise money for this very important cause. Founded by four friends in 1982, APLA is a community-based, volunteer-supported organization with local, national and global reach. Visit (website hidden) for more information.
HALLOWEEN PARADE 10/31 (walk 10 feet! really) The largest Halloween street party in the world happens in West Hollywood, located in the Los Angeles County Region. Each year, more than 500,000 people take to the streets of Santa Monica Boulevard to enjoy the craziest, most eccentric costume creations ever. The big draws of the evening are the Halloween Costume Contest and crowning of an Honorary "Queen of the Carnaval." Visitors can also expect fantastic live entertainment, food vendors, pumpkin-carving contests and children's activities throughout the week previous. Admission is free and the event starts at 6 PM and runs until 11 PM.
Доступно гостям
Задний бамбуковый дворик у вашей спальни предназначен только для вас (и иногда для моих собак.) Но я никогда не пользуюсь вашим задним двориком, когда гость здесь, поэтому он для вас закрыт. Я стараюсь, чтобы никакие собачьи «подарки» никогда не были оставлены; Я никогда не выхожу туда.) Соседей нет, чтобы осмотреть ограду по периметру леса, так что у вас есть полностью частный патио-люкс!
The back bamboo patio off your bedroom is just for you (and sometimes my dogs. But I never use your back patio when a guest is here so it's private for you. I try to ensure no doggie "gifts" are ever left; beyond that I never go out there.) There are no neighbors to look over the wood perimeter fence, so you have a totally private patio suite!
Общение с гостями
Читайте отзывы! Взаимодействие происходит только тогда, когда вы этого желаете. У меня были гости здесь в течение двух недель, которые я буквально видел только при регистрации и проверке. Другие останавливаются у кухни каждый день для руководства. (Между 9 утра и 7 вечера я тоже в порядке. И я практически всегда пользуюсь по электронной почте, что является моим предпочтительным способом общения.)
Read the reviews! Interaction is only when you desire it. I've had guests here for two weeks I literally saw only upon checkin and checkout. Others stop by the kitchen every day for guidance. (Between 9am-7pm I'm fine with either. And I'm virtually always avail via email, which is my preferred method of communication.)
Другие важные подробности
Просто обновленный набор и патио с новым оформлением, коврами, мебелью для патио и т. Д. Постоянно ищем способы обновления опыта. ПРЕДОСТАВЛЯЕМЫЕ В КОМНАТЕ: сушилка для выдува, портативная стереосистема, WIFI, гигантская зарядная станция на часах, холодильник хорошего размера, большая микроволновая печь, кофеварка и тостер Keurig, газовый барбекю (на патио), выбор чаев, K-чашки, закуски, фильтрованные кувшин для воды. Винный ключ и консервный нож. Три года в Лос-Анджелесе (отличные путеводители для лучших пеших походов, ресторанов и т. Д., О которых знают только наши местные жители), а также местные путеводители, расписания автобусов (шаги из дома!), Меню и информация о городе. Более 30 романов (художественная литература, биография). ДОСТУПНО ПО ЗАПРОСУ: Утюг / доска, холодильник на пляже, одеяло для пикника на пляже. ВСЕ БЕСПЛАТНО !!! **** Бесплатная парковка для постояльцев, (плата за 100 долларов, если не возвращается) Парковка проста, потому что разрешение необходимо 24/7, поэтому здесь не паркуются ни бар, ни тренажерный зал, несмотря на близость. (Примечание: альтернативные боковые улочки проходят в четверг и пятницу утром - проверяйте знаки). **** Там большой электрический одеяло (спросите меня) и дополнительный пуховик доступны (на вашей полке). На вашей кровати есть подушки из пены памяти премиум-класса, а также превосходный матрац для пены памяти. Есть пара пуховых подушек и некоторых полиэфирных, если у вас есть аллергия. Я держу некоторые на полках возле вашей кровати (за занавеской), но есть больше. УБЕДИТЕСЬ: В вашей ванной комнате есть аптечка первой помощи, работающий детектор дыма / угарного газа в вашей спальне. Всемирно известная больница Сидар-Синай находится всего в 15 минутах ходьбы / 5 минут езды! В 5 минутах ходьбы от хостела Weho Sheriff's Dept. Супер безопасный район, несмотря на то, что он находится в центре города.
Just updated the suite and patio with new artwork, shag area rugs, patio furniture, etc. Constantly looking for ways to upgrade the experience.
PROVIDED IN ROOM: Blow dryer, portable stereo, WIFI, jumbo charging station on the clock, good sized fridge, large microwave, Keurig coffee maker & toaster, gas BBQ (on patio), selection of teas, K-cups, snacks, filtered water jug. Wine key & can opener. Three years of Los Angeles magazine (excellent guides for best hiking, restaurants, etc that only us locals know about), along with local guide books, bus schedules (steps from the house!), menus, and city info. Over 30 novels (fiction, bios).
AVAILABLE BY REQUEST: Iron/Board, cooler for beach, picnic blanket for beach. ALL FREE!!!
****Free resident's parking pass, ($100 charge if not returned) Parking is easy because a permit is required 24/7, so no bar or gym patrons park here, despite the close proximity. (Note: Alternate side street sweeping is Thurs & Fri mornings--check the signs).
****There's a large electric blanket (ask me) and an extra down comforter available (on your shelf). There are premium memory foam pillows on your bed, along with a great memory foam mattress topper. There are a couple feather pillows & some polyester ones if you have allergies. I keep some on the shelves beside your bed (behind curtain) but have more.
SAFETY STUFF: There's a stocked first aid kit in your bathroom, a working Fire/Carbon Monoxide Detector in your bedroom. The world-renowned Cedar-Sinai Hospital is only a 15 min walk/5 min drive! Weho Sheriff's Dept is a 5 min walk. Super safe area, despite being in the heart of the city.
---
---
Доплата за каждого последующего гостя 1184 р / ночь после первого гостя
Залог за сохранность имущества 8882 р
Цена на выходные 8290 р / ночь
Общайтесь только через Airbnb
В целях безопасности никогда не переводите деньги и не общайтесь за пределами сайта или приложения Airbnb.
Подробнее
---
Без вечеринок и мероприятий
Недостаточно безопасно или не подходит для детей (0‒12 лет)
Время прибытия: с 13:00 до 21:00.
Самостоятельное прибытие (lockbox)
**Check in: 1pm or after**
**Checkout: 10am or before**
Late Checkin is anything after 9pm. Please mention this at time of booking. I can work around nearly any time you need to check in (I've even let those that fly in early drop their bags off then go to breakfast until the current guests check out and the room is cleaned. (K-24 is a 24 hr diner on SMB, Urth Cafe is a great spot on Melrose/Westmount.) Anything I can do to make your trip easier, I'll do my best.
****Sometimes by ADVANCE request, I can allow a visiting dog with an extra fee, but only on VERY short-term stays (1-5 days). Non-refundable pet fee is $15 per day and due at checkin. (25% of local kennel boarding.) This is also assuming your dog is potty trained and you'll be responsible for any damage that might occur. Please have this ready at checkin.
Please email me arrival and departure times once you know, but no later than a few days before, please. Specific directions are in the listing, as well as how to enter the property. No calls after 9pm please, regardless. We will arrange your easy checkin if it's later than that, beforehand (super easy.)
*****SMOKING is outside only, metal ashtray on table. I don't mind what you smoke as long as it's not a cigar and it's outside with doors shut. If it's inside, it will go through the shared house vents (hint hint.)
****Socializing is outside the property, only. We are in the center of tons of bars, cafes, coffee houses and parks. Only those registered as a booked guest should be on site.
****Final Note: I want you to feel taken care of here, that you had an clean, insanely centrally-located house in a very safe, fun, area. In a room with sheets that don't feel or look 3 years old, on a solid, comfy bed and luxury hotel-worthy TV channel selection. Just help me not go into your security deposit by leaving the room neat with removal of all personal items and trash upon departure. Cleaning fee is to scrub bathroom, wash linens and tidy patio. It is not to wash your dishes, remove your personal garbage, replace stained linens. Please leave unit as you would if visiting a friend, and not like a member of a rock band trashing a hotel room. Security will be withheld for extensive cleaning due to ignoring policies. (I've yet to do that, hope never to do that, but refuse to raise rates on the vast majority of great guests because of a few bad apples.)
Any concerns please let me know. I am constantly updating and revising the space and listing per my treasured guests' constructive notes. You can tell from my reviews, I care about your experience here. Thank you. And have an amazing stay!
Вы должны также принять к сведению
В доме живут собаки
---
---
1 ночь — минимальная продолжительность бронирования
---
I travel A LOT. This is a great location if you plan on walking around town. Lots of places to eat and explore just a half block down the road. Tony's parking pass made parking on the street very easy. I LOVED having his dogs on the patio. They are very respectful and very sweet. Room is cozy. Safe. Loved all the snacks and coffee. Would recommend!
---
What can i say. I stayed 3 weeks in this awesome house. Tony is the best host you can want. Really friendly, always close to help you if you need it. Gave lots of tips for cool places to visit. You have the bonus of two really sweet little doggies. What a treat when you wake up and these two little buddies are waiting for you when you go out to the garden with your coffee. The house has everything you need, perfect bed, large bathroom, coffee machine (Keurig), microwave, toast maker etc. Little treats are there waiting for you when you arrive. The neighbourhood is perfect and safe. Close to everything West Hollywood has to offer. It's the place where The Doors used to work and live in the sixties. The old recordingstudio is a 2 minute walk away. Barney's Beanery is a 5 minute walk away. Really cool diner with awesome food. Walk 15 minutes and you are on the worldfamous Sunset Strip with the Rainbow Bar and Grill and the Whisky a Go-Go for all the concerts you want to see or take a 5 minute Über. Hollywood Boulevard is a 10 minute drive. It takes 30 minutes to and from the airport by car so really close if you take La Cienega Blvd. Parking was always available, no matter what time i arrived day or night and you have a parking permit so you can park anywhere near the house. Just remember to check the streetcleaning times on thursday and friday. This was my third trip to LA and my third AirBnB experience. LA is awesome if you take the time to do research before and not stick to the tourist traps, there is so much more that is worth visiting. All in all, this is the perfect place to stay if you want to live in the heart of Hollywood and Tony is the best host. Thank you so much for everything.
---
I booked the place for my mother, who is from out of town. Tony really went out of his way to make sure that she felt comfortable and at home. The space itself is everything she could have asked for: warm, inviting, and complete with a small, private garden that gives peace from the craziness of the city. Thanks Tony!
---
Западный Голливуд, Калифорния, США
На сайте с декабрь 2011
Writer who works partially from home, so I can often be flexible, with notice, on checkin and checkout (pending other reservations.) I have two small rescue dogs, but they stay to another side of the house for the most part (they're never allowed in your rental space except the patio area, so your room is dander free. But severe allergies or those with dog phobias might want to book elsewhere.

Respectful and friendly. I'm happy to point you to the sites, and some only locals know about. Or you can just go your own way every morning, explore the city for pleasure or work, and have a great, safe, friendly place to sleep or rest.

For guests I especially welcome world travelers and anyone on business or vacation. This is NOT for longterm visitors nor for those looking to entertain within the unit. You have total privacy here and can come and go as you wish. The only time we run into one another is in the front door entryway, which is set off from both our parts of the house.

You're an adult, I'm an adult, what you do is your business. Just as long as you're respectful and turn off lights, lock the front door, don't leave towels mildewing on the wood floor, treat the rental as it's someone's home and not an anonymous hotel, we will get along great! Literally had 300+ excellent guest experiences to date! (and about 3 not-so-excellent. I'm happy with that ratio. :)
Частота ответов:
100%
Время ответа:
в течение часа
Открывайте новые возможности в г. Западный Голливуд и поблизости
Другие варианты жилья в г. Западный Голливуд: