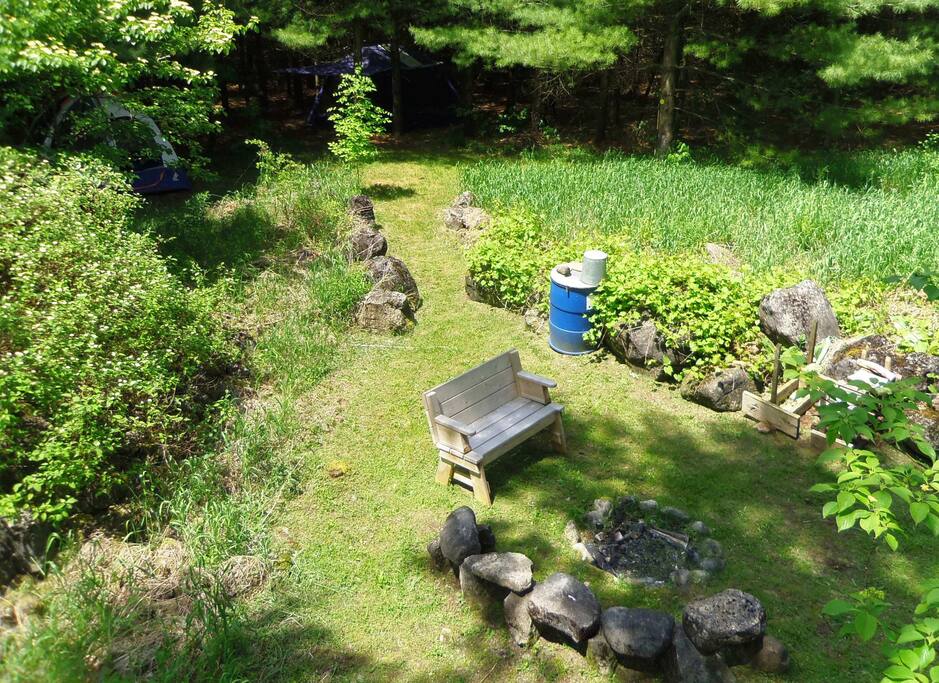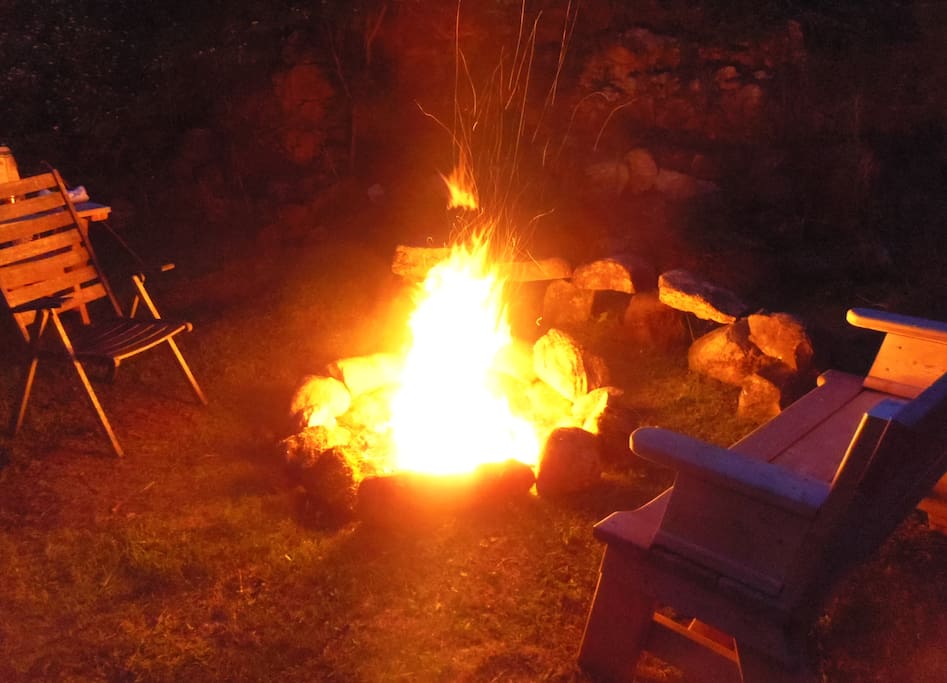 Camp in complete privacy, surrounded by 50 acres of private woodlands & trails, on an off-grid property powered by solar energy, and enjoy a plentiful breakfast including local products and organic home-baking. Our tents set up for your arrival or bring your own, firewood and ice supplied.
Peace, privacy and nature await: Disconnect-Decompress-Discover.
This listing is available between Victoria Day and Labour Day, inclusive.
Жилье
Tent sites are nestled amongst pine trees in a private area beside the remaining wall of the original settler's barn foundation, which now functions as a gathering area with campfire pit, stone bench, and cedar picnic table benches. The gathering area is secluded in a forest clearing, open to the sky for star-gazing, about 200 metres from the main house and parking area (help is available to move your equipment to camp area).
A screen tent (12x12'), with awning and roll-down flaps in case of rain, will be set up for you to use for cooking, hanging out, etc. It can also be used for sleeping, though there is no floor it is open to the ground. There are two spots for sleeping tents. A dome tent (10' diameter, suitable for 3-4 adults) will be set-up in one of them or let me know you if you want to bring your own tent(s).
Yay, camping with convenience! With premium sites at provincial parks going for nearly $50+firewood+ice (+noisy neighbours), here you get 50 acres of woodlands and 4 km of trails to yourself, plus your own privy, all the firewood & ice you need, and even breakfast made for you. And if the weather is a wash-out (or if you're a camping newbie and find tenting isn't for you) "Plan B" is always available if you want to retreat to roofed accommodation in the Cordwood Cabin (extra cost).
A privy, serviced by a flush-action portable toilet, with a window to the woods and lined with cedar panelling, is steps away. Guests may also use the full washroom in the house.
Tents are provided but otherwise you will need to bring all your own camping equipment, including sleeping bags, etc. A list with some suggestions is available to booked guests.
Доступно гостям
In addition to the tent sites, privy, the property and trails, your AirBnb stay also includes access to some facilities at the main homestead (200m from tent site):
+ you may use the full washroom between 1/2 prior to breakfast time and 9:30PM
+ you are welcomed to the living room, dining room, porch & deck areas during times above
The main homestead is completely off-grid, with no power line connection to the "outside world". Electricity is generated on-site from solar energy, plus a propane backup generator (a necessary evil on some short, grey days of winter). The core and soul of the homestead is a circa-1850 log home which was relocated to this site in the 1980s. In 2004, a top-to-bottom renovation and addition, along with a new septic system, and deep drilled well, brought modern conveniences while still retaining its rustic charm.
Общение с гостями
It's all about nature, peace and privacy here, and you should feel welcome to engage in those however you wish. I enjoy chatting with guests, or their having their company on the porch or in the living room. But if what you want to do is seclude yourself and do your own thing that is totally fine too. It's your time and space to make whatever kind of experience you like.
As host & property owner, I will be around most of the time if you require assistance or have questions about anything on- or off-property. I have broad knowledge of the local area, from the Beaver Valley all the way up to Tobermory and down to Kincardine, and I am always happy to recommend routes, suggest activities, eating places, and so on. I have a particular interest in off-the-beaten-track places, and unique less-touristy experiences, without hordes of people.
Другие важные подробности
PRIVACY: There are two AirBnb rentals on the Off-Grid Retreat: Private Camping and Cordwood Cabin. Guests are never booked concurrently into the cabin and camping (unless they are all part of the same group)... once one is booked the other is blocked as unavailable. If you would like to reserve BOTH cabin and camping in advance, book cabin at usual rate then contact host to arrange a booking at 50% off regular rate for camping.
BREAKFAST: You will receive a breakfast that is wholesome, plentiful, homemade, and will include as much local and/or organic food as possible. This household is ovo-lacto vegetarian but, with advance notice, most dietary preferences can be accommodated.
CELLPHONE/INTERNET ACCESS: Depending on the phone and the carrier, signal (usually 2-3 bars) is available at the tent site and most areas of the property but it can sometimes get spotty depending on location and weather conditions. Guests without their own internet access can arrange to use my wireless (4G) hotspot at extra cost.
TRAILS: The private woodlands have several well-marked trails, 4 km in total, looping through varied types of forest, each with its own character: mystical cedars, feathery larches, towering red pines, dense spruces, hardwood bush dominated by sugar maples, and white pines that whisper to you in the breeze. Guests will receive a colour trail map.
COUNTRY LIVING: Being situated in a rural area, at certain times of year you may occasionally hear (or, ah, smell) agricultural activities in the neighbouring vicinity. Similarly, the trade-off for living surrounded by the good vibes and plentiful oxygen from tens of thousands of trees is inconveniences like insects… welcome to country life! I generally know the times of year these are most impactful but nothing can be guaranteed. If it is a concern, please inquire before booking.
---
---
Без вечеринок и мероприятий
Недостаточно безопасно или не подходит для младенцев (младше 2 лет)
Время прибытия — после 15:00
This listing allows up to 6 guests, NO MORE THAN 4 OF WHOM ARE ADULTS/ADOLESCENTS. Sometimes it may be possible to accommodate up to 6 adults/adolescents by combining bookings with the Cordwood Cabin listing... make enquiry with host to discuss availability & pricing.
It is easy-going and no big rule book here. Your commitment as guest is to exercise courtesy (toward host and neighbours), respect (for the property, its contents and its animal & plant inhabitants) and common sense (since you are staying in a natural area).
Due to the unique nature of the structures and woodland area, smoking is not permitted inside or outside, anywhere on the property.
No guests other than those registered on your AirBnB booking are permitted without advance permission from host.
Well-behaved dogs are welcome. They must be under control, or on a leash, at all times to avoid harassing wildlife or ending up on the receiving end of an animal's defences.
This is a natural area. Known hazards will be detailed but this does not diminish your responsibility to use caution & common sense, and children must be under direct supervision, at all times.
---
Fantastic experience! It would be a great entry into camping for a couple or family, and for us (as very keen and experienced campers), it was all the joy of camping with all the luxury of a home (amazing outhouse with a flush toilet, use of the house bathroom for a shower, a sauna, fantastic breakfast). Neil was a fantastic host!
---
There are no words to describe Neil's home..WOW, outstanding, natural beauty, amazing...I could go on. Myself and my children camped in the tent while my cousins rented the cabin. The tent was immaculate with plenty of room . The food tent, fire pit and seating provided were brilliant, always stocked with drinking water and fire wood....everything you needed without having to ask. We arrived to a very warm welcome from Neil, who helped us unpack the truck and transport our belongings the the tent/cabin. The children were engaged and involved instantly. The raw beauty of this land is striking, not over cultivated this is a true example of mother nature and what she has to offer. Neil embraces this and it is reflected in how the whole setup is ran. The surrounding trails are truly beautiful with lots of hidden treasures (look for the duck :-)) Breakfast is outstanding, lots of variety, using natural organic sourced products and everyone was catered for (I ate too much)! During breakfast Neil would share stories and experiences regarding the land and his journey. Take the time to listen to these they are really interesting. As well as the camping facilities already mentioned there are biodegradable flushing toilets.....whoop....but let's not forget the sauna with the cold shower, we were lucky in that it wasn't too hot and we could enjoy it. Don't think twice about booking to stay at this idyllic hideaway, it is nature's finest and Neil is an amazing host. Thank you so much Neil, we will definitely come back next time we are in Canada. Much appreciation, Angela, Ellie and Jacob :-)
---
ABOUT OUR GROUP: We were a group of 6 that rented both the Cordwood Cabin and the tent camping sites so we rented both (2) facilities. Neil rents Cordwood Cabin and the tent sites separately or together if it's the same group, but to allow for privacy, he doesn't host two different groups on the property at once. OUR EXPERIENCE: This trip far exceeded our expectations. Neil's description is detailed, but there are so many things that made this place and our stay spectacular that aren't captured in his description. I tried to encompass them in this review and break them out into sections. PRE-ARRIVAL PREPARATION: Neil was incredibly responsive and patient. He responded to all of our questions (at times 15+ questions at time) within 6 hours and often within an 1-2 hours. Many in our group had never been camping before and we had a lot of questions. Neil was not only patient and generous with his responses about how to prepare for the bugs, to cook food at the campsite, BREAKFAST: But Neil pulled together an amazing spread of: - beautifully ripened and locally sourced blueberries, currants, and apples. - butter croissants made from scratch by Neil - 10+ locally sourced jams, - local maple infused cheeses, - yogurts, soy based yogurts, - Granolas, rye based bread crumble brought by one of his Danish friends from Denmark - freshly baked muffins made from scratch, breads from scratch, that he woke up hours earlier to bake, including blueberry muffins made with locally sourced blueberries We had people that were very interested in learning about the history and sourcing of the food on the table and Neil was able to tell us the name and story of each person that makes each item. The majority of the food on the table was locally sourced from people in the neighboring areas within a 50km radius. When we asked, he told us how he met the jam maker and how she started making jam, the story behind the jar of honey, who made it, how the bees were chosen, and which type of flowers the bees diet usually consisted of. The maple infused cheese was made on a farm about 35 - 50km away and he knew when the cheese would be available by season and we were lucky to have stayed during the right time. We were particularly interested in learning these things, but if we weren't, it was a delicious and flavorful spread that I think would have left anybody raving about the flavor and freshness of the food. Breakfast with Neil was absolutely amazing. Neil asked us to provide our preferred breakfast time the night before and in the morning, we woke up to a beautiful spread of freshly baked breads (gluten free because I need it and regular) made by Neil from scratch. We are not an easy group to accommodate for with our dietary requirements: - 1 Gluten Free & Dairy free (that will happily eat...
---
3 of us have not been camping for a while and were very pleased with all the comfort what Neil had to offer us. Morning coffee with lots of locally crafted, unique various choice of breakfast items. Already set up tents, saved us time and energy. I loved the drinking water quality. Morning washroom use in his adorable house. The place is a real gem if you want camping with privacy. We were singing around the campfire till the late hours without disturbing anyone. Daytime trips and hikes are not too far from this place.
---
Our Airbnb stay was wonderful. Neil is by far the best AirBnb host we have ever had. Starting with the excellent communications with Neil where he answered all my questions. He also gave us a fun and educated Off-the-Grid retreat tour. We even woke up each morning with a delightful organic breakfast. His home baked muffins were delicious! Overall, we highly recommend this place! We definitely will come back!
---
We really can't say enough good things about our stay at Neil's. It was a wonderful weekend with beautiful scenery and interesting nearby towns. While we were planning our trip, Neil was very friendly and helpful with everything from making sure we were prepared, to helping us find his place. He has great checklists and reference material for people new to camping. When we arrived, Neil was waiting to help us take our stuff to his campsite. The campsite is just beautiful. If you're from the city like we are, the quiet of the forest is unbelievable. We arrived just after a morning of rainy weather so everything smelled so fresh and clean. After unloading our stuff Neil took us through the details of the campsite and the brand-new cedar toilet. The site has a mesh tent as also a camping tent ready, both were very nice and clean. Neil is a very welcoming and a very interesting guy - one of our favourite parts of the trip was asking Neil about off-grid life and how his electricity and daily life works. The campsite has a fire pit in a clearing in the forest where you can sit and enjoy a fire at night. We unpacked our stuff and set up our tent and Neil came back to make sure we had everything we needed. We also decided on a time for breakfast the next morning which was also wonderful! We chose a weekend with no moon because we love stargazing, and we were lucky to get a clear sky that night. The sky and darkness did not disappoint, and seeing the sky at such a peaceful place is a wonderful experience. The next day we went to Neil's house for breakfast where he had many homemade / organic options. Everything was delicious and spending time talking to Neil was vet enjoyable. There is a lot of history in his house and on his land. During breakfast we could watch birds at his bird feeder and in just a short amount of time we saw blue jays, cardinals, gold finches (?), grosbeaks, robins, sparrows and many many more. There was also a ground hog who made an appearance. Later in the day we also saw a humming bird! Everything from beginning to end was great and we really recommend Neil's place for people who are looking for something a little more private and comfortable than the provincial parks. We are already looking forward to going back!
---
Home base is an off-grid homestead surrounded by 50 acres of woodlands to care for and live in harmony with. I have worked at major public college for 20+ years as a career counsellor, doing my best to help people figure out what to do with their life, set career goals, and make …
Частота ответов:
100%
Время ответа:
несколько часов