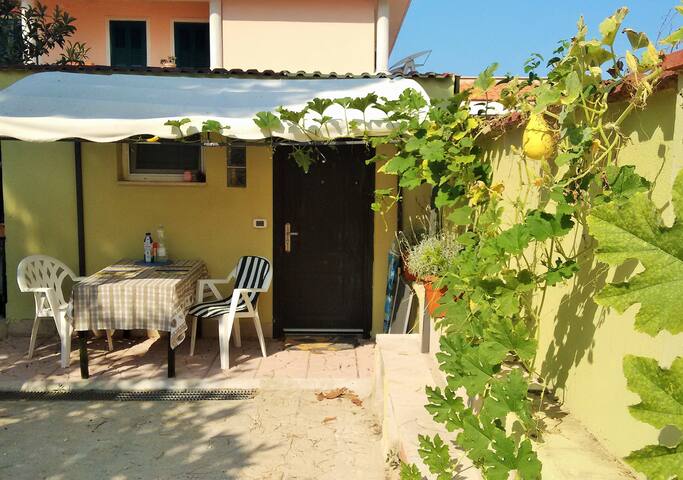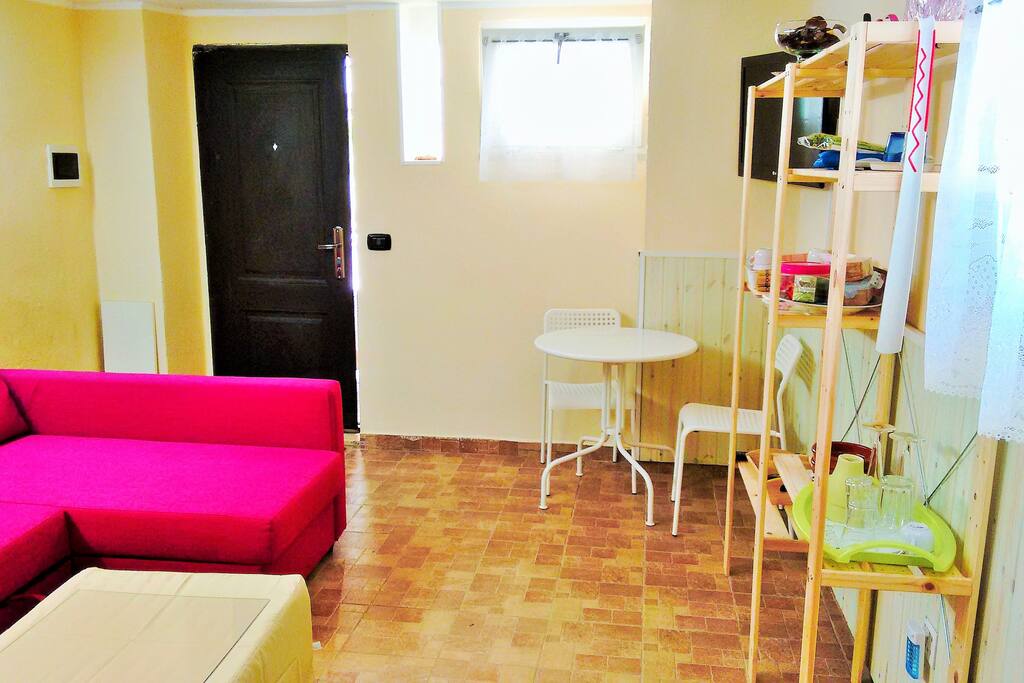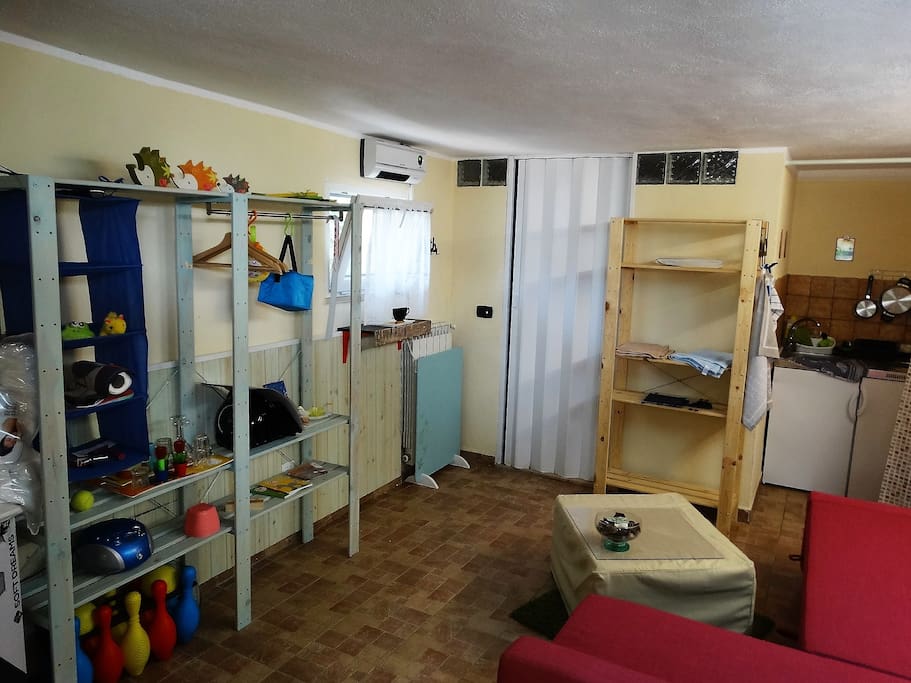 Наш САД (~ 25 + 16m² крытая терраса) с sep. Ванна / кухня-часть, приват. Терраса была закончена 6/2016 - хорошо любимый теми, кто проводит здесь свой отпуск до сих пор Мы создали его для 2 взрослых [+ один маленький ребенок] В нем есть новый большой складной диван-кровать и еще одна хорошо сделанная складная односпальная кровать. Гости могут воспользоваться садами, небольшим бассейном и каменными барбекю. Wi-Fi предоставляется на территории всего отеля. Airbnb предлагает флажки для «стиральной машины» и т. Д. И т. Д. Даже не проверял - его там !! Просить!!
Our GARDENHOUSE (~25+16sqm roofed terrace) with sep. bath/kitchen-part, priv. terrace has been finished 6/2016 - well-liked by those who spend their holidays here so far
We created it for 2 adults [+ONE small kid) It has a new big foldable Sofa-bed and another well made foldable single bed.
Guests can make use of the gardens, a small pool and a stone-BBQ.
Wi-Fi is available on the property.
airbnb offers checkboxes for, "washing-machine", etc etc
Eventhough not checked - its there!! Ask!!
Жилье
--------------------------------------------------------------------------------------------
IMPORTANT(E)
Our garden house is made for 2 adults and perhaps 1 SMALL child (max 3y), comfortable.
Additional persons will NOT be accepted - not even for an additional fee.
>>> We want, that you enjoy a stress-free holiday and recover here..!!
--------------------------------------------------------------------------------------------
La casetta al giardino è fatta per 2 adulti e 1 bambino piccolo (max 3a), forse, confortevoli.
NON saranno accettate ulteriori persone - nemmeno con costo aggiuntivo.
>> Noi vogliamo, che si gode una vacanza senza stress e recuperare qui .. !!
--------------------------------------------------------------------------------------------
Different to an anonym hotel-room you have a nice privat area in the green of a garden - just in the nature, rather than a hectic "living-cube".
A small kitchen for cooking and a fridge, own shower (ground level), WC, bidet, - alltogether: your own little "kingdom" ;-)
From July onwards fresh and new we had couples with kid, mothers and daughters, singles - and they all did like it... - and it still looks new, because our guests appreciated this condition... ;-)
Доступно гостям
У вас все еще есть доступ к другим нашим садовым участкам, - как и к каждому гостю, - и к нам, конечно. Мы даже приглашаем вас провести время в нашей частной части сада - если вы хотите отдохнуть или почитать книгу ...
You still have access to our other garden areas, - like each other guest - and us of course.
We even invite you to spend time in our private area of the garden - if you want to relax or read a book...
Общение с гостями
Здесь у нас был «множественный выбор» между решением сделать общение или просто арендовать дом. Мы очень общаемся - и любим поболтать с вами - или приглашаем вас к контактам с другими гостями, бутылкой вина (которую мы предлагаем) или планировать барбекю или обед вместе. Кроме того, вы сами планируете свои собственные праздники и свободны во всех ваших решениях и имеете конфиденциальность. Нам только одно не нравится: «Ежи», которые думают, что они просто могут «купить» наши дома - и не хотят ни с кем общаться. Мы выполняем наше предложение на основе социального взаимодействия - и желаем предложить вам действительно хороший отдых.
Here we had the "multiple-choice" between a decision to do communication or just to rent a house.
We are very communicating - and love to have a chat with you - or invite you to contacts with other guests, a bottle of wine ( which WE offer ) or to plan a BBQ or a meal together.
Additionally you plan your own holidays of course and are free in all your decisions and have privacy.
There is only one thing we do not like:
"hedgehogs", who think, they just can "buy" our houses - and do not want to interact with anybody at all.
We are running our offer on the base of social interaction - and the will to offer you a really good holiday experience.
Другие важные подробности
Наш «Non-Smoking» -рул действительно строг, - внутри дома. Перед домом / садом нет проблем. Более того: Мы стараемся удовлетворить вас, если у вас есть особые пожелания - просто спросите.
Our "Non-Smoking"-rule is really strict, - inside the house.
In front of the house / garden area there is no problem.
Furthermore:
We try to suit you, if you have special requests - just ask.
---
---
Зоны общего пользования
1 диван-кровать
---
Время прибытия — после 15:00
The guest is our focus - so YOU are the focuse for us.
YOU need to be cared and protected - and this is what we aim for with a few, but these are really strict rules:
We expect visitors who feel responsible for the value we offer them temporarely - almost everything here is new and we don't accept damage!
We strongly expect respect between all visitors - and us.
We will not accept the use of drugs around here - or smokers inside the house, because other guest will not like it - we are VERY strict with that!!
Fairness and good behavior are important for us.
The security of our guests is very important for us!
Because of that foreigners and people who are not booked in the guest-list here are NOT ALLOWED to be invited - not even temporarily!
If you are being collected, or you want to meet somebody during daytime, you necessarily need to contact and inform us BEFORE.
Secretly invited "guests" of you will be charged to YOU with 100€/stay and you may have to leave the house at once.
Don't do such things, you may bring other guests into trouble.
Just follow the rules of normal, respectful interaction...
---
The Good, The BAD, and the Ugly. GOOD: The hosts are an older German couple who are extremely thorough and love to communicate with their guests. The inside of the room was very clean as well. BAD: The Wifi inside the room did not work and never was resolved, We needed to walk outside and to their kitchen/dining room where Wifi was present. There was Cat feces and feces odors in the property from all the cats living there, it was mentioned in the description about the cats, which we can live with, but the odor was very pungent. Hosts are a little on the intrusive side, asking for personal information and plans etc, personally, we enjoy our privacy(private opinion). UGLY: Our vehicle was broken into and they tried to steal it. This is Italy and somewhat expected, but when we informed the Host, they didn't think much of it and offered parking inside the property...for a fee. This is an honest review with good and bad experiences during our stay.
Ответ от Maria S. & Karl H.:
Starting from the back: The UGLY is, that we told them, that OTHER guests at the same time booked the inside parking in the GUESTHOUSE-ENTRANCE and we COULD not give them, what belonged to others - THEY booked ONE day before, while the other guests booked 4 month before! We offered instead FREE(!!!) parking next door in our OWN entrance inside what they did. The only thing we asked for was the key at a place for both in case WE had to go out - our own car was parked more inside. So expecting things like breaking into a car (read above) he should have inscured this - WE have nothing to do with rented cars and if I(!) would expect something like this, I would ask on the first day for a more secure place. Our own car by the way is outside many times not even locked - but it is not as fancy as his was. The UGLY is as well, that Borbala is NOT the person who registred this account - Asking wether she cam straightaway from Ohio ( which is in the profile) she told me, that her friend did the Profil and she did not know, but would not live in the USA - so I got the message: Falsed profile - because her friend is not living in Ohio either. I couldn't ask him, because he left his girlfriend (Borbala) without any luggage, anything to eat or to drink over hours here - which WE solved!! She told me, that he was looking for a job here and so in a hurry - without having asked for that... Asked for a passport, the american citizen pretended, that he would not have a passport - how did he come into this country?? I even hat to ask for his indtroduction, because he reufused it at first - he was in the same way unkind with my other guests whose dining room (not our kitchen) he used - not even a "hello" or "sorry taking your place. It wa snot necessary to use this place, there were others just 3-4 meters in front of the door at garden tables. Finally - and only, because I pretended to need an ID he gave me a not complete US-NAVY-ID-Card, - with no address, with no personal data. So lets see, - WHAT was "ugly": A falsed profile, used from an american soldier in the house who pretended to have arrived here without passport - any questions?? Well, WE had some to find a certain security rather kicking such a cheater out of the house straight-away... Cats are very clean animals - they dig their things underground - our property has 1.000sqm to do so and they live in first line on our side. This is the first comment even mentioning this - and I could proof this with another rating talking about the cats as being clean and lovely. In Italy, especially with all these gardens, and they booked a "GARDENHOUSE", there are everywhere cats, - Italy! Last not least: They were obviously not part of "the Ugly", but only a part to critize - and - By the way - Borbalas english is ( for a Hungarian) good, but this comment is obviously not written from Her, but from her "fancy friend". Borbala(!) would never have written in such a way - SHE is a very decent, friendly person, even shy. What else? WE are not a "German couple" at all - if he would have listend to my introduction, which I did straightaway on the first meeting, I introduced her as the ITALIAN partner - but as he said himself - he preferred no communication and sharing of thoughts - he preferred to hide and to cheat and now even telling not the truth, because it was necessary to claim for 15€ replacement for destroyed and disappeared things.... Facit: If there WILL BE(!!!) once a real Borbala Bencze-account, registred by her and speaking for herself, I can advise to her - she is very nice and a decent guest. The cheater, using her data and hiding the real situation seems to have a reason for that and I cannot advise to him at all.
---
Wir hatten das Ferienhaus mit Balkon und wunderschönen Ausblick auf das nahe liegende Meer. Räumlichkeiten waren lieblich eingerichtet und sehr sauber. Karl Heinz war sehr gastfreundlich, zuvorkommend und auskunftfreudig. Sehr empfehlenswert.
Ответ от Maria S. & Karl H.:
Liebe Eva, lieber Florian, unsere Begegnung war kurz, aber ich habe Euch als zwei ganz besonders freundliche und rücksichtsvolle Besucher erlebt. Vergessen habe ich, mich für Euer sehr umsichtiges Verhalten beim Einräumen des Sonnenschirms und der Sitzpolster zu bedanken - soweit hat bislang noch niemand mitgedacht... Es ist was dran an alten Sprichworten: (URL HIDDEN)"Wie man in den Wald ruft, so schallt es auch heraus..." Was anderes, als eine wirklich erfreulich Begegnung konnte dabei herauskommen?!! "Danke!" - Ihr seid mir immer wieder willkommen - und anderen Gastgebern besonders ans Herz gelegt. Karl Heinz
---
This is the cutest garden house with the most friendly hosts! It is right next to the beach, literally just a few minutes stroll down to the water. All of my needs were taken care of and I felt right at home. Karl & Maria were so friendly and generous and this was not only a "bed & breakfast" experience but also a "wine and lunch", "coffee and snacks", and many many more delightful treats! They offered to pick me up, gave me a bike, and also very kindly drove me many many (too many!) times to my friend's place 10 minutes away! They even called and texted one night when I didn't come home to make sure I was okay and to see if they could help with anything. We even went sightseeing to Nettuno and to several markets and I had a wonderful tour of the place. Maria and Karl are well traveled and we shared many stories about life experiences over wine and lunch that they kept offering me, and we discovered that we have the same taste in sweets which we shared many of as well :) I will surely return and feel I have made some wonderful friends! Thank you for making my stay in Anzio so very pleasant, I can't wait to come back again.
Ответ от Maria S. & Karl H.:
Hello, Ariella, I feel very honored regarding your words, because it is part of my understanding, to welcome and support a guest at what he/she is and how we interact. You are a very special human, you made it possible to come close to you on the spot and taking care of you was a pleasure and I am very happy to say "you are more a friend in between, then a visitor" - and friends are very special to me as well. Whenever your way leads to Rome I want to see you here and if you advise to real friends of you, they will be as welcome. Thank you for having understood that early in life, what values are helpful to create wonderful relationships of friendship. Maria Susanna & Karl Heinz
---
Geboren in Rom und Düsseldorf hat uns unser Leben nun hier nach Anzio, nahe dem Meer geführt - wo wir in relativ kurzer Zeit am Arbeitsplatz in Rom, einem der Flughäfen oder auch im Landesinneren sein können. Wir sind beide bereits etwas "herumgekommen", - interessieren uns für…
Языки:
Deutsch, English, Italiano