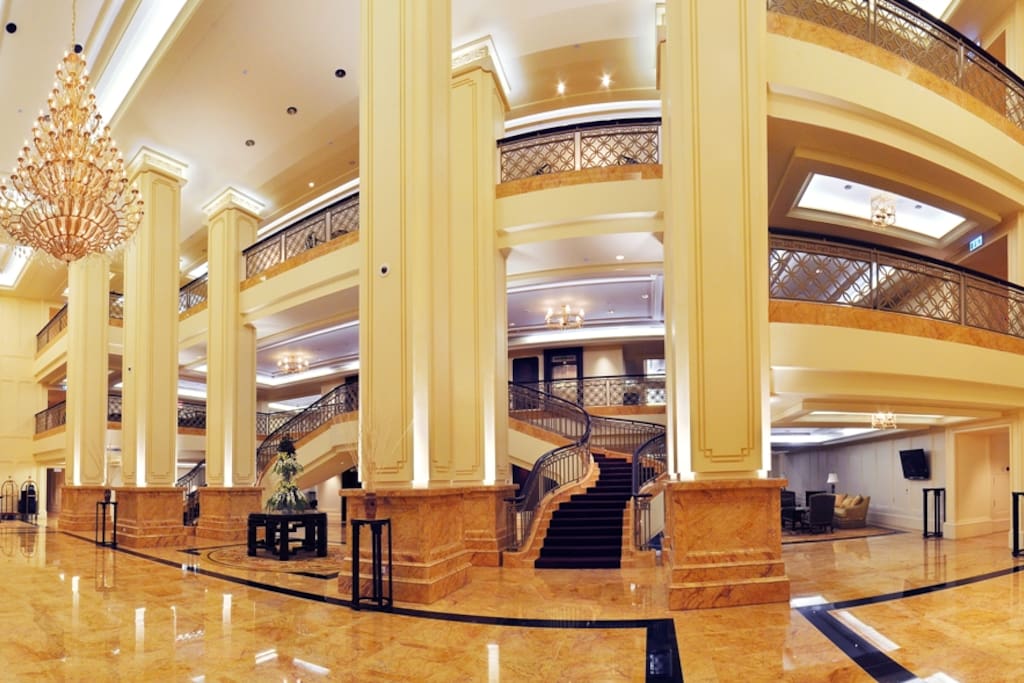 Жилье
PLEASE MAKE SURE YOUR CHECK-IN DATES ARE BOOKED STRICTLY AT LEAST 07 DAYS IN ADVANCE.
Otherwise, please click CONTACT ME if you want to get your room booked immediately anytime.

These are designed in Indochine opulence and along the subdued elegance of a Noble House. They boast of spacious and luxurious Floor Lounges that are administered by solicitous Butlers. This arrangement makes every guestroom have its own extended living room where guests can entertain their visitors, or where groups of friends or families could meet, socialize, and enjoy each other's company amidst a cosy and comfortable, yet still private, ambience
(every second floor).

There are many things to do while you are visiting historic Hue, the former Imperial city.

Hue was the capital of Vietnam, the feudal sovereignty, from 1744 when the Nguyen lords controlled all of southern Vietnam. The dynasty of the Nguyen family lasted (in theory) from 1802, when Nguyen Anh defeated the rebels to control the city, until 1945, when the last emperor was abdicated. The city was severely damaged in the 1968 Tet offensive during the American war, but many architectural gems remain and are well worth a visit.

Located on the country's central coast in the Thua Thien Hue Province, Hue is divided between the older fortified Citadel, containing almost everything interesting, and the new, smaller sprawl that has developed across the river. The new side contains most of the facilities, hotels, restaurants, travel agencies, and banks. People come to Hue to see the old Imperial complex, Citadel and Forbidden City, pagodas, and many tombs of the emperors that lie a few kilometres south of the city. Each tomb is a walled compound containing temples, palaces, well kept grounds and lakes.

Hue is a quiet and relaxing city, big enough to be interesting but small enough to bicycle around. The food is great, claimed to be the best in Vietnam.

Hue is recognized as a UNESCO world heritage site. It is noted for its unique cuisine, its beautiful embroideries, and its traditional ao dai. Hue's average temperature is about 25 degrees Celsius, and its dry season runs from February to August, followed by its rainy season from September to January.

HUE ATTRACTIONS

THE CITADEL - Based on the ancient practice of geomancy, the Citadel was designed and planned around the natural elements in the north of the Perfume River. The complex faces southeast, taking Mt. Ngu Binh (Royal Screen Mountain) as a natural screen. Two islets in the Perfume River, Ta Thanh Long (Left Green Dragon) and the Huu Bach Ho (Right White Tiger) play the role of sentinels for the Citadel. The construction of the Citadel took place from 1805 to 1832. It is a square enclosure with a circumference of 10,000 meters and a height of 6.6 meters. There are ten gates to access the Citadel each with a two storey watch tower. The Citadel was built to accommodate 24 bastions with over 400 cannons.

THE ROYAL TOMB OF HUE - The Nguyen Dynasty ((PHONE NUMBER HIDDEN)) is the last of Vietnam's Royal families. In all, there were 13 Kings, however, due to various reasons, only seven had tombs. The seven imperial tombs were planned and constructed on a hilly region southwest of the Citadel. All were constructed during the reign of the respective kings for which they were named. Each was laid out with statues and monuments in perfect harmony with one another to form a poetically natural setting. In 1957, Les Merveilles du Monde in France published a list which included the Royal tombs of Hue as part of the World's Wonders. Unfortunately, most of the artefacts in the tombs were stolen.

MINH MANG TOMB - The height of the Nguyen Dynasty was reached during the reign of the Emperor Minh Mang ((PHONE NUMBER HIDDEN)). His tomb was built 12km from Hue in four years ((PHONE NUMBER HIDDEN)). The king had the plans drawn and the location chosen by the Royal advisor, the mandarin Le Van Duc. The king passed away as construction commenced. His successor, the Emperor Thieu Tri undertook the completion of the project with the help of 10,000 soldiers and artisans. The tomb consists of 40 monuments of various sizes; all lie with an oval shaped wall with a circumference of 2,000 meters.

TU DUC TOMB - Born in 1829, Emperor Tu Duc had the longest reign of all in the Nguyen Dynasty. The king died in 1883 after 35 years on the throne. Built between 1864 and 1867, his tomb includes 50 monuments surrounded by a 1,500 meter wall. Emperor Tu Duc was an expert in eastern philosophy, history, and literature. He left 4,000 verses and 600 proses, yet during his reign, he failed to gain the respect of the citizens. It was during the construction of his tomb that the soldiers and artisans rebelled and joined Ung Dao, a distant cousin, in the attempt to overthrow him. Architectural features of Tu Duc tomb include poetry elements in free form. It was designed to blend with the natural setting of the landscape. Man-made elements were built and placed in strategic areas to achieve perfect harmony.

KHAI DINH TOMB - Emperor Khai Dinh ((PHONE NUMBER HIDDEN)) ruled Vietnam for 9 years. His tomb took 11 years to complete. Construction began in 1920 and was completed in 1931. Under Khai Dinh, Western culture and influence began to seep into Vietnam. The emperor himself visited France in 1922. As a result, his tomb has many elements of Western architecture. In fact, of all the tombs, Khai Dinh's was probably the one that least resembles oriental architecture. Throughout the interior of the tomb, coloured glass and ceramic chips were used to form mosaics of oriental design. The ceilings were painted much like the ceilings of Western churches, but the designs were of dragons and clouds. In the book "Art Vietnamien," Emperor Khai Dinh's tomb was cited as an example of Vietnamese neo-colonialism.

THIEN MU PAGODA - According to legend, the people around this area used to see a vision of an old lady appearing on a hill where the pagoda now stands. Upon seeing people, she always said that someday, a great leader would build a pagoda at this site to bring peace to the country. One day, when Lord Nguyen Hoang passed by this area, and upon hearing the story, he ordered construction of the pagoda in 1601. He named it Chua Thien Mu or Heavenly Lady Pagoda. Overlooking the southwest bank of the Perfume River, the pagoda has two sections. The front of the pagoda can be accessed from the Perfume River and has the Phuoc Duyen tower which can be seen from many points in Hue. This area also houses the great bell which was cast in 1710. The rear of the pagoda is the main hall where the Buddha is enshrined. It is also an area where the monks of the temple live and practice Buddhism. The pagoda was the centre of Buddhism in central Vietnam. In 1963, in a defiant act against the Diem regime, Thich Quang Duc burned himself in downtown Sai Gon. Today, the car that took him to Sai Gon is stored in the rear of the Thien Mu pagoda.

HUE WORLD HERITAGE EXCURSIONS (UNESCO WORLD HERITAGE SITES)

HOI AN ANCIENT SILK ROUTE PORT - Established in the 15th century, the ancient town of Hoi An was once one of the most important trading posts in Southeast Asia and centre of East-West cultural exchange. It's ancient past is superbly preserved in fascinating temples, pagodas, shop houses, and homes which make up the town's old quarter. Hoi An is two hours drive south of Hue.

MY SON HOLY VALLEY - The spiritual centre of the ancient Cham civilization and a religious sanctuary since the 4th century. Its history is reflected in the temples and towers that remain. My Son Valley is two and a half hours drive south of Hue.

PHONG NHA CAVES - Considered by some as the entrance to the "Inner Earth". Phong Nha-Ke Bang National Park is a giant mountain reserve which stretches to the border of Laos and is renowned for the spectacular Phong Nha Caves. Buried within Vietnam's largest primeval jungle, its grottos and passages extend for 44.5 km into a limestone mountain. Discovered in 1935, the underground system was opened to tourists, with its stalactites and stalagmites adorned abysses romantically named "Roads to Hell" and "Roads to Heaven." Phong Nha-Ke Bang National Park is one and half hours drive north of Hue.

HUE'S OTHER NEARBY ATTRACTIONS

•The white sandy beaches of Thuan An and nearby hot springs
•The national park of Bach Ma and Truong Son mountain range
•The legendary Ho Chi Minh Trails
•The famous DMZ area with its underground tunnels along Ben Hai River
•The breathtaking trails of Hai Van Pass (Cloudy Pass) with views from 1,500 meters
•Danang City, a busy seaport of nearly 1 million people, with its unique Museum of Cham Sculpture and Marble Mountains
Время прибытия — после 14:00
Об этом жилье пока нет ни одного отзыва. Если вы остановитесь здесь, то ваш отзыв появится в этом разделе.
Taking inspiration from an Indochine Noble House, Paul Stoll, the creator of the CELADON PALACE, aims to resurrect its many and long-forgotten sensualities: genuine hospitality, friendly ambience, graceful efficiency, and unforgettable satisfying experiences. He dedicates the hot…
Языки:
English, Français
Общайтесь только через Airbnb
В целях безопасности никогда не переводите деньги и не общайтесь за пределами сайта или приложения Airbnb.
Открывайте новые возможности в г. Hue и поблизости
Другие варианты жилья в г. Hue: