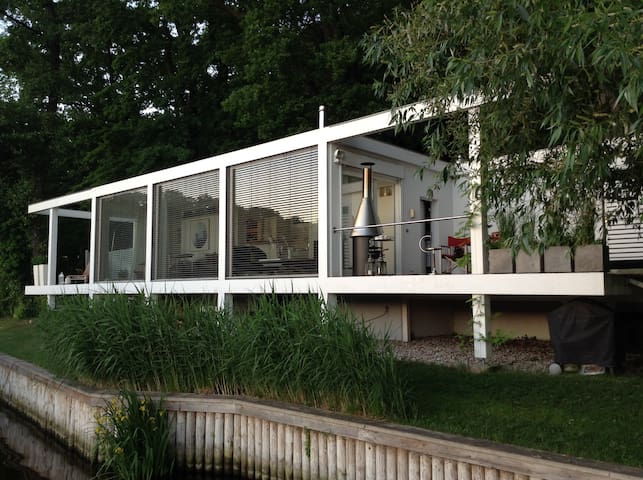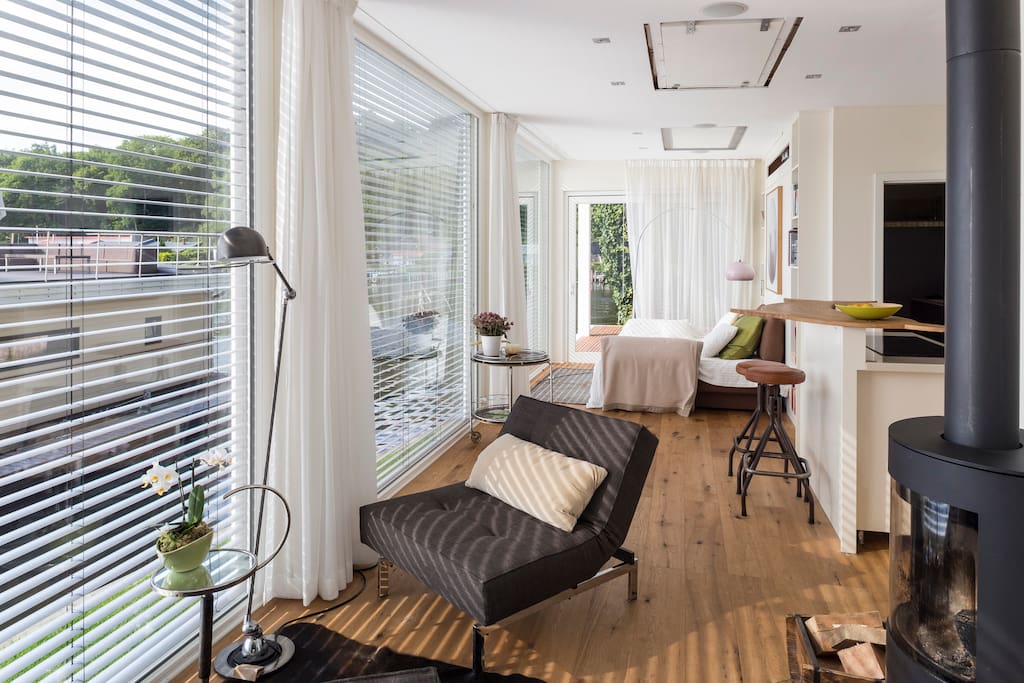 Seelodge right on the river Havel
"By nature we pay close attention to unlikely perceptions, and water offers a multitude of those."
---
Firstly, let me say that the property is placed in such an incredible area. Along the water with a garden and a forest made this a wonderful retreat for us and the dog. The amenities are clean, great furniture and fully equipped kitchen. Great bathroom. The only issues were as follows: There were two houseboats mentioned in the description but what was not mentioned was that the residents of those two houseboats were to use a toilet that was attached to our accomodation. Also, wifi connection was non-existent or very faint most of the time. There was a misunderstanding between the host so we were locked out of the property and had to climb over the gate. Regardless of all this Dorit was kind, responsive and very helpful. Highly recommended. I would consider staying here again if the wifi was sorted out.
---
Die Fotos ließen es bereits erahnen - die Ankunft mitten im Paradies war ein Erlebnis der besonderen Art. Nicht nur die Lage der Seelodge mit Ausblick auf die pittoreske "Hafellandschaft" hat uns überwältigt, auch das Interieur war eine Designoffenbarung. Mit viel Liebe und Geschmack eingerichtet, erklärte uns unsere Gastgeberin Dorit sorgsam deren praktische Funktionalität: elektrische Beschattung, Einrichtung der Küche, Möbel. Unser Hund Rocky wurde vom vierbeinigen Hausherrn Bradley freundlich empfangen, er fühlte sich sofort "pudelwohl". Der Panoramablick beeindruckte auch ihn und ständig gab es neues zu entdecken. Während Rocky vor allem die Erkundungen rund um die Lodge mit (von uns nicht erlaubten) Ausflügen auf die Stege genoss, ließen wir uns von den unterschiedlichen Stimmungen auf den beiden Terrassen berauschen. Die Stadt war weit weg und bei Bedarf trotzdem so nah. Wir sind immer noch geflasht. Danke für Deine Lodge und Deine Herzlichkeit, Dorit!
---
Wir hatten eine wundervolle Zeit in der Seelodge während unseres Aufenthalts in Berlin. Generell wollten wir viel mehr unternehmen, aber nachdem die Lage so traumhaft war, haben wir die Abende liebe auf der Terrasse als in der Stadt verbracht. Die Absprachen mit Dorit liefen super und wir haben uns gut aufgehoben gefühlt. Auch für unserer vierbeinigen Hundedame war die Lage optimal. Man konnte traumhaft am Wasser spazieren gehen. Im Ganzen, hatten wir ein tolles verlängertes Wochenende und freuen uns schon auf unseren nächsten Aufenthalt in der Seelodge. Lieben Dank nochmal an Dich, Dorit.
---
Dorit's Seelodge is a piece of beautiful riverlife just 20-30 mins from the hustle and bustle of central Berlin. We spent 7 nights in the lodge and found it to be absolutely ideal as a place to just enjoy being in the Grunewald and by the Stoßensee river if we wanted peace and quiet, but equally the Pichelsberg S-Bahn is a 10 minute walk away, the trains run every 7 mins and you can get to Charlottensburg, Savignyplatz, Mitte etc etc in no time at all. We enjoyed a trip to the Autostadt in Wolfsburg, many tours around the historic and modern day sites of Berlin, but some of my longest lasting memories will be just cooking in the Seelodge whilst looking over the river and enjoying watching the boats and wildlife go by. I'm a big running, swimming, and cycling fan and the surrounding area was perfect for indulging in all 3 - running up Teufelsberg, the only hill in Berlin, was particularly good for training if you're that way inclined. The lodge is beautiful, functional and incredibly well equipped. If you've got several days to explore Berlin and surroundings, I can't think of anywhere else I'd stay.
---
Eine kleine idyllische Marina mit 2 Hausbooten und einer Seelodge, die Du auch über Airbnb findest, laden Dich herzlich für ein paar schöne Tage/Wochen nach Berlin ein!
Частота ответов:
90%
Время ответа:
в течение дня