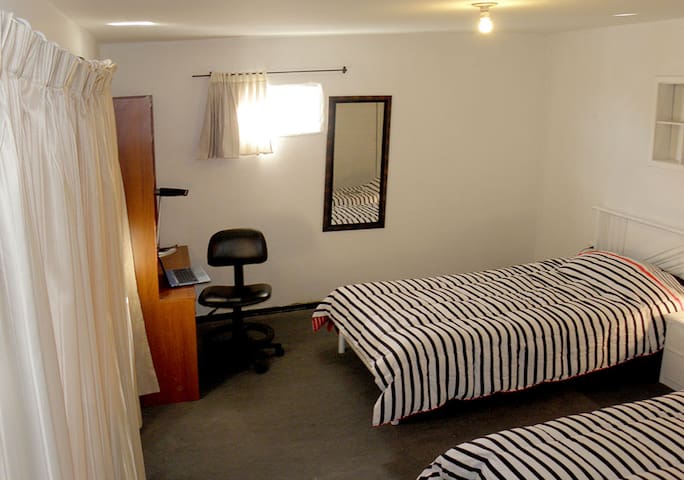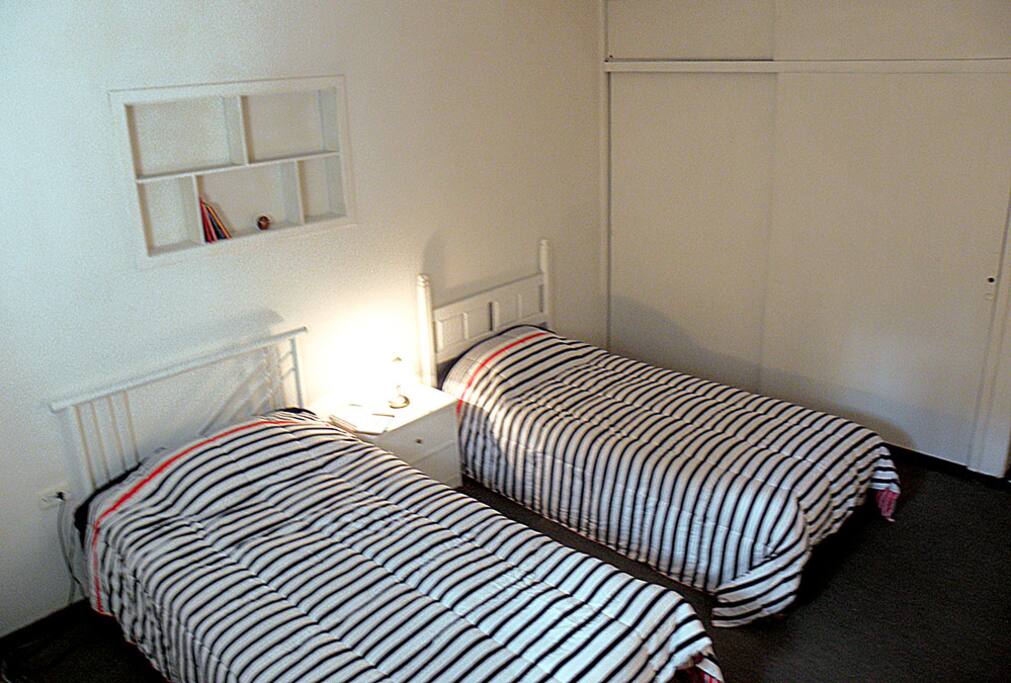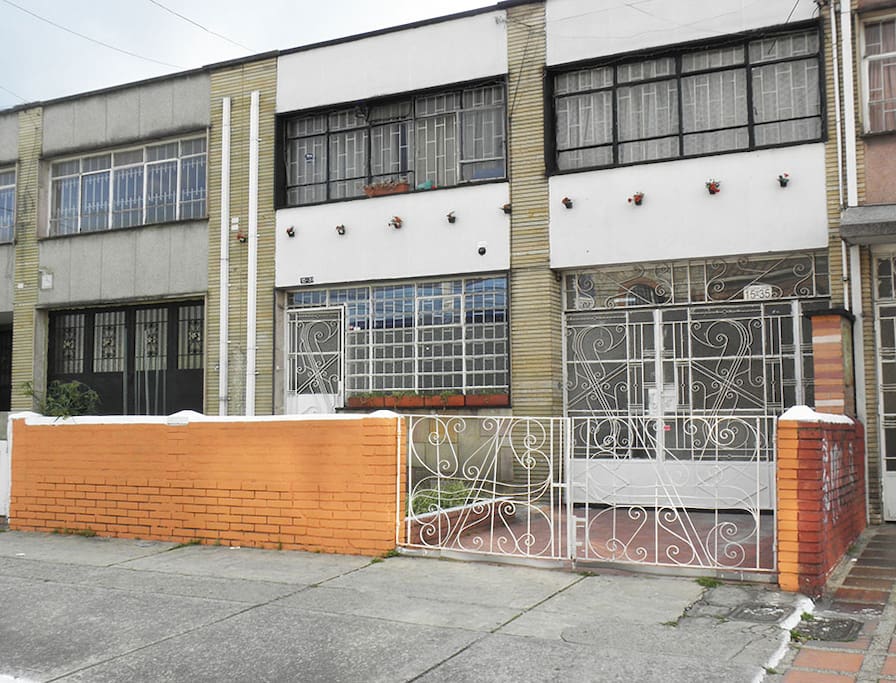 Nice big lit Room (1 or 2) in Chapinero Cl 69.Flr2
This room is one of the best in our home: pretty big and cozy, well lighted, has a big closet, double bed (can acommodate instead two 1.10 meters wide beds).
It has also a work desk with bookshelf, and has two windows, one facing the first floor.lock) .
If you have lots of stuff, like suitcases, or a big screen computer, this is the room for you. Notice that price is per person, even being great for 2 people.
Жилье
16 x11 ft room, well lighted, free Wifi, TV optional, includes free use of washing machine, tv, local phone, and shared Kitchen with implements (You´ll have fridge space for your food). No curfew, shared bathroom. Clean and relaxed atmosphere
Calle 69 @ 15th , 2 blocks from/to public transportation including buses to airport and bus terminals (5am to 10.30PM) for less than us$2. Ask us for instructions. Its Easy.
English/Spanish spoken 100% 24 hrs. ID req. Families welcome, safe environment, help with tips, tours, Biz etc. Asian Expat Assoc. member (・ω・)
Kitchen and fridge, clothes washing machine, Wifi, TV in shared areas, bathrooms, local phone calls for free, common areas (chat and dinner areas).
You can cook if you like it, or you can also visit one of the many places, or phone/web order from McDonalds, Subway, Papa John' s , Friday's, Chicken Brasa Roja, Pizza Hut etc. Ask us for the phone numbers or apps.
We'll supply you the cleanest linen and towels each 15 days, rooms are cleaned at least each 10 days.
We are your family here. So don' t hesitate, and let us know what you want or how can we help you or make your stay better.
Rules fro this are simple: if you do not want to be disturb, just keep your room door closed. If you want to be wake up or want info... just ask.
Are you a business, trade shows or immigration visitor?
We help you on tickets, appointments, etc. We even have a Chamber of Commerce branch 5 minutes walk from our place.

We send a couple of times an email with the current activities (concerts, talks, meetings, ex-pats parties and city browsing, cheap airfare and buying opportunities, etc).
If there is a msg for you.. it will be at your door fast. If you are a talker, you are in problems, because me, German Alberto, (pronounced Hermann), love talking.. .a lot... and also going out. hehe!
Sandra, my wife, is more helpful and even lets you practice your spanish. I use to forget that.. mmm but still, we are quite friendly if you want that.
I'm almost 24 hrs on (SENSITIVE CONTENTS HIDDEN). Let me know what you need... I try to help.. I have never let down anyone... so.. for me helping you is like defying myself. :-)
Its a mix of having places to eat or buy food, very good and fast public and bike transportation, (Look for (URL HIDDEN) we are in lower north Chapinero, 15 min walk to Zona Rosa and Parque 93 (a cab will cost us$3 if you are a little lazy or visiting on late hours).
I have to confess that we also like the way the zone is developing. Our house rises its value 10-20% yearly. hehe!.
The area has many educational institutions from Feb to June and August to november, so its easy to find a big lunch for us$3-5. So, after 10 or 11pm is very calmed, till 6 am.
We also have the computer parts and software district very close, which is great if you need some twiks for you Windows, IOS or Android gadgets.
You get your SITP and Transmilenio cards and you are all set for public transportation. Peak times are crowded and slow... I use to walk with better results. You can download a cab app to your smartphone and you´ll have a car waiting for you. In reality, your zone of action will be, La Calera town east, Party Zones and Unicentro heading north, maybe some of the 43 big malls west or north, movie theaters (especially on wednesday when cost gets to less than us$3), and maybe some visits to old Candelaria and downtown. You will get to any of those places in less than an hour and it will cost you about us$1 in bus and less than $5 in a cab.
We are new on Airbnb, but have good record visiting other countries for world , for work, pleasure, backpacking etc. And also hosting people from Servas, CouchSurfing, NLH, NipponClub, Asian Trav, etc. We may know what you need, since we´ve being there, too.
If you are coming to study the language, we are 400 meters away from "Nueva Lengua" and 12 minutes in bus from Javeriana, Catholic and Distrital Universities, and 35 minutes from from Andes University.
We have up to the minute information on weather, transportation, traffic, trade shows, medical services, inmigration, and even a Chamber of Commerce and Tax/legal official branch 10 minutes from our place.
If you are coming to do some turism, we are close to Calle 72 Mall, Chapinero partying zone, 12 blocks (about a mile) from thew Zona Rosa or Andino, and the same to the exclusive Zona G. Parque 93 is 20 minutes away.
Clothes in Colombia are not that cheap, but still you can find great prices in one of the clothes outlets, and some stores, we can give you a tour. Bogota has more than 10 large malls you can visit easily and safely. There are money exhange places around. stores like 21forever, Benetton, Zegna, Zara, Loewe, etc mix with local chains and markets everywhere.
If you are into computer and parts, there are good prices in 3 separate buildings, 8 blocks from our place.
There is the largest importer of fish fro every where in the world 3 blocks from our house, and also the most known fine beer producer in the country, Bogota Beer Company. (There is a tour that includes the beer factory and a coffee workshops place some blocks away.
There is free cable tv in common areas, and fast free wifi or wired 10 megabyte service in many places of the house.
We also got the magnetic cards required for public transportation. (money is used in some private buses but they will stop servicing in months due to govt requirement ) .
You just walk 2 blocks for the Calle 72, Flores Station stations or Blue Buses stop (us$1 and run from 5am to 11 pm) Taxis are cheap, (minimun is us$2 but a common us$4 will get you to Unicentro, Metropolis, Titan or downtown.
Do not worry about eating: from the very low price foods local workers have, us$2,50, to the fancy $50 or $100 Zona G restaurants are close to our place, no more than 10 blocks away. There is a small convenience store right in front (soccer games make them close after 10pm must nites)
ATMs are 5 blocks away, you can pay or obtain money from your credit or debit Visa or Mastercard everywhere. Banks are 9am to 3pm M-F and some have extended schedules 4-7pm or even 10am -2pm on saturdays. If you need to open an account, we will help you with that if required.
Доступно гостям
There is always the kitchen and laundry area (no washing between 8pm and 8 am so other guests can sleep at will) . We provide soap for your laundry, kitchen provides sugar, coffee, oil, 2 eggs per day, salt and sugar.
We provide storage at room temperature for your food and also a cabinet in the fridge for cold preservation.
There is space in the back of the 1st floor for reading and sharing, also a kitchen table and an outer glass one, so you will have different environments to move around. We have 2 free bikes for you to ride at any time (first come first served), and we can hold your luggage for a week or two in a common area. (pls do not leave valuables since we have not isolated this area.
Общение с гостями
If you need any help, advise or tips, you can get to us with apps like (SENSITIVE CONTENTS HIDDEN), Line, (SENSITIVE CONTENTS HIDDEN) or (SENSITIVE CONTENTS HIDDEN). You cwill get the numbers after you do your reservation, its an Airbnb rule.
We vcan cj=hit chat at the house, usually bring you around to now about ATMs, bakery, food places, laundries, antique stores, markets and convinience stores, very close to the house, usually 3 blocks for food stuff, and 7 for banking.
---
---
Please do not be noisy, let people rest. Do not monopolize the Tv or download large files when most people is doing study research or talking to their families and friends. Kitchen and bathrooms need to be clean 24/7, so please wash your plates and do not leave unattended dirty foods or tools.
We do not accept non guests in our house. You can not bring people to stay overnight or pick up things for you. Safety is primordial. Even having mobile accesible cameras and alarm, its more intelligent not to provoke accidents or felonies.
If you are into drinking too much or drugs, please avoid staying here. That is not allowed at all.
Keys. You will have keys for entering and leaving the place. If you loose them or let someone copy them, we all be in trouble. We have 12 pair of keys at the house, that means that if you loose them, we will have to change guards and make 24 duplicates, a us$40 expense you will have to pay.
We do not offer REFUNDS based on violating the House Rules. So please do not stay here if your plan is against our norms.
---
The house is located in a very nice area of Chapinero near the station Transmilenio Flores. Walking distance to shops, restaurants and bars. The room is large and comfortable, the house has all the amenities even bikes that you can borrow. Herman and Sandra will be good friends to you, always smiling you and willing to help. They will give you any information about staying in the city and sights. I really appreciate their support.
---
German y Sandra son expectaculares! Me hacen sentir cómo en casa y están siempre dispuestos a ayudarme. El ambiente es muy alegre, familiar y confortable. Para mi lo más significativo son las bicicletas que me prestan, mi pedacito de aventura a diario, puedo ir a cualquier parte cicleando! Recomiendo a otros huéspedes vivir ésta experiencia. German and Sandra are awesome! They make me feel at home and are always willing to help me. The atmosphere is very cheerful, familiar and comfortable. For me the most significant thing are the bikes they lend me, my bit of daily adventure! I can go anywhere cycling. I recommend other guests to live this experience.
---
I really enjoyed staying at Germán's place. Germán and Sandra are awesome hosts, very friendly, talkative and helpful. The communication with Germán was excellent and I received quick responses whenever I had any questions. He is a very interesting person with lots of knowledge. There are usually up to 5 guest in the house, and we had quite some fun and good conversations together. Germán showed us around the area and gave us valuable tips. The place is clean, modern and conveniently located in Chapinero, nor far from la Zona Rosa where all the bars and restaurants are. The kitchen and living room are spacious with modern appliances. My room was comfortable and nicely furnished with a shared bathroom. The Internet was fast and reliable. Special thanks for the walking tour, the travel tips and the pepper spray ;) I recommend this place to other visitors in Bogotá.
---
Writer, thinkerer, photojournalist and entrepreneur. Formal education in electronic engineering and journalism. Worked in 4 countries, travelled 27. Mostly asian and electronicM taste, plays guitar and piano, not much into cable tv, more related to world and independent channels …
Языки:
English, Español
Частота ответов:
100%
Время ответа:
несколько часов
Открывайте новые возможности в г. Богота и поблизости
Другие варианты жилья в г. Богота: