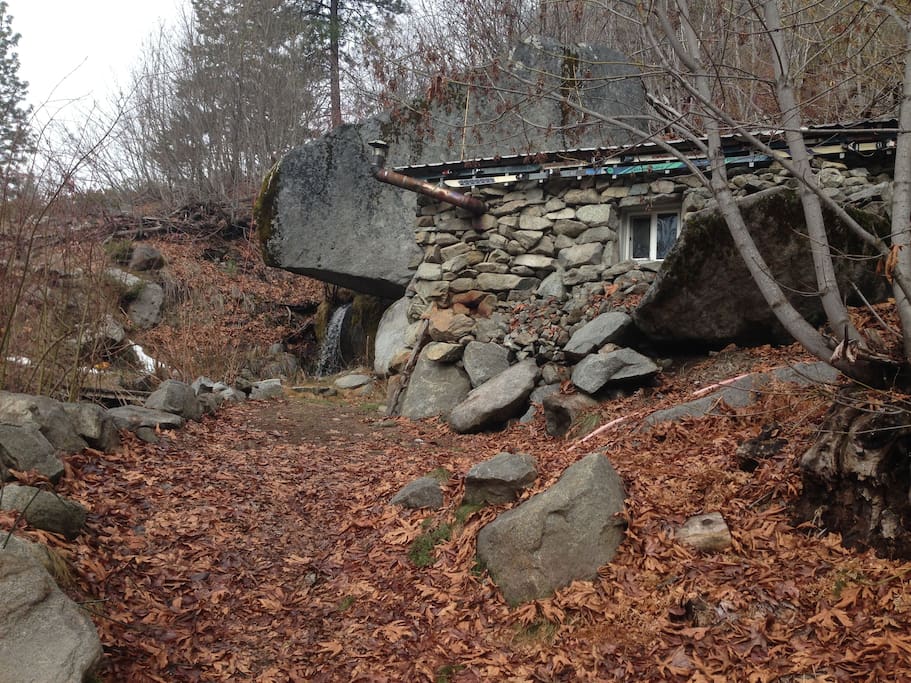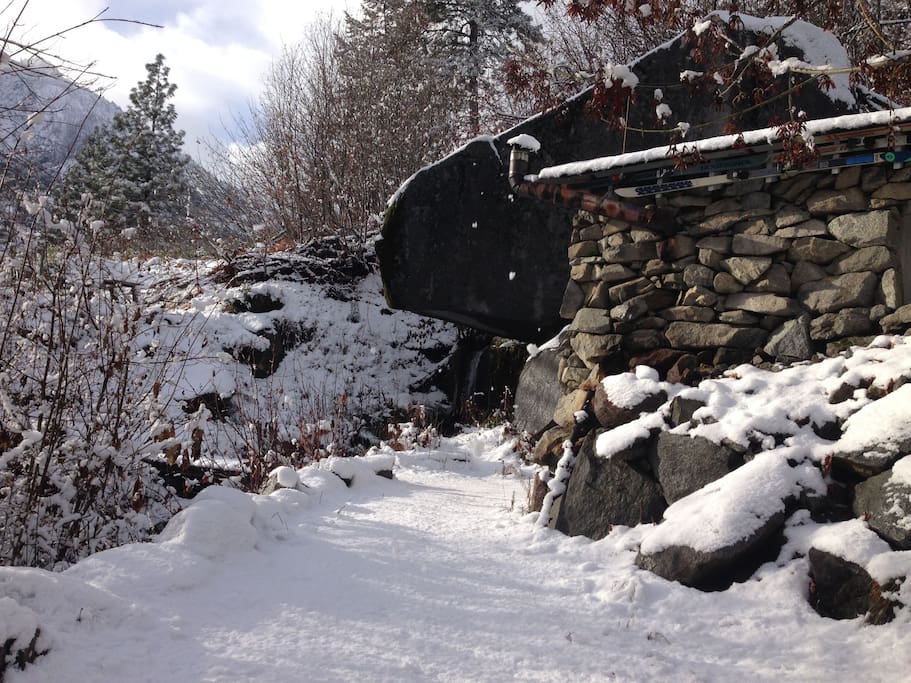 Кемпинг с классом! Каменная каменная каюта, расположенная в 4 милях от Ливенуорта и в миллионе миль от городской жизни. Частная зона для пикника, ручей, водопад, виды и горячая ванна с горячим дровем. Оставайтесь на некоторое время, воспоминания на всю жизнь. Кабина спит пять в комфорте. Несколько палаток для ваших друзей и семьи. Читайте отзывы. Посетите, а затем напишите свой собственный.
Camping with Class! Rustic stone cabin located 4 miles outside of Leavenworth and a million miles away from city life. Private picnic area, creek, waterfall, views and a wood-fire heated hot tub. Stay awhile, memories for a lifetime. Cabin sleeps five in comfort. Multiple tent sites for your friends and family. Read the reviews. Visit, then write your own.
Жилье
Удаленное и уединенное жилье; Но всего в 4 милях от города. Площадь пикника построена на высоте 30-футового валуна. Кабина построена прямо в скале. Это «Glamping» в лучшем виде. В каюте есть электричество. Достаточно читать и запускать небольшой обогреватель во время зарядки телефона. Принесите свое собственное постельное белье, полотенца и т. Д. Мы предоставляем ТП. Пожалуйста, обратите внимание, что мы не взимаем плату за уборку. Пожалуйста, сделайте свою часть, чтобы покинуть салону и землю, как приятно или красиво, когда вы прибыли.
Remote and secluded lodging; yet only 4 miles from town. Picnic area built on top of a 30' tall boulder. Cabin built directly into a rock face. This is 'Glamping' at its finest. The cabin has limited electricity. Enough to read by and run the small space heater while charging your phone. Bring your own linens, towels, etc. We provide TP. Please note we do NOT charge a cleaning fee. Please do your part to leave the cabin and grounds as nice or nicer then when you arrived.
Доступно гостям
20 акров, граничащих с Национальным лесом, арендованных исключительно одной гостевой группе за раз. Большая парковка.
20 acres bordering the National Forest rented exclusively to one guest group at a time. Ample parking.
Общение с гостями
Владельцы живут через дорогу, вне поля зрения, но достаточно близко, если что-то необходимо. Большинство гостей никогда не видят владельцев.
Owners live across the road, out of sight, but close enough if anything is needed. Most guests never see the owners.
Другие важные подробности
Дрова и разведение могут быть легко выгружены, за исключением случаев, когда они покрыты снегом. Если вы используете дрова для распиловки / расщепления / штабелирования, взимается дополнительная плата в размере 5 долларов США за коробку в штучной упаковке. Принесите наличные или проверьте на потребление древесины. Если вы нагреваете горячую ванну, планируйте использовать от двух до четырех пучков древесины в зависимости от внешних температур.
Firewood and kindling can be foraged easily except when covered by snow. If you use the cut/split/stacked firewood, there is an extra charge of $5 per boxed bundle of wood. Bring cash or check for wood consumed. If you heat the hot tub, plan on using two to four bundles of wood depending on outside temperatures.
---
---
Зоны общего пользования
2 сдвоенные кровати, 1 односпальная кровать
---
Время прибытия — после 14:00
Guests need to appreciate the wilderness with its attendant hazards like wild animals, rock falls, river hazards; narrow trails, etc. It's not Disney.
Please note we do not charge a cleaning fee. Please do your part to leave the cabin and grounds as nice or nicer then when you arrived.
---
This was our second time staying here at Steve's cabin. This time I knew just where to take my 3 kids for my oldest (she's 20) birthday hiking. We have a fantastic time as always. Wood is readily available for bonfires and inside wood stove, New sleep mats made it twice as comfortable, we forgot mixing bowls but used the pots and pans available to make pancakes and we LOVED the new propane barbecue!!! What a great addition we were able to grill up steaks and eat it in the hot tub overlooking the enchantments. Such an awesome time!! Will be back again and again. *recommendation* camping mixing bowls to stay at site :)
---
We are driving back from our wonderful stay at this cabin in the woods. First off let me tell you that if you are looking for a wonderful rustic experience but are a city slicker like me, this is perfect! You have just enough electricity to not feel like you have left to another planet and you stay nice and warm in the evenings. The views are incredible the heights are amazing there's literally a tiny Creek with water falling off the rocks 10 feet from where you are sleeping it's pretty amazing! I brought my three and a half year old daughter and we built a huge fire and also enjoyed marshmallows and hotdogs for dinner. My 14 year old son got a kick out of cutting wood by himself and felt like man of the year :-) it is true though you do need to get here early when there is still light out so that you can find your way. The perk of having something with wheels to drive your stuff up the hill is a definite things to be thankful for. So thank you for that Steve! There are only a couple things that I wish I would have had for the cabin so I'm going to list them below so if you are anything like me, you'll have them on hand and not have a moment of crap I really wish I would have brought such and such. Items to remember that were not in the cabin: 1. coffee cups for instant coffee. They're small plastic cups that were left behind by a previous person or maybe Steve I'm not quite sure, but I love my cup of coffee in the morning in a mug. There aren't any. I would also suggest maybe Steve could get a small coffee cup tree and leaves a few mugs on it :-) 2. A spatula. I forgot a freaking spatula to make pancakes I left a big batch of pancake batter for anyone to use and some syrup and peanut butter as well :-) hopefully somebody will get some good use out of it. But bring a spatula and also some cooking oil so don't stick to the pan they have bands there but I sure needed the spatula and there wasn't any. 3. O'clock. I intentionally didn't bring my telephone so we could just have it really old fashioned and not have everybody multi-tasking away. It was a perk that there was no Wi-Fi either so the kids didn't have an excuse to try to get online or watch movies or anything. But a clock that's old timey or barbarian since the Leavenworth I think would be super cool That's about it. There's no refrigerator but we were able to keep all of her stuff cold in the creek. Unfortunately stop animal got ahold of our bacon which sucked lol but I mean we are in the wilderness what did I expect. I really can't say enough...
---
This place is truly one of the most unique and places I have had the chance to stay! It is "glamping" at its finest. The cabin is adorable, the surrounding nature is stunning (especially in the fall!!), the hot tub was a fun activity and the waterfall provided the perfect atmosphere. I am excited to take more friends back to experience this place!! Pups loved it too.
---
Unique and stimulating space. Listen to Steve when he says the place is rustic. If you love spending time outside you will love everything about this space, from the outhouse, to picnic area, to hot tub. The outhouse ambiance rivals the charm of some of my best backcountry catholes. If you need a hot bath and dont want to stoke the hot tub fire for a couple hours then this probably isnt the place for you. Perfect jumping off place for all your group Leavenworth area adventures. The hut tub is worth the work!!
---
Puget Sound native, Leavenworth has been my home since 2001. I built the Rustic Stone Cabin as a summer long project a few years ago and just recently decided to start sharing its beauty and uniqueness. Along with my wife and kids, we live across the road; out of sight but close …
Языки:
English
Частота ответов:
100%
Время ответа:
в течение часа