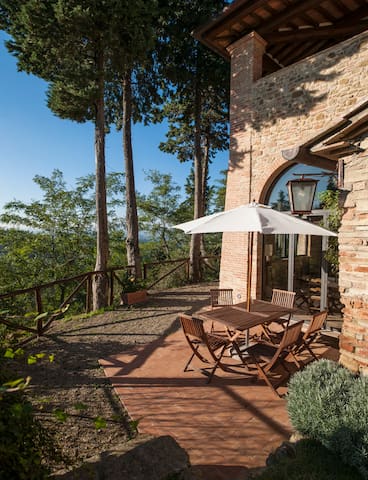 Жилье
Paluffo располагает четырьмя отдельными апартаментами, каждый из которых имеет частный сад - Torre, Stillo, Forno и Frantoio - и главный дом владельца с четырьмя номерами для B & B. Дом Стиро был стабильной и стоянкой для вагонов, теперь состоит из гостиной с камином, кухни, одной спальни с двуспальной кроватью с мансардой с односпальной кроватью, одной спальни с двуспальной кроватью, 2 ванных комнат. Он также имеет стены из камня и кирпича и большие окна с видом на частный сад. Жилой комплекс включает в себя историческую оливковую мельницу, ферментационную комнату, используемую в прошлом для производства вина, винный погреб, вырытый в скале туфа, хлебную печь и две колодцы. Ферментационная комната и винный погреб теперь находятся в распоряжении гостей в качестве общих пространств с диванами и камином. Paluffo - это историческое здание 15 века, восстановленное в 2010 году, сохранившее свою первоначальную структуру и дизайн. Стены наших домов, сделанные из камня, речной гальки и кирпича, претерпели пятилетнюю консервативную реставрацию, которая усилила их архитектурные и конструктивные особенности. Полы состоят из местной терракоты с ручным кирпичом, напоминающим флорентийскую традицию. Зеленые строительные изделия использовались для штукатурки и окраски стен наших домов, чтобы обеспечить максимальный комфорт для наших гостей. Номера были украшены антикварной мебелью, в основном принадлежащей к дому Палуфо, и современным итальянским дизайном; Особое внимание было уделено дизайну и функциональности ванных комнат, где мы предлагаем шампунь, душ и мыло ручной работы, произведенное на основе органического оливкового масла без химических веществ; Наши мыла не содержат SLES (сульфат натрия лауретата) и SLS (лаурилсульфат натрия), ни искусственные тензиактивные вещества, поэтому не являются аллергенными. Во всех номерах есть центральное отопление и кондиционер, а также широкополосное подключение к Интернету WiFi; За лучшие мечты мы выбрали латексные матрасы для кроватей и подушек. УСТОЙЧИВОЕ ПАЛУФФО Paluffo также имеет уникальный природный бассейн без какого-либо химического вещества для очистки воды. Мы уменьшили влияние структуры на окружающую среду, используя различные технологии и решения. Электричество производится 12-ваттной фотогальванической системой. Системы отопления и охлаждения используют возобновляемые источники энергии: в дополнение к системе отопления имеются тепловые насосы, питаемые фотогальваническими панелями, нагрев горячей воды с использованием тепловых солнечных панелей и котлов (сжатых вторичных древесных) котлов. Дождевая вода собирается и используется для орошения, в то время как сточные воды регенерируются с помощью методов растительной очистки. Спокойная и расслабляющая энергия Палуффо является результатом нежного баланса между природой и зданиями, от присутствия древних деревьев, от использования традиционных методов земледелия, исключая использование сорняков-убийц, инсектицидов и неизбирательной эксплуатации почвы из биоразнообразия Растений и цветов. Палуфо окружен шестью гектарами земли, на которой органично выращены оливковые деревья и виноградные лозы, чередующиеся со старыми фруктовыми деревьями (персик, яблоко, груша, ежевика) и другие деревья, типичные для тосканского куста. СПОРТИВНАЯ КОМНАТА Гости могут попробовать и купить оливковое масло экстра вирджин, произведенное в имении. У нас также есть пчелиные ульи, которые производят чистый натуральный мед. Мы предлагаем также винный погреб, которым управляют владельцы, которые сертифицированы сомелье с выбором изысканных вин Кьянти от небольших органических виноделов. ОБЪЕКТЫ • 24/24 7/7 доступность • Ежедневная уборка комнат B & B • Все номера типа "постель и завтрак" с собственной ванной комнатой • Минимальное пребывание 1 ночь (только в определенные сезоны) • Специальные тарифы на 2 или 3 ночи проживания и стоимость невозвращаемого • Предоставляются полотенца • Высокая скорость Wi Fi • AC и отопление включены • Доступна собственная прачечная • Дегустация вина и оливкового масла • Бесплатная парковка • Открытый природный бассейн с садом • 400 кв. М открытых площадей под открытым небом • Пешеходные дорожки • Дегустационный зал для вина и EVO - Гости могут воспользоваться прачечной. В деревушке Фиано (1,5 км) вы найдете 3 ресторана, 2 магазина кофе, пекарню, аптеку, банк, почтовое отделение, бухлер, пиццерию. Лучший способ добраться до Палуффо и открыть окрестности - на машине, можно взять напрокат автомобиль в железнодорожной станции Чертальдо (предварительное бронирование).
Paluffo features four independent apartments, each of them with a private garden – Torre, Stillo, Forno and Frantoio -, and the owner's Main House, with four rooms available for B&B.
Stillo house was a stable and parking area for carriages, now is composed of a living room with a fireplace, kitchen, one double bedroom with a loft with a single bed, one double bedroom, 2 bathrooms.
It features also walls in stone and bricks and big windows overlooking the private garden.
The housing estate includes the historical olive mill, a fermentation room used in the past for the production of wine, a wine cellar dug in the tufa rock, a bread oven and two wells. The fermentation room and the wine cellar are now at the disposal of guests as common spaces with sofas and fireplace.
Paluffo is an historic 15th century building restored in 2010 conserving its original structure and design.
The walls of our houses, made of stone, river pebbles and bricks, have undergone a five years conservative restoration that enhanced their architectural and constructive features.
Floors are made of local terracotta with handmade bricks recalling the Florentine tradition. Green building products have been used to plaster and paint the walls of our houses in order to ensure the best comfort to our guests.
Rooms have been decorated combining antique furniture, mostly belonging to Paluffo house, and modern Italian design; special attention has been given to the design and functionality of bathrooms where we offer shampoo, shower and hand soap locally produced from organic olive oil without chemicals; our soaps does not contain SLES (sodium laureth sulphate) and SLS (sodium lauryl sulphate) nor artificial tensioactives, so are allergenic free.
All rooms have central heating and air conditioning and a broadband WiFi Internet connection; for the best dreams we selected latex matrasses for beds and pillows.
SUSTAINABLE PALUFFO
Paluffo has also a unique natural pool without any chemical for water purification.
We have reduced the environmental impact of the structure using different technologies and solutions. Electricity is produced by a 12kWatt photovoltaic system. Heating and cooling systems use renewable energy: there are heat pumps powered by photovoltaic panels, hot water heating using thermal solar panel and pellet (compressed recycled wood) boilers in addition to the heating system.
Rainwater is collected and used for irrigation, while waste water is regenerated through herbal purification methods.
The calm and relaxing energy of Paluffo results from the delicate balance among nature and buildings, from the presence of ancient trees, from the use of traditional farming methods excluding the use of weed-killers, insecticides and indiscriminate exploitation of the soil, from the biodiversity of plants and flowers.
Paluffo is surrounded by six hectares of land on which olive trees and grape vines are organically cultivated interspersed with old fruit trees (peache, apple, pear, blackberry) and other trees typical of the Tuscan scrub.
TASTING ROOM
Guests can taste and buy the extravirgin olive oil produced in the estate. We have also bee hives that produce pure natural honey. We offer also a wine room managed by owners that are certified sommelier with a selection of fine Chianti wines from small organic winemakers.
FACILITIES
• 24/24 7/7 availability
• Daily cleaning of B&B rooms
• All B&B rooms with private bathroom
• Minimum stay 1 night (in some seasons only)
• Special rates for 2 or 3 nights stay and non refundable rate
• Towels provided
• Hi speed wi fi free
• AC and heating included
• Self laundry area available
• Wine and olive oil degustation
• Free parking
• Open natural swimming pool with garden
• 400 sq. meters of open air common areas
• Walking paths
• Wine and EVO oil tasting room
- A laundry area is also available to guests.
In the hamlet of Fiano (1,5 km far) you can find 3 restaurants, 2 coffe shop, bakery, chemist, bank, post office, buchler, pizzeria take away.
The best way to reach Paluffo and discover surroundings is by car, it's possible to rent a car in Certaldo rail station (reservation mandatory).
Доступно гостям
В качестве гостя квартиры с самообслуживанием вы можете остановиться в частном саду или на террасе или в общем вестибюле, у бассейна, в гостиной и садах, в бильярдном бассейне, беседках и т. Д.
As guest of the self-catering apartment, you can stay in the private garden or terrace or in the common lobby, by the pool House sitting room and in gardens, bio swimming pool, gazebos, etc.
Общение с гостями
Владельцы не живут в Палуфо, но вы можете встретить их в выходные, а также в высокий сезон. Лиана является профессиональным сомелье и придает вино вкус по требованию
The owners do not live at Paluffo but you can meet them during week ends and also during high season. Liana is professional sommelier and leads wine taste on demand
Другие важные подробности
Наши гости ценят вид на тосканскую панораму и мир Палуффо ... вы откроете для себя тосканскую гастрономию и вина Кьянти, тосканский образ жизни, природу ...
Our guests appreciate the view on the tuscan panorama and the peace of Paluffo... you will discover the tuscan gastronomy and Chianti wines, the tuscan way of life, the nature...
---
Время прибытия: 15:00 – 19:00
---
---
Спальня 1
1 сдвоенная кровать, 1 односпальная кровать
Спальня 2
1 сдвоенная кровать
---
Время прибытия: с 15:00 до 19:00.
Arrival and Departure Times
Arrival check in is from 2 pm to 7 pm. Only on request check in up to 8pm.
Chek out must take place before 10:00 am or the day before in case of early departure.
PROPERTY OWNER'S DISCLAIMER - The property owner does not accept any liability for any loss, damage, or additional expenses incurred by the client or any member of the client's party regardless of the cause. The property owner does not accept liability for any injury, death, loss, inconvenience or damage, alteration, delay or cancellation of the booking as a result of war, threat of war, riot , terrorist activity (threatened or actual), natural disaster, fire, sickness, weather conditions, action at an airport or port by any government or public authority, technical problems relating to transport and airport regulations caused by technical, mechanical or electrical breakdowns or with the client's accommodation or other circumstances as amounting to 'force majeure' or Acts of God or other similar events beyond the property owner's control.
Privacy Law
In respect of Article 13 of Italian Law 196/03, please note that: By sending in this form, the user acknowledges being aware of the information note on privacy (Article 13 of Italian Law 196/03) and authorizes his/her own data to be dealt with in the ways and for the purposes indicated therein. The data collected here are used solely to meet the needs of the requested service. This information may be used only by the personnel responsible for this activity and only divulged within the scope and purposes of the service provided.
JURISDICTION - In the event of controversy arising from the booking and property rental, only the Milano Courts can deal with the matter. By signing the booking form and confirming the booking, the customer implies that Rental Agreement has been understood and has thereby been accepted without reserve and without exception. If any of the conditions of this contract have become invalid or were invalid, the other conditions cannot be contested.
Extra Services
All extra services are payable locally in cash.
Breakfast (only for selfcatering, minimum 4 people): 12 euro/adult10 euro/child
Extra bed in double room (only for children under 12 years): 40 Euro
Swimming pool Towel rental: 10 euro/week/person
Telephone: according to use
Maid service: €13/hour (to be booked 2 days in advance and subject to availability)
Cook service: €20/hour (to be booked 2 days in advance and subject to availability)
Cleaning and towels
The owner or his/her representative may require access to the house for maintenance. Bath towels are provided. Towels for the swimming pool aren't provided, available to rent.
Breakfast
Breakfast is available only for guests of Paluffo Main House B&B only from 8.00 AM to 10.00 AM.
NUMBER OF PERSONS –
Please remember that at arrival passports or identity cards of all guests are required for registration.
The number of persons present at the property at all times (adults and children) must not exceed the maximum number of sleeping places indicated in the property description. Violation of these terms may result in loss of use of the property, or financial penalties. Extra bed for children under 12 years sleeping in the same room with parents are allowed but must be authorised by owner in advance.
Animals
Small animals are allowed but must be authorised by owner in advance.
---
---
---
1 ночь — минимальная продолжительность бронирования
---
Nothing says 5+ star review like, We loved our stay so much we're coming back! Paluffo is a one-of-a-kind treasure in Tuscany, an absolute dream location and experience if you're wanting a tranquil, picturesque, and remote yet still small community feel vacation in Italy's finest region. The concept of Paluffo's estate (4 bed-and-breakfast single rooms and 4 apartments, ranging in size) is brilliant, as it provides a sense of community. We've enjoyed Tuscan vacations where we're quite remote--renting a single apartment. Since we prefer a private remote getaway when in Tuscany we weren't sure how Paluffo would pan out. But it surpassed our expectations and then some! The community concept works out splendidly since the property is not small and is so well laid out privacy is easy to achieve despite the 8 different accommodations. We particularly loved the option to take breakfast for 12 €pp on the gorgeous community courtyard (practically private) with fellow guests. (Bed and Breakfast guests have this included.) As a self-catering apartment (we rented Stillo--amazing for our needs as a couple with a dog, though it suits 2 couples+a dog perfectly), we appreciated having the opportunity to have breakfast available. Because who can start the day without a cappuccino and cooked-to-order eggs, especially in Italy? The community feel was also nice when one night we signed up for Pizza Night (one of many activities Paluffo offers). Such fun! Watching homemade stone-oven-cooked pizza made and eating it on our private terrace was delightful. The Stillo apt and grounds were spotless. Housekeeping (when we needed a small ant cleanup) was quick and effective. The cooks for breakfast were so sweet and went out of their way to make sure we had all we needed (and that was a lot of coffee!). Though we didn't spend much time in the central community lounge/living and dining rooms, as we had an apt, the space is decorated with attention-to-detail, a toasty fireplace, and the classical tunes streaming throughout were so charming. This place has ambiance! You literally feel like you're home...just in a dream home! We visited in April when Tuscan temperatures aren't yet too hot, but the apt and common spaces were cool and comfortable. The bed, pillows, and linens were also comfortable (and I'm quite picky). The organic soaps in the bathrooms were heavenly, which you can buy on-site if you want to take some home. The honesty bar in the central dining/lounging space was such a treat when wanting some refreshments. Need some water or beer or wine? It's all there, at all hours. We felt 100% secure and safe with our car parked in the private lot, and shopping bags strewn about our apt living room in plain sight. An electronic keycard can be used to access common living spaces, and there's a locked gate you can access to leave the property. And what a dog-friendly place to stay! We never felt like our dog wasn't welcome. Quite the opposite. He loved sunning on the terrace...
---
This place is even better than the pictures show! We were astonished by the Tuscan landscape surrounding this cute little villa tucked away in the hills. For dinner, you must visit Casa Chianti, a lovely restaurant in a town 6 mins away. We also did the wine tasting & tour, arranged by Pulaffo. It was awesome. Could not recommend this place more highly. We will definitely be back!
---
Our host was amazing! Communicating in advance and making sure we knew how to get to the secluded home. Upon arrival we got a nice short tour of the facility and a quick explanation of how everything worked. Afterwards she was very helpful in making sure we had what we needed aware of any meals needed. The apartment itself was very large and spacious for the four of us. The stay was very relaxing and quiet and the place was beautiful! The views are incredible. Even the breakfast in the morning was tasty.
---
Excellent stay at Paluffo where we enjoyed the apartment Stillo, the stunning natural swimming pool and the overall welcoming atmosphere from Liana, Luca and the team, specifically Agnese. We also seized this opportunity for taking a great Italian cooking class with the whole family : every one loved it, thanks to the Chef (URL HIDDEN) a great Tuscan experience fully in line with the set expectations.
---
This was our first trip to Tuscany and the location and accommodation was everything I wanted. Amazing views and very tranquil. The location was excellent for sight seeing the regions of Tuscany. Very central to most of the main towns. I would highly recommend taking the train form Certaldo to Florence. It was wonderful to come back to such a quiet and beautiful location after a busy day. Our room was as described and the kitchen was excellent. The staff were very friendly and helpful. Initially , we were a little dubious about the pool but that was short lived. It was amazing! We loved the frogs and water lilies. I would highly recommend and we would definitely stay here again.
---
I'm Luca and together with my wife Liana we are the owners of Il Paluffo.
I'm a journalist, MSc. in medical enginering, president and founder of a non-profit company for hearing impaired children, owner of a medical company.

To restore Il Paluffo it took us 6 years and a good dose of hard work. We had a clear idea of what e had in mind: low environmental impact, respect local traditions, high quality of lodging.

It wasn't easy to achieve all these targets in a 15th-century building but we succeeded. Our guests appreciate our philosophy: they love swimming in the bio-pool surrounded by lotus flowers, following cooking classes, tasting our olive oil and local Chianti wines, and relaxing thanks to the calm and meditative atmosphere of Il Paluffo.
Языки:
English, Français, Italiano
Частота ответов:
100%
Время ответа:
в течение дня
Открывайте новые возможности в г. Чертальдо и поблизости
Другие варианты жилья в г. Чертальдо: