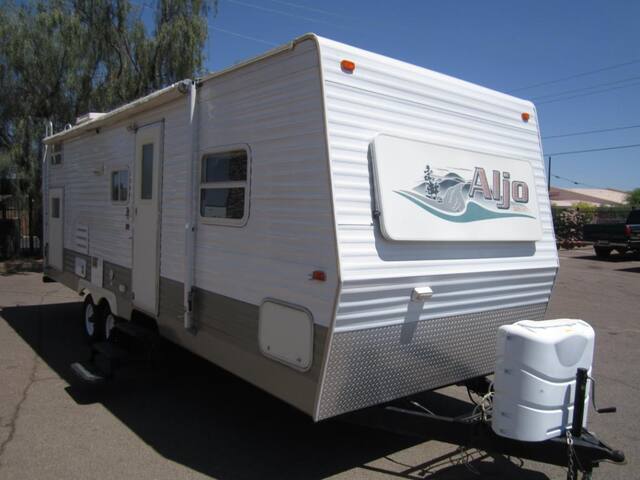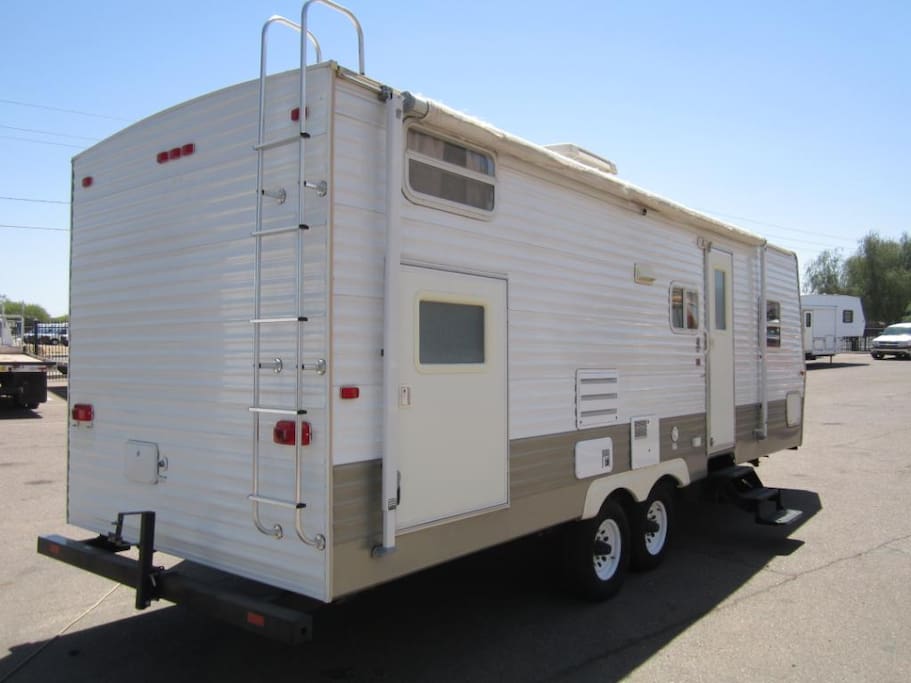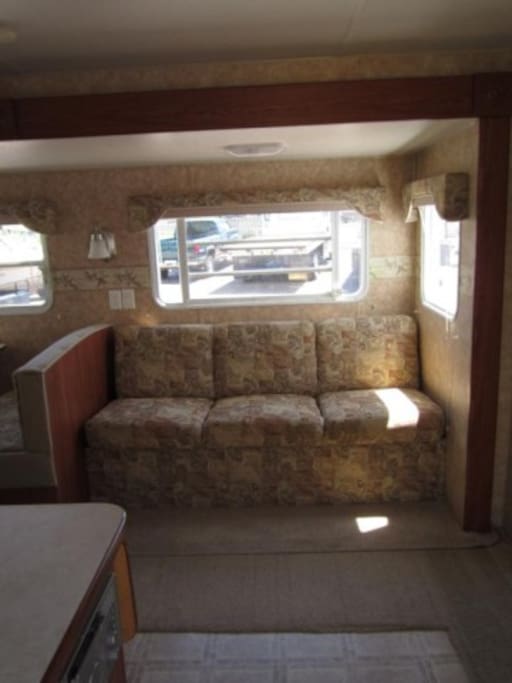 25' Travel Trailer w/ BIG slide-out
Would you like to camp in style? Do you need extra living space for relatives? Are you traveling to our area and need a comfy place to stay? Then our beautiful, comfortable and clean trailer is PERFECT for you!
Жилье
Would you like to camp in style? Do you need extra living space for relatives? Are you traveling to our area and need a comfy place to stay? Then our beautiful, comfortable and clean trailer is PERFECT for you!
It's a 25' Skyline Aljo Travel Trailer w/ a large slide-out in the living room area, private bedroom w/ queen bed, bunk beds, dinette/bed, sofa bed, surround sound, central air, roomy kitchen, awning, outdoor shower, and more! It's clean, comfortable, and perfect for a family getaway!
You can stay in the Travel Trailer on our 1 acre property in Queen Creek, AZ and enjoy our beautiful backyard, pool, and spa. Or, if you have a vehicle that can tow 6.500 lbs (lightweight for a travel trailer), with the correct tow equipment, you can travel with it anywhere in Arizona... except maybe the lower part near Mexico, I wouldn't recommend that anyway.
Also, ask us about generator rental ($25 /day) or having the trailer delivered to your location ($ depends on distance).

Доступно гостям
It's a 25' Skyline Aljo Travel Trailer w/ a large slide-out in the living room area, private bedroom w/ queen bed, bunk beds, dinette/bed, sofa bed, surround sound, central air, roomy kitchen, awning, outdoor shower, and more!
Общение с гостями
We are available anytime of day or night to answer your questions!
Другие важные подробности
Please note that some trip itineraries, including out of state travel may incur additional fees. Please inquire prior to booking.
---
Предметы первой необходимости
---
Okay, so we basically stick to the rule that you return it like you found it! No smoking or pets inside, no kids w/ red Kool Aid, paint ball in the trailer not a good idea... etc...

Plus, if you don't know how to use something... CALL US... ANYTIME, really, we don't mind.

We have a long, boring list of rules (you have to cover your ASSets), please grab a snack, find a comfy spot, and read through them...
Rental Day
The rental day is based on number of nights the trailer is used. If you return it after 6pm on the last day, you will be charged an additional night.
Eligible Drivers
Any licensed adult driver 25 years of age or older, currently covered under an auto insurance policy is eligible. Even though we have insurance on the trailer, you must have your own auto insurance with LIABILITY coverage.
Fuel Information
The propane tanks (and generator if applicable) are filled prior to pickup. We assume no liability for fuel consumption rates. All gasoline and all propane refueling during the trip are at the customers expense. The fuel in the tanks is included with your rental, however, if you accidentally leave the oven on all night, leave water running causing the water pump to run constantly, or make a similar air-headed mistake, please be courteous and refill the fuel tank.
Waste Disposal
If there is a need to dump waste during the trip, the renter is responsible for any campground/dump-station fees. Also, we require that you dump the waste and grey water before you return. If you return the trailer without dumping the waste there will be a $35 dump fee due.
Pets
Pets are NOT allowed in the travel trailer. If you are bringing a pet with you please keep them outside of the trailer. Additional cleaning charges will apply if there is pet hair, odor, etc.
Smoking
Smoking is NOT allowed in the trailer. A $150 deorderizing fee will be charged for smoking odors.
Appliances: The A/C, Awning, Radio, Microwave etc. are convenience items. If any malfunctions should occur with any of these items, no compensation will be made to the renter.
Insurance
The renter is responsible for providing a copy of their insurance to the owner via fax or email attachment. Liability coverage must be proven. If the renter's policy does not include coverage for a trailer that is pulled by the policy owner, the renter will obtain a binder from their insurance company and provide a copy to the owner.
Renter Damage
If the Travel Trailer is returned with damage, renter is responsible to pay all damage costs whether the renter was at fault or not or if damage was caused by acts of nature (Wind, rain, earthquake, fire, flood, etc). If an accident occurs, renter is responsible for obtaining a police report, contacting the renter's insurance company and contacting the owner immediately. The renter (s) who rents through the airbnb website are the only authorized drivers to tow the Travel Trailer. The renter is responsible for all rental costs and any and all damages. If damage amounts are substantial and an insurance claim must be submitted, and renter is responsible for any and all damages, loss of revenue, deductibles, or additional expenses not covered by insurance. Check in time may take up 2 hours for damage estimating, please allow yourself enough time. the owner will estimate the damage and expedite the repairs.
Late Pick Ups/ Early Returns
No refunds will be given for late pick ups, no shows, or early returns.
Tires
In the event of a tire failure the renter should call the owner immediately. The renter may be responsible for having the tire replaced with the same type and bringing back the original tire to the owner along with a receipt for the new tire.
Dry Camping is not advised
When the renter is "Dry Camping" (not connected to an external power source), problems will may arise due to a low battery or failure. The battery will continue to become low until renter is connected to a external power source. Owner is not responsible for the battery being low or any appliance or Trailer malfunctions of the vehicle due to dry camping, NO reimbursements will be given for "Dry Camping Malfunctions".
Responsibility of Damage and Loss: Renter is responsible for the following:
1. All damage to the rented vehicle
2.Loss of use of the rented vehicle while it is being repaired
3. Diminution of the vehicle's value caused by damage to it or repair of it (Not covered by insurance). The diminution in value charge is 2% the value of the rented vehicle.
4. Missing equipment
5.Theft and vandalism
6. Renter must report all accidents and/or damage within 6 hours of the occurrence.
7. Renter agrees to pay such damage costs from credit sources listed in renters rental contract, and resume all responsibility to submit accident reports and claims to the proper authorities
Hook up of rented Trailer
Renter is to provide their own tow hitch w/ stabilizer/sway bars and a 2 5/16 ball for towing. The renter's tow vehicle must be able to safely tow a 25', 6,500 (unloaded weight) trailer. A 3/4 ton vehicle is recomended. It is the renters responsibility to hook up their tow vehicle to the rented Trailer, the owner will instruct renter how to hook up and disconnect the unit to the tow vehicle but renter in the end will connect the Trailer to their tow vehicle before departing.
Check out of rented Trailer
Renter will be given a walk through of their rental Trailer on their pick up day. It is the renters responsibility to ensure that they understand all functions of the Trailer before departing, and to mark down all pre-existing damages on the check out sheet. If renter has any questions or concerns with the rental unit prior to departing, renter must inform the owner so that the concerns or questions can be addressed before departure.
Other Info
It is advised that the renter read about the trailer operation at the following link prior to departure to familiarize themselves with the trailer: (website hidden) Please note that some trip itineraries. Please inquire prior to booking.

Renter understands that by submitting an online reservation for this Trailer that he/she has read and agrees to all the aforementioned policies and conditions.
---
Recently the trailer we had procured for a 10 day vacation fell through and Joanne saved the day! We were able to pick up on very short notice. The trailer was clean and ready to go; we were given a concise walk through of the operating systems and the vacation was saved. Joanne was courteous and very quick to respond to our frantic inquiry, as well as being flexible with pickup / drop off time. I would absolutely recommend to anyone looking for a reliable and enjoyable rental.
---
Joanne was very welcoming and helpful - providing blankets, water and new soap. The AC worked well in the trailer and the site was perfect for access to Queen Creek. The trailer was clean and worked very well for us. I'd recommend the trailer to others looking for inexpensive and easy accommodation in the area.
---
We had a great experience with Joan and her travel trailer. Joan is very easy to communicate with and we got a very nice and clean trailer. The travel trailer made our trip 5 times better and we will for sure rent it again next year so Joan be ready :) If you are looking to rent travel trailer would HIGHLY recommend to book it from Joan!!! Overall experience A+++++++++++++ Thank you sooooo much. P.S. I'll be in touch soon :)
---
We rented the trailer to be parked in our yard to acomodate extra guests here for my daughter's wedding. It worked out perfectly, was stocked with all that was needed. A last minute change in schedule had the owner dropping it off and picking it up at our house, which was very welcome while we were busy with last minute planning. Would definitely try to rent again if the occasion arises. Was so nice to have company right outside instead of far away in a hotel.
---
We rented Joanne and Kelly's travel trailer and towed it up to Flagstaff so that we could camp in style and comfort (and ease, being that we have 2 young children!). The travel trailer was everything we expected and more, the more being items like: plastic utensils, paper plates, paper towels, cooking items (like pans, baking sheets, and even some seasonings), linens and some children's sized sleeping bags are just a few examples of items that we thought we would have to provide on our own but Joanne had us all set up and ready to go. The travel trailer also came equiped with the load distribution hitch which came in extreamly handy since we towed this travel trailer up to the mountains with only a half ton pick up truck. When we left Flagstaff it was 76 degrees and we came back to Phoenix and it was 109 degress, why did we come back?!?!?!?! Would I recommend renting this travel trailer: YES. Were the hosts easy to work with: YES. Would I rent this travel trailer from Joanne and Kelly again: YES.
---
"Life moves pretty fast, if you don't stop to look around once in awhile, you could miss it." - Ferris Bueller
Языки:
Español
Частота ответов:
50%
Время ответа:
в течение дня