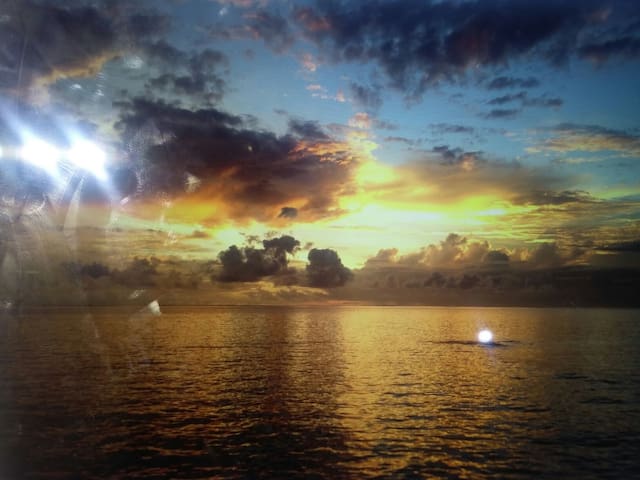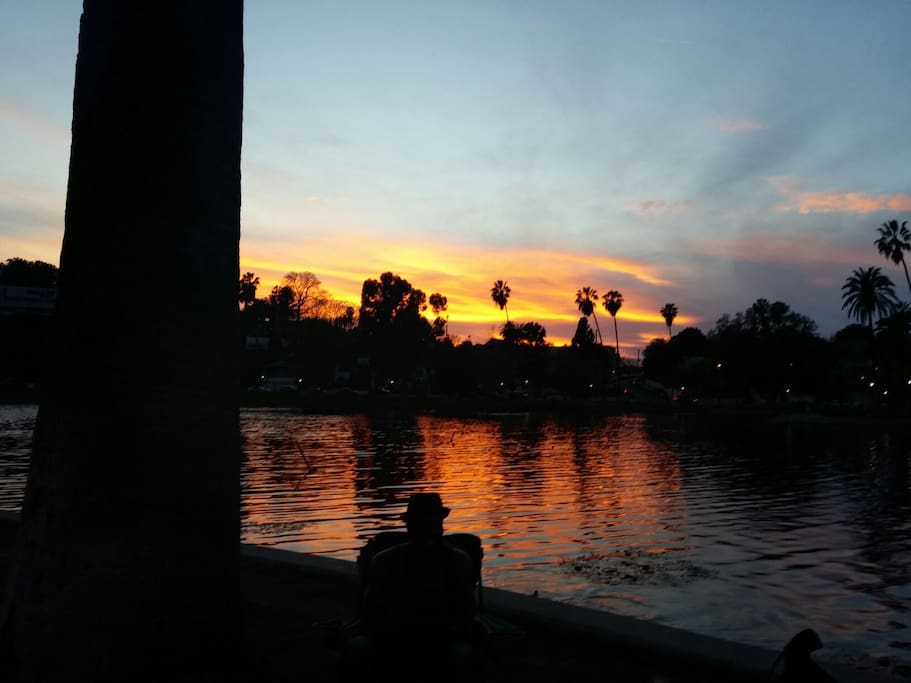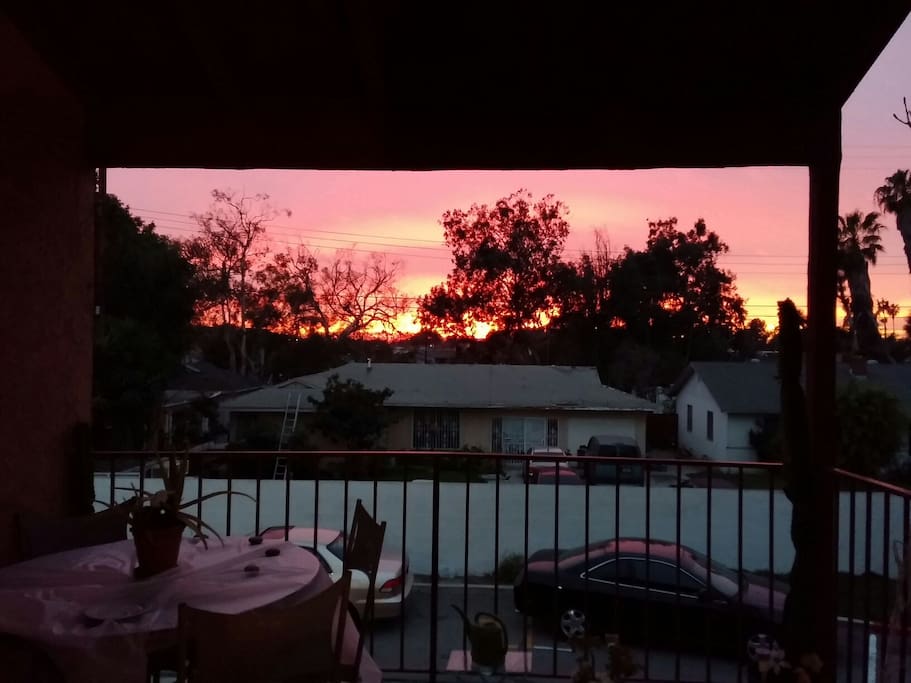 DISNEYLAND/CONV CENTER-"SUNSET ROOM
MUST READ LISTING.
Our "NON-NEGOTIABLE" DISCOUNTED MONTHLY "DAILY" RATE Per # of Days Stay is $28 or $29 (fr $45), and the WEEKLY Rate is $287.
100 MBPS WiFi/INTERNET SERVICE.
THIS GREAT GUESTROOM IS PERFECT FOR WORKING PROFESSNLS & STUDENTS ONLY
Жилье
NOTE: It's IMPERATIVE that you MUST "READ" our Vital Information "BEFORE" CONTACTING US OR SENDING YOUR INQUIRY. NO EXCEPTIONS, PLEASE!!!...
THANK YOU SO MUCH for your consideration. All your QUESTIONS and CONCERNS are already ANSWERED and POSTED on all FOUR LISTINGS.
THE "SUNSET GUEST ROOM" IS VERY COZY AND QUIET, OFFERING A VERY TRANQUIL SERENE ATMOSPHERE, BECAUSE...
...OUR PROPERTY IS LOCATED AT THE VERY FAR BACK END OF OUR PRIVATE GATED COMMUNITY, AWAY FROM THE OUTSIDE MAJOR AND VERY BUSY INTERSECTECTION AND ACTIVE MAIN ENTRY GATE. We have our own "PRIVATE ENTRY GATE" DEDICATED FOR RESIDENTS ONLY, NEAR THE HOUSE.
Our Guests will get their own individual AUTO REMOTE GATE CONTROL OPENER, a set of HOUSE KEYS and the use of the 24/7 ACCESS KEY TO SWIMMING POOL.
THE GUEST ROOM IS FULLY FURNISHED WITH BEAUTIFUL 100% WOOD "EARLY AMERICAN STYLE" BEDROOM SET. NICE SIZE ROLL DOWN DESK/DRESSER COMBO. BRAND NEW GREAT "MEMORY FOAM FULL SIZE MATRESS" WITH AN AWESOME "LIQUID JELL MEMORY FOAM TOPPER", LARGE "FOUR NEW DRAWERS" PEDESTAL BED WITH PLENTY STORAGE SPACE, "OVERSIZED" GLASS TOP DESK AND ORIGINAL TIFFANY LAMP, ROCKING CHAIR WITH ROCKING FOOT REST, A GORGEOUS ANTIQUE BED SIDE WROUGHT IRON/GLASS TOP TABLE WITH A WROUGHT IRON LARGE TABLE LAMP.
It's the LEAST EXPENSIVE GUEST ROOM (approx $28 per Night ("LONG TERM STAY), AND SECOND LARGEST GUEST ROOM IN OUR PROPERTY.
ALSO OFFERING A COMPLETE IN-ROOM FOOD PREPARATION FACILITIES, WITH A ROOM SIZE REFRIGERATOR AND MICROWAVE OVEN, ELECTRIC COFFE/TEA/CHOCOLATE/BROTH/LIGHT SOUP/AND HOT WATER MAKER, ELECTRIC TOASTER/GRILL, ELECTRIC BURNER AND GLASS AND 100% STAINLESS STEEL POTS AND PANS SOUFFLEE EGG AND DESERT MAKER, SILVERWARE, DINERWARE, UTENSILS AND MORE. REGULAR SIZE CLOSET FOR YOUR GARMENTS, ADDITIONAL PLENTY HIDDEN STORAGE SPACE....AND A LOT MORE FOR YOUR ENJOYMENT.
***ALSO I PROVIDE WELL NAME BRANDS SHAMPOO, CONDITIONER, SHOWER JELL, BODY LOTION AND Q-TIPS FOR YOUR CONVENIENCE.***
**Laundry Facility. Full information:
About the Laundry Facility, it's ONLY just STEPS AWAY. A comfortable LAUNDRY KART will be provided it for the use an comfort of all our Guests, and a nice sized LAUNDRY BAG has been left at each GUEST ROOM. A nice "LAUNDRY BASKET" will be provided, if you prefer to use one as well.
Extra Laundry bags will be provided at your request, if necessary. Also, I will be glad to provide you with "LAUNDRY DETERGENT" the first time (if you need it), until you get the one of your OWN personal preference. The "IRON" n the "IRONING BOARD" are also provided. 
COST: It's a $1 per Wash, and $.25 for the Dryer. Both Machines are COMMERCIAL TYPE.
LAUNDRY AVAILABLE TIMES:
MON-SUN Fr 6:00 AM - 10:00 PM.
However, LAST Entry is 8:30 PM, so you will be finished and done with your clean and folded laundry by 10:00 PM
YOU CAN CATCH THE MOST AMAZING CALIFORNIA SUNSETS FROM THE CONFORT OF YOUR GUESTROOM. PLEASE SEE PHOTOS OF SOME OF THOSE GORGEOUS BREATH TAKEN SUNSETS.
"SUNSET GUEST ROOM" IS LOCATED ON THE SECOND FLOOR OF THE TWO STORY, CATHEDRAL CEILING, THREE BEDROOM, THREE BATHROOM GUEST HOUSE.
The FULL SIZE BATHROOM to be shared with just one more Guest ONLY (thanks to 3 Bathrooms in the Property), "if" "SUNRISE GUEST ROOM" is occupied, and it's just right next door in the Hall, AS indicated IN THE PHOTOS CAPTIONS. See PHOTOS FOR THIS LISTING, PLEASE...
...STEPS FROM SWIMMING POOL, OPEN 24/7 DUE TO OUR WONDERFUL CALIFORNIA "SUMMERY MILD SEASONS, INDOOR WOOD BURNING FIREPLACE, GARDEN/BAY WINDOW KITCHEN OVERLOOKING THE COURTYARD, OFFERING 100% GERMAN STAINLESS STEEL POTS AND PANS AND ALL THE NECESSARY STAINLESS STEEL UTENSILS AND GADGETS (if extra needed to use at the Food Preparation Facility offered in the Privacy of your Guest Room). (HOWEVER, Kitchen is not offered or available at this time).
WELL KEPT GROUNDS WITHIN THE GATED COMMUNITY AND VERY SAFE "WALKING PATH".
YOU CAN SEE AND HEAR DISNEYLAND FIREWORKS FROM THE MASTER BEDROOM AND FROM THE OVERSIZED PRIVATE BALCONY AND ALSO FROM THE COURTYARD.
A VERY SPECIAL NOTE TO "POTENCIAL GUESTS" coming to visit California and staying with us at OUR HUMBLE HOME:
Our Ultimate Goal as your HOST is to make your visit as tranquil, pleasant, smoth and satisfying as possible.
YOU DESERVE THE BEST 5 STARS SERVICE we can possible offer, and to help us to accomplish that, we need you, as a Guest to inform us about your concerns and needs so WE WILL TAKE CARE OF THEM ASAP, WITHOUT CALLING AIRBNB at all!!!.
You as a Guest, MUST give the Host every opportunity to make your Stay as satisfactory as possible, by keeping OPEN communication with the Host about your needs. Just please, keep the Host informed about them. Thank you.
Thank you so much for taking your time after your stay with us, to leave an "undamaged, kind and FAIR Review" with Airbnb, SO WE CONTINUE SERVING OTHER GUESTS.

Nothing is more important and rewarding for a Host, then to have a CONTENT AND SATISFIED Guest, by pleasing and fulfilling every single GUEST NEED to the best of OUR ABILITY...
Note:
VERY, VERY IMPORTANT:
ABSOLUTELY NO PETS ARE ALLOW TO ANY OF OUR THREE POSTED LISTINGS. FEAR OF FLEAS, HAIR, AND PET DUST IN THE AIR DUE TO ALLERGY TO GUESTS AND FAMILY MEMBERS. IT'S PROHIBITED TO BRING ANY KIND OF PETS.
UNDER NO CIRCUMNSTANCES WILL BE APPROVED. ZERO TO NONE. THANK YOU SO MUCH FOR NOT ASKING!!!...
Happy Stay!!!.
WELCOME to our Humble Home!!!...
Доступно гостям
"Tour of the GuestHouse"
THERE WILL BE A TOUR OF THE PROPERTY ON YOUR ARRIVAL DAY -"IF" GUESTS WISH TO DO SO-
"Swimming Pool":
GUESTS ARE WELCOME TO ENJOY THE SWIMMING POOL 24/7 ALL YEAR LONG DUE TO CALIFORNIA "SUMMERY" SEASONS.
WE COULD HAVE WONDERFUL "SUMMER DAYS" IN THE MIDLE OF OUR "WARM WINTER SEASON" AS LOCAL WEATHER CONDITION IS POSTED EVERYDAY ON YOUR "MOBILE PHONE" BY THE "WEATHER CHANNEL", AND "ACCUWEATHER" ON THE INTERNET...,
"Indoor Fireplace":
WE ALSO OFFER A WOOD BURNING FIREPLACE LOCATED IN THE LIVING ROOM. WE DONT EXPECT OUR GUESTS TO BUY THE WOOD. WE WILL PROVIDE THE WOOD, ALWAYS!. ALL OUR GUESTS ARE WELCOME TO ENJOY IT!!!...
WE KNOW SOME LISTINGS DO NOT PROVIDE THE WOOD. GUESTS HAVE TO PURSHASE IT. -WE DID- WHILE STAYING AT A CABIN IN BIG BEAR IN THE WINTER TIME DURING "SKI SEASON". EVEN THOUGH IT WAS PLENTY WOOD IN THE CABIN. PHOTOS OF WOOD WERE POSTED ON THE LISTING. IT WAS EXTREMELY NCONVENIENT FOR US GETTING THE WOOD BECAUSE OF THE SNOW CONDITION.
"Main Entry Door"
GUESTS ARE "REQUESTED AND EXPECTED TO RESPECT THE USE OF THE "MAIN FRONT ENTRANCE ONLY" DURING THEIR ENTIRE STAY.
"Back Entry":
THE BACK ENTRANCE FROM THE GARAGE IS "REQUESTED" TO BE USED BY ALL OUR GUESTS ON "ARRIVAL" AND "DEPARTURE" DAY "ONLY", TO "UNLOAD/ LOAD" YOUR LUGGAGES ". WE EXPECT YOU TO FOLLOW THIS REQUEST. THANK YOU!.
Otherwise...BACK ENTRY DOOR AND GARAGE ENTRANCE ARE "OFF LIMIT" TO ALL OUR GUESTS DURING THEIR ENTIRE STAY.
"BACK ENTRANCE" IS "EXTRICTLY" FOR THE PRIVATE USE OF THE FAMILY AND MAINTENANCE STAFF "ONLY".
THANK YOU SO MUCH FOR YOUR COOPERATION!!!.
"Dinning and Seating Area":
ALL OUR GUESTS ARE VERY WELCOME TO USE AND ENJOY THE "DINNING ROOM" AND "MAIN SEATING AREA".
"Kitchen":
THE USE OF THE KITCHEN IS OFF LIMIT AT THE MOMENT...HOWEVER ,
...GUEST ROOM IS EQUIPPED WITH A "COMPLETE" FOOD PREPARATION AND CLEANING FACILITIES. Please see the GUEST ROOM (The Space) DESCRIPTION FOR COMPLETE INFORMATION.
"Shopping for Food":
~~WE "REQUEST" NOT TO BRING ANY "NECESSARY REFRIGERATION/FREEZER FOOD" BEFORE "CHECK-IN" ON YOUR ARRIVAL DAY· GUEST MUST ASSESS THE REFRIGERATOR AND FREEZER SPACE "BEFORE" SHOPPING FOR FOOD~~
~~~ALL FOOD MUST BE KEPT IN GUEST ROOM AT ALL TIMES DURING YOUR STAY. NO EXCEPTIONS PLEASE!!!..~~~WE PROVIDE COUNTLESS FOOD STORAGE CONTAINERS AS NECESSARY!.
"Dinning Room" (plz see above notes about it).
"Living Area":
WELCOME TO USE, ENJOY AND RELAX IN THE LIVING ROOM AREA AND/OR WATCH TV IF THE GUEST WISH TO DO SO AS WELL.
"Bar-B-Q facility":
THERE IS A "BBQ" IN THE PATIO AND GUESTS ARE VERY WELCOME TO USE IT AS THEY WISH PER KITCHEN SCHEDULE.
Please Enjoy your Visit!!!...
Общение с гостями
~~COMPLETE PRIVACY:
GIVING GUEST "PRIVACY" IS IMPERATIVE, THEREFORE HOST WILL NEVER "KNOCK" AT THE GUEST ROOM DOOR WHILE GUEST IS HOME.
-INSTEAD- HOST PREFERS TO "TEXT" GUESTS, "ONLY" IF NECESSARY TO COMMUNICATE AN IMPORTANT MATTER.
I TRAVEL AND GO OUT OF TOWN A LOT, FOR BIZ OR/AND FAMILY RELATED MATTERS WEEKS AT A TIME.
I WILL ARRANGE TO STAY HOME AS LONG AS I THINK IT IS NECESSARY AFTER THE ARRIVAL OF A NEW GUEST(S). I MUST BE 100% SURE THERE ARE NO PENDING ISSUES AND THE NEW GUEST IS 100% SATISFY, BEFORE I SCHEDULE TO LEAVE AGAIN.
Even though we love to give our Guests the PRIVACY they MUST HAVE, we also give them the chance to interact with us at their own time within our "REGULAR HOURS OF OPERATION" 10:00 AM To 10:00 PM.
We make ourselves AVAILABLE 24/7 in case of an EMERGENCY and via TEXT ANYTIME day and night as well.
I WILL GET BACK TO MY GUESTS A SOON AS I POSSIBLE CAN WITHIN 24 HOURS.
Другие важные подробности
★About our HOSPITALITY RATES
★DEAR "NON-SMOKER ONLY" VISITORS AND GUESTS, OUR ALREADY POSTED DISCOUNTED $46 REGULAR DAILY ACCOMODATION RATE, $301 WEEKLY RATE, AND 36% DISCOUNTED DAILY-MONTHLY RATE, ARE "NOT NEGOTIABLE". NO EXCEPTIONS PLEASE!!!... (Please use the "AIRBNB DAILY Rate Filter" if wishing lower Rates). **THANK YOU FOR "NOT" ASKING FOR DISCOUNTS**
OUR RATES are "1 star", but our HOSPITALITY SERVICES ARE our own FIVE PROUD Stars!!! FOR SURE!!!.
100% OF OUR BOOKED GUESTS, USED THE "DAILY RATE FILTER" AND THEY WERE VERY SATISFIED WITH OUR DISCOUNTED ACCOMODATION RATES.
★★ SPECIAL NOTE: AIRBNB BOOKING IS A "FIRST COME FIRST SERVE RESERVATION SYSTEM" ★★(same as Hotels).
PLEASE NOTE THAT AN "APPROVED" INQUIRY DOESN'T SECURE YOUR "APPROVED DATES", BOOKING YOUR RESERVATION DOES
"Arrival / Departure Time"
GUEST ARE WELCOME TO ARRIVE ANYTIME AFTER 6:00 PM TILL 10PM. (A VERY flexible 4 HOUR WINDOW to BOTH GUESTS and Host, in case of any unforseen delay may arrive to any or both parties)
NO PROBLEM THERE, BUT never before 6PM. NO EXCEPTIONS!!!... CHECK-OUT TIME AS POSTED, Is BEFORE 12:00 AM.
LATE CHECK-OUT:
WILL BE CHARGED AN EXTRA DAY STAY AT A REGULAR DAILY RATE . NO EXCEPTIONS!!!... ..we "may be" expecting a Private Family GUEST or a close Friend later on.
WE WILL BE VERY "FLEXIBLE" WITH "LATE CHECK-OUT" PRIOR ARRANGEMENTS.
On Check-In day, THE ONLY REQUIREMENT: GUEST "MUST CALL OR TEXT" THE HOST ON THE MORNING OF THE ARRIVAL DAY TO INFORM THE APPROXIMATE ARRIVAL TIME.
GUESTS MUST CARRY HOUSE KEYS AT ALL TIME DURING THEIR ENTIRE STAY. THANK YOU!!!...
PRIMARY HOST GOES OUT OF TOWN AND TRAVELS A LOT WEEKS AT A TIME, THEREFORE I HAVE TO PLAN MY ARRIVING TIME AT THE PROPERTY AS WELL TO BE READY TO GREET THE GUEST AT THE MAIN GATE.
I ALWAYS LIKE TO GREET THE GUESTS MYSELF. I LIKE TO TAKE CARE OF THE NEW GUESTS AND HELP THEM WITH THE "CHECK-IN" ON THEIR ARRIVAL DAY. IT'S VERY IMPORTANT FOR ME AS A HOST, TO MEET MY GUESTS ON THEIR ARRIVAL DAY!!!....WELCOME TO OUR "GUESTHOUSE"!!!...
Very Special REQUEST:
~~I "HIGHLY REQUEST" please "DO NOT SHOP FOR FOOD" that needs REFRIGERATION " "BEFORE" you CHECK-IN on your ARRIVAL DAY. You MUST "ASSESS" AVAILABLE FRIDGE/FREEZER SPACE in your Guest Room "BEFORE" SHOPPING FOR FOOD.
"ALL" YOUR FOOD "MUST BE KEPT" IN YOUR GUEST ROOM ONLY. NO EXCEPTIONS!!!... ~~WE WILL PROVIDE Sealed FOOD STORAGE CONTAINERS AS MANY AS YOU MAY NEED THEM to prevent ants INVASION...
---
Тип кровати: Настоящая кровать
Время прибытия: В любое время после 18:00
Наличие питомцев: Some pet(s)
---
---
Доплата за каждого последующего гостя 1185 р / ночь после первого гостя
Залог за сохранность имущества 11852 р
Цена на выходные 2844 р / ночь
Общайтесь только через Airbnb
В целях безопасности никогда не переводите деньги и не общайтесь за пределами сайта или приложения Airbnb.
Подробнее
---
Без вечеринок и мероприятий
Время прибытия — после 18:00
NOTE: WE SPECIALIZE IN LONG TERM STAY GUESTS - WE PREFER "LONG TERM - ONE MONTH OR LONGER - WORKING PROFESSIONAL & STUDENT GUESTS ONLY" -
OUR GUESTHOUSE IS A "NON- SMOKING FAMILY HOME". ABSOLUTELY NO EXCEPTIONS!!!...
BOOKING RESERVATIONS REQUESTED ONLY BY "NON-SMOKING GUESTS" WILL BE "APPROVED" TO BE OUR GUESTS!!! THANK YOU FOR YOUR HONESTY.
A LEGAL UP TO DATE PHOTO I.D. IT'S REQUIRED TO REGISTER, THEREFORE, IT WILL BE REQUESTED AT CHECK-IN TO ALL OUR GUESTS AND THEIR "ADDITIONAL GUESTS AND OVERNIGHT VISITORS". NO EXCEPTIONS !!!.
IT'S IMPERATIVE THAT OUR GUESTS RESPECT AND FOLLOW OUR RULES, TO KEEP THE INTEGRITY "FAMILY STATUS" AND HARMONY OF OUR GUESTHOUSE.
THANK YOU !!!.
PLEASE KEEP IN MIND, OUR HOME IS NOT AN "HOURLY STAY MOTEL", IT'S A VERY DECENT FAMILY HOME AND WE MUST KEEP IT THAT WAY. JUST REMEMBER OUR HOME WILL BE "YOUR HOME AWAY FROM HOME"
THE "ADDITIONAL VISITORS RULES" ARE BELOW:
PLEASE NOTE THAT UNEXPECTED "OVERNIGHT VISITORS" ARE ABSOLUTELY "NOT ALLOW" ON THE SAME DAY, THEREFORE EXCEPTIONS ARE NOT GRANTED AND THEY ARE ABSOLUTELY PROHIBITED!!!.
A FEE OF $20 PER NIGHT TO BE PAID 24 HOURS IN ADVANCE FOR ADDITIONAL GUESTS OR OVERNIGHT VISITORS. NO EXCEPTIONS!!!.
ADDITIONAL GUESTS AND OVERNIGHT VISITORS ARE ABSOLUTELY PROHIBITED WITHOUT THE PRIOR APPROVAL FROM THE "PRIMARY HOST" NO LESS THAN 24 HOURS IN ADVANCE. NO EXCEPTIONS!!!.
OVERNIGHT VISITORS HOURS:
CHECK-IN BEFORE 9:OO PM, and CHECK-OUT IS BEFORE 11:AM. NO EXCEPTIONS!!.
THERE WILL BE AN EXTRA DAY CHARGE AT A "REGULAR DAYLY $45 RATE", IF CHECKING-OUT AFTER 12 NOON.
REGULAR VISITORS HOURS END AT 10:00 PM. SOME GUESTS AND FAMILY MEMBERS MAY RETIRE AT 10:00 PM.

ABSOLUTELY PROHIBITED TO BRING ILLEGAL DRUGS, OR ANY KIND OF ALCOHOL BEVERAGES OR ANY KIND OF CIGARETTES TO THE GUEST ROOM OR ANY OTHER PLACE IN OR AROUND THE GUESTHOUSE. ABSOLUTELY NO EXCEPTIONS!!!.
IF GUEST DO NOT FOLLOW HOUSE RULES, RESERVATION WILL BE AUTOMATICALLY CANCELLED AT ONCE AND NO REFUND WILL BE GRANTED.
TO SUMMARIZE THE MOST IMPORT HOUSE RULES, SIMPLY "RESPECT OTHERS AS YOU WANT OTHERS TO RESPECT YOU", "TREAT OTHERS AS YOU WANT TO BE TREATED" AND "DO NOT DO TO OTHERS WHAT YOU DO NOT WANT OTHERS TO DO TO YOU".
Just an EXTRA IMPORTANT SPECIAL HOUSE RULE: Please "LOAD" and "UNLOAD" YOUR LUGGAGES ON YOUR "ARRIVAL" and "DEPARTURE" DAYS FROM THE GARAGE and BACK DOOR ENTRANCE ONLY. ALWAYS!!!
THE FRONT ENTRY DOOR of our GUESTHOUSE, IS NOT "LOADING" and "UNLOADING" ZONE. It's NOT only that it's way FARTHER from the Parking Lot, but also it's very inconvenient for EVERYONE, and We decided to make it as an OFFICIAL ENFORCEABLE HOUSE RULE. We just hope that all our Guests, respect this "very special" HOUSE RULEt as well. thank you!!!
YOU MUST RETURN THE HOUSE KEYS ($180 HOUSE LOCKS RE-KEYED REPLACEMENT FEE) TAKEN FROM REGULAR DEPOSIT & CREDIT CARD ON FILE IF NOT RETURN ON YOUR DEPARTURE DAY. AUTO GATE OPENER ($65 CASH DEPOSIT ON ARRIVAL, RETURNABLE ON DEPARTURE DAY BEFORE NOON)
NO EXCEPTIOS!!!.
Note:
VERY, VERY IMPORTANT:
ABSOLUTELY NO PETS ARE ALLOW TO ANY OF OUR THREE POSTED LISTINGS. FEAR OF FLEAS, HAIR, AND PET DUST IN THE AIR DUE TO ALLERGY TO GUESTS AND FAMILY MEMBERS. IT'S PROHIBITED TO BRING ANY KIND OF PETS.
UNDER NO CIRCUMNSTANCES WILL BE APPROVED. ZERO TO NONE. THANK YOU SO MUCH FOR NOT ASKING!!!...
**** Special Note About the AC, ENERGY POWER, AND WATER USAGE*****
Due to the fact that California is suffering from Water and Energy Shortage for the past FIVE YEARS, City Officials and the GOVERNOR of the STATE OF CALIFORNIA, REQUESTED 100% cooperation from all Residents and VISITORS about the CONSERVATION AND USE OF OUR UTILITIES DEPENDING ON OUR ELECTRIC/WATER POWER OFFERED AND PROVIDED BY the ENERGY COMPANY and THE STATE OF CALIFORNIA.
The Governor CREATED a NEW "ENERGY CONSERVATION LAW" IN RELATION TO OUR POWER/WATER UTILITY USAGE.
The ENERGY Cost was raised as well, to enforce the minimum usage of WATER and POWER. We must and NEED to comply to avoid high PENALTIES FROM $2000 UP TO $10.000 USD FINED to those who WON'T COOPERATE.
SO IF YOU ARE A "WORKING PROFESSIONAL GUEST" PLANING TO GO TO WORK DURING THE DAY, OUR GUESTHOUSE WOULD BE THE PERFECT PLACE FOR YOU.
WE OFFER EACH GUEST ROOM WITH INDIVIDUAL CONSERVATION ENERGY LIGHTS AND CEILING FANS, AND THE GENERAL FAN FROM THE AC SYSTEM, AT THE ADVISE OF CITY OFFICIALS AND THE ENERGY CONSERVATION TEAM ADVISORS FROM THE STATE and the ENERGY COMPANY.
THIS CONSERVATION/COOOERATION SYSTEM HAS BEEN WORKING JUST FINE WITHOUT ANY COMPLAINTS FROM OUR GUESTS.
As long as you are NOT PLANING to STAY home all day, and KINDLY WILLING to COOPERATE with City Officials CONSERVATION ENERGY DEMANDS. WELCOME TO GO TO THE VERY NEAR BY McDonalds (2) within ONE and 2 BLOCKS, KINKOS-FEDEX, Starbucks Coffe (everywhere throughout the City), and City Library, offering AC all Day long. You are welcome to stop by ANYTIME during very hot days. THEY DO NOT MIND YOU TO STOP BY if planing to use the Computer all day, or, during the day, for long periods of time.
EVERYBODY ON THIS PLANET IS AWARE OF "CALIFORNIA WATER AND ENERGY CRISES AND HEFTY PENALTIS AND CITATIONS UP TO $10.000 USD. THE GOVERNOR ANNOUNCED IT ON THE AIRWAVES DURING SPRING TIME, AND IT'S POSTED ON THE INTERNET AS WELL... *****
ABSOLUTELY NO EXCEPTIONS TO ANY OF THE ABOVE HOUSE RULES!!!.
THANK YOU SO MUCH FOR RESPECTING OUR SIMPLE "HOUSE RULES"....
...WELCOME TO OUR HUMBLE HOME!!!...HAPPY STAY!!!....
---
---
---
5 ночей — минимальная продолжительность бронирования
---
GiGi was a very nice host. She went above and beyond to make sure everything was good for me during my stay. This was my first Airbnb experience so I was not sure what to expect. It was a manageable room and place to stay for my three months. The house itself did seem a bit crowded with things, so I mainly stayed in my room. If there was anything I had a problem with, she was very quick to fix it or come up with a solution. If you have any problems at all while staying here, make sure to bring them up to her so she can take care of them. If you don't say anything, you can't assume the problem with go away on its own. We always kept the windows open and never turned on the AC, so i can't speak to how well that worked. The internet speed is about 2-3 mbps which again is manageable for not having to pay any extra for it. Parking was outside the gated community, which was interesting at times, but during the day you are able to park inside the gated community. The laundry mat is right down the street and was pretty cheap. I think I may have learned some Spanish watching the tv in there while waiting for my laundry. Planet fitness is right down the street where I went every morning at 4:30 am to workout and shower. Overall it met my needs for temporary housing.
---
Gigi was a wonderful host, full of energy and ready to help in anyway she could to make my stay as wonderful as possible . The description of the premises was accurate and the room was clean and cheerful. Gigi has the two best behaved dogs I have ever come across. Her rates are very reasonable and the location although not in the most picturesque of Orange County communities is close to Disneyland and many other attractions. I hope you enjoy your stay as much as I did. Geraint (southern California)
---
I'M GiGi...your PRIMARY HOST. ..& DEREK (my son in photo)...I'm his Mother.

Hello WORKING PROFESSIONALS and UNIVERSITY/COLLEGE STUDENTS GUESTS !!!

As your PRIMARY HOST, I will be your "PRIMARY CONTACT" from the moment you use the "INSTANT BOOKING FUTURE", or you sendi a BOOKING REQUEST, or send an Accommodation Inquiry right AFTER READING OUR LISTINGS, to your ARRIVAL DAY at the GUESTHOUSE, untill you CHECK-OUT on your DAPARTURE DAY!!... and beyond... if you need my assistance after you leave as well...
You are very Welcome to contact me again after your DEPARTURE if you think I can be of any help at all. Ok?...

I will assist you to CHECK-IN, give you the "Guest House Tour" (if you wish to do so), I will greet you, meet you, guide you to the GUESTHOUSE from the MAIN ENTRY GATE, give you Home KEYS and AUTO CONTROL REMOTE GATE OPENER and review some important simple "GUEST HOUSE RULES" and airbnb.com "GUIDELINES" to follow, during your entire STAY !!!.... I go Out of Town a lot, for Weeks at a time, but we will keep open communication with my Guests via TEXTING 24/7

If I have to face an EMERGENCY preventing me to be at the "GUESTHOUSE on your ARRIVAL DAY, my son DEREK will greet you and he will be your "HOST" on your ARRIVAL DAY.

We just want you to feel "AT HOME AWAY FROM HOME" right from your ARRIVAL.

You will be in good hands and GREAT CARE from the moment you ARRIVE.

DEREK is also an Airbnb "PRIMARY HOST" at his own LOFT in DTLA and "VINTAGE BUNGALOW COTTAGE" IN HOLLYWOOD HILLS, CA.

My son is willing to help me with the "HOSTING SERVICES" in case of an Emergency.

I will be in DIRECT CONTACT with our GUESTS in every aspect, to make sure everything will be just fine "BEFORE, DURING AND AFTER your STAY", hoping to exceed your expectations.

Even though our Accommodation Rates are One Star, our "HOSPITALITY SERVICES" are "FIVE STAR PLUS..." for sure!!!....

My son has a very busy schedule working for "CBS TV NETWORK" as a Senior Engineer and Architectural Systems, Mainteining and Managing all their Multiple Servers among many of his Duties with CBS-TV Studios in Los Angeles.

I do Independent Contracting with my Interior Designing and Paralegal Work. I set my own hours, making it possible for me to be available on your "ARRIVAL DAY".

So, I will give you a more concrete description of myself because you will be 100% in contact with me:

I'm a very POSITIVE HAPPY and "unique" person, but not eccentric.
In fact, my family and CLOSE Friends call me "GiGi, the One n Only", and "GiGi is the Light of the Party", because I have very high level of Positive Energy, and I hardly ever get tired or hungry, even though I love to eat a lot (very healthy food, I may add) when ever I get to it.

I have the high energy and stamina of an 18 yr old and the strength of a 200 lb adult.
I'm always ready to have fun or work as much as I need to. I do not like to procrastinate at all. I prefer to finish my work "TODAY" instead of "TOMORROW," regardless how long it may take, even if I have to stay up all night when I have to meet a dead line. I do not give up my "responsibilities" at all.

I love new projects and exciting beginnings. Change of plans do not bother me at all, and I'm always ready for new ones. I'm very active person, and I love healthy food from any country. I can eat any amount or kind of "good healthy" food at 3:00 AM as if it was 3:00 PM. It makes no difference to me whatsoever.

For the most part I enjoy the "moment" no matter if it is entertainment or work. I love to HELP people very much, ANYTIME, ANYWHERE.
I do not mind to get involved in any situation as long as it is in a positive way. I'm very emotional and sympathize with people's "down falls and misfortunes".
Because of that fact, I always worked in Public Relations "helping" people, all of my life, like:

...For 18 years, I was involved as a VERY ACTIVE MEMBER of the BOARD OF DIRECTORS of an 80 Household Community, a NON-PROFIT CORPORATION in ORANGE COUNTY, CA.

As a BOARD MEMBER, I was Elected to serve as a VICE-PRESIDENT, and during my last 8 years as an Active Member, I was ELECTED to serve as the PRESIDENT OF THE BOARD OF DIRECTORS and the CORPORATION. I was appointed by the Majority of the Board of Directors to be the PROPERTY MANAGER of the CORPORATION as well.

Worked as a Head of the Leasing Department for Volvo of North America in Long Beach, Ca., and as a Real Estate Loan Officer for a Local Commercial Bank and a Mortgage Company based in Orange County, in California my home State.
As I mentioned before, I LOVE to help people, ALWAYS.

At the present time I enjoy doing Paralegal Work and Interior Designing independently. I love decorating and gardening very much. I Graduated from the Interior Design Institute in Corona Del Mar, Ca.

I love to have family and friends over anytime. It's just fine and enjoyable to me to have company, specially during the Winter Holiday Season and Summer Time. I enjoy huge Gatherings as well as small, more Intimate ones. I feel very comfortable in any gathering setting.
I love to bake and cook for small or large groups. Love going to Concerts and to live theater Performances.

My favorite movies are Romance, Comedy, Mystery, some Suspense, Documentaries, Biographies, Drama, also movies based on Real Life events. I do not like Violence, Horror, Crime and blody movies with dirty language at all.

I will NEVER, EVER use dirty language to communicate with anyone, regardless of their Social Status or my state of mind.
I just detest the use of disrespectful, dirty and ofensive language. It's absolutely unacceptable and intolerable to me.

I love to Dance very much, as well as Biking, Water/Snow Ski, Surf, and Ice/In-Line Skate.
Also I enjoy Gardening very much, as well as Traveling, going to Small Cruises with just hundreds of Tourists like the "Christmas Parade" "4th of July" and alike around the Peninsula, Newport Islands & Newport Bay", as well as very HUGE CRUISES with thousands of passengers like a Cruise in the "CONSTITUTION" around all 9 major Isles of Hawaii. My favorite tourist place, Kawai.
Love eating Healthty Food and
Fine DINNING at fine dining Restaurants, as well as Picnics at the Park and/or at the Beach. Love to take pictures to unique Sunrises and awesome Sunsets, I love photography very much as well.

I'm a very good host, because I identify with my Guests, given the fact that I traveled a lot, and understand how is to be a "Guest". I love Hawaii (I visited every single Island. It's my favorite place in the whole wide world). I visited Mexico, Europe, Tokyo, and traveled throughout South America for six months. I lived in New York, Los Angeles and San Diego. I also visited San Francisco a few times. It's very interesting City, and visited Las Vegas countless times.
I do not like gambling much, but I like their extravagant diversity of Entertainment Shows and their famous, abundant, exquisite diversity of food they offer in every Hotel and around Town as well.

I love to be a Tourist Guide. I know this area very well after living in Southern California for so many years (Los Angeles County, San Diego County, Riverside County, and the other side of the Mexican Border Coastal Towns, like Tijuana, Rosarito, "PUERTO NUEVO" (New Port) home of the best and huge LOBSTER around, as well as the small City of Ensenada, a Port of Call in Baja California, and well known Beach Vacation Resorts and "Hot Spots Tourists of Interest", along the Coastal Border. To be continued....

My Motto is provably "Not to Judge anyone till knowing all the facts of all parties involved".
I would Like to add "I believe giving others the chance to "fix" or remedy a problem or issues, before accusing anyone of "Wrong doing"...
~~~~~
Your HOST DEREK (my son) is a Professional Photographer, loves to Surf, In-Line Skate, Snow Ski (ski Boarding since he was a very small child), Travel, Art Museums, Social Events, and understands three Languages. I call him "Computer Wiz", because of his huge experience and knowledge in Computer Science (Fron Arizona Tech Institute, UCI and Fullerton), working at CBS Studios Headquarters in Los Angeles as a Senior Engineer.

He loves computers and Electronics since he was a very small child. He is an expert in Adobe and Photofinishing. As a Photographer he works mainly with live models on his spare time, and does diversity Professional Commercial Photography work, like Freeway Marquees as well. His Photo Studio is located in Los Angeles at his Loft in Downtown (aka DTLA).
He gets completely involved and Supervision of the "Photo Shooting process", wardrobe, backgrounds, locations, make up, lighting etc, from beginning to end.

His Main "Everyday" Job is a "Special" Yearly Contract with CBS Studios as a Senior Electronic Engineer of Architecture Systems. He claims his Job at CBS managing all their multiple servers as well, is a huge responsibility, but he loves it very much, and he is very thankful to his "Boss" for giving him such a terrific opportunity......
Hope you got to know us a bit better after reading about our personal description...


Языки:
English, Español
Частота ответов:
100%
Время ответа:
в течение дня
Открывайте новые возможности в г. SANTA ANA и поблизости
Другие варианты жилья в г. SANTA ANA: