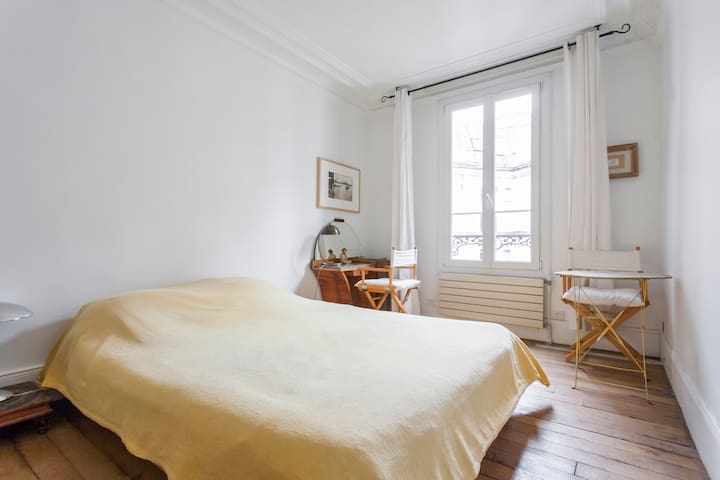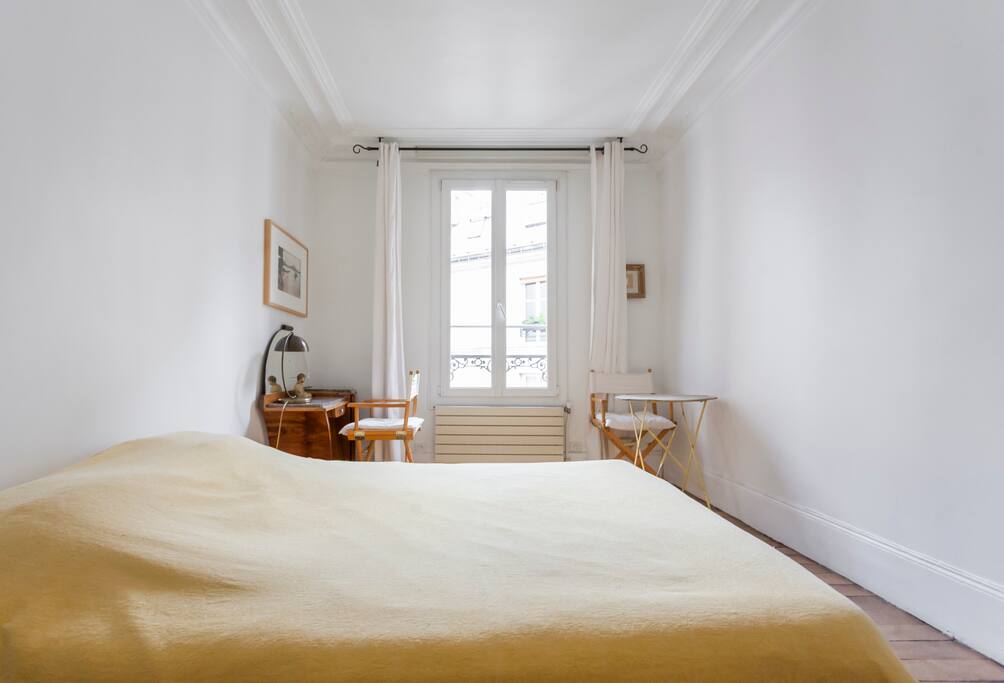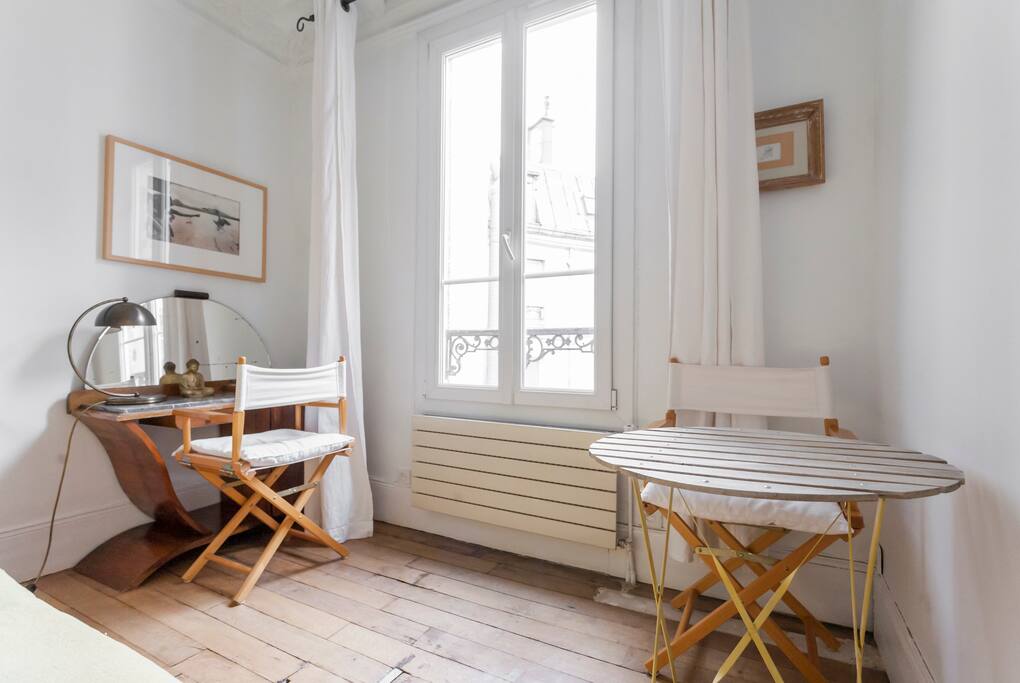 A quiet room in the center of Paris
In a very attractive district of Paris, close to several underground lines, bus and RER, you will benefit from the calm of this pretty and comfortable room giving on court. You can use the kitchen and have a part of the fridge.
Жилье
Very cosy room where you can relax and feel at home. The living-room will be the place where I live, but you can come to have a talk when I invite you. You can have your breakfast in the kitchen.
Доступно гостям
You can use the kitchen and have to share it with me, as well for the bathroom and toilets. I have a very quiet life and I am respectful of my guests' quietness so you are supposed to do the same with me.
-----
RULES in the appartment
No smoking appartment.
No animals
The living-room is private. You have free aces to thé kitchen and bathroom (shared with me).
Please do not make noise at night for respect of my neibourghs.
Order and cleanliness is important. Please clean up after yourself, and keep your room, the bathroom and the kitchen tidy.
Please be mindful of resources: i.e.lights, gas, hot water etc. Its kinder to the environment.
Общение с гостями
My apartment is always very clean. You can use my WiFi connection for free. If you need any information about the city, just let me help you. There are many supermarkets, shops, restaurants, with kitchen from every countries.
----
RULES in the appartment
No smoking appartment.
No animals
The living-room is private. You have free aces to thé kitchen and bathroom (shared with me).
Please do not make noise at night for respect of my neibourghs.
Order and cleanliness is important. Please clean up after yourself, and keep your room, the bathroom and the kitchen tidy.
Please be mindful of resources: i.e.lights, gas, hot water etc. Its kinder to the environment.
Другие важные подробности
I will do my best to make you confortable.
My neighbourgs are very sympatics and friendly.
---
---
Спальня 1
1 сдвоенная кровать
---
Без вечеринок и мероприятий
Недостаточно безопасно или не подходит для детей (0‒12 лет)
Время прибытия — после 13:00
Non smoking appartment.
I do not accept animals.
Please, do not make noise during the night and try to have your shower before 22h at night for respecting my neibourghs.
For ecologics reasons, don't waste the water and switch of the lights when you go out of the room.
---
Sono stato ospitato a casa di Sylvie per due settimane, in occasione di un soggiorno di studio. La permanenza è stata davvero piacevole, anzitutto per l'ubicazione della casa di Sylvie, in una zona centralissima e comoda rispetto sia ai mezzi che alla possibilità di camminare e raggiungere in una ventina di minuti i luoghi principali di Parigi. Si trova inoltre in una strada molto vivace e interessante, a parer mio tenuta abbastanza bene. Per quanto riguarda l'appartamento, ho trovato la stanza messa a disposizione veramente curata e accogliente, così come tutto l'appartamento, gli spazi condivisi sono inoltre funzionali e puliti. Sylvie è una persona davvero degna di nota, accogliente e disponibile a rispondere alle domande, attenta alle regole ma allo stesso tempo molto umana. Una bella esperienza.
---
I stayed with Sylvie during the last week of my (Lynn's) solo trip to Paris. Sylvie was an excellent host who made me feel like I had a home and a great friend in Paris. She was very kind, patient, considerate and very accommodating. From the beginning to end, it was extremely easy to communicate with her and she responded to any questions quickly. Although our schedules did not match much, it was lovely to chat with her about life in Paris and Toronto, current affairs, her work as a journalist and travels. She also recommended many galleries to visit - I will surely use that information for my next trip! She also supported my attempts to practice speaking French outside of my classes, and I definitely felt my confidence and ability to speak it greatly improved at the end of the stay. I was very happy that Sylvie kindly invited me to different events, and although I could not go to many of them during my last week, Sylvie was super understanding and relaxed when I could not attend (and when came back very late during one night out with friends). The apartment was very private, clean and cozy. lovely, warm, clean and cozy. It is on the 5th floor, but I had no trouble carrying my 3 bags up (Sylvie also kindly assisted). Checking in and out was a breeze. There are light switches at every platform as it is on sensors. I felt at home as Sylvie had set out space for me in the kitchen and washroom as well. The washroom and bedroom were extremely clean. The bedroom is very comfortable, and there are lots of privacy. I appreciated the basket of oranges. There is a great Anticafe about 10 minutes away if guests needed a place to work. The building was very safe and conveniently situated near Gare de l'est and Strasbourg St. Denis. The location was great for night life, and for a more authentic Parisian experience. I loved living so close the beautiful gate. It was also just down the street from a Monoprix and many active restaurants, bars, markets of all prices. It was very convenient to find food and necessities and all you need. I tended to get off at Metro Strasburg St. Denis just for the walk up to check out the scene. I had lamahcun (f/Urfa Dürüm - highly rated on Yelp), fallafel dinner, and fruits/candies from the Chinese grocery store. It was very convenient to prepare fresh food at home, as Sylvie also kindly shared cooking basics with me. There are also some clothes shops at the base of Gare de L'Est if you need cheaper clothes in more colours than basic Parisian black :D. Merci Sylvie pour un superbe vacance! J'espère te voir bientot :)
---
Je remercie Sylvie pour son accueil dans son charmant appartement parisien. J'ai apprécié la belle chambre réservée pour l'hôte. Ce logement est très bien situé pour découvrir les petits quartiers animés de Paris à pied. Je recommande vivement une halte chez Sylvie pour tout séjour dans la capitale.
---
He pasado 15 días estupendos en casa de Sylvie. Se prestó en todo momento a ayudarme con mis trámites para quedarme en París, por lo que le estaré eternamente agradecida. Respecto al apartamento: a pesar de ser privado, me invitó al salón en varias ocasiones, el baño es grande y estâ perfectamente limpio, con todas las comodidades y espejos grandes. La cocina pequeñita pero bien aprovechda, puedes cocinar o prepararte un té (gentileza de Sylvie) tranquilamente. La habitación es genial: espaciosa, luminosa y con una cama enorme y comodísima. Muy muy recomendable. Eso sí, no traigas mucho equipaje porque es un quinto sin ascensor. Igualmente es París, merece la pena!
---
This is a wonderful place and I can highly recommend it to all those who search for a calm, peaceful and respectful place to stay in Paris. The room goes to the courtyard and is very quiet. Only with open windows during summer you might sometimes hear some neighbours talking in the early evening, but not during the night, not very loud and never in a disturbing way. The room is well-furnished, and very clean. You share the bathroom and kitchen with the landlady, Sylvie. The bathroom and kitchen are both clean, and Sylvie arranges some space for your personal belongings and groceries. She also provides towels. Sylvie is very welcoming. I experienced her as a very kind and open-minded person. You can have all your privacy you need (and of course, you would be expected to respect hers), but Sylvie is always also open to sit together, talk and/or invite you for having some nice snacks and fruit together. The appartment is in the 5th floor without elevator (good training ;-), but maybe stressful for those who come with three over-sized suitcases). The neighbourhood is divers, with a mix of fency bars and cheap "ethnic food" restaurants. Gare de l'Est is just around the corner. I would always stay there again.
---
In honesty, my acquaintance with Sylvie was fine at first. She made me check in past 9:00pm which was a inconvenient, but I did not complain. Right away she showed me the place, immediately followed by a set of precise and sternly emphasized rules surrounding many things. Fine, I thought, I'm a tidy, respectful person--not a problem. HOWEVER, the next night, my friends (3) and I are in the neighbourhood and decide we want to grab some food before we head back to one of their apartments. I had prepared food earlier in the day and offered to have them over BRIEFLY just to eat the rest and we'd be on our way. They were informed it was an airbnb, and that it must be a quick and quiet visit. We were in my room for no more than 5 minutes when Sylvie, literally, barged into my room and proceeded to yell and terrorize everyone for the terrible crime of eating pasta in my bedroom at night? (Reminder: there is no where else for you to eat in Sylvie's apartment) The word terrorize doesn't even convey the level of shock her behaviour invoked. We were forced to drop all of our things and exit the apartment without even putting our shoes on. I was without a home, in a brand new city, with 50lbs of luggage on my back in that minute -- Sylvie did not even show one ounce of sympathy or understanding to the reality of the supposed crime or of the desire position she put me in at that time. If you want a place you are told where and when you can eat, where you need to tip toe at all times or perhaps go to bed by 10:00pm so she isn't woken up, and, most importantly, where you must live in absolute solitude--seriously, you can't have guests over for a few minutes--then Sylvie is the host for you. How ever, if you're a normal person who lives a normal life wherein you enjoy another person's company, or the ability to enjoy basic freedoms in your place of living, look somewhere else.
I am very surprised that James did not understand how rude, irrespectfull and offending he has been when he stayed by me. It seems he does not know the essential good manners and the general rules between human beings. Even worth: he goes on lying about what happened exactly. He introduced 3 persons that I do not know (and did he know them ?) at 3 o'clock in the morning. They did such a noise by closing and opening the doors between the bedroom and the kitchen, that I had to get up and discover those four persons in my home, laughing loudly, eating pasta over the bed and spoiling the cover with ketchup... James just broke the universal security rules: never introduce people you do not know in your home. And overall when it is not your home. Noise in the middle of the night is out of law of the property. In the building, there are 5 families with little children. I did not "yell" neither "terrorized" anybody, as James pretends. The situation was so extreme that those four "surprise hosts" immediatly understood they exceeded their rights to be there. I asked them to go away and they did. James had told me he had a brother living in Paris. If James had red the Airbnb rules I wrote, he would have seen my hosts cannot invite people by my place. This bedroom that he rented - for 1 person, and not for 4 persons - is not a colocation. He did not rent the full appartment, but one bedroom, in the appartment where I live. There is a little table in the kitchen to have meals that all my hosts used with pleasure. I had a lot of hosts who were very happy to stay by me, very respectful of the peacefull atmosphere of my place. We had lunchs or dinners together because I could trust them and because we had spoken about the project together. Airbnb did agree with my position and cancelled James reservation for his non respect of my home. I have lost a full month of booking, when I could have required that James pays it all, but I just wanted to get rid of him . Paris is not a postal card. I am not responsible of the homeless people getting more and more numerous since the financial crisis, the wars all over the world. The refugees are running away and emigrating to Europe… and Paris. But it seems James does not know about those terrible facts and lives in his dreams.
---
Частота ответов:
89%
Время ответа:
в течение дня
Открывайте новые возможности в г. Париж и поблизости
Другие варианты жилья в г. Париж: