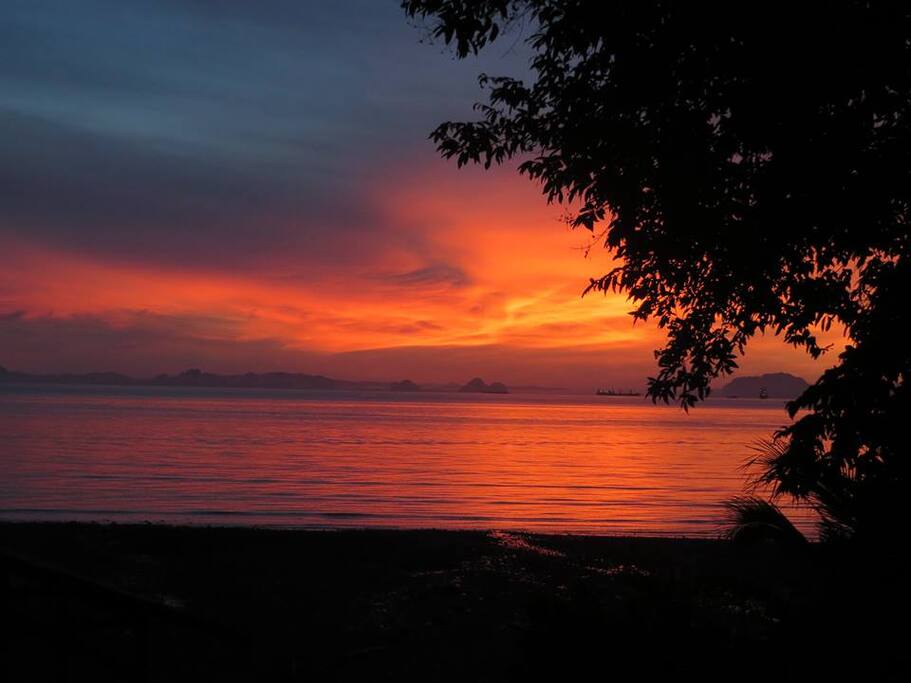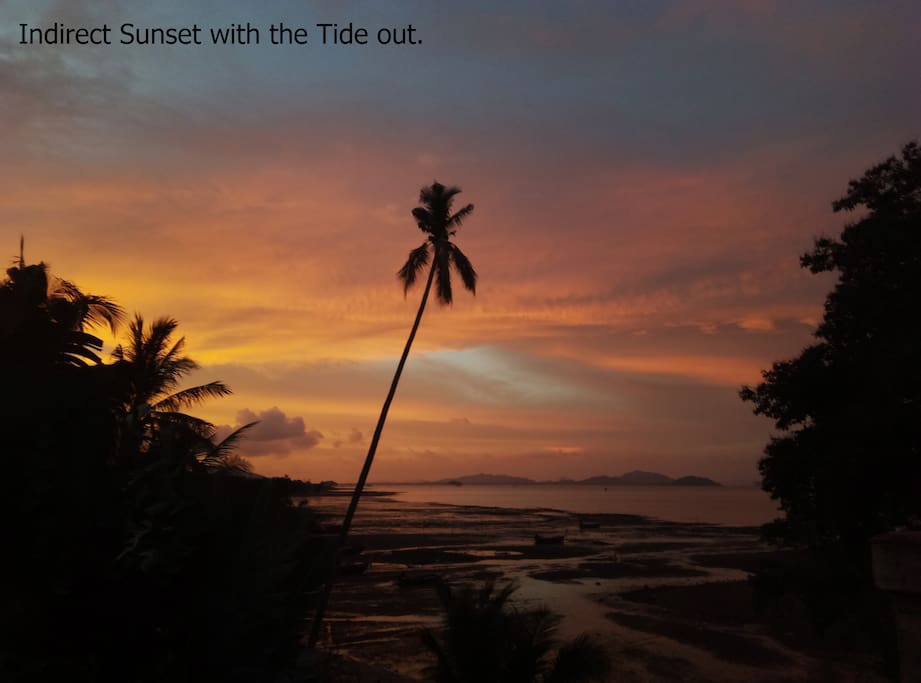 3 Amazing Lanta Old Town Paradise With Pool.
House comes with 2 free motor bikes. Located just 3 minutes from Old Town by motorbike.
As you can see from our customers reviews, our houses are awesome for people that like a quiet paradise. We do have a mostly rocky beach. If you like geckos, eagles, fireflies and the beautiful sounds of birds, our houses can be magical. Most people on earth will only dream of sleeping in an open bedroom designed like a tree house with an open view to the sea and islands. Our sunrises truly amazing.
Жилье
Must Read!!! We recently got a review from a guest that stayed in House 3 that really answered the difference between Lanta Old Town and our area that is located 3 minutes away. We want to share it with you.
Theodore Review.
Tom and Kan'a place is awesome. I would say it is a 5 star bohemian style resort. I have stayed in Lanta Old Town a few times and love the people, But the real Old Town Paradise is 3 minutes south at Tom and Kan's. Tom and Kan have beautiful houses,and beautiful gardens with coconut trees. The balcony's were designed for star gazers. We slept on the balcony under the star and universe. Truly heaven on earth. From sunrise to sunset the view was just spectacular. Tom and Kan and their children live on the property and were always there to help us with everything. Really enjoyed a boating trip with them. The islands out from them are just amazing. Lanta Old Town is really made of two village's One side is Chinese Thai and it is very clean and when people talk about how nice Old Town is they are talking about this area. Great restaurants and great shopping. It is truly and awesome place. The other side that has most of the airbnb rental poll-houses It has lots of garbage everywhere and the houses are one meter apart. I would not rent a poll-house again. There was construction going on each time I stayed there. They don't clean under the houses and the smell was bad there... Anyway, I will spend my time and dollars where its very nice, peaceful and where my guests and I are being taken very good care of!Love to come back soon to Tom and Kan's beautiful homes by the Sea!
Truly Heaven on Earth. Sea Front House with Pool 3
Our family sleeps on our balcony almost every night that it is not raining. The stars and the universe are awesome.
We have added cushions that make single or king size beds to our houses so our guest can enjoy our universe bedroom. It is so amazing! We have almost no mosquitoes.
We are Located very Close to Historic Lanta Old Town. Just 3 minutes by Motor Bike. Easy to visit, but we are a much quieter Paradise.
We have free electricity and water.
We offer offer one free trip to Ko Lanta Old Town everyday.
Our area has a more rocky beach front That is not great for swimming, but more than makes up for that with the view and we are located in the quietest place on the island. We do have guest that like swimming at higher tides and they really enjoy our free kayaks. We don't have loud bars playing music all night. It is more like the Ko Lanta I came to 16 years ago.
Most of our guest like enjoying the days out and about visiting sandy beaches and Island snorkelling trips and then coming back to the quiet paradise here. Some guest like sitting here in the shad with our beautiful palm trees and reading books. For a sandy beach Klong Nin is great with some of the best sandy beach's. It is about 18 minutes and has louder music for night life.
Доступно гостям
У нас есть отличная еда в 30 метрах от нашей собственности. У нас также есть 20 ресторанов в 3 км.
We have great food available just 30 meters from our property.
We also have 20+ restaurants within 3km.
Общение с гостями
Мы здесь для любых ваших нужд. Вы можете прочитать, что наш гость всегда счастлив, что мы там, чтобы помочь им.
We are here for any of your needs.
You can read that our guest are always happy that we are there to help them.
Другие важные подробности
Если вы хотите насладиться Старом Городе Ланта, не находясь на расстоянии одного метра от своего соседа, мы лучше всего. У нас есть новая скоростная лодка для рыбалки, труб и лыж. Верхний этаж дома Ки - один из видов открытого дерева. Мы единственный курорт в Таиланде, который предлагает это. Это действительно одно из самых удивительных мест на земле. Проснуться с восходом солнца и пением птиц поистине незабываемо. У нас почти нет комаров, расположенных прямо на берегу моря. В нашем бассейне есть бассейн и отличное место для охлаждения.
If you want to enjoy Lanta Old Town without being one meter from your neighbor we are best.
We have a new speed boat for fishing, tubing, and skiing.
The upstairs of Ki house is a one of a kind open tree house design. We are the only resort in Thailand that offers this.
It is truly one of the most amazing places on earth. To wake-up with the sun-rise and birds singing is truly unforgettable.
We have almost no mosquitoes being located right on the sea.
Our Pool's are plung pool and a great place to cool off.
---
---
Время прибытия: с 14:00 до 21:00.
We do ask guest to keep our area quiet, especially after 9pm. We do want customer to enjoy them selves and still be respectful to others.
Вы должны также принять к сведению
В доме живут собаки
---
Perfect place for those who wants to escape from any civilisation and just meditate and relax. Very quiet, "back to nature" style. Bedroom upstair is very special - you can sleep under sky with almost no mosquitoes. Motorbike rental is a must, at least to go to 7-11. Tom is a good host, helped with everything. Swimming pool perfect for kids. Good thing is to buy some fish from a fishermen living nearby and do some barbecue) Tom was really helpful. Place is recommended.
---
我和家人一行五人,想避开拥挤的游客群,去体验宁静而纯粹的泰国南部海滩。在偶然的情况下选择了Kan and Tom 的别墅,但非常幸运的在这度过了美好的五天四晚。 来兰塔岛当日,我骑摩托环岛游。即使是雨季,安达曼海时而在愤怒的拍击西岸,在汤姆家附近的东岸却是风平浪静。汤姆家的别墅简洁而舒适,在大厅、厨房、甚至在二楼卧室的床上,随时可以看到海景。各类热带植被环绕着别墅,门前几棵高大的椰子树,飞蜥穿梭其中,运气好的话,你可以看到鼯猴在树间滑翔。附近海滩上的大树(红树科),树下在夜间是寄居蟹聚会的地方。到了晚上,有萤火虫点缀在灌木丛中。我的儿子在这里仿佛来到乐园,每日与我们参加在岛上预订的活动之后,便在汤姆的海滩上玩。他和杰瑞(汤姆的儿子)在沙滩上挖到了"海参"(应该是一种象鼻蚌),还一起抓了许多彩色的小螃蟹,杰瑞教他用剥了皮的螳螂虾来喂养这些小囚犯。前几日回国,儿子说在兰塔没有玩够。 我和太太住二楼,卧室为半开放式——在床上便可看到阳台上超宽视域的海景。两边墙安装了可滑动实木格栅,房顶为木质坡屋顶,卧室整体通风采光一流,且极具东南亚风格。我们每晚在海声中入睡,早上在鸟鸣和穆斯林的晨礼中苏醒。在汤姆极力推荐下,我们索性把床垫搬到阳台上,晚上在阳台上酣睡于星海下。因位于海边,夜晚平均温度低,这里几乎没有蚊子。 美帝屋主汤姆五十多岁,早年游遍世界,最后选了泰妹Kan,定居泰国,在岛东南部海边拥有一块土地,与妻深居于此十二年,现已是四个男孩的父亲。汤姆谈起在他领地出没的野生动物和自己设计的别墅,满脸自豪:"你知道吗,在这个属于我的地方,还有很多工作等着我去做喔。""这不是工作,是乐趣。"我说。 综如上述,我诚意向诸位推荐Kan and Tom 的别墅:这里有风格独特的别墅,美丽的风景,安逸宁静的安达曼海和友善的屋主一家。 又及:此民宿的具体信息在爱彼迎上有介绍之外,以下是我的建议: 一、租赁一辆摩托车。老镇距离汤姆家四分钟车程,镇上有便利店、海鱼和肉类贩卖档口,甚至有三至五家在猫途鹰位居本地前列的餐厅,自己烹饪或就餐会变得非常方便。 二、不能捕杀野生动物和随意采摘果实。即使在汤姆领地外,岛上对野生动物保护的也十分注重。岛上的大蜥蜴喜欢趴在公路上晒太阳,岛民们驾着车也得恭恭敬敬停下来的等着它晒够了回到路边的草丛中,这是我们一家人亲眼所见。 三、你可以订购汤姆家的出海游玩服务。尤其是雨季过后,汤姆家的对开海面的风景更是一流,由汤姆带你出海到附近的岛屿游玩,我相信你不会失望。
---
Kan and Tom's units are the perfect getaway. I've been backpacking with 4 friends and it was the perfect escape away from the Hostels and the crowds. Old Town is extremely charming and only a 10 min scooter ride away, so the location of Kan and Tom's place is very ideal. Also, the national park is a beautiful 30 min scooter ride away. If you're looking to escape tourists and want a real Thai experience, look no further. Thanks again Tom. P.S. Take Tom up on his offer to boat you around to the islands off of Lanta. What a great day.
Thank you Tommy you are always so welcome here and it was a fantastic day on the boat. The caves were amazing and the weather was great. I really enjoyed the day. I was so glad that you so enjoyed the Tree house suite and found it amazing even during the thunder storm. It is one of my favorite places to enjoy a good storm. Old town is just 3 to 4 minutes from our driveway by scooter around 3km. Hope to see you all again soon.
---
Very nice house with a wonderfull view. The place is calm and quiet. Tom an Kan are very nice people. Tom proposed us a nice boat trip in the nice bay.
Thank you so much Fabrice. You have such a wonderful family and you are always so welcome here. It was a fantastic day out on the sea with your family. Really glad you enjoyed the star gazing from our balcony. We built our homes for guest like you. Take Care Kan and Tom
---
Me and my friend wanted to see authentic Thailand away from the crowds of tourists. We stumbled across Kan and Toms place and were lucky enough to be able to stay there for a few days. The villa was clean and comfortable with stunning views out onto the ocean and surrounded by nature. Sit outside in the evening and see bats, fire flies, geckos and if you're lucky, a flying lemur! Tom kindly took us to old town to pick up some groceries on our first day and was easily contactable if needed information. We had a really wonderful time on Ko Lanta surrounded by natural beauty. Kan and Toms place is in a quiet and restful area ideal for families or for people who want to relax! Rent some kayaks and explore the uninhabited neighboring islands and make sure you pop over to their neighbour who makes delicious tacos and stunning Thai food! Gorgeous villa, incredible views, kind hosts! What more could you want?
---
Kan and Tom's Houses located in a very beautiful and quite place, directly at the seaside. This is socalled" face the sea with the hills for background."From the entry to every house's private Garten all the ground was carefully decorated with tropical plant. But the most fascinated design for me is the half open second floor, sleeping with sea wind and under the stars should be my favorite hotel experience( there is no mosquito). Kan und Tom are also very Kind to us, everyday offer to drive us to the old town for lunch, and the restaurants he recoomend should be the best and the most cost-effective restaurants, what we have tried in Koh lanta. Thanks a lot,Kan and Tom. Hopefully see you again in my next Thailand vocation.
---
Husband and wife with four children.
Языки:
English
Частота ответов:
100%
Время ответа:
несколько часов
Открывайте новые возможности в г. Ko Lanta Yai и поблизости
Другие варианты жилья в г. Ko Lanta Yai: