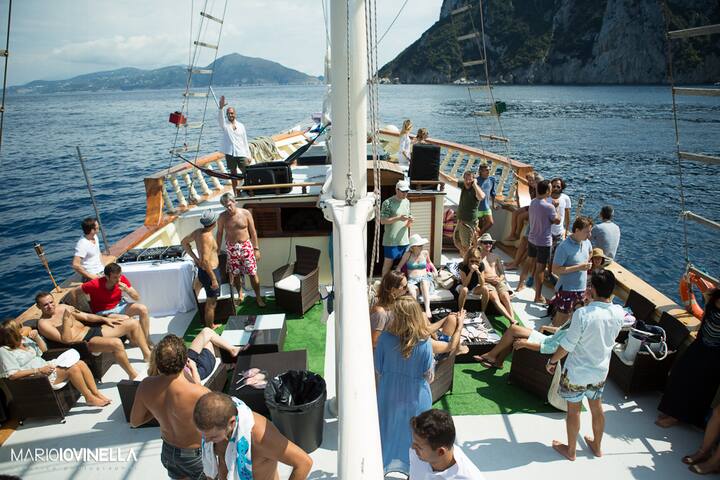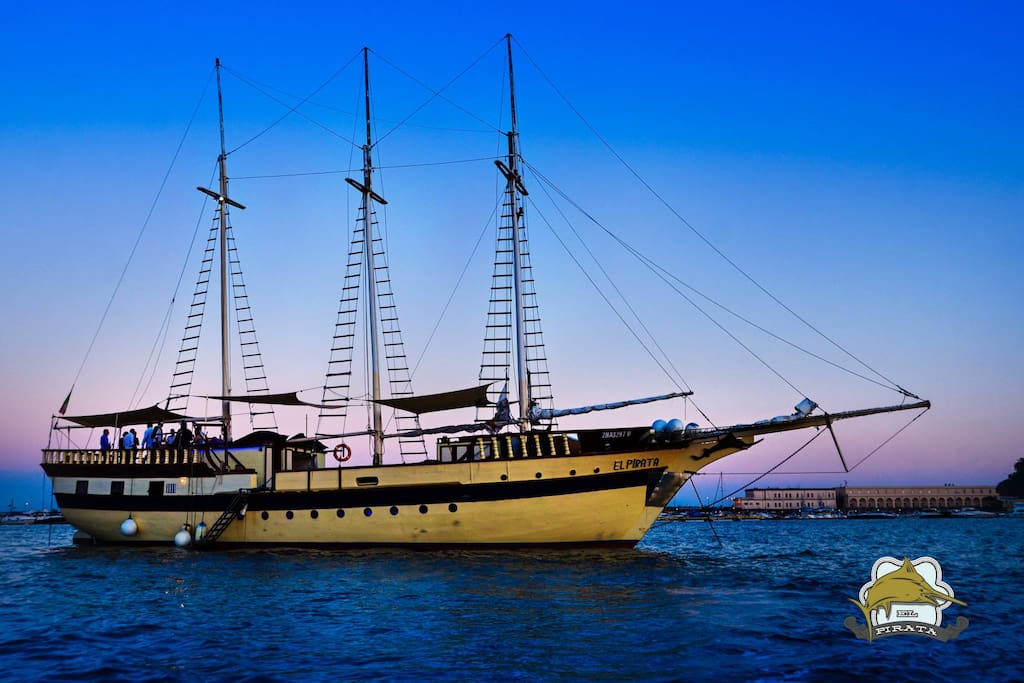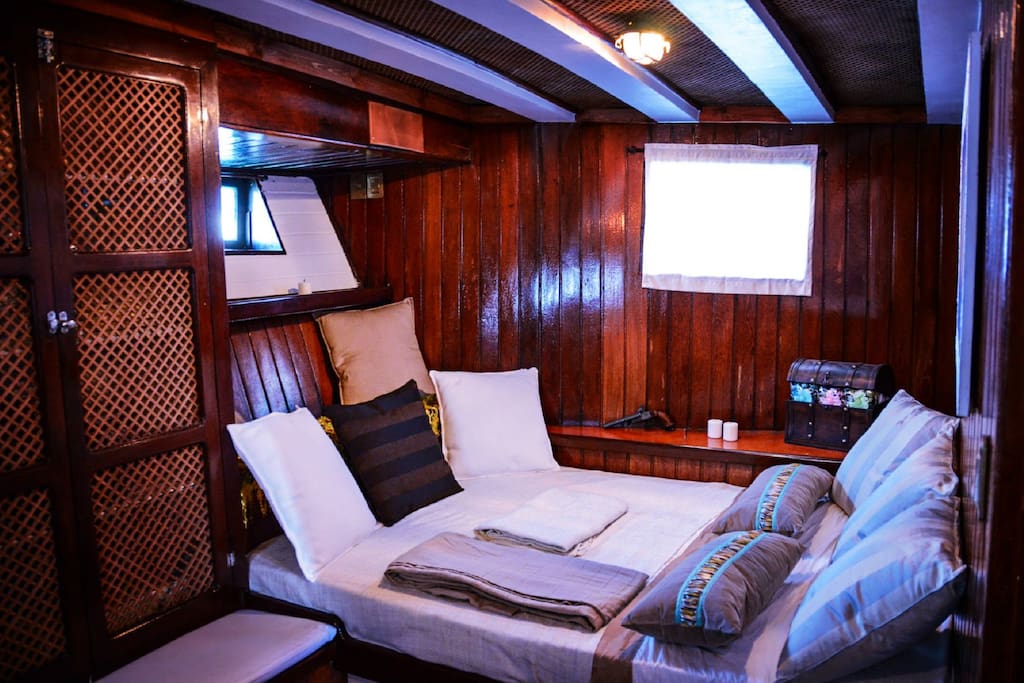 ElPIRATA BOAT B&B,CHARTER&DAYTRIP
Contact us for B&B any events as wedding, parties, birthdays, day-trip, Blue Grotto
Жилье
The incomparable design of El Pirata Boat, combined with its position, from where you can enjoy the breathtaking landscape of Naples, make this boat an out-of-the-common location, attraction for people from all over the world.
A stay on board will be unforgettable ...
Доступно гостям
Our giant boat can allocate overnight groups up to 16 px and up to hundred when moored.
ElPirata has a luxury suite with private bathroom, 3 double-bedrooms and 3 twin-room bedrooms with outdoor bathrooms. The central hall is spacious and furnished with all the amenities and comforts.
Bow-side is positioned a fantastic 5-person Jacuzzi, the ideal location to enjoy unforgettable sunsets sipping delicious cocktails made at the deck-bar or to dream under the stunning Neapolitan sky.
Guests can take advantage of all the available external, entirely covered and warmed up when necessary, wide spaces, including Solarium and a sofa lounge.
The interior offers a charming spot with stylish furniture: meters of sofas are placed in the 50-square meters living room equipped with flat screen TV and music system.

---
We had three lovely and unforgettable days at ElPIRATA BOAT with 14 friends. The ship is spacious and offers below and on deck multi opportunities to relax. We sailed every day to a different bay and had the opportunity to explore the nice villages on the coast. The cook did a great job (cooking on a ship!!) and the crew is gentle and open to suggestions. If you are looking for a sportive environment with lots of freedom and possibilities EIPIRATA is the place to be.
---
This is absolutely a great place to stay. Amazing location, and the owner is extremely friendly and helpful. All the facilities are really nice. The view from this boat is stunning. El pirata is beautiful and spacious. I fully recommend it for business trips as it offers the right atmosphere to relax after an efficient day.
---
これほど素晴らしい体験ができるとは思ってもいませんでした。 船から眺める景色は素晴らしく、涙が出そうなほどでした。一生の思い出です。 船の上に泊まるというスペシャルな体験ということもあり少し不安でしたが、フランチェスコさんは非常に親切でおいしいディナーも紹介してくださり本当に特別な夜を過ごすことができました。 皆様にもナポリに来た際は是非とも体験して欲しいと思います。 下記は色々な人に知ってもらいたいので拙い英語で書いておきます。 I had never thought that i could experience such a great stay in my life. Francesco's El Pirata was amazing. You can see the most beautiful scenery in Naples. The beauty of the morning sun is special and can look at fishermen going for fishing. The sun rises and feels very good with lunch. And the night view from the sea is splendid. I might overstate, I feel Life is fantastic. La vita e bella! Also, Francesco and his captain William is so kind and have full of hospitality. In the Galeone, there are very clean and comfortable and can taste a luxurious feeling. And at the dinner, He introduced me his Friend's restaurant "Friggitoria Mediterranea". there was so good taste and very cozy. I could eat No. Naples pasta and vino. When I will go Naples again I must stay here again. I hope more and more people will stay here and be made happy. Grazie!!!!!
---
Excellent Experience!!!!! We are a group of young professional from New York City looking for a relaxing day out in the sea to Capri island. The boat picked us up in the sorrento coast and we sailed along the coast to reach Capri. It takes about 1+hr to reach Capri from sorrento by this boat. The ride was smooth, since the boat was big and the weather was good to us on the day of. The boat is clean and have full bar, and kitchen. The staff was able to cook us a great lunch, and the day sail have given us enough time to enjoy the sea and the island. The staff were extremely friendly and willing to show us around and help us to get to know more about the culture of the island and town. I highly recommdate this for private large group outting. They will show you a good time.
---
Частота ответов:
90%
Время ответа:
в течение дня
Открывайте новые возможности в г. napoli и поблизости
Другие варианты жилья в г. napoli: