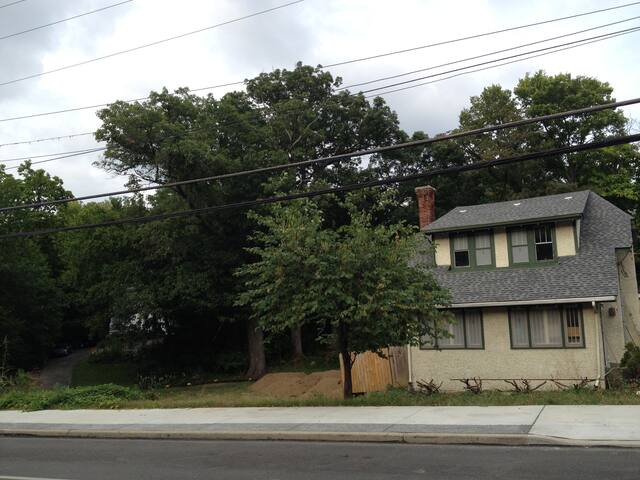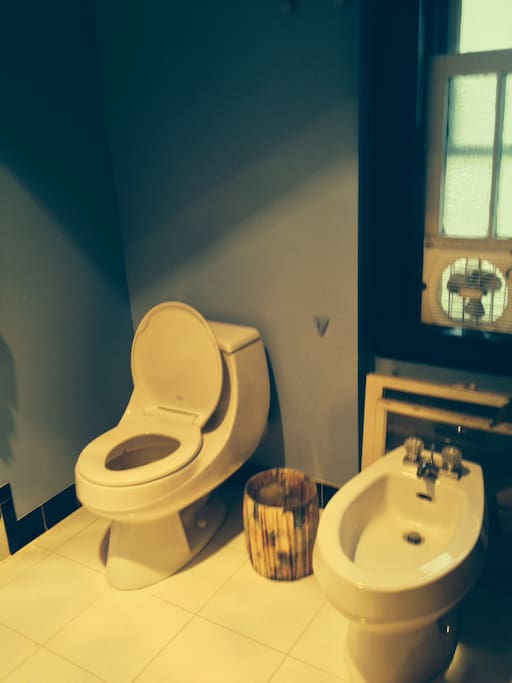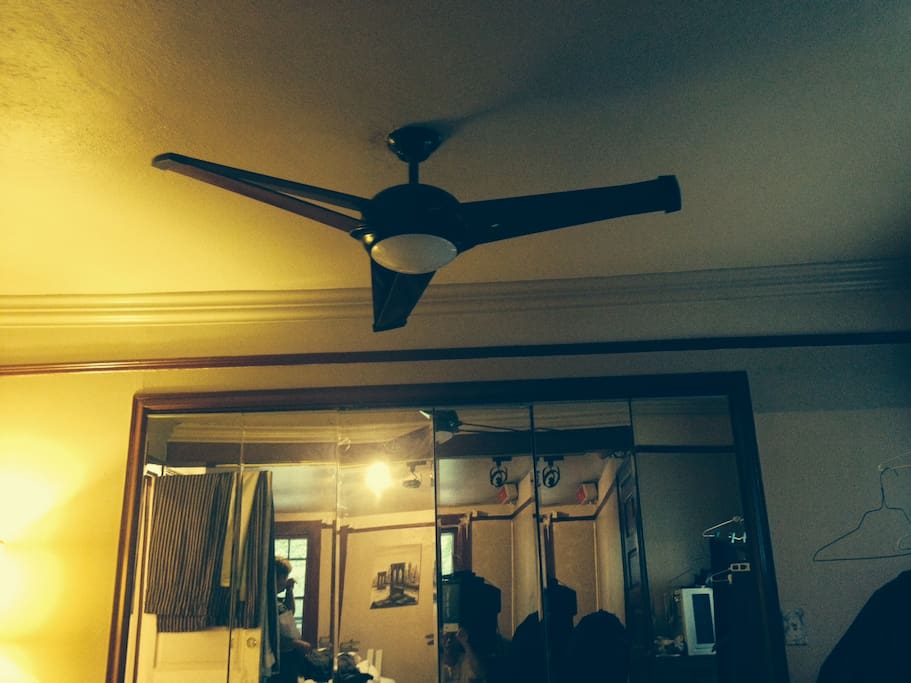 Об этом жилье
Easy 2b very accommodating with 2 & a half baths
in the house. Separate entrance.
Large bathroom:
skylight
music
spa bath tub
shower
bidet
Large bedroom, lots of
choices in pillows,
Linen closet next to room with all bathroom
accessories one could request;
equipped with huge supply of toiletries
from high-end hotels.
2 walk-in closets,
ceiling fan,
your own window unit air conditioner;
along with central air.
Microwave/Toaster/Frig.
available for extended stays
1 minute walk 2 bus
Жилье
Luxurious, spacious, and very comfortable with a canopied queen size bed in a very quiet, safe, and private space.
As I would appreciate it myself.
This should make a stay in this home as nice or better than the best hotels......
...short of the turn-down service. :-)
The house is convenient to all things in Cincinnati;
a ten/fifteen minute drive or less to virtually everything in Cincinnati.
The bus stop is a one, 1, (30 second), minute walk away;
if need be.
It was a two family home;
a microwave, baking/toaster oven,
along with a refrigerator make it a living area more like
an apartment.
High ceilings, crown molding, ceiling fans, central air,
along with a back-up, additional, window unit air conditioner
for the warmest summer months that make the downstairs
cooler than the upstairs in this older home.
High thread count sheets. Lots of choice in pillows.
A peaceful overlook of a very private backyard garden with nothing but flowering perennials, a re-circulating creek, waterfall, and pond gives the sound of water running if the window is opened.
A view of greenery and flowering plants,
Spring through Fall,
through the two windows that overlook the backyard garden in the bedroom and through a large, picture, window at the backend of the bathroom add to the sense of privacy, quiet, and beauty.
A Jacuzzi spa tub with water jets is against the bathroom's back
wall with a large picture window over-looking the garden.
A large, domed, skylight above the tub gives a view of the day or night sky in the remodeled, tiled, shower in black and white with bidet
along with a multiple wall and ceiling lights including a
built-in ceiling heat lamp for the feeling of extra warmth in the winter months.
You have your own, private, entrance to the second floor.
A chandelier and large, antique, stain glass window graces
the stairway on your way upstairs. The large chandelier
and nine foot window makes for a well-lit stairway/entryway.
Доступно гостям
You have your own, private, entrance to the apartment.
.
Общение с гостями
If I can be of any assistance during your stay in Cincinnati I would hope to be able and free to help.
Since I am retired and so familiar with this city;
If you have any need of advice or assistance
with this city I am most likely able to help.
If you want to remain completely private I can respect this
just the same.
Again,
You have your own entrance and your own floor of the (URL HIDDEN) there is no need to interact if you choose not to do so.
It's your call.
Otherwise,
if you are interested in any friendly help, directions or suggestions for getting around and getting along well in Cincinnati;
I am a good and helpful resource.
Knowing the ins and outs of Cincinnati like the back of my hand; anything and everything to do with the Cincinnati area I can be a real help. I have been very active in the Cincinnati community both professionally and socially.
Другие важные подробности
If you are bringing someone else into my home
I need to know in advance.
Generally, I prefer to have it as a rule
that no one else comes in my home.

You are 15 minutes from downtown,
10 minutes from the University of Cincinnati,
10 minutes from Xavier University,
1 minute drive and a five minute walk from one of the largest inner city arboretums in the country with 37 miles of single lane road, 733 acres with many ponds filled with geese and ducks, waterfalls, and fountains.
8 minutes to the zoo
10 minutes from The Aronoff theater, Know Theater and The Playhouse in Eden Park.
10 minutes or less to 10 parks with overlooks of the city; as Cincinnati, like Rome, is built on seven hills.
8 minutes to the Natural History museum and the Lindner surround sound Omnimax theater inside the museum. It is the old
Union Terminal; the former train station hub of Cincinnati. That's quite the building which houses a children's museum as well.
15 minutes to the new Banks on the River with the Reds stadium and Bengals stadium on either side....including a large, new, outdoor music amphitheater.
Cincinnati is in the midst of a long awaited revival of downtown with many new restaurants that have outdoor, open-air, seating along the downtown sidewalks.
You can easily research this major resurgence as being one of the most thorough renewals
of the city's downtown area in the country;
including a new streetcar system nearing it's completion, now.
You can tell; I do like this city.
The city that reminds me most of Cincinnati is San Francisco
---
---
---
Доплата за каждого последующего гостя: Бесплатно
Общайтесь только через Airbnb
В целях безопасности никогда не переводите деньги и не общайтесь за пределами сайта или приложения Airbnb.
Подробнее
---
Спальня 1
1 кровать Queen Size
---
Respect the house.
Treat it as you would as if it were your own
- or better.... :-) please.
Relative quite is enjoyed by all.
I am the only occupant in this large house.
And, I am usually occupying an outdoor, glass-wall, room addition that's on the back of the house next to the garden. So, using this as a bedroom I'm not even under the second (URL HIDDEN) it stays pretty quite
.....not to mention the hand plastered walls and ceilings
that are two feet thick....and,
the wall-to-wall carpet on the second floor,
Appreciate my hospitality with common respect.
---
Гибкие
Если вы отмените бронирование за 24 часа до поездки или раньше, то мы вернем вам всю сумму бронирования. Если бронирование будет отменено позже чем за 24 часа, то мы удержим стоимость первой ночи.
---
---
My dog Sammy and I stayed with Martin for 2 months while I was in Cincinnati for corporate training. From the moment we arrived, we felt welcome. Martin greeted us as we drove up, and a vase of perky flowers and a bowl of organic fruit awaited in the upstairs suite - a welcome touch after a long drive from NC. The apartment was spacious, private, and quiet - a nice haven in the city. The walk-in closet with its full length mirrors, along with the ironing board and shoe shine machine provided by Martin, helped ensure I looked my professional best for my new job. There's also a closet full of extra pillows, blankets, and toiletries if needed. Being a music lover and an NPR addict, I loved that the speaker system throughout the upstairs enabled me to listen to the stereo while getting ready for work or fun. Or while just hanging out. Speaking of fun - the house is conveniently located to downtown Cincy. And Martin gives great directions! While in town, I attended a Bengals game; a Reds game; a concert at the Taft Theater; Oktoberfest events; and a play at the Cincinnati Playhouse. All of those events were within a 15-20 minute drive. Perhaps my (and Sammy's) favorite part was the accessibility to parks in the area (over 700 acres of parks!) Martin's neighborhood has a park within easy walking distance where Sammy enjoyed stretching his legs each morning. In the evenings, we went on much longer walks in nearby Mt Storm park in the Clifton area. Just across the street is historic Spring Grove Cemetery, a gorgeous spot which was absolutely beautiful with fall color during our stay. The cemetery is a great place to go for runs. (No dogs allowed in the cemetery, though, due to some not-so-responsible pet owners.) The Zoo is also a quick 10 minute trip away. Martin is an agreeable host, always helpful and open to suggestions. He keeps an eye out for his guests' needs. Imagine my surprise when an umbrella was waiting on the stairway for my use on one of the few rainy days we experienced. He also placed a fan in the window when I casually noted that the upstairs felt a little warm on one unseasonably warm day. I had an enjoyable stay and Martin is continually making improvements to make his space even more homey. I do recommend.
Hi Jana, Just now had a chance to review your review... What a great review..... Thanks, this will certainly aid my new endeavor into hosting people during their stay in Cincinnati wherein they can have some sense of my dedication to assisting their visit for the purpose of a comfortable, hospitable and "homey" stay. You were a pleasure to host. I am truly glad that all went well for you during your stay with your career interests well served. I must say, again, that I was well pleased, even a bit surprised, with how well things went with Sammy; could barely tell that he was with you. :-) And, it was fun to see him. He's like a good buddy. Hope all is well. It's been nice to stay in touch; sending our occasional emails back and forth. Hosting can be fun and has potential for an ongoing friendship; let alone the opportunity to provide friendly assistance to people while they are traveling. That's one of the truer luxuries when I can find it during my travels. Glad to do the same. Martin
---
My first priority is a concern for you
to have a pleasant stay:
to help make your stay comfortable,
clean,
easy,
peaceful and restful.


If I can be of service and support
for advice, directions or suggestions
in Cincinnati
I would hope I can help.

I have a large home.
There are three restrooms,
three showers
and two baths;
14 rooms in all.
You would have complete privacy;
the entire second floor
- with your own entrance
on the side of the house.
Includes off street parking right along side
of your door to the second floor.

There is a Metos sauna,
(two seven foot long benches, one above the other)
shower, toilet
and work out bench in a partially finished basement.
This might be more of an interest;
if your stay was an extended stay.

There are two different bedrooms from which to choose
on the second floor;
including a third bedroom with a
king size bed in a carpeted, basement, room.

The other two, available, bedrooms are on the second floor;
both have queen size beds.
One of them is a canopy bed.

I do like going out, going to movies, theater,
restaurants, sports, table tennis, swimming;
virtually anything healthy.
I belong to a fitness club with indoor and outdoor pools
and may be able to provide a guest pass.

Recommending anything, giving directions and suggestions
in Cincinnati
would be second nature to me;
having grown up under the example
of a father who was
always so thorough in doing the same for me,
along with
being a life long resident of Cincinnati.

I have been to nearly every restaurant,
place of entertainment,
sports arena, club or facility,
every place for recreation, education,
all the museums,
art shows,
music venues
indoors or out
in the Cincinnati area.

I'll name some popular points of interest below
and
how close this house is.

Some general points of interest with details
may give you the chance to
research and plan any outings before your trip.

I could be available to do some personal
chauffeuring and/or hosting, showing,
touring around the city;
even enjoying some events, shows, concerts
or other points of interest;
if that meets with your interests;
during your visit.

In addition, if we go; we go in style.
I have a very nice car in which to 'go':
a Lexus 430.
Being retired, I'm likely to have the time to help
or offer a ride.

Assisting you
with anything that would be fun,
entertaining,
safe
and/or productive for you;
if this is of any interest
it would be something I'm glad to do.
We could discuss any special interests
or needs in advance.
Feel free to ask.

I am retired and I do know the city very well
with all that it has to offer;
along with what keeps you safe.

Having been a traveler, starting at a young age,
throughout all of the Americas, north and south,
and Europe. I can relate.

I have had people from China, Saudi Arabia, Lebanon,
Israel, Dominican Republic, France, England, Canada,
Barbados, Egypt, Germany, Finland, Sweden, Ireland,
Australia, Trinidad,
Morocco, South Africa,
Japan,
and other
countries in my home.
Once taking in students for a month at a time
while they were attending the University of Cincinnati,
Xavier or for an English School which requested
that they have
conversations in English, at dinner,
in my home, for their students

I've been to nearly every restaurant in Cincinnati
and nearly every place of entertainment or interest.
Season ticket holder to our downtown theater: The Aronoff.

In addition:
all concert halls,
small theaters,
show places
and local points of interest:
The zoo, the museums,
the sports arenas,
the parks, Kings Island,
the water parks
both Reds games and Bengals games.

The zoo, UC, XU, The Natural History Museum
at Cincinnati's old, massive, art deco, train station, Union Terminal,
10 city parks, are all 5-10 minutes away.
All the rest of what you find mentioned here
- including downtown -
are within 15-20 minutes.

Spring Grove Nature preserve and cemetery
with it's 37 miles of one-lane-road, 733 acres, 10 ponds,
waterfalls, 30 foot fountains,
2 swans, countless geese, deer, and arboretum,
countless statues, a civil war area with a cannon,
old churches,
a bronze statue of
Johnny Appleseed,
(people get married in there)
is just a one minute drive or
a five minute walk.
What a benefit,
this has been to this location for walking,
exploring, bike riding and picnic lunches.
There is a row of weeping trees with white flowers
that's not unlike driving through a stationary snow
in the spring.
It's great all year round.

Being well familiar with the best in fine dining
to
the unique, culinary delights, of native Cincinnatians;
the food people must have
when they come back to visit
or have shipped to them if it's been too long :-)
I am glad to help.

My middle name could be 'Hospitality';
or 'At Your Service'.

Good at giving directions around Cincinnati,
drawing maps, with the best land marks,
beats GPS any day;
certainly complimenting GPS
and sometimes needing to replace GPS.

Again, I know the city well
and I like to give directions around the city;
as my father was always thorough in doing the same. :-)

I keep life simple.
It's fun for me to help and assist other people.
I like sharing my home and giving all the assistance
I can give
-----------to people
who want it, who need it.

I like to converse and share
concerning life; the human condition.
A view, an understanding, beliefs
that prove, that have proven,
to
give answers in life,
for the purpose of life,
answers to the issues of life,
that provide, that give,
an inner peace
which comes with such understanding(s).
I enjoy this, sharing such things,
if you like to do the same,
if you have any such interest.

I am retired;
a life long professional/business owner/business services provider, business consultant and most of all:
being a person whose interest in freedom,
peace,
and the purpose of life
drives much of my time in life,
even more so today;
focused on reading, writing, and listening
to a few people who
have similar understanding,
beliefs and view.
-- willing to give of my time
and share --
in life...

You have your own private entrance
and the entire second floor to yourself.
So, we have whatever level of interaction
that you choose.
We can always communicate by phone
during agreed hours for any interaction
we want or need to have;
rather than knocking at each other's doors.
I respect and enjoy
privacy and quite myself.

Языки:
English, Français, Sign Language
Частота ответов:
67%
Время ответа:
в течение дня
Точная информация о расположении появится у вас после подтверждения бронирования.
Открывайте новые возможности в г. Цинциннати и поблизости
Другие варианты жилья в г. Цинциннати: