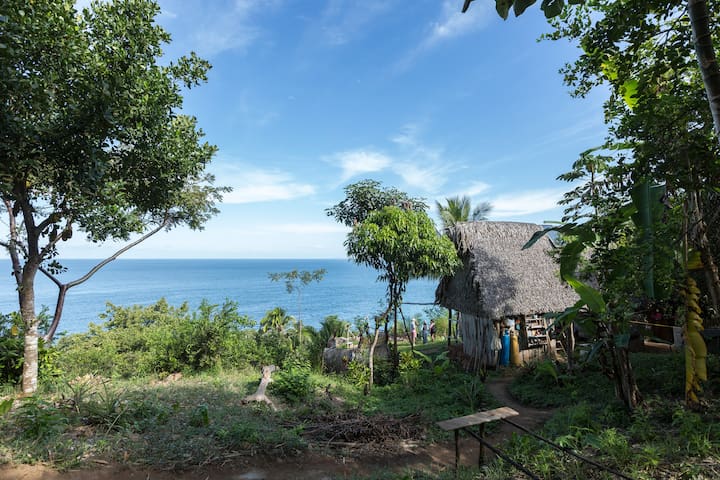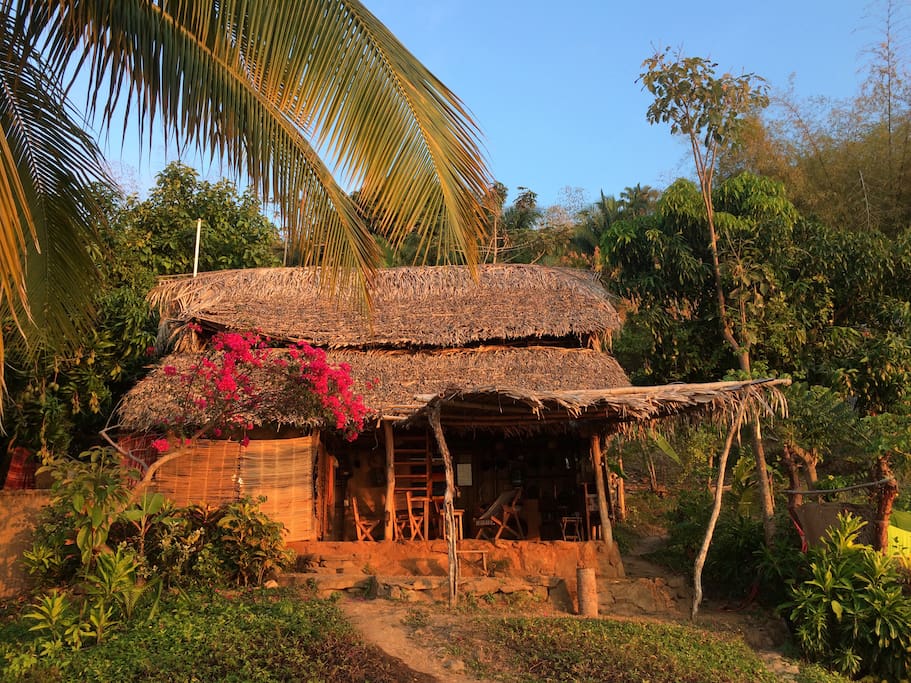 Ready for adventure? Come stay in our culturally authentic clay floor & palapa-roofed casita. This is an ideal place for nature lovers, bird watchers, and lovers of natural living. Watch whales & pelicans from your hammock perched above a secluded beach. Our bilingual property manager, Mateo, is available to be your guide if you desire.
Жилье
Please note that this is a jungle experience. It is blissful and it can be dangerous. There are scorpions in this region of Mexico. Mateo can teach you what to do to avoid them. But you do need to be aware. The mountains are steep in Pizota. One must be a decent hiker.
Our casita was built with the guidance and help of the local people of the tiny, indigenous village of Pizota(80 inhabitants). It is built in the old ways with a clay floor and a palm leaf palapa roof.
When we came to Pizota years ago, we were awed by the skills of the people to live directly off the land and the sea. Although, electricity made it to Pizota a few years ago, we chose to stay as true as we knew how, to the old ways. We mostly depend on solar and wood fire for energy although we do have a gas stove. We use cement has little as possible.
The casita is built in traditional design with an upper loft, or "Taponka" which can be locked for security. The queen size bed, swathed in a curtain of mosquito netting, is there, as is a hand hewn wooden trunk that can be locked. The lower level is walled on 3 sides, with the fourth side open to the view.

The kitchen space is equipped with a wood burning clay stove (set for making tortillas) and two burners for cooking. A double gas range top, & filtered water. The dishwashing area is behind the house, serviced by running water from the local mountain spring.
We have a lovely outdoor solar shower room and an elegant tile-floored restroom with a million-dollar ocean view!
Up the hill about 30ft. is a second casita which serves as our pottery studio and a queen size bed. It is equipped with a kick wheel, tools, & a Giffin Grip for trimming. Clay is dug in the jungle within a few yards from the studio. Pots are fired in the wood burning kiln, built of local brick. Wood and propane fuel is brought in from the jungle by mule.
Cooking and House cleaning services are available if you wish. There are some tricks to learn for sweeping a clay floor, or doing laundry in a 5 gallon bucket. There is laundry service available as well. Emelda in the village of Pizota has a small laundry mat.

The beach is a steep but short 10 minute hike away. Sea kayaks and snorkeling gear can be arranged. Fishing with the locals is always an adventure!
With Mateo as your guide, you will be welcomed in the village more like long lost family than tourists. You can have long discussions with the fishermen who hang in the hammocks in the village or play with children running on the beach.
Restaurants and stores are few and often elusive in Pizota. The tienda on the beach does serve food. You have to notify them what time you want to come and what you want to eat.
The tienda sells basic things like eggs, milk, beer, and mexican food staples. You can order fresh tortillas every morning.
The sister village of Yelapa is a 10 minute boat ride away. Charming but more developed, Yelapa has at least 30 restaurants, some in the pueblo and some lining the beach. A regular water taxi services Pizota twice a day, but it is also possible to pay a local to drive you over in his boat for $300 pesos.
We will not be there for your stay. We partner with our property manager, Mateo, who will serve as your guide and is available daily to help make your stay a truly enjoyable adventure. Mateo, his wife Vanessa, and their 5 young children live a short walk away through the jungle. Mateo is originally from California. He came to Pizota 14 years ago, fell in love with the place and the people, and has been making a life here ever since. Like us, he is especially interested in preserving the traditional skills and the old ways of life.
Pizota is an opportunity to return to a way of life that is threatened in indigenous communities all over the world. Beyond the natural beauty of the land and sea, the people here are a precious natural resource in themselves.
Only a few short years ago, there were no electric lights, save ones powered by generators or solar panels. There was no road to Pizota until only 8 years ago. For hundreds of years before that there were only mule trails. The knowledge and skills of living in jungle, living on the sea are slowly being lost, but there are still those who retain this knowledge.
The knowledge of how to live in community is another wealth. Before electricity, (about 10 years ago!) the entertainment for the evening would be people who had worked with each other all day, gathering around a candle-lit table, telling stories that everyone has heard a hundred times. Every evening, they laughed like it was new!
The people here really did, and many still do, live in an intimate relationship with the natural world, are part of that world. We have much to learn from them, for the sake of this planet that we share.

Although there is a road these days, most people travel to and from Pizota on the water taxi. The water taxi going to Yelapa and on to La Boca, stops in Pizota at 11:00 and at 5:00.
Getting on and off the water taxi from Pizota, especially when the waves are high, is a learned skill. Be prepared to risk looking awkward! Never try to get off while carrying luggage or a backpack. It enough challenge without the extra weight.
This is a third world experience. We can not guarantee safety. The nearest clinic is in Yelapa, a 10 minute boat ride away. The nearest hospital is in Puerto Vallarta, two hours away. We have been going to Pizota for over 17 years and most of the time it is just blissful. But sometimes accidents happen.
This is one of the reasons that we have asked Mateo to serve as onsite host and guide. We have experienced falling on piercing sticks in the jungle, an encounter with a jelly fish, and a couple of scorpion stings. Knowing what to do in these situations, (and knowing how to avoid them!) is critical.
Доступно гостям
Guests have access to the entire house and surrounding property. The pottery equipment is not available to the guests at this time.
Общение с гостями
Guests have the secluded property to themselves. Mateo will come by and deliver ice and check on guests every other day or as needed. Mateo can be reached by cellphone or by a short hike over the hill when guests need assistance or have questions.
Другие важные подробности
There is decent phone reception here at the house. Down on the beach there is high speed internet. Ask Mateo for the password if this interests you.
---
---
Время прибытия: с 10:00 до 22:00.
Самостоятельное прибытие (doorman)
Very few house rules except to respect the indigenous people, animals and who's home you are visiting.
---
I loved staying at Holly's private, jungle resort! Mateo was an amazing host and went above and beyond to ensure my comfort! He met me in PVR and we travelled together to Pizota; he ensured I was completely comfortable and checked in daily. His family is delightful and I am so grateful for their support and assistance. I ate fish freshly-caught by his father-in-law; tortillas made fresh by his mother-in-law! Ask Mateo for a list of items available on the island! There is drinking water, and the local store has almost everything one could need. There is no walking in Pizota! Something Mateo said before we arrived. I was prepared! The hike up the mountain to Holly's only took about five minutes. I spent two days on Pizota's very private beach. The water was warmer and rougher than I expected for January. On departing, I swam out to the water taxi (my bags and friend took kayaks) because of the weather. But even this was part of the great excitement I experienced during this trip. I can't wait to go back!
---
Mateo picked us up at the beach and since then he was amazing. Really i have been in many vacations and this kalapa was one of the best vacations i ever had. It is an adventure and i am not sure it fits everyone but if your fine with eating fresh fish that you buy from the fisher man and local fruits. Then spending the day on mostly deserted beaches youl have a blast. We went with 1 & 4 year old kids and everyone enjoyed very much. We never met holly but Mateo was our host in action and he provided anything we needed and more.
---
Wow. What an amazing adventure. The palapa is stunning, beautiful, and so peaceful. We had a blast taking a bus to La Boca, then water taxis to Pizota! I was so impressed with how clean and well maintained the property was, a whole lotta love shines through the home. We would defiantly recommend this place to adventurous people, a small group could be fun!! It's defiantly for those who wanna just chill with nature and cook your meals. (I recommend bringing all your food, there are plenty of cooking dishes & what not though) Mateo was an excellent host and was very helpful! We were so sad to leave. What a magical and romantic experience, we hope to come back again some day. Thank you so much for having us! ~Peace~
---
Where to begin... I can only sum this place up as bringing everything back to the basics of happiness. Freud wasn't right about everything he said but he was right about nature bringing man and woman back to their primal roots of happiness. The palapa makes every simple thing so incredible, you won't believe it - making your coffee in the morning, showering, frying up huevos rancheros, all with the most spectacular ocean view. This place has just enough amenities to make it comfortable: purified water, faucets for washing, shower (even heated water if it's sunny!), toilet, gas stove, lights for ~3 hours at night (charges by solar). But is rustic enough that you really are back to nature. A short 7 minute hike away are Pizota's 4 secluded beaches where the sand is the finest in Mexico and the swimming is fantastic. The store is a little hut with the basics but everything their is made of grown locally - the most incredible thing Americans will notice is that the food here tastes like food. Bananas, tomatoes, cheeses, lemons, guanabana (look it up) all taste completely different than the cardboard we have to eat stateside. Also, coconuts for days! Lastly, your guide Mateo is the coolest, most knowledgable guy you will have down there. He was an American who just fell in love with the town and moved there and makes sure you have everything you need down there, we love you Mateo! All in all, I would sum this trip up like this: we spent our last night at the Marriott (close to the airport) and I absolutely hated it. Pizota was so much more incredible in the natural kind of way, you can find me there very soon :)
---
We are a married couple in our 60's. We live on an island off the coast of Bellingham, Washington, USA. We have 3 grown sons who are skiers, filmmakers, and green energy engineers. Brian is a potter and designer of tools for pottery. Holly is a retired professor of communic…
Языки:
English, Español
Частота ответов:
100%
Время ответа:
в течение часа
Открывайте новые возможности в г. Pizota и поблизости
Другие варианты жилья в г. Pizota: