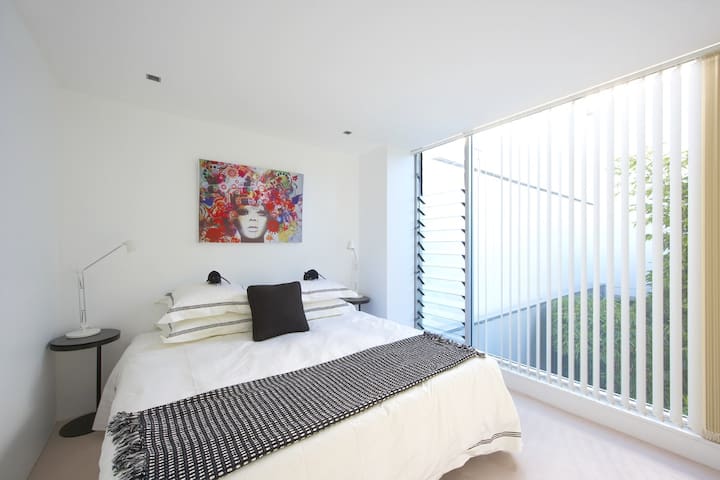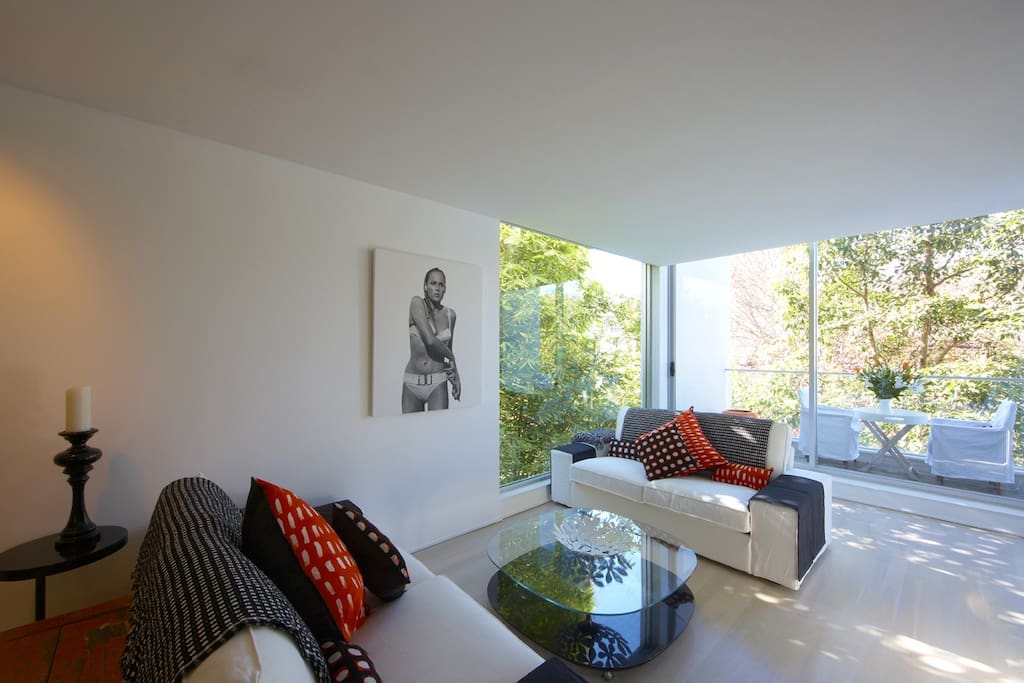 Apartment Two is luxurious inner-city short term accommodation, located in Darlinghurst, it is perfect for those seeking privacy and an alternative accommodation to a boutique hotel. Designed for maximum comfort and style and for guests who want to experience great inner city living. The access from this apartment too all Sydney has to offer is ideal.
Жилье
Two King -sized bedrooms which can be split into twin singles upon request.
Superior linen, towelling and Aesop toiletries
Plasma screen TV, DVD, HiFi, CD and iPod dock
Foxtel/cable TV
Broadband WiFi internet
State-of-the-art island kitchen and dishwasher
Outdoor terrace
Fully equipped laundry
Security building Apartment Two is for a maximum of 4 guests
Carspace available upon request.
**No Air-Conditioning but fans & heaters
Доступно гостям
Fully self-contained, the apartment's state-of-the-art kitchen is heaven for those who love to cook - huge bench space and superb fitout, however eating out in Darlinghurst is just as tempting. Located in the hip Darlinghurst (Sydney's SoHo) area, Apartment Two is the epicenter of Sydney's best young designer shopping beat where the better restaurants, bars, cafes and nightlife are all within easy walking distance. The apartment satisfies the urban traveller's desire for functional, modern accommodation which has the edginess of a hip hotel, the facilities of a glamorous home and the convenience of being where the action is. Apartment Two - Upbeat Sydney Style
Общение с гостями
100% Hospitality. We have a concierge for the apartment who will greet all guests on arrival, he/she will also be available throughout the stay. Our office is only around the corner also.
---
Это жилье оснащено всем необходимым в деловой поездке.
---
---
Без вечеринок и мероприятий
Время прибытия — после 14:00
***EXTREME STRICT NO PARTY POLICY – Immediate security callouts and evictions apply.***
Please read carefully and we will ask you to sign our agreement, which we will forward after your Airbnb booking for your added security and owner security.
Bookings: To finalise all bookings this agreement we must follow security procedures and have the agreement acknowledged and returned also before final confirmation. We also take a $2000 bond on your credit card as security as well.
Guest numbers: See property information for maximum guest numbers, a full guest list must be provided. Not to be exceeded.
Contemporary Hotels
Terms and Conditions
Contemporary Hotels – Holiday Letting agreement

NOTE: Contemporary Hotels follows International best practice policies to ensure the properties we represent for short term accommodation are safe, secure and protected – and not damaged. As these properties are not in commercial areas Australian government regulators and Councils also have strict rules and requirements for holiday letting and will prosecute those who book properties for holiday/short term who don't abide by the short term holiday letting rules. Reasons such as: noise, disturbance, parties and overcrowding etc... Contemporary Hotels represent the luxury end of the short term holiday letting market and we have fair yet strict guidelines also. We require an undertaking from guests and clients who book for short term 'accommodation only' not to have parties, events or gatherings etc… and give an assurance that the property rented is for the use of registered guests and for the use of those people. A day/evening visit/luncheon/dinner by a couple of friends is fine if organised with the Contemporary Hotels team in advance.
Party/Disturbance Procedures: In the event an unsolicited event/party ensues at a Contemporary Hotels managed property, then the procedure is as follows: Our Caretakers will phone first, if not resolved attend immediately (at your cost) and attempt to resolve the concern. If a resolution is not forthcoming they will request immediate eviction as per this agreement. If this is met with resistance the Caretakers are instructed to call Private Security (at your cost for a minimum of 4hrs for 2x Security Personal). Our Private Security team will secure the premises, safeguard from damage and remain indefinitely or until the property is secure (this is at the Security/Caretaker's discretion). The Police will also be called and if Councils are alerted further fines to you may arise. By signing this agreement you agree to this procedure and all costs being deducted from your credit card. This is in addition to triggering a $5000 event clause, loss of $2000 bond + damages + extra cleaning should it be necessary. As explained above, this costly, zero tolerance approach is necessary to protect our homes.
Rest assured: In saying the above we are not unreasonable and encourage guests to talk to us if there is concern – communication can solve anything! We know that 99.9% of our guests are amazing, lovely people who simply wish to unwind in comfort and relaxation – this is what we strive to provide. Please, if in doubt, talk to us as these measures are not designed to prevent our guests from the normal, relaxing use of a holiday home – only to prevent those who believe having a party is acceptable.
Welcome!
We're proud to introduce to you a wonderful property, an amazing home where guests can relax and unwind in comfort and luxury. Contemporary Hotels strives to ensure that each and every guest enjoys an experience beyond their expectations; if you have any special requests please don't hesitate in contacting us.
As we entrust an entire property in guest's hands, complete with bespoke and often expensive fit-outs, we do expect that guests read and abide by the terms and conditions (especially our strictly enforced 'no party policy'. We ask guests to show the upmost care and responsibility as it is expected that the property and furnishings be returned in the exact same condition at the end of a stay as at the beginning. Before booking please understand it is a requirement that any damage and/or accidents, unintentional or otherwise, are a responsibility of the guest and that the guest will meet these costs, small or large. Given its definition we do accept that accidents may occur but any accident is the responsibility of the guest. Of course Contemporary Hotels will always go above and beyond to repair/replace by the most cost effective means in order to restore the property to the same condition as it was before the guest took occupancy. On arrival our caretaker will always show you through the property and can be on hand for your exit therefore if there are any concerns, or arrival or departure, guests can raise them on the spot.
It is important that guests choose a property to suit their expectations whilst knowing ours, it is our expectation that our properties are solely used for quiet holiday purposes and that guests understand their responsibilities before booking. Of course if there are any questions, please ask and we will be more than happy to explain as in the end of the day all we want is for you to experience your perfect getaway. We thank you and very much look forward to welcoming you soon; the team at Contemporary Hotels know that you will thoroughly enjoy your stay!
1. Reservations/Bookings: The booking will be confirmed on receipt of full cleared payment and signed acceptance of this agreement. The person who has made the booking must be the same person changing or cancelling the booking and coordinating payment – we accept EFT, cash, company cheque and some credit cards.
2. Bond: PLEASE NOTE ( this is only a pre authorization by the banks. We do not physically take $2000.00 out of your account )EFT/Cash/Company Cheque/Visa/Mastercard/AMEX/Diners.
Credit card payment will incur a 3.5% fee if paid by AMEX/Diners and 2% fee for all other cards. All rent monies received will be deposited into a legislated Trust account with the NAB and held until contract termination. A $2,000 bond is required for this property payable as a credit card pre-authorization bond – this will be run approx. 24-48 before your arrival. Your bond is forfeited on breach of this agreement, in addition to damages rectification, or will be kept after vacating the property until such point that the property is inspected and cleared of damage. In the event that repairs are to be made the bond will be kept indefinitely until such point as repairs can be assessed and made. The bond will be kept until the damage is resolved, at which point the money will either be in full or part refunded to the guest or in full or part paid to the owner of the property for the damage caused. Further payments may be required if there is loss or damage exceeding this amount to be run from credit card number provided. Signing this agreement gives Contemporary Hotels permission to deposit these monies into a Trust account and, at the conclusion of this contract, direct monies to be paid to the owner of the property, less commissions, paid to Contemporary Hotels and agents where applicable. Any bond claim will also be subject to a $50 administration charge.
3. Conditions & Cancellations: See airbnb policy set on strict.
4. House Manager: The person signing this confirmation will be designated as the house manager and will be nominated as the primary contact. The house manager must be 18 years of age or older, warrants that he/she is authorized to agree to this agreement on behalf of all occupants and takes full responsibility to ensure that all occupants (and any guests or invitees of such occupants) understand and agree to this agreement. A mobile phone number must be provided and be contactable when occupying the property 24/7 for security purposes.
5. Property Usage: The property is to be used for short term residential accommodation (holiday letting) only. The property may not be used for any commercial purpose, wedding, party, gathering or any other function. Also see clause 13 below.
6. Check-In, Check-Out & Keys: Check-in is from 2pm onwards and check-out is 10am. Our property caretaker will meet you at the property at your agreed time from 2pm onwards and hand over keys. We require your arrival time as the caretaker does not live on site. A $100 fee will be charged for late arrivals if the caretaker needs to leave and return and lost keys /replacement locks will also be charged to your credit card. Please contact the caretaker the day before your arrival to confirm your arrival time.
If you wish an early arrival it is best to contact the caretaker a day before your booking, early arrivals cannot be granted outside of this (as we might have a booking before you). Same policy for late check-outs, the caretaker will happily grant a late check-out unless we have an arrival on your departure day and the property needs to be cleaned.
7. Telephone & Internet: Varies from property to property, please refer to property details or ask Contemporary Hotels. In any case we cannot guarantee phone or internet coverage at any property.
8. Parking: Refer to property or ask Contemporary Hotels
9. Housekeeping & Maintenance: There is a cleaning charge for each property, this includes all general cleaning but not extra-ordinary cleaning if the home is left extra-ordinarily unclean. For bookings of 7 nights or more, a complimentary service can be provided on a day of your choice, must be arranged at time of booking. Extra services can be arranged for an additional fee. On arrival and in the unlikely event the property requires further housekeeping or if there is a minor maintenance issue, please inform our caretaker immediately. They will co-ordinate the appropriate person to fix the problem as soon as practically possible.
10. Garbage Removal & Cleaning: The occupants are required to leave the property in the same clean, neat and tidy condition, as it was when they arrived. This includes, without limitation, washing up, fridge cleaned out, BBQ cleaned and rubbish to be placed in appropriate bins provided on vacating the property. If additional extra-ordinary cleaning is required the cost will be charged against the credit card (security deposit). In an attempt to keep rates low we only have provision for rubbish for the household bins only, any additional rubbish can either be removed by the guest (our recommendation) or, if additional extra-ordinary rubbish is left behind, the caretakers will organise a contractor to collect and dispose at the guest's expense - charged to the credit card (please be aware charges can be as high as $200+ for excessive rubbish). If you happen to be a guest during rubbish evenings it is a guest's responsibility to ensure the bins are available for council collection, any questions please ask the caretaker.
11. Smoking & Pets: There is strictly no smoking inside the property and we ask also you to leave your pets at home as they are not permitted.
12. Loss, Damage or Injury: Contemporary Hotels, the owner and their respective employees and agents, take no responsibility whatsoever for loss or damage of any property, or personal injury or death, of any occupant, guest or invitee of any such occupant and they each exclude all liability to the maximum extent permitted by law. The occupants acknowledge the environment in which the property is located and must take extreme care including, without limitation, observing safety signage, fire and safety directions and procedures and exercise caution whilst inside and when venturing outside the property. Occupants must report breakages immediately (or as soon as practical) and are responsible for loss or damage of property belonging to them, or their guests, and for the damage or loss of property belonging to the property during their stay. Your credit card details will be kept for one month after your vacating the property for this purpose. We recommend travel/health insurance as security for the event of accident, sickness or cancellation caused by unforeseen circumstances such as transport problems or illness. Please be aware of any surrounding natural bush land and there may be dangerous snakes, spiders and other animals and bugs including ticks from time to time at some properties. If you are sensitive, please insure you use an insect repellent and wear covered shoes if you are bush walking.
13. Noise, Parties & Behaviour: The house is for registered occupants only (as indicated below). Parties are not permitted under any circumstances and there is to be no disturbing noise between 10pm to 8am with no excessive noise at any other time. A $100 deduction will be charged with each caretaker callout, a Private Security callout involves 2x Private Security personal for a minimum of 4 hours each. If your behavior or that of your guests causes damage, danger or annoyance we reserve the right to ask you to vacate the property immediately and be treated as a cancellation inside 30 days. Please note functions of any kind are not permitted and the invitation of additional guests beyond the homes capacity will enact our Event Policy. Event rates start at an additional $5000 to any booking. If you breach this agreement, you will forfeit your entire bond of $2000 in addition to any damages, cleaning, caretaker and security call-outs. Any breach of contract will forfeit your bond and/or event surcharge will be deducted off your credit card provided or from your cash bond.
Please note: Our policy here must be extremely strict due to our responsibilities to our homes. If guests damage/break chattels or invite additional guests then we have little recourse as we must protect our homes. We are not unreasonable by any means; therefore if you think your ideal weekend would meet expectations, not damage the house or cause any neighborly grievances please talk to us first – communication solves everything!
14. Caretaker: Our caretaker will be of assistance for check-ins and is happy to offer advice at this time and by phone when required, however we kindly ask you to respect her/his time during the weekends and evenings unless it is an emergency. Other than as provided for in this agreement, the property is not serviced. If additional services are requested of the caretaker, please contact Contemporary Hotels. The caretaker may assist in additional services at an extra charge. This will be charged to your credit card as provided below.
15. House rules: The property contains house rules (see Contemporary Hotels folder in the house or on wall of kitchen). Please read and observe these rules which are deemed to be incorporated in this agreement.
16. Please Note: A breach or indicated breach of any of the above conditions will permit Contemporary Hotels to cancel or amend a booking, refuse access or occupation or immediately terminate a tenancy. Refunds will not be paid on terminated tenancies and penalties may apply in the event of parties/events. All details must be filled out correctly and payment processed before the confirmation of booking. As the property is an individual house and not a hotel with staff where rooms can be swapped, we cannot offer alternative accommodation if the property is not to your individual taste or a refund. We encourage guests to choose their properties carefully and ask any questions you wish. We do not refund for problems such as, but not limited to, plumbing, electrical, television, wifi not working, light globes out, any appliances or pool/spa (where applicable) not working, blackouts etc. We will endeavour to fix all problems as soon as practically possible, but as these are entire properties occasionally a few maintenance issues may arise; fortunately most are easily fixed. It is therefore paramount you make your property selection carefully. Minor interior and exterior decorations change from time to time in order to maintain the property. Images on the website are not always an exact representation of the property as changes can and will occur to keep a property fresh. Some of our properties are working properties and as such there may be workpeople on the grounds from time to time.
17. Your Signature Confirms: That you and each occupant have read agreed and accepted these terms and conditions and you authorize Contemporary Hotels, or representative, to debit the full amount of your accommodation from your credit card or alternatively you may provide EFT cash or a cheque – please advise if not credit card. Credit card details are also required for security and will act as a bond. You also acknowledge that this contact terminates upon the final vacation of the property, that any monies collected will be held in a Trust account until contract termination whereby they will be paid to the owner of the property (less commissions and fees).
Thank you for booking with Contemporary Hotels. To keep up to date with all out latest properties and offers become a fan of our (SENSITIVE CONTENTS HIDDEN) page
---
We had a great two-month stay. The location of the apartment can't be beat for easy access to various areas and neighborhoods of Sydney, 10 mins walk to the central business district, bus stops very close by. While close to everything with plenty of restaurants and cafes around, it's also fairly quiet with lots of trees and birds, a great place to unwind and rest at the end of a busy day. The apartment itself is like what you see in the pictures. The gym is an added bonus, a bit small but with most things you would need for a good workout. There is also a parking space included, which we didn't use but we appreciated the convenience of it. The team at Contemporary Hotels is fantastic. From check in to check out, they were great. Very responsive and quick to help with any issues or requests for information/help, etc. We felt very supported and well cared for during our stay. Thank you!!
---
My husband and I stayed here for a week during Sydney Mardis Gras 2017. Overall we were very pleased with the apartment. The location is perfect - 2 blocks from Taylor Square/Oxford Street. The pictures were accurate and the unit was in a nice building. Check-in process was smooth and easy. Our host even provided champagne for us. We were a bit surprised, being from the States, that the unit did not have central air (A/C). The temperatures were thankfully mild during our stay, and there is a good cross breeze in the unit, but had it been during a heat wave, it could have been very uncomfortable. We kept the sliding doors and windows open almost the whole time to keep it cool, but this also meant a lot of street noise filters up, since it's just above street level. The unit was clean, and there was plenty of hot water, clean towels, and good water pressure in the shower. Washer and dryer worked well too. We were not able to use the oven because the temperature numbers were eroded or missing. The upstairs "carpet" was very rough and could use an update. The beds were comfortable and the building felt secure. Neighborhood is very nice with plenty of restaurants, bars, and cafes within easy walking distance. We would be likely to stay here again, assuming the forecast was not too hot.
---
We're two couple who spent a few nights in Sydney here. The apartment is wonderful with plenty of space to relax and spread out. It's split level with the two bedrooms and full bathroom on the top floor and then the kitchen and hang out area downstairs. The kitchen has everything you would need, the beds are comfortable and the bathrooms nicely done. We were warmly welcomed to Sydney by Richard the property manager. He met us at the unit (he went above and beyond waiting an extra hour for us after a travel delay), walked us through everything we needed to know and shared with us some of his favorite coffee shops/restaurants.
---
We were delighted with Apartment 2. The apartment is beautifully designed and exceeded our expectations. Contemporary Hotels greeted me and showed me around the apartment; nothing was too much trouble. The added bonus of secure parking and concierge support in the Republic 2 building ensured that all of our needs were accommodated.
---
The close proximity to the city and Surry Hills was a bonus and the apartment was as the description said. Having a pet friendly apartment in the city was an extra bonus, as well as a carpark. Make sure to confirm the availability of the carpark prior to booking, as this can change. We enjoyed our short stay and was happy with the property and will stay again when next in Sydney.
---
Beautiful and convenient location. Very comfortable and spacious. Amazing communications before and during our visit. The pool and gym are a great amenity, as are the little things in the flat. Highly recommend!!
---
Contemporary Hotels is Australia's leading independent boutique accommodation provider well known for its design-conscious Beach Houses + Villas + Luxury Houses + Apartments - as well as its landmark urban boutique hotel Medusa in Sydney. The collection also encompasses a suite o…
Частота ответов:
100%
Время ответа:
несколько часов
Открывайте новые возможности в г. Дарлингхерст и поблизости
Другие варианты жилья в г. Дарлингхерст: