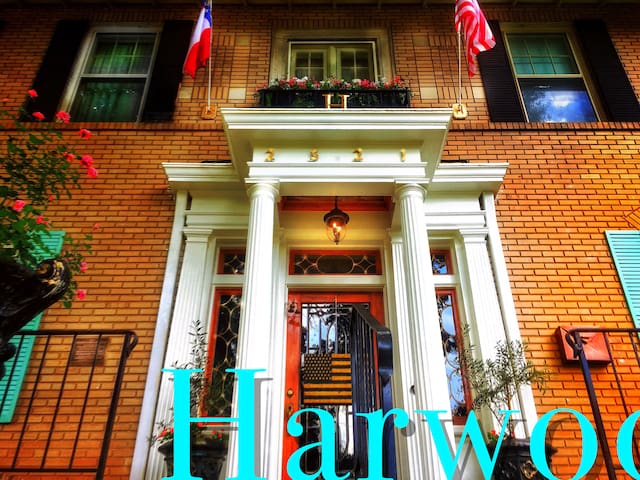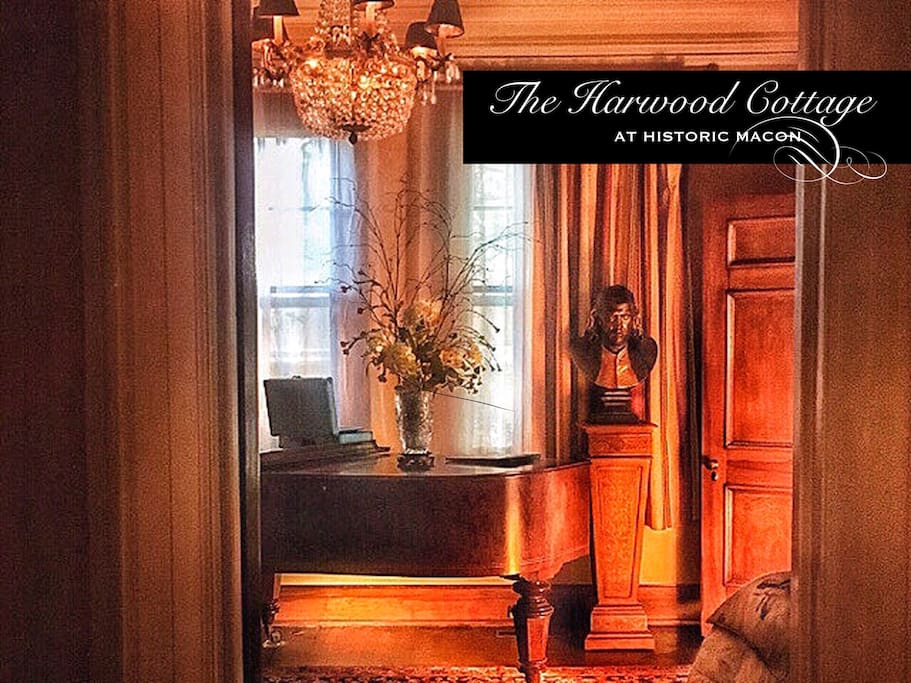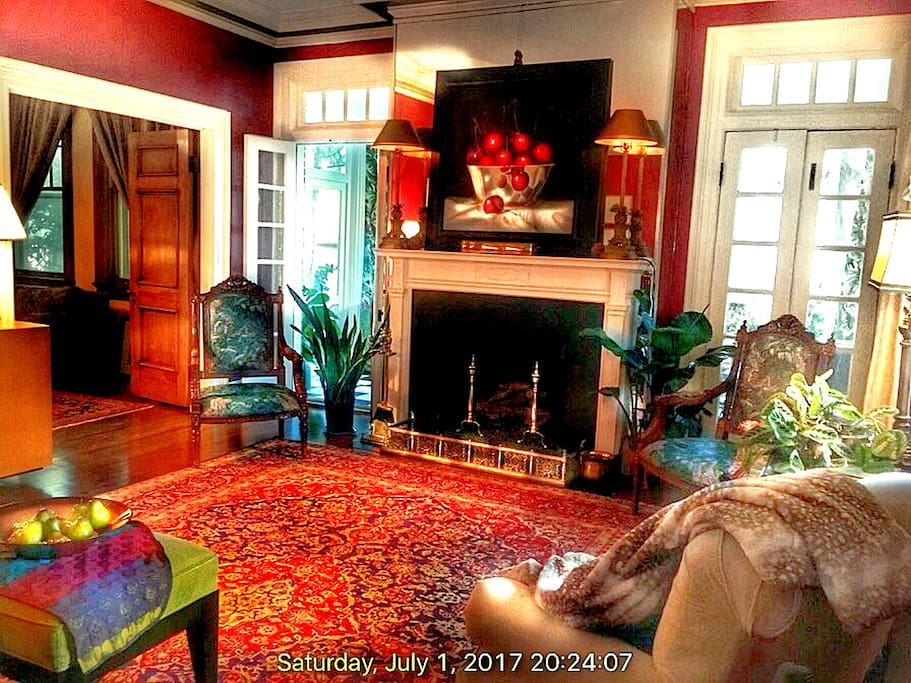 The Harwood Cottage Historic Macon
This glorious 1920's mansion recaptures the Jazz Era in the heart of The Historic District. A 30 room 'cottage', The Harwood Cottage sleeps 13-20 or more with 7 bedrooms, 3 baths, 2 working gas fireplaces, hi speed Internet & a grand piano; across 2 full floors w/beds throughout. The home also features a large gas grill, entertainment deck, outdoor piano, fenced in dog run, secret garden, 2 car garage & motor court parking for 5. Perfect for reunions, weddings & graduations, w/no cleaning fee.
Жилье
The Harwood Cottage is a gold brick, Georgian style home with six estate sized bedrooms (with the self locking Music Library acting as a seventh when needed), along with three full baths spread across two very large floors, all made fully available to our guests. In the center of it all is the stately Main Stair Hall with its imposing antique crystal chandelier, eight foot stained glass windows, art filled upper gallery and three stunning sets of golden, antique, pocket doors. These two floors contain several additional public rooms for your use including: The Drawing Room with its Grand Foyer and Large Fire Place, The Chinese Dining Room with its antique wall covering and authentic Asian artifacts, The Art Deco Conservatory with its harlequin floor, treillage detailing and jungle print fabrics, The Music Library with its Viennese grand piano, vintage LPs and rare book collection, The Tiffany Breakfast Room with its wall of silver & china and The Kitchen where fresh ground coffee, English teas and our continental breakfast offering awaits. The Winter Garden, an enclosed back porch and sitting area, acts as the main entrance for guests just steps from out Motor Court. Finally, at the center of the upper level lies The Media Lounge where you'll find our DVD collection, flat screen tv and deep leather lounging sofas.
Each of the bedrooms honor one or more literary legend of the South. The Eudora with its gas fireplace, private balcony, romantic French doors, built in vanity, cedar closets, king sized memory foam mattress and wall of dressing mirrors; honors the great short story writer, Ms. Eudora Welty. The Zelda with its queen, Stearns & Foster premium mattress, cognac Henredon sleigh bed, master bath with two person Jacuzzi and William Morris tapestries; honors Montgomery's own Zelda & F. Scott Fitzgerald. The Sidney, with its traditional king mattress, stained glass reading nook, 22 ft. Italian leather sofa, original Banksy prints and Herculanian frescoes; honors Macon's favorite poet, Sidney Lanier. The Laurence, with it's traditional king mattress, Moroccan styling, plantation shutters, and floor to ceiling dressing mirrors; honors Macon born screenwriter, Laurence Stallings. The Margaret, with its two walls of windows adding to the enchanted, children's tree house feel, honors Ms. Margaret Mitchell and The Williams' Suite with its garden views, traditional full mattress, French caster bed and hand tooled Gatsby bath honors our three favorite Williams: William Faulkner, Tennessee Williams and W.E.B. du Bois.
Additional on site spaces include the extensive Garden Level where many of the rooms and functions are made available to our guests with advanced coordination, including: The Laundry & Scullery, The Bailey Bath, The Hot Tub Grotto, The Crafts Room, The Ballet & Yoga Studio and The Activities Center. The Garden Level is also home to our former Servants' Wing which has recently been converted into the modern and private "Family Apartment". Below the Garden Level lies a secret sub-basement which is home to a fully functional, authentic, Cold War era, nuclear bunker. This underground fortified shelter was built at the height of The Cuban Missile Crisis in October, 1962. It remains fully operational with sleeping berths for eight, running water, working electricity and even a small, portable, military grade, field hospital (the nuclear bunker is available for our guests to tour during your visit). Additional outdoor features include a private second floor balcony, large front verandah, formal garden, a secret garden with moon gate and evening light display, large entertainment deck with an al fresco dining area, chez lounges, sun umbrellas and a cast iron fire pit; outdoor grilling station, two garage bays, the facilities workshop, parking for up to seven vehicles, surfaced motor court and enclosed pet paddock (our dog run). Guests can choose either a keyed or keyless entry.
The Harwood Cottage is dedicated to the late Blanche Harwood (our mum), who fell in love with the idea of this place as a family home, many years ago. It's restoration into a typical "Writer's Cottage" of the 1920's was her original vision. Though she passed on in 2014, that image still guides us. Through her imagination, your idea filled visits and our creative labor; we continue to honor her memory as we create a modern, romantic interpretation of the inspired decorative arts of The American Jazz Era. It's true, we're not perfect but we've come a long way. With each passing month that vision comes into sharper focus. Now may be the perfect time to come and add your input and place your spin on what has become an amazing, collectively inspired, Southern Gothic dream.
(The Harwood Cottage is just steps past The Allman Brothers "Big House" Museum at the top of Vineville Avenue, a short distance north of Exit 164, which is the Hardeman Avenue exit off I-75 on Macon's highest hill in the heart of The Vineville Historic District).
Доступно гостям
We are honored that you've chosen a stay with us at The Harwood Cottage and we'd like to return the favor by being here to greet you as you arrive. Please use care when entering the drive from busy Vineville Avenue and proceed to the rear motor court, to park. If you arrive by rail or livery, Uber and Lyft should be just a call away but if you need us to pick you up, please let us know at least 24 hours in advance. Once arrived, let us know by text. We'll help you with your bag, offer a cold drink and point you to the facility, if needed. We'll take you on a quick five minute orientation tour and provide keys to use during your stay or if you prefer, the keyless entry passcode. Finally, we'll provide you with our internet network name and private passcode.
Общение с гостями
We believe the two most valuable things about AirBnB are the people you meet and the things they teach you! We are truly excited about being a part of this great community. We love our guests and enjoy engaging with you, when appropriate. Each guest is different so you may value your quiet time and privacy and want to respect that. You may instead wish to learn more about the city, the region or the state and may enjoy more interaction. We are getting pretty good at catching the social queues but we can be off once in a while. If so, just tell us!
Другие важные подробности
If Macon seems somehow familiar to you, that won't be a surprise. This region has been featured in many recent films including: Fried Green Tomatoes, The Bingo Long Traveling All-Stars, Need for Speed, Jesus of Macon, The Trip to Bountiful, Virtuous, 42, Walking Dead, Witches of East End, The Rose & The Jackal, Trouble with The Curve, Attack of The Morningside Monster, Wise Blood, Stuck and at least a few dozen other television productions and video games, as well. Among our famous and infamous citizens are: Catherine Brewer Benson (the first woman to earn a college degree), John Birch, Nancy Grace, Leroy Gresham, John Jung, Sidney Lanier, Neel Reid, Gwyn Hyman Rubio, Laurence Stallings, Williams Sanders Scarborough and Tennessee Williams who wrote "Cat on a Hot Tin Roof" here. Truman Capote's 'Breakfast at Tiffany's' real life inspiration is Princess Alexander 'Honeychile' Hohenlohe, (the former Ms. Honeychile Weidner of Macon, GA). Among theatrical personalities is three time academy award nominee and two time winner for Best Supporting Actor, Melvyn Douglas; Academy Award Winner, Charles Coburn and 30 Rock star Jack McBrayer. Among our famous musicians in residence have been: Bill Berry and Mike Mills of R.E.M., Chuck Leavell of The Rolling Stones, Jason Aldean '2014 Country Music Performer of The Year', Little Richard, Otis Redding, The Allman Brothers Band and Young Jeezy. Cher & Gregg Alman lived here during their marriage together and a rich and varied collection of athletes from The UFC's Ken Shamrock to the National League's Met's pitcher, John Rocker.
While anytime is a great time to visit Historic Macon, GA; the city comes alive with color at the end of March, each year when over 300k cherry trees burst into bloom bathing the city in electric pink for our annual International Cherry Blossom Festival. Macon dazzles all year long as both the home of the largest concentration of these coveted trees and of the highest concentration of protected historic buildings byThe National Trust for Historic Preservation and the U. S. Department of the Interior.
---
---
Доплата за каждого последующего гостя 1136 р / ночь после 8 гостей
Общайтесь только через Airbnb
В целях безопасности никогда не переводите деньги и не общайтесь за пределами сайта или приложения Airbnb.
Подробнее
---
Время прибытия: с 15:00 до 00:00.
OUR RULES
First, let me say, "We hate rules!". We think rules deprive guests and hosts of a real opportunity to empathize with each other. We'd rather live by "The Golden Rule" believing that if we just treated each other the way we'd like to be treated, everything would work out fine and we'd be done with all this. Ahh, but life is seldom so simple...
It's hard to make a good set of rules that covers everything without sounding draconian. We wish we just had a simple set of fun rules that sounded just like this:
(Go to (URL HIDDEN) or your YouTube smart phone app and look up, "Little Biddy Pissant Country Place". Then, sit back and roll video!)
...but even ole' Dolly came up short. Cuz' we like Tattoos and pretty girls who say, "Hiiiii!" So that list doesn't quite fit us either.
Instead, we've tried to learn from our experiences but reading through three years and 400 guest visits could take forever. So, we've developed these "Quick Rules" and made them as short and swift as we dare. They're easier to follow than our previous musings but still come directly from real life events that were sometimes hilarious, often unbelievable and occasionally sad or psychotic.
One important note: We pride ourselves on our ability to provide a very special place to stay that's improving all the time at a minimal cost to our guests and with no hidden or 'add-on' fees. To do this, our margins are thin with little room for error which makes following these rules supremely important. Without these rules, we will not been able to maintain those margins and will quickly find ourselves operating at a loss in some way.
Going forward, we have come to believe that our guests who benefit from such an offering share too, in the responsibility to preserve it. Guests who find themselves unable to be partners in preserving these narrow margins, often deprive your host of his ability to participate in his share of the enjoyment that comes from your visit. Therefore, in some cases a monetary request accompanies a Rule when it can help restore those minimal margins. In other cases, where safety and risk become more important than cost, physical restrictions and even removal, are outlined.
We thank you for your visit and are honored to host you. We recognize now, that this list will be constantly evolving based on our continued experiences. We hate that it sounds so draconian and wish we didn't have to have it. For 380 out of our 400 hosting experiences, we don't. This set of rules is really meant for that other 5% who probably should have just stayed home, anyway! Here then, are our revised Harwood Cottage House Rules for 2017:
1. Notifying: You are asked to provide an ETA of your arrival at least four hours prior. In addition, an update is required when your ETA changes by more than one hour. Guests who are unable to do this will be asked to pay a $20 communication charge.
2. Arriving: Check in begins at 3pm and lasts until 10pm. Any arrival before or after must have been requested & approved in writing at least 24 hours in advance. Arrivals after midnight without prior notification & approval constitute a "no show" which means work that doorbell, sleep in the car, wait 'til we get back from the 24 hour Walmart or head over to Motel 6. You are responsible. Keep us in the loop. (Emergency situations notwithstanding.)
3. Departing : Check out is by 1pm on the date of departure. Late check outs are only permitted with a 24 hour advance written notification and approval. Guests who stay beyond check out without prior arrangements may be asked to payballmor part of an additional night's stay. (Emergency situations notwithstanding).
4. Accessing: For guests who have received key sets, upon departure, please leave yours on the welcome tray which will be found on the kitchen island as you depart. Often we are there to see you off. Sometimes we are not. You are not required to make or strip beds, empty trash or clean in any way unless you have made an extraordinary mess, (which if you did, you'll be charged a $100 cleaning fee, so be clean and neat for both our sakes!). We only ask that you make sure all first floor and balcony doors are securely locked and you are free to depart through the back door which leads to the motor court. Failure to lock all doors and deliver all received key sets will result in an automatic $25 security charge per missing, incomplete or damaged set. This applies to key sets left elsewhere on the property, as well. Please note, Key sets come with a back door key and a small suite door security lock. If you need an additional suite door security lock, please ask. Guests are not permitted to affix their own locks to any door. The host, for security reasons, must have access to the property and all rooms using his own master key set for emergency purposes. In the event that this is not the case or external security devices are used, the guest will asked to pay a $25 security premium (fee).
5. Orienting: All guests (including guests of guests), are now required to take an orientation tour within two hours of arrival unless otherwise agreed upon by the host. All guests must have taken a tour before retiring on the first night of their arrival. Tour options include: 1. Safety & General Orientation (5 min.), 2. Full Historical, Safety & Orientation (30 min.), 3. Hybrid Historical, Safety & Orientation (30 minutes). They're all free but we expect to meet each and every guest staying with us and this is a great way to do that.
6. Identifying: All persons on the property are subject to an ID request by the host at any time. This is to ensure the safety of all guests. Failure to comply with such requests will be met with a request to depart which if not headed will result in a request for emergency help from Airbnb and quite possibly local law enforcement. Only the guest of record should expect to avoid such a request.
7. Whole House Renting: Guests who reserve 'The Harwood Cottage whole house nightly rental', are entitled to accommodate seven individuals over the age of seven years in addition to themselves for a total of eight standard guests. No additional guests may be accommodated without express written notification and approval 24 hours in advance. "Guests of Record" seeking to accommodate up to 16 additional guests may do so with advanced written notification & approval, by paying an additional $19/night gratuity for each additional guest above the "standard eight". "Guests of Record" who are found to have ignored this rule agree to pay an increased gratuity payment of $25/night for each additional, unapproved individual found to have obtained unpaid for and unauthorized lodging at The Harwood Cottage. Additionally, "Guests of Record" should expect that such behavior will be mentioned in the host's review out of a sense of responsibility to protect the well being and safety of other unsuspecting hosts. We cannot stress enough that it takes a significant amount of trust on the part of Airbnb hosts to open our homes to our guests. Breaking that trust by stealing away unknown individuals into the house is the single most threatening thing a guest can do to an unsuspecting host. Lost or stolen items, missing persons in a fire or even physical violence on another guest are just a few of the possible collateral events that might emerge. Beyond the additional costs for breakfast items, water, linen service, towels, hot water, electricity and AC; the host has a basic right to know who is inside his (her) home.
8. Paying: The person paying for the booking is our "Guest of Record". All "Guests of Record" are required to be part of the party actually staying at the property. Any variation from this must be made through written notification and approval at least 24 hours in advance. "Guests of Record" who fail to do this will be assessed a $25 security fee for each night they are absent without that expressed written approval. At all times, "Guests of Record" are fully responsible for the behavior and actions of their guests.
9. 'Communicating: Written notification and approval' is a specific term which refers to the use of the Airbnb website or smartphone app messaging service. It is very important that communication be maintained fully in one place where a complete archive of communication remains accessible to guest, host and Airbnb Customer Service. Therefore, guests should expect to use The Airbnb Messaging Service for all communications. Any requests by phone or outside email should not expect a reply. Guests should expect their host to refrain from agreeing to these alternative avenues of communication for these reasons. The host is not responsible for requests or information using other channels of communication.
10. Partying: 'Events' are gatherings on the property which include more than five individuals who stay an hour or more but are not lodging overnight. All events must have written notification & approval 24 hours in advance of the initial arrival for the stay. Each event carries a minimum charge of $25 which should be expected to rise based on number of external guests, length of event, nature of event and complexity of event. Examples: Family Gathering $25, Sorority Wine & Cheese $50, Children's Birthday Party $75, Wedding Ceremony $100, University Dinner Party $125, Conference $150 and Wedding Reception with or without specific preparation requests $400. Back to back events are considered separate when function character or guest list change. Whether the 'Guest of Record' discusses an event or not, the fee will be assessed. All events where host is not expressly specified or paid for a certain service, are assumed to be the full responsibility of the "guest of record" in terms of set up, parking, clean up, garbage removal, ordinances and permits. Note: The unapproved transport of Class D Substances or Concealed Fire Arms is not permitted. Serving alcoholic beverages or violating local, state or federal ordinances will not be permitted. This includes observance of a strict 10pm neighborhood noise ordinance which required the extinguishing of outdoor music and the removal of outdoor events to within the mansion at that time so that neighbors go undisturbed. Any responsibilities left incomplete will be billed to the guest of record as an additional service at cost (municipal citations) or market rates (clean up or garbage removal).
11. Linens & Towels: Based on early requests, we are one of the few destinations where our entire linen and towel service is made available 24/7 to our guests. That provides a wide range of options that cover selections from discount retailers to top designers. These are centrally located in the main linen closet found on the second floor in the media lounge. If you do not find what you are looking for there, please let us know. Otherwise we will assume you are satisfied. If we find you did not mention issues with linens and towels during your stay yet chose after your departure to mention them as a problem in your radio box selections or review, we assume you will be agreeing to help rectify the perceived problem by honoring our request for a $25 towel charge.
12. Constructive Criticism: Any perceived problem with your stay which is not reported in writing during your stay with at least two hours afforded by the guest to allow the host to address the problem (during the regular business hours of 9am-5pm), should not later become an issue in your host review. If, as our guest, you cannot extend to us the basic courtesy of communicating an issue in a straight forward and timely manner, or have the minimal patience to allow us two 'working' hours to address it, then you really should not be staying with us and you should absolutely refrain from later criticizing your host through your review as you will not be helping at that point. We regard any such criticism, that's too late to do anything about,to be in no way, constructive (it's actual quite insidious).
13. Closed Doors, Drawers, Rooms and Cabinets: Like most houses in the American South, up until 33 months ago, The Harwood Cottage had nearly no internal locks of any kind. With the advent of Airbnb guests, we have been asked to provide additional security. Please be advised as house guests, you should consider additional locks on all but the original 1920's bathroom locks to be both optional and a favor from your host at the risk of devaluing the notable antique doors throughout the house. As our guest, you agree that breaking through any lock is grounds for canceling the stay immediately and without refund. In addition, you will be asked to pay a security fee of $25 for each lock violated. We must protect the privacy of both guests and hosts while here. Exploration can be fun but attempts to enter the Garden Level, Workshop, Family Apartment, Attic, Nuclear Bunker or Other Guests' Rooms, Luggage or Personal Belongings will not be tolerated. All guests are required to respect all other guests' and host's privacy.
14. Insurance Claims: We have had two instances where legitimate insurance claims have been filed for damaged items only to have them rejected because in each case, the guest said, "It didn't happen." Well, it did. As a result, we have had to foot the bill for replacing a 70lb. piece of Italian Marble from a Bureau top and a 116" piece of plate glass from a window; both out of pocket. Just because you didn't notice it, doesn't mean it didn't break at your 30th birthday party. We know you don't want to be stuck paying for it, that's why there is insurance. We shouldn't have to foot the bill for damage that extends well beyond what you paid for your stay, either. So, we must require any guest who refuses to support our legitimate insurance claims when and if they arise, to be responsible for full repair or replacement value upon request. We aren't asking you to support fraud. We are asking you to not leave our home in ruins by allowing us access to the systems meant to support us in these unlikely events.
15. Theiving: Our guests stay in an old Southern Mansion surrounded by art and antiques for notably less than the all in cost of the local Motel 6. We take a great risk by relying on the honor system. Theft is not acceptable. No guest has ever come to us to admit they walked off with something, yet several bottles of liquor, dozens of spoons, over 40 DVDs, an electronic lighter and several vintage phonograph records are among the missing items lost while hosting. Even tonight as I edit this, a brass bowl is missing from one of the dining tables which means another guest must be asked and then watched as she demurs in an all too familiar bit of Kabuki Theater. Save us the pantomime and let the art and artifacts, spoons and saucers and everything you did not come with, remain. Our hat goes off to the one guest in 400 bookings who this month stepped forward to voluntarily tell us she broke an item and left restitution. If we find an item is missing or damaged during your stay we will notify you. By staying with us you agree to provide the full replacement cost of any missing or damaged item not covered by the insurance facility.
16. Pets: We love the guests who bring their pups. However, we asked that they be socialized so as not to be a threat to fellow guests or hosts. Mischaracterization of the true nature of a pet's abilities especially as a way of masking aggressive tendencies or training, may result in an immediate cancellation without refund and a $50 security fee per animal in question.
17. Parking: The maximum parking available is for six vehicles. Violators will be charged a $20/day/vehicle fee above the allotted six spaces for the whole house rental and one space per suite rental.
18: Smoking: It is not permissible indoors. Guests are asked to remove themselves to the far end of the entertainment deck to smoke. Despite being clear about this directive we have found two guests who smoked indoors trying to disguise that fact. Indoor smoking will result in a $50 cleaning fee.
19. Scamming: Any guest who stays for a full booking then seeks a total refund based on illegitimate or polemic assertions, will be vigorously challenged. For the record we are aware that there is an element that will use words like: Safety, Mold, Harassment or Grime as code words meant to prime the refund slot machine. Such extortion techniques are well known to the hosting community. It is also sadly clear from demographic profiles based on past incidents, that the most likely profile for such behavior will be: Age 58-65, Female, Single or Divorced, Alcohol dependent, with an event booking (graduation or wedding). Please don't try this. The strategy is too well known and we will vigorously defend against such tactics. In the past this has resulted in defamation judgements and even jail time on extortion charges. At the very least, guests should know that all hosts have the last word and a decent writer armed with the facts can pretty much end a guest's ability to have other hosts agree to risk the same danger in the future.
19. Tipping: While we do not require it, tipping is very much appreciated. In over 400 bookings, we've received only four tips! (Note: This is beginning to change and we thank you for it). My poor nephew busts his hump in the laundry for hours for our guests. Often with several guests in the different suites, we find ourselves saying goodbye to the last guest at 1pm, cleaning baths until 2pm, making beds, vacuuming, dusting and straightening until 3pm, welcoming and giving tours until 5pm, getting keys and extra towels or lighting fireplaces until 6pm, making dinner recommendations, giving directions and calling cabs until 7pm, making our own dinner and resting until 8pm, playing piano and offering cordials until 10pm, lighting the fire pit, showing the Nuclear Shelter and having lively, engaging conversation until 12am, cleaning the kitchen, setting up breakfast, grinding those beans and programming the coffee maker until 1am, sleeping until 5am, getting to the store for the freshest croissants and bagels until 6:30am, being clean and dressed and ready for coffee and conversation until 10am, seeing off the guests, starting the laundry, clearing breakfast, replacing carpet, mowing the lawn and improving the rooms until 1pm, followed by lunch and a nap before starting it all again. To me, we do quite a bit more than the mystery folks who leave the origami towel animals on those cruise ship beds or the emo waiters chasing you down outside that Union Square Bistro for giving them the stiff; yet somehow just one out of every 100 guests (until recently), has seen fit to recognize that at any level. Hmmmm.
20. Eating: Yes, we provide continental breakfast. However, whole house guests must make their own coffee after seeking instructions and locating our beans or ground. They are also responsible for notifying the host at least 12 hours in advance of specific breakfast items needing to be replenished. Guests must allow for host access late night or early am to the kitchen to complete that request or the request cannot be completed.
---
---
---
1 ночь — минимальная продолжительность бронирования
---
This was an adventurous stay for me and 8 family members who were attending a wedding in Macon. None of us are use to older homes and were a bit spooked, but we came away with an interesting story to tell. That means more to me than living in luxury for a night! The hardwood cottage was spacious and our host John accommodated our needs well... mostly speaking of my elderly and sometimes crabby grandfather. My only wish is to see the home better kept, as it has a lot of potential but appears to be suffering serious water damage. I hope that John can continue to improve the home through the proceeds from renting on airbnb, but I think he will need a nice fundraiser through the historical society to make a real difference. ALSO, if you like books and just want a wonderful place to read for a few days, this is your place!
---
A must stay!! We were 9 travelers, 3 adults, 4 seniors and 2 kids - had enough space for all. A home away from home. Checked in late at night and were welcomed with a chirpy John on his Piano, playing a welcome song for us. A quick tour of the house with history of all the rooms and we were left to ourselves for the night. Did a late check out (no pressure from the host). Plenty of parking space, stuffed kitchen. What more can you ask for ??? may be an extra bathroom...we were 9 of us and so 2 bathrooms (without any half baths) between 9 was a tad uncomfortable but was easily made up by letting us check out late. Will walk away with pride to have stayed in house that has been listed in the National Register of Historic places.
---
If you are lucky enough to be able to stay in John's Harwood Cottage, you will not be disappointed with it. The surroundings and decor are lovely. John is a kind and gracious host with a knowledge that is stunning! His life story is truly amazing. The passion he exudes is unparalleled. His home is a Georgia treasure. What a fantastic time we had! We stayed from Monday to Sunday and we hated crawling into our car and returning to reality. The rooms were perfectly appointed with thoughtful attention to ambiance. I felt like Scarlett O'Hara without the nasty nuisance of no running water or air conditioning! Thank you John! The Woosleys
You know I wondered if there was such a thing as long distance affinity until you and your wonderful family filled this old cottage but now I know it's true. We are so grateful for your stay and have to say you are easily the best full house family stay we've ever had. If there is a heaven (and oh yes Rhett, I do believe it 'cuz I was raised on it!), we hope it's filled with the kind of folks we had the pleasure to know during yourstay with us. You will always have a special place in the heart of Georgia! (Yippy skippy)
---
I am an eclectic individual who loves the contradictions that make life interesting. I have reached the middle of my life, living in Macon, GA but the son of a Mayflower Mom and a first generation Italian dad. I love the arts, painting, music and writing; but I have made most of my money over the years on Wall Street. I haven't made that much though because I have chosen to be honest in a game that doesn't pay the honest very well. I love old houses and new cars. I believe in tradition though I am totally iconoclastic. I love to travel but I could be totally happy never having to leave Harwood Cottage again. I am a hometown boy who finds himself frequently traveling over 3,000 miles for work. I am a Cancer (zodiac sign, I mean). I am single. I am over 50. I am nostalgic. People say I'm a pretty good storyteller. Come and tell me if they're right! 5 things I can't live without: 1. Passion, 2. Family 3. Friendship 4. Imagination 5. Tomorrow. Favorite Destination: Paris. Favorite Book: A Room With A View. Favorite Shows: Les Miserables and Curb Your Enthusiasm. Favorite Music: Paul Simon's Graceland. Favorite Food: SiciliannStyle Stuffed Artichokes. As a host, people say I'm engaging and informative (polite for chatty). Life motto: "En Dubio Et Tradittio" (roughly: When in doubt, go with tradition).
Языки:
English
Частота ответов:
98%
Время ответа:
несколько часов
Открывайте новые возможности в г. Macon и поблизости
Другие варианты жилья в г. Macon: