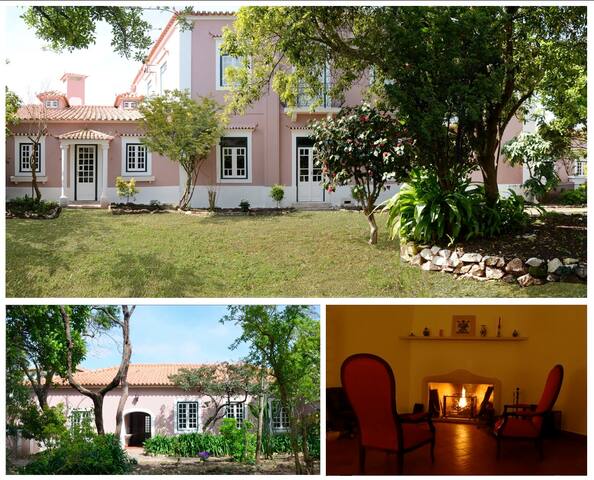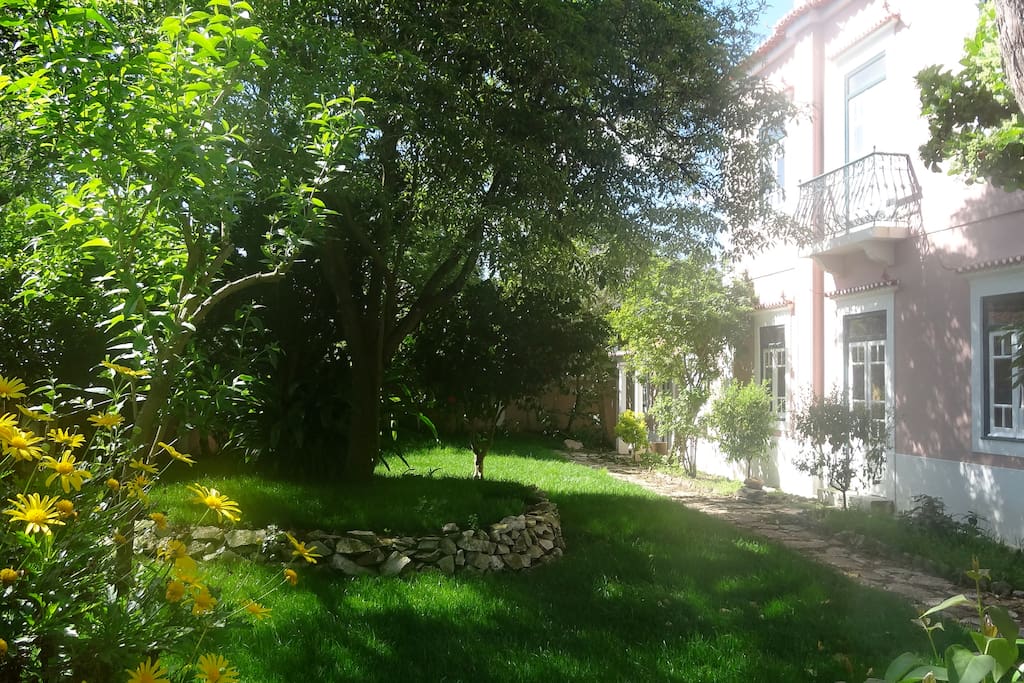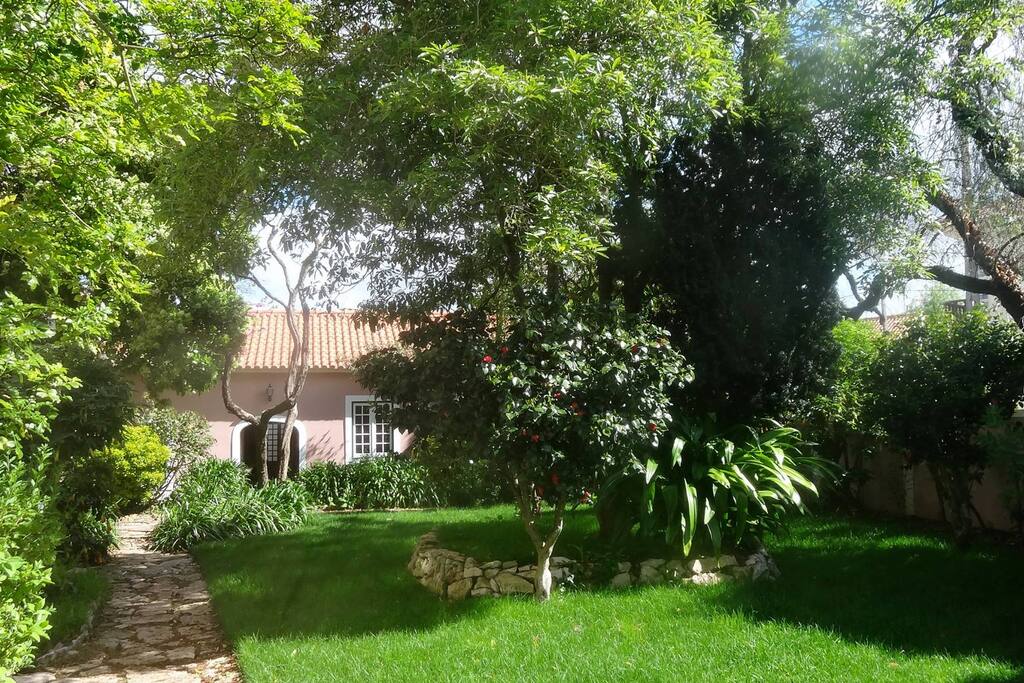 Casa Encarnada 18th c + Swimmg pool
Quinta da Condeça is a recently renovated mansion in the central region of Lisbon, typical of the late 18th/mid-19th centuries' gracious architecture.
The ideal starting point for your holiday excursions to the sea or the countryside!
Swimming pool
Жилье
You can find us on :
- our website (URL HIDDEN)
- our facebk page "Quinta da Condeça" : (URL HIDDEN)
Here's a video coverage of our house on the French television (France 5, La Quotidienne, 10/11/2014, "Retraites : le nouvel eldorado portugais") : (URL HIDDEN)
A LARGE 17X6X2 m. SWIMMING POOL WILL BE AVAILABLE ON JULY 18TH.

DESCRIPTION OF THE HOUSES FOR RENT :
As mentioned in the historical reminder, the estate consists of 4 habitable estates, each one of them having its own personality, its atmosphere and its specific decoration.
Only the two following houses are now available for rental, they are both equally comfortable and furnished with new premium bedding : "Casa Verde" and "Casa Encarnada"
THIS POST IS ABOUT "CASA ENCARNADA", IF INTERESTED IN "CASA VERDE" PLEASE CHECK THE OTHER ANNOUNCE ON AIRBNB ( https://www.airbnb.fr/rooms/3228234 ) !
'CASA ENCARNADA' (6 persons)
This house, one of the most spacious, is approximately 140 m² and is designed for 5 ou 6 people.
It consists of :
- A very large living room over 50 m² overlooking the village square, with a large corner fireplace
- A large master bedroom (approximately 17 m²), with one double bed (1.60 x 2 m) and two windows overlooking the front garden or the street.
- A large twin bedroom (approx .20 m²) with very large built-in cupboards, with two single beds (1 x 2 m) and two windows overlooking the front garden.
- A separate room (approx15 m²) with independent access from the entrance hall, with a window overlooking the front garden, large built-in cupboards and a double bed (1.40 x 2 m), ideal for a young couple or a single youngster attached to his independance.
- A fully equipped kitchen with an oven and two electric hobs, microwave, fridge, washing machine, toaster, coffee machine, etc ...
- A bathroom with an embedded washbasin, bath shower and toilet.
This warm-coloured home - more independent of the others - has the distinction of being both a house allowing to be in contact with the daily life of a rural hamlet (especially during the typical village festival which takes place on the central square) while being immersed in the middle of a pretty flower garden.
===============================================
VACATION SPIRIT
For charming old mansions admirers as well as nature and authenticity lovers, we offer a pleasant stay at « Quinta da Condeça », in Portugal.
This recently renovated « quinta » (seignorial agricultural estate) located in Estremadura, central region of Lisbon, 25 km from the sea and surrounded by gardens and a park of more than one hectare is typical of the gracious Portuguese architecture from the late 18th to the mid-19th centuries.
Our goal :
Feel as if you had your own seaside & country house, with the necessary autonomy to live the style of holiday you love in total independence, while experiencing the charm of old mansions marked by the patina of History - yet provided with modern-day home comfort.
Besides of the privative use of the rented house, you will have the possibility to enjoy numerous advantages :
- Free use of all the domanial areas (within the bounds of everyone's respect)
- Walks, games or sunbathing… in the cleared part of the land as well as in the « wilder » one (1 ha of land)
- Collection and (reasonable) consumption of seasonal fruits
- Our assistance to get you to know and enjoy the house (particularly well placed for touring), Portugal or the region around, as we enjoy it ourselves. It will be a pleasure to indicate you the good addresses we know, in terms of tourism and culture, sports, gastronomy, partying or practical details...
Regarding the meals, three options are available :
1) Numerous, unexpensive, good and tasty restaurants (cf. our « discovery and activities' page)
2) Home cooking (our neighbour's grocery on the village square, various markets and supermarkets nearby)
3) If you feel like eating at home without cooking, we offer you a possibility to savour typical dishes with our « caterer » formula – you'll only need to warn us and order in advance.
NB : Barbecue available
Laundry service :
If you need to have your linen washed, we can put you in touch with a trustful launderer who we know (warn us in advance).
========================================
HISTORY OF QUINTA DA CONDEÇA :
This seignorial agricultural estate is the legacyof a beautiful love story that earned the quinta its name, worthy of a fairy tale and still present in the memory of the inhabitants of Barreiras :
The lands of this village were formerly shared between a few large families of ploughmen.
One of them, the owner of this quinta, had a very pretty girl.
One day a nobleman from Lisbon, descendant of the illustrious family of Mascareignas (noble Portuguese family of navigators and explorers who gave their name to the Mascarene Islands in the Indian Ocean which include Mauritius and Reunion), was hunting in the region.
During a stop in the village, he fell in love with the girl and married her. He then bought the Quinta and the surrounding lands which he offered to his wife as a leisure house, in addition to the title of Countess de Torre, Fronteira and Lorna, many domain names belonging to this renowned family.
The young girl – which was said to be equally as kind-hearted as beautiful, took advantage of the fortune she was endowed with to do all the good she could around her, until her death, around the Second World War.
She notably turned one of the houses (« CASA ENCARNADA ») into a local primary school and financed the construction of the nearby chapel.
A plaque on the chapel still reminds the passer-by memories of her kindness...
The property - though fragmented since – still forms a homogeneous architectural ensemble which now includes a separate house (the old school reassigned to the house) and three adjacent but totally independent houses that are :
- The main two-storey house
- One mezzanine house (« CASA VERDE»)
- One long house on the garden level with a huge library, which was the former home of « Caseiros » (sorts of stewards)
In addition, several outbuildings can be mentioned :
- A barn/storeroom with large wine tanks
- An ancient wine press. The vats in which the grapes were trampled underfoot and the large iron screw still remain.
- A charming dovecote and hutches
- Four wells on the land reminding the ancient agricultural vocation of the area
Доступно гостям
===========================================
Общение с гостями
We remain at your disposal for any concern or question. Mr Cardon, landowner, will welcome you at your arrival and personally hand you the keys then.
Другие важные подробности
=======================================
THIS POST IS ABOUT "CASA ENCARNADA"
IF INTERESTED IN "CASA VERDE" PLEASE CHECK THE OTHER ANNOUNCE ON AIRBNB ( https://www.airbnb.fr/rooms/3228234 ) !
---
The host canceled this reservation 66 days before arrival. This is an automated posting.
Dear Christophe, As mentioned on the phone with you, I am deeply sorry for this automatic double reservation within 2 hours time on another website. It is bad luck. In order to apologize, we offer you a 30% discount on an eventual next stay, for your family or another family coming on your behalf. I hope you find some place you enjoy for your holidays in Portugal. Best regards, Hervé Cardon. ==================== Cher M. Taulle, Comme indiqué par téléphone hier soir, il y a malheureusement eu un loupé et nous avons accepté automatiquement une réservation à la même période que vous sur un autre site. Je suis confus et navré de ce loupé. Pour nous excuser, je vous propose donc une réduction de 30% sur un prochain séjour (hors juillet/août), valable pour vous ou pour une famille amie venant de votre part. Je vous souhaite de bonnes vacances au Portugal et bonne chance dans vos recherches de logement. Bien cordialement, Hervé Cardon PS : Sachez toutefois que nous sommes pour le moment toujours libres les nuits du 10 11 12 13, mais sur l'autre maison, la CASA VERDE.
---
Ancien cadre supérieur expatrié de longues années au Portugal et connaissant parfaitement la région, désormais installé là-bas, je mets à disposition 2 maisons meublées et totalement autonomes.
Языки:
English, Español, Français, Português
Частота ответов:
100%
Время ответа:
в течение часа
Открывайте новые возможности в г. Lisboa и поблизости
Другие варианты жилья в г. Lisboa: