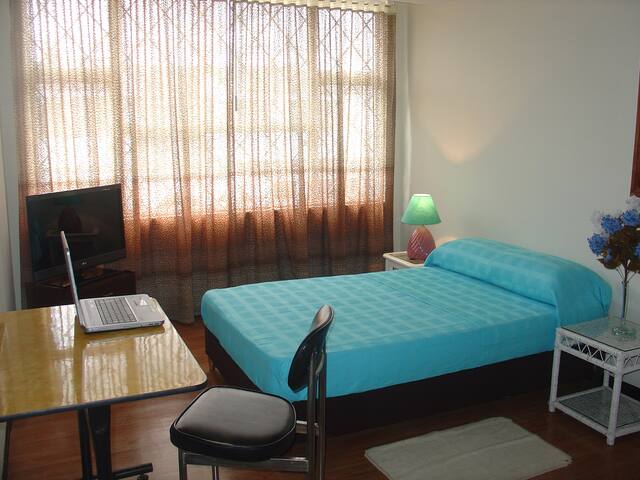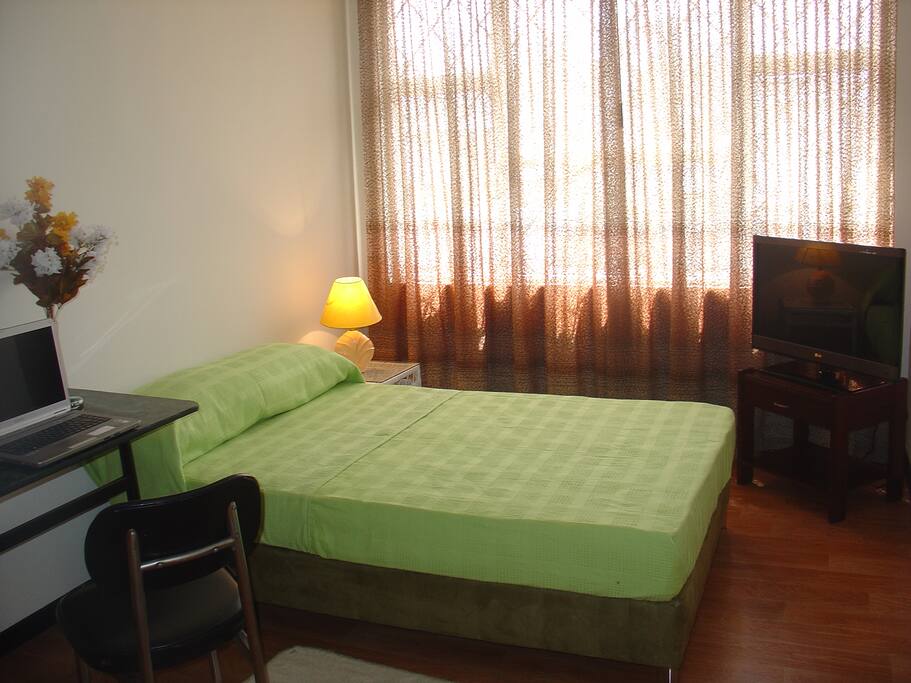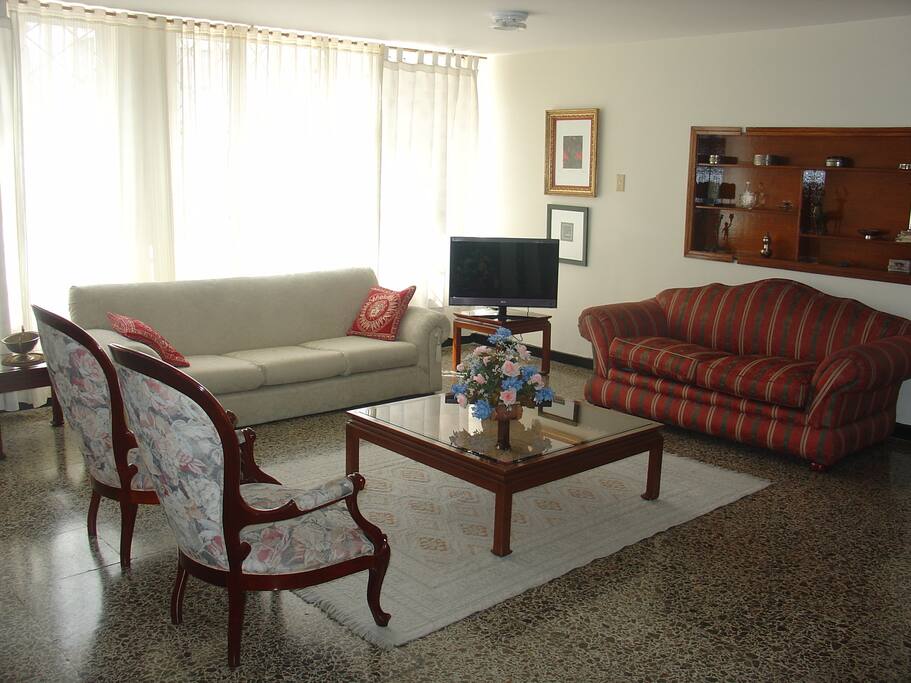 Завтрак
Это один из немногих вариантов жилья в данном регионе, имеющих это удобство.
Жилье
Bogotá, Colombia's mountain capital, has a population of 8 million, more than London. Its ancient quarter still has houses built by Spaniards in the 17th and 18th centuries and boasts the finest museums in Latin America.

LOCATION
The inn is to 10 minutes of the international airport "El Dorado" and 20 to downtown. Close to trasmilenio Station and the shoppin center Great Station, is the reference point where the Inn this in the North side of the Street 26. We are near the American Embassy.
In SweetHome" you will receive personalized attention! you will feel like at home! he/she comes the we wait...I
comfortable rooms, work area with desk and chair,nice lamps, and social bathrooms. Lobby , satellite tv, social restaurant , personalized attention
Very near the Inn we have the Central Park Simón Bolívar, ideal space to carry out sport activities, in their Central Lake activities of canotaje of high competition and eslalon can be developed. Their forests, make it one of the places of pure air and housing of several species of migratory birds. Equally and very close we find the Center Botanical Garden "José Celestino Mutis" where meets Andean tropical Flora variety. For those but restless with the science, they found in MALOKA Interactive center, all the answers to the marvels of the Universe, their Cinema Dome offers a variety of movies and scientific documentaries in image 3D of High Definition.
TOURS HISTORY DOWN TOWN
A unique collection of golden masterpieces!
The Banco de la República Gold Museum, in Bogota, Colombia, displays an extraordinary selection of its pre-Hispanic goldwork collection - the biggest in the world. Together with other pottery, stone, shell, wood and textile archaeological objects, these items testify to the life and thought of different societies which inhabited what is now known as Colombia before contact was made with Europe. The Gold Museum's tiny raft of El Dorado shows native people throwing offerings into a lake, a legend that spurred history's greediest treasure hunt. Made of spun gold, the raft seems to float serene, spot-lit in a darkened room, surely the most exquisite pre-Columbian object anywhere. PLANS OF ONE DAY
The Salt Cathedral of Zipaquirá is an underground Roman Catholic church built within the tunnels of a salt mine 200 meters underground in a Halite mountain near the town of Zipaquirá, in Cundinamarca, Colombia. It is a very popular tourist destination and place of pilgrimage in the country.[ The name "Salt Cathedral" is mostly to attract tourists - while a functioning church that receives as many as 3,000 visitors on Sundays, it has no bishop and therefore no official status as a cathedral in Catholicism.
The temple at the bottom has three sections, representing the birth, life, and death of Jesus. The icons, ornaments and architectural details are hand carved in the halite rock. Some marble sculptures are included.
The cathedral is part of a larger complex including "Parque de la Sal" (Salt Park) and a Museum of mining, mineralogy, Geology and natural resources. PLANS OF ONE DAY

PLAN WEEKEND
Rest and Surrounded Relaxation of nature, in property "GOODVIEW FARM" ..!
LOCATION: Cachipay and Anolaima are located at only 2 hours from Bogotá, in the county of the Tequendama. Temperature 18° to 22° c . Height 1.657 mts. Topographically it is a region of floors broken it has more of varieties, fruit, flora and fauna. ! Release your stress of the week in our natural pyramid and return with renovated energy..!
Available house for 5 people, goods beds in remodeled and light rooms, colective rest, social bath room, personalized attention, ecological walks, Cavalcades met roads, Bonfire-tales myths and legends, night Astronomy exploration zenith, yoga relaxation, tonic bathrooms. Hothouse cactus visit, and heliconias cultive, photos flora and fauna, watercolor paint, and many more..! PLANS 2 DAYS

Colombia surroundings.
Historically, the country's imposing landscape left its various regions largely isolated from one another, resulting in the development of very strong regional identities, in many cases stronger than the national. Modern transport links and means of communication have mitigated this and done much to foster a sense of nationhood.
Popular tourist attractions include the historica Candelaria distric of central Bogotá, the walled city and beaches of Cartagena. The Colonial Towns of Santafe de Antioquia, Popayan,Villa de Leyva and Santa Cruz de Mompox, and the Salt Cathedral of Zipaquirá.
The great variety in geography, flora and fauna across Colombia has also resulted in the development of an ecoturist industry, concentrated in the country´s national parks. Popular ecotourist destinations include: along the Caribbean Coast, the Tayrona National Park in the Sierra Nevada de Santa Marta mountain range and Cabo de la Vela in the tip of the Gaujira Peninsula.
The Nevado del Ruiz volcano, the Cocora Valley and the Tatacoa Desert in the Central Andean Region. Amacayacu National Park in the Amazon River Rasin. The Pacific Islands of Malpelo ,Gorgona and the Caribbean Islands San Andres and Providencia.

Visit us at
No niños
No mascotas
No fumadores
Оставьте отзыв на жилье хозяина JORGE ENRIQUE в числе первых гостей, чтобы помочь ему на первом этапе.
Soy una persona tranquila, amante y respetuoso de la naturaleza, me gusta los espacios amplios y ventilados, con vistas, disfruto de los buenos momentos, con una buena lectura, una entretenida pelicula, o una puesta de sol con una noche estrellada. Disfruto de un buen plato de c…
Общайтесь только через Airbnb
В целях безопасности никогда не переводите деньги и не общайтесь за пределами сайта или приложения Airbnb.
Чем заняться рядом с этим жильем
Открывайте новые возможности в г. Богота и поблизости
Другие варианты жилья в г. Богота: