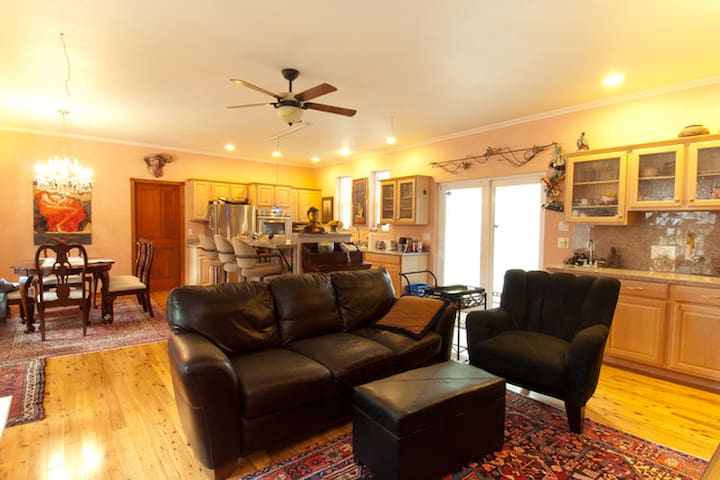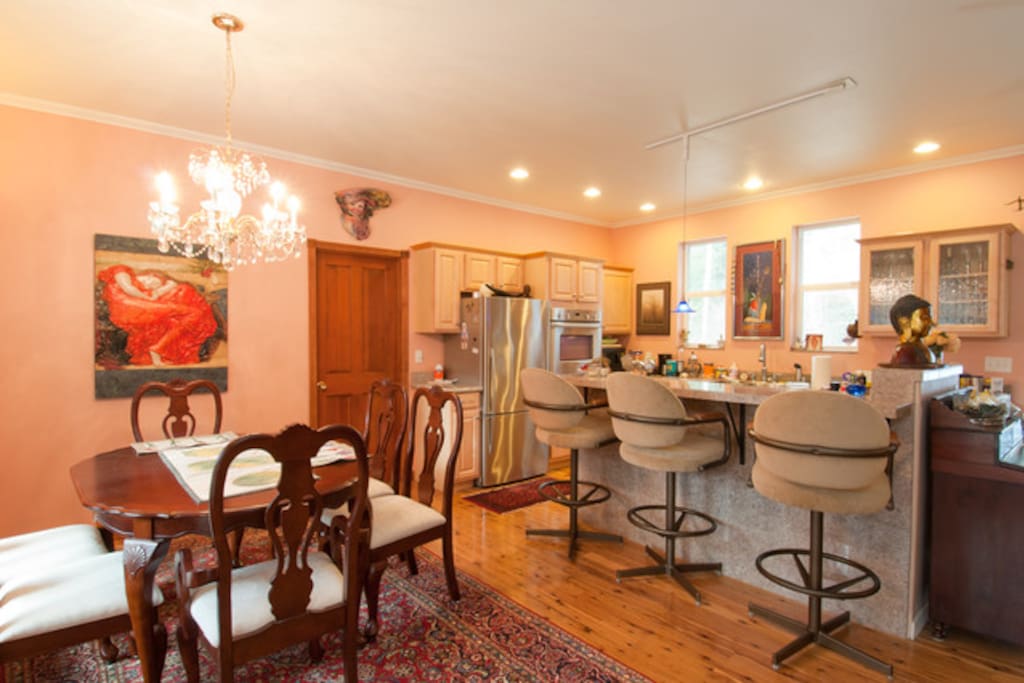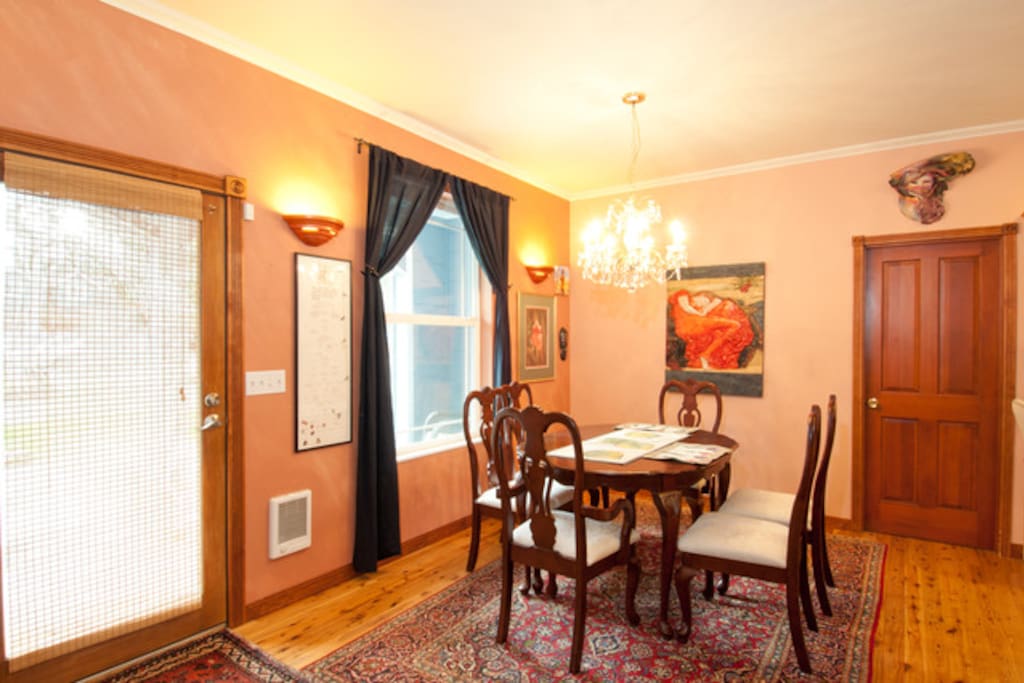 Luxury downstairs 1 Bedroom Condo
---
Это жилье оснащено всем необходимым в деловой поездке.
---
---
Залог за сохранность имущества 14943 р
Цена на выходные 5917 р / ночь
Общайтесь только через Airbnb
В целях безопасности никогда не переводите деньги и не общайтесь за пределами сайта или приложения Airbnb.
Подробнее
---
Please review our House Rules, for certain restrictions that may apply
Submitting a Reservation Request: Constitutes to us that you have read and agree, to our House Rules & Rental Agreement.
Rental Agreement Policies
Kelly Munk (Owner) and Guest agree as follows:
This Rental Agreement and Contract (the "Agreement") is a legally binding agreement made and entered into as of the Reservation Date written below by and between the undersigned person(s) (the "Guest") and the undersigned owner, pursuant to which the Guest has agreed to rent the residence described below (the "Property"), for the duration of the Rental Term for the Total Rental Fee and other good and valuable consideration as described herein.
1. Rental Agreement. Kelly Munk (Owner) & the Guest identified above is an adult and will be an occupant of the Property during the entire reserved period. Other occupants may be family members, friends or responsible adults; Guests under the age of 21, must be accompanied by an adult. Access to the Property will be denied to anyone who is not a registered Guest. Use of the premises will be denied to persons not falling within the foregoing categories, violation will result in immediate expulsion from the house without refund.
2. Occupancy/Conduct of Guests. Guest agrees that no more than [Max Guests agreed upon] shall be permitted to stay in the Property at any time during the Rental Term.
Guest shall not assign or sublease the Property or permit the use of any portion of the Property by other persons who are not family members or guests of the Guest and included within the number of and as permitted occupants under this Agreement.
The Property is not for parties, nor gatherings at any time of anyone except, those who have paid to stay there. Guest and any additional permitted guests shall refrain from loud noise and shall not disturb, annoy, endanger, or inconvenience neighbors, nor shall Guest use the Property for any immoral, offensive or unlawful purposes, nor violate any law or ordinance, nor commit waste or nuisance on or about the Property.
No shoes to be worn in property!
Quiet hours are to be observed after 10pm. If there is any excessive noise or music, illegal activity or evidence of violation of any Guest policies you will be asked to vacate the premises and no refund will be given.
3. Check In / Check Out. Check In is any time after 4:00PM Please advise if after 8:00PM.Check Out time is 10:00 AM; prompt checkout is appreciated so we can prepare for our next guests. An early arrival and/or later departure time may be possible but must be confirmed one week prior to arrival, - please check with us if you require either. Please leave keys on dinning table.
4. Smoking is prohibited. If there is any tobacco smell in the Property there will be a $500 fee charged to Guest's credit card, as well as any additional associated cleaning costs.
5. Security of the Property. Guest shall use the Property for residential purposes only and in a careful manner to prevent any damage or loss to the Property. When you rent the Property, you assume responsibility for it and its contents, as well as any of your personal property in the unit during your stay. Guest agrees that all personal property, furnishings, personal affects and other items brought into the Property by Guest or their permitted guests and visitors shall be at the sole risk of Guest with regard to any theft, damage, destruction or other loss and Owner shall not be responsible or liable for any reason whatsoever.
Always lock the doors and windows when you leave and leave outside lights on. The keys are changed on a regular basis for security. $20 fee will be charged for each lost key.

6. Cleaning/Housekeeping/Supplies. Each house is inspected, sanitized and cleaned before your arrival. Housekeeping services are not provided on a daily basis with your rental but an ample supply of kitchen & bathroom housekeeping supplies are provided so you may do your own cleaning during your stay. Guests shall keep the Property in a clean and sanitary condition at all times! Strictly no shoes to be worn in property!
We strictly recycle – Garbage goes up on Sunday's Garbage receptacles are beside my garage
-Sort all burnable & cardboard - bag separately to burn, place by recycle.
-All cans, plastic and newspapers - place in large grey bin.
-All rinsed glass, no need to sort – place in glass bins. Thank you!
Depending on Rental type: Short Term or Long Term: Different policies are in place! Please fully read and understand. Any questions please ask for clarification.
Short Term: Rental Check Out Procedures: Under 21 days: The rental fee you have paid will provide for normal cleaning so that you can enjoy your stay up to the last moment. You are expected to leave the property in the same general condition that you received it. Make sure all dishes are cleaned and put away; appliances left clean & wiped down, perishable food items removed from the refrigerator and all items returned to their original location. Please start washing machine with all sheets, and leave all used towels in the laundry room on the floor. The unit should be generally, picked up and ready to be cleaned and sanitized for the next Guest. All trash must be removed and placed in correct trash receptacles.
If additional cleaning is required appropriate charges will be made; additional cleaning is considered anything beyond finishing laundering linens and towels, dusting, vacuuming, cleaning bathrooms, and putting away clean dishes.
Long Term: Rental Check Out Procedures: 21 days plus
You are expected to leave the home in the same general condition that you received it by making sure that:
•All closets, cupboards, laundry room & kitchen are clear of personal belongings & rubbish.
•Please return all items to their original location.
•Make sure all dishes, pots and pans are cleaned and put away.
•All appliances are cleaned, Fridge, stovetop, microwave, sink and coffee maker. Including all countertops. Please wipe out oven. Do not self-clean!
•Lavatory, shower, mirrors and sinks are cleaned.
•Linens started in washer, all used towels in laundry room. If office bed was used, all clean linens folded on bed please.
•Please take all trash & recycle, including bathroom trash bags, to trashcans by my garage.
•Please load all final morning dishes into the dishwasher and run it on the economy cycle.
•Please leave pilot on, in gas fireplace (winter). Please close all windows in the summer.
•Place the keys on the dinning table.
•Please make sure that you have set up mail forwarding.
If additional cleaning is required appropriate charges will be made to your credit card; or not refunded from your deposit.
Additional cleaning is considered anything beyond finishing laundering linens and towels, remaking beds, sanitizing bathrooms, and putting away clean dishes.
A generous supply of paper and cleaning products for bath and kitchen are provided with each unit.
7. Furnishings and Supplies: The property is fully furnished including linens, pillows, blankets, & towels. The kitchen is fully equipped with pots, pans, dishes, and silverware.
There are full laundry facilities, including an Iron and board.
Tea & coffee are also supplied.
8. Television/DVD/Computer. The home offers a High Definition Television and Comcast Digital Cable with On-Demand. We offer Comcast Digital Gold Service, as well as a DVD player for your enjoyment
9. Repairs. All Cottage contents are kept in good working order. The Property is rented in "as is" condition. Owner shall use their best efforts to ensure the operation of all amenities in the Property, such as Internet access or cable TV. Please immediately inform us of any needed repairs, we will address your concerns as soon as possible. No amenities are guaranteed. No refunds will be issued due to malfunctioning equipment
10. Damages & Guest Liability: Guest agrees to accept liability for any damages caused to the property (other than normal wear and tear) by Guest or Guests guests, including, but not limited to misuse of appliances, and/or equipment furnished, landscaping etc. Guest grants Kelly Munk, Owner. The right to charge the credit card number provided or withhold security deposit, for Guest for any damage charges to property during the guests stay.: If damages are in excess of the security deposit being held, Tenant agrees to reimburse Owner for costs incurred to repair/replace damaged items.
11. Risks/Safety/Decks/Balconies: Guest hereby acknowledges that the property they have reserved includes a decks and balconies. Guest is fully aware that the patio/deck can be dangerous, & the patio/deck/ can be slippery when wet, and that injury is
likely to occur to anyone who is not careful. There may be conditions in and around the Rental Property that may pose hazardous, to Guests, Visitors and Children. Owner does not assume any liability or responsibility for any injuries occurring during your stay with us. The undersigned Guest accepts and assumes all risks involved. Guest hereby waives and releases any claims against the Property owner and their successors, assigns, employees or representatives, officially or otherwise, for any injuries or death that may be sustained by Guest on or near or adjacent to the Property, including any common facilities, activities or amenities. Guest agrees to use any such facilities or amenities entirely at the Guest's own initiative, risk and responsibility.
12. Hold Harmless: Kelly Munk, Owner does not assume any liability for loss, damage or injury to Guests, their invitees or their personal property. Owner does not accept liability for any inconvenience arising from any temporary defects or stoppage in supply of water, gas, electricity or plumbing, nor will Owner accept liability for any loss or damage caused by Guests negligent or intentional conduct, weather conditions, natural disasters, acts of God, or other reasons beyond their control.
13. Additional Terms and Conditions: The undersigned Guest, for himself/herself, his/her heirs, assignors, executors, and administrators, fully releases and discharges Kelly Munk, Owner from any and all claims, demands and causes of action by reason of any injury or whatever nature which has or have occurred, or may occur to the undersigned, or any of his/her Guests as a result of, or in connection with the occupancy of the premises and agrees to hold Kelly Munk, Owner free and harmless of any claim or suit arising therefrom. In any action concerning the rights, duties or liabilities of the parties to this agreement, their principals, Kelly Munk's successors or assignees the prevailing party shall be entitled to recover reasonable attorney fees and costs.
14. Entry & Inspection: Owner reserves the right to enter the Property at reasonable times and with reasonable advance notice for the purposes of inspecting the Property or showing the Property to prospective purchasers, renters or other authorized persons. If Owner has a reasonable belief that there is imminent danger to any person or property, Rental Agent may enter the Property without advance notice.
15. Pet Policy: A guest must have written permission to bring a pet into the Property. If Guest has been granted permission to bring a pet, Guest gives Kelly Munk, Owner permission to charge a non-refundable pet fee as agreed upon to their credit card. This fee includes up to one additional hour of cleaning. Any additional cleaning or repairs/replacement of furnishings required due to occupancy of the pet will be charged to the credit card given by the Guest for deposit on file with Kelly Munk, Owner.
No pet shall be unattended in the Property, unless crated! No pet will be allowed to wonder! Pet shall only be allowed on Back patio unless leashed and accompanied by the owner!
If you have had a Pet accompany you, extra care needs to be taken cleaning! All drapes need to be free of Pet hair. All Pet waste removed from back patio. Vacuum all Persian rugs and damp mop all wood floors, with 'Bona' wood floor cleaner, please empty vacuum.
If it is found that there are more pets or different pets than agreed to on the premises or if complaints come from neighbors about excessive noise due to the pets, Guest may be asked to vacate immediately with no refund.
If Guest has not been given permission to have pets on the premises and there is evidence a pet was in the unit there will be a $500 fee charged to Guest's credit card as well as any additional cleaning and sanitizing costs associated with removing all pet dander so that future guests with allergies can stay there. This may include but is not limited to carpet and upholstery shampooing with a special sanitizing cleanser, cleaning of all drapes and blinds, changing out furnace filters, extra cleaning to remove all pet hair from walls, baseboards, and wall mounted heaters, and the laundering of all linens including mattress pads, bed skirts, comforters, and throw pillows.
16. Forgotten Personal Items: Owner is not responsible for any personal belongings left at the Property. If after checkout you request I search the Property for a forgotten belongings and the items are found, I will return them by mail C.O.D. with a service charge of $25.00. Items found and not requested to be returned within 30 days after departure will be discarded.
17.Default: If Guest should fail to comply with the conditions and obligations of this Agreement, Guest shall surrender the Property, remove all Guest's belongings and leave the Property in good order and free of damage. No refund of any portion of the Total Rental Fee shall be made and if any legal action is necessary, the prevailing party shall be entitled to reimbursement from the other party for all costs incurred
18. Additional Charges Possible: Additional charges are possible for missing items, excess cleaning, replacement or re-keying of locks, damage done by pets, additional occupancy, sanitizing charges due to smoking or having pets while in the unit.

---
---
---
5 ночей — минимальная продолжительность бронирования
---
A Different Reality My first Airbnb guest experience was a home run. After spending many years cloistered in high rises and gated communities, my time at Kelly's compound was a great experience in living in an entirely different manner. The setting is spectacular -- 4+ acres in a nestled bowl, specimen plants and trees; grape arboretum, and classic Seattle craftsman architecture make for an idyllic setting. It is also very quiet at night, and I was able to sleep without earplugs for the first time in years. The space itself is larger than it appears in the photos, and contains many high-end touches. The kitchen is a dream to cook in, and practically anything you can imagine is there to assist you. There are numerous quality touches. For example, I never got over how advanced the timer is on the Fisher-Paykel oven. The internet connectivity and entertainment system are first-rate. While I imagine many visitors would have their own car, I was able to make Uber work quite well; the location is a bit on the fringe of their current service area, yet I was always able to connect. Quick shopping is only a couple of miles away, with extensive shopping about 8 miles away. Also available is a terrific organic food delivery service (Terra Organics), with prices on many items equal or less than supermarkets. With a setting and experience as tranquil as this, I didn't want to spend any time at a market! Kelly was a pleasure to interact with -- energetic, dynamic, direct and responsive, yet never intrusive. She also kindly provided a jar of home-made mustard that was amazingly good (gone in no time!), and I hope to see it commercially available one day. The cliche is true -- time does fly by when you're having fun -- and my time at Kelly's was too short; I'd love to return! Highly recommended.
---
Nice, comfy, roomy, quiet and well equipped rental. Pleasantly surprised when we arrived how spacious and wonderful it was. Would definitely stay again. It was just like the pictures. Great hostess-very accommodating. Very centrally located.
---
Well first of all, the place way stayed was hardly a condo. We were expecting… you know a condo with 3 or 4 buildings and a large parking area. What we found was a wooded cottage in the country surrounded by tall pines with 4 acres of grass and trees protected by a fence. The place was truly beautiful! Kelly does have a few dogs, they do bark at the few people that arrive during the day. The dogs are very nice and it made us feel very safe as we are dog people anyway. We became good friends with Poppy. She and our Jack Russell got along grandly! We loved it! Best stay to date in all of our travels. My wife does travel work for Hospitals and we stayed at the cottage for 13 weeks. We were very comfortable there. The minute we walked in it felt like home, very cozy and in the country very much like our own home. The cottage was obviously a mother in-law quarters at one time, and you can tell that she had traveled the world and collected art from many places. The walls and shelves are adorned with beautiful art and trinkets from her travels and the kitchen has top of the line knives, dishes, glasses, pots and pans. Cooking is one of my many hobbies and I literally did not need to bring anything here but a few special spices. The bed was so comfortable it was hard to get out of in the morning! A walk-in closet for all of the wife's clothes was an unexpected surprise. Being gone for 13 weeks at a time we tend to travel a little heavier than most. There was also a convenient laundry attached and a nice television with cable and our own wireless modem in which everyone needs in this day and age. The cottage is conveniently located. It is about 5 minutes from Gig Harbor and the ferry to Seattle is about 20 minutes away in Bremerton. The ferry ride to is about 50 minutes to downtown Seattle where Pikes Market, shopping, restaurants and bars are located. We took the ferry on several occasions and had an awesome time! Compared to the corporate housing and furnished apartments where we have stayed, this place was great! Best place so far. Even though we were close to the main house and there were other renters above, it was very quiet, private and we felt very safe. The only minor improvements we could mention, keep in mind we stayed there for 13 weeks and we travel heavier than most due to work, is that the cabinets, mainly in the bathroom were so full of stuff from past occupants there was no room for any of our own stuff. We chose the floor for ours, no big deal! Also so there were so many expensive trinkets on the counters we were afraid they might get broken so we chose to try to find a...
---
When Kelly describes her place with the word luxury she is not kidding! We stayed 3 nights and look forward to going back. The kitchen had everything you could want, the bed was like sleeping on a cloud (although I was glad I had my down pillow with me) and the shower took that concept to a whole new level. When we plan our next trip we will check with Kelly first. You definitely need a car as it is away from town but the drive and the scenery are an added bonus. Thanks Kelly!
---
Finding this place was perfect for us. We traveled for 5 days from Massachusetts to Washington state with two dogs. We needed a place to be our "home" for a month while we searched for a house to buy. Kelly provides for everything. It was perfect for us and our dogs. She even has a fenced in yard. I cannot think of one thing missing to make our visit any better. It has everything from crock pot to cable TV. The kitchen was well appointed. Kelly calls this a luxury condo, we called it a piece (peace) of heaven. Absolutely sublime.
---
We arrived very late (midnight) as our early flight had been cancelled. Kelly left the lights on for us, a lit fireplace, chocolate, a bottle of wine and farm fresh eggs. What a great place to stay. This place overexceeded our expectations. Plenty of living space, 2 bedrooms, a shower as big as a walk in closet, great big family area, washer and dryer, plenty of extra towels and linens, pretty much a home away from home. Thank you so much Kelly, we had a great time and a vey comfortable stay.
---
Originally from Zimbabwe, grew up in England and the US, have lived in Washington State 30 Years.

I also run a successful Wedding Cake Business 'Tortes n Tarts',providing Tantalizing European Wedding Cakes in Gig Harbor and surrounding areas.
Частота ответов:
100%
Время ответа:
в течение часа
Открывайте новые возможности в г. Гиг-Харбор и поблизости
Другие варианты жилья в г. Гиг-Харбор: