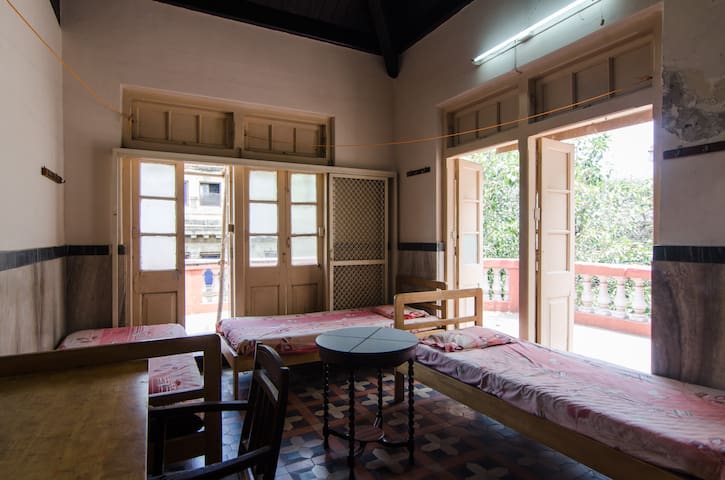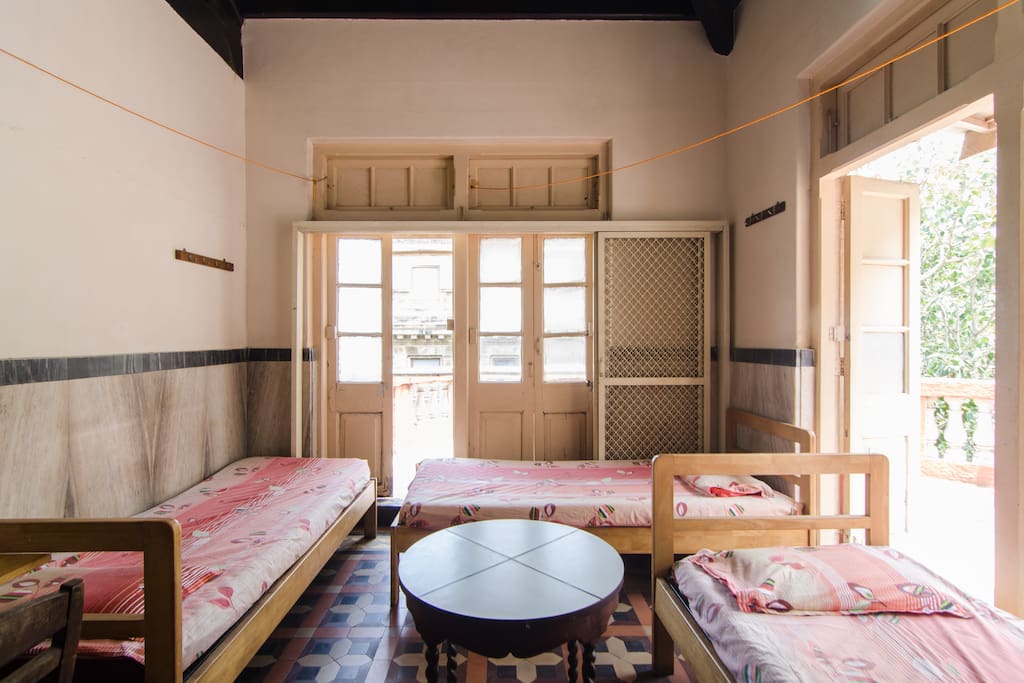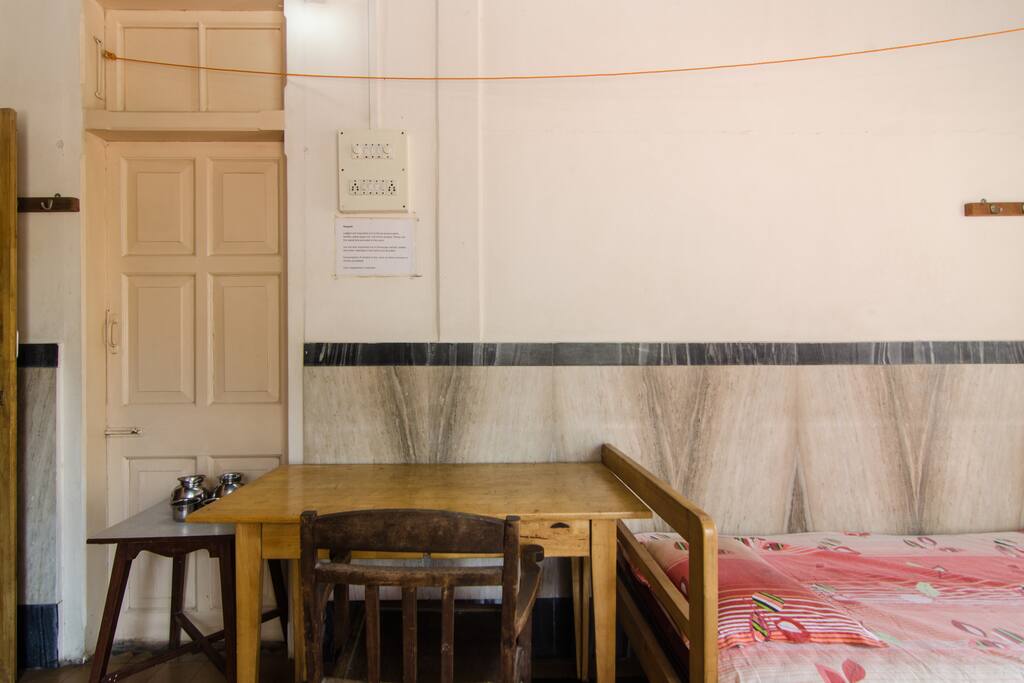 2 single beds in a 4 bed dorm
Мы являемся 91-летним домом наследия в Форте, прямо в центре города, но вдали от всего шума. Качественная, причудливая, чистая и очень доступная. Станция CST, модная улица, художественные галереи, еда, кинотеатры, которые вы называете! Это все за углом! Бесплатный WiFi тоже.
We are a 91 year old heritage lodge at Fort, right in the heart of the city yet away from all the noise.Quiet,quaint,clean and very affordable.CST station,fashion street,art galleries,food,cinemas you name it!Its all just around the corner!Free WiFi too.
Жилье
Наши гости могут забронировать за 2 односпальные кровати сразу, пожалуйста, ознакомьтесь с нашими другими лизингами для других предпочтений проживания! Будучи структурой наследия и 3-м поколением, управляющим лоджем, мы с гордостью сохранили наши изысканные кафельные полы и антикварную мебель, чтобы добавить это деревенское чувство! Чистые, хорошие вентилируемые и освещенные комнаты и кровати с удобными матрасами - вот что мы предоставляем.
Our guests can book for 2 single beds at once,please look into our other lisitings for other preferances of stay!
Being a heritage structure and the 3rd generation running the lodge we have proudly retained our exquisite tiled flooring and antique furniture to add that rustic feel!Clean, good ventilated and lit rooms and beds with comfortable mattresses is what we provide.
Доступно гостям
Бесплатный Wi-Fi, чистые туалетные комнаты [западные туалеты доступны], чистые стиральные постельные принадлежности и подушки, общая телевизионная зона / газета, балкон в некоторых номерах, мы разрешаем нашим гостям заказывать в еде / напитках за свой счет. Мы также предоставляем прачечную Расходы гостей.
Free WiFi,clean washrooms[western toilets available too], clean laundered bed covers and pillows,common TV area/newspaper,balcony in some rooms,we allow our guests to order in food/beverages at their cost,We also provide inhouse laundry at the guests expense.
Общение с гостями
Мы всегда готовы услышать от вас, наши менеджеры доступны 24x7, и мы были бы признательны за честную обратную связь как в Интернете, так и лично
We are always ready to hear from you,our managers are available 24x7 and we would appreciate for an honest feedback either online or in person
---
---
Спальня 1
4 односпальные кровати
---
Без вечеринок и мероприятий
---
This is suitable for backpackers. The accommodation is basic and ticks the boxes for travellers. The shared showers are good and toilets well maintained. The hotel is very dated in a quirky way. Mrudula was very accommodating in letting us have a dorm to ourselves. However, the bed was very uncomfortable and only had a sheet on top of the mattress, no blanket or sheet to cover you. The room had a strange musty smell to it as well. The fans helped keep the room at a comfortable temperature, so having no air con wasn't an issue and we were not bothered by mosquitoes like we have in other places. Wifi was okay but a bit hit and miss at times. Staff were helpful and accommodating, the lift guy and the gentleman who showed us too our rooms was most gracious. However, the guy in front desk was most unfriendly and didn't have the same friendly and welcoming demeanour we have received in all the other places we have stayed. We were booked in for 3 nights but only stayed for two as we needed to find a bed that was a little more comfortable to sleep on. Location was great, right around the corner from all shops and within walking distance of Gateway to India, Marine Drive and shops/restaurants etc. The evening bazaars are not far either and a must to see.
Hi Schalk,I appreciate you honest feedback and sorry we could'nt keep up to your expectations,I have inspected the room you slept in and have ordered for new mattresses,was planning to change all the mattresses in our hotel was just waiting for the monsoons to end,however you should have mentioned this to me when I asked you about your stay being comfortable,I would have changed your room and made sure you were comfortable...thanks for your feed back will hope to host you better next time Regards Mrudula
---
It all depends on what your expecting. I didn't mind the fact that there were no showers, only buckets, and that there were no western toilets. Just know that before you arrive. What I did mind was that the beds were sooo firm and uncomfortable. My bed was a blanket on top of a plank of plywood. I did not get any sleep the entire night because of really loud snoring, but that is always a risk in sharing a room-- however I didn't know I'd be sharing a room from the listing. Was expecting more for the price I paid and am expecting a refund. If you are a girl I would advise against staying here as it is all middle aged men. My female friends didn't feel comfortable staying the night here. Checking in late at night was super sketchy. The elevator doesn't run past a certain time and so I had to walk up dark stairs that were falling apart late at night and wake up the man to open the chain link gate. Pros, it is nice and cool and lots of windows.
Hi Avi,my sincere apologies for your stay not meeting your expectations..However I have a few corrections to make. 1]we have showers in 3 of the 12 bathrooms. 2]we have 5 western commodes as well along with the Indian style and you are free to choose whatever your preference is. 3]we also provide rooms and beds only for ladies,as you were with a female you got to share a room,we have many ladies and student staying with us at any given time. 4]you could have taken our listing with 3 beds ,that way you get a room to yourself and all the privacy you want 5]our listing clearly mentions per bed rates in a dorm of 5 beds..sorry that you felt mislead 6]we do not keep our elevators open after 10 pm as its a security feature and also our society rules.If you give our managers prior notice or a call on their phone they would ensure you get in without any problem.
---
Great location and clean, spacious rooms! Walking distance from loads of good sights and restaurants. The beds were a little hard but fine. The manager of the hostel was a bit rude at times but overall it was a pleasant stay and great value!
Hi Eva, I'm glad you had a pleasant stay an my sincere apologies for my managers (URL HIDDEN) would have been great if you could message me instantly when you felt that,as I could look into to matter then and (URL HIDDEN) their English is weak ,they might have sounded rude .However I'm glad you pointed that out,will have a word with them and make sure they are more courteous going forward. Regards Mrudula
---
I would give 10 out of 10 to this place when it comes to location, facilities provided, value for money and helping nature of staff and the host Mrudula herself. Mumbai CST Station is at a distance of 10 min. walk. 2 cinema halls, various eatery places ranging from Pizza hut to Macdonalds to local restaurants and coffee shops are situated at simply 2 minute walking distance. Two cinema theaters are at 1 minute walking distance. Accommodating rooms are located on 3rd and 4th floor of the building. Lifts are available to facilitate your reach to the rooms. Each room is equipped with bed, bedding, working desk and locker facilities. They fulfill your minimum basic needs. There are toilets and bathrooms which provide hot and cold water facility. Best part is that whole of the premises is always kept clean at regular intervals daily by the staff working here, hence the place always appear spot on. Tea and basic breakfast items can be arranged in the room in the morning by working staff members. They all are extremely helpful and able to support you with best possible options. I was travelling with my daughter and we wanted a separate room only for two of us. And here comes the best part when the host Mrudula herself went out of her way to offer us a separate room which was equipped with 3 beds. I must sincerely thank to her for all such helping gestures provided. This place has now become my only place to stay whenever I will be in Mumbai in future. Amit
---
Hi there!!I'm Mrudula from Mumbai,India and I just love being a part of this crazy city,where everyday there's something new to amaze me.I'm a simple girl who loves good food,good conversations,travelling and lazing around with my family.I am the lucky 3rd generation who has go…
Языки:
English, Hindi
Частота ответов:
100%
Время ответа:
в течение часа