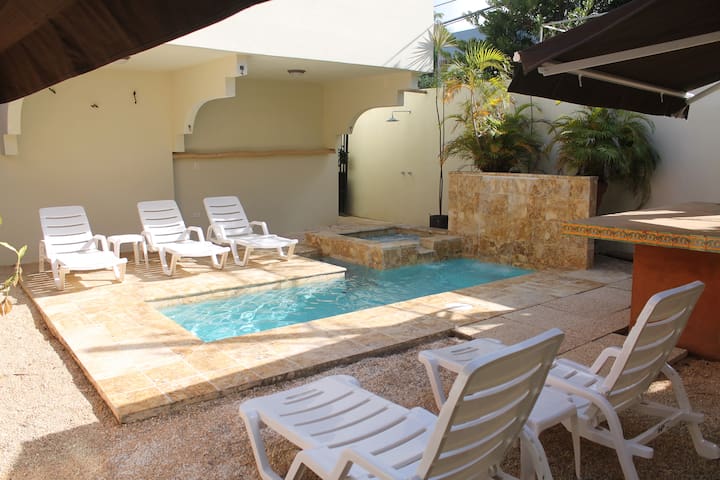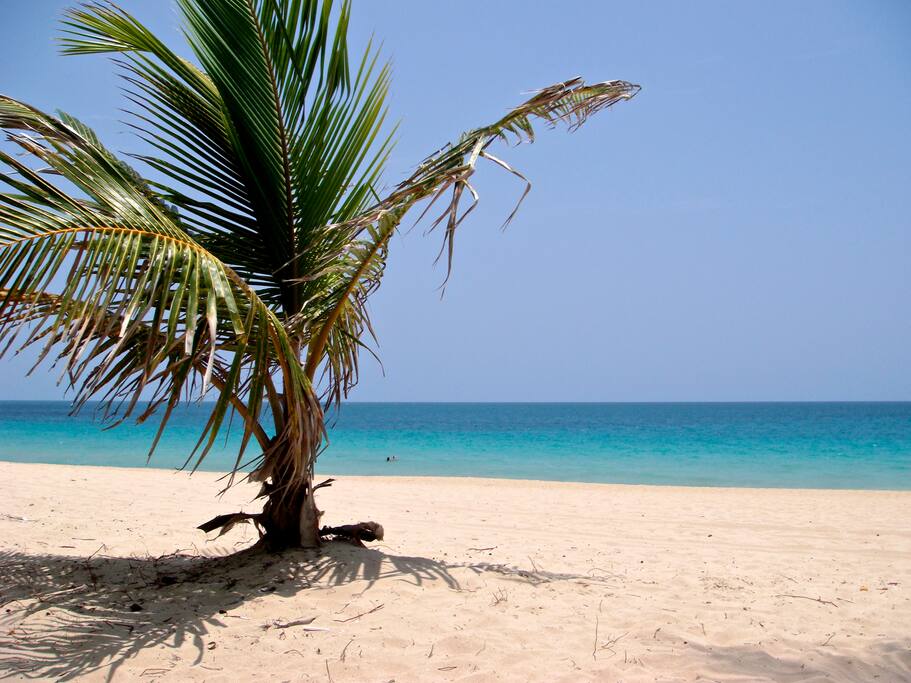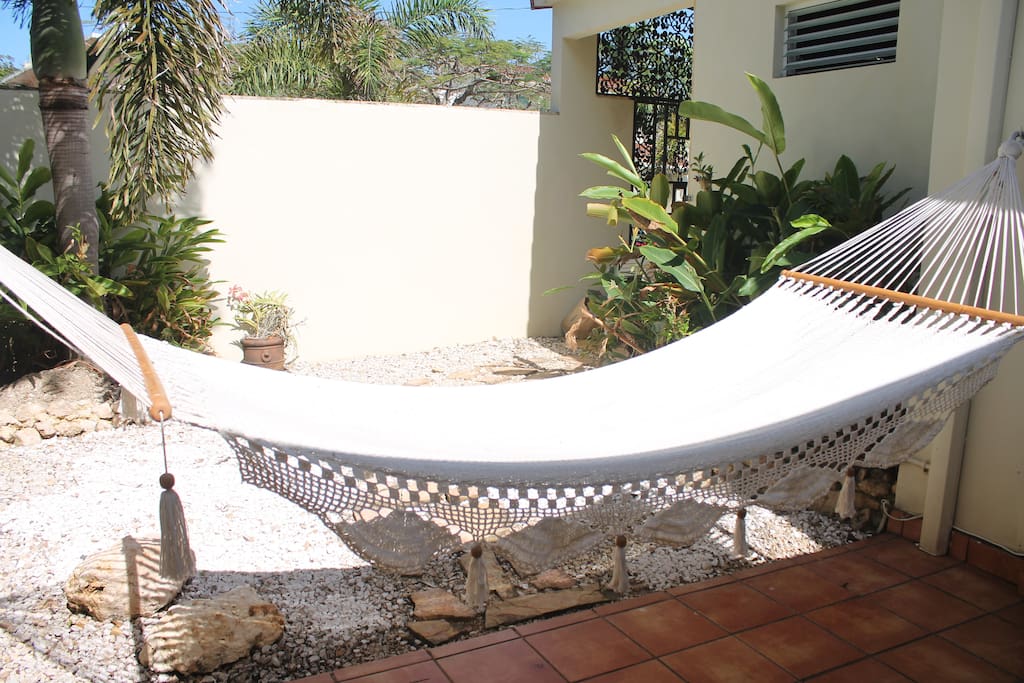 5Bed/4Bath private house w/pool
The house is located
-1 block to Ocean Park Beach
-0.5 miles to Condado
-3 miles to SJU Airport
-3.5 miles to Plaza Las America (Mall)
-5 miles to Old San Juan
-30 miles to El Yunque (Rain Forest)
Жилье
5 Bedrooms Description:
Master Bedroom
- 1 king
2 Bedroom
- 1 King
3 Bedroom
- 1 Queen
4 Bedroom
- 1 King
- 2 Twin
5 Bedroom
- 1 Queen
This home also has AC units in all rooms, fully equipped kitchen, pool and out door bar area. All you need to bring are your bags as this rental comes with towels and linens.
Other things to note
This property requires you to purchase a damage protection insurance policy of $5,000 which is not included in the listed price. The policy cost $99.00
---
---
Без вечеринок и мероприятий
Время прибытия: с 15:00 до 17:00.
NOTE: This property requires you to purchase a damage protection insurance policy of $5,000 which is not included in the listed price and also pay a 11.5% sales tax. The policy cost $99.00 and the tax depends on the amount you pay for rent.
Terms and Conditions:
(1)Check In/Out: Check in time is from 3:00 PM and check out at 11:00 AM unless otherwise specified. Check with property manager if a later check-out time is possible. Failure to comply may result in Guest being denied access to the property or immediate eviction with no refund for security deposit.
(2)Owner's Right of Entry: Owner or owner's agent may enter the premises in order to protect, inspect or make repairs on the premises.
(3)Owners Indemnity: The Renter and Guests and other visitors to the property shall hereby indemnify and hold harmless the owner(s) against any and all claims of personal injury or property damage or loss arising from negligence in the use of the premises regardless of the nature of the accident, injury or loss. The insurance of the property will not cover renters in the case of theft or any other loss. Renters need to refer to their personal policies and/or purchase travelers insurance.
(4)Smoking: This is a strictly NON-SMOKING property. Failure to comply may result in Guest being denied access to the property or immediate eviction with no refund for security deposit and all monies paid.
(5)Pets: Animals and/or pets are not permitted in the property under any circumstances. Failure to comply may result in Guest being denied access to the property or immediate eviction with no refund for security deposit and all monies paid.
(6)Deposits: The Damage/Security Deposit is NOT applied towards the rent and is fully refundable provided (a) No damage is caused to the property or any of its contents (b) All debris, rubbish and discards are placed in the dumpster (c) Oven, range-top, BBQ, BBQ tools, kitchen utensils, pans and crockery, etc. are left clean (d) No linens or towels are lost or damaged (e) A $200.00 charge will be deducted from the deposit in the event keys or alarm clickers/fobs are not returned at the time of check-out. (f) Damage to the counter tops will result in the loss of the entire deposit. Please make sure you use the cutting boards provided to prevent such event from occurring. (g)Electricity Usage: Electricity in Puerto Rico is almost 2.5 times the cost of mainland US. To reduce your carbon footprint and to avoid high electricity consumption it is requested that AC units be switched off when not required or the property is empty. The electric meter will be read at the beginning and end of the reservation. The owner commits to cover up to $5 per day in electric charges. Any electric consumption in excess of $5 per day will be charged from the security deposit at a cost of $0.25 per kilowatt hour. (h) One paid maid service visit is included in the rental upon guest departure. Guests will be responsible to leave the dishes, utensils, appliances and BBQ clean. All trash is to be disposed of in the receptacles provided. Failure to comply will result in a $100.00 penalty fee from the security deposit.
(7)Maximum Occupancy: Maximum occupancy is 15 people at any given time. Exceeding the maximum number of guests allowed in or on the property premises may result in Guest being denied access to the Property or being evicted from the property with no refund of all monies paid.
(8)Acts of God and/or Noise: Owner shall not be liable for events beyond his control which may interfere with your occupancy, including but not limited to Acts of God, acts of governmental agencies, fire, strikes, war, inclement weather, including flooding and noise from nearby properties or events. NO REBATE OR REFUND will be offered in these circumstances.
(9)Furnishings: Please do not rearrange the interior furniture unless you have owner's permission. Failure to comply will result in a $100.00 penalty fee from the security deposit.
(10)Additional Guest: Additional guest not specified on the original rental agreement will have an additional nightly charge of $75/person and may not exceed the maximum occupancy of the property.
(11)Damage to Guests Property: Guests assumes sole risk and responsibility for all loss, damage and injury to their own property occasioned by fire, theft, water or storm damages or other elements or any other cause whatsoever.
(12)Unauthorized events: Unless specifically agreed upon, no special events are to be held on the property. This includes weddings, baptisms, or any large party that exceeds the number of registered occupants. If an unauthorized event occurs this contract will be terminated immediately and all monies will be non-refundable.
(13)Hurricanes and Tropical Storms: Even though the property is built to withstand the effects of a Hurricane or Tropical Storm, in the event that mandatory evacuation is ordered no refunds will be given.
(14)Miscellaneous: This Agreement, together with any attachments referenced herein and attached hereto, constitutes the entire agreement between the parties relating to the subject matter hereof, and supersedes all prior written oral negotiations, representations, or agreements. No modification of this Agreement shall be binding on either party unless it is in writing signed by both parties. Each section, subsection or paragraph of this Agreement shall be deemed severable and if for any reason any portion of this Agreement is unenforceable, invalid or contrary to any existing or future law, such unenforceable or invalidity shall not affect the applicability or validity of any other portion of this Agreement. THE PARTIES ACKNOWLEDGE THAT THEY HAVE READ THIS AGREEMENT, UNDERSTAND IT, AND AGREE TO BE BOUND BY ITS TERMS AND CONDITIONS. THIS AGREEMENT WILL ENTER INTO FULL FORCE AND EFFECT IMMEDIATELY UPON PAYMENT.
---
We were a group of 12 looking for a comfortable, quiet space for a laid back vacation. Ricardo's house was just that! The property manager met us at the house with the keys and some great recommendations for what to do in the area. The property consists of a main house with 3 bedrooms and a detached house with two separate one bedroom suites. The home feels like a Spanish cottage and is nicely landscaped. The furniture and decor are really nice and seemed pretty new. All the areas of the home and linens etc were clean. The best part of this house is the backyard/pool area! It was super private and relaxing. The pool/jacuzzi are on the smaller side but perfect for hanging out in. There were plenty of lounge chairs and small tables for drinks, too. The neighborhood was quiet and felt safe. The house really was just a few blocks to the beach in Ocean Park which was awesome. The property manager mentioned there were a lot of bars and restaurants not far from the home. We checked yelp and it looked like Loiza St. was where she was talking about. It looked close but we took a taxi since it was nighttime and it ended up being about a 5 minute drive. There were a few blocks of cocktail bars and restaurants with more of a "hipster" vibe compared to the rest of The city. San Juan is definitely a driving/taxi city but the house is in a pretty central location. Like other rentals I've had, the house does not come stocked with items like soap, tp etc but there was an online grocery store Ricardo directed us to and it delivered some household items, groceries and beer that we ordered the day we arrived. The house has a great kitchen and everything we needed for cooking. You can hire housekeeping to come in and change linens and clean during your stay- we did not as it was an additional charge and it ended up being ok for us. Overall the house and location were terrific! I'll definitely recommend Ricardo's property to anyone visiting San Juan in the future.
---
This really is a great house -- big, spacious, open, well-maintained and the grounds are beautiful. We had a bit of a family reunion, 3 couples and 8 children, and it accommodated us all very well. There are three large bedrooms in the main house and then two large bedrooms in the pool house just outside. There is a very small, but very nice inground pool, quite a few lounge chairs and a swinging hammock in the backyard - which made it the perfect spot to just chill out and relax on the few afternoons we didn't feel like going out. There are only two things which weren't incredible about the stay, worth mentioning -- the neighborhood and some of the smaller details. 1) THE NEIGHBORHOOD The street the house is on is residential for sure -- pretty nice and quiet. However it is only two blocks away from the biggest and one of the most infamous housing projects in Puerto Rico, Lloren houses (which is known for crime, specifically robbery and drugs). So if you want to get out and about, walking is not exactly a great option. To get to the nearby strip of hotels and casinos or towards the Condado area, you either have to take a taxi or go around the slightly longer way and walk along the beach (this was the recommendation of our host, Nancy, who told us NOT to walk through the streets given the above). 2) THE SMALLER DETAILS There is no toilet paper, paper towels, soap or blankets provided. I think that Ricardo has this fact included in the listing, so we can't really complain about it (as it was disclosed) however given the amount of money we paid - it feels like some of these things really should be included. It doesn't seem unreasonable to expect the owner of the house to do a Costco run and keep a stock of toilet paper and paper towels available for guests. Overall though, it was a very good experience and definitely a very good option for larger groups of people looking to stay together.
---
The house is beautiful, but the host Nacy acted as if me and my guest was bothering her with our request that either she couldn't help with (how to start the grill) or totally ignored request (where to get massages) didn't have access to the driveway and my rental car spare tire was stolen from the truck in front of house so safety is a concern. Then to add insult to injury after I leave I receive a bill for $243 in damages for linen and towels that wasn't new that they claim won't come clean after I left a $500 security deposit as well as purchased the insurance that was required to rent the property. I'm being harassed by Ricardo even after I gave him all the insurance information to seek his claim but he wants me to pay out of pocket and recoup from the insurance he recommended. All in all it is a beautiful home in a great location but I think the owner is a scam artist
Bad guest as I mentioned in her review. Not recommended to other host. 1. Key Delivery - Instead of meeting up with her at 3:00PM the guest decided to go to the beach and grab some food while telling her thy would be at the house in a few minutes. She was left there hours waiting and had to reschedule her personal evening plans. 2. Damages - The guest caused a number of damages which we provided photos for all of them. A $500 security deposit was not left with us as that's not how Airbnb works. Airbnb holds the security deposit and if damages occur we open a dispute to get paid for damages from the deposit Airbnb is holding. We opened a dispute and the guest declined to pay and now we are still waiting for payment. 3. Insurance. The insurance that the guest has requires her to open a claim and be reimbursed for the damages she paid us. Until she pays us she can't open a claim for reimbursement. 4. Massages? That's not a service the host performs but Yelp is a good place to look. 5. Stolen spare tire? First time we hear about this. 6. Overall - This was a bad experience and I would not host this guest again.
---
Myself and some girlfriends stayed at this house near Ocean Park to celebrate my upcoming wedding with a weekend of sunshine. The house was much larger than expected and accommodates a large group very well with enough space to roam. Also, we took full advantage of the outdoor space, grill & pool! The beach was a short walk away and easy commute to Condado, Old San Juan, etc.
---
I rented this house for a bachelorette party in Feb 2017 for 11 girls. Communication with Ricardo was very easy on Airbnb, however our main point of contact was a property manager named Nancy. I never met her but she helped us check in and out, gave some girls a tour of the house, and was very professional and communicative via email. She assisted us with purchasing a required property damage insurance policy (additional $99), offered us help in booking excursions, and sent us tips to prepare for our trip. The good: The house is beautiful. It definitely has a "wow" factor when you walk in which I think my bachelorette friends really liked. The gated community felt very safe (though a cab driver told us not to walk around alone), it is quiet at night, close to the beach, and walking distance to a Peruvian restaurant we all really liked. The pool/waterfall out back are delightful, and refreshing to dip in during the heat of the day! They really add to the ambiance of the house and it was a great place to hang out. There is also an outdoor propane grill we used to BBQ one night and we all really enjoyed it. The kitchen has a very nice gas stove and an oven we also used. There were basic cooking utensils and plenty of plates/cups/silverware for our large groups. The bad: The biggest problem we had was a plumbing issue in the master bathroom that affected the toilet and shower on our last night. However after we discovered it Nancy was quick to respond and able to get a plumber out to resolve the problem (on a Sunday night!), and have everything cleaned up for us while we were out at dinner! Otherwise, we all noticed the house felt warm and muggy with very little air circulation, even after opening the windows. We were grateful to have working AC! But the extra expenses add up quickly: extra people $75/night, $250 for late check out, $99 for damage insurance, and you need to buy your own toilet paper, paper towels, garbage bags, hand soap, etc. What could be improved: - Adding fans in the house, especially in the bedrooms, would greatly help with air circulation and comfort. Check out the house rules that disclose that electricity is expensive and the owner will only cover up to $5/day. We had to balance being uncomfortable with the heat vs. spending more money for AC. - Adding a personal touch, like toilet paper and bath soap would be nice especially given all the money we spent. In the end, we had a really great time and made some fun memories. This house was very nice for our group!
Let's talk about the bad parts here. First the plumbing issue. What the guest fails to mention here is how that happened in the first place. We had to get emergency plumbing service(Sunday after hours) at the house $175.00 to find out that the guest where flushing down feminine products down the toilets. Which we told them so the problem would not occur again. Ok maybe it wasn't them but I find it hard to believe that 11 girls could not have caused this when the previous two reservations where all groups of males and the plumbing was working just fine until this reservation. Second the electricity charges. This guest never spent anything on the AC because we never charged them and most likely the reason she didn't post how much it cost like in all her other examples. We have this clause for the rare occasion when electricity consumption is abnormal. An example of this is leaving all the ACs on 24/7 while windows and doors are open. Yes, people actually do that and they do it mostly on purpose to run up the electricity bill for those reasons we have this clause to handle these one off cases.
---
So who am I? Well my name is Ricardo and I love the beach, the ocean, and traveling. When I travel I look for places where I can find unique locations where I can try a variety of different adventures. Either it be under water scuba diving ship wrecks and admiring life inside our…
Языки:
English, Español
Частота ответов:
100%
Время ответа:
несколько часов
Открывайте новые возможности в г. Сан - Хуан и поблизости
Другие варианты жилья в г. Сан - Хуан: