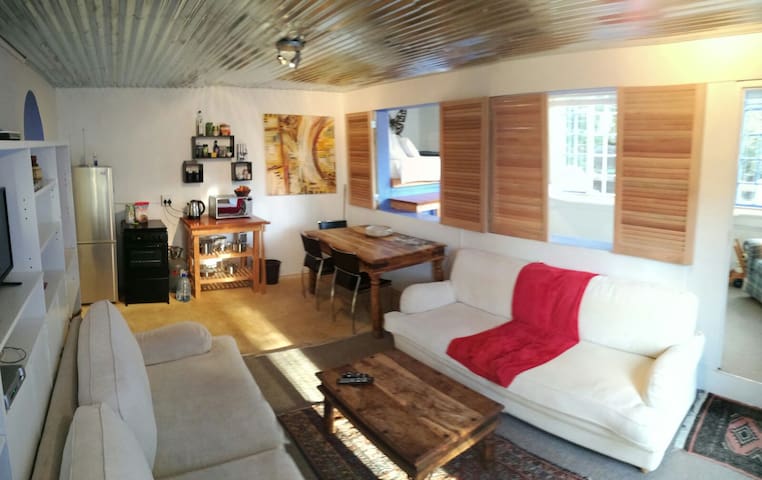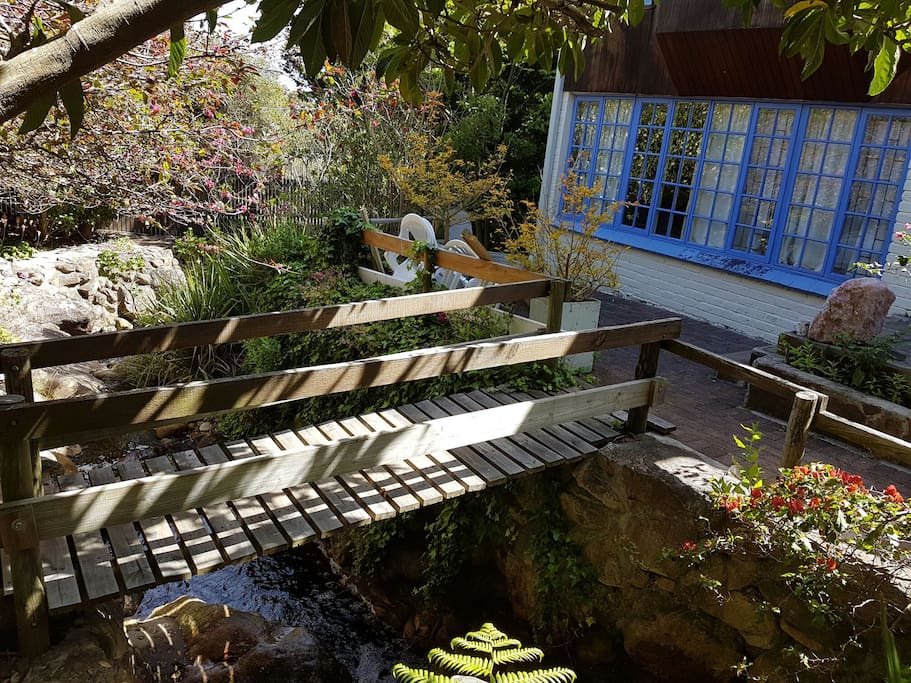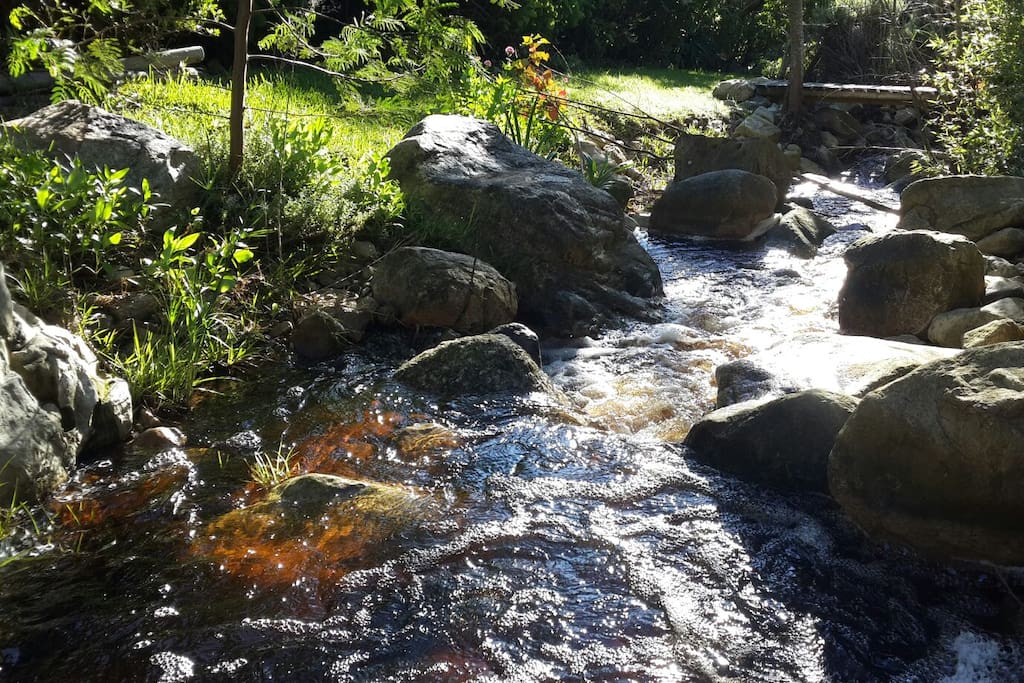 Built on the Table Mountain Reserve, your enchanted garden is folded into a valley with a mountain stream burbling though it.
Down the road are 40 restaurants, a theatre, nightlife and one of the greatest beaches in the world.
Your home is cool remains cool in the dappled shade during summer & cosy in winter. The fast flowing brook running under your window offers white noise bliss.
On Face-B00k, search for "camps bay river retreat" to see video footage of the river.
Жилье
This home is all about the garden and river.
We cannot overstate to you how breathtaking it is to walk through the gate for the first time. It is like living in Maui - with the ocean out in front, towering mountains above and an explosion of native plant species crowded around our private river.
This brings me to a sad point with a happy implication for you:
Cape Town is in the grip of a drought and water crisis - by summer we will be under 50% dam levels.
Already we have very severe water restrictions in place - heavy fines for anyone who irrigates their gardens or fills their pool…
The beautiful gardens and magnificent pools all around us are, sadly, goint to wither and not be what you see advertised.
The good news is that we have a perennial river from which we can extract tens of thousands of liters per day to keep ours an oasis.
To sit out under the stars, alongside the brook, to have dinner on the deck with it burbling below... or to sun yourself in the gentle morning and late afternoon - and then retreat under the canopy of thick foliage is a privileged that you'll remember for a lifetime.
We pinch ourselves daily - amazed that we live in this eden.
The sounds of the river running right through the garden, under the bedroom windows, won us in an instant. The serenity of the garden. The proximity to everything. The soaring mountain above
If you're finding your serenity just a stone's throw form the beach and hubbub of nightlife is what you need, then ours is the place for you...
But, beware... once here, you'll not want to leave!
The whole bottom floor and whole garden is available to you as our guest.
Доступно гостям
The suburb of Camps Bay is served by 3 entrances - the coast (Victoria) road from the suburb of Hout Bay on the south side and from the suburb of Sea Point from the North Side.
Most folks will come from the airport over the "Nek" - a mountain pass between the mountains up from the city. If you take that route, you're automatically on "Camps Bay drive" - you follow it for 2km until it comes to a 180-degree bend (to the right) back onto itself... as that bend begins, branch off left onto Fulham road and within 3 houses, take the next left into Ottawa - you're just 60m from home, which will be the last house on your left.
We are the last house in a dead cul de sac that marks the boundary of Camps Bay residences, and gives way to kilometers of the wild virgin mountainside that is the magnificent Table Mountain Reserve.
If you want a stroll, just step out the door and start hiking.
Общение с гостями
It's your hard earned vacation - we're there to settle you in, greet you if we see you, stay out of your hair if you want solitude, show you around if you don't, share a dinner/BBQ/breakfast with you if you' have the inclination.
If you need us, we're there in a shot - if you don't, enjoy your solitude... our garden is big enough to hide from one another and the sound of the river obscures any other sound at all.
Другие важные подробности
Just the position and the river under the trees - you won't want to leave.
---
---
Без вечеринок и мероприятий
Время прибытия — после 15:00
VERY IMPORTANT - ARRIVAL INSTRUCTIONS:
For your maximum enjoyment and peace of mind:
It is necessary her to briefly paint a picture of frustration for you… so that you take the rest of this message very seriously and act on it immediately:
Imagine that you have traveled hours on a plane - all you want is to put those bags down, take a shower and rest or eat.... but you do so without having first communicated with us and/or you follow a map to the one we will send to you.
You wind up on the wrong side of the city, in a less than desirable suburb or arrive at the right address... but we're not there to let you in because we don't know when you're arriving.
I warn you about this because it happens to about 10% of folks who visit: They rely on taxis or GPS to navigate... but this is a big city and often street names apply to several suburbs... so they're at the wrong address.
____
This instruction procedure will ensure that this never happens and both you and we avoid frustration - we avoid sitting for hours and you don't turn up, and you avoid getting lost or standing on the sidewalk getting angry:
We live some distance away from the property you're staying in so that if you only call us to say that you're already standing at the front door; even with best traffic conditions, it will still take us some time to get to you to let you in.
Fortunately - we can overcome this frustration with clear communication.
Please follow this procedure:
1)
If you are not on W_H_A_T_S_A_P_P (shorthand: Whasapp) - please do consider using it... with it we can very easily share interactive maps, home manual, weather links, etc.
For that purpose:

Please capture these above numbers in your mobile phone *now*.
Many travelers seem to use different numbers to the number listed with Airbnb - this effectively means we will try to reach you through the listed number and you'll think we didn't bother because it doesn't reach you.
**Please let us know ASAP what number is best to reach you**
3)
We manage several properties besides this one, so that we sometimes have quite a few checks-ins on a given day.
It's our pleasure to be there to welcome you when you arrive - but it is impossible to guess what time you're going to arrive unless you share that information with us.
The last thing we want is to leave you standing and frustrated outside of a house when you can't reach us last minute.... we ride motorbikes to beat the traffic, and so often have helmets on and could easily miss your frustrated calls...
...let's rather plan your arrival and be in full agreement on when it is we must be there - and have a method to communicate if plans change:
4)
As soon as you have a FLIGHT NUMBER, please share it with us... we can then track your flight and see any delays.
From this we can estimate ETA: You may be half an hour or more collecting luggage, clearing customs and arranging transport.
Depending on traffic, the drive from airport to your destination is 30 to 60 minutes.
5) If you are not coming from the airport/flight - please give us an estimated time of arrival.
6) This Airbnb messaging system is good - but it isn't good enough for last minute refinement of arrival arrangements - hence... or at least messaging (SMS).
7) IMPORTANT: When you *LEAVE* the airport (or estimate you're 30 minutes from arriving)... that is the time to please contact us and tell us that you're now very close to arriving.
Please be sure that we respond to that message so that you know that we are in direct contact.
8) We always send to you (on Whasapp) an interactive Map link.... *please use it*
I cannot tell you how many guests rely on taxis or GPS to find their way and they wind up getting lost or at the right street and number... in the wrong suburb!
The solution is the map we send to you.
___
9) Our checkin time is 2pm - this is not to be difficult, but very often we have a same day checkout (at 10am) and we need to get in and turn the place around completely to make it as close to 5 star as we can…
… We understand - after you've travelled, you want to just put your bags down (maybe shower) and get on with your day. Where we can, we will accommodate you on this - if only to hold your bags.
___
... We really want to give you a fantastic experience - and it starts with your arrival.... and your smooth welcome begins with us communicating.
####
Absolutely No indoor smoking
Not suitable for pets
Absolutely No parties or events
Check-in is after 2PM
We're extremely proud of this spectacular space, it is decorated with all the things we know you'll like - please respect them.
Let's begin our relationship in the spirit of you having a great time while respecting our neighbours: It's a simple message, we're certain you'll treat our home and neighbourhoods as well as you treat your own home; and we thank you for this.
We of course want you to have the time of your life... and all around you are folks who also deserve the time of their lives too. This means consideration shown to you by them, and to them by you. This is not rocket science, it's stock-standard close-proximity living :-)
Although this is a playground for your vacation, there are of course ordinary families on all sides by who need and deserve their rest too. So, the house rules flow from this; be kind, be gentle, be considerate - to all around you. Thanks so much.
We are in the grip of an extremely bad drought - please be sparing with water (and sorry about the garden, but watering is banned).
####

All the best, and see you soon.
Вы должны также принять к сведению
Возможно, будет шумно - Zero noise - Cul De Sac road hard against the Table Mountain Reserve with no neighbours. The river running past is white noise that blocks all sound.
В доме живут питомцы - One collie dog-mix & friendly cats call this home - they never venture to the guest flat. With so many trees we never never see them!
Своей парковки нет - We have a driveway / gate but have never bothered to park inside - we park on the street as it's completely safe and plentiful.
Некоторые зоны являются общими - We have a huge property with lots of areas to sit and not know anyone else is about. The river & thick bush kill sound. You'll never know we're here
Ограничения удобства
---
As well traveled entrepreneurs with extensive experience in hospitality, we're extremely excited to share our native Cape Town with you. We're cheerful, relaxed and committed to making your vacation memorable. We live by the motto that a stranger is just a friend you haven't …
Языки:
English
Частота ответов:
100%
Время ответа:
в течение часа