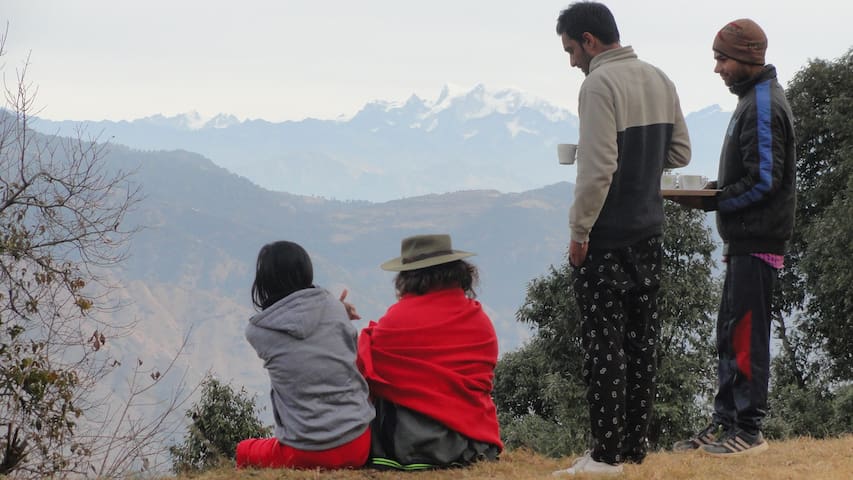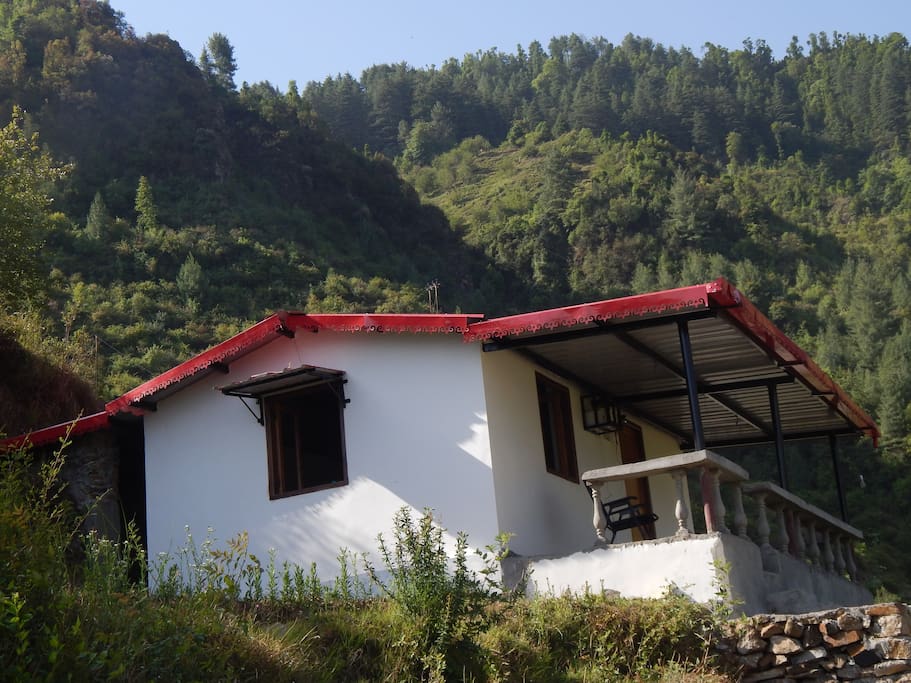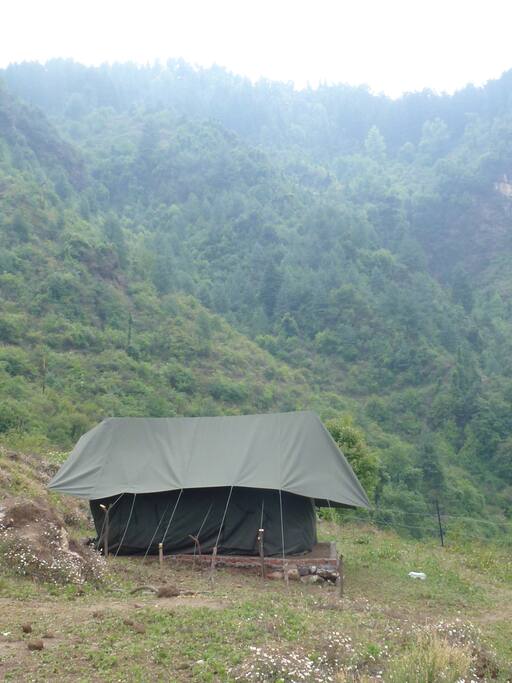 allihies cottage And Camps
This is a most wonderful place for people looking to spend a quiet and rejuvenating time in the midst of nature surrounded by apple orchards and with direct views of the upper himalayas. It is a place next to none with complete privacy and your own kitchen garden and acres of space. Would suit indiviguals , families and people travelling in groups. Ii is very close to the eco park in dhanaulti and ten to fifteen minute walk from the main dhanaulti road which gives it a very special feel.
Жилье
this would particularly suit couples, families, writers and all those who feel a special and intrinsic connect with nature.Surrounded by apple orchards, the beauty of this place lies in the fact that it gives complete privacy and and space as the cottage has acres of private space around. It's an experience to be had and to spend atleast a night at our place ,nothing compares to the feel that you get in the nights with campfire and lights shining in the far-off distance in the mountains. Words won't be able to describe it. It would suit someone looking to spend a quiet, peaceful time meditating or just being themselves or groups or couples or families wanting to spend a private time together with no one to disturb them and being able to spend quality time together. This place has been frequented by writers, nature lovers and indiviguals looking for that very required and needed quality time that they dream of spending away from their busy lives. It gives you an experience like none other in dhanaulti with the huge space and personal touch it provides. I could write more words but it's better that you experience it yourself.Also Somehow i'm not able to edit and make a couple of important changes to the listing. The prices listed are for the cottage that accomodates 3 people in one decent -sized room but we can have one more person in there free of charge. .Again the biggest plus of this property is the feel that you get here and the wonderful people around. All very helping and always trying to make it a happy experience for you all.This place is not just about the space that it gives you but the wonderful energy that we always have here. It would be an unforgettable and a once in a lifetime experience if you happen to come here.
This property is one of the best in the whole of North India and especially in Dhanaulti Mussoorie area. A traditional camping site and cottage with huge open spaces and right in the middle of nature. The best sunset and sunrise points in dhanaulti are literally at arm's length, very close by. The best trails and mini- treks start from here. So really you do not have to go anywhere.This space encompasses the best of what dhanaulti has to offer. Even the path that leads to the land is something to be cherished. Going through forest land with unbelievable views of the Himalayas and passing through apple orchards, farmland and a beautiful stretch of forest land. The path goes down the mountain but is easy to traverse. It takes 10 minutes to 20 minutes for people to come to our resort depending on their speed, fitness and adaptability.But I would still suggest that our property is not perhaps suitable for under 5 year olds or those over 60 or those that find it a problem to walk even a little bit. For those wanting to experience the best of dhanaulti, it's beautiful natural trails this is the place to be. The parking is on the road above and it is safe and looked (URL HIDDEN) may take a little more time to go up. But all in all it is worth it. And people actually love doing it because of what it offers a apart from what our property has to offer to guests. We believe in giving a personal touch to our guests and we receive guests from home and abroad. And I can assure you that everyone who has been here loves it and wants to come here again.
We are always very happy to give a personal touch to the stay of our guests and also help them in customising their travel according to their needs and things that they want to do. So from start to the end we are with you seeing to it that you take away memorable experiences from here. For us that matters more than anything else.
Доступно гостям
Our whole property. It is a few acres of land which is all yours- something which probably no one else provides here.
Общение с гостями
we will be there to help u with anything. You are not just my guests but my friends in the making. That is how i am and how i live my life and that is where you are coming to.We want you to go from here feeling loved and full and of course be our friends for life. This space is like none other. If you recognise its energy and essence and connect with it you will feel absolutely blessed. It has everything else that the other camps offer but with a very personal and real touch. You will feel enriched and loved here, spiritually and physically refreshed. In every sense of the word it would make you feel like as if you are staying in your own home.
Другие важные подробности
ten minutes walk from the main dhanaulti road away from the crowd. The walk goes downhill for ten minutes through beautiful scenery and takes another extra 5 minutes uphill when you are leaving the property. Provides views which are stunning and for which people go a long distance. But luckily you have it all here within walking distance. It is like a hidden jewel. The walk in itself is the crowning jewel. It is a most beautiful walk through waterfalls, apple orchards and numerous varieties of trees and flowers and it opens out into a most beautiful and stunning space. And it is a walk that people of all ages love to take. No level of difficulty but if you are not used to walking even a little bit and dont appreciate the soul of nature then probably not in that case. There are a lot of beautiful trails starting from our land and you get awesome views of the upper himalayas from numerous points in the path that lead to our land. If you want to experience the best of dhanaulti and want to have the best viewpoint of the himalayas and surrounding areas in dhanaulti then you have to take this walk. Probably this little walk is in itself worth maybe more than the camp. Thats what a lot of people have told us. So you can imagine.
---
---
Предметы первой необходимости
---
Доплата за каждого последующего гостя Бесплатно
Общайтесь только через Airbnb
В целях безопасности никогда не переводите деньги и не общайтесь за пределами сайта или приложения Airbnb.
Подробнее
---
Спальня 1
1 кровать King Size, 1 односпальная кровать
Зоны общего пользования
4 односпальные кровати
---
---
1 ночь — минимальная продолжительность бронирования
---
We stayed at Amit's hut in Dhanaulti for just a day. It was like salvation in the lap of nature. We enjoyed every moment of our journey — the road trip from Landour to Dhanaulti, the arduous 35-minute trek to Amit's place and the breathtaking view of the mighty Himalayas (it is ethereal!). The view from Amit's place took all the tiredness of the trek and gave us a sense of inner peace. No words can do justice to the location in the middle of nowhere, surrounding by lush, verdant hills and green valley. When the sun went down in the valley, we were awestruck to see so many stars in a clear sky as that, something unthinkable in the plains. Amit's assistant, Diwan, is a gem of a guy. You will never find him without a bright smile. He prepared the best daal and sabzi for lunch we had in a long time, and it was all organic. Amit practices rain harvesting at his place in Dhanaulti. He and Diwan grows organic vegetables in the land surrounding the place. Being environmentalists myself, he won my hearts instantly. The only minor issue we had was with the cleanliness of the toilet. However, Diwan took care of it when told him about it. Amit is a marvellous man. He took care of all our needs and went to the extent of picking us up from Dehradun station on the first day to dropping us off at another homestay in Landour, picking us up from there on the second day and finally dropping us off at Dehradun on time for our train to Delhi. Tips for travellers: The trek downhill from the main road till the hut took us close to 40 minutes while the uphill trek took us close to an hour. However, we paused several times the way to take photographs of the fascinating mountains and the lush cloud-kissed valley. None of were regular trekkers, so it us some time. That doesn't mean someone else would take the same amount of time. Having said that, we felt the trek is not suitable for senior citizens or those with arthritis or back pain-related issues.
---
Really perfect place if you're looking for a quiet and peaceful place in the middle of nowhere. Great views over the mountains and good hiking paths around the house. No tourists, only local farmers and cows :) Place is very spartan with a bed and toilet. No shower or running water. Bring your own bed linen if you don't fancy sleeping with an old blanket :) Amit is very helpful and arranged transport to and from the house. Not very easy to find so make sure he helps you with directions. All in all we had a great 36h in the middle of the nature and with good veg food!
Thank you Daniel. Thank you for your stay here and of course the wonderful energy that you brought. This place was created with a vision of giving an experience and a feel energywise which would be very differrent to what you would get anywhere. Differrent but good. And apart from our hospitality with love we try to make sure that you get an experience worth cherishing and for those believing in energy something very powerful and useful. Every thing takes time and effort getting here and we work round the clock to make sure that you have it. For people looking to have 5 star facilities it may not be it but for people looking for a stay with a lot of love and peace and quiet in the middle of nature it perhaps could not get better. We have guests most times from abroad, films and documentaries have been shot here so u can understand the locale. We have artists , writers who come here and spend days on end. And for those looking to connect with their soul perhaps no better place. Also one needs to understand that the mountains are tough, limited facilities, no water pipe lines but we work round the clock to make sure you have it and also pay huge sums for it. All in ll we hardly make any money. So this is not really a commercial enterprise. We want to show people our love and to invoke their souls and the feeling of bonding. If something breaks down it needs a couple of days for anyone to come here to repair it. Once you spend some time in the mountains you will understand what i am saying. We always have extra pairs of linen and blankets, beddings if someone asks for it. Around the time My friend Daniel came here we had a breakdown in the water tank systems that serves the washroom the water so we had to close it and provided water in the washroom. That's the best thing we can do in times like these. But we have proper shower and running water 360 days a year. About the cottage and i would like to mention it- it has a huge verandah space looking over the mountains where you can gaze at the stars and look right into the clouds. And of course we have our own organic garden where we have veggies that we use to cook our food. The room itself has wooden tiles finish and an array of books to read and 3 big beds. and the verandah has sofas and chairs and tables. For those used to ultra - modern facilities and very big spaces the space may seem a bit smaller but by dhanaulti standards this is probably the biggest room you can get here. where you have so much space even after you have your beds arranged there. With chairs and table in the room.
---
A 40 minute trek downhill from the main road. Scenic and calm place. A must visit for nature lovers. Sunrise and Sunset are surreal. Great hospitality by the caretaker who is there to help you anytime. Pack light to enjoy the trek to the cottage.
A most wonderful guest. Wonderful human being. I recommend all hosts to have him over. Really connected to the soul of the place and made the most of it. Everyone here misses you . And thank you for being here. Just a little clarifiication on the trek . The trek has two paths . One which takes 12 minutes to go downhill and the other one 25 minutes. But it depends on the people. If they walk fast or slow. Some people who are here do it in under ten mins. Also the trek has beautiful views so people love to take in the views going up and down so they may take more time. But the best part is this path is very very popular. Because of the points it has to offer. The best view of the upper himalayas that cannot be seen from anywhere else. Wonderful flora and fauna. A lot of people come to this path for just this reason. So nature lovers are going to love it. Absolutely. thank you bhanu
---
Great experience. The place is nestled in a village and can only be reached after a small trek. The car will not reach the place. But that was part of the experience. The place has great energy and met a lot of amazing people. The conversations around the bonfire were engrossing and entertaining. Amit is a great host and so were the other Travellers staying there. Will definitely go again.
---
Good place for an overnight stay for people who like an adventure to even reach the place.
Thank you Nikhil for being here. It was really nice to have you here along with the other people accompanying you. Our place has something for everyone. From people wanting to spend a day or for people wanting to spend a few days. And a lot of times we have people wanting to spend a week or more because of the kind of space we have and the energy here. In all honesty it is very difficult to gauge the beauty of this place and its landscape in a day. It probably needs more time. To explore the waterfalls, streams around and the wonderful trails along with the virgin farmland and numerous apple orchards. And of course the breath taking views of the upper himalayas. This is a nature camp set in a setting that has all the essence of a nature camp. And that little walk away from all the crowd and the noise. Which sets it apart. We have tried to keep it authentic and original - the way a nature camp should be . It would be easier to make it like hotel or a guest house but then it would lose all its essence. But we try to provide more than decent facilities because of public demand. I know most of us haven't spent much time or any time in a nature camp so it would be difficult for them to know or understand at irst glance but as they say there is a first time for everything. And i'm sure you will get an experience of a lifetime here. Most things in life are about having an open mind to things in life and that is wnen we can have the best experience. We had a group a couple of days back from the north-east of india from a differrent site and they had great fun in the snow and didnt want to leave! We are what we make of our experiences. If we see things to the brim we get everything filled up. Again, was just so happy to have you Nikhil. And everyone here loved you and your energy. Thank you.
---
I'm a simple open-minded happy person willing to go the extra yard for my friends and guests. A semi-professional mountaineer and a relationship counsellor and motivator. A friend's friend who is always trying to make a create a happy experience for everyone around.
Well, after a few additions and corrections here it is-the closest i can come to describing myself in words.I have 2 sides to me- one physical and the other spiritual and i think both are very well balanced.Easy going,sophisticated and thorough when need be,calm and collected.Love climbing mountains- have done a lot of that in the himalayas and absolutely love to walk.Am open to most things- never close myself to anything completely and dont judge people from the always looking at things inside rather than the flashy outside.Conversations of the brainy kind interest me, absolutely invigorate me but im equally okay to being part of simple ones too.
Love discussing philosophy and psychology- love talking about life and seeing where it's going.Deeply connected with my spiritual self and exude that energy.Always have lots to share from my travelling experiences- spending time in monastaries in the northern himalayas, in small cut off villages in the northern mountains and the time i spent in canada and ireland.Have a huge desire to share what i know , have experienced through my journey of life.

I believe in being happy and spreading happiness around me ..i understand the world at large doesn't want to be happy anymore- it wants to be cool- am i right? but maybe i'm not so cool,i dont know but i think i'm good company and know how to be happy and live in the moment, someone with whom one can feel easy and in.

I love travelling - the side of travelling that teaches us a lot about life and makes us grow as a person through our experiences on the road.For me that defines travelling- learning while having fun.I am a bit of an explorer from heart so anything new, anything differrent or hidden interests me. Ive travelled in a few countries and here i'm in Australia now looking to make friends and see and understand the culture from up close.I am very close to nature and love animals.Love adventures- what would life be without them? If you dont try to seek you don't even have a chance to get it.Travelling for me is about open hearts and eyes and open senses. Love places which have a history and which have a romance to it.I have spent a lot of time in the mountains- the extreme northern himalayas courtsey of spending a lot of my growing up years i have a special affinity for the mountains.I absolutely love walking and can walk and trek for hours at a stretch.Im passionate about food and culture and history of places and especially interested in understanding people from inside rather than just the hi- hello me it's an honour and special to get to know people from up close.And yes i dont believe in boundaries- boundaries are what we create when we have fear, insecurities so i believe in trying most things and giving them a they say you don't try- you don't know.I have a special affinity too for the east coast of canada having spent some time there living and Ireland as i have a few special friends there and wonderful memories.
Apart from that i'm just a simple guy who loves to explore most facets of life and dont's believe in the word hate.And yes , lastly i don't believe anyone or any place is bad- it's just differrent and it is for us to have the eyes to see that differrence in a beautiful way.
I believe in respecting everyone and loving everyone and everything the way they are. Allowing them space and helping and taking care of my guests the way i would of my own people here. Staying a night or a few in a place , in any place is a differrent experience and i try to make that experience special and one to remember for everyone. And apart from everything else you will always have a friend here and lots of stories, travel experiences, guidance if you are wanting to have some.
I like to treat everyone the way i expect to be treated and probably the biggest of them all- to try to give to every guest what they want. Depending on what they have come here to experience. There is just so much to be had here.
Частота ответов:
100%
Время ответа:
в течение дня