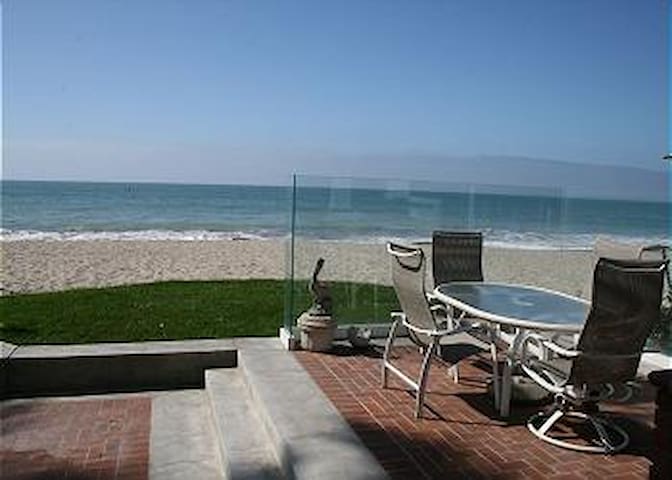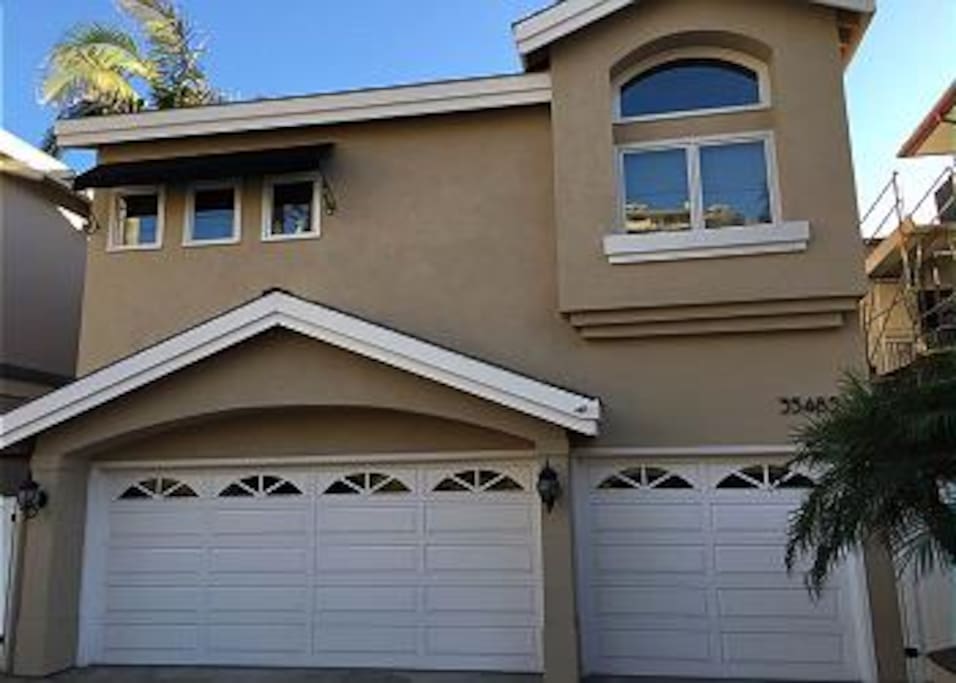 Beach Home w/Hot Tub - 35485 Beach Rd (sleeps 10)
Beautiful executive family home right on the sand! Large patio deck with Hot Tub! Family room, dining room and kitchen make up one "great room". Private tanning deck on top floor! Bikes, beach toys, etc
WEEKLY ONLY IN THE SUMMER / MONTHLY or WEEKLY IN LOW SEASON-call for details.
10% Dana Point city tax may apply.
Жилье
Beautifully decorated executive family home right on the sand! The home was recently remodeled and redecorated. Large patio deck with Hot Tub! Family room, dining room and kitchen make up one "great room". Private tanning deck on top floor! Bikes, beach toys, etc
The exclusive gated community of Beach Road provides privacy and seclusion not commonly associated with beach-front property. Here you can come to relax, surf, play tennis, ride bicycles along the coast bike path, walk the beach, gaze at brilliant starlit skies, or just sit on the deck and watch surfers, pelicans, and dolphins while you feel the romance and energy of the ocean. Sip a cocktail on your private beach while watching the sunset over the ocean!
Доступно гостям
Fantastic Location--California Riviera
Surfing, beach-walking, kayaking, boating, bicycling and nearby golfing
Enjoy all the great restaurants in Dana Point and San Clemente
Privacy and seclusion
Security of a gate-guarded community
Beach front and on the sand with unparalleled views
30 minutes from the airport
2 minutes from a train station
Enjoy all of our famous theme-parks such as Disneyland , Knottsberry and Sea World
Learning experiences at nearby San Juan Capistrano Mission or Dana Point Harbor Ocean Institute
Whale and dolphin-watching
---
---
Доплата за каждого последующего гостя Бесплатно
Залог за сохранность имущества 59214 р
Общайтесь только через Airbnb
В целях безопасности никогда не переводите деньги и не общайтесь за пределами сайта или приложения Airbnb.
Подробнее
---
Спальня 1
1 кровать King Size
Спальня 2
1 кровать King Size
Спальня 3
1 кровать Queen Size, 1 двухъярусная кровать
Спальня 4
1 двухъярусная кровать
---
Без вечеринок и мероприятий
Время прибытия — после 16:00
CANCELLATION: Please refer to our Airbnb cancellation policy.
SECURITY DEPOSIT: Please refer to our security deposit on Airbnb.
OCCUPANCY: The maximum occupancy of this unit is indicated on the listing description. A charge of $100 per person per day will be charged if you exceed the maximum occupancy.
WEDDING/EVENTS: No weddings, receptions, events, or large parties of any kind are to be held at the home, in the courtyard or on the beach.
ABSOLUTELY NO PETS: If you bring a pet, this rental agreement will be forfeited, terminated and all deposits retained. Additional charges for deep cleaning will apply.
PARKING: 3 + parking spaces. The Capistrano Bay District may at their discretion limit the amount of vehicles to the maximum prescribed space. Parking passes must be visible at all times.
SUBLETTING: Guest is not authorized to let or sublet all or any part of the premises nor assign the lease or any interest in it without the prior written consent of the Owner or Company.
CONDITION OF PROPERTY: Our employees have, to the best of their ability, given an accurate description of the property and its condition. Our cleaning staff will have cleaned it before your occupancy and electrical, plumbing and appliances should be in working order. On rare occasions the power could be interrupted due to weather or other issues. The renter understands that the owner is not responsible for weather conditions or power outages and the renter accepts these risks. When you arrive, if you find that the house has not been cleaned or is not operational to normal standards, contact us immediately. We will do our best to have tradesmen attend to the problems but may not be able to fix everything over holidays and weekends. Any special requests by Tenant must be approved by the Landlord, and will be at the Tenant's expense. Under no circumstances will any of the rental money be refunded or returned because of the condition of the house. The Guest agrees not to hold the Owner and Agent responsible from any liability for the condition of the house. Due to the nature of ocean front properties, the sand, stairs, decks and concrete are not always stable. Use at your own risk. Please note there is an active railroad track on the opposite side of Beach Road that should be monitored if small children are present.
CLEANING & REPAIRS: All homes are cleaned upon your departure in which the cost is included in the rent. If additional cleaning is required after you leave, we will charge accordingly. Guest agrees to keep house, furniture and furnishings in good order, to keep walkways and patios swept, and the beach clean and free of debris. Do not dig large holes in the sand/beach. Removing, adding or changing furniture without Owner's or Company's written approval shall be deemed a material breach of this Rental Agreement, and is strictly prohibited. Guest is responsible for cost of replacement of any damage to furniture or premises and replacement of missing items. Under no circumstances can any furnishing or linen be taken outside onto the beach.
ENTRY OF PREMISES: With Guest's permission, which is hereby given, Owner or Company may enter the premises during reasonable daylight hours without securing prior permission from Guest, but shall give Guest notice of such entry immediately prior if possible and immediately thereafter. For inventory and maintenance purposes a property management employee of the Company may need to enter the premises. The same permission procedure applies as above. In any emergency, Owner or Company may enter the premises at any time without permission of Guest for the purposes of making repairs to alleviate such emergency. If Guest abandons or vacates premises, Owner/Company may, at his option, terminate this agreement, re-enter the premises and remove all Guest's property.
ASSUMPTION OF RISK: No lifeguard will be on duty. Accordingly, persons using the ocean or hot tub do so at their own risk and the owner and/or company assume no responsibility for accident or injury. No one should swim alone. Guest should have hot tub covered when not in use.
HOT TUB/JACUZZI: If your home is equipped with a hot tub we will do our best to keep it operational, however, we cannot guarantee its operation all of the time of occupancy. Guest to inspect on arrival. Company will not be responsible to clean it during Guests stay. The home provides either an outdoor shower or hose for rinsing off the sand. $200 will be charged if the spa needs to be drained due to excessive sand.
CHILD PROOFING: Guest understands that no special efforts have been made to "childproof" this house, and accept the risk or harm to any children we allow on the property. These risks are not limited to, but include access to the ocean, adjacent street, cleaning supplies in the house and plants in the house, patio and on the street, such as oleanders, that might be poisonous if ingested.
RELATIONSHIP OF PARTIES: It is specifically agreed and understood that the relationship between the parties herein shall be deemed to be of proprietor and lodger or Guest as opposed to a relationship of landlord/tenant. Guest specifically waives and make inapplicable to this lodging the provisions of California Civil Code Section entitled "Hiring of Real Property" as set forth in CC (PHONE NUMBER HIDDEN) et seq., and further specifically waives and makes inapplicable CCP 1159 re: forcible entry.
FURNITURE: All furniture must be returned to its original location upon guest's departure to avoid additional charges deducted from security deposit.
RULES & REGULATIONS: Guest agrees to comply with all rules or regulations posted on the premises, delivered or otherwise made known to Guest by Owner, Company or Association. Failure to comply is grounds for termination of the Rental Agreement. Guest further agrees to perform the following obligations: (1) to keep the premises as clean and sanitary as their condition permits; (2) to dispose of all rubbish, garbage and other waste in a clean and sanitary manner; (3) to use and operate properly all electrical, gas and plumbing fixtures and pipes and to keep them as clean and sanitary as their condition permits; (4) to refrain from willfully or wantonly destroying, defacing, damaging, repairing or removing any part of the premises or facilities, equipped or appurtenances, or permitting any person on the premises to commit such acts; (5) Linens are included with most homes. Retrieve mail and personal items - $15 + postage. Returned Checks - $35; (6) if you bring a pet, this rental agreement will be forfeited and terminated, all deposits retained and additional charges will apply.
KEYS: Two keys will be issued to the renter at our office upon check in and must be returned to our office upon departure. Keys not returned to office may result in a $25.00 replacement fee.
SMOKING: Smoking is not allowed inside the property at any time. Smoking is permitted outside only. If there is evidence that smoking took place, Guest will be charged minimum of $350.00 for the required deep cleaning.
BEACH CONDITION: Guest understands that Capistrano Realty has no control over the condition of the beach and cannot be held liable for any changes to beach conditions or any closing as ordered by any official agency. This house is located on the beach, and as such often experiences exposure to natural forces endemic to the locale. Please do not disturb the dolphins, seals, or birds. Sometimes there are offshore storms that result in high tides which may come up to the sea wall, and a drop off exists that does not have a handrail and can be dangerous, especially to children. Please keep food in the refrigerator. No financial remediation will be provided in the event of any factors described above(URL HIDDEN)
PERSONAL PROPERTY: Guest understands that any personal property of and used by Guest is not insured by Owner/Company and Owner/Company shall not be responsible for any lost, stolen or missing property of the Guest.
HOLDING OVER: Because of the nature of Company's business (short term winter and summer recreational rentals) Guest understands, and is hereby put on notice that any unauthorized "holding over" of the property past the stated rental period could severely jeopardize Companies business and cause loss of rental income from other previously booked guests, temporary and/or permanent loss of business, goodwill and reputation and, among other things, could force Company/Owner to breach an
agreement with similar short term summer and winter recreational Guest(s) who may have reservations during Guest's unauthorized "holding over" period. In the event, Owner/Company may be legally liable in damages to said other guests. Guests should be aware that unauthorized "holding over" has been construed as a factor in establishing "malicious continuing occupation" of rental property, which may entitle Owner/Company to treble damages in any unlawful detained action. Guest also recognizes the unauthorized "holding over" could be grounds in court as a cause of action for intentionally interfering with Owner/Company's prospective business advantage. In addition, we will charge $100.00 an hour past 10:00 a.m. on day of check out.
REMEDIES: In the event of a default to the Rental Agreement, particularly, but not limited to Guests unauthorized "holding over" or those acts mentioned above in this agreement, and in addition to all other rights and remedies Landlord may have at law, Landlord shall have the option, upon written notice or as the Law may hereinafter provide, Owner or Company may immediately re-enter and remove all persons and property from premises. In such an instance, the Rental Agreement will be terminated, and Landlord shall be entitled to otherwise recover all damages allowable under the Law. The Guest, as part of the considerations of this special rental, in recognition that this property is booked in advance by other Guests throughout the year, hereby waives all claims for damages that might be caused by Owner/Company; re-entry and taking possession of premises or removing or storing furniture and property as herein provided, and will not hold Owner/Company responsible from loss, costs and damages occasioned thereof, and no such re-entry shall be considered or construed to be a forcible entry as defined in the California Code of Civil Procedure or other similar statutory provisions. Further, if for any reason Owner is unable to deliver possession of the premises to Guest at the commencement of the term specified in the Rental Agreement, Owner or Company shall refund amounts paid by Guest, but shall not be liable for any other damages caused thereby.
ATTORNEYS FEE/DEFAULT: If any legal action or proceeding (including default, non-payments, etc.) arising out of or related to this Rental Agreement is brought by either party to this Rental Agreement, the prevailing party shall be entitled to receive from the other party, in addition to all other relief that may be granted, the reasonable attorney's fees, costs and expenses incurred in the action or proceeding by the prevailing party.
INDEMNIFICATION: Guest agrees to indemnify and hold harmless Owner/Company for any liability arising before termination of this Rental Agreement for personal injuries or property damage caused by the negligent, willful or intentional conduct of Guest(s). This indemnification agreement does not waive Owner's duty of care to prevent personal injury or property damage when that duty is imposed by law.
SALE OF PROPERTY: Should the owners of the property sell the property or otherwise remove it from the market and the owner will not honor the Rental Agreement, Company will use its best efforts to locate a like property at a similar price. If a property, satisfactory to Guest, in its sole discretion, cannot be made available, then all monies will be returned to the Guest & Guest agrees that Company will have no further obligation to the Guest. Should the home be listed for sale, the renter shall accommodate the realtor, owner or it's agents to show the home with appropriate notification(URL HIDDEN)SALE OR RENT OF PROPERTY TO GUEST: Guest agrees that in the event the Guest, a relation or friend, purchases the premises, the Company will be entitled to a commission of 3% of the sale price. If the Guest, a relation or friend rents the property from Owner or other agent, Company will be entitled to a 15% commission on the total rent for each and every occurrence, to be paid by Guest.
PRIOR AGREEMENTS: No prior agreement or understanding not contained in writing herein shall be effective. Furthermore, Owner/Company, other than what is specifically written and set forth herein, makes no other or further representation regarding the nature, character and quality of the premises to be rented, and no representation shall be deemed to exist or be material unless and until it is reduced to a writing and signed by the parties. This Rental Agreement may be modified in writing only, and must be signed by the parties in interest at the time of the modification. It constitutes the entire agreement of the parties. If any provision in this contract held by any court to be invalid, void or unenforceable, the remaining provisions shall never the less continue in full force.
GOVERNING LAW AND VENUE: It is expressively agreed that the exclusive governing law, including the laws covering this agreement, is to be the laws of the State of California only, irrespective of the state of residency of Guest. The sole and exclusive venue (i.e. place where lawsuit may be filed) for any legal proceedings shall be the California State Court, either Superior or Municipal, in Orange County, California. Guest expressly waives any other right or privilege with respect to the election of venue or court (i.e. state or federal) and location of the venue of action.
To check in, please come to our office at 34700 Pacific Coast Hwy. #209, Capistrano Beach to pick up your keys. Check-in time is BETWEEN 3:00PM - 4:00PM on the day your rental starts. Our office closes at 4pm. If you are arriving after 4pm, please make arrangements to pick up your keys ahead of time with our office.
Check-out time is 10:00AM prompt on your departure date, as the homes need to be cleaned and readied for the next guests. The hourly rate for holding over past 10 am is $100.00 per hour.
Two keys will be issued to the renter at our office upon check in and must be returned to our office upon departure. Keys not returned to our office may result in a $25.00 replacement fee.
Wildlife is a fact of life at the beach. Rodents, birds, bugs, and other pests will take advantage of the beach environment. Please assist us by maintaining your environment. Cleaning is included in the rent; however, we do ask you to clean the BBQ after each use and upon your departure. Please leave the homes tidy, the dishes done, and your trash and all food emptied. If extra cleaning is required we will need to deduct the costs incurred from your security deposit. Also, please remember it is your responsibility to keep the beach clean.
DO NOT DUMP THE ASHES FROM THE FIRE PIT ONTO THE SAND.
IMPORTANT: Please bring your own paper goods, personal items, toiletries, etc. All homes are equipped with bed linens & bath towels. Please bring your own washcloths and kitchen linens for sanitary reasons. The home may or may not have beach towels. We suggest taking inventory of the home before you do your shopping. The propane tank for your BBQ and fire pit should be full upon your arrival. We can direct you to a location to fill the tank during your stay if need be. The garbage is picked up on Monday in the winter and Monday and Friday in the summer. We also suggest bringing "water shoes" as the beach can tend to be rocky. Body surfing is not recommended.
As indicated on your rental agreement, you will be charged for any damages and/or additional cleaning needed, including BBQ's and beach fronts. Please fill in any holes you have a dug in the sand during your stay or you may be charged for time and labor to do this. Please use your personal cell phone or calling card to make long distance calls.
Exceeding the maximum occupancy of your rental at any time may result in your removal and loss of remaining rent and security deposit. We do not allow pets or smoking in any of our homes. Failure to comply may result in your removal and loss of remaining rent and security deposit. ABSOLUTELY NO PETS ALLOWED!
Please be aware that at least 80% of the homes on Beach Road are used by owners only. Every effort is made to establish a peaceful and friendly atmosphere. Our Board of Directors has established ordinances and regulations governing our community. The following, while not complete, is a list of the more IMPORTANT ORDINANCES AND REGULATIONS in which you must be aware. Equally important is that California Vehicle Codes (CVC) apply on Beach Road.
1. The SPEED LIMIT IS 15 MPH along the entire length of Beach Road and is radar-enforced. Pedestrians should always be given the right-of-away and speed must be reduced when they are present. CITATIONS FOR SPEED VIOLATIONS WILL BE ISSUED AND SENT TO MUNICIPAL COURT [CVC 22350 & Ord. 05-118]
2. ALWAYS YIELD TO OUTGOING TRAFFIC.
3.NO PARKING IN THE FIRE LANE. The fire lane is the main road, outlined by the two white dashed lines. Vehicles along curbs may not overlap the dashed line. Offending vehicles will be CITED OR TOWED. Ask guards where oversized vehicles may be parked. [CVC 22500.1 & Ord. 05-110]
4.RESIDENTS AND GUESTS MUST PARK IN SPACES AT THEIR ADDRESS ONLY. All other areas are regarded as private property. VIOLATORS WILL BE CITED. Ask guards where extra vehicles may be parked. [CVC 22658 & Ord. (PHONE NUMBER HIDDEN). GUESTS MUST HAVE APPROVED ACCESS TO BEACH ROAD. You must call the Gate Guards at ((PHONE NUMBER HIDDEN) with expected guest(s) names and your Beach Road address. Gate Guards will not call you. For the safety of all residents, guest(s) must be able to identify your name and address to enter Beach Road. Renters are responsible for informing their guests of all rules and regulations.
5.PLEASE RESPECT EACH NEIGHBORS' BEACH PRIVACY by not trespassing directly in front of their homes on the beach. BEACH AREA IN FRONT OF ALL HOMES IS PRIVATE PROPERTY (varying from 15 to 100+ ft.).
6.PUBLIC ACTIVITY ON THE BEACH MUST BE CONFINED TO THE PUBLIC PORTION OF THE BEACH close to the mean high tide line.
7.NOISE ABATEMENT IS ENFORCED AFTER 10:00 PM. No loud noise and/or music after these hours. [Ord. 05-105]
9. FIREWORKS ARE NOT PERMITTED AT ANY TIME. This regulation is strictly enforced by the Orange County Sheriff and Orange County Fire Authority. Homeowners or Renters are responsible for their guests. CITATIONS WILL BE ISSUED AND FINES IMPOSED. Photos and video will be used to monitor violators.
10. JET SKIS ARE NOT ALLOWED WITHIN 100 FEET OF THE BEACH and cannot be launched from the beach. Harbor Patrol will be notified immediately and CITATIONS MAY RESULT. Photos and video will be used to monitor violators.
11. TRASH AND GARBAGE MUST BE PLACED INSIDE TRASH CONTAINERS in the trash enclosures provided at the property rented. Please park your car far enough away from the trash area opening so that it does not block the waste management company from removing & replacing the trash bins for pick up. Pick up in the summer months is Monday and Friday; in the off season is Monday only. [Ord. (PHONE NUMBER HIDDEN). OFF-HIGHWAY VEHICLES AND MOTORIZED SKATEBOARDS OR SCOOTERS ARE NOT PERMITTED on Beach Road. As California Vehicle Codes apply, a valid driver's license must be presented upon request by patrol officers and illegally operated vehicles may be detained or confiscated (to be released to parents only). [Ord. (PHONE NUMBER HIDDEN). ALL MINORS UNDER 18 MUST WEAR A HELMET when riding a bicycle, scooter or skateboard [CVC 21212]
Please note that any Renter or their guest exhibiting a complete disregard for these rules and regulations, either through their actions or through repeat violations, may have their privileges revoked or cancelled, up to and including access to Beach Road.
NO WOOD BURNING FIRES ALLOWED
AS OF JANUARY 1, 2014, DUE TO ENVIRONMENTAL ISSUES, THE CAPISTRANO BAY DISTRICT HAS DETERMINED THAT WOOD BURNING FIRES ARE NOT PERMITTED AT THIS ADDRESS. HOWEVER A PROPANE FIRE PIT IS AVAILABLE FOR YOUR USE UPON YOUR REQUEST. PLEASE USE IT RESPONSIBLY.
PLEASE CALL OUR OFFICE SHOULD YOU HAVE ANY QUESTIONS REGARDING THE USE OF THIS TYPE OF FIRE PIT. THERE SHOULD BE EXTRA PROPANE CANISTERS STORED IN YOUR HOMES, GARAGE OR IN AN ALTERNATE AREA.
BBQ RULES & REGULATIONS –
Applies to all rental homes.
PLEASE CLEAN YOUR BBQ AFTER EACH USE AND UPON YOUR DEPARTURE
REFER TO CAPO BOOK FOR PROPANE REPLENISHMENT LOCATIONS
CALL THE OFFICE IMMEDIATELY IF THERE IS NOT A BBQ BRUSH THERE FOR YOU
IF ADDITIONAL CLEANING IS NEEDED YOU MAY BE CHARGED UP TO $100.
PROPANE FIRE PIT REGULATIONS –
Applies only to homes with propane fire pits.
NEVER BURN WOOD ON THE PROPANE FIRE PITS
REFER TO CAPO BOOK FOR PROPANE REPLENISHMENT LOCATIONS
REPLACE COVER WHEN NOT IN USE
DO NOT LET ANY FOOD FALL INTO THE FIRE PIT
IF ADDITIONAL CLEANING IS NEEDED YOU MAY BE
CHARGED UP TO $100.
---
7 ночей — минимальная продолжительность бронирования
---
Capistrano Realty has provided wonderful Southern California beach vacations to thousands of guests for over 53 years. All of our homes are directly on the beach. From quaint little beach cottages to beautiful ocean front homes, we can find you just the right home for your vacation. We rent weekly Saturday to Saturday in the summer months, and weekly/monthly in the off-season.
Частота ответов:
100%
Время ответа:
в течение дня
Открывайте новые возможности в г. Дана Пойнт и поблизости
Другие варианты жилья в г. Дана Пойнт: